Latest posts by Jeanette Kierstead
(see all)
Garnet is not your traditional color for engagement or wedding rings, but they shouldn't be discounted because there are so many benefits to choosing a garnet ring for the love of your life.
They're a rich color that look amazing in many different settings, which makes them suitable for a women who loves to be original and uncommon. They're affordable, too.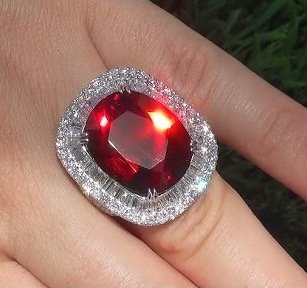 Why Purchase a Garnet Wedding or Engagement Ring?
Garnets have a timeless beauty that's been around for thousands of years. It's not a gemstone that will disappoint in a few years. In fact, it's a gemstone that the love of your life will want to give to her children and grandchildren.
Garnet Ring Symbolism
The beautiful, rich color of red has always been associated with love and the heart. If you were to purchase a red, heart-shaped engagement ring imagine the joy on her face as you propose.
It's a literal symbol of the love you have for her. While it's a traditional symbol of love, it's an uncommon ring that she'll cherish.
This truly makes garnet engagement rings a meaningful pick as a proposal, promise ring, or even and enduring wedding ring.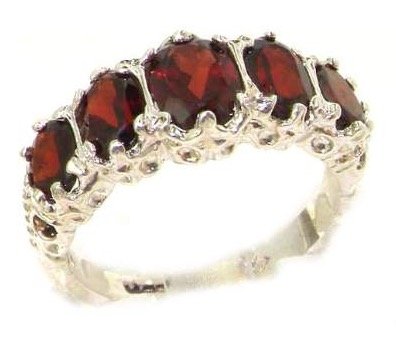 Facts About Garnet Gemstone
Garnet comes in 6 types that are used for jewelry and ring production.
While there are many colors, the common color is red.
It's thought that the word granatum was the inspiration for the word garnet because it looks like pomegranate seeds.
Garnet sandpaper is used in woodworking due to its abrasive nature.
Four states in the U.S. have adopted the garnet as their state mineral.
The Hunzas fought with garnet bullets believing them to be more effective than lead.
Features of a Quality Garnet Wedding or Engagement Ring
Garnet is incredibly affordable for the shopper who is concerned with budget. It's a terrific alternative for a person with a budget who might have considered buying a ruby. Garnets are incredibly durable with a hardness ranging from 6.5 to 7.5 on the Mohs Scale.
Garnet Engagement Ring Meaning
The rich, red gemstone has a few meanings, which should interest someone looking for an engagement ring. Garnet jewelry is associated with passion, fire, and love, but also loyalty.
It's the birthstone for the month of January, too. If your love is a January girl, there's no way you can't look into purchasing this stunning gemstone for her engagement ring and a few others.
Spiritual meanings tend to portray the garnet as promoting security and safety, especially while on a trip, traveling, or otherwise in transition. Overall, the garnet is said to increase self confidence and help ward off bad omens, dreams, and premonitions.
The garnet gemstone is also the state gemstone of Idaho and the state mineral of Connecticut. If either of those locations have significance to you or your partner, the garnet may be a great pick.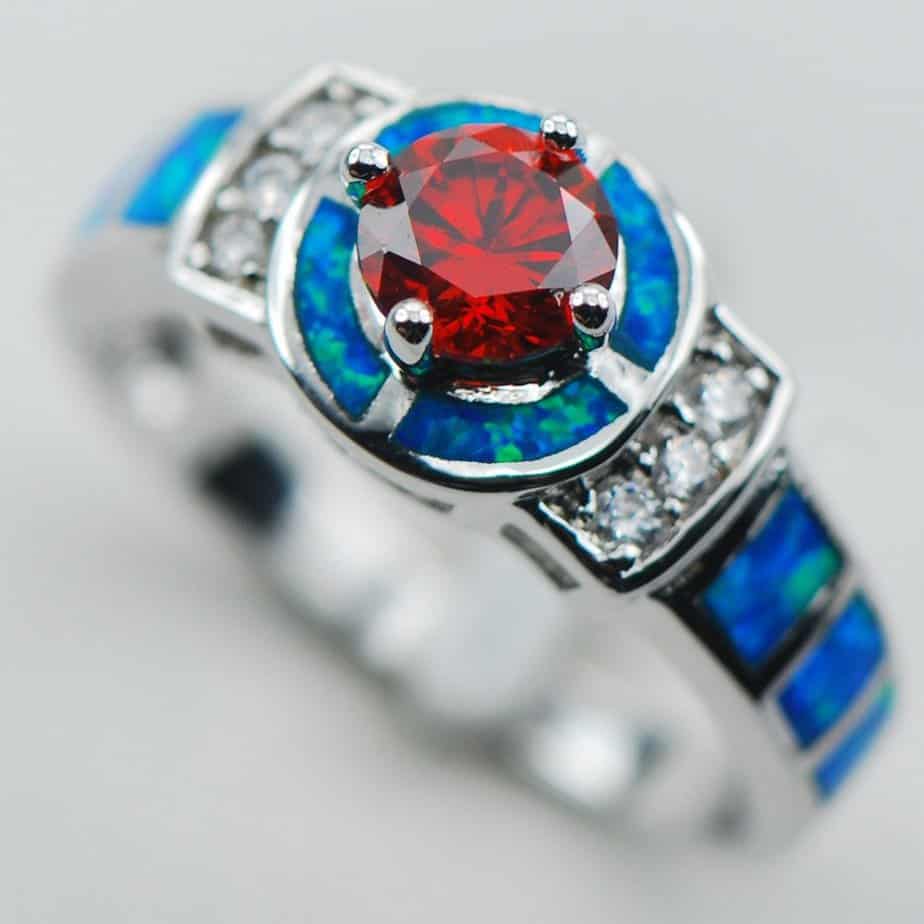 Types of Garnets and Garnet Gemstone Styles
Garnets look incredible when they're surrounded by a light contrasting color. This means that diamonds, CZ or white topaz are terrific for halos and tapered baguettes on the side of the garnet. If you choose another color for your garnet like green, orange-yellow, or violet-red, you'll want to stick with a metal color that will enhance the garnet.
Sterling silver is a great metal for garnets of any color for those who are budget-conscious. They require a bit more care since they'll need to be cleaned regularly, but the contrast is quite stunning. Instead of silver, you might choose platinum or white gold.
Enhancements for Your Garnet Wedding Ring
It might seem natural to heat treat garnets to enhance their color. This is actually very bad for the gemstones. They become unstable and the value of the stones is reduced.
While garnets are very durable, they can't handle extreme temperatures like those they're exposed to during heat treating.
Dyed garnets run into the same problem as those that have been heat treated. Keep this in mind while doing your research into garnets. You'll want a stone that hasn't been enhanced in any way.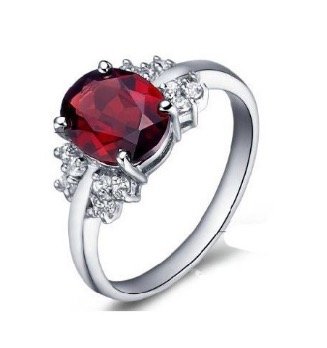 Caring for a Garnet Engagement Ring
As mentioned above, garnet can't handle high temperatures. They can actually fracture if they go through extreme temperatures.
If the garnet has inclusion, it's almost guaranteed to crack when treated with heat. That means it's important to clean the ring gently and not to use a high temperature cleaning method for the ring. The ring should be buffed and polished frequently to keep it looking its best.
Shopping Tips to Guide Your Garnet Purchase
Price Comparisons
The cost of a garnet is approximately $80 per carat, so for that price, you'd be able to splurge on a big stone with a pave halo of white diamonds instead of a small, simple diamond solitaire that your money allows. The cut and clarity will also have an impact on price, so keep that in mind, too.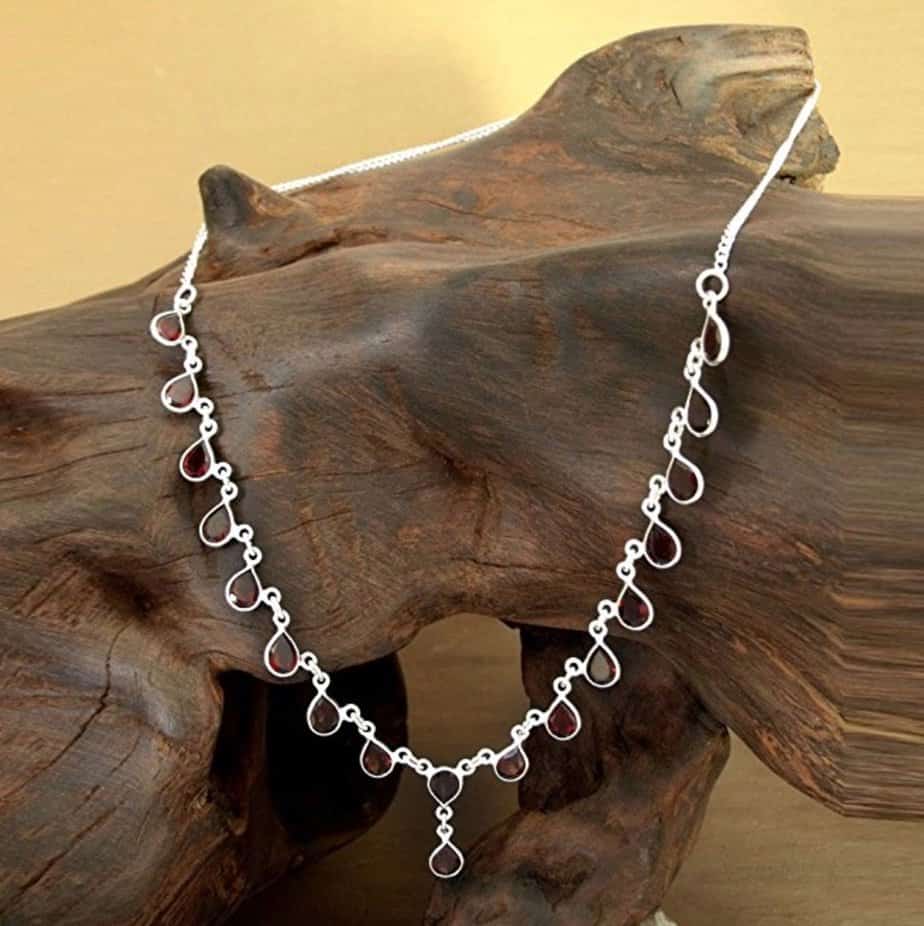 Custom Designs, Vintage, or Modern Styles
There's literally hundreds of styles to choose from for a wedding or engagement ring created from garnet. With the garnet's popularity through history, it shouldn't be hard to find a vintage wedding ring or one that is antique inspired. If your love enjoys that old Hollywood glamour feel, she'll love a vintage ring.
You might decide to purchase a loose stone and have it cut and designed to your specifications instead. With the low price tag on garnets, you can really personalize the ring's style and surrounding stones.
Garnet is one of those gemstones that has been around for centuries because it has a beautiful color and is durable. Your love doesn't have to be a January girl to love a garnet wedding or engagement ring.
Further Read: