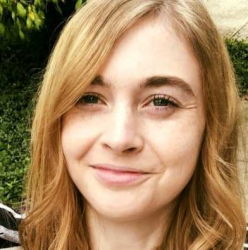 Latest posts by Erin Jamieson
(see all)
I get pimples when I'm stressed. When I was just starting to get pimples, I assumed that, once I was no longer a teenager, that wouldn't happen. How wrong I was. So while I'm lucky to not have chronic acne (I've had friends who have or still do), I've always been curious about facial cleansers. Do they work? Are they good or bad for your skin? These are questions that I've finally decided to investigate.
And what better way to do that than to compare two of the most well-known facial cleansing devices: Foreo vs Clarisonic. Both of these companies layout similar claims: versatile facial cleansers that are good for a wide range of skin types. So in this review, I'm peeling back the layers behind these claims, and giving you my honest opinion about which is the better option to leave behind healthy skin.
Ultimately I'll answer, which is better: Clarisonic vs Foreo? Read on for my decision.
Bottom Line Up Front Summary: Between Clarisonic and Foreo products, there's a clear winner. I would recommend Foreo's Luna 3 above all products. It has the most settings, personalization for skin types, has silicone bristles, and powerful sonic rotation. With a waterproof and lightweight construction, it's one of the best in the market– and unlike Clarisonic products, comes with a 2-year warranty.
Main Differences Foreo vs Clarisonic
The Main Differences Between Foreo And Clarisonic Are:
Clarisonic

has only 1-2 settings for all models, while

Foreo

has 12 to 16 settings
Clarisonic

products are targeted at women, while

Foreo

has a model just for men
Clarisonic

has one model that's app-compatible, while all

Foreo

models sync with an app
Clarisonic

can be bought on Amazon, while

Foreo

can be bought on an official website, Amazon, and many stores.
Who Clarisonic vs Foreo is For?
The first thing I want to clear up–no pun intended– is who Clarisonic vs Foreo is for. This is a problem not just for these two brands, but all facial cleansing products. Facial cleansing brushes are often marketed towards women, but they can be used by men as well. Cleansing your skin isn't just some beauty ritual.
A facial cleansing brush– both Clarisonic and Foreo–has the primary purpose of cleaning dirt, makeup, and shredded cells that are to blame for some pimples and lackluster skin. However, if you have sensitive skin, wrinkles, or are looking to attack blackheads, there is a difference between Clarisonic vs Foreo.
Clarisonic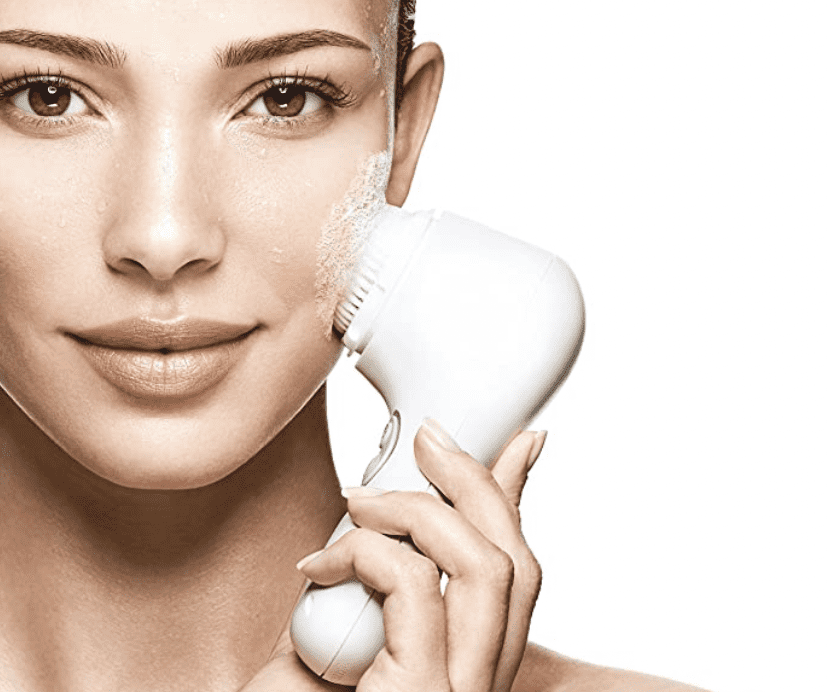 Clarisonic is targeted towards people with oily skin who want to reduced blackheads and acne. It can't boost collagen, and I wouldn't count their facial cleansers to erase wrinkles. What they can do is keep pores clean. And while I think these products are just fine for normal oily skin, I had some concerns about dry or sensitive skin– my skin type. They don't have a model for this skin type, which requires extra moisturizing agents. If you have a condition like eczema, then I'd be especially careful.
To be fair, this is not specific to just Clarisonic, but a risk factor for many facial cleanser products. The good news is that someone like me with regular dry to sensitive skin can usually reap benefits by simply using it less often– every other day vs every day– and exfoliating gently as possible.
Foreo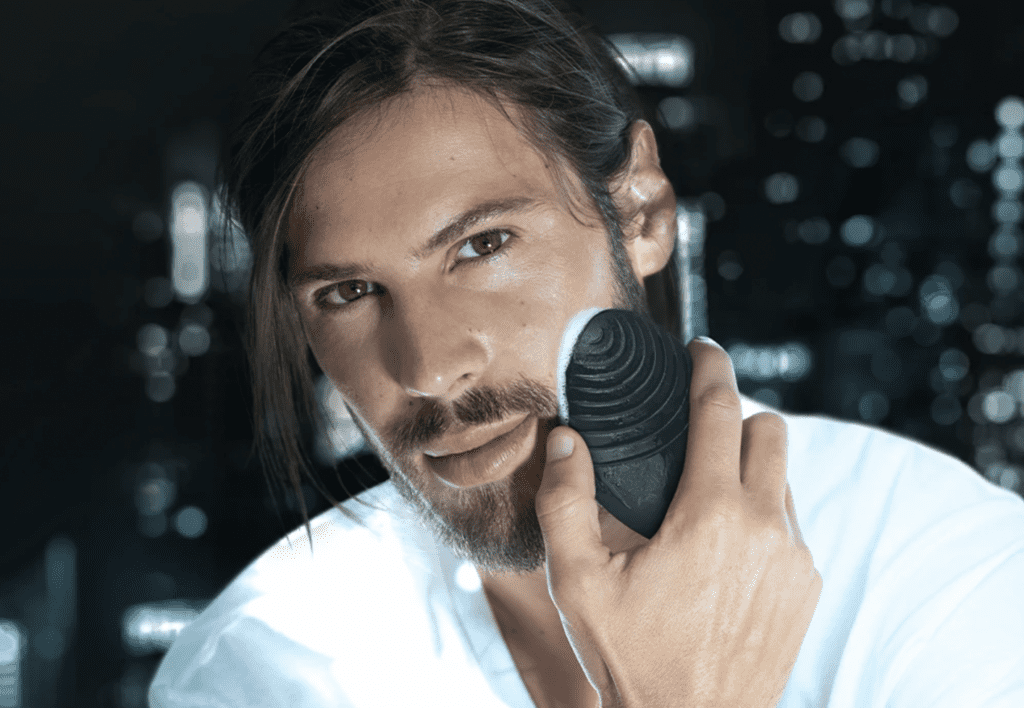 Facial cleansers and brushes, just like Clarisonic, are meant to clear pores and replenish skin. And because the main benefits are for targeting blackheads, I wouldn't use it for wrinkles or serious skin conditions. But there is an exciting advantage for Foreo facial brushes vs Clairsonic.
They sell models that are meant for sensitive and dry skin. While I'd still use them gently, the extra moisture locks in to protect skin with their LUNA 3 model. Models also use silicone brushes– which are softer and still effective for removing dead skin cells, makeup and dirt. Plus, they do have a model for men- which does a bit better for thick facial hair.

Takeaway
Both Clarisonic and Foreo are suitable for men and women, and the main benefits are exfoliating and clearing skin. This is great for normal and oily skin and for keeping it healthy. Neither are miracle cures for wrinkles or older skin or even a chronic acne condition. For someone like me with sensitive skin, I'm slightly more interested in Foreo's option for extra moisturizing agents and soft silicone brush heads. Still, both can be used gently for sensitive, normal and oily skin types.
Clarisonic vs Foreo Main Models and Features
When I first started looking at facial cleanser brushes, you could say that I was overwhelmed. With more and more models every day, it's getting harder to select the very best cleanser. But to review Clarisonic vs Foreo, I had criteria.
It's not always about the little features or buzz words. The best facial cleanser brushes, in my opinion, are sonic. That means that they clean pores and exfoliate, but in a much gentler way. Sonic brushes use vibrations, while others simply rotate. That extra friction can hurt the skin. I like to see rotation rates of at least 5,000 per minute. I also prefer silicone brushes for this reason.
Other things I'm looking for include: ergonomic design, different settings for different pore sizes, options for different skin types, and easy use/ charging. Clarisonic has fewer models than Foreo. I've included a comparison of the most popular models in the tables below.
Clarisonic Models
I'm not including the Alpha Fit model, which is no longer widely available. Clarisonic facial brushes are a little expensive, but they get the job done for general facial cleansers. The best model by far is the Mia Smart, but it isn't as lightweight nor does it have all the features I'd like to see.
Clarisonic brushes of all kinds should be replaced around once every three months. You can buy those replacement brushes on Amazon, too.
Clarisonic Model
Main Use
Main Features

Model, I Don't Recommend

Basic Pore Cleanser

Since Mia 1 and Mia 2 are on sale for the same price, I don't see an advantage to buying Mia 1. It's a sonic cleaner, okay for everyday use, and compatible with most creams or moisturizers. The only advantage is the lightweight design.

Sonic cleaning

**waterproof (see me company history review)

1 speed

USB charging

9 ounces

"Budget" Model (Foreo's mini is cheaper):

Daily Pore Cleaner

This sonic cleaner is suitable for everyday use and works as a preparer for moisturizing creams and serums. It also exfoliates and can easily be used for a quick morning or night clean. The main difference here is an extra speed and a slightly heavier model vs Mia 1.

Sonic cleaning

Oscillating brushes

**waterproof (see company history for lawsuit info)

2-speed options

Radiance brush attachment

USB charging

12 ounces

Best Model:

Gentle, Smart Tech Cleaner

Of the available models for Clarisonic, this is my favorite. It vibrates instead of rotates, with a deep pore brush attachment that syncs with an app. It's a decent exfoliator, and can even be used to apply foundation. It comes with a charging stand and radiance brush attachment and is an award winner. However, the claims about anti-aging and reducing wrinkles aren't easily backed up.

Charging Stand

Award winner

Gentle sonic cleaning

Cleanses pores

Applies foundation

Syncs with app

Brush replacement sensor

15.68 ounces
Foreo Models
Foreo has other products, but for this category, I'm focusing on their main facial brush models, which include the LUNA line.
Foreo Model
Main Use
Main Features

Best Overall

Daily Cleaner and Massager

With the LUNA 3, Foreo created a two-in-one product, which can be used as a facial cleansing brush and a massager. Low-frequency vibrations are meant to be gentle and "firm" skin. The T-sonic vibrations can be customized for different frequencies and skin types, all of which sync with a smart app. They even have a dedicated model for men, which more efficiently cleans with facial hair. 16 different settings make it a lot more customizable than Clarisonic models– not to mention how lightweight they are.

Models for men and women

16 unique settings

Suited for different skin types

App to register skin needs

Soft t-sonic cleaning

Silicone brushes

USB charging

2-year warranty

Doubles as facial massager

4 ounces

Waterproof

Best for Travel

Pore Cleanser on the Go

The features are slightly scaled-down, but the LUNA 3 Mini still is an excellent alternative to the comparatively hefty Clarisonic models. There are 12 unique settings for different levels of cleaning and skin types, the same t-sonic gentle vibrations, and even quicker exfoliation. It syncs with an app, just like its larger model.

Soft sonic cleansing

Suited for different skin types

12 unique settings

Compact design

2-year warranty

Syncs with app

Doubles as massager

Waterproof

Most Powerful

High-Powered Pore Cleaning

The most expensive and high-powered of Foreo models is the LUNA 3 Plus. It features microcurrents, which allows for even more targeted sonic cleaning, and an impressive 8,000 vibrations per minute. You still have an app connection, 16 speeds, and a waterproof design. This I'd most recommend for someone with extra oily skin. You still get the soft silicone brushes, but it does costs more.

Microcurrents

16 targeted settings

Suited for different skin types

Waterproof

High-speed

Syncs with app

2-year warranty
Takeaway
For the main facial brushes you can buy, there's just a lot more for your value for Foreo. On a budget? The LUNA 3 mini is the most affordable. Foreo also has far more settings, more advanced technology, 2-year warranties, lighter designs, and multipurpose use. It's not that Clarisonic models are bad– they just lack features that are helpful for sensitive and different skin types.
Clarisonic vs Foreo Other Products
Beyond the main facial cleansers, Clarisonic and Foreo have a few other products. But once again, I was struck by a stark contrast between the two.
Clarisonic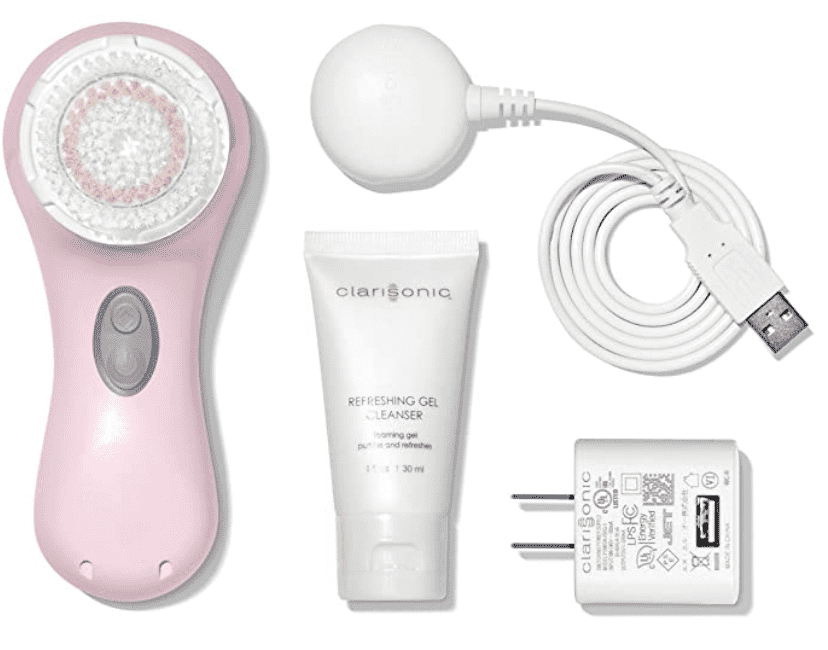 As for other products, Clarisonic has replacement brushes on Amazon, as well as a delicate facial brushing head, which is handy for sensitive skin. The gift sets and clay masks are no longer widely available.
Foreo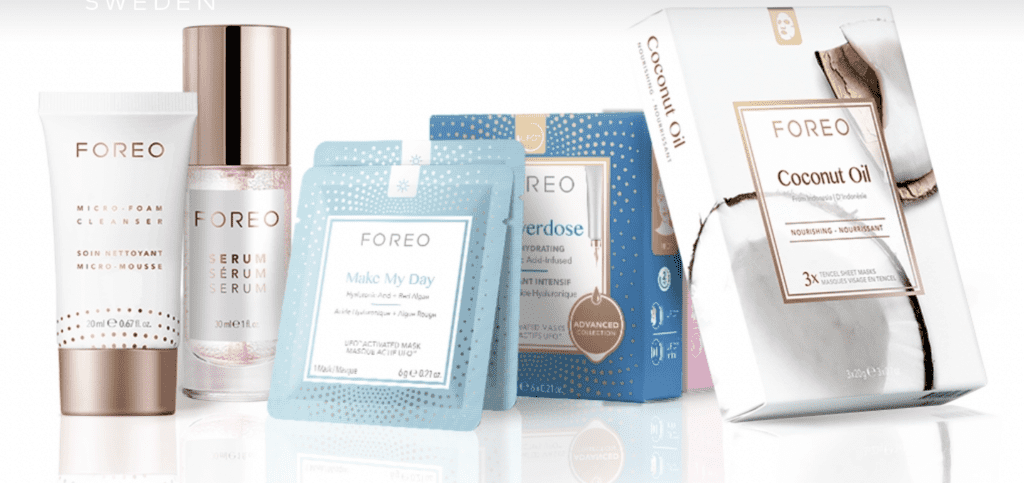 Let's just say that Foreo continues to branch out with its products. There are gift sets and bundles. The cosmetics and accessories collection includes: UFO activated masks, micro-foam cleansers, silicone makeup appliers, serums, hydrating kits, moisturizing masks, sheet masks, and replacement products (brushes, USB chargers, cleaning spray). The Bear device is supposed to 'reduce wrinkles and fine lines and they've even branched out to oral care with their silicone toothbrush.
In my personal opinion, they still excel most for facial cleansers, masks, gels, and moisturizers. Some of their other products have claims that don't have direct scientific backing, even though they are well-designed.
Takeaway
The only additional products you can buy from Clarisonic are replacements. Foreo has some compelling products for skincare, but you could just as easily find more cost-effective options.
Clarisonic vs Foreo Company Reputation
A mistake I've seen many make is not looking into what they're buying from. I've been there. Many years ago, I bought a beauty product that sounded great on paper. Not only did it quickly break, but it also did little of what was promised. So now, to make sure something is worth it or as good for your skin as it seems, I look behind the scenes. And for my review of Clarisonic vs Foreo, let's just say this is where things quickly became interesting.
Clarisonic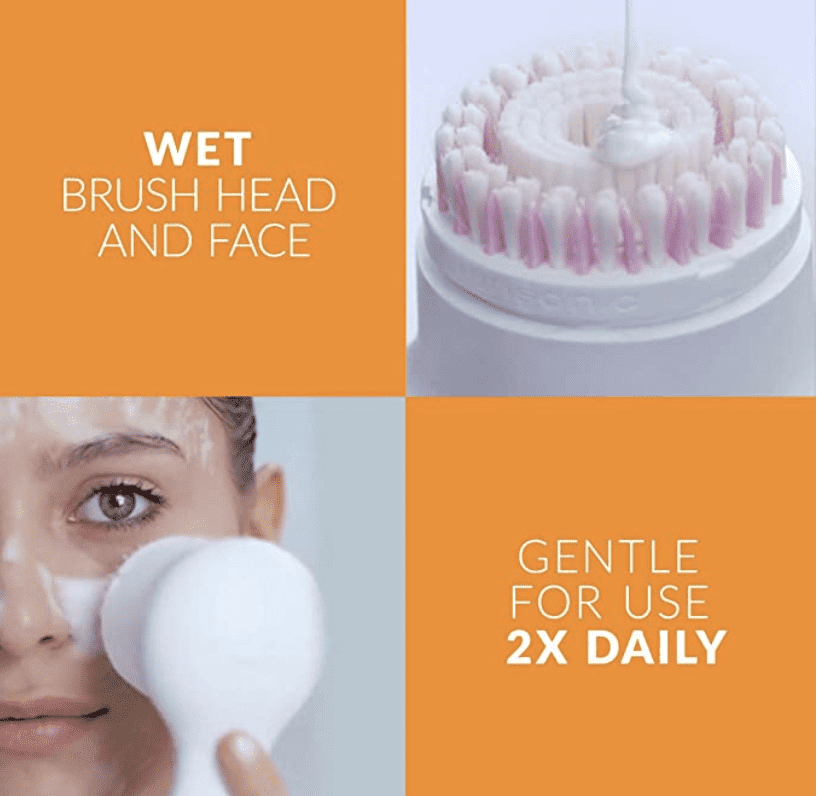 It used to seem like Clarisonic was everywhere. A friend of mine used it. Advertisements were plastered in magazines, even in salons. In 2012, Clarisonic earned awards from Allure and Glamour. So when I noticed fewer and fewer products, I wondered if it was just my imagination. Even as late as 2018, it was a formidable brand. But 2020, to no surprise, was a bad year for them. First up, the pandemic alone may have hurt sales. By then, more and more competitors were popping up, with cheaper products. There was even a class-action lawsuit that their facial cleansers weren't waterproof.
As of September 2020, L'oreal (the parent company) discontinued future products. That's a shame in some ways. Messy company issues aside, customers mostly have enjoyed Clarisonic products. External reviews on Site Jabber and Trust Pilot awarded most products an average of over 4 out of 5 stars.
Foreo
Foreo is a Swedish-based company and still going strong, with products in a wide range of places and shipping worldwide. While they haven't suffered the lawsuits or issues Clarisonic has, it hasn't been all smooth sailing. I expect knock-offs to happen but I was astonished to learn that in a single year, over 30,000 knock-off products made in China were discovered. So it's really important to shop only from retailers with permission to sell Foreo products.
That aside, Foreo has been featured in the Elle 2019 Beauty Awards, the 2017 Attracta Beauty Awards, Cosmopolitan features, and more. Out of over 3,100 reviews, Foreo averaged 4.8 out of 5 stars on Trust Pilot.
Takeaway
Foreo was slower to the United States' beauty scene, but it's prospered. Their LUNA facial cleansers score awards and high reviews even today. Sadly, Clarisonic products are only available in older models, and they even have a lingering lawsuit.
Where to Buy Clarisonic vs Foreo
This is by no means what I'd call a determining factor, but I wanted to round off my review by showing you where you can buy Clarisonic vs Foreo. There are perks, more than you's expect, to one over the other if you want to shop in person near you, have convenient delivery, and maybe even score a discount.
Clarisonic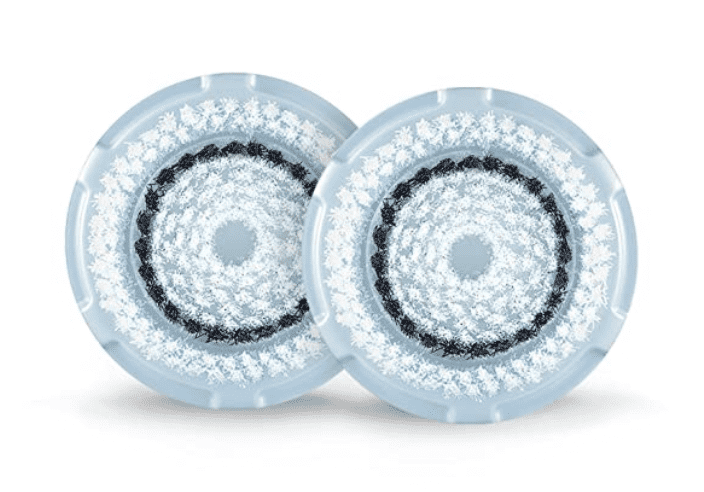 Clarisonic can be purchased on Amazon or used sites, like eBay. That doesn't leave you with very many options, and it honestly seems like they're becoming harder to find. You may wonder why I didn't link Current Body, which is arguably one of the largest– if not the largest–suppliers now of Clarisonic products. Well, the beauty products website may look like it's offering discounts and sales, but it's not worth your time. While some reviewers claim it's a 'safe' website, the alarming customer concerns and F rating from the Better Business Bureau are more than enough for me to never purchase from them.
So that leaves you with thrift shopping or shopping for a few models—Mia 2, Mia 1 Sonic, and Mia Smart Sonic— on Amazon. The only other products that are a safe buy, also on Amazon, are replacement facial brushes. It's pretty disappointing– but not surprising given the company's history.
Foreo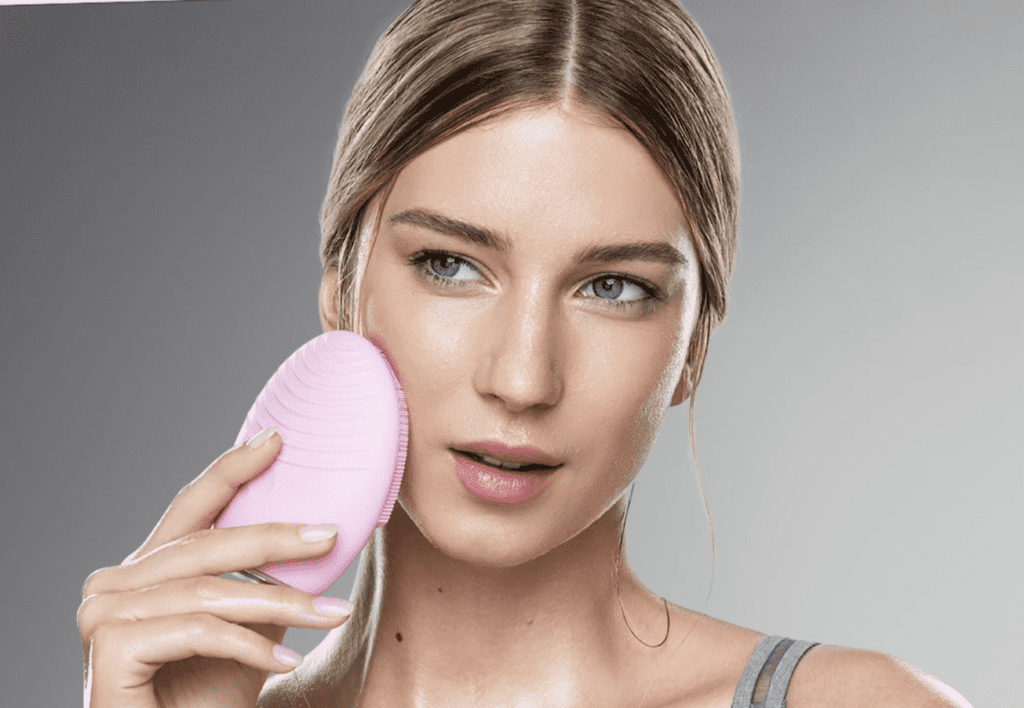 With Foreo, it's a lot different. You can find Foreo products at Nordstrom, Sephora, Target, the Foreo Official Website, Amazon, and possibly even a local beauty store near you. Sometimes you can score a discount through an outlet store.
All of these places have unique options for shipping, in-store shopping, and/ or pick up. But looking directly at the official website, you get the very best variety. The Foreo website ships worldwide, but shipping fees are calculated at check out– they aren't free like you could get for orders over a certain amount elsewhere or, for instance, a Prime membership. Orders are usually quick– shipped within a day–and you'll be sent a tracking number.
Takeaway
There's a clear winner here: Foreo. I don't think there's anything wrong with shopping from Amazon, but the choices for Clairisonic are pretty limited. Plus, I sometimes like shopping stores or I might want to get a facial product or cleanser quickly, especially for an important event like prepping for wedding makeup. In short, there are more models to choose from, more places to shop, and even more options for discounts for Foreo.
Frequently Asked Questions
Question: What should you not do with Foreo?
Answer: While Foreo devices can be used as often as every day, some things can ruin the device. The number one mistake I see people make is assuming you can use any facial cleanser. I know that Foreo prides itself on being versatile, but not every cleanser will do. Anything facial cleanser that contains clay or silicone is a bad idea. The rough textures will wear out the facial cleanser. Another mistake is using it more than once a day. This is especially true if you have sensitive skin like me. Using any facial cleanser too often could have the opposite effect– not to mention you may wear your cleanser out more than once quickly.
Question: Can I use Foreo without a cleanser?
Answer: Sometimes you run out of cleanser, and I get that. I tend to get busy, and life can get in the way of getting everything at the exact right time. The great news is that Foreo can be used without a facial cleanser. The LUNA mini device is waterproof, so you could use it in your daily shower. The only downside is that it may not be as effective this way. I'd also try not to get your shampoo, conditioner or body washes in it. Be careful if you do this, and it's still best to use it the traditional way, with a dedicated facial cleanser.
Question: Can I use any face wash with Clarisonic?
Answer: Just as is true for Foreo, you can technically use most facial cleaners with Clarisonic. However, I'd still recommend avoiding anything with a gritty or grainy texture, or anything that might clog it up. Generally, stay away from anything that has beads, too. Liquid facial cleansers will mostly be compatible with Clarisonic devices.
Question: What do I do with my old Clarisonic?
Answer: There are a few options for retiring a Clarisonic. Don't try to recycle it from home: most companies won't take it. Some dedicated recycling centers will– just check locally first. If it's in good condition and well-cleaned, you can see it online, via a garage/ yard sale, or donate it. Again, you'll have to check with your local charities and recycling centers to see what's being accepted. If it's broken beyond repair, don't try to donate it.
Final Decision: Foreo is a Better Choice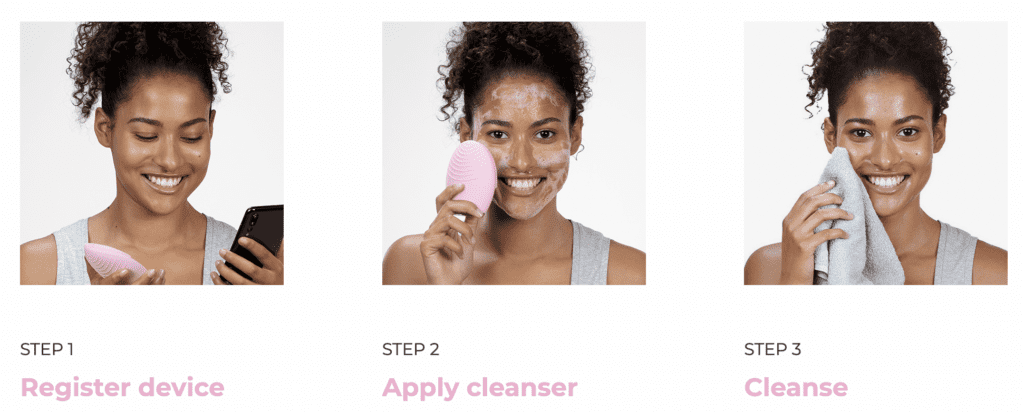 Clarisonic isn't the best facial cleanser anymore. Foreo has far more settings for different skin types, warranties, and a continual line of products. With more powerful technology, devices for men and travel, and without the controversies Clarisonic has faced, I have no hesitation in recommending Foreo most. Of all Foreo products, the LUNA 3 is the best value. You have settings and powerful features for daily cleaning, with the cost or bulk of the LUNA 3 Plus. Shop All Foreo Models Here (or buy from one of the stores I mentioned previously).
And remember to follow directions. Knowing how to use, how often to use, and how to charge are important for the best experience possible.
Foreo vs Clarisonic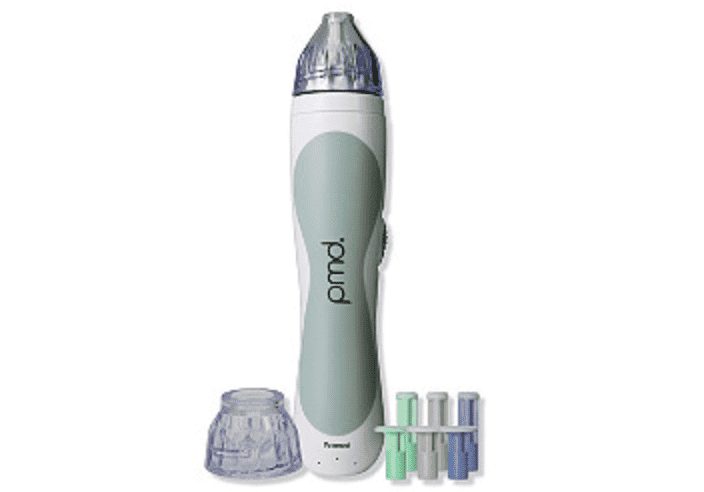 I'm always looking for a great deal on skincare, but there are many dupes– especially for Foreo. Only buy from a verified store. If you have clogged pores or worn skin, my best recommendation would be to check out the PMD/Personal Microderm Classic. It uses spinning discs paired with suction circulation to improve the skin's appearance. While I still think that Foreo has stronger products, many customers are pleased with PMD, and it's available at a wide range of stores.
For more interesting readings check out: