Latest posts by Jeanette Kierstead
(see all)
If you want to propose to your boyfriend and present him with a ring, we think you should go for it. Traditional roles are old-fashioned, and we applaud the fact that you're taking a chance! With this in mind, we've found a few radiant cut CZ rings for men that might fit the bill when it's time to propose.
Our Favorite Radiant cut CZ Rings
These rings can work whether you're in a hetero relationship or same-sex one. They're masculine while being beautiful and fit for a wedding proposal.
Halo Men Ring Radiant Cut Simulated Cubic Zirconia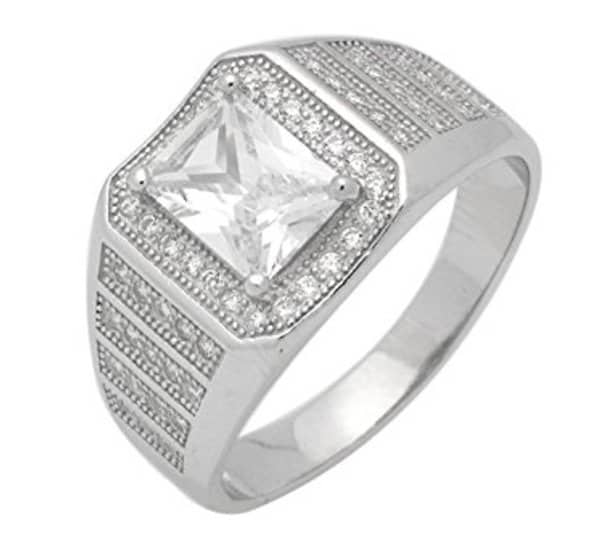 When choosing a ring for your guy, you don't want one as delicate as the wedding ring you'll eventually hope to wear. His ring should be solid and durable especially if he works with his hands. This ring's band is thick and solid. It's made from 925 sterling silver. It's finished with rhodium to keep it from tarnishing. You can also change the color of the metal for an additional cost too. Instead of silver, you can have yellow, rose or black gold plated. The center stone is a radiant cut simulated Cubic Zirconia that's rated AAA quality and held in place with prongs. Along with a change of metal color, you can change the radiant cut CZ to a created sapphire or a simulated green emerald. The side stones are also quality Cubic Zirconia in a round cut. This ring comes in sizes 7 through 13, and is available in half sizes too.
Specifications:
Simulated AAA Cubic Zirconia
.925 Sterling Silver
Measures 12 mm at its Widest
---
Accent Filigree Design Men's Radiant Cut Cubic Zirconia Ring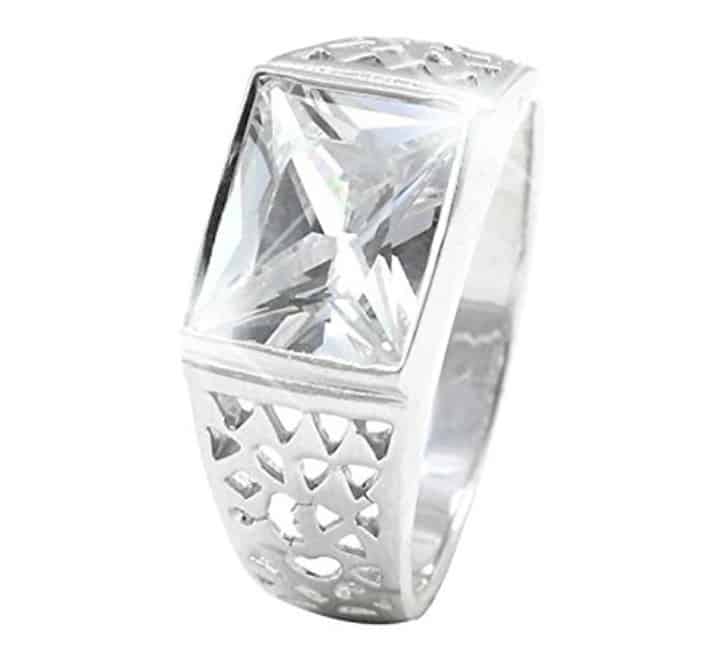 This is a truly beautiful ring to use during a proposal. While the band is thick and rugged enough for a guy who works with his hands, it has a delicate filigree on the sides of the band. If you don't like the color of the CZ stone or the color of the metal, you can change it while still retaining the beautiful design quality. It's available with a simulated purple amethyst, blue topaz, blue sapphire or black Cubic Zirconia. The center of the ring measures 10mm. The ring comes in sizes 7 through 13 with the option to get half sizes for an additional price. The band isn't resizable, so you should be careful when ordering.
Specifications:
.925 Sterling Silver
Simulated AAA Cubic Zirconia
10 mm at its Widest Point
Prong Setting
---
Yellow Gold Plated Radiant Cut CZ Men Big Band Ring
When you want a hearty band that will be a solid reminder of your love, this is a fantastic choice. Not all men want bling on their finger, but it's a subtle amount that he'll be able to show his friends. This ring has a radiant cut simulated CZ stone with a bezel setting. It's 3 mm wide, and it comes in sizes 10 through 13 with no resizing available. An engagement ring for the man in your life should be one that he's proud to show off to his friends and family. This ring deserves to be flashed around while also being a ring that can handle the workplace, no matter where that is.
Specifications:
Cubic Zirconia AAA Rated
High Quality Yellow Gold Plating
Bezel Setting
---
Mens 22mm Cubic Zirconia Trio with Mini CZ Accents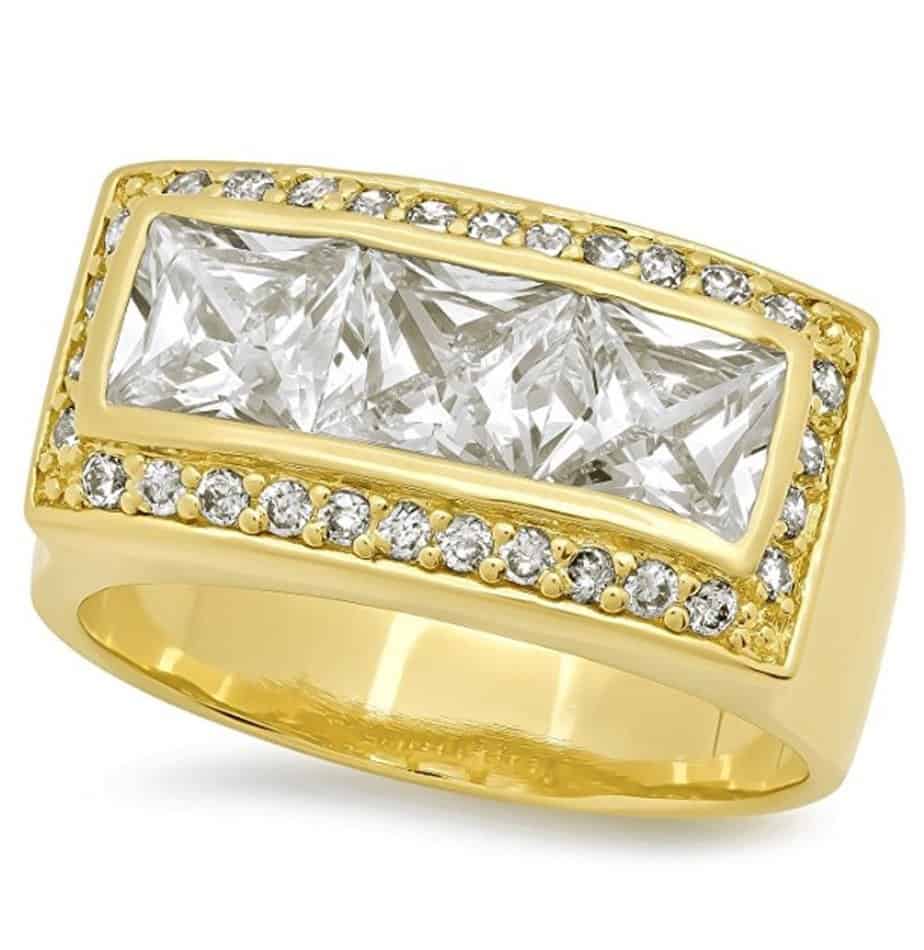 One of the more solid radiant cut CZ rings on this list, the heavy gold ring is made of thick brass with a 14k gold plating. While the ring is heavy and the band is thick, it's also contoured to fit the finger perfectly. It weighs a total of 4 grams in the size 13. The width is 22 mm, and it comes in a range of sizes from 7 through 14, which is perfect because the band isn't resizable. The ring won't fade or tarnish over time, and the manufacturer includes a polishing cloth for buffing occasionally. There's a lifetime warranty card included with this ring, too.
Specifications:
Heavy 14k Gold Plated Band
Trio of Cubic Zirconia Stones
35 Mini CZ Stones
Lifetime Manufacturer Warranty
---
Men's Fashion Jewelry Ring Stainless with Green Synthetic Stone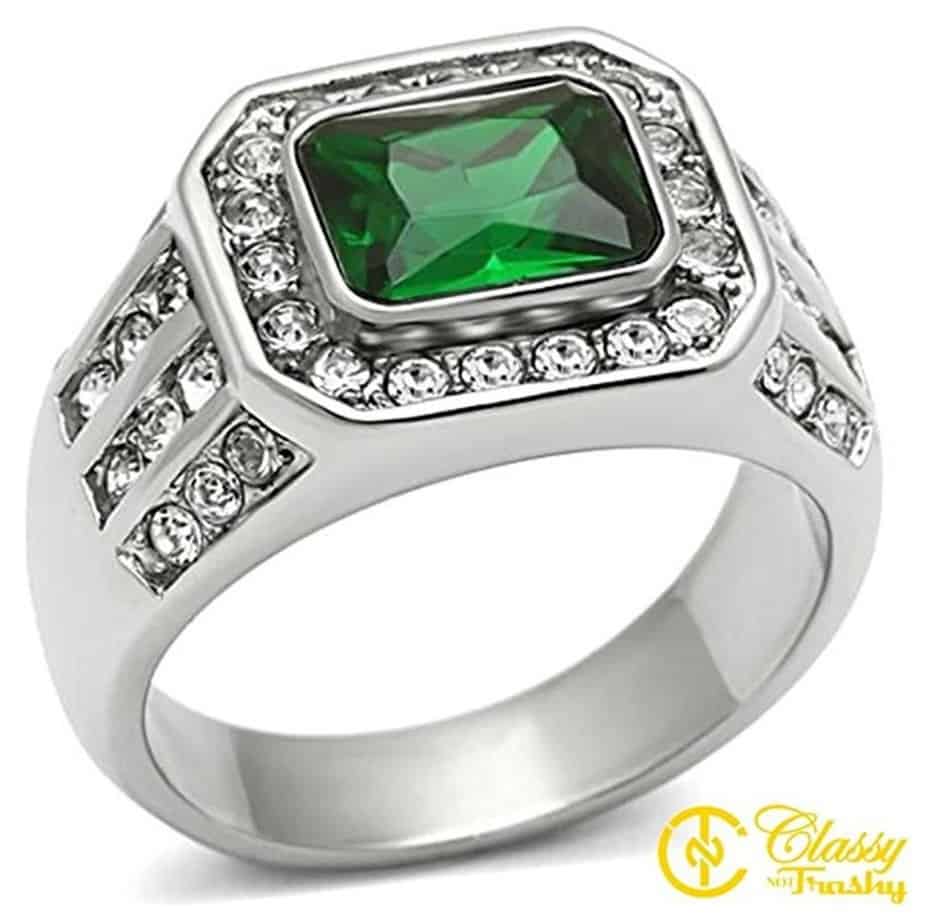 Not every engagement ring has to be a clear CZ diamond. We included this ring on the list because it has a beautiful radiant cut green synthetic stone with a beautiful surrounding of round mini Cubic Zirconia. The ring is a total of 13 mm wide by 25 mm long. It comes in sizes 8 through 13. The band itself is made from stainless steel, which makes it able to stand up to any abuse your man might throw at it. This is a stunning radiant cut simulated ring that could be the perfect ring for your proposal.
Specifications:
Stainless Steel Band
Simulated Radiant Cut Green Stone
---
Radiant Cut CZ Rings
Any of the rings on this list will make a great ring for your proposal. You'll have to decide what kind of ring he'll respond to when you make your move. This has to be a nerve-wracking time, and we'll be with you in spirit. Good Luck!
Recommended Reads: