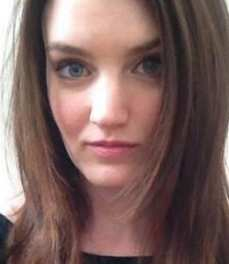 Latest posts by Crystal Schwanke
(see all)
I've been interested in diamond alternatives for over two decades, so it was thrilling to explore the jewelry world to find the best 2-carat moissanite ring ideas. I spent time perusing catalogs and staring through glass jewelry cases as a teen, shopping with and for my mom and other ladies in my life.
In my 20s, I learned all about the 4Cs of diamonds (and, indirectly, moissanites). Then, in 2004, I started writing about beauty and fashion (including jewelry). No other stone designed to look like a diamond dropped my jaw quite like moissanite.
A moissanite not only looks like a diamond, but it's almost as hard and durable, too, which makes it an ideal candidate for engagement and wedding jewelry. Wear it every day and expect it to look beautiful for decades.
I've found some of the most stunning two-carat moissanite rings to include in this list. Because this is meant to be a jumping-off point for different tastes and preferences, I've tried to include as many cuts, metals, and details as possible. That way, you can see what's available and narrow your decision down to the perfect ring for you.
Bottom Line Up Front
A 2-carat moissanite ring is just about perfect, I think. It's not too big to pass as a diamond, but it's so much more affordable for the average person.
The stones are large enough to stand alone as classic solitaires, but they're small enough to look good with any type of side stone arrangement, too. Whether you choose to keep the 2-carat center stone or spread the two carats across the center stone and side stones combined will be up to you.
I write about jewelry all the time, and it's usually not difficult to choose a favorite or two. When it came to the best 2-carat moissanite ring ideas, I had a hard time deciding which one to call my top recommendation.
After careful consideration, I have to say my top pick is the Forever Moissanite Radiant Cut Hidden Halo Moissanite Engagement Ring. I chose it because of the brilliance of the stone and the hidden detail underneath it, the ring of round, brilliant stones that people might overlook at first glance when it's on your finger. Who doesn't love surprises?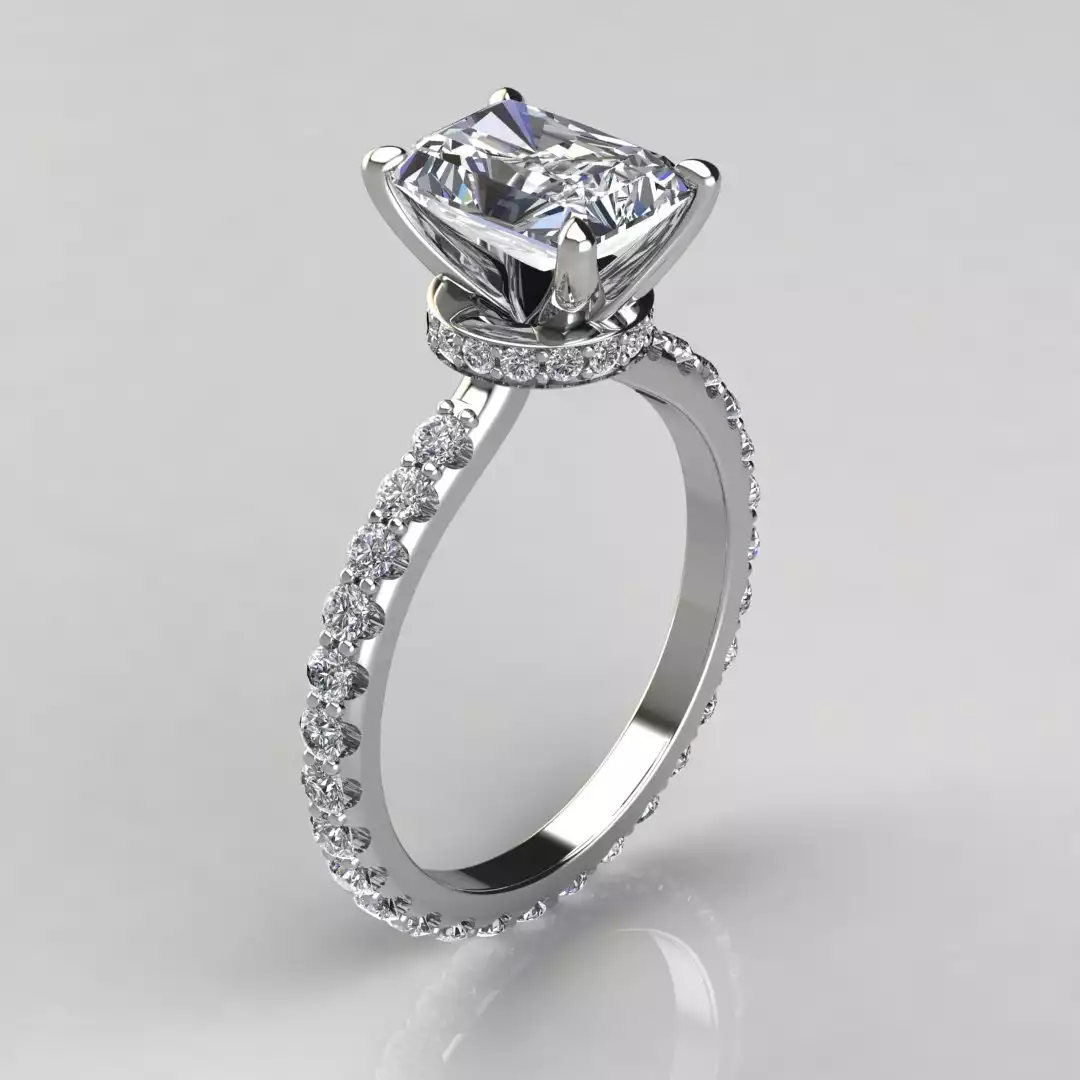 Tips to Keep in Mind While Shopping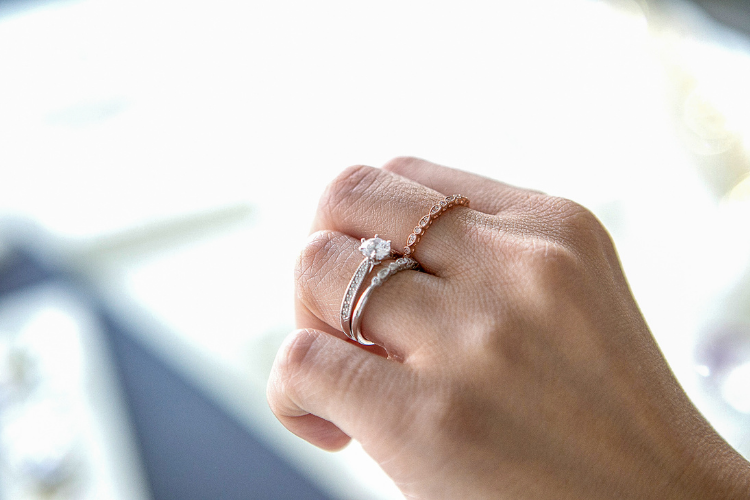 Moissanites are rated in clarity and color, just like diamonds. Though they're lab-created (in extremely rare cases, you may stumble across a natural stone), moissanites are not all 100 percent perfect.
Some may have inclusions, though they're typically so minor (because they're created in a lab), they're not usually noticeable to the naked eye.
The best grades are FL, IF (flawless and internally flawless), and VVS1/VVS2 (very, very slightly included).
As far as color goes, if you want your stone as colorless/white as possible, look for D, E, or F grading. Even G, H, and I will be nearly colorless, but you may be able to notice some color on those stones.
Grading will affect the price, so if your heart is set on a two-carat stone, but you need to stick to a strict budget, playing around with the grading may allow the compromise you need to get the ring you want.
You can still get a sparkling, bright white stone without buying a flawless stone graded as a D on the color scale.
Selection Criteria
My goals here are:
To show you the best 2-carat moissanite ring ideas across various styles, metals, and cuts

To lead you to quality pieces you could purchase right now if you happen to find "the one" style you could wear forever

To give you an idea of the types of details that can make a ring feel especially made for you, even if it wasn't (which means I'll try to find rings with exciting details in some cases, while others will be simpler)

To lead you to moissanites that are so stunning, they help you see how similar they are to diamonds, at much lower prices
Feel free to use these ideas to brainstorm, decide what you like and don't like, and then look for specific styles at other sites. You could even work with a jeweler to have something custom-made to include everything you love about some of the two-carat moissanite ring designs and nothing you don't.
The 7 Best 2-Carat Moissanite Ring Ideas
With all of that being said, here are the best 2-carat moissanite ring ideas I could find. I hope you find inspiration here and either choose a ring straight from the list or walk away with a list of likes and dislikes. That way, you can continue your search or have something custom-made.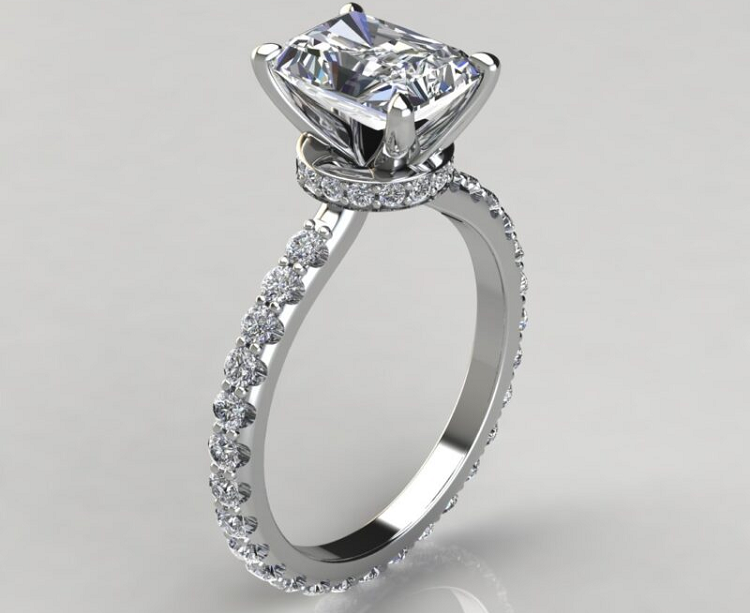 The Forever Moissanite Radiant Cut Hidden Halo Moissanite Engagement Ring is a good option for those who love fiery, sparkling rings but don't love the round cut stones that are so popular.
You can choose from 1.00 CT to 3.00 CT for your center stone, so the desire for a 2.00 CT moissanite is met with ease. In addition, you get round brilliant side stones (.71 carat) along the band. To make things even more exciting, there's a hidden halo ring of stones below the center stone.
All of the gemstones at Forever Moissanite are graded D (colorless), so while you won't have the option of a lowering the price by playing around with the grading, you're guaranteed to get stunning stones.
As for metals, you can choose from platinum or gold (14k or 18k in white, yellow, or rose gold).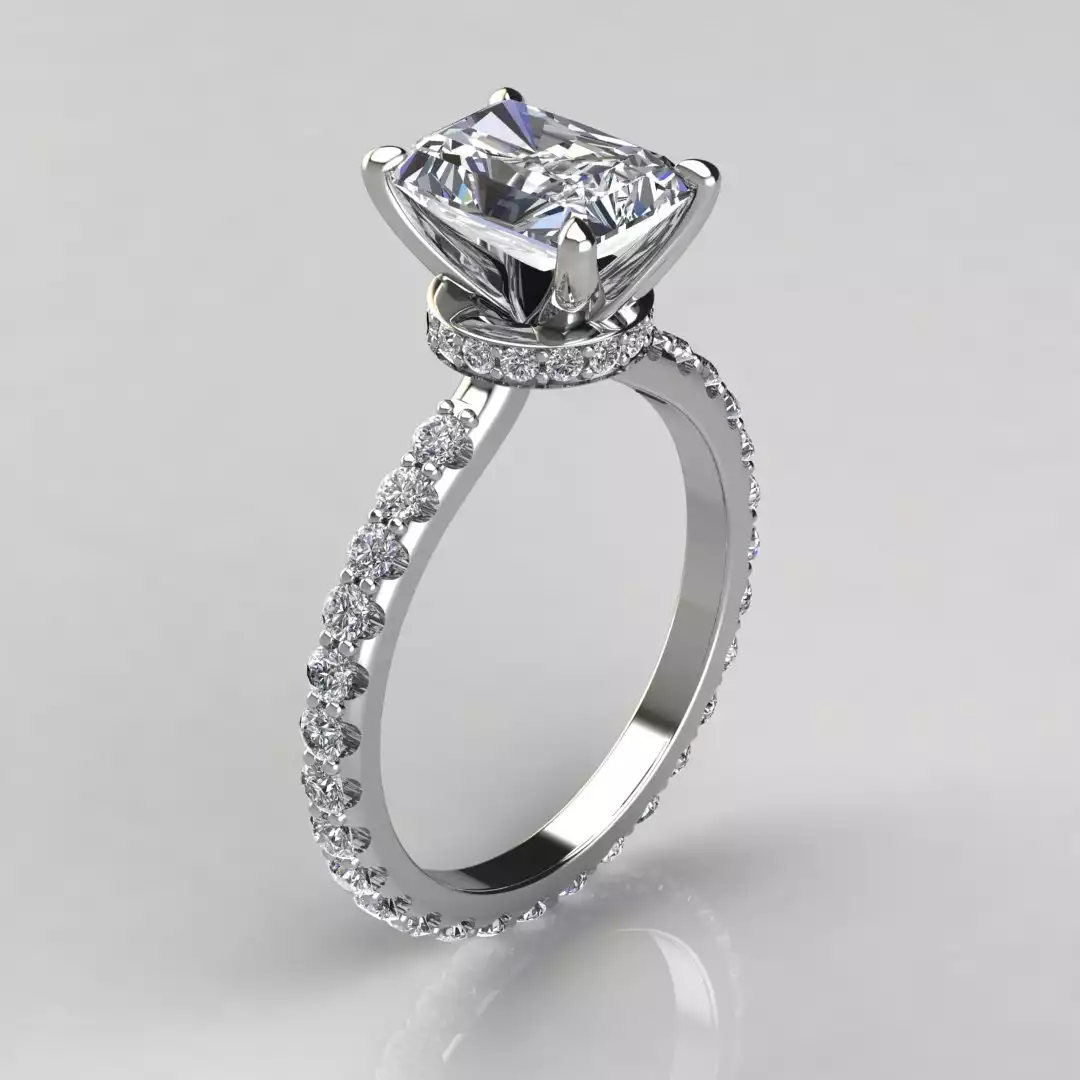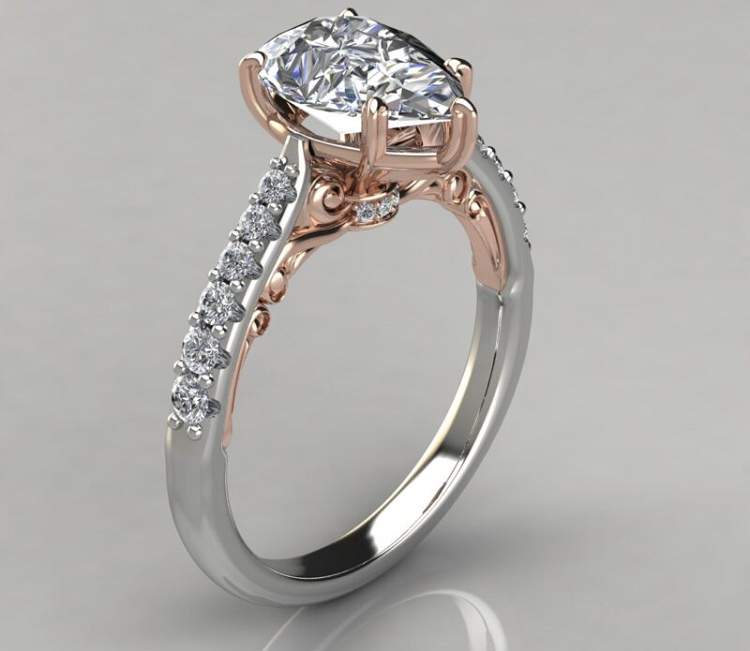 The Forever Moissanite Two-Tone Engraved Pear Cut Moissanite Engagement Ring is a standout piece because the two metals and round brilliant side stones play off of each other as they support the pear-cut stone in the middle.
The white gold with rose gold accents option is my absolute favorite, but check all the options for the perfect complement to your jewelry wardrobe. There's platinum as well as rose, yellow, and white golds (14k and 18k).
The images show a 1.5-carat moissanite, but it's not hard to imagine a slightly larger one in its place. Options range from 1.00 CT to 3.00 CT, as they do with most Forever Moissanite rings.
This one seems fit for a princess.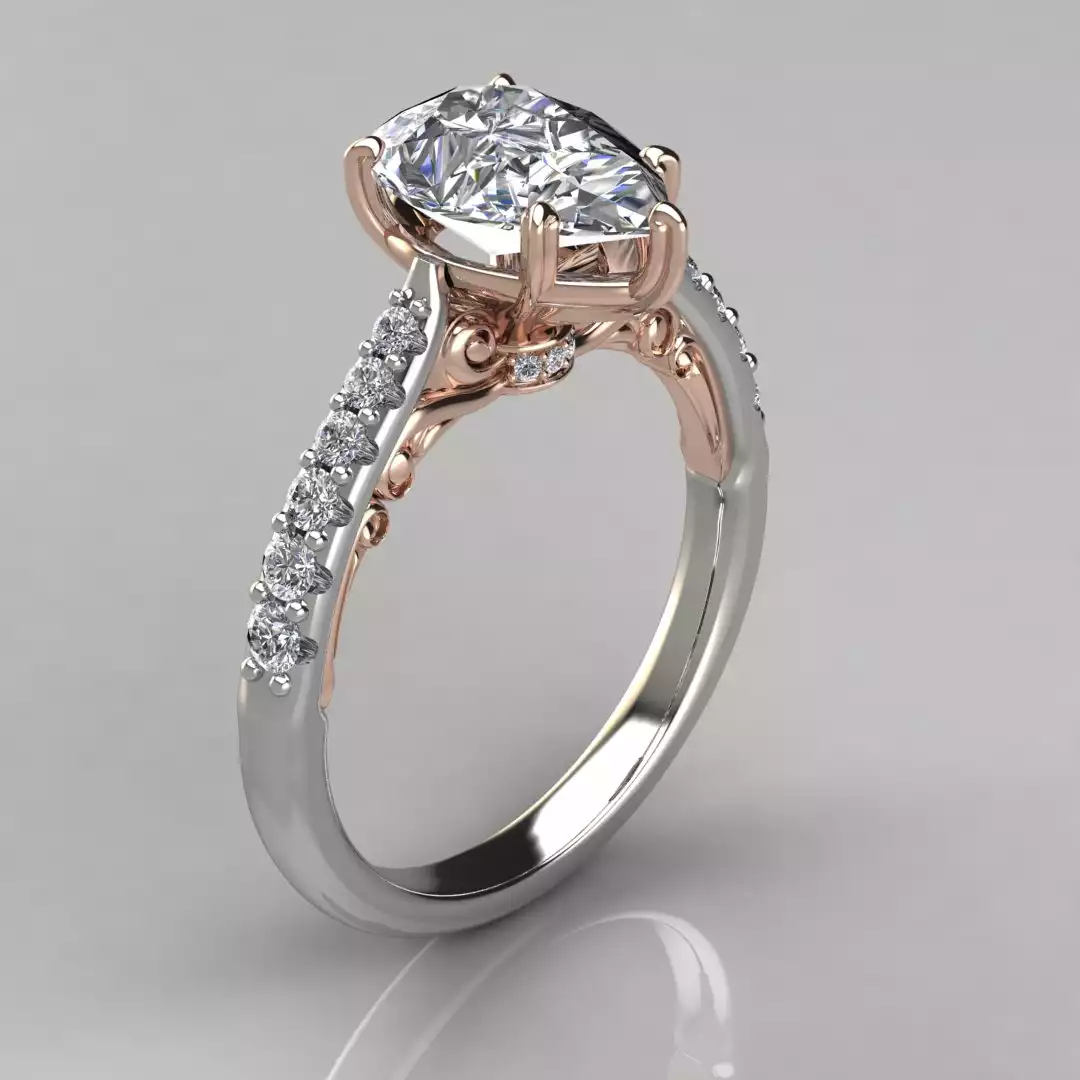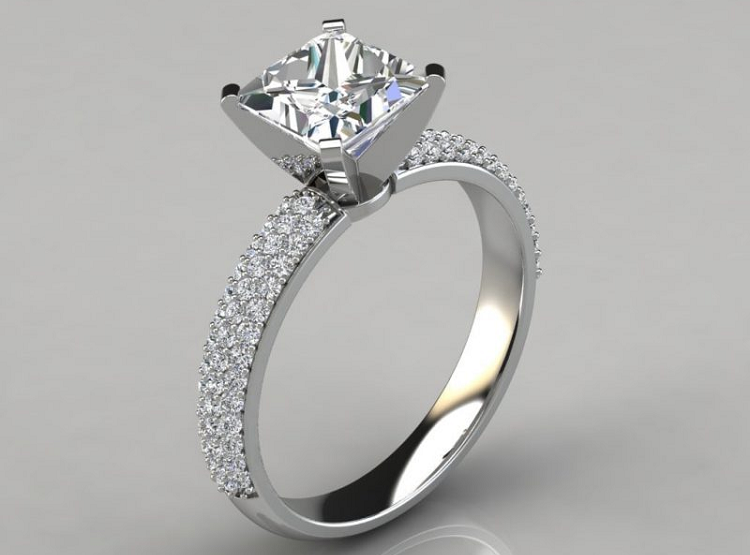 Speaking of princesses, the Forever Moissanite Wide Micro Pave Princess Cut Moissanite Engagement Ring is another attractive option with extra personality. Instead of a simple strip of small side stones running down either side of the band, this one has rows of micro pavé round brilliant stones on each side (for a total of 82 side stones).
I love this princess cut one because it seems to take a standard design as inspiration and then elevate it to something even grander. You can choose between white gold, yellow gold, rose gold, and platinum.
As with all the Forever Moissanite rings, the stones are color D (colorless).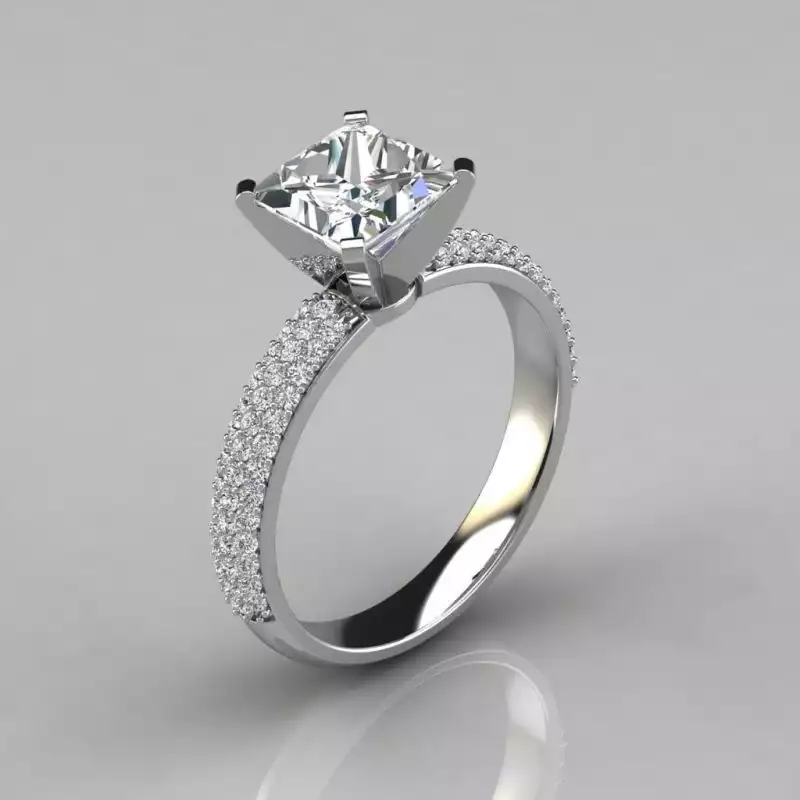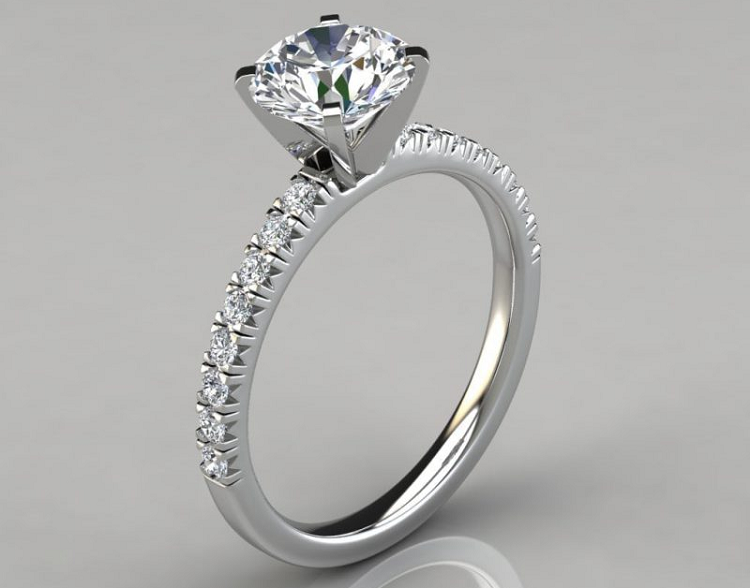 If traditional with a twist is your go-to style, you will fall in love with the French Pave Cut Moissanite Engagement Ring from Forever Moissanite.
This one takes the most common, elegant round brilliant moissanite stone and sets it in a relatively simple metal band (rose gold, white gold, yellow gold, or platinum) featuring 16 pave diamonds set in a way that hides more metal than your average band with side stones. That makes for a band of almost uninterrupted sparkle.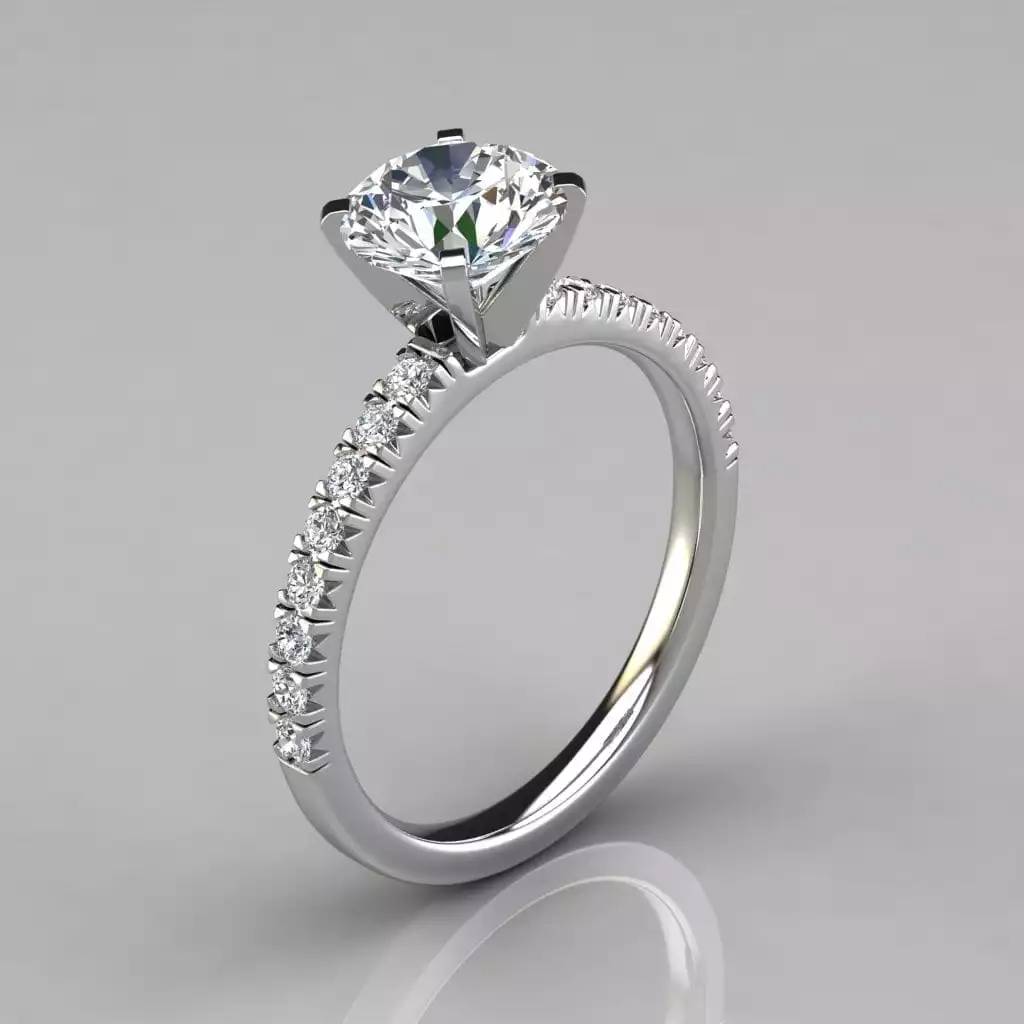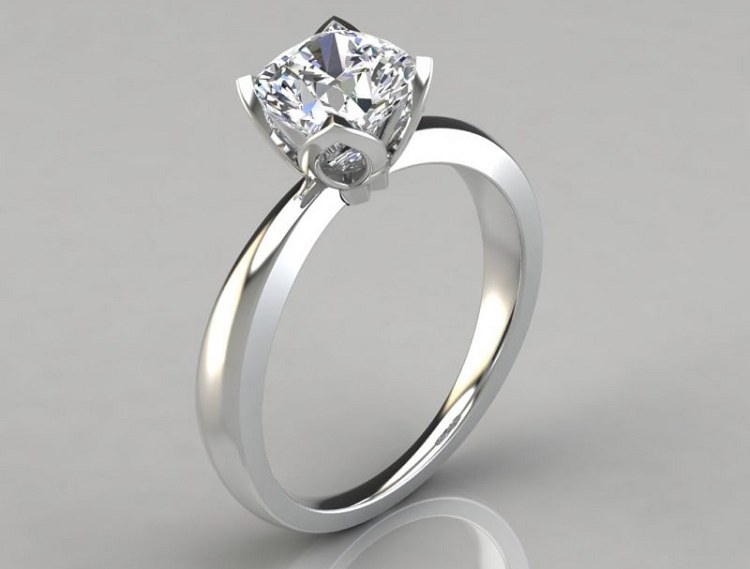 The Forever Moissanite Petal Design Cushion Cut Solitaire Moissanite Engagement Ring is another one of those almost-traditional styles that has something special that makes it stand out. In this case, it's all about the setting–the petal design holds the 2-carat cushion cut moissanite front and center. Still, they're obviously not your typical prong design.
I love those details that are slightly different from the norm but still understated enough to require a second glance.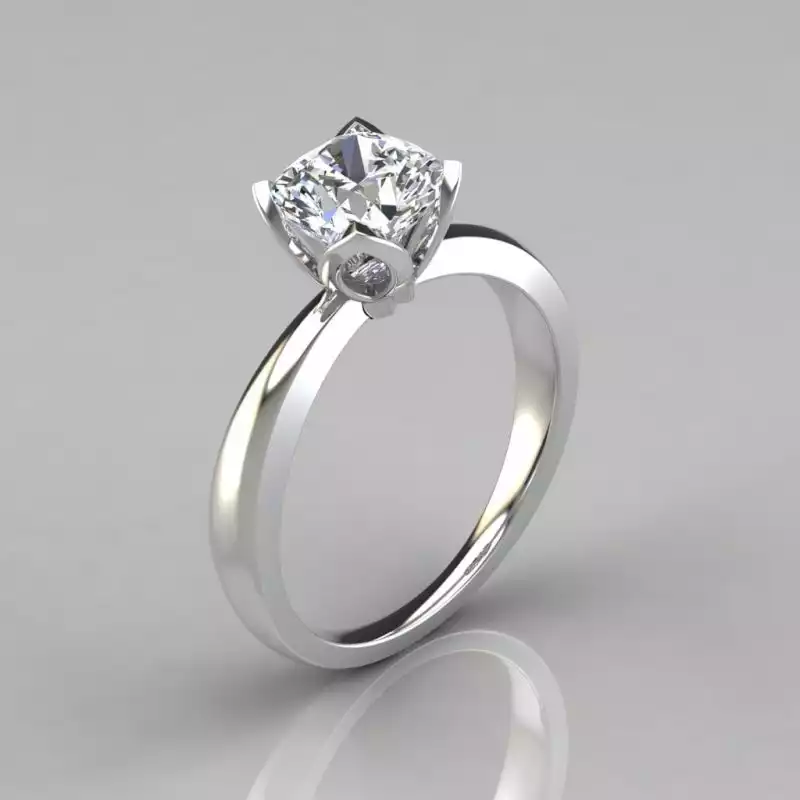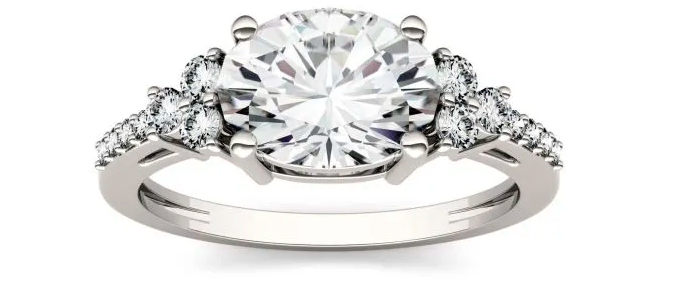 Okay, so technically, this Oval Forever One Moissanite East-West ring is just over the two carats we're looking for. Still, because its center stone is 2.10 CT and the rest is made up of side stones, I wanted to include it anyway. I think the east-west position of the oval moissanite is lovely and elegant.
With this one, you can play around with the details to (hopefully) make the price fit your budget. Choose from color grades DEF or GHI. Though this listing only shows white gold (which does a marvelous job of supporting the white stone), you can find the rose gold version here.
Brilliant Earth Moissanite Waverly Lab Diamond Ring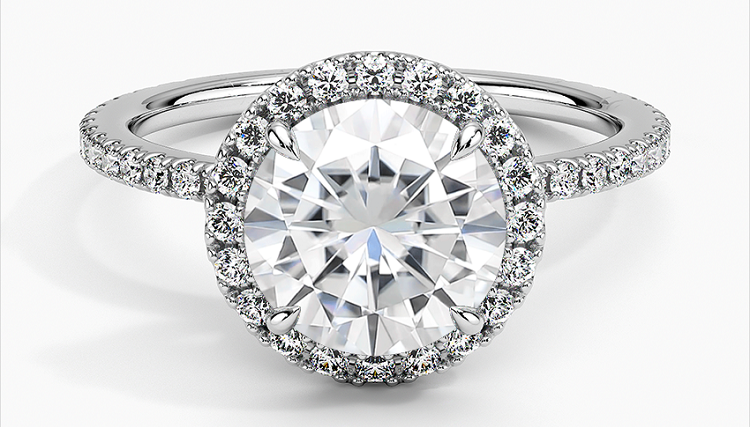 I love the round shape surrounded by round pavé diamonds in this Brilliant Earth Moissanite Wavery Lab Diamond Ring (8mm is the equivalent of 2 carats).
Other center stone shapes are available (anything you could possibly want), but I think there's something about the repeating circles echoing along the band and around the matching center stone that makes a statement. Cushion is my second favorite shape for this one. It reminds me of wedding sets I've seen from generations ago.
You can get this design with white gold, yellow gold, rose gold, or platinum.
FAQs
If you love the idea of a two-carat stone, but you're not entirely sold on moissanite yet, maybe some of these frequently asked questions can help you make your decision.
Question: Can Moissanite be Worn Daily?
Answer: Yes, you can wear moissanite daily without too much worry. These are nearly as hard and durable as diamonds, so by that comparison, you should be able to wear a moissanite ring just as often as a diamond one.
Question: Is Moissanite Popular for Engagement Rings?
Answer: Moissanite is growing in popularity each year, thanks to its relative affordability, beauty (specifically the strong similarity to diamonds), and durability. 
Question: Is a 2.5-carat Moissanite Ring Too Big?
Answer: What is too big is a matter of opinion. What's too big for your friend may be perfect for you. However, once you get past about two carats, people may start to think the stone might not be a natural diamond simply because of the price of diamonds that size.
Also, a stone over two carats is so much larger than the average diamond in an engagement ring, it could raise suspicion. The naked eye, simply admiring a ring on your finger, probably won't be able to tell the difference between a diamond and moissanite, though. 
Question: Will Moissanite Turn Your Finger Green?
Answer: No, moissanite won't turn your finger green. Moissanite is a stone. Usually, if your finger is going to turn green from jewelry, it will be because of the metal used (in the band, for example). However, moissanite is unlikely to be mounted in a band made of a metal that will turn your finger green.
Question: What Can Damage Moissanite?
Answer: Not a whole lot. According to FrugalRings.com, a diamond could scratch a moissanite simply because the diamond is harder (but only a by a little). You could also hit the ring on hard surfaces and cause a chip or break, but it would take extreme impact or a lot of wear and tear that adds up over time. I wouldn't worry about it, honestly, at least not any more than you would with any other stone.
Conclusion: A 2-Carat Moissanite Is the Perfect Size for an Engagement Ring
Between the affordability and size that still looks like it could be a diamond (if you want it to), a 2-carat moissanite ring is worth serious consideration. There are a few questions to ask yourself:
Do you want two carats as your center stone or spread across the ring?
Do you need to be able to choose the color grade and/or clarity to make it fit your budget?
What is the metal that goes best with your coloring and other jewelry (if you want them to match), and do you like it with the center stone and side stone combination you've selected as your favorite?
Could different styles be mixed and matched to create the perfect ring for you, or does something on the list check all the boxes you have in mind?
Use these ideas to find or create your ideal moissanite engagement ring. Enjoy it for decades.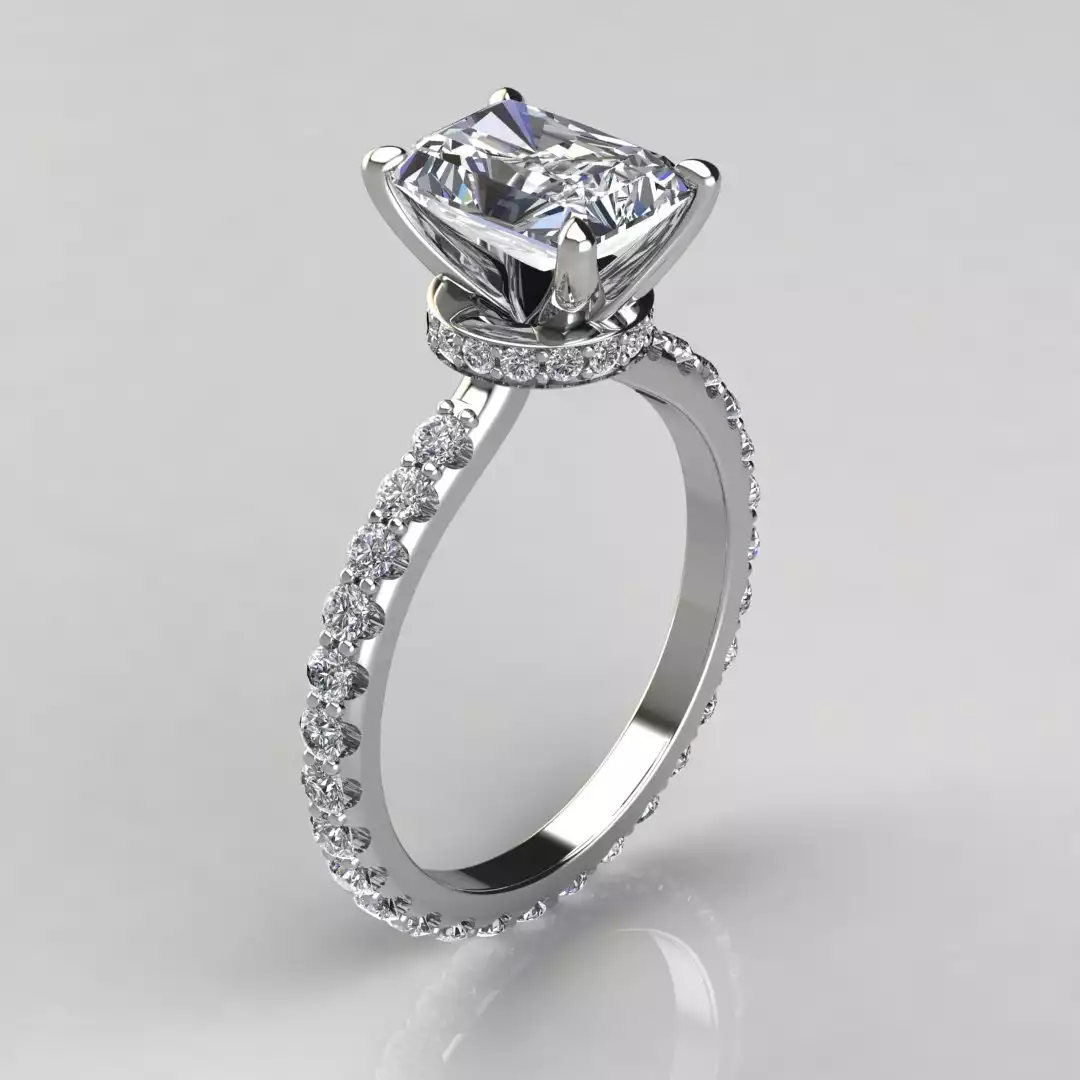 Looking for more interesting readings? Check out: