Latest posts by Kristen Swain
(see all)
Moissanite is the newest diamond-like alternative stone that is a true gemstone. Unlike what we often think of with cubic zirconia, and other sub-par gemstones that look like diamonds, Moissanite is actually more brilliant than diamonds. The fire and the flash of Moissanite is similar to a diamond, without the cost. Moissanite registers a 9.25 on the Moh gemstone hardness scale, of which a diamond is a perfect 10, making it a wise lower-cost alternative to diamonds.
Pave is a style of setting gemstones into a metal setting in such close proximity that the setting metal blends out and only the gemstones are visible when you view the piece of jewelry. With rings, this often means that the shoulders of the band, or sides, will have a line of gemstones inset into the metal. The look was named after the resemblance to a paved road. This setting style has been used for decades to create artistic pieces in a larger format, like animals: think jaguars, frogs, snakes, and other creatures.
As the owner of approximately 15 new pieces of jewelry in the last six months, I have a lot of experience in not only purchasing but also researching jewelry for myself. I have written many articles on jewelry and love sharing my opinions on the best and most sparkling pieces to add to your collection. Pave is close to my heart as I am still very much in love with a piece of jewelry that completely sparkles in any setting.
Top picks at a glance – Bottom line upfront
I would have been shocked at the start of writing this article to find that my top recommendation was going to be a wedding set. This set Oval Forever One Moissanite Micro Pave Ring in 14K White Gold is a reasonably priced and exemplary example of a Pave Moissanite wedding set. The micro Pave is a super close setting that will give you sparkle at every angle.
The very close second ring I want to recommend is a lower-cost alternative in this SHE·SAID·YES "When God Made You" Round Cut Side Stone Engagement Ring this ring has all the lovely detailing that you would want for a beautiful ring to be worn as a decorative ring or engagement, the pave accents along with the natural shapes decorating the ring really stand out.
Selection Criteria
My selection criteria focus on these important elements in consideration of your purchase of the best Pave Moissanite pieces. I focus on price, the color combination of the metal and gemstone, as well as the style of the ring. Price should be reasonable, but I take into consideration a unique or beautiful style in a piece. My preference for color combination is a white-on-white look. Whichever metal achieves this, either silver or white gold is my preference. Style of course is completely personal, but my style for jewelry is as sparkly as possible. I avoid super thick rings as those often have been uncomfortable to wear, but I will recommend rings that can be stacked more often than large cocktail-style pieces. Now, let's have some fun and look at some beautiful pave moissanite rings.
Tips on Picking the Best Moissanite Ring
Chose the shape you want beforehand- there are thousands of rings to pick from and getting an idea before of your favorite shape is a good way to narrow your options.
Pick the Metal you want- Metals vary but the most typical metals available are usually Sterling Silver, White Gold, Yellow Gold, Rose Gold, and Platinum.
Decide your budget- Don't set out to break your own heart, if you can not swing a five thousand dollar ring, don't start by looking at that price range. Often with Moissanite, because you are buying a lab-created stone, your price will certainly be more affordable for a larger stone than you may imagine.
Have a Carat size in mind- Beyond two carats a Moissanite can look too bright and flashy, so a good size in general to consider is between half a carat and two carats. Additional stones in your ring, especially in Pave, can add on carat amounts to your band.
Ideas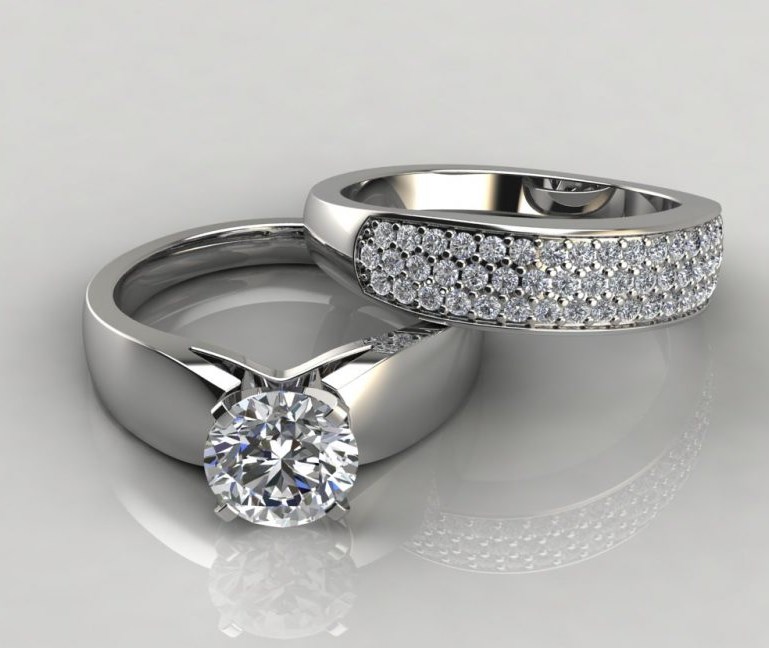 I added this wedding set in to show that you can add a secondary ring or even stack Pave rings. The solitaire will give you big bold sparkle, while the pave stones give that superfine sparkling glitter. I think this set is pretty in all the setting metal choices but will always lean towards a silver or white gold setting with Moissanite. The wider bands of this set give weight to the set, making it have a hand feel of a significant set, perfect for a wedding set.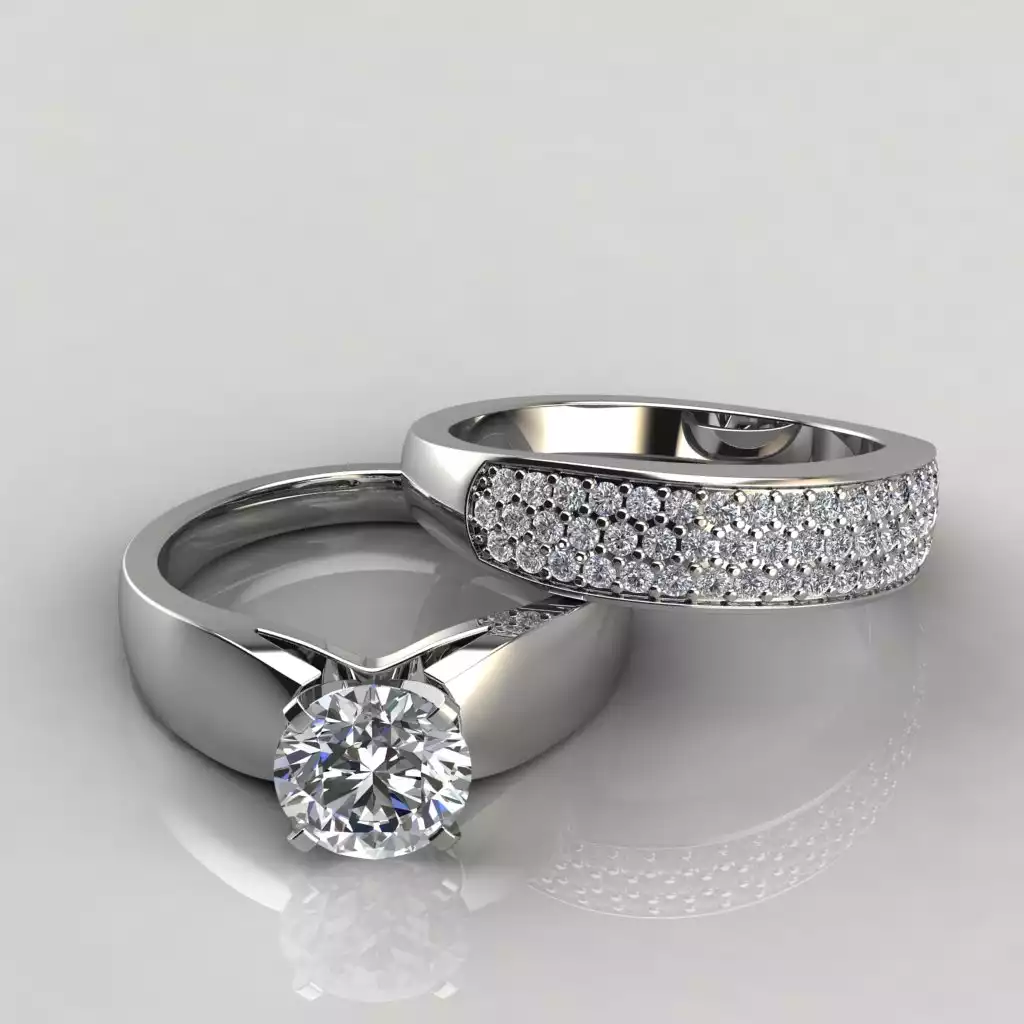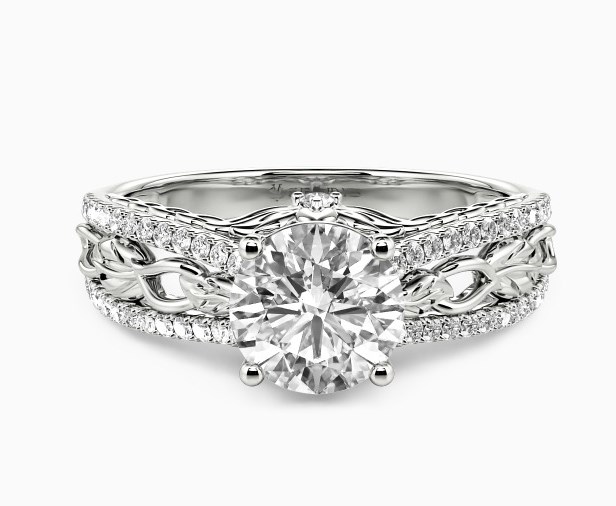 This solitaire is flanked on both shoulders with a split shank band featuring two Pave sides and a center engraved band of ivy. The side of the ring is decorated with smooth petals in descending size that descend towards the bottom of the ring and is decorated with a small accent stone. The one-carat center stone is seated into a deep bezel and is close down to the band instead of sitting high on a tall head. The leaves on this ring give it such a beautiful and nature-inspired look. While I prefer a monotone look, you can personalize the ring's solitaire, pave side stones, and even the accent stone as well as the metal of the setting. This is a really beautiful ring for under a thousand dollars.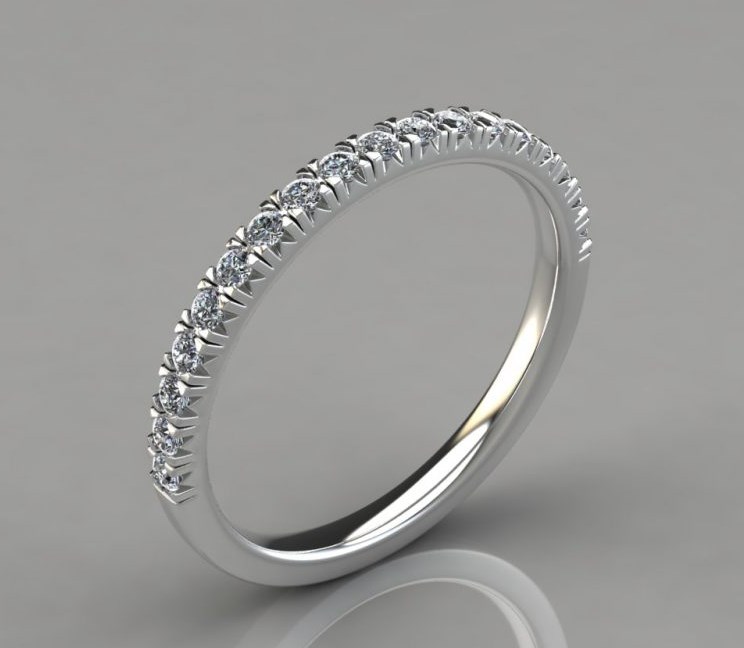 Elegantly simple, this French Pave band is delicately thin. Just over a quarter of a carat, the dainty look of this ring is why I'm so enamored with it. The pave is French style, giving an open look to the sides of the ring, allowing more light into the stones as well as giving an open look to the ring. The French Pave looks like W's decorating the sides, W for whimsical and wonderful! The seven hundred dollar price is in the moderate range, but average for a 14k White Gold Ring. I would worry a bit about the band bending with wear and tear if this ring is worn as a single band, but I think it would be just fine in a group of stacked rings.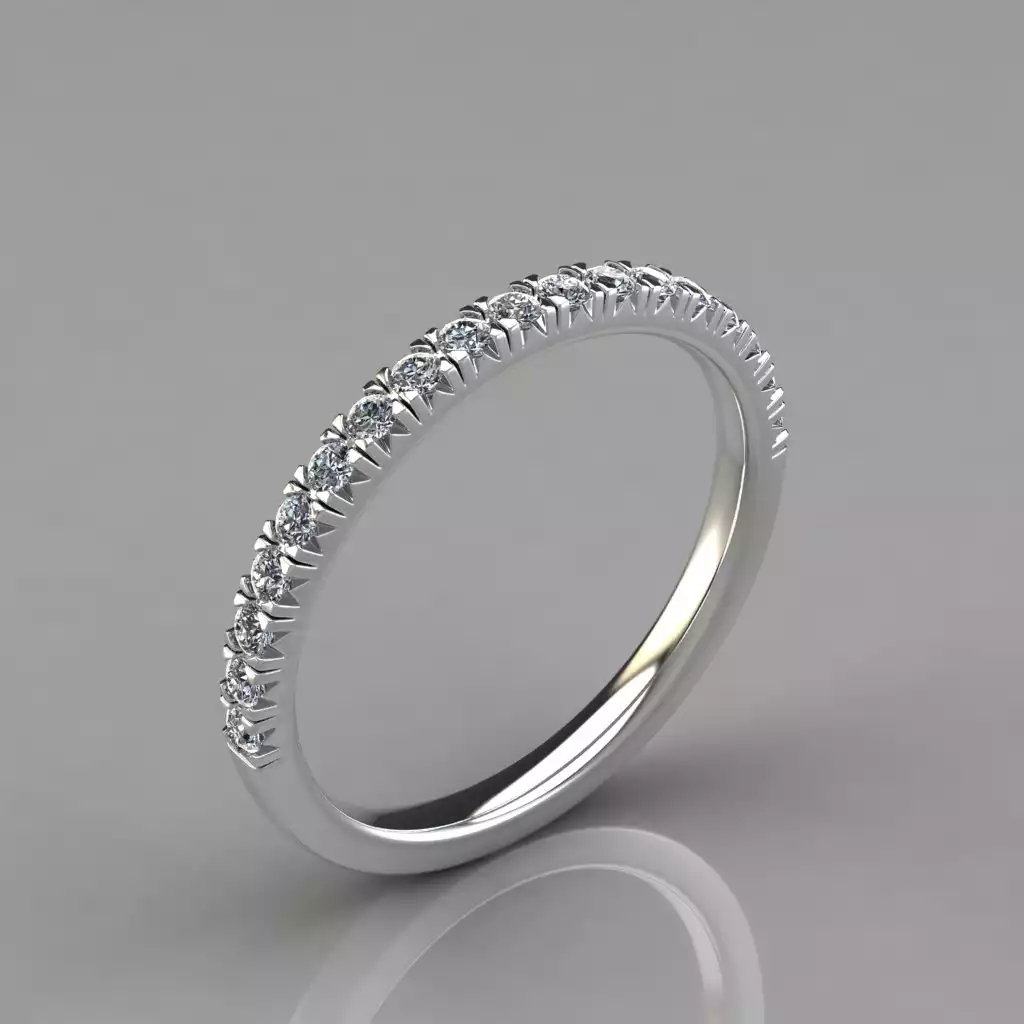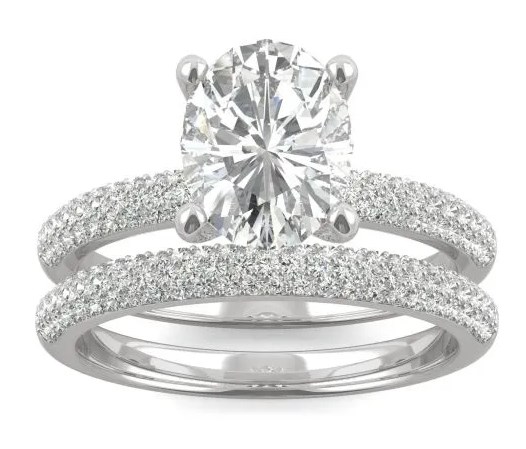 Oh wow, this ring set features mini pave on both the engagement ring and the wedding ring. The Pave on this set is incredible, you can almost not even see the metal setting color because the stones are so well set together that they diagonally line against each other in three rows on the top of both rings. I adore the complete look of sparkle from this set. Almost a half-carat of Moissanite decorates the top of these rings in Pave, which is quite a large carat weight with such small stones. The over two-carat center stone is also quite beautiful and is pretty much the perfect touch to finish this gorgeous set.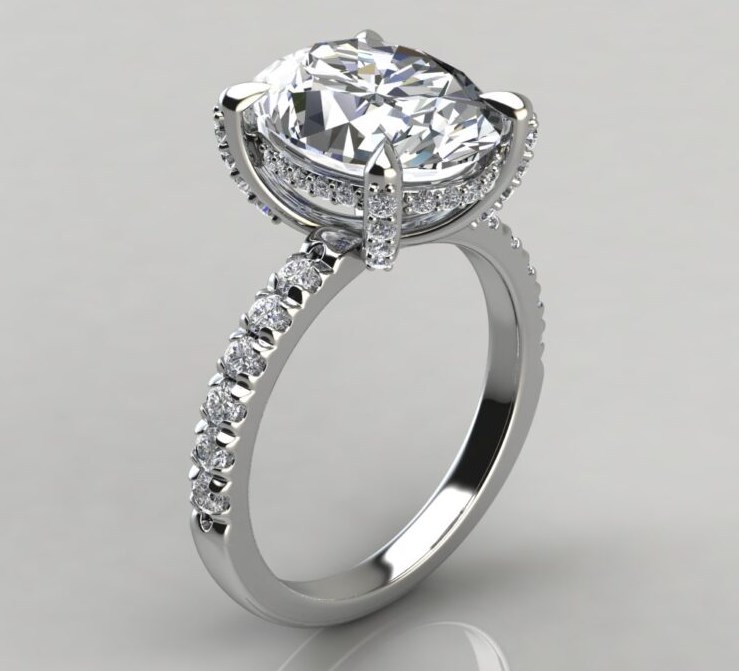 Now I have mentioned that I favor rings that have extra decoration and secret details that add a lot of excitement to a ring and the enjoyment of wearing it. The way this ring is decorated is very detailed. Your friends will have to get up close to see all the exquisite detailing along the sides of the stone, basket, and shank of the ring. The large four-carat center stone sits in a bezel setting that has a secret halo around the underneath of the setting, Each prong is Pave set with additional gems, and the shoulders of the ring then also feature Pave Moissanite accent stones to the middle of the band. Such a sparkling ring, with all the little, Pave accenting.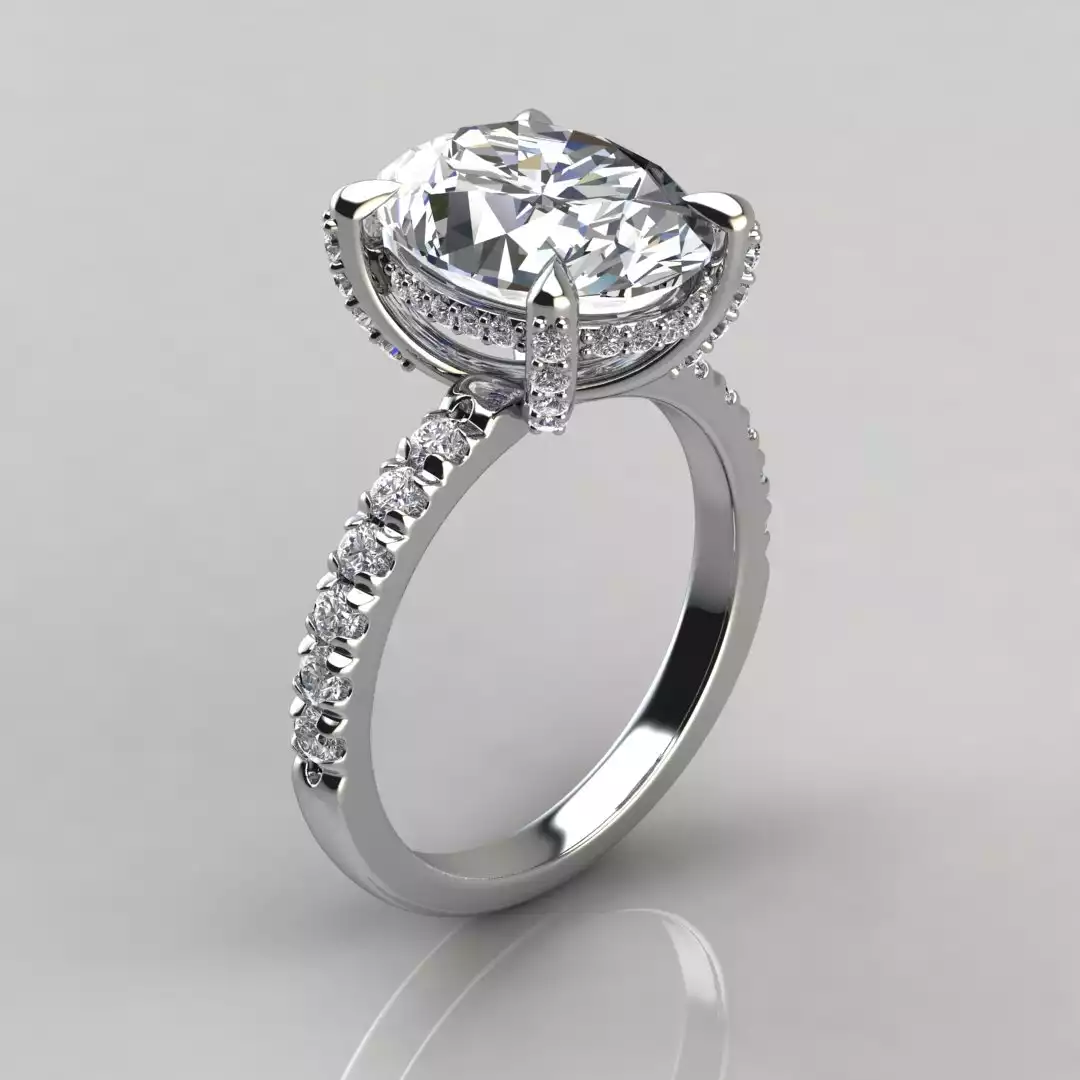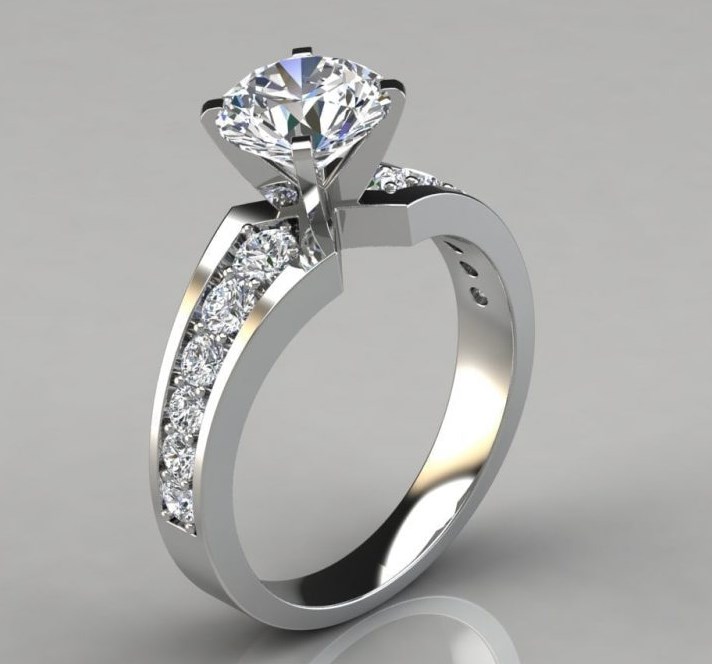 Graduated stones are encased in a channel setting, then Pave set inside the channel. These glittery side stones reduce in size as they descend down the sides of the ring. The one-carat solitaire center stone is set in a simple four-prong head with polished prongs. This shining ring really reflects the sparkle from the Moissanite and adds a lot of extra bling to your finger. The channel setting helps to protect the stones from additional bumps and bangs when wearing.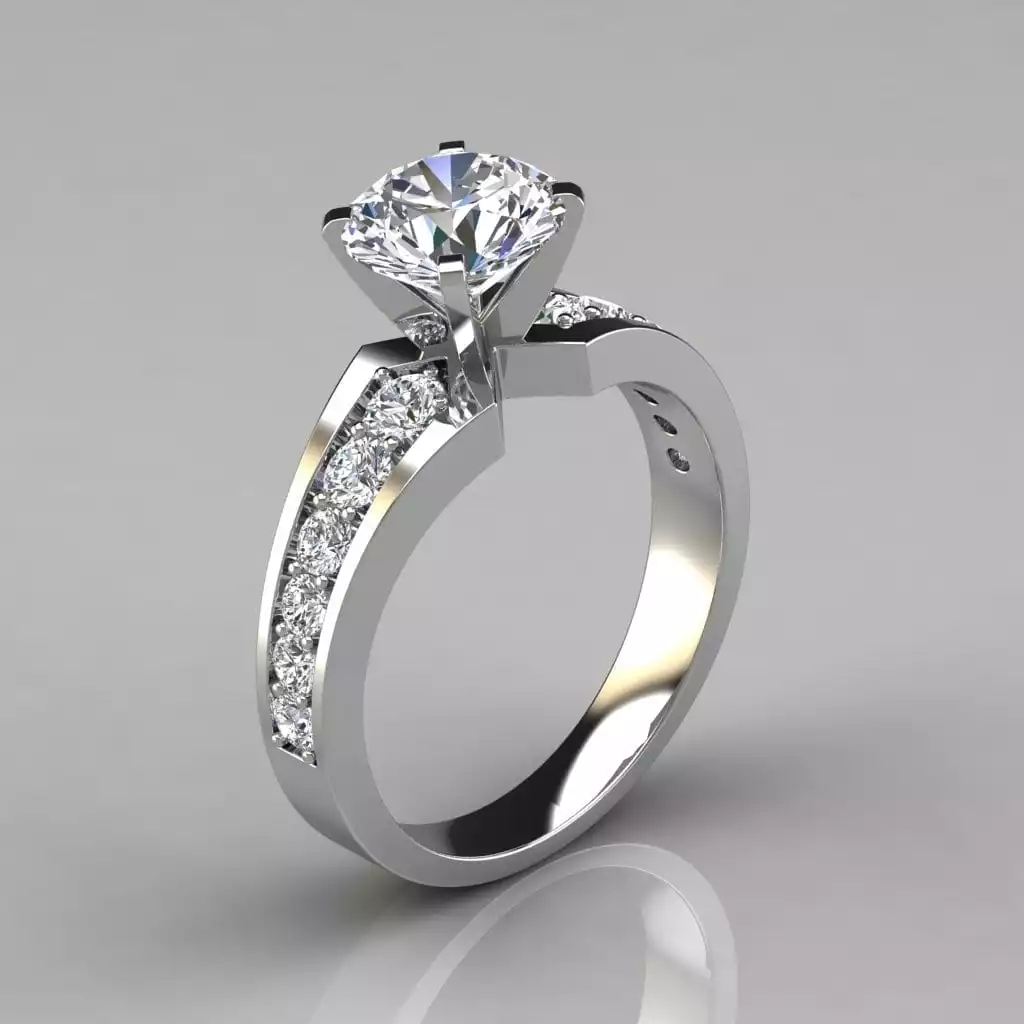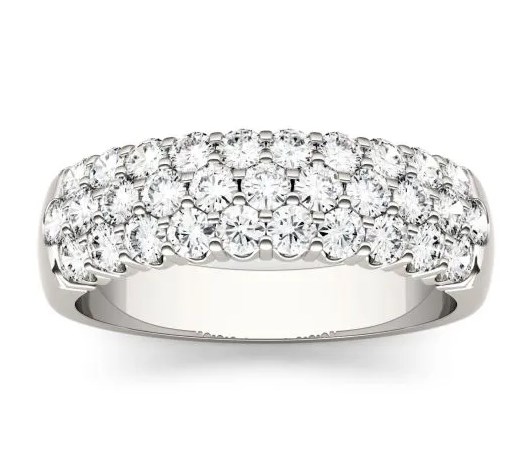 A quality Moissanite Pave band from the Premier sellers of Moissanite stones. Charles and Colvard is the company that originated selling Moissanite stones for jewelry back in the 1990s. Since then they have only improved the quality of Forever One Moissanite. For less than one thousand dollars, this ring is almost a full carat of Moissanite Pave. While large singular stones provide sparkle, small Pave stones like this create a glittery look. Lots of pretty little points of light to shine out as the light enters and reflects back out. This ring is a pretty wedding or anniversary band, but also a perfect middle finger accent ring.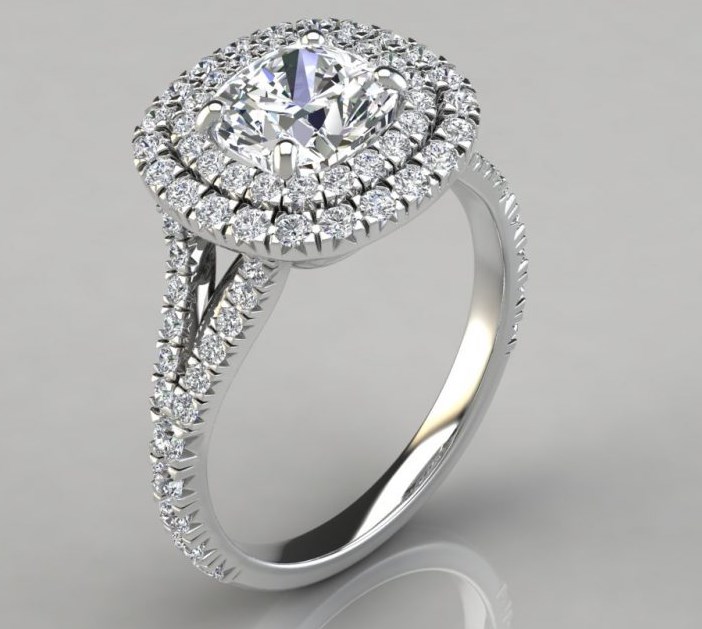 Halos around a solitaire stone are my favorite jewelry style. Add in two and I am beyond excited about a piece. This double halo ring is superbly styled with a one-carat center stone, and almost a carat and a quarter of Pave accent stones. The split shank shoulders of the ring feature two Pave strands that meet the band and continue the Pave until well down the sides of the band. The halos feature French Pave styling with the sides of the gemstones being open, and the W style prongs holding the stones securely. Each stone is well held with four prongs and an additional prong in between each stone. With over two carats of Moissanite, in a Solid 14k White Gold setting, this ring is wonderfully priced as well.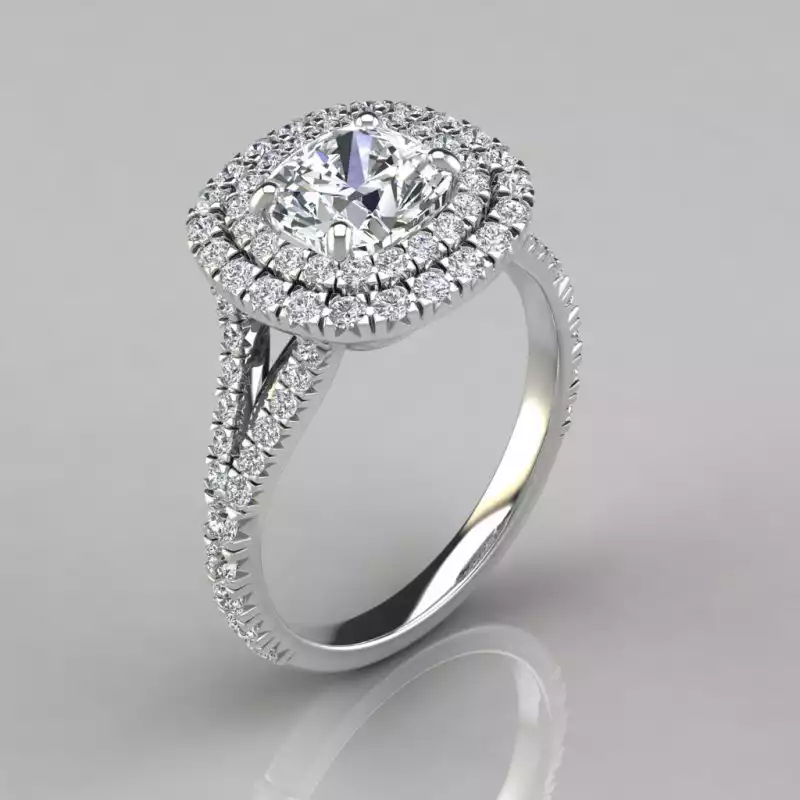 FAQs
Question: What is PAVE on a ring?
Answer: Pavé is the style of setting a grouping of small stones in a piece of jewelry. It indicates that the stones are set in a pattern or line, this 'paved' or pavé is what the style is called. It gives the piece of jewelry a large amount of sparkle from the surface area of the setting. 
Question: Do pave diamonds sparkle?
Answer: The style Pave is where gemstones fill in the surface of a piece of jewelry. The prongs or pieces of metal that hold the gemstones in are almost invisible so the gemstones' innate sparkle is the most noticeable part of the piece. It is this style that can emphasize the beauty of a larger stone, or can even create an animal or design jewelry piece. 
Question: Can you resize a pave ring?
Answer: Because our fingers can change and sometimes we need to increase the size of our rings, knowing that your beautiful Pave ring can or cannot be resized is so important to know. Pave can only be typically resized up one size because of the surface area that which the stones are set in. Pave cannot be cut through or overstretched without risking the chance that the settings and prongs would be altered. Some jewelers may not even be willing to take on the risk of sizing the ring at all. 
Question: What is French pave?
Answer: French pave is different from petite pave in that in french pave, the gemstones are placed into V-shaped grooves so more light can enter the stone, which creates a more brilliant stone. The stones are wedged into the grooves, instead of inserted with prongs that would block the additional light. This style can also be called fishtail pave. French pave can hold larger gemstones but is a more labor-intensive design. 
Question: How do you keep Pave gemstones from falling out?
Answer: There are a few best tactics to help avoid damage to your pave settings. One is to not clean your rings with ultrasonic cleaners often, how often is not unknown, but perhaps it's best to avoid using these types of cleaners at all with Pave jewelry, as the ultrasonic waves can loosen the tiny prongs that hold your gemstones tight. Secondly, which is a great tip always for all jewelry, is never use a jewelry cleaner with unknown chemicals as some chemicals can damage your jewelry and gemstones. Lastly, avoid overexposure to water. When swimming or doing the dishes, as well as showering, it is best to remove your jewelry as soaking your rings in water can wear enough of the metal away that it will weaken the small prongs holding the stones in.
Conclusion
Pave settings are a wonderful addition to rings and other pieces of jewelry. I remember being absolutely enchanted with pave pins when I was younger. One particular jaguar pin that was so beautiful, and a snake bracelet were both pieces of that unique and special jewelry that I always wanted to own. Nowadays I prefer less specifically styled jewelry, but a pave heart pendant would definitely be on my jewelry wish list. I have several rings that feature Pave Moissanite down the shoulders of the band and of course, would recommend that to you as well. While a plain band might be pretty, adding the Pave stones on the sides adds all that much more glitter to a ring.
Looking for more interesting readings? Check out: