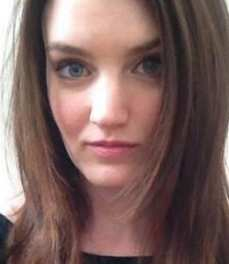 Latest posts by Crystal Schwanke
(see all)
When you think about the best round cut moissanite ring ideas, does your mind immediately go to simple solitaires? Mine used to, as well, but as a beauty and fashion writer, I've spent so much time studying ring styles I've learned there's a "best" round cut style for everyone. That's assuming you like round cuts, to begin with, even if simple isn't your go-to design.
If simple solitaire rings are not your thing, don't worry. I will be sharing a variety of the best designs to suit those who love the classic solitaire or want a little something extra.
Instead of focusing on a particular design, I've found the best round cut moissanite engagement ring ideas that are high-quality examples of the available variety. I've aimed to explore options that will appeal to various tastes and personality types.
If you've never seriously considered a moissanite ring, but you're beginning to entertain the idea of having one, you're in for a treat.
Bottom Line Up Front: My Favorite Is the Classic from Forever Moissanite
I'm personally a sucker for a classic style. Hence, the Forever Moissanite Classic Solitaire Round Cut Engagement Ring is my top pick out of all the beautiful options below, specifically in white gold.
I love it because the metal-to-stone ratio is pleasing to my eye. The band simply supports the beauty of the moissanite and lets it be the focal point without competing for attention with the sparkling stone.
It's timeless, and it'll go with anything this year or in 50 years.
I recommend choosing the metal that suits your general jewelry preferences and skin tone.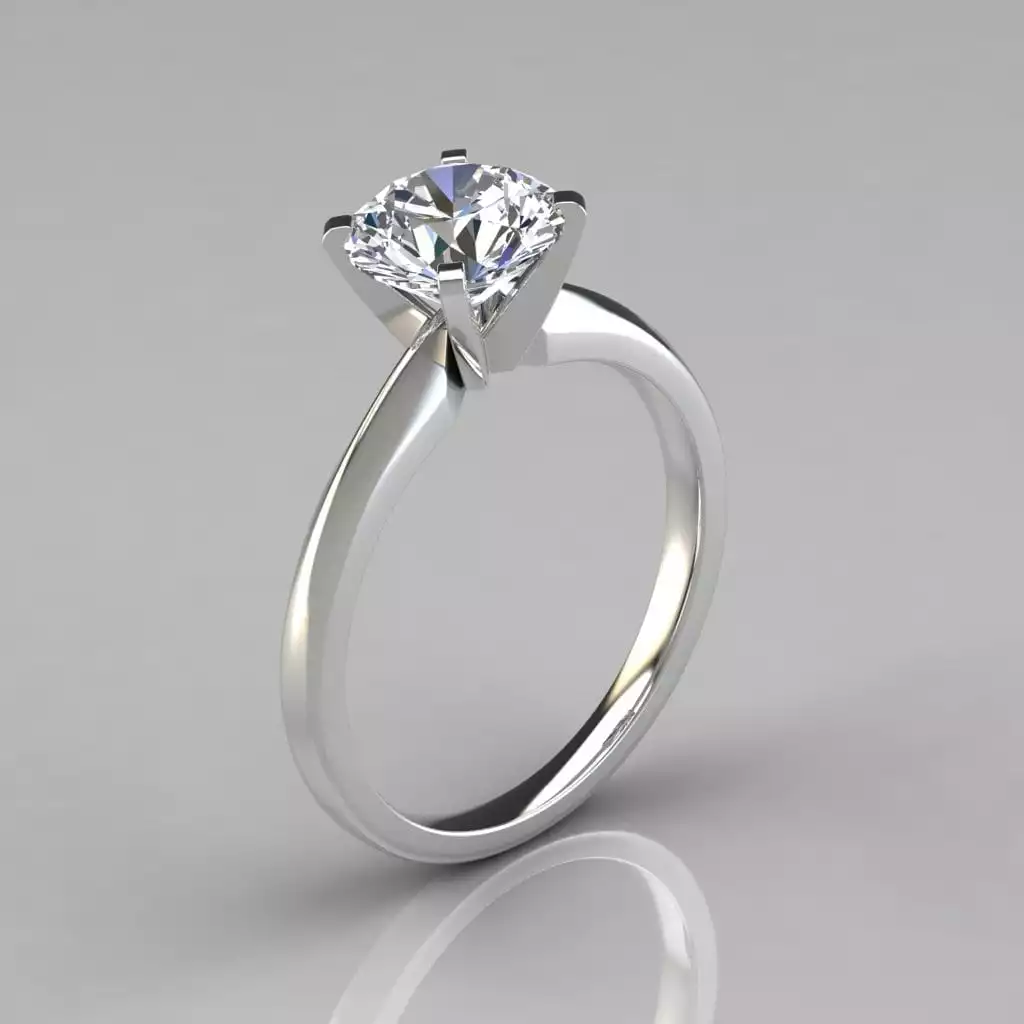 Selection Criteria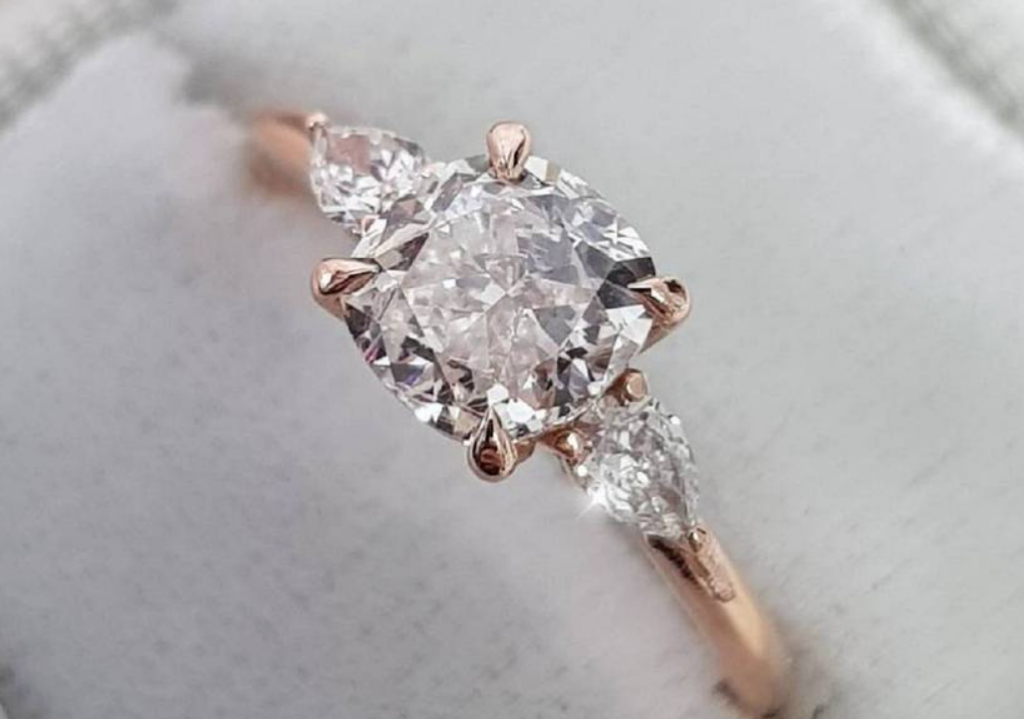 To choose the best round cut moissanite rings, I considered:
Size of the stone (Would it pass as a diamond if you wanted it to? Is doubling likely to be an issue?)

Design details that make it stand out

Customizability

Would it be easy to pair with a wedding band?

Whether the metal is likely to last decades

Color grade (though this is less important since these are ideas for styles you may like, with your choice of stone)
What you won't have to worry about as much as you would if you were shopping for a diamond:
Clarity

Exorbitant prices
Shopping Tips for Moissanite Engagement Rings
Moissanites are durable, hard stones and perfect for engagement rings meant to be worn daily for decades. However, there are still some things to keep in mind while you shop that can affect the look and price of your stone.
Size
If you want a large stone, you'll get more for your money with a moissanite. Two things to think about if you want the biggest stone possible, though:
Do you care if people know (or strongly suspect) it's not a diamond, based on its size?

Do you care about doubling, which is more obvious in larger stones? (Doubling, explained by

HWGem.com

, is when light enters the stone, bends, and splits in two, so there seem to be twice as many facets and culets from some angles. Some other gemstones are naturally like this, but diamonds are not.)
Clarity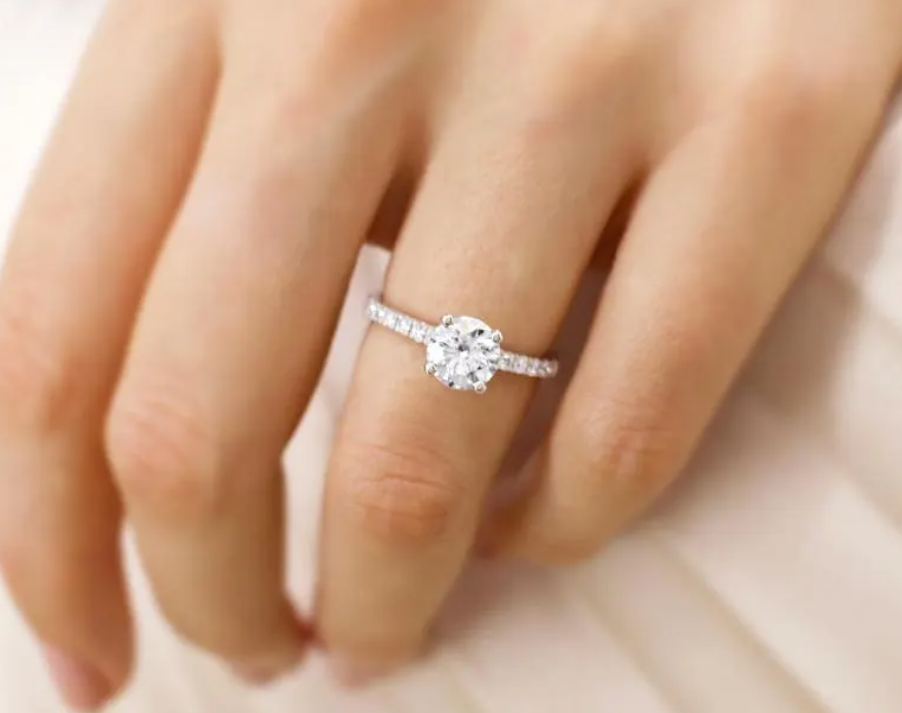 Moissanites can have inclusions, so clarity is still something to consider. However, those inclusions are unlikely to be noticeable to the naked eye, as moissanites are created in labs and designed to meet high standards when it comes to clarity.
You probably won't need to worry about this too much, though it's worth mentioning here, so you can search for the best round cut moissanite ring ideas and final contenders with all of the information possible.
WithClarity.com breaks down the categories of clarity grading this way:
FL and IF: Flawless and internally flawless

VVS1 and VVS2: Very, very slightly included

VS1 and VS2: Very slightly included

SI1 and SI2: Slightly included

I1, I2, and I3: Included
Color
Like diamonds, moissanite is graded on the GIA diamond color grading scale. Charles & Colvard break it down like this:
Colorless is D-E-F

Near colorless is G-H-I

Faint hues of color: J-K
The 13 Best Round Cut Moissanite Ring Ideas
There are plenty of gorgeous round moissanite ring designs, but these are some of the most beautiful ones I've found. These span various jewelry tastes, so there's something for everyone who loves round center stones.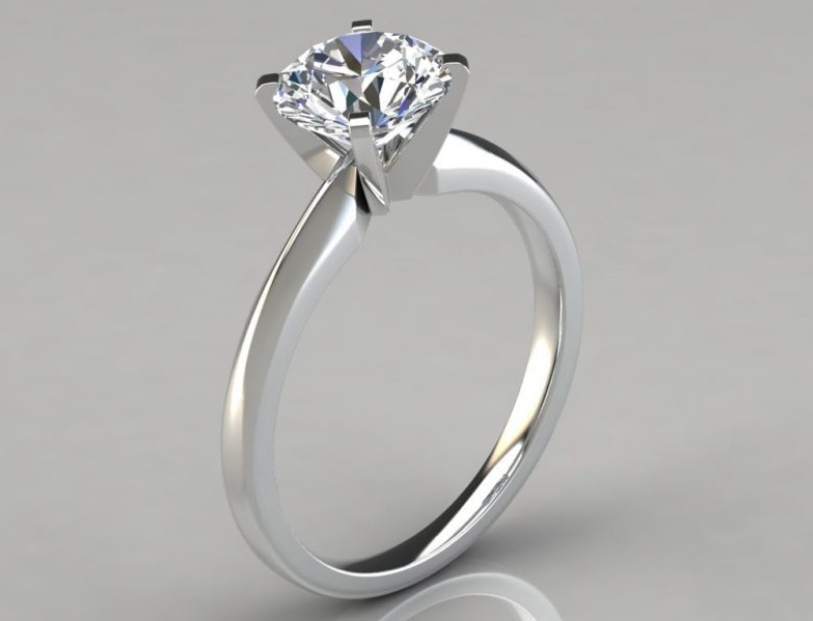 The Forever Moissanite Classic Solitaire Round Cut Engagement Ring is my absolute favorite because of its simplicity and balanced appearance. The band supports the stone without competing for attention, but the gleaming metal is beautiful in its own right. The round, brilliant-cut promises to be a fiery addition to your finger.
This is just an example of the type of ring you can find as you search for the best round cut diamond engagement rings. If you select this specific one from Forever Moissanite, however, you'll be able to choose from sizes four through 12. Stone sizes range from 1.00 CT to 3.00 CT. Metals available include: solid white (14k or 18k), yellow (14k or 18k), rose gold (14k or 18k), or platinum.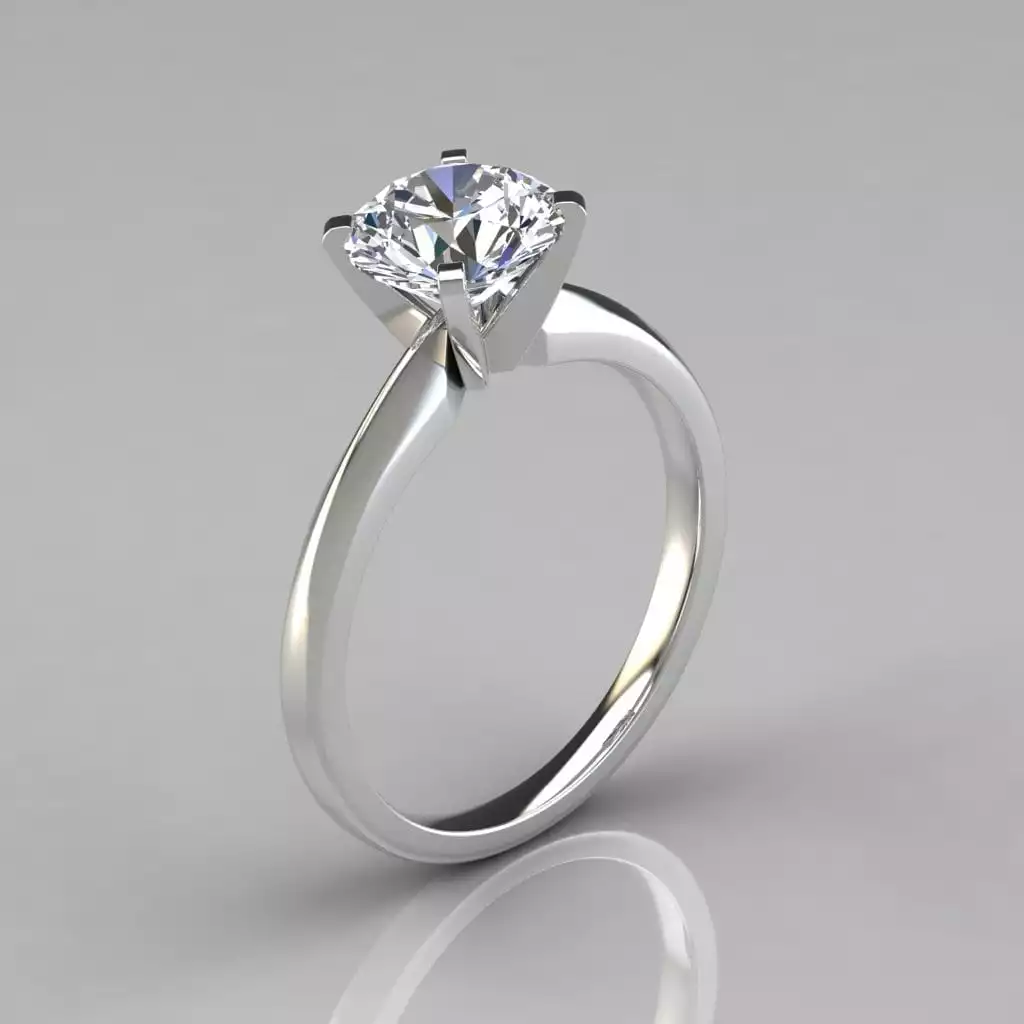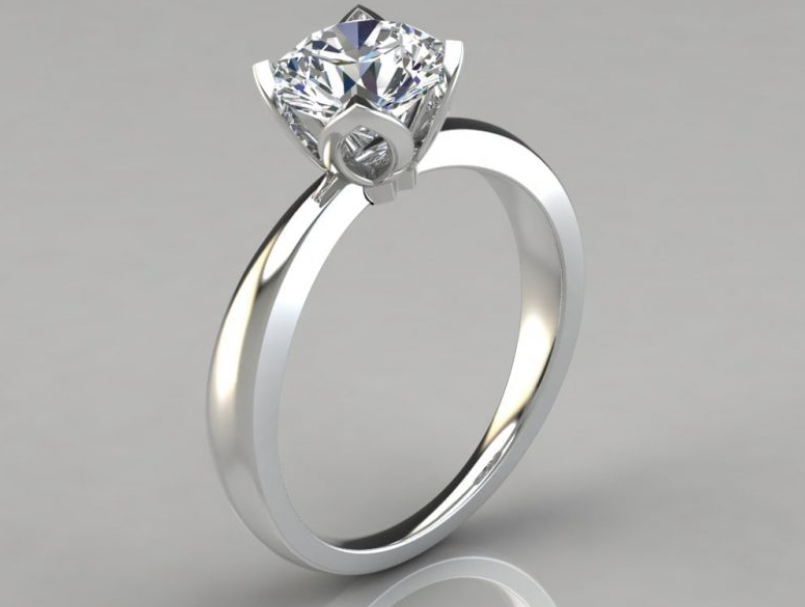 The Forever Moissanite Tulip Head Solitaire Moissanite Engagement Ring is another one of my favorites. It's similar to the one above; only the tulip head adds more visual interest to the band. It still acts as a supporting feature to the main event, the stone. Still, there's something extra-special about the design that deserves a second look.
If you want a solitaire with a little something to make it stand out, this could be the perfect one.
Ring sizes range from four to 12, stone sizes range from 1.00 CT to 3.00 CT, and you can pick between white gold, rose gold, yellow gold, and platinum.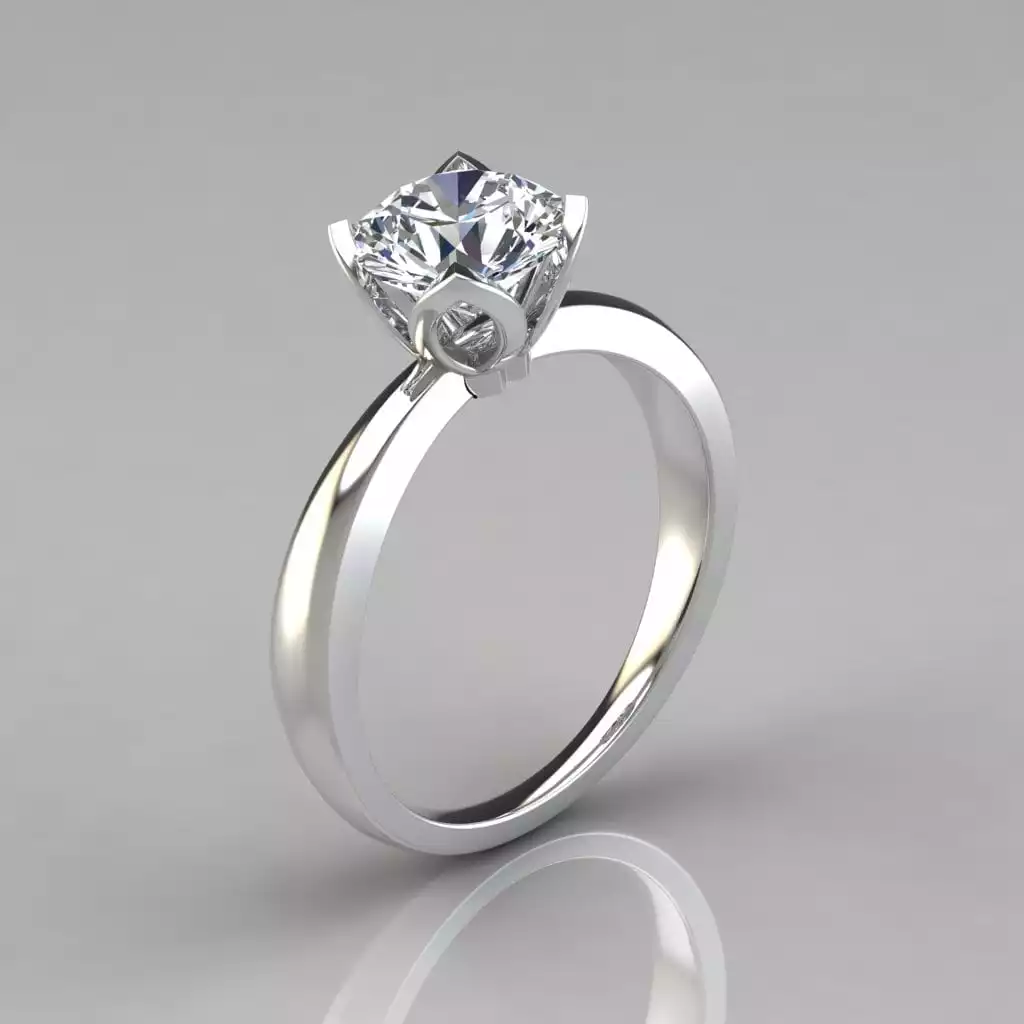 Charles & Colvard 3.10 CTW DEW Round Forever One Moissanite Three Stone Engagement Ring in 14K White Gold
For a change of pace, let's consider the option of not just one round stone, but three! The Charles & Colvard 3.10 CTW DEW Round Forever One Moissanite Three Stone Engagement Ring in 14K White Gold is quite the sparkler.
This particular one only comes in white gold, but if you prefer a different metal, the design isn't so distinct that you couldn't find a similar one set in yellow gold, rose gold, or platinum.
If you do decide this is the one for you, you'll have your choice between DEF and GHI color grades and ring sizes five to nine.
I love that the four prongs around each stone keep them secure without being especially noticeable. In some designs, more prongs (or more prominent ones) detract from the beauty of the stone or stones.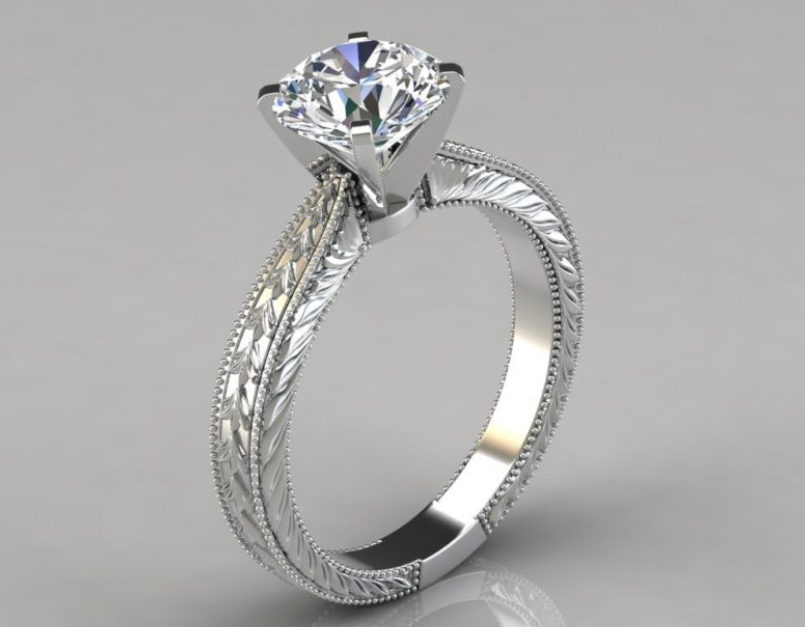 The Forever Moissanite Hand Engraved Solitaire Moissanite Engagement Ring is the perfect solution for the person who wants the whole ring–the center stone and the band–to make a statement and reflect light without extra stones.
In this case, light will catch the engraved band almost as much as the facets in the stone, making for a striking addition to your ring finger. Suppose you're nervous about losing tiny stones along a more intricately designed engagement ring or wedding band. In that case, this style could be the happy medium.
This specific design comes in sizes four through 12, with a center stone between 1.00 CT and 3.00 CT, and you can pick between yellow, white, or rose gold, or even platinum.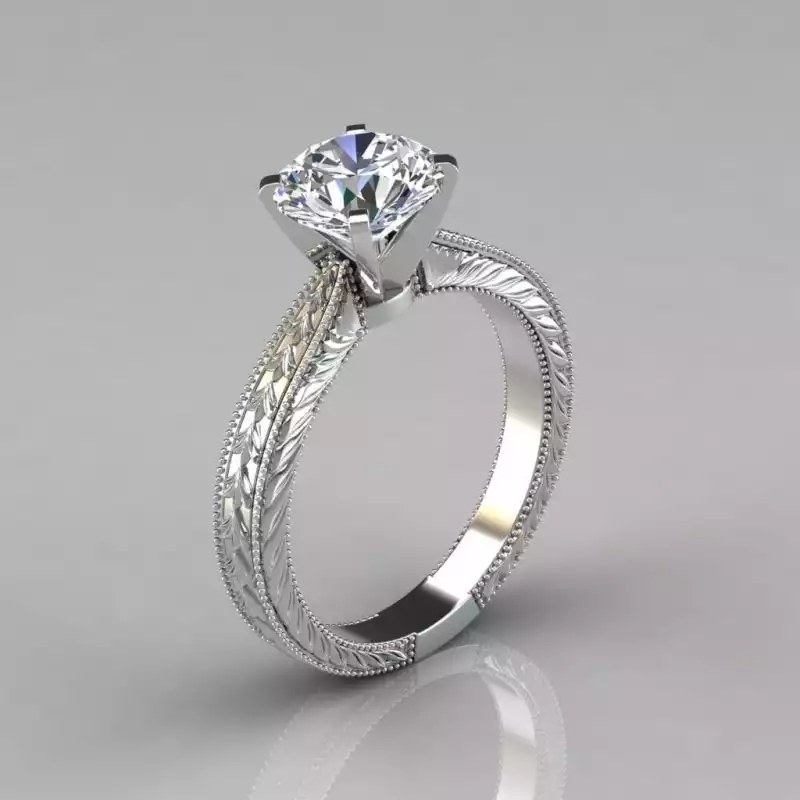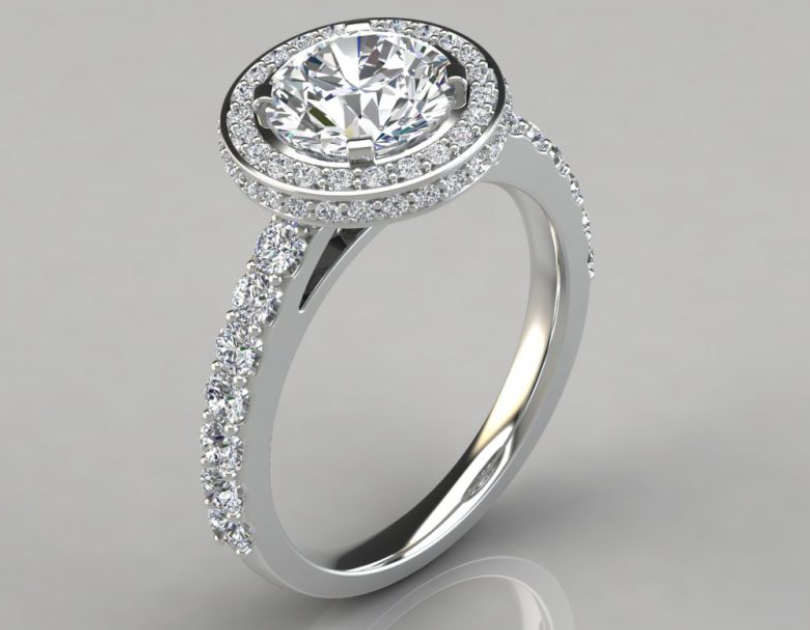 The Forever Moissanite Micro Pave Cathedral Halo Moissanite Engagement Ring is my favorite outside of the more straightforward solitaire options. This one is perfect for someone who doesn't shy away from sparkling stones and wants them on almost every ring surface that makes sense.
The cathedral setting lifts the stone as if to say, "Look at this breathtaking stone!" and the halo detail only serves to amplify the sentiment.
My favorite thing about it is its ability to marry (no pun intended) a vintage vibe and a modern look while maintaining a distinct elegance. I think it's incredibly gorgeous in white gold, with the rose gold as a close runner-up, but you can also get this one in yellow gold or platinum.
If you decide to shop at Forever Moissanite for this style, you can choose from ring sizes four through 12 and a center stone of 1.00 CT to 3.00 CT.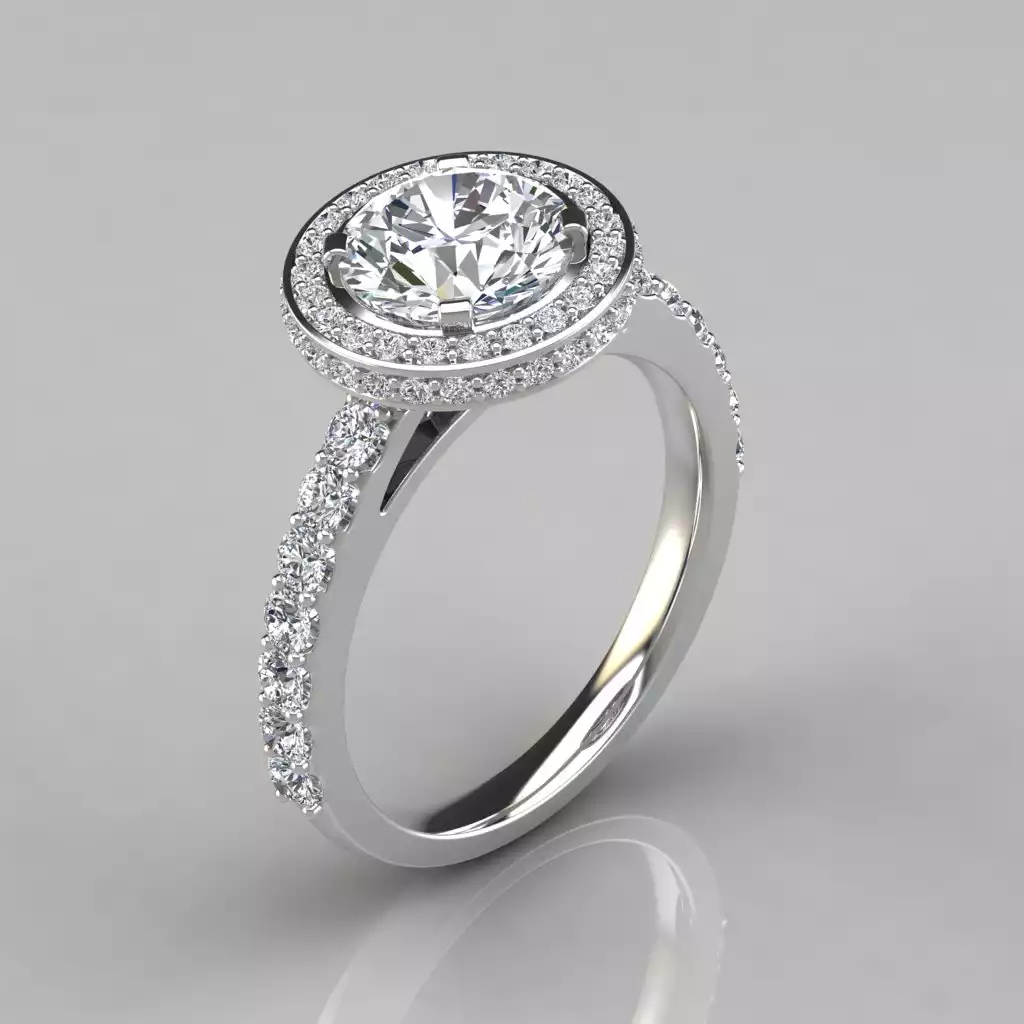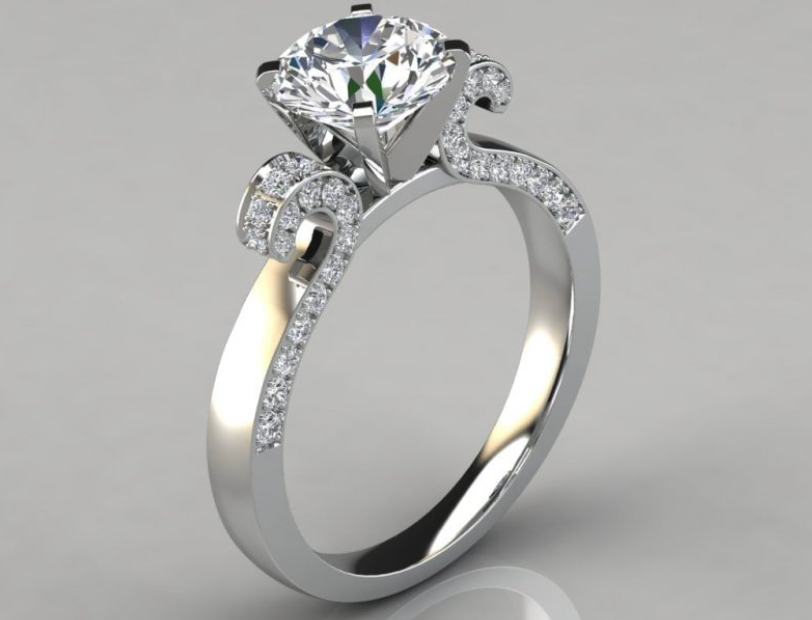 The Forever Moissanite Vintage Floral Design Round Cut Moissanite Engagement Ring is understated in some ways and eye-catching in others. The band doesn't have a wildly extravagant design. Still, it allows the wearer to show a little personality, an appreciation for yesteryear's styles.
The vintage feel of the curves paired with pavé stones and sparkling round center stone make this style a good idea for the person who loves looking to the past for fashion inspiration. I usually gravitate toward white and rose gold, personally. Still, something about the yellow gold on this one makes a bold statement I love more than any of the other options.
Get it in sizes four through 12, with a center stone of 1.00 CT to 3.00 CT.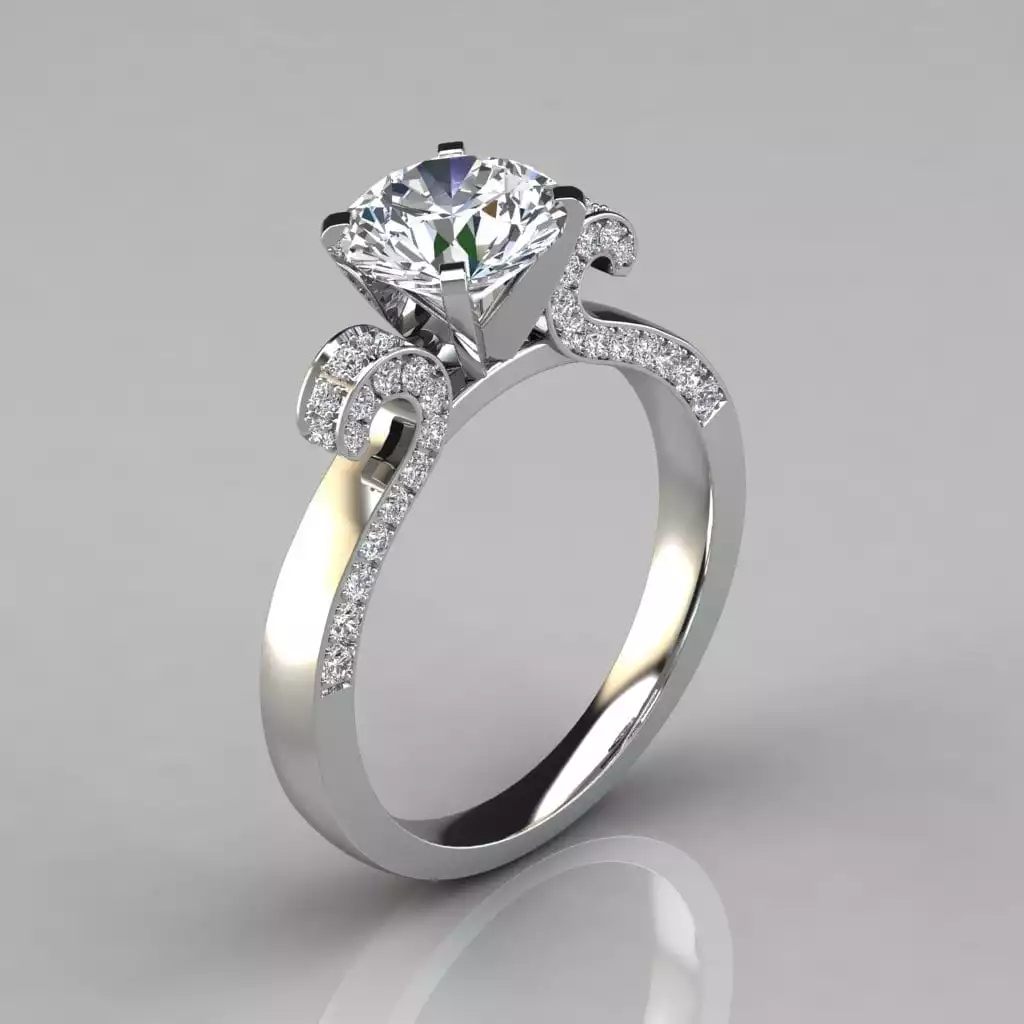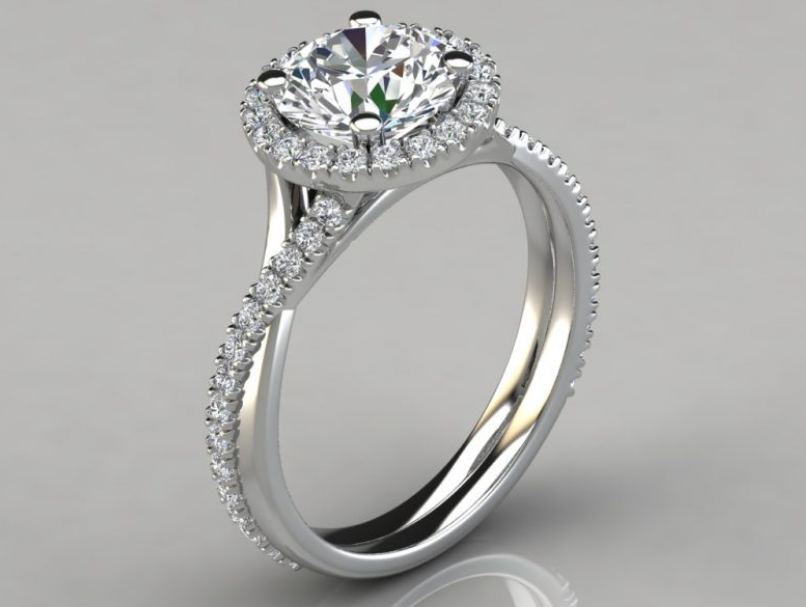 The Forever Moissanite Moissanite Twist Round Brilliant Cut Halo Style combines several features that make a ring stand out, yet it somehow doesn't look tacky or overdone at all. In fact, it's one of the most elegant options on the list.
I love this ring because it does an excellent job combining the best of most worlds. You have the gorgeous round moissanite center stone (from 1.00 CT to 3.00 CT) surrounded by pavé stones (.35 carat).
Because the band is like two bands twisted together, one can be covered in more sparkling stones while the other brings in the grace and simple beauty of a plain band. Get it in white gold, yellow gold, rose gold, or platinum.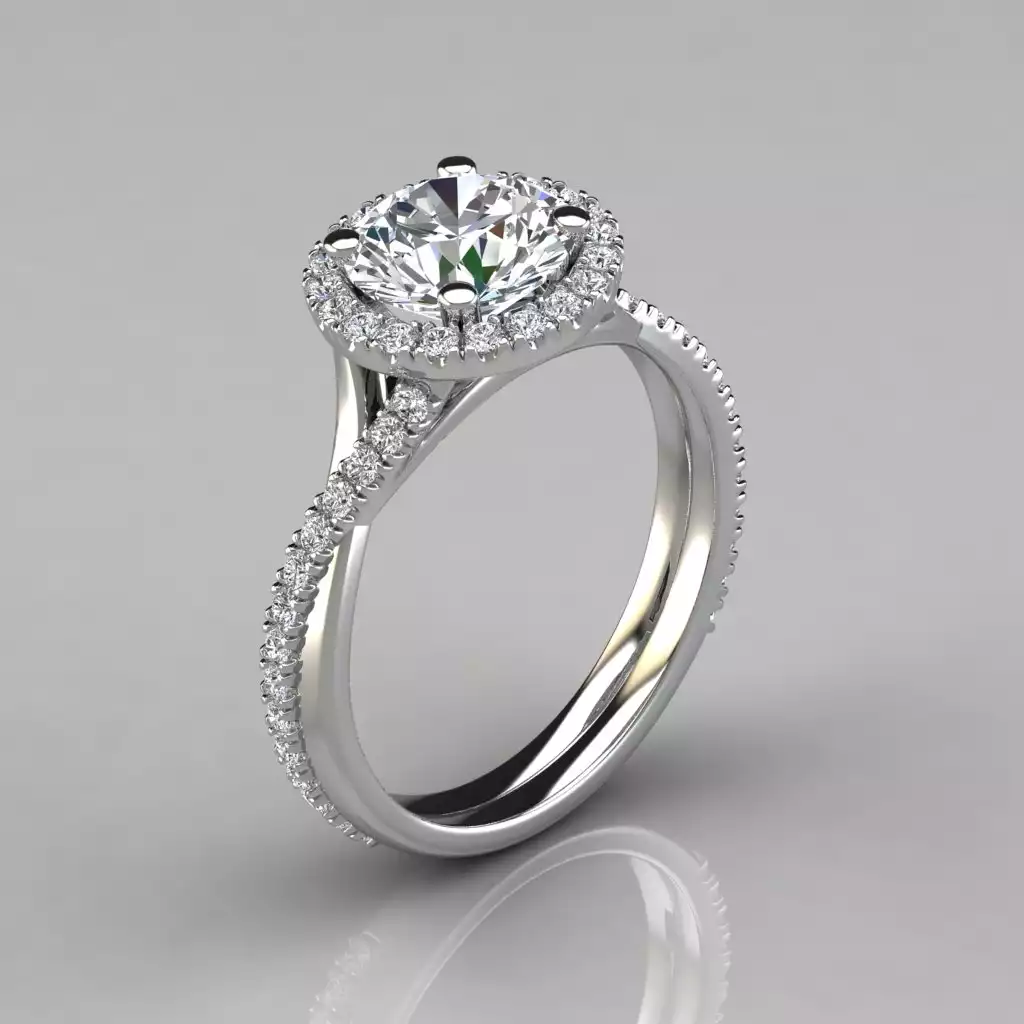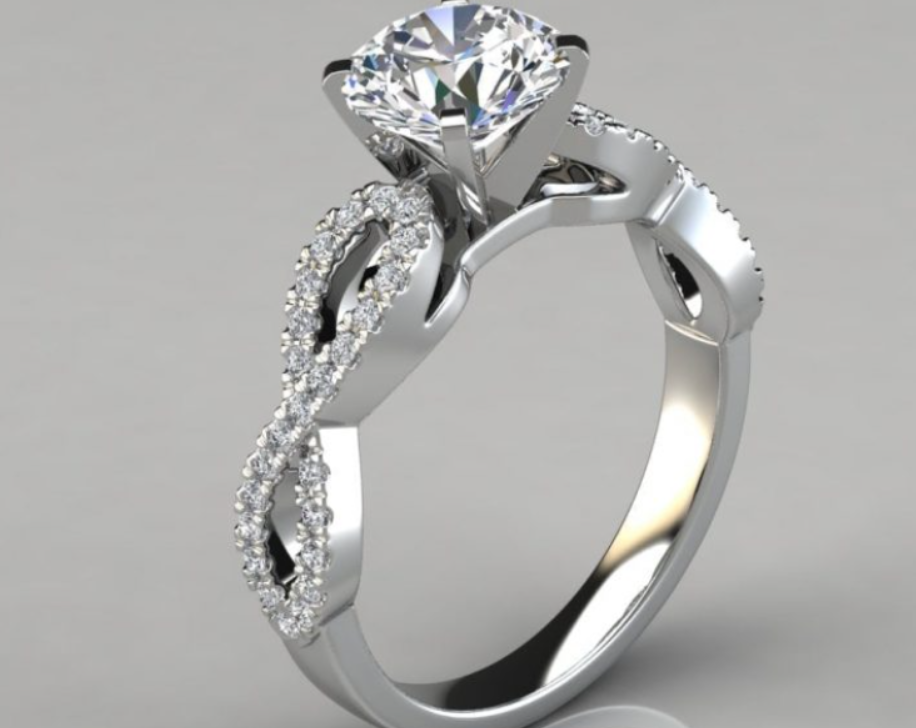 The Forever Moissanite Infinity Design Round Cut Moissanite Engagement Ring has a more substantial band than most of the options on this list. It really doubles down on the idea of spending forever with your special someone, thanks to the brilliant-cut side stones that create the infinity symbols on either side.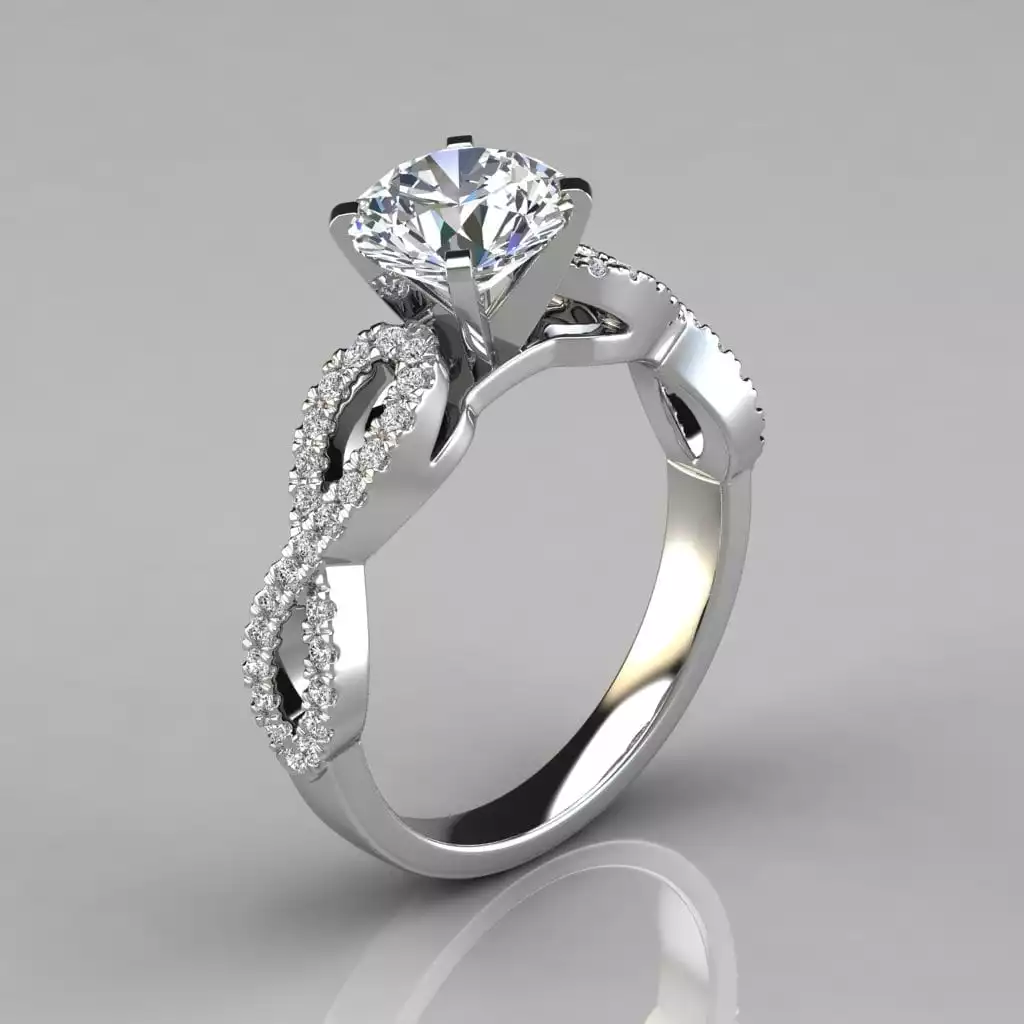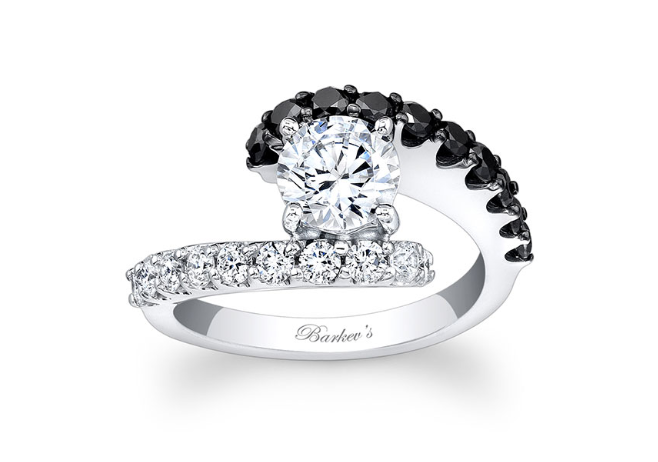 You'll love Barkev's Split Band Diamond Accent Moissanite Engagement Ring if you love drama and contrasting colors. You don't see this kind of engagement ring design every day, with any type of center stone.
At first glance, this split-shank style seems like it might be challenging to find a band to pair with it, but a thin, plain band or one covered in similar round stones (moissanites or diamonds) could work here.
Suppose you don't love white gold or platinum. In that case, you might be disappointed that those are the only two metal options available here, but those do work very well with the black and white stones.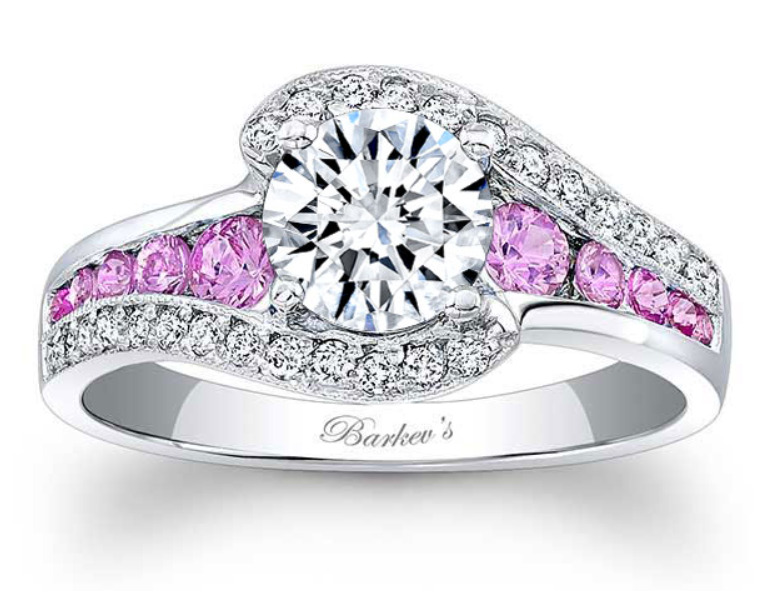 If pink sapphires mean something special to you and/or your significant other, or you just really love pops of color in your jewelry, you will love rings like the Barkev Unique Pink Sapphire Accent Moissanite Engagement Ring.
The design hovers between modern and vintage, with pavé diamonds above and below the center stone and channel set pink sapphires on either side. Only white gold (14k and 18k) and platinum are available.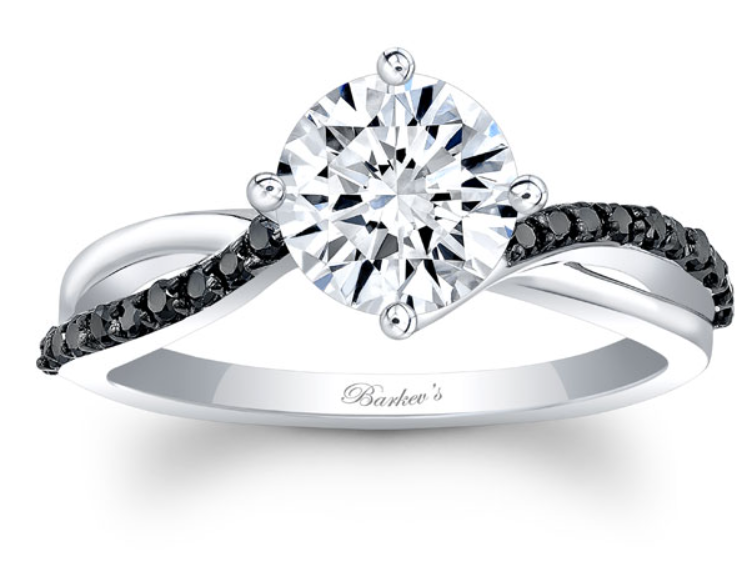 Barkev's Black Diamond Twist Moissanite Engagement Ring is another striking black and white design with a glowing round center stone. This one introduces color and still remains understated and elegant. I love it because it's almost as understated as a solitaire, but it's got something extra to make it memorable. It only comes in white gold (14k or 18k) or platinum.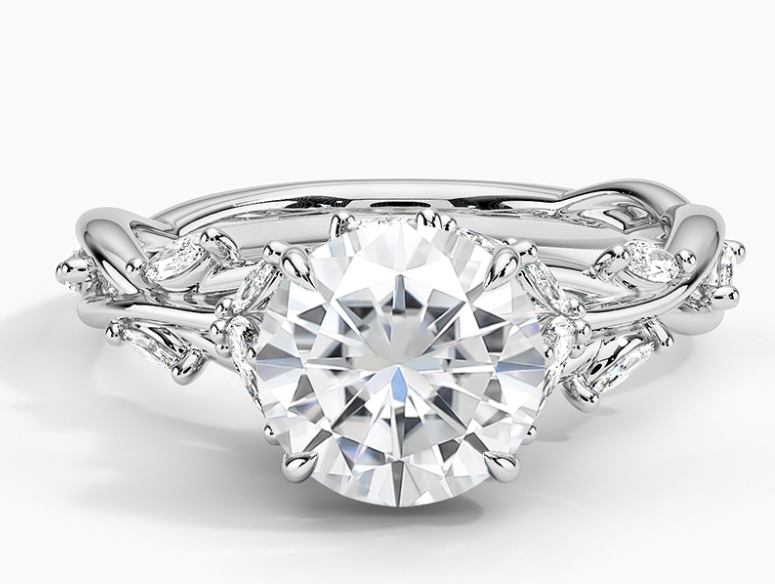 The Brilliant Earth Moissanite Secret Garden Lab Diamond Ring comes with various options where the center stone is concerned. Still, I think round is one of the prettiest here. The band looks like it's made of metallic vines, creeping out and around your finger from the center stone, interspersed with marquise-shaped diamond "buds."
I love this one for someone who likes to add special touches to otherwise basic outfits to make them her own. This one's available in white gold, yellow gold, rose gold, and platinum.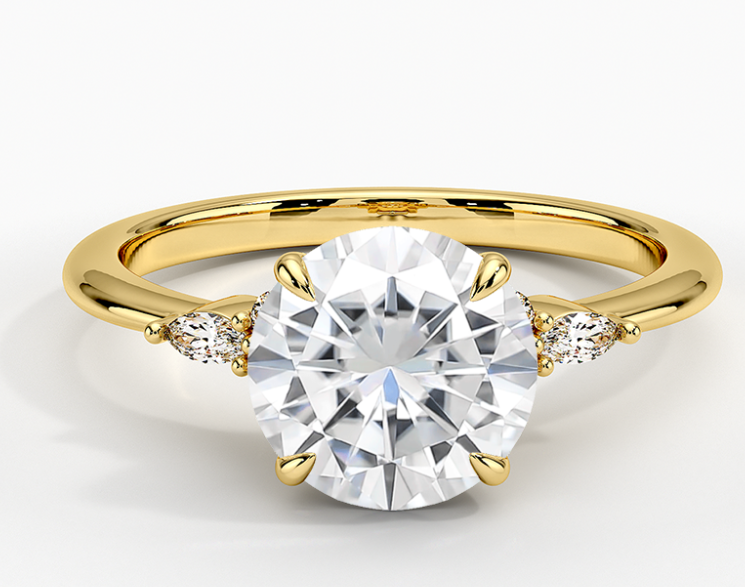 For another somewhat simple style that takes things up a notch, you'll love the Brilliant Earth Moissanite Nadia Lab Diamond Ring. It features round and marquise side stones and is available in white gold, yellow gold, rose gold, or platinum.
This one is a beautiful happy medium for the person who loves a simple solitaire but also enjoys some of the "busier" styles–just not enough to commit to one for life. I love how this one offers a hint of sparkle beyond the center stone, but all of it's still concentrated in the middle of the band.
No worries about finding a band to go with this one, either. Brilliant Earth has a few suggestions to help you maneuver around this engagement ring idea.
FAQs
Still curious about moissanite engagement rings? I've got you covered:
Question: What cut of moissanite looks most like a diamond?
Answer: Brilliant round moissanites are the best at passing as diamonds.
Question: What shape of moissanite is best?
Answer: There's no actual "best" shape, but ovals and circles are some of the fieriest options and will refract the most light. If you want the sparkliest option, choose one of those.
Question: What color grade is best for moissanite?
Answer: Something on the D-E-F scale is best, as it's colorless.
Question: Are moissanite rings tacky?
Answer: Not at all. They're wonderful diamond alternatives. Whether a ring is tacky really boils down to a person's jewelry preferences, more than anything, and is simply an opinion.
Question: Can I pass off my moissanite ring as a diamond?
Answer: The naked eye is highly unlikely to tell the difference between your moissanite and a diamond. That said, you could raise suspicion with a huge stone simply because of the cost (and perhaps the doubling effect mentioned earlier, if people familiar with moissanites look closely enough at the stone from the right angle). I don't think you have anything to worry about, though, if you're choosing a relatively modest size stone.
Question: How big is too big moissanite?
Answer: You'll probably want to stay around 2.00 CT or lower for the best, most believable stones. However, this is up to your preferences in how believable you want it to be.
Conclusion: You Can't Go Wrong
I don't think you can go wrong with a round-cut moissanite engagement ring. While some cuts are in and out of fashion over the years, the round stone is a classic that will never go out of style.
From there, you have a balancing act to consider. You could err more on the simple, classic side that will effortlessly transition through decades of fashions and changing preferences. Another option is to choose a ring that makes a statement by tying in vintage vibes (also timeless, but not always simple). Yet another option? One that features accent stones in pink, black, blue, green, or whatever makes you happy and/or means something to you or your relationship. The ring could just host an unusual detail that matches your personality or something special in your life.
The ideas above should inspire you, but take what you like from the rings above and see if you can find the perfect combination. The important thing is to find the round moissanite center stone that matches your desires in color, clarity, and size. Match it (or find it already matched) with a metal that you love on your skin tone, and then decide which extras–if any–you'd like your ring to have so it feels like it encapsulates you and your love.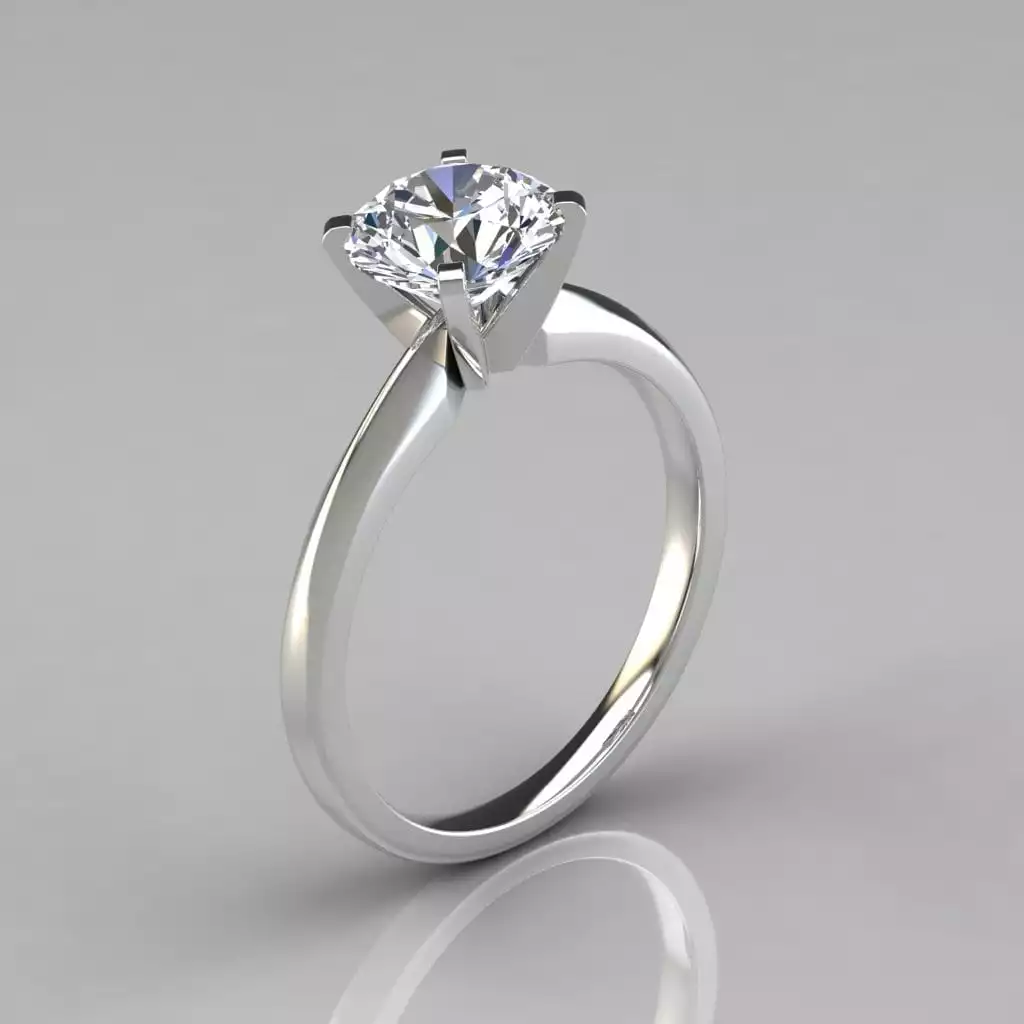 Looking for more interesting readings? Check out: