Latest posts by Jeanette Kierstead
(see all)
When people think of engagement rings, they are thinking of round brilliant cut solitaires. It's usually a large one or two carat diamond that is pulled from the box to tears of joy and happy nods of yes. While we love the non-traditional and unique, we understand that there are traditionalists out there who want a brilliant cut solitaire.
With you in mind, traditionalists, we've found 5 great round brilliant diamonds for your beloved. While diamond dealers would have you believe that you should spend 3 months of pay on a diamond, we don't think you need to spend nearly that much to find a stunning diamond that will make her weep with happiness.
Near ½ Carat Round Cut Diamond Solitaire Engagement Ring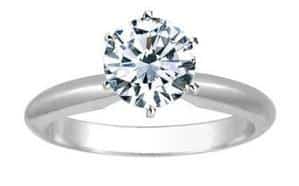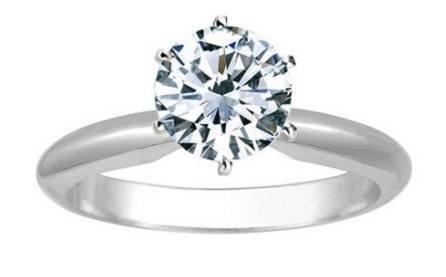 This is the traditional diamond that appears like magic from the presentation box in most people's imagination. If you have a traditional girl, she'll absolutely love this diamond ring. The band is white gold with a 6 prong setting for the 0.45 carat stone. The color is J while the clarity is I2. It's an untreated, natural stone, too. It's available in sizes 3 through 11 with the ability to be resized. You won't have to know her exact size since she can go to the jeweler and have it resized easily to her exact measurements. The ring comes with it's own black presentation box.
---
14k Rose Gold Solitaire Diamond Engagement Ring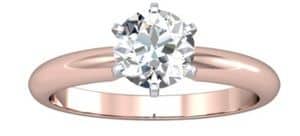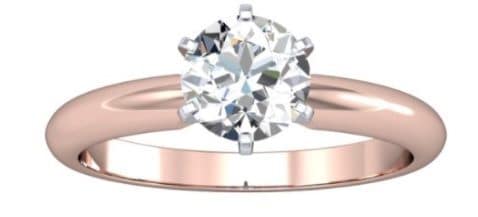 For those women who are traditional, but who like a bit of fun, this rose gold round brilliant engagement ring is sure to make her cry and squeal girlishly with her friends when they see it. The diamond is guaranteed conflict free and is 100% natural and untreated. The seller provide a certificate of authenticity with each ring. The rose gold is a lovely shade of pink with a 6-prong setting for the diamond. It's a 0.24 ctw with a color of D and clarity of VS2. The ring is available in half sizes 3 through 11, but can be resized, too. The seller offers a 30 day return policy on all the items they sell. You'll need to buy a beautiful box for this ring since it doesn't come with one.
---
Elegant Twisting Split Shank Diamond Engagement Ring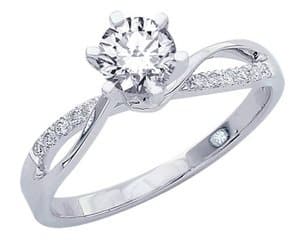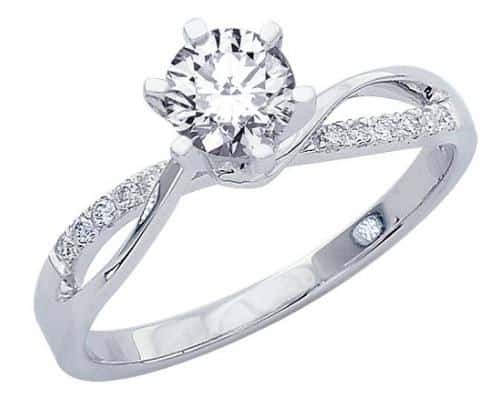 While the last two rings were traditional and simple, this next one has a bit of character to it. It's still a brilliant round cut solitaire, but with a twist. The center solitaire is 0.45 carats with a minimum color of J-K and a clarity of I2. The ring featured here is white gold, but the seller can upgrade or modify the entire ring. It's available in other gold colors like rose and yellow. If you love the ring, but the diamond is the wrong size, the seller will work with you to find the right one. Along the twisted shaft, there are small diamonds embedded to give it extra shine and shimmer. There's no way she won't love this ring. It's available in sizes 4 through 9. You'll have to provide your own presentation box.
---
Diamond Engagement Ring in 14k White Gold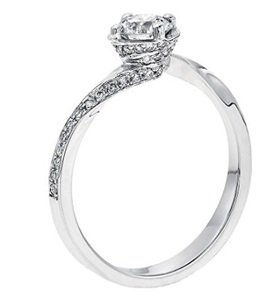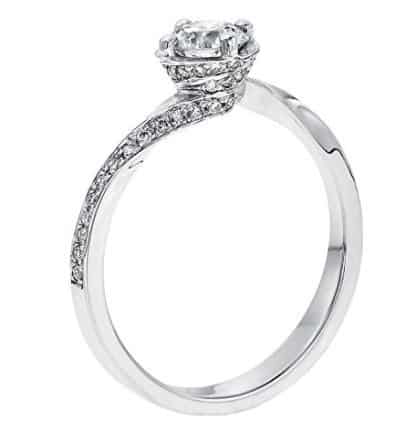 This is another solitaire with a brilliant round cut diamond. It's a bit different than a traditional solitaire, though. It's a solitaire with spice. The shaft of the ring leading twists slightly. The channel of diamonds in each side of the center stone lead to the underside and twist around the base of the solitaire. It's a lovely detail that you won't see on many other rings. The center stone is 0.40 carats with a prong setting set on a base. This base is what the channel of diamonds wraps around. It's a unique detail while also being a protection for the main diamond. The center diamond has a color of J-K and a clarity of I1-I2. It's natural and untreated. There are 8 diamonds leading to the main stone. The band itself is resizable and comes in sizes 4 through 9.
---
Platinum Vintage Solitaire with Halo and Milgrain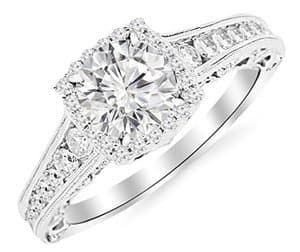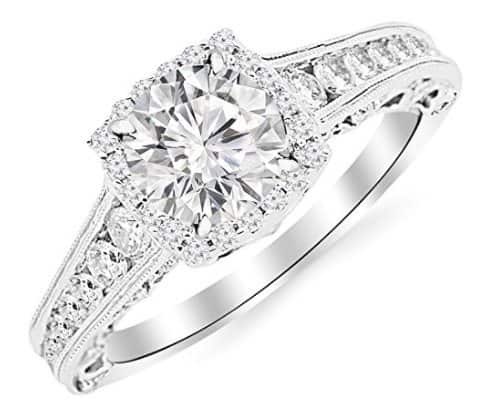 This ring has more detail than the other solitaires on this list. We saved the most interesting for last again! While we've listed the platinum option, the seller has the ring available in rose, yellow, and white gold, too. The band has intricate detailing on the side with scrolls and milgrain to give it a vintage feel while being completely modern. The main stone in the center is the largest on this list at 0.75 carats, but it's a simulated diamond Moissanite. It's a round brilliant white with a clarity of AAA. The surrounding stones and those in the shaft are all round brilliant diamonds. They have a color of G-H and a clarity of SI1-SI2. The ring comes in sizes 3 to 11, and can be resized by a professional.
---
The rings on this list all have lovely solitaire diamonds that range from simple, traditional beauties to intricate, unusual sparklies. You'll have to decide what kind of woman you're marrying. It's like ultimate test of how well you know her. If you have a hard time making a decision because you're afraid of making a mistake, talk to her best friend. She'll know exactly what kind of ring your future fiance will love.
Recommended Reads: