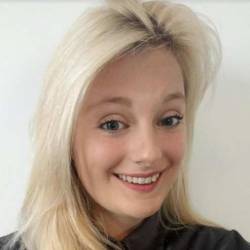 Latest posts by Rosie Greaves
(see all)
When we think of rings, usually something shiny and metallic pops into our heads. And we wouldn't blame you. That's the most popular representation in this industry. But, there are situations where shiny metal just isn't worth the trouble.
In fact, that's why groove silicone rings first came onto the market – as an alternative to the traditional ring. They're ideal for anyone wanting to stay active all day with no interruptions.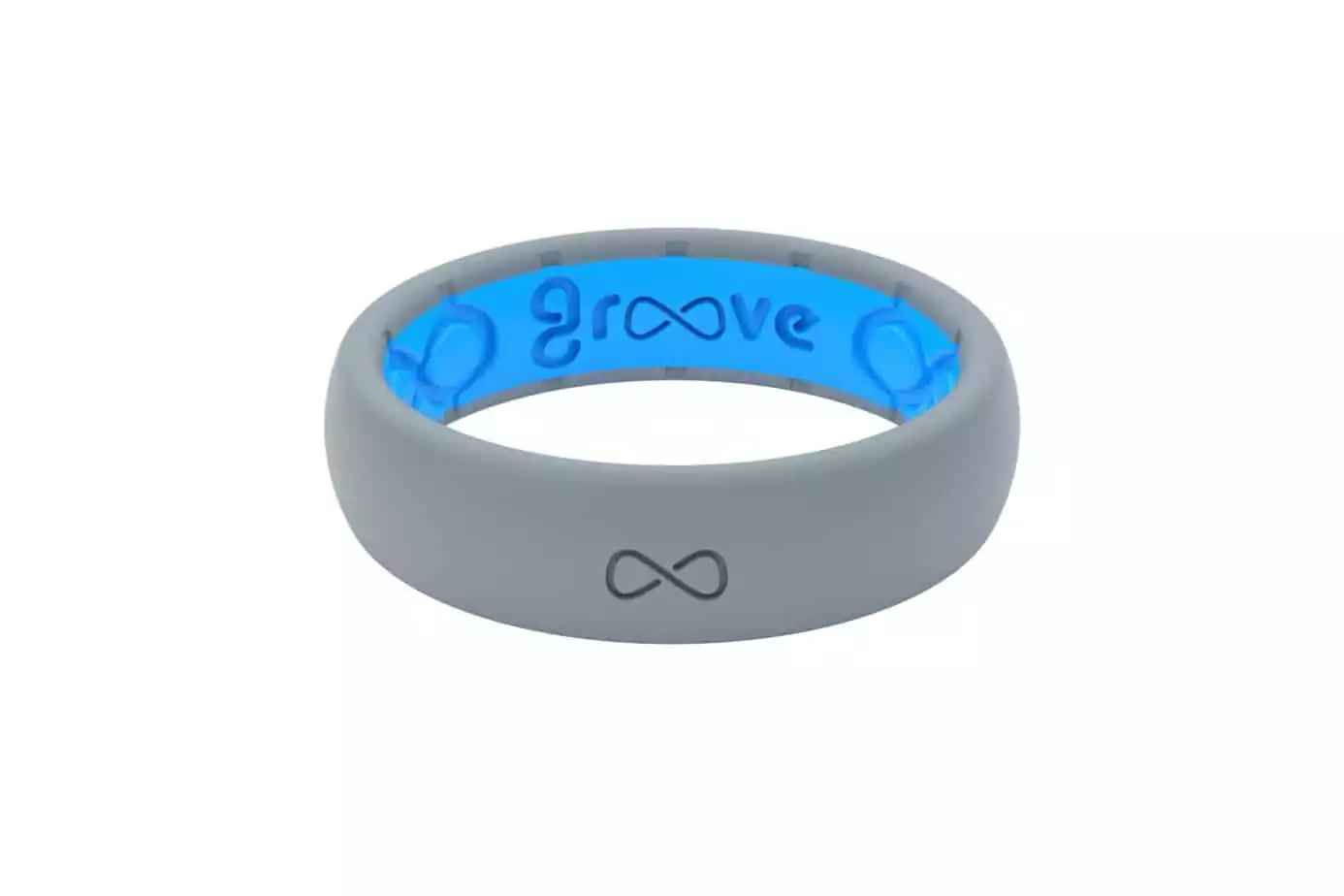 Groove Silicone Rings | Groove Life
Groove silicone wedding rings change the game with their breathable patent pending air grooves, two part design, comfort fit, & low profile.
Check Prices
We earn a commission if you click this link and make a purchase at no additional cost to you.
Cue, Groove rings.
This brand offers unique designs, excellent quality, lifetime support, and a vast selection. So far, Groove products might be the best silicone rings you can get. Period. So, in this article, we'll take a look at what makes this brand worthy of your attention.
Silicone Rings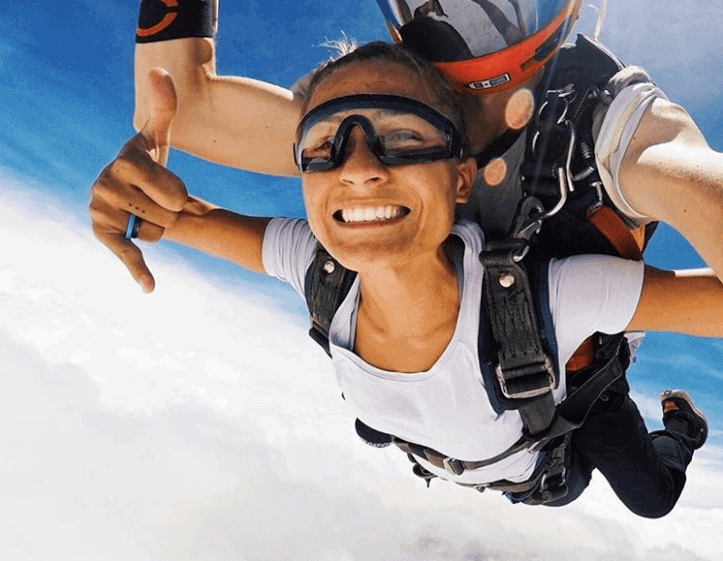 Groove rings aren't the first-ever silicone rings. In fact, the creator of Groove, Peter Goodwin, wore other silicon rings for some time, but it was cumbersome to him. While old-generation silicone rings are more flexible than metal ones, in Goodwin's experience, they still cause sore fingers. Plus, they also accumulate moisture under the ring itself — gross!
Granted, his everyday activities forced him to brace the cold weather and water. But, since silicone rings are supposed to be a suitable alternative for those who use their hands a lot, this became a notable problem.
Silicone rings, at their very core, are designed to give the wearer some freedom. For example, it's hard to engage in sports while wearing a hard metal band around your finger. In some cases, this can even lead to severe injuries. This drives sportspeople to take their wedding bands off, regularly — which some people are reluctant to do.
As you can imagine, this is somewhat of a hassle if your everyday activities demand this of you. Most notably, it increases the likelihood of you losing your precious ring. So, it's safe to say; comfort is a huge selling point when it comes to any silicone ring. It's vital they don't hinder the wearer as they go about their day-to-day routine.
Many manufacturers make rings by pressing silicon into a mold. Clear and effective, right? However, compression sometimes creates mold lines or irregularities. In turn, these imperfections can become rough and sometimes feel extremely uncomfortable on your skin. These tiny ridges don't even have to be prominent or clearly visible. Think of a grain of sand stuck between your fingers – it's uncomfortable to the point of pain.
That's why Groove takes a different approach. These rings are made by injecting silicone into two different molds. These mold lines are then connected, which creates the finished ring. You might think that merging two parts would lead to overlaps or gaps. But since the specialists work with liquid silicone, and don't compress anything, the end result is a perfectly smooth ring. The contours are flawless and feel very comfortable on the skin.
Groove utilizes medical-grade silicone, which is a high-tier material, known for its stretchiness. Thanks to this property, the ring retains its designed structure and feels soft on the wearer's finger.
Groove Silicone Rings: Their Most Notable Hallmarks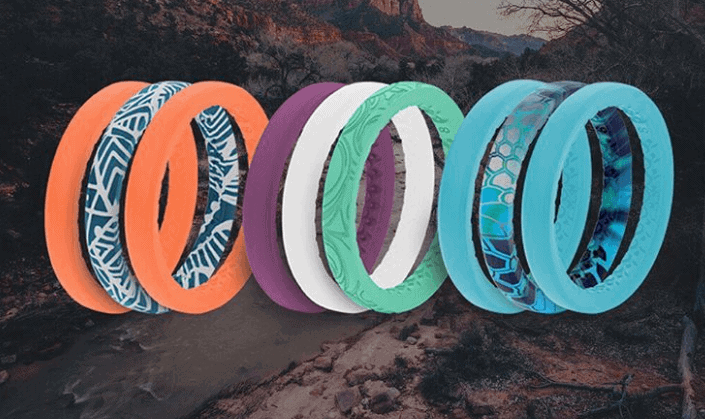 Grove rings boast circular air grooves. These are convenient and comfortable lines inserted into the design that allows your skin to breathe. As the air circulation isn't cut off as it would be with a solid surface touching the skin.
These air ports are designed to allow the air in, but keep the moisture out. This is especially important for anyone leading an active lifestyle. For instance, if you like jogging, you'll know how much the body sweats during vigorous exercise. Consequently, moisture gathers beneath the metal ring caused by the friction, and you'll have to take it off, wipe it clean, and repeat the process every time you go for a run.
In worst-case scenarios, that same friction might cause little abrasions, which can then hinder your everyday tasks.
As we've already mentioned, Groove rings are designed, so this doesn't happen. You can wear comfortable jewelry all day every day without compromising on style. These rings are durable and flexible all at once. Of course, it's not bendy like a straw, but there's a certain smoothness to the rounded design: no edges, no sharpness, only your favorite colors, and a modern look.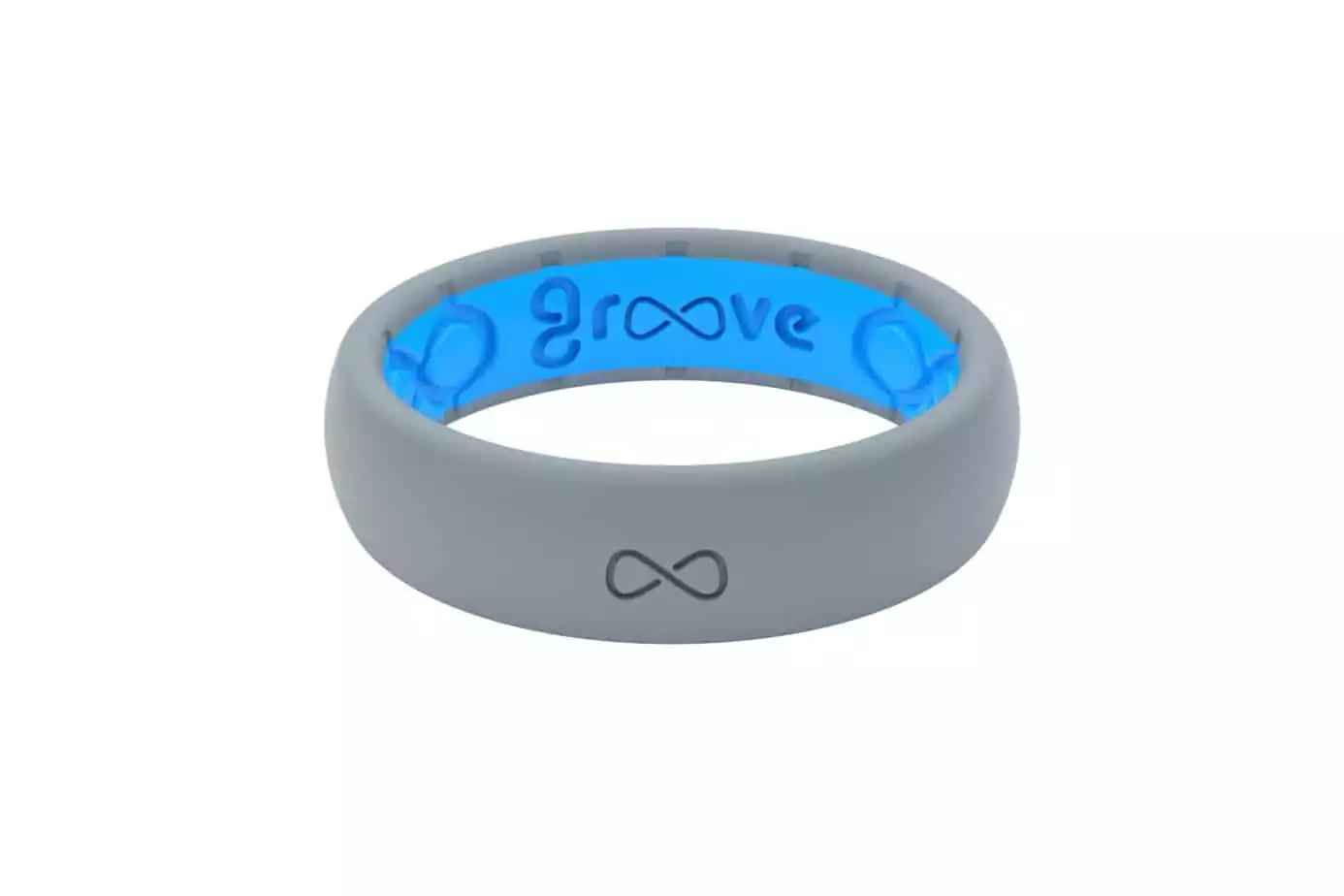 Groove Silicone Rings | Groove Life
Groove silicone wedding rings change the game with their breathable patent pending air grooves, two part design, comfort fit, & low profile.
Check Prices
We earn a commission if you click this link and make a purchase at no additional cost to you.
Groove Ring Designs
Silicon rings are usually bright and beautiful, much like metal rings. But, of course, if you're shopping for wedding bands, there are a few more conservative options. Just take a look at Groove's catalog. You can have a single color on the inside and another on the outside. Usually, the exterior of the ring is a darker color. Then, in contrast, the interior boasts a brighter tone.
Alternatively, if patterns are more of your thing, Groove doesn't disappoint. One of our favorites is Groove's flower petal design; it looks a lot like blossom and is absolutely gorgeous. Or perhaps you might lean more towards textured prints? There are tons of options to choose from, including leaves and wooden-style grains. Either way, you'll likely find something perfect for either yourself or your loved one!
If you're searching for something more original, Groove can offer you three stacked rings. These slim bands sit one on top of the other, creating the appearance of a slightly bigger ring than average. This design accommodates two single-color rings and one patterned band. It could be a feather-print ring sandwiched by two brightly colored bands or a flower-themed ring framed by dark circles. You get the idea. All in all, this is a fabulous alternative to the traditional wedding ring.
The last thing of note is that Groove also has collections of rings explicitly designed to appeal to a variety of niche audiences. For instance, Grove has a line of rings that caters to college sports teams. So, if you're looking for a gift for someone who spends their days alternating between the classroom and the sports fields, Groove has just a thing for you.
Of course, the collection is a limited one. But, it's currently selling memorabilia for some of the biggest and most famous colleges. Or, perhaps this special person in your life just enjoys sports in general? Is it a massive part of their identity? If so, what could be better than a ring that shows clear support for their team? Groove sells officially licensed NFL rings. So, if you wish to subtly show your allegiance (outside of attending games), get yourself a fabulous NFL-inspired silicone ring, and wear it with pride.
And let's not forget the quality of the print is extraordinary. It's bright and crisp, so you can see all the ring's details. There's no merging blobs or unclear color merges.
If you or a loved one works for the military, or if you're particularly patriotic, there's even a veteran-themed line. This is quite aptly named the 'Hero' collection. These make for fabulous gifts for anyone serving in the military. Or, of course, for those who passionately support the people who do. If you're military personnel, you even get a discount!
How Much Will a Grove Silicone Ring Set Me Back?
Now, after hearing all about these silicone rings and how perfect they are for active people, you might wonder how much one will cost you. After all, silicone might seem like an expensive material, especially when it comes to the high-grade stuff.
However, we have some good news for you. You can get your ring for as little as $30. Sure, you might find other silicone rings that are cheaper. But, Groove stands by its price, and you can sleep easy knowing you'll get a product made by people who understand the importance of quality.
Now, before you start calculating and frowning, think of this: these rings aren't your average plastic circles. The quality and work that goes into making Groove rings have to be reflected in the price. And, they're still way cheaper than your average metal ring — win-win! Gold or silver bands are (usually) far more expensive than silicon ones.
So, here's a situation: a classic metal ring is more elegant, but Groove silicone rings are more comfortable and modern. With different materials come separate prices. But if you're worried that silicone rings are more likely to snap, Groove provides you with a lifetime warranty. So, there's no need to worry about that. But that aside, whether you opt for a metal or silicone ring ultimately boils down to whether you want something more traditional and elegant or a more modern and practical piece.
Groove Rings: The Pros
Lifetime Warranty
Let's begin with the lifetime warranty we just mentioned. Well, if we're going by the book, the warranty actually lasts for 94 years. However, I think we can all agree that for the majority of us, this equates to an entire lifetime! You might wonder why the manufacturers offer such a deal – and the answer is straightforward.
They stand by their products and their quality. So, if anything happens to your ring, such as a tear (or any other ring-destroying scenario you can think of), you're covered. There's literally nothing quite like this on the market, especially when it comes to metal rings — they follow entirely different rules.
With Groove, it's as simple as informing them that your ring broke. So, there's no need to fret about straining your ring. You can wear it wherever and whenever with confidence. This warranty grants you the freedom to use the ring during your everyday life without straining your finances or your nerves.
As we've already alluded to, Groove rings are incredibly durable, which is reflected in the warranty. It stands to reason; a company wouldn't offer lifetime coverage if their rings were prone to breaking left and right. This isn't a marketing ploy; Grove only uses high-quality materials to create their products.
And, they only use manufacturers that know what they're doing. Since Groove rings are more robust than most other silicone rings on the market, you can do more with it on. Go swim in the lake, climb that mountain, jog in a forest, or do some gardening. Your finger won't be burdened by possible swelling and discomfort. And of course, as we've already alluded to, there's very little that can break it.
Keep in mind that silicone isn't rubber, it won't snap if you pull it too tight — the material's flexible, but not enough to fall off your finger. If you want further proof of Groove's durability, you can check out a study they conducted. Grove found that their 'Original' ring breaks at about 32lbs of pressure, while their 'Thin' silicone ring snaps at about 15lbs of weight.
Of course, the designs for the men's and the women's collections are slightly different, so the breaking point for them varies. However, you can be sure that a bit of tugging during the day won't ruin your ring!One of the more critical aspects of Groove's rings is that they're also customizable. That's right, you can either select a style from an already available ring collection, or you can make it more unique.
Designs
Let's say you want to give this ring to someone who enjoys nature. You can either purchase a ring with pre-designed leaves on it or customize something you'll know they'll love. The choice is yours. You can select the design you like, personalize the text, and choose either a monogram or a minimalistic image to print on the ring.
For example, let's say you picked a picture of mountains (yes, there is one, and it looks fantastic). After that, you can select the colors you want for the ring. This is your opportunity to mix and match. You will, of course, have a chance to choose the size as well. The checkout window even allows you to order a custom engraved case.
Be it a gift for someone, or an engagement ring for your beloved, if you're leaning towards an active lifestyle, nothing beats Groove rings.
Groove Rings: The Drawbacks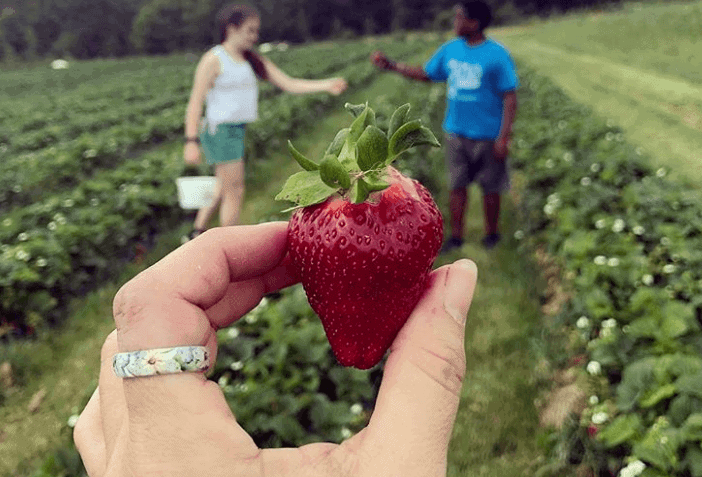 They Don't Have a Value
That said, we can't gloss over the areas where Groove rings (or silicone rings in general) fall behind. One of the more glaring issues is that silicone rings don't boast a lasting value.
Now, not all of us have gold or diamond rings that we inherited from generations before us. And, not everyone needs them. However, it's an undeniable fact that metals and precious stones carry with them a financial value, even years after you've passed away. In fact, sometimes, their worth even increases as time goes by.
This isn't something a silicone ring can muster. Sure, it will serve you during your lifetime. But, receiving a silicone ring is much more underwhelming as an inheritance (albeit beautifully sentimental). With no lasting value, the ring cannot be considered an investment.
This is a double-edged sword – you no longer have to spend thousands to get the ring you've always dreamed of. Still, it will forever remain your ring only (no one writes novels about silicone they've found in a hidden treasure chest). Furthermore, even in today's society, a metal wedding ring is still seen as more luxurious. So, this option certainly isn't to everyone's tastes.
Another possible drawback might be the ring's design. Of course, they can be colorful, bright, modern, and undoubtedly unique. However, because silicone has a distinct look, it might, on occasion, be an unsuitable alternative to a metal ring. Usually, if an event has a black-tie dress code or boasts the equivalent level of fanciness, a silicone ring might be too bulky. After all, its frame is slightly bigger than the average metal ring. Of course, some might argue that style is subjective. So this 'setback' all comes down to your individual preferences.
Yet, we can't deny or ignore that the simplicity and comfort of the Groove ring come at the cost of a less luxurious appearance.
Groove Silicone Rings – All in All
In short, Groove rings are revolutionizing the jewelry market. While it's not the first brand to offer silicone rings, the way they manufacture their products has brought to light new merits of wearing such a piece. As we've said time and again in this review, these rings allow your skin to breathe, so you'll no longer suffer from a build-up of moisture.
But, best of all, their vivid styles allow you to express the brighter side of your personality. You can freely engage in physical activities without ever having to take off your ring. And you can forget any worries related to breakage since Groove rings are made with durability in mind. But, as we've highlighted, should yours break, you have a lifetime warranty you can fall back on.
These rings might not be as valuable or as luxurious as metal rings, but they're perfect for active lifestyles. You can customize the design, and even order matching 'his' and 'hers' sets.
There are special collections and rings meant to commemorate both hobbies and life achievements. It's a perfect gift for a friend or a brilliant wedding band for those who see metal as restrictive. Ultimately, the worth of Groove rings depends on the wearer. Still, if you spend the majority of your time working with your hands and don't want to go through the hassle of taking off your ring, this might be just the thing for you!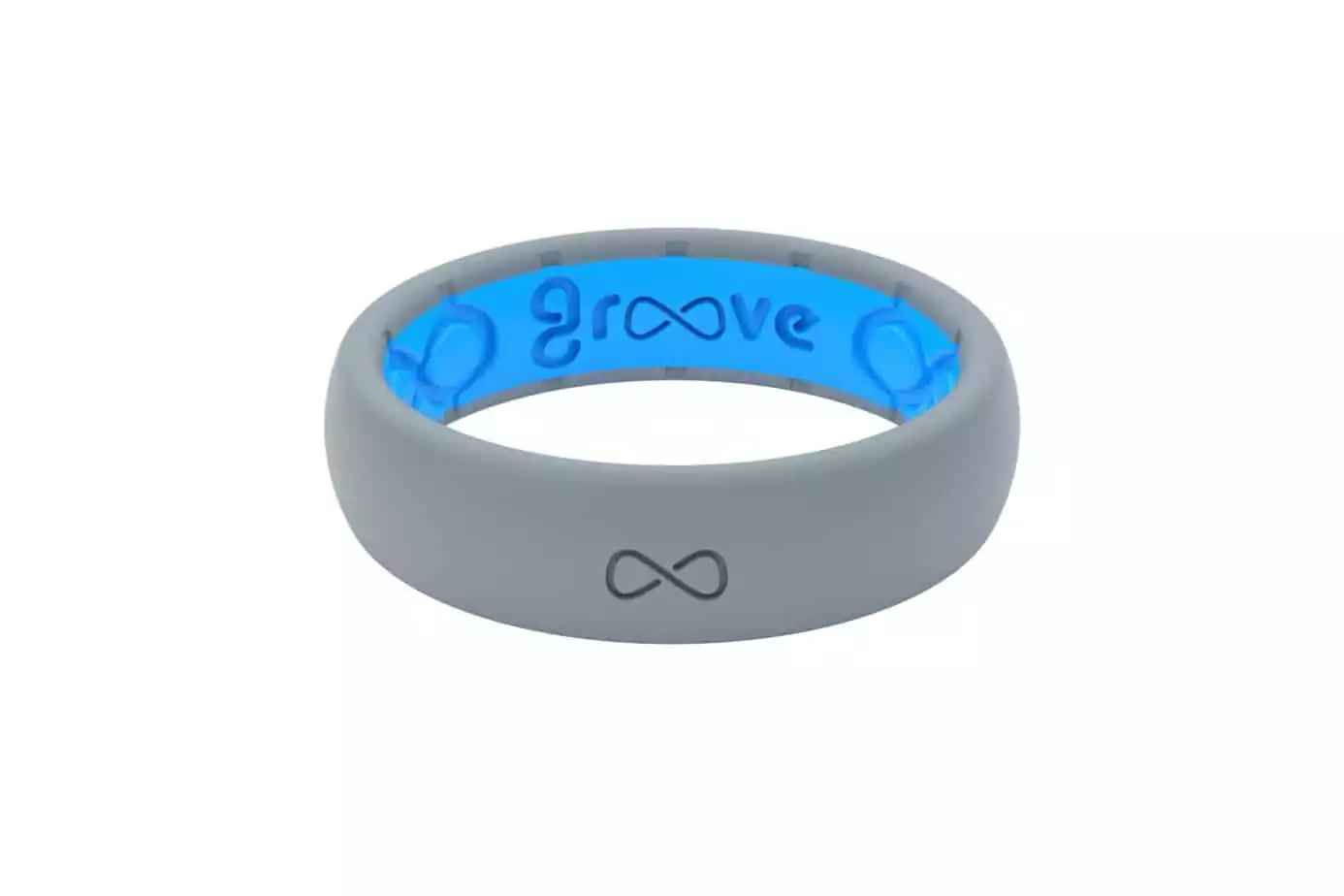 Groove Silicone Rings | Groove Life
Groove silicone wedding rings change the game with their breathable patent pending air grooves, two part design, comfort fit, & low profile.
Check Prices
We earn a commission if you click this link and make a purchase at no additional cost to you.
Have you ever purchased a Groove silicone ring before? If so, we would love to hear your opinion in the comments box below. Do you think they live up to the hype? Let us know. Speak soon!
Recommended Reads: