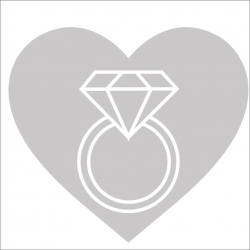 Latest posts by Love You Tomorrow Team
(see all)
Want to know if palladium jewelry, white gold, or silver are in style before you get engaged and plan your wedding? One way to tell: look at the trendsetters.
While celebrities show off often expensive and over the top rings, it's the royalty that makes a more lasting impact. Of all the iconic engagement rings worn over the years, some of the most closely watched have been those worn by the British royal family.
When Prince Charles proposed to Princess Diana in 1981, there was little doubt that the world's eyes would be on the engagement ring. And the ring itself was simply stunning: a 12 carat Ceylon oval sapphire jewel surrounded by fourteen solitaire diamonds and set on white gold.
Some controversy was stirred when that ring was later handed down to the late Princess' oldest son William, who proposed to Kate Middleton with it. Critics perhaps felt that such an iconic ring should not be worn by anyone else, while others appreciated it as a tribute to Princess Diana.
One thing that wasn't in doubt: a demand for white gold engagement rings. Replicas were produced; blogs featured white gold engagement rings more prominently.
But now, thanks once again at least in part to the royal family, there's yet another trend sweeping engagement rings–only this time, that trend comes with a slight twist.
Enter Prince Harry, the younger son of the late Princess Diana of Wales, who married Meghan Markle just five months ago and now are expecting their first child together. He proposed to Meaghan not with a white gold, but a yellow gold ring, noting that it's Megan's favorite precious metal.
While we'd expect an increase in demand, if we follow the Kate Middleton example, for fine gold rings, something a little bit unusual has happened: an interest in the style, but not the same metal, as Markle's ring.
Our Pick
Why I Prefer James Allen
Personally, I love the James Allen 360 degree view customization options. If you want to customize the perfect ring, James Allen is THE best choice with the highest fidelity visuals. Ranked our #1 online jewelry retailer for 2021!
Save BIG With These Deals
Take 30-50% Off Cyber Week
We earn a commission if you click this link and make a purchase at no additional cost to you.
Main Differences Between Palladium vs White Gold
The main differences between Palladium and White Gold are:
Palladium requires more polishing, whereas White gold is easier to maintain.
Palladium is hypoallergenic, whereas White Gold has nickel components that makes lots of people allergic
Palladium maintains it's color forever, whereas White Gold gradually tinges yellow over time
Palladium is more easily scratched, whereas White Gold is more scratch-resistant
A Search for Affordability
As of this September, Buckingham Palace itself is selling extraordinarily affordable replicas of Markle's engagement ring–for a mere $40 U.S. dollars. The ring is heavily inspired by the classic design of the original, but replaces diamonds with crystals and yellow gold for an increasingly popular but perhaps
unexpected metal: palladium.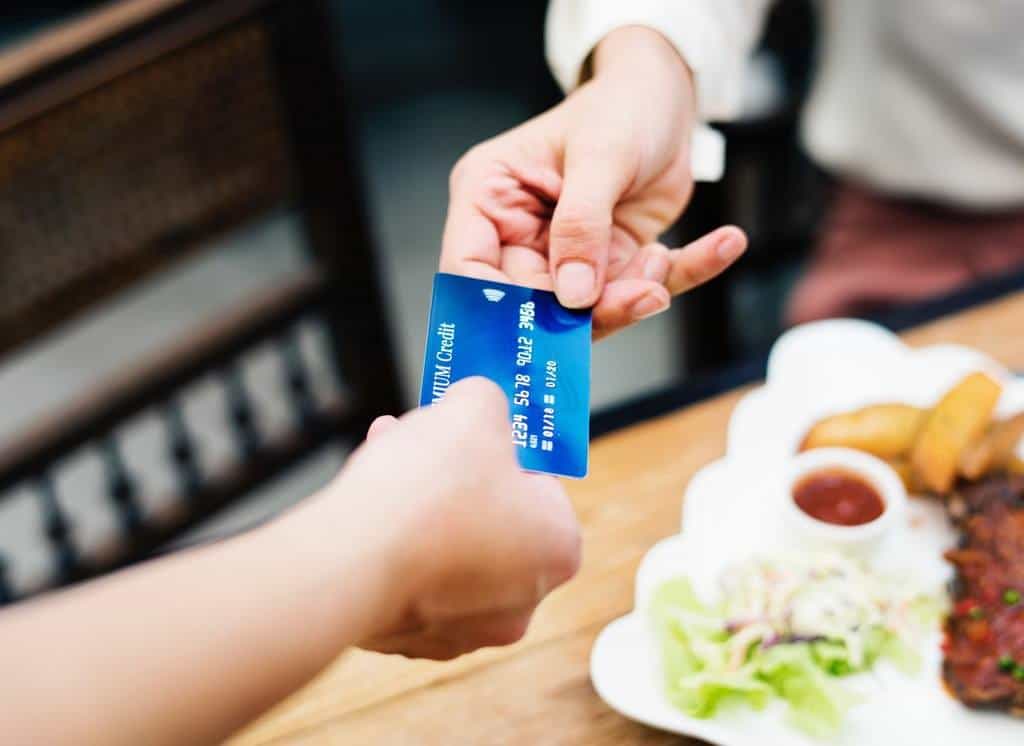 Not to be confused with platinum, its more expensive cousin, palladium is abundantly available, and thus a more economic metal not only for engagement rings, but also for practical purposes.
While the average cost of an engagement rings hovers around $5,000, it seems perhaps more couples, especially millennials, are taking the advice to instead spend what they can afford. That's especially necessary for a population still struggling with student loans, other debt, and many spending up to 40 percent of their income on rent alone.
Understated, or simply cheaper engagement rings, also plays into trends in the wedding industry as a whole, like the refined understatement of a minimalist wedding or the intimacy of a small guest list.
And palladium just happens to be one of the most popular, and affordable metals for still-beautiful engagement rings.
But white gold rings have become increasingly accessible too. And even for those on the search for a beautiful luxury ring, both white gold and palladium engagement rings are very popular. We'll take a look at the pros and cons of palladium vs white gold engagement rings, as well as some beautiful options in each metal for every taste and budget.
What is palladium?
Palladium has one of the lower densities and metal points in its family of platinum group metals. It's described as a "precious gray-white metal" that is prized for its malleability and scratch-resistant properties.
It is important not to get palladium mixed up with its cousin, platinum. Platinum is quite rare and expensive, has a higher density than gold, and is extremely durable. It's also hypoallergenic and often used for vintage style rings.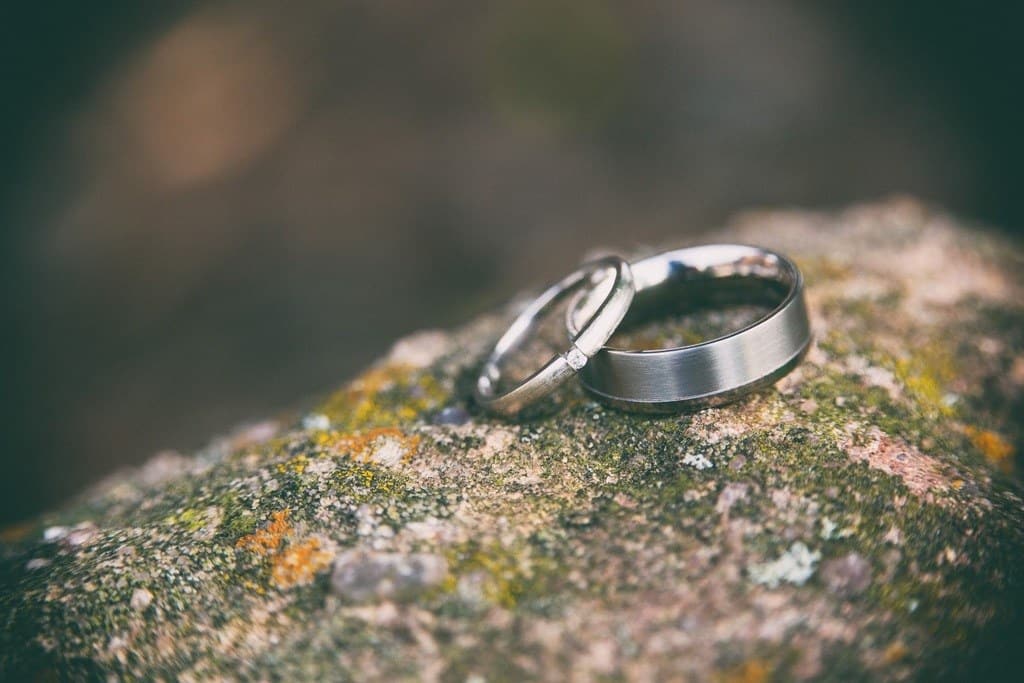 Palladium, in contrast, is usually far more affordable, priced at about $26 per gram, or a third the price of platinum. Due to its malleability, it is slightly less durable but still considered a fairly durable metal. Palladium is actually more rare than platinum, but the upside is that engagement rings made with palladium and palladium fine jewelry tends to be truly unique and stunning.
Palladium also has a lightweight feel, great for anyone not accustomed to wearing jewellery.
How does the price of palladium compare with white gold?
While many factors, including carat, cut, and design, go into the price of an engagement ring, palladium in general is cheaper than gold (table courtesy of Naturally Colored):
Price Table of Different Metals
| | | |
| --- | --- | --- |
| Metal | Price/Gr | Price/Oz |
| Palladium | $24.72 | $775 |
| White Gold | $39.71 | $1,236 |
| Platinum | $40.45 | $1,269 |
As you can see, silver is by far the cheapest, but unfortunately it's not a good pick for an engagement ring. Silver tarnishes easily simply by being exposed to air, not to mention other elements of daily wear. If you do opt for sterling silver, there are ways to keep it safe, but conventional wisdom is that you should look for something more durable for an engagement ring, which is worn daily.
Palladium undoubtedly is cheaper than gold, though note these comparisons change constantly, depending on markets and availability. In terms of looking at engagement rings, you can find at least comparable engagement rings within the same price range for either white gold or palladium, if you know where, and how, to look.
Is white gold or palladium more durable?
Durability is something everyone wants to have in mind when it comes to engagement rings. In terms of durability, palladium is actually a harder metal than gold, with a 4.8 rating on the Mohs hardness scale, vs 2.5 for gold.
Though as far as durability, white gold jewelry is more dependent on the carat. A 10 or 14K gold (or over) white gold is considered one of the most durable precious metals, alongside palladium. So it comes down to budget, and whether or not you can afford a white gold engagement ring with higher K counts.
What about maintenance?
All precious metals require careful maintenance, and white gold and palladium are no exceptions. Repolishing is the main concern you'll have, unless you have any major accidents or incidents. Polishing requires more effort with palladium than white gold, but white gold, even the higher counts, may also require replating.
Both can be cleaned and maintained using polishing cloth and a jeweler's polishing wheel. Since both are considered durable precious metals, routine care should keep the ring nice for a very long time.
What about allergies?
This is a factor you may or may not have considered, but allergic reactions to certain metals can happen. The best way to tell if you're reacting to a metal is to simple have the intended recipient wear a ring to see if they notice any unusual changes in skin. The most common symptoms are rashes, irritation, and even blistering. It's important you take these risks seriously and swap for a different ring.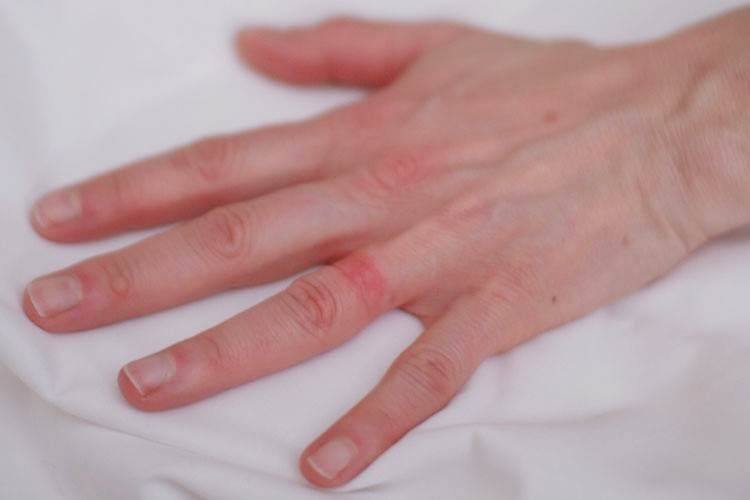 The picture to your right is a sample of real ring rash, as reported by NBC News.
While allergies to nickel are the most common, they can also occur with white gold rings, because copper is actually often used as white gold alloys. Do Amore provides a helpful guide to check if you're suffering from an actual allergy to white gold, or just a slight irritation from a new ring:
It's more likely a simple irritation if….
The reaction comes on quickly
There's no nickel in the ring
Irritation resolves if you clean and dry your finger
It's likely an allergy if….
The reaction develops slowly
There's nickel present
Irritation continues even after you've taken off the ring
If you determine you and/or your fiancée have an allergy, the safer bet is to go with palladium, which, along with platinum, is considered hypoallergenic. If you're really sold on white gold, ask if a nickel free version is available.
What about the look?
Let's be honest: aside from price and durability, how the ring looks is one of the most important things to consider when purchasing an engagement ring. Both palladium and white gold are beautiful metals, but they do differ slightly in terms of aesthetics.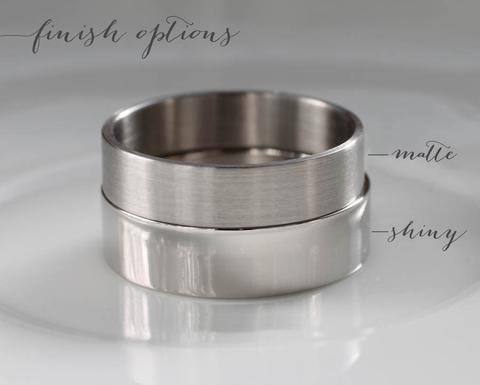 Palladium is a naturally white metal, about a shade less white than its cousin, platinum. Since palladium rings are not rhodium plated, they tend to be a bright white, and, over time, develop a patina finish. While patina finishes can refer to anything that darkens or fades over time, in the case of palladium engagement rings, it actually results in a matte finish. When the ring is scratched, it develops a more matte look and requires less maintenance.
For any idea of what that looks like, take a look at this image from Aide-Memoire, which shows the difference between a shiny and matte finish, to your right. As you can see, it's a matter of preference: some actually love the matte finish palladium tends to get after wear.
If you're less than stoked about it, you can polish for a shiny finish, but white gold may be more of your taste. White gold is actually a bit less bright than palladium, due to its usual rhodium plating (versus the natural gold plating), but it also more often maintains its original shiny finish. It has an appearance that is actually quite similar to silver, with a beautiful white, silvery tint.
One thing that can happen over time is that white gold rings become more golden over time. The reason for this is that white gold is mixed with other metals to improve durability. If you don't like this transformative nature, you can get your engagement ring recoated with rhodium coating, which tends to be fairly low cost.
If you're concerned with color and tone, you can see the differences are subtle, but not nearly as subtle as perhaps you first imagined. Note the gold undertones in white gold, which are far less obvious when taken in isolation. Palladium certainly has a more distinctly silver appearance. If you want a touch of gold or a softer look, white gold may be an option, while palladium is certainly the better pick for a bright, silver white.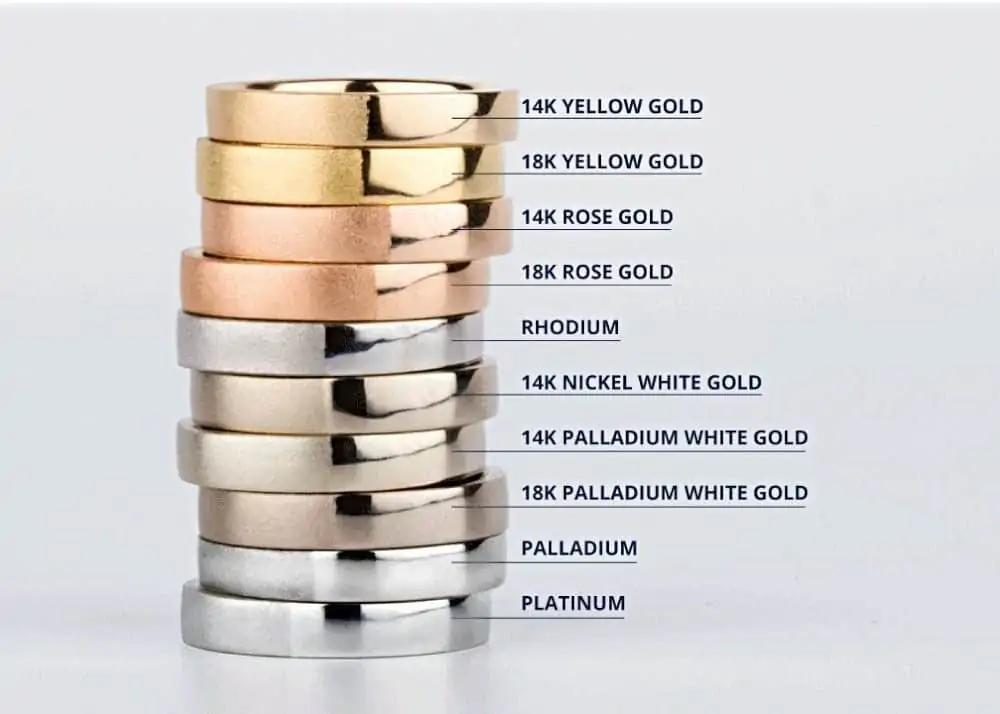 Are there any differences in terms of comfort?
When we're looking at engagement rings, of course, it's all too easy to get caught up with other considerations and forget practical ones. Lifestyle and comfort goes a long way in terms of what engagement ring is the best pick.
For either palladium or white gold, elevated diamonds and anything that is difficult to remove are both not optimal features for anyone who works often with their hands or have a physically demanding occupation.
In terms of actual comfort, there are only two main differences between the two options: allergies and weight. Assuming you're not allergic to nickel, the main difference is how light or heavy the ring will feel.
Palladium is considered comparable in weight to 14k white gold. So, white gold of lower carats will be lighter, and 18K gold will feel heavier. Palladium in general, though, is described as having a 'lighter feel', which some like, and others actually dislike, so it's a matter of personal preference.
Other factors to consider when choosing between white gold vs palladium?
We've taken into account many critical factors when it comes to deciding between white gold and palladium. From comfort to durability to price and even appearance, both precious metals are beautiful options for an engagement ring, and both have pluses and minuses depending upon your personal preferences and challenges.
The final factor you should consider actually combines two we've already considered: durability and lifestyle. Climate, exposure to different elements, and how the ring will be worn should play a major role in your decision on a palladium vs white gold engagement ring. Both are durable precious metals, to be sure, but both also have different vulnerabilities depending on the environment:
Palladium is susceptible to extreme heat, because it does not have the heat transfer properties of gold. It also is not acid resistant and can crack under extreme stress, due to its hardness. It is resistant corrosion, including natural weather and friction, and as well as heavier wear and tear due to its hardness.
In comparison, white gold is susceptible to hard wear and tear. Depending on the carat, white gold can be softer and wear more easily. However, unlike palladium, white gold tends to be heat resistant.
So which one to pick? In terms of this factor, it simply depends on what elements you're regularly exposing the ring to. Harsher cold climates may fare better with palladium, while very hot and humid climates may be make white gold the more favorable choice. For usual wear and tear, either one should be a decent pick.
Just be sure to practice proper ring maintenance. That includes insuring your ring, cleaning it with warm water and mild dishwashing soap, scheduling regular visits to your jeweler, and protecting it against abrasive chemicals, such as household cleaners and chlorine in swimming pools.
What are some examples of palladium and white gold rings at different prices and styles?
We're glad you asked. Both white gold and palladium rings come at many different budgets and styles, perfect for almost anyone. We've selected a few beautiful rings that might start you getting inspired.
1. Luxury: The name says it all. These rings are for anyone who has a very generous budget and plenty of sparkle. Meant to impress, these rings feature large and beautiful diamond centerpieces, with diamonds along the band and sculpted designs meant to feature prominently on a finger. These are not for the budget strapped, or for the modest.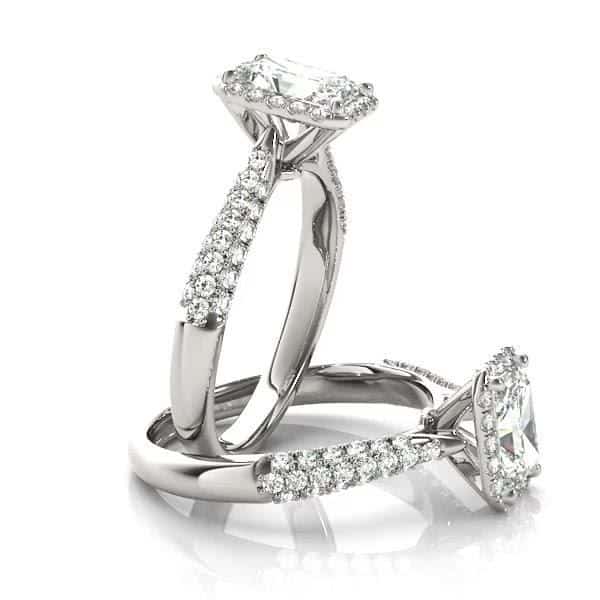 2. Vintage: Vintage style engagement rings are unique, beautiful, and a popular trend. These signature rings show off old-world classic elegance and pay tribute to earlier decades. You can find vintage engagement rings through some regular jewelers, or a trove of them on sites like Etsy.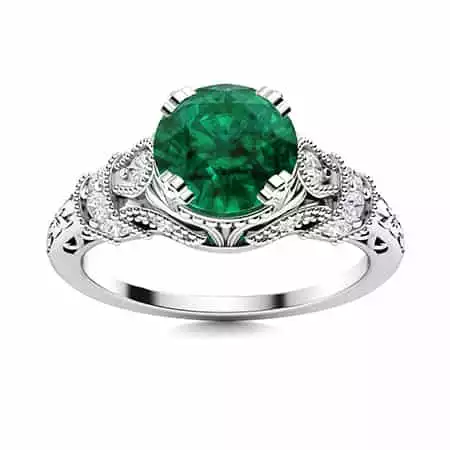 Claudine Round Emerald Vintage Ring | Diamondere
This Emerald ring in 14k White Gold has intricate details that will enchant you no matter which angle you look at it. Delicate petals reach up to the stone from the engraved style shank. Sweet ribbons wrap around to the front completing the antique style of this ring.
Check prices
We earn a commission if you click this link and make a purchase at no additional cost to you.
3. Royalty Inspired: Both of our picks echo the beauty, grace, and awe of Princess Diana's blue sapphire ring (now Kate Middleton's).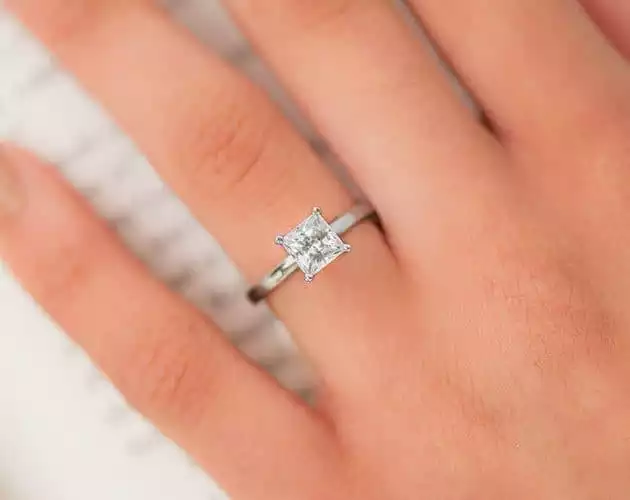 Sapphire Engagement Ring | James Allen
Your James Allen includes a diamond certificate, free FedEx shipping, a lifetime warranty and 30 day returns.
Check prices
We earn a commission if you click this link and make a purchase at no additional cost to you.
4. Under $1,000: Not everyone can afford a big budget engagement ring, and these options prove you can find something stunning, in both white gold and palladium, without breaking the bank. The best part? No one will guess these are so affordable.
White Gold: Kay Diamond Engagement Ring ⅓ carat: This has a very classic look, with a more modest but beautiful diamond and smaller diamonds lining the band. It also features 18K white gold.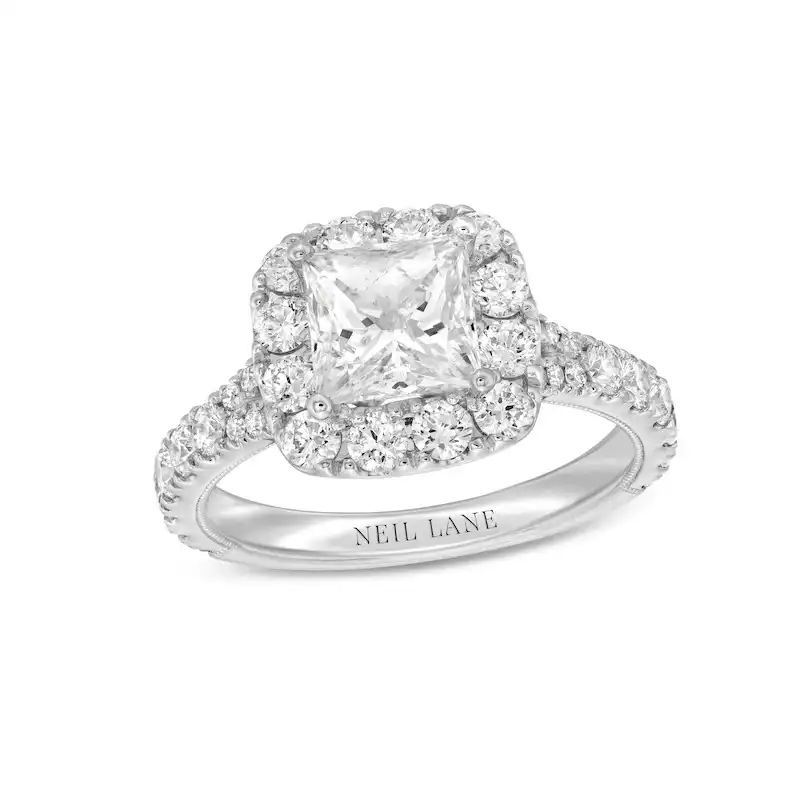 Neil Lane Bridal Diamond Ring | Kay Jewelers
This beautiful women's engagement ring features a stunning princess-cut center stone, haloed and flanked by brilliant round diamonds. The ring is fashioned in 14K white gold and boasts a total diamond weight of 2 5/8 carats.
Check price
We earn a commission if you click this link and make a purchase at no additional cost to you.
Our Pick
Why I Prefer James Allen
Personally, I love the James Allen 360 degree view customization options. If you want to customize the perfect ring, James Allen is THE best choice with the highest fidelity visuals. Ranked our #1 online jewelry retailer for 2021!
Save BIG With These Deals
Take 30-50% Off Cyber Week
We earn a commission if you click this link and make a purchase at no additional cost to you.
FAQs
Question: Is Jewelry insurance worth getting?
Answer: Yes, jewelry insurance is worth getting because it usually costs 1% of your secured item like a wedding ring, necklaces, and in case they get stolen or damaged, the insurance pays you off the amount these are worth, so you can replace them.
Question: Is there a way to get online jewelry insurance?
Answer: Yes, almost all online jewelry companies allow you to sign up for insurance online, and they will calculate how much your jewelry insurance will be even if it's for one piece only.
Question: How does insurance work on jewelry?
Answer: Jewelry insurance companies will charge you a 1% fee for securing your jewelry, and in return, if you lose it, or damage it or the item gets stolen, the company will provide you with the full amount the jewelry was worth it, so you can replace it.