With $30,000, you can buy a new car. You can pay for one year's tuition at some private universities, or even start your own small business. Or, if you're like the average American, you'll use every bit of that money to pay for your wedding.
As of 2018, the average couple spends about $30,000 on their wedding-though some spend far more. While the reception and ceremony venue, along with catering, account for well over half of those costs, everything adds up. Including wedding dresses and accessories. But now there's a way to earn back at least a little of what you've spent.
In this article, we'll take a look at the best places to sell a wedding dress online. We'll start with some common questions.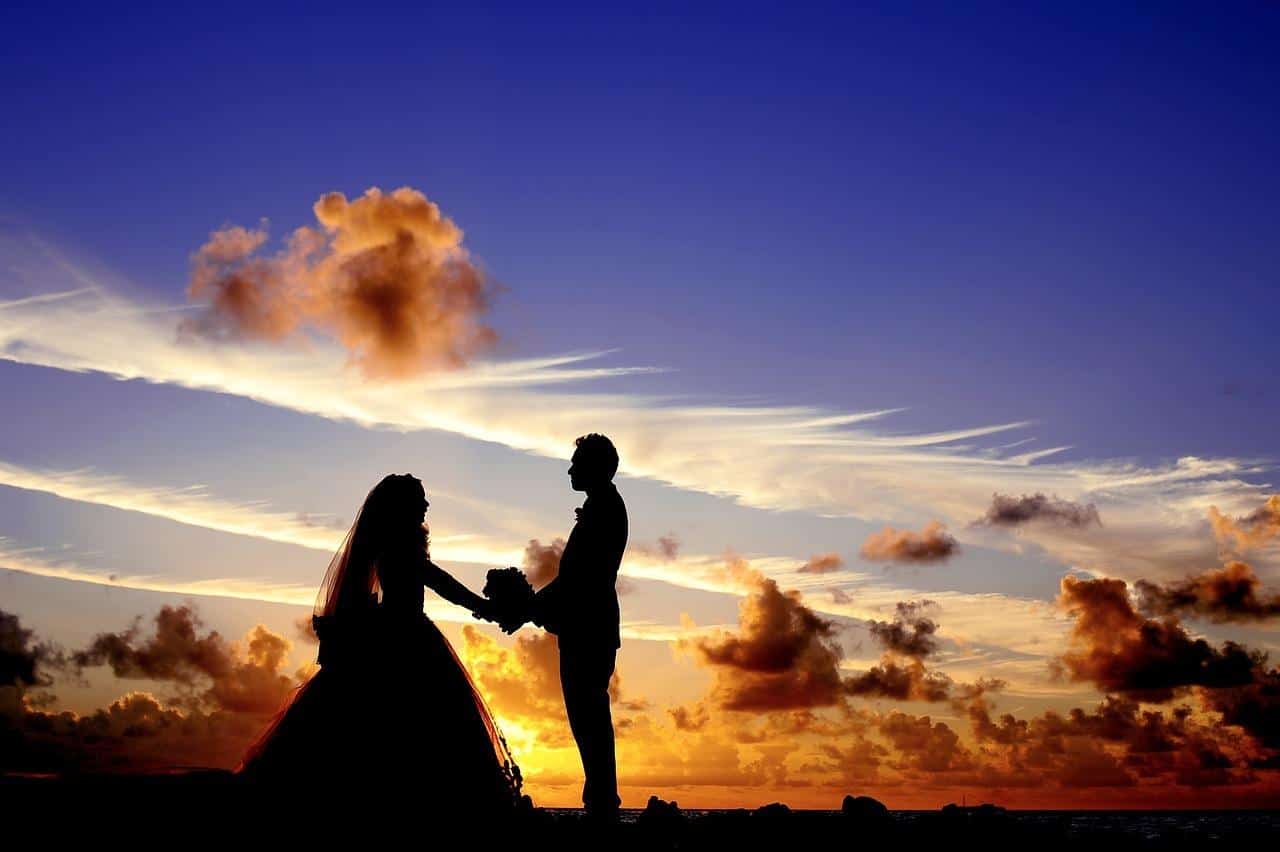 Is it worth trying to sell my wedding dress?
That depends on your situation. If you purchased a designer gown, as many brides do, there's a fair chance you spent a few grand on your dress. While you won't get that full amount back, a few thousand or even hundreds of dollars can help, especially if you're looking to purchase a new home, car, or pay off debt.
Here's why you should consider selling your wedding dress:
To pay for some wedding expenses
Give other brides a chance to get a gown they otherwise could not afford
Give the gown a new life (instead of hanging in your closet or in a preservation box)
You didn't really love the gown in the first place (for whatever reason)
It's not a good memory (canceled wedding, tragedy, etc.)
Of course, always make sure it's worth selling to you. If you plan on saving it, say for a future child, or you simply can't bear the thought of parting from it, consider not listing. It's only fair to you, and potentially interested buyers.
So you've decided to sell…online?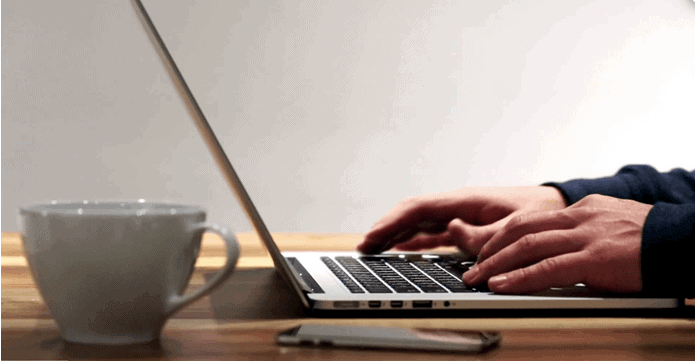 Selling online is simply the easiest, and potentially most lucrative way, to sell your wedding dress. You'll have access to sellers worldwide, ways to advertise, and multiple options for managing both your listing and payment methods.
You'll also likely profit more-unlike many retail stores, online sites often take either low or no commission from your sale.

What should I look at when considering where to sell a wedding dress online?
Like anything else, you want to make sure the vendor you select is honest, transparent, and offers the services and features that will make it more likely you'll be able to sell your wedding dress successfully.
While everyone will have different things they are specifically seeking, these are some essentials:
Secure Payment offers (like Escrow and PayPal)
Secure Messaging and Privacy Guarantees
Advanced Search Options for Buyers
Ability to post at least 4 pictures
The vendor has a Social Media Presence
Fees are clear and disclosed
Other policies, like posting editing, removal, and verification are clear
The Vendor has an established sales history
The Vendor does something or offers ways to promote your dress
When in doubt, searching for reviews, preferably off the vendor's site is always another good idea! And if you feel uneasy about a vendor, chances are it's not a good fit.
What are the best places to sell a wedding dress online?
For all the vendors detailed below, the essential qualifications (see above) have been met, or close to met. Each vendor has something a little different to offer, and each ranks highly on a google search, which tells you that when buyers are looking for "used wedding dresses," that vendor is likely to come up as a top hit–meaning more traffic to your listing.
We count down, from slightly recommended, to most favored.
Coming in at number seven, our slightly recommended, is Tradesy.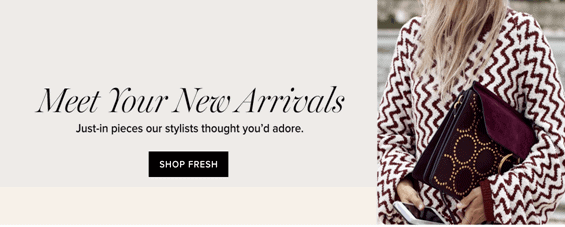 For most purposes, this vendor wouldn't make a list, mostly because it is not a specialty online wedding retailer, as the rest of those listed are. Why that's a problem: by selling everything from clothes to designer bags, Tradesy doesn't cater to a wedding niche market and offers less regarding tools that are helpful to selling a wedding dress.
In addition, Tradesy has a large, ambiguous market that is less likely to attract anyone simply focused on buying a wedding dress. It's also a but less personal than the other vendors. For these reasons, a full review will not be provided.
The reason it does make our list: traffic. It's highly visible, and a more organized, and maybe more reputable, seller for clothing than other like sites like Craigslist.
Use it if: You want the option to list other items along with your dress and are already familiar with Tradesy. While it makes the bottom of our list, that isn't to say it couldn't be an option for someone.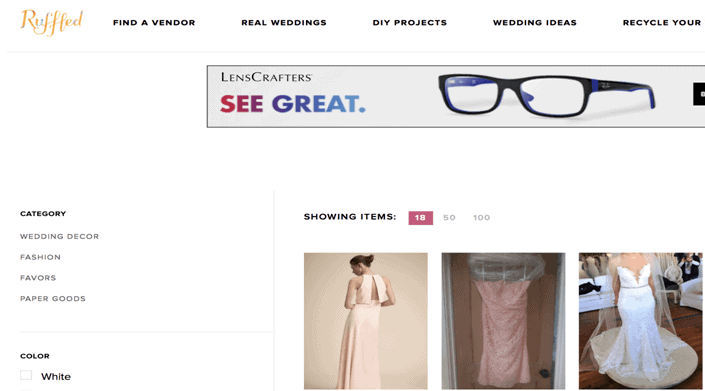 Make no mistake-Ruffled isn't a terrible place to sell your wedding dress. In fact, it has a lot going for it and comes much more highly recommended than Tradesy.
Ruffled does a lot of things: its layout is reminiscent of a paired down Knot or other wedding publication, with tools to search for vendors, real wedding inspiration, and DIY ideas.
But sellers will want to look for the "Recycle Your Wedding Section": this is where, you can see gently used or new items. And you can sell a lot--which is both good and bad, depending on your perspective. You can sell everything from wedding dresses to bridesmaid dresses to decor items.
Actually, it's more helpful to see what you can't sell:
Wedding or Engagement Rings
Intimates
Fine Jewelry
Disposables
Gift Cards or Certificates
Listing Terms:
Like many online vendors, Ruffled allows the space for your to post your listing, but does not itself engage in the sale itself. Shipping arrangements, are up to you; Paypal is requested as the method of payment.
Free Listing of any Item, until it's sold
Ability to connect with local or global vendors
Up to 5 pictures allowed with any listing
Ruffled takes no commission
What you'll see is an unadorned listing, reminiscent of a Craigslist. Filters for potential buyers are somewhat limited but include a general type of merchandise, price, size, and color. That means it may be very easy for your listing to get buried.
The Good: Free listings are unusual (its paid via advertisers), and 5 picture uploads, along with simple upload instructions make posting a breeze. Also noteworthy: a huge social media presence of 271K followers–though that also includes the entire site and blog. And it's worth noting that it's still a more focused vendor than general online marketplaces.
The Not as Great: Listings can become easily buried; lack of advanced search filters or advanced description postings; there is no guarantee of spam protection, and little is said about privacy or security guarantees.
Best for anyone…Who wants fuss-free posting, and has a lot of wedding related things, in addition to a dress, to post.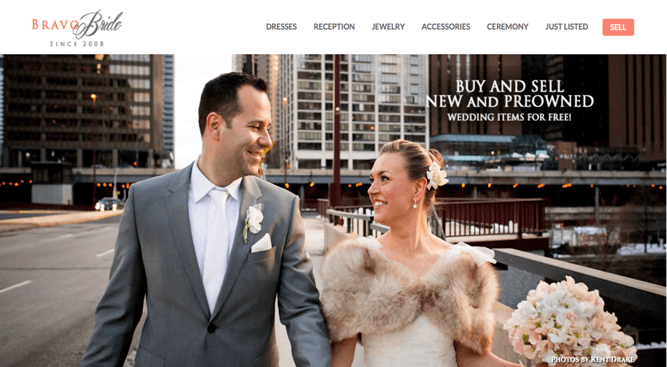 Making our top five is Bravo Bride, a vendor with a modest but respectable 3.1K Facebook followers and that touts itself as the most extensive online wedding market (though another site claims this as well).
Like our two previous vendors, Bravo Bride sells more than just used wedding dresses. It sells:
Wedding Dresses
Jewelry and Accessories
Decor
There's also a "just listed" tab, which helps any new listers get some temporary attention. While there is a blog, it's rather small and simple in scale; the main focus is on buyers and sellers.
Listing Terms:
Bravo takes no commission
$19.95 listing fee for gowns, rings, and veils
$9.95 add-on to make your listing a 'featured item'
Bravo Bride is not involved in transactions and does not directly protect against spam
You are responsible for shipping fees
Upload up to 8 images with your posting
Still a bit narrower in scope, but very wedding-oriented, this marketplace is a bit more organized and easier to navigate, with separate tabs depending on what the buyer is searching for.
The Good: The listing fees are reasonable, though the add-on is a little pricey. No commission is taken, and a generous allowance of 8 images are also noteworthy.
Not as Great: There's not much sign there's much in the way of protection from spam, so sellers and buyers both need to be careful. There's also some ambiguity regarding promoting your listing: while Bravo Bride claims to 'actively advertise,' it is unclear if this is for their additional paying customers, or all customers.
The saying goes that a picture is worth a thousand words; in this case, a clean, professional, and attractive website might also be.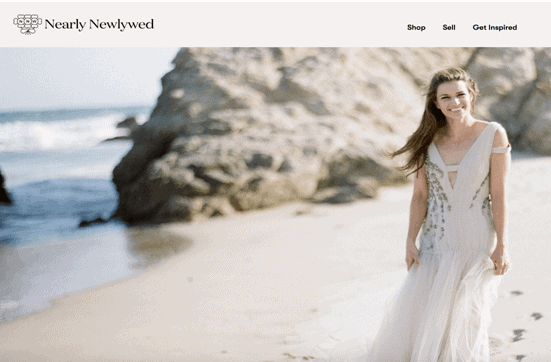 Nearly Newlywed might be just what some sellers and buyers are looking for: a pleasant website without heavy advertising or extra frills. The sell and buy tabs are the first things you see, so you won't have to hunt around for long.
Scroll down the page, and you'll find categories and newly featured listings.
Nearly Newlywed sells:
Wedding Dresses
Engagement Rings
Yes, it's a lot narrower in focus, but that also might be a big plus, too. With 20K Facebook followers, it also has a healthy following.
Listing Terms:
It's important to note that buyers have up to 5 days for returns of anything they aren't satisfied by.
Average selling time is "anywhere from a few weeks to a year."
$25 listing fee includes customer service, shipping, promotions, and security guarantees
Nearly Newlywed takes a commission; you receive 60% of the listing price
Scam and Fraud Protection
Simple Form for sellers
The first on our list to devote to fraud and security protection, but also the first and only to take commission, it's hard to place Nearly Newlywed higher, or lower, than it's currently ranked.
The Good: Facebook following, security and fraud protection, featured items, shipping services and organized.
The Not so Great: Less advanced filters and posting options than we'd like, and the commission is pretty steep.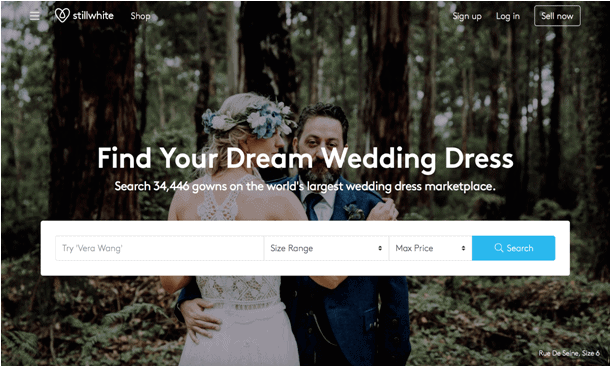 To be honest, it would be easy to shuffle the top three around regarding the best place to sell a wedding dress online.
The reasons are consistent: strong social media presence, clear and firm policies, and reasonable selling terms and conditions.
In the case of Still White, which has to date sold over $20 million in merchandise and has a healthy 32K Facebook followers, there's a lot of reasons someone might consider selling with them. It also claims the title of "World's Largest" retailer of its kind, but as we saw, this is not an independent or verifiable claim.
With over 35,000 listings, it's simply massive. Also to consider, for better or for worse: Still White only sells wedding dresses.
Listing Terms:
Standard Option includes live analytics and 4 photos for $20
$30 gets you a Premium Listing, with up to 8 photos, a larger photo search image, and a spot on the homepage gallery
Still White does not take any commission
Fraud Detection
20% off a second dress listing
It's important to note this appears to be a one time listing fee, while other vendors offer a lifetime listing fee.
The Good: Fraud protection, a variety of listing options, complete focus on wedding gowns, social media presence, no commission charges, and relatively clear policies. There are also more advanced search options.
Not as great: Not a lifetime listing, competing against a massive inventory of gowns, no options to sell other wedding items, may be hard to promote your specific dress.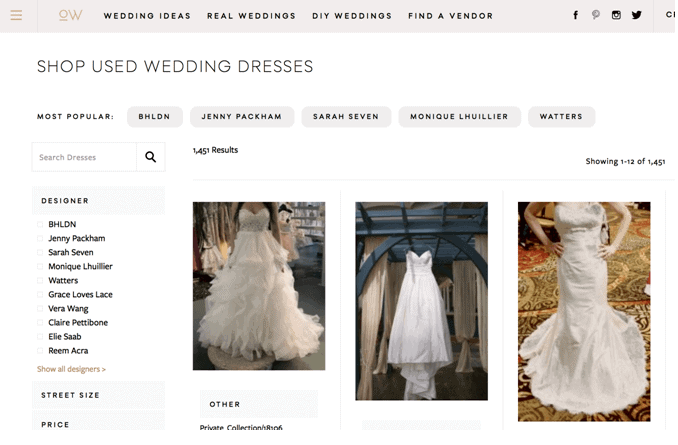 Positioning itself as a seller of quality, used designer wedding dresses, Once Wed puts all of its efforts towards creating a pleasant and easy to use platform for both users and sellers. And with over ten years selling dresses and veils, they have experience other sellers may not.
Once Wed also uses its social media following of 111K Facebook users to promote new listings, which is good, because it has over 5,000 total listings–large enough to show there's a lot of interest, yet smaller than Still White's, so your listing is less likely to get buried in the mix.
Listing Terms:
A non-refundable $19.95 fee per gown
Once Wed does not take commission
Listings are good for a year
Top Google Ranking
Customer Service support services
Advanced listing and filter options
While not all of the listing terms may appear as user friendly–namely the one year listing limit, hear us out: old postings removed after a year give more room and attention for new postings. And chances are, if you haven't sold it in a year, it's unlikely the dress will be a better seller given yet another year.
The Good: Strong social media following and promotion, experienced company, Google ranking, advanced selling options, fraud protection, customer service support
Not as Great: If you have more than one dress to sell, this would be an expensive option, and selling accessories in addition to a dress would be costly as well. Also, they prefer you used Escrow, so if you'd rather use Paypal, you might consider a different vendor.
1. Preowned Wedding Dresses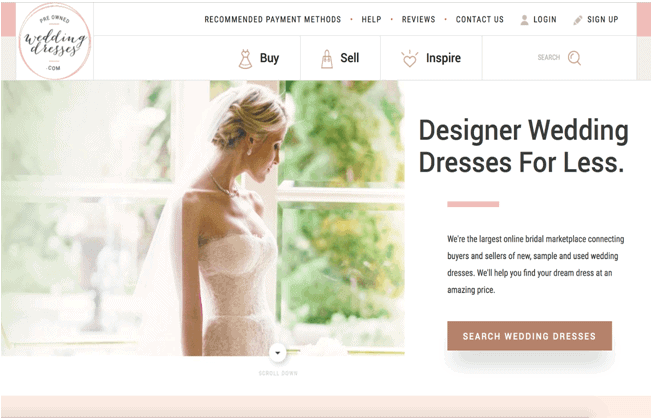 Sometimes the most straightforward idea is the best: and here, the name says it all. Far from elaborately designed or prestigiously named, Preowned Wedding Dresses still earns a top spot in the list of best places to sell a wedding dress online.
The company is also one of the oldest–in existence since 2004 -and boasts an incredible 231K Facebook followers. The one downside or plus, depending on how you look at it, is that it sells a little bit of everything wedding related, despite its name:
Wedding Dresses
Bridesmaid Dresses
Accessories
They do, however, do an excellent job of promoting and organizing what they sell, with a featured dresses section on their homepage.
Listing Terms:
$25 posting fee for wedding dresses
All other listings costs $5
Discount available for wedding boutiques
Average sale happens in 70 days
Preowned Wedding Dresses takes no commission
All postings are listed until sold
Promote your listing: $5 fee posts as a 'new listing' and is featured on the main page
Choose from Escrow or Paypal
Option to promote on their Facebook or Twitter for $100
There's a lot to offer here, depending how much you want, or need. There's also a more dedicated effort towards selling your dress; you'll have to decide for yourself whether the promotional offers are worth it.
The Good: Social media presence, a true commitment to promoting dresses, high Google ranking, Variety of detailed posting offers, Choice of Payment, Well Designed
Not as Great: Even our top choice has a caveat. There are guidelines about fraud, but it's less clear what they do to protect you, aside from a guide posted on their site.
And remember: all ratings are subjective. What might be the best place for you to sell your wedding dress online might not be the best place for someone else. Make sure, no matter who you go with, to read up on how to avoid fraudulent buyers.