Latest posts by Jeanette Kierstead
(see all)
When looking at beautiful black onyx rings for women, there are some truly stunning pieces. This makes it hard to choose just one or two. It's too bad we only have 10 fingers! You can certainly buy 10 or more rings and wear them on different days of the week. Instead of having to weed through all the stunning black onyx rings, we did it for you. You're welcome!
Black Onyx Women's Cocktail Ring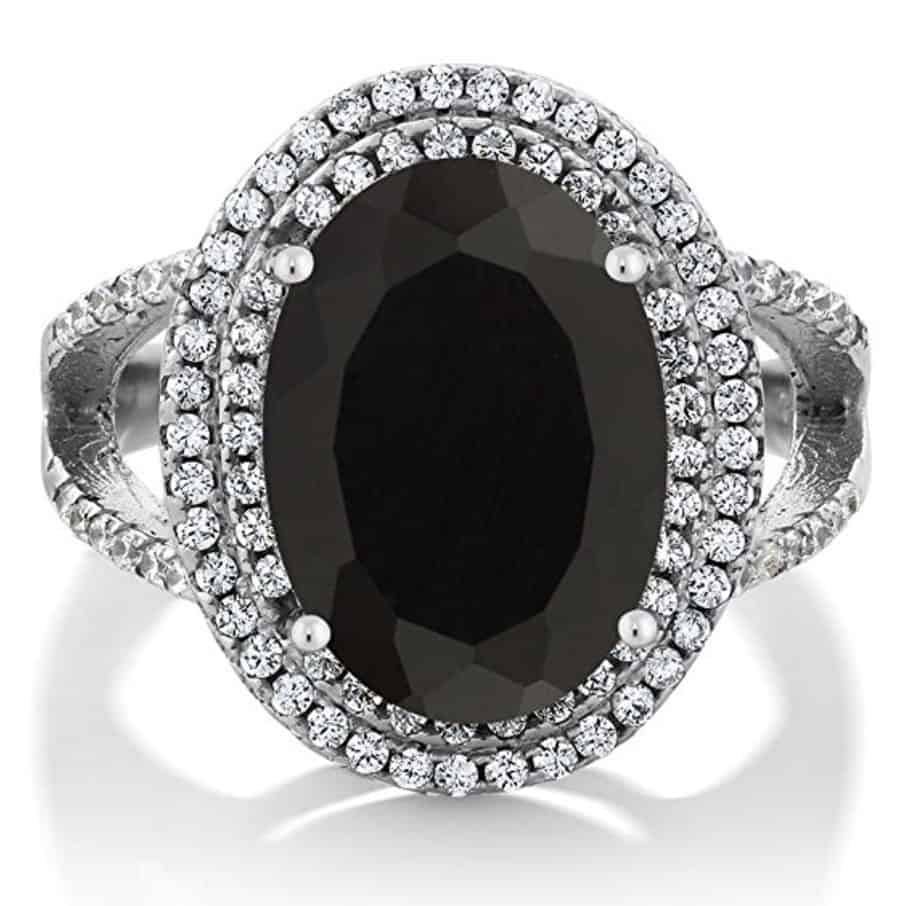 Once a ring hits a certain size, it's slapped with the label of cocktail ring. We prefer to call them statement rings, though. This ring definitely makes a statement. It's a total carat weight of 6.44 and measures 14 x 10 mm. The black onyx is oval cut and 5 carats. The band is 925 sterling silver, which is 100 percent lead free. The manufacturer provides a money-back guarantee on their jewelry, so you can purchase this ring with confidence. The onyx has a double halo of CZ stones that each measure 1.1 mm around. The total number of stones in this ring is a whopping 121. The ring is custom made in the U.S., and is available in sizes 5 through 9.
---
Silver Filigree with Marcasite and Black Onyx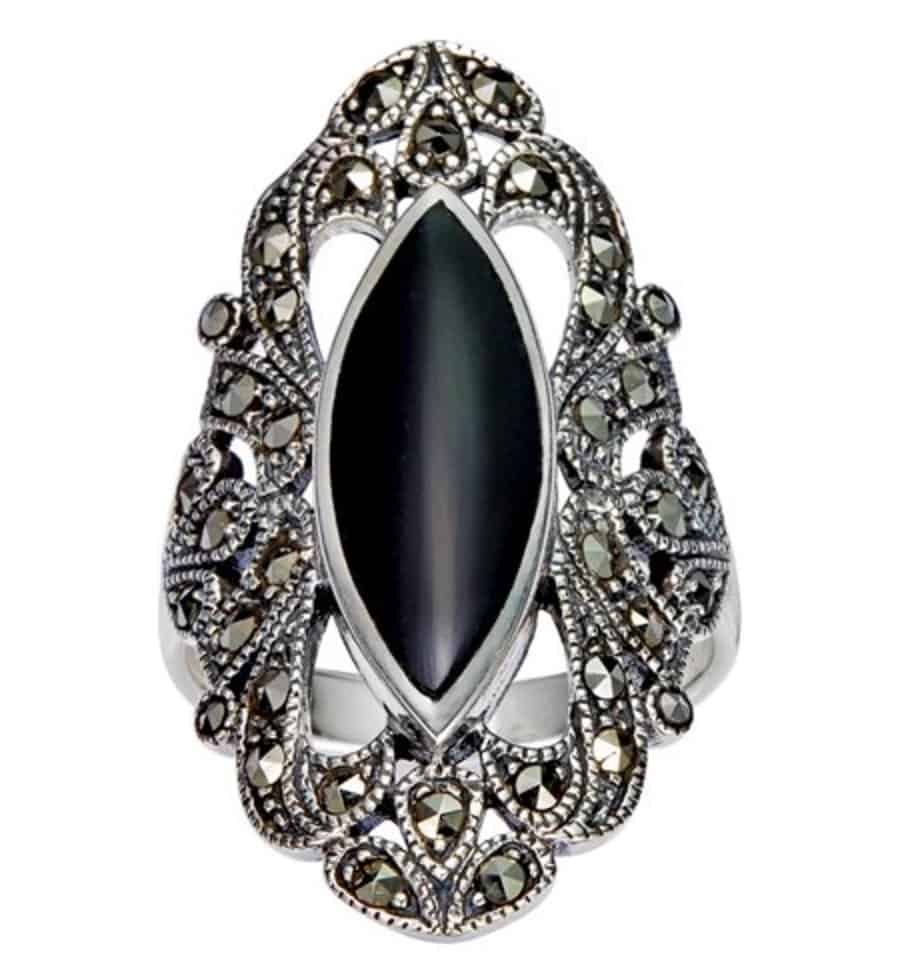 This is one of our favorites on the list because we love ornate, vintage styles as much as we love simplicity. Let's face it. We love all rings! This is the ultimate statement ring, and measures 30 mm x 35 mm. This will take up your entire finger from the base to the knuckle, and it's incredibly on trend right now. The metal is .925 sterling silver with marcasite stones decorating the filigree design. The band of the ring is solid and won't feel flimsy when compared to the ornate front of the ring. The onyx is a natural stone that is dyed to get the deep black associated with onyx. Dying is a common treatment for onyx stones. The ring is available in sizes 6 through 9.
---
Sterling Silver Emerald Cut Onyx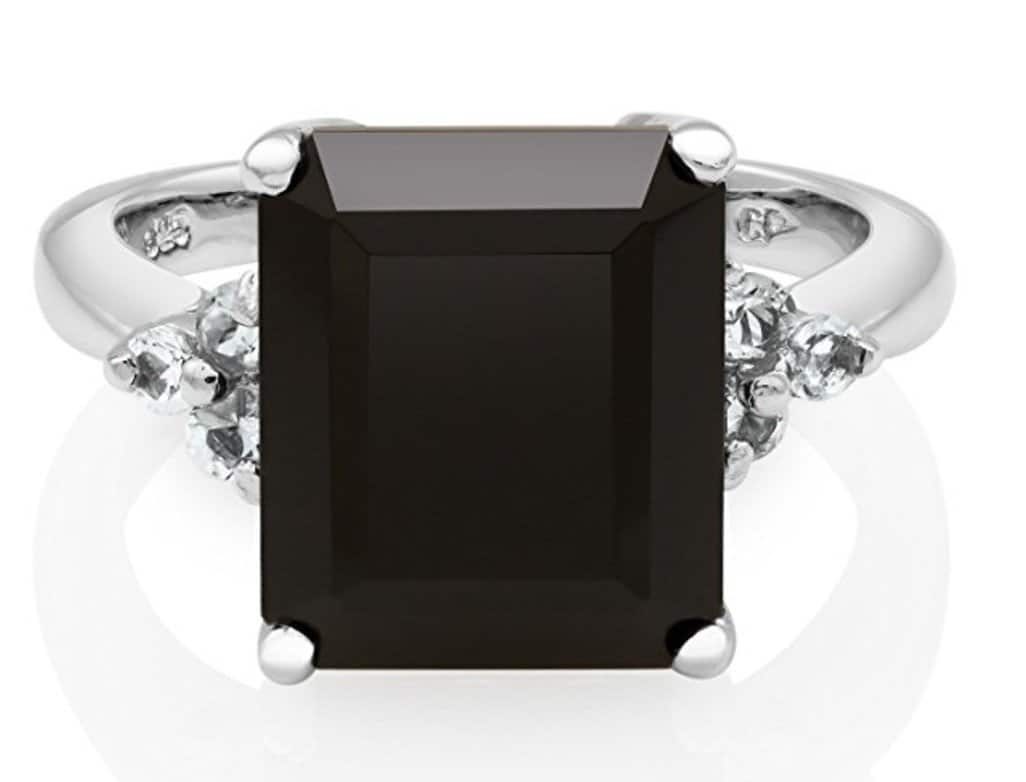 While the other rings in this review are oval or marquise cut, this one is a beautiful emerald cut with side stones of white topaz. The ring's metal is a stamped .925 sterling silver. The metal is coated with a rhodium plating to enhance the shine of the silver and protect it. This is a ring that can go with any outfit, whether it's jeans and a t-shirt or a little black dress. The ring measures 22 mm and the onyx is in a 4-prong setting. It's quite a large onyx stone that will make a big statement. It comes in a range of sizes, but it isn't resizable. It's important that if you're ordering for someone else, you are sure about the sizing.
---
Marquise-Shaped Onyx Sterling Silver Ring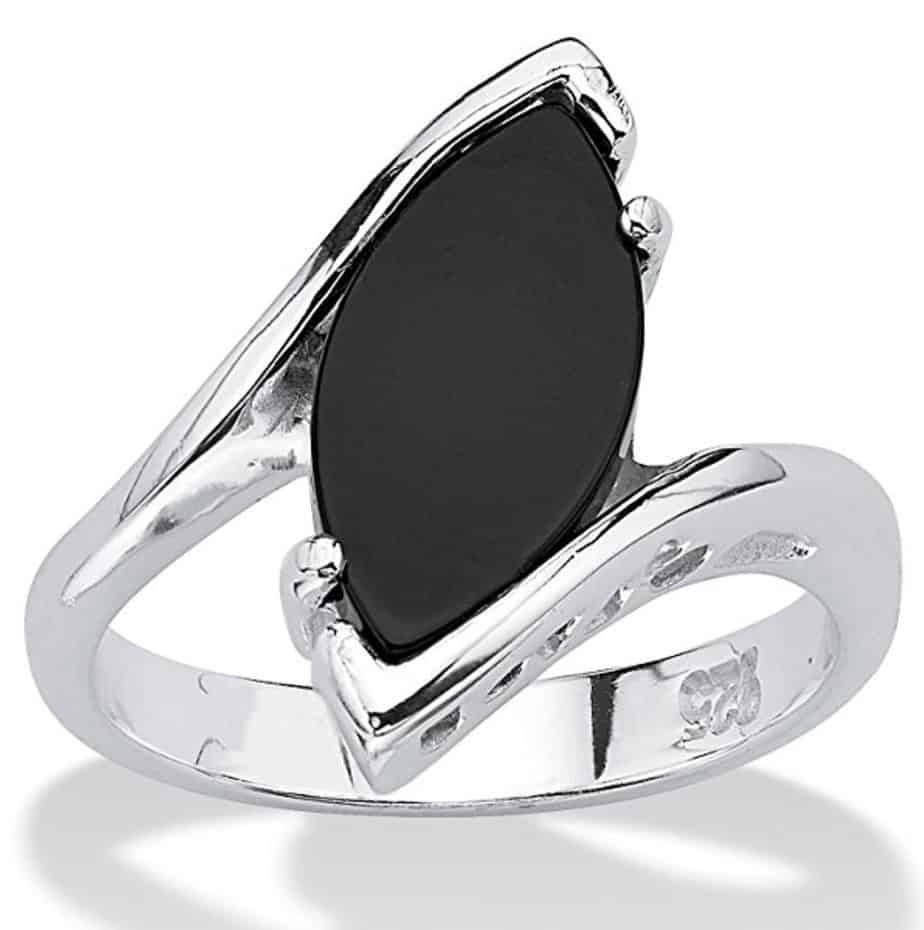 This elegant ring has a curve that helps to feature the beautiful onyx stone center. The ring measures 20 mm by 16 mm, and the onyx is 14 mm with a 4-prong setting. The sterling silver band is 1.5 mm in width, which is elegant yet solid enough to match the width and length of the stone. The sterling silver is finished with rhodium to keep it shiny for years without having to polish it constantly. Sterling silver has a tendency to tarnish when it's not polished frequently, which won't happen with a rhodium finished silver ring. It's available in sizes 5 through 10 to fit nearly every finger.
---
Barse Guinevere Ornate Onyx Ring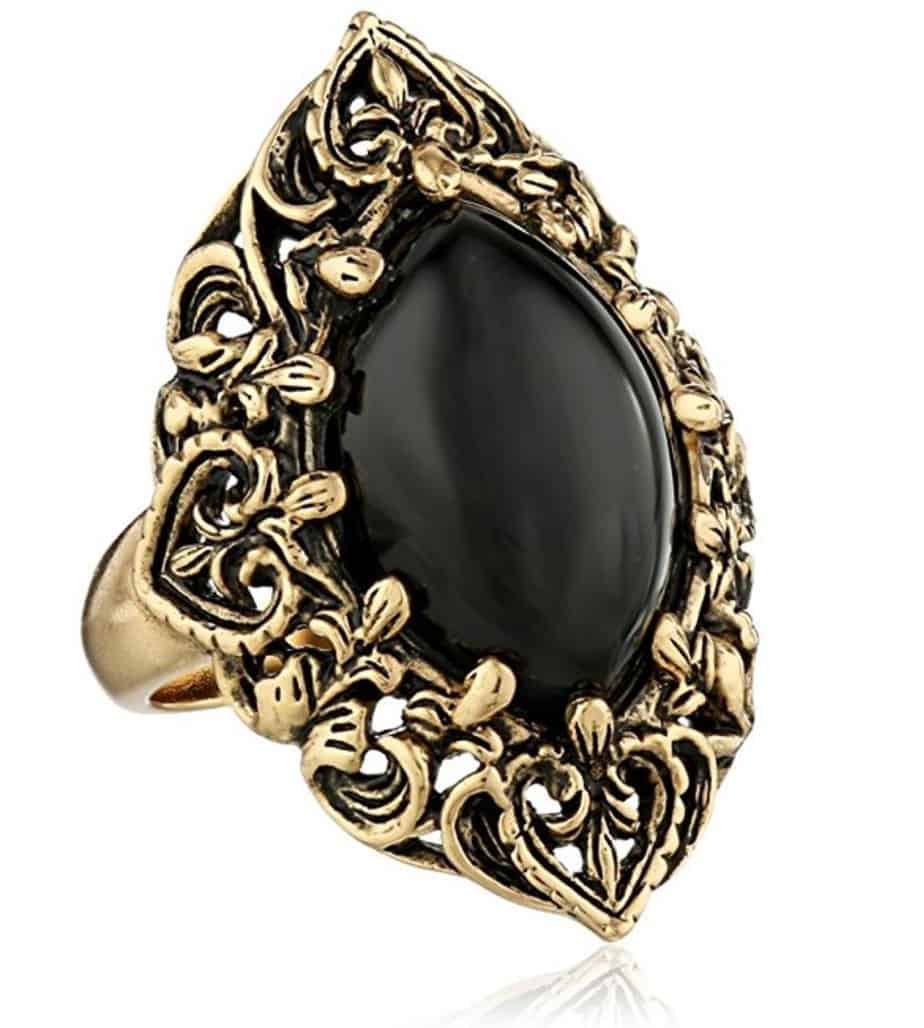 As far as we're concerned, the best was saved for last. This Barse Guinevere Ornate ring is an ornately detailed diamond shaped ring. While the metal isn't one normally seen in rings, we love that it's a unique material: bronze. You care for bronze in the same way you would a silver ring. Use a mild soap to remove any dirt and shine it with a jewelry cloth. Bronze is made using copper and tin, so keep that in mind when ordering in case you have an allergy. That's the public service announcement for bronze. This stunning ring has a beautiful design with curls, hearts and leaves that have been oxidized to give it an antique feel. The ring is 0.75 inchs high and 0.5 inches in width. The onyx is dyed to give it the rich, deep black we expect in this stone. It's only available in sizes 6 through 8.
---
You don't have to wear black to enjoy these beautiful black onyx rings. Black is a wonderful, flexible color that will match any outfit you want to wear. A statement ring has the advantage of making any statement that you want, which might include "I don't care if I'm not wearing black; I love this ring!" Any of these rings can be a statement ring worn with elaborate outfits or one that you wear daily because you love it.