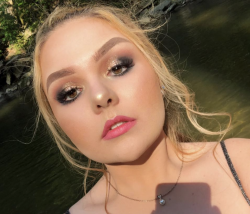 Latest posts by Annalise Swain
(see all)
Making jewelry out of resin is a simple and cost-effective way to start making jewelry. A variety of resin accessory techniques are available to be practiced from the privacy and comfort of your home, and you don't need to invest in precious metals or heavy machinery. Bracelets, earrings, necklaces, pendants, rings, and more can all be made of resin. If you are looking to make jewelry out of resin, you're probably wondering what the best resin for jewelry is. What a wonderful topic!
We went through and decided what the best resins are depending on your skill level, availability, and affordability. We're also here to provide helpful tips to make the best of your projects! Before you pick a jewelry-making resin, there are a few things to consider.
Resin for jewelry is more expensive than other types of resins
Although you can make jewelry out of marine resins, hardwood resins, and other 'convenience' resins found at home improvement shops, the results would be disappointing. These resins have an orange color to them and do not resolve as clear as a jewelry resin. These resins can also lack UV antioxidants, making them less transparent and yellowing faster than jewelry resins.
Your skill level depends on the resin you use
Epoxy resin is the perfect solution for beginners because it is the simplest to calculate and blend while also producing excellent results. While the polyester resin cures hard, it takes someone who is confident in their abilities to use it. When working with these resins, you must be able to work fast, not to mention the extra measures required to properly weigh and combine them.
Are you using bezels or molds?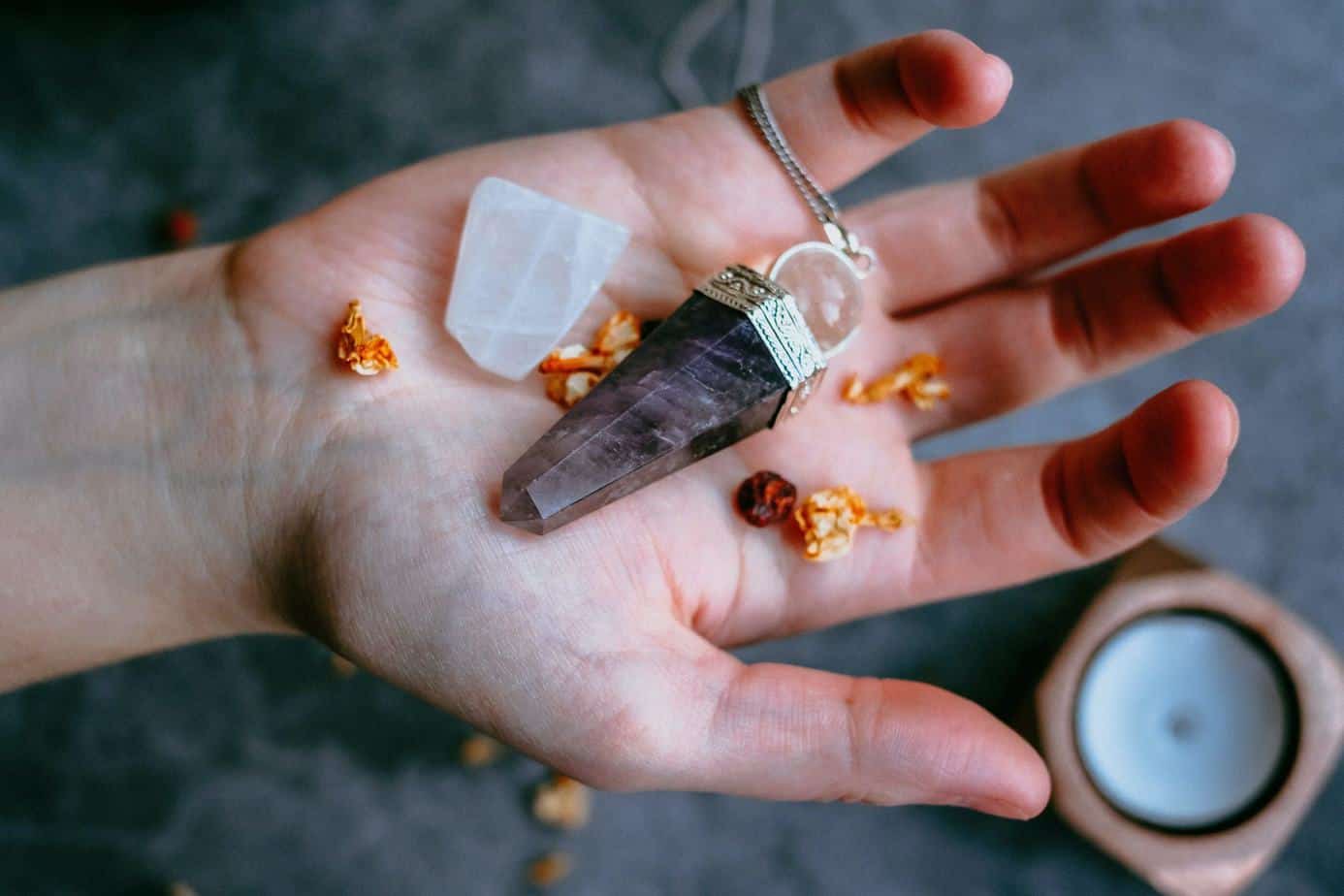 Not all resins are considered equal! When producing resin jewelry, it's important to use a resin that's either made for molds or designed for jewelry blanks. In all cases, the same type of resin would not have the best effects.
If you're making bezels, you'll want to use a jewelry resin that has a domed finish. By the domed finish, I mean that your jewelry blanks can self-level to create an elevated, yet softly curved top. This is what makes the bezel have an extra sparkle and glow by magnifying everything around it.
Since doming resins are dense (like honey), they can only be poured to a depth of an eighth of an inch or less to allow bubbles to escape before the resin cures. Jewelry-grade doming resins may also be used to cover artwork surfaces or to give drink tumblers a stunning finish.
If you're dealing with molds, you'll want to use a casting resin because it mixes thinner than water and allows bubbles to escape more quickly. They're designed to be poured into deeper molds, resulting in crystal-clear, bubble-free resin charms. However, since they blend thinly, they can not produce a domed finish and will instead cast with a flat surface. Casting resins for jewelry may also be used.
What are some of the best epoxy resins?
While most resin projects aren't very hard to create after you've had some experience, it can sometimes be difficult to get adjusted to if you're new to the technique. This is one of the reasons we wanted to gather a selection of first-rate epoxy resin packages provided by numerous firms and retailers in one location for easy differences and similarities.
Best for intermediate crafters
Bloombee clear epoxy resin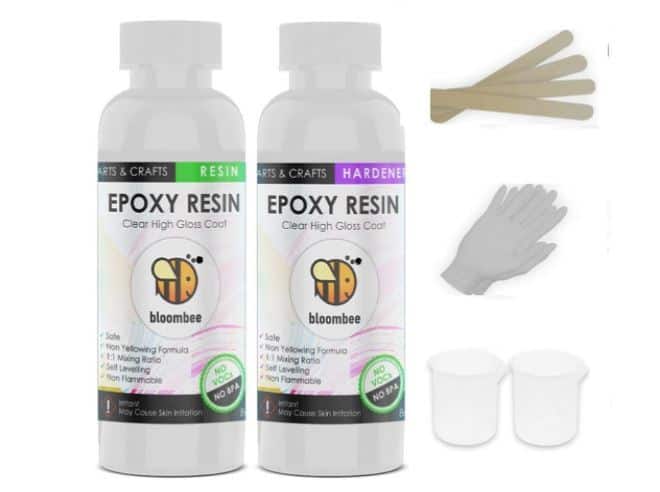 Bloombee sells an epoxy resin that comes in a larger bottle (which explains the relatively higher cost), it's still designed to cure with an incredibly interesting glossy finish. It makes it ideal for creating stunning jewelry and home decor, but it's especially useful as a sealant.
The bonus gloves and mixing beakers are reusable and are environmentally friendly. They also include stir sticks, which can easily be replaced with childrens' popsicle sticks.
Although being able to use gloves and beakers is eco-sustainable, it does require extra caution when using them. If you don't clean them well and fast enough, the epoxy resin can cling to them and won't wash out. Since the two ingredients are additives, you'll want to keep them apart so they don't get mixed together.
The remaining epoxy within could be dangerous to the customer because whatever they place inside could mess with the epoxy resin combination the next time they use them.
<p
/p>
Best for skilled crafters
Dr. Craft epoxy resin kit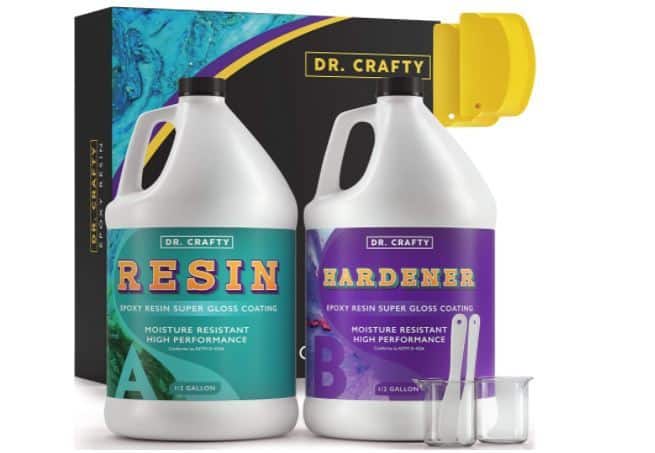 When you're a skilled epoxy resin crafter searching for more value for your buck than repurchasing simpler kits, we think you'll enjoy this one-gallon set from Dr. Crafty. They add in reusable stir sticks and mixing beakers, as well as precise quantities of their 1:1 ratio solution for simple use and precise mixing, ensuring that neither part runs out before the other.
This blend, rather than being self-leveling, is aimed toward being quite crystal clear. This is fantastic, as are their suggestions for using a heat gun on their product, but you'll need to do so if you want the blend to be completely free of air bubbles. The package is still somewhat more costly than what you've seen so far, which explains the increased quantity.
<p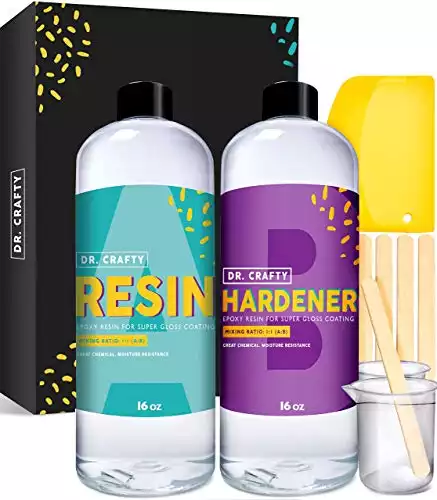 /p>
Best for beginners
Skogfe epoxy coating kit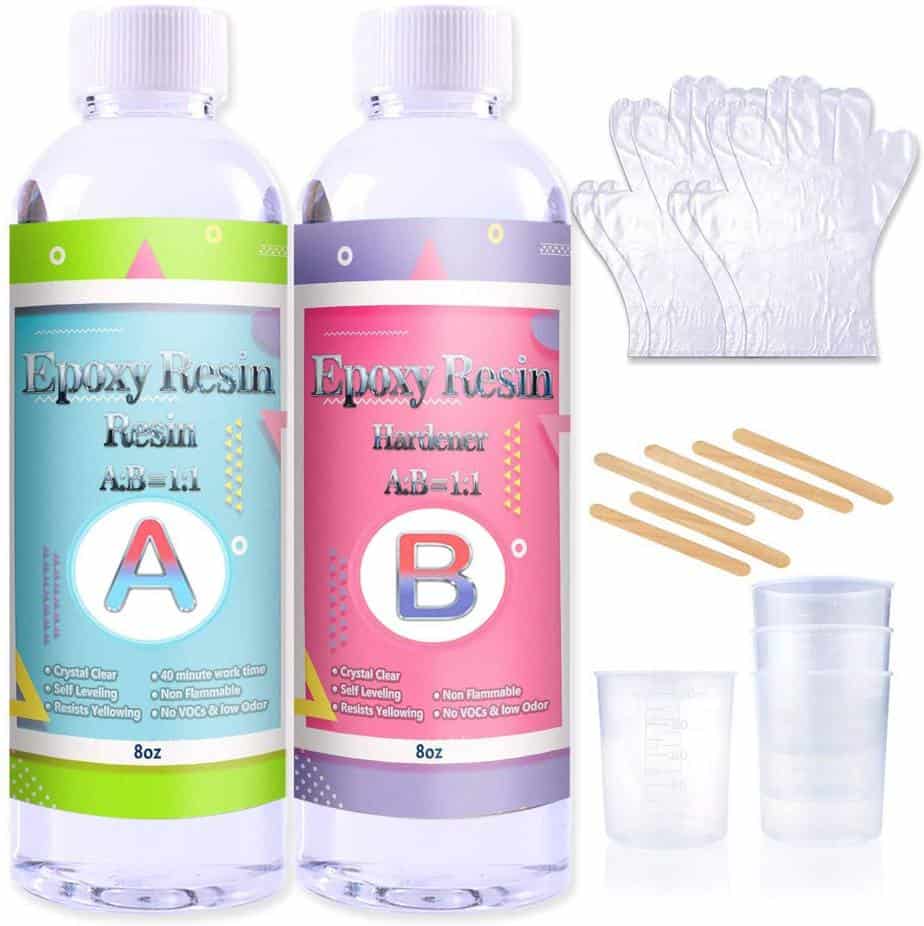 Apart from several more industrial-grade epoxy resin mixtures, this Skogfe kit is designed especially for leisure crafting, making it a more beginner-friendly choice. Whereas other labels can yellow with time, this one is designed to stay "crystal clear."
It was also made with a significantly wider working window in mind, allowing you to mold or smooth it for 40 minutes rather than drying out and damaging the final product. Also, it has a silky smooth combination that's designed to dry level, smooth, and bubble-free, unlike some other blends that need a lot of manual smoothing.
Rubber gloves, wooden stir sticks, and small plastic cups are included in this pack for careful mixing, so if they're gone, you'll need to restock or find substitutes. Depending on what you're doing, the amount of epoxy resin provided isn't always proportional to the quantity or size of mixing containers you have.
<p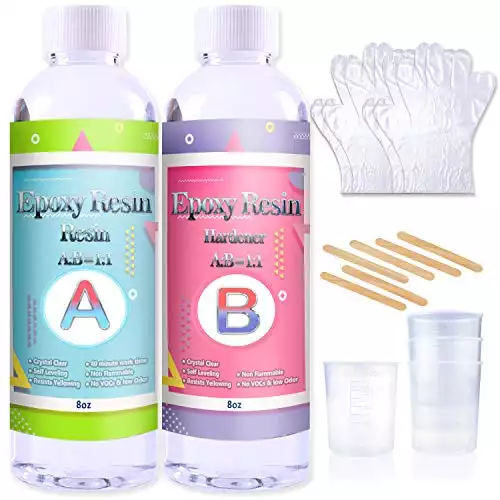 /p>
What are some of the best casting resins?
Casting resin is a synthetic polymer with a thinner consistency that must be mixed first from two separate materials before being processed. The actual resin is mixed with a hardener that is specifically designed for it in this process. As resin and hardener are mixed, a chemical reaction occurs, which first releases heat. Furthermore, this reaction enables the initially liquid resin to harden over time.
Incredible solution clear casting resin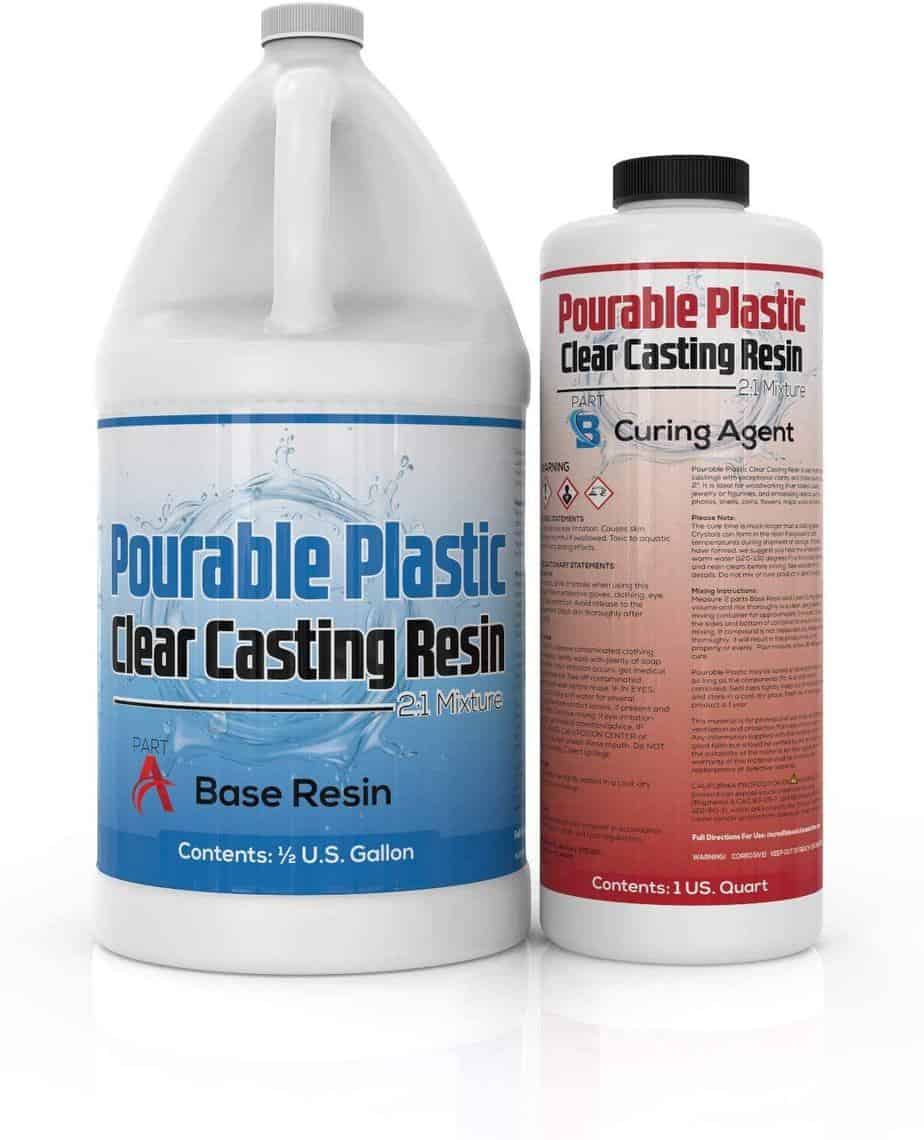 Their pourable plastic casting resin has a high gloss, ultra-lear finish that is ideal for figurines, tables, jewelry, and other castings. While most resins can yellow over time, some are more resistant to ultraviolet light-induced yellowing than others. UV inhibitors are used in Incredible Solutions resin, which helps to prevent yellowing. For colored applications, this resin blends well with mica pigment powders, enabling you to make color-based jewelry or home decor to your taste.
<p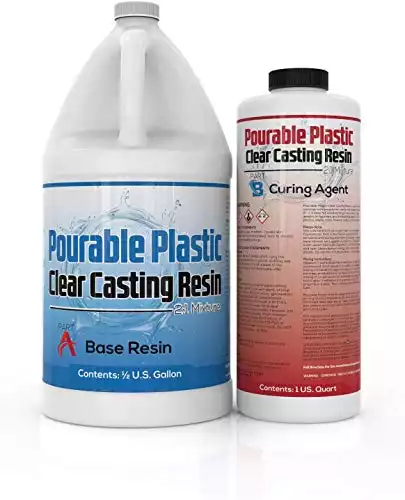 /p>
FGCI superclear liquid glass casting resin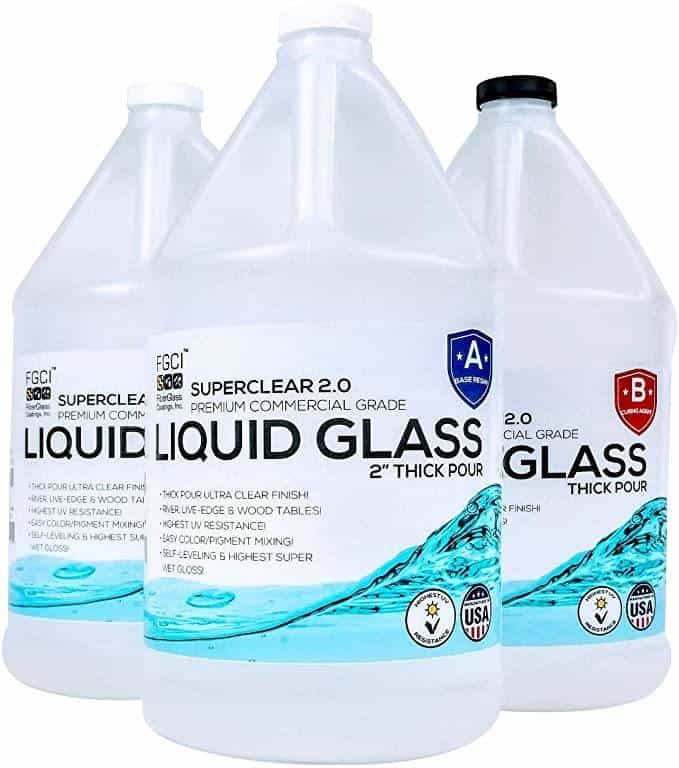 Not only can you pour Liquid Glass thicker (up to 2-4 inches), but it's also tougher. But, it protects it from injury, it's more heat resistant, prevents warping, more stable, and ensures a solid, non-flexing base. Their casting resin kit is a two-part epoxy with a thinner viscosity and bubble-releasing properties that help to achieve a virtually bubble-free finish with unmatched depth and transparency.
It's designed for use in a variety of casting applications, including jewelry castings, tables, and casting art as small as 4 mLs! If you're working on a little project like a ring mold or jewelry, mix up at least a pint at a time. It's much simpler to blend the wrong volumes by pouring less than a pint, which is a frequent error that leads to curing problems.
<p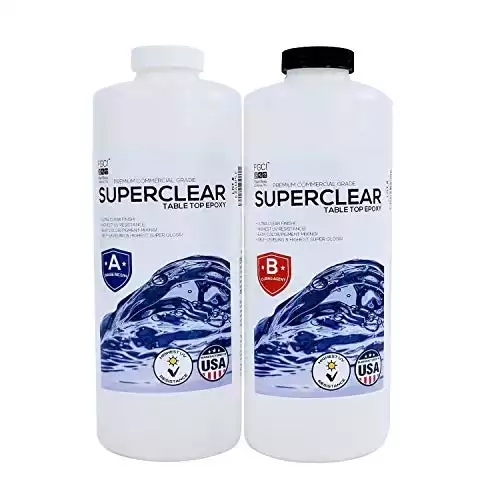 /p>
Resin jewelry crafting tips
We've always seen fun resin pendants in jewelry stores, boutiques, and stylish people all over the world. They're a great way to accessorize, and they're a great way to turn your sentimental items and ephemera into something you can wear every day. Although making resin jewelry can seem to be a daunting task at first, it is something that anyone can do at home. Here are a few pointers.
Secure your work area from a big mess
Always use wax paper to protect the work surface. If you spill resin, it will make a huge mess and even destroy your furniture. You should wear rubber gloves on your hands and shield your eyes with protective goggles, so make sure to also protect your furniture as well.
Look at your environment
Take notice of the atmospheric conditions in your immediate vicinity. Do you live in a humid area? If that's the case, consider working with a dehumidifier or an air conditioner. Even if the weather is nice for you, it could be hazardous to your resin jewelry. If the humidity is high enough, the build will remain tacky and not completely harden.
If you are working in a colder environment, one trick to make your resin cure slower is to heat it up. Don't heat it up so it's hot, but just enough so it is warm. This will also help lower your chance of getting bubbles.
A dryer is not your friend
People frequently use a heat tool to remove air bubbles from their resin jewelry, which is a fantastic idea. Using a dryer for that job is a bad idea since dryers puff excessive quantities of air, which will wreck your project and waste your time and resources.
Make sure you have the right casting materials for your project, regardless of which techniques you use to make your own resin jewelry. Both novice and experienced consumers need to buy from retailers who have detailed knowledge and advice on how to handle the chemicals.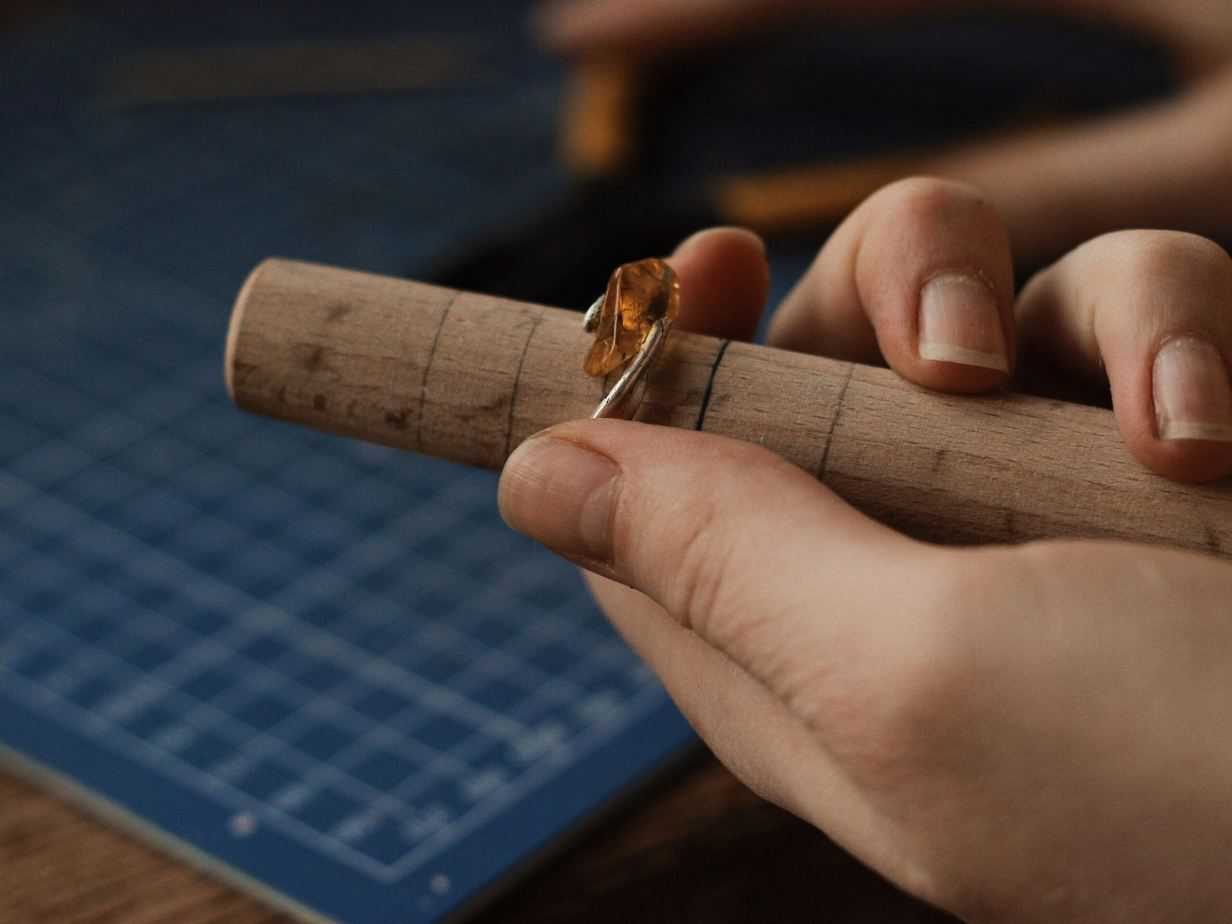 Preparing your mold
Two of my favorite tricks are baby powdering and warming the silicone rubber mold before casting resins. This is because baby powder releases the silicone rubber's surface stress, which eliminates air bubbles, and the warmth makes the resin cure quicker!
FAQs
Question: What is the best resin to use for making jewelry?
Answer: Epoxy resin has a lovely, crystal clear surface that makes it perfect for making jewelry and accessories. The polyester resin dries easily and has high tensile strength. As a result, this resin is mainly used for molded components, such as those used in boat construction or profile plates.
Question: Is there a difference between epoxy and resin?
Answer: The expected usage is the clearest distinction between the two. Epoxy resins are used for coating purposes while casting resins are used for casting purposes such as molds, figurines, and jewelry. That isn't to say that they couldn't be used for their intended purposes.
Question: Do I need to seal resin jewelry?
Answer: You must use a sealant, such as Mod Podge, to prevent resin from seeping into your paper. Apply many coats of sealant to the top, back, and sides, allowing the sealant to dry between coats (this shouldn't take long).
Question: Can you use regular resin for jewelry?
Answer: Many resin jewelry-making techniques can be learned from the comfort of home and you don't need to invest in certain metals or expensive equipment. The resin may be used to create a variety of jewelry, including hoops, bracelets, earrings, pendants, and more.
Purchasing the right resin for your journey
So, when you are looking to find the right resin for your skill level, remember the look you desire to have. The type of resin you buy depends on whether you're using a mold or bezel. Try not to purchase any 'utility' resins due to them having a yellow or orange tint when they finish drying.
When you are in the process of a project, secure your work area to avoid a big mess, protect yourself by wearing gloves and goggles. Try to avoid using any type of dryer so your project turns out bubble-free. What do you think?