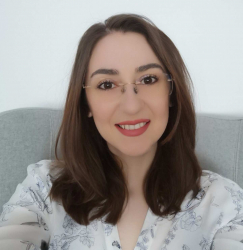 Latest posts by Alexandra Gavrilescu
(see all)
When thinking about engagement rings, most people associate them with diamonds. However, there's a new trend that focuses more on non-diamond engagement rings that has been growing in popularity. Part of that new concept is the amethyst – a stone that looks truly stunning on one's finger.
Obviously, we all want our precious rings to be durable and their gemstones to last for many years. The majority of amethysts are either purple or green. I love both of those colors, although I think I would personally like more the purple alternative.
But are amethysts a good choice as a central gemstone? Will they go with your everyday outfits and looks? Below, you will find some of the most beautiful engagement rings that feature amethyst but I will also discuss some other important aspects such as the pros and cons of these stones, their properties, and many more insightful details.
The Best Raw Amethyst Engagement Ring Ideas to Consider
The following accessories are some of the most beautiful nontraditional engagement rings you can think of and I am sure you will love them all.
Pear-Shaped Solitaire Amethyst Ring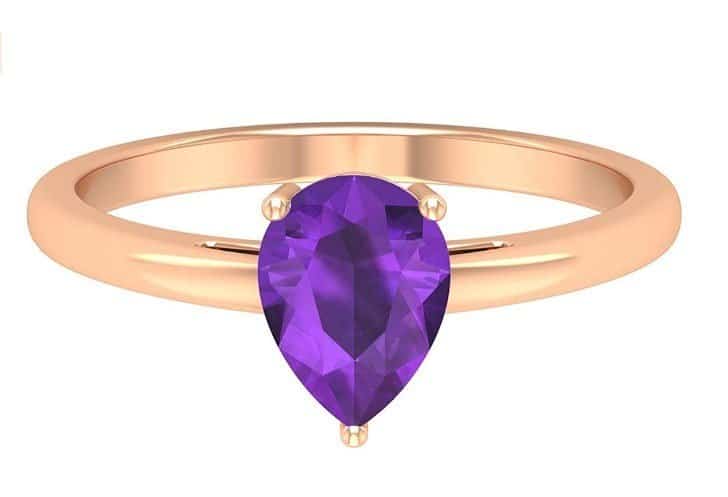 The classic engagement ring is a solitaire; a ring that has one single stone that's suitable for a bride with minimalist tastes because it is a low-ley accessory. The ring I am talking about has an oval purple amethyst that's faceted to boost the stone's brilliance.
If you're searching for something even more exquisite, you should opt for a brand that's paved with tiny white diamonds. This way, you will achieve a nice contrast with the purple amethyst and added sparkle.
Amethyst and Diamond Combo Ring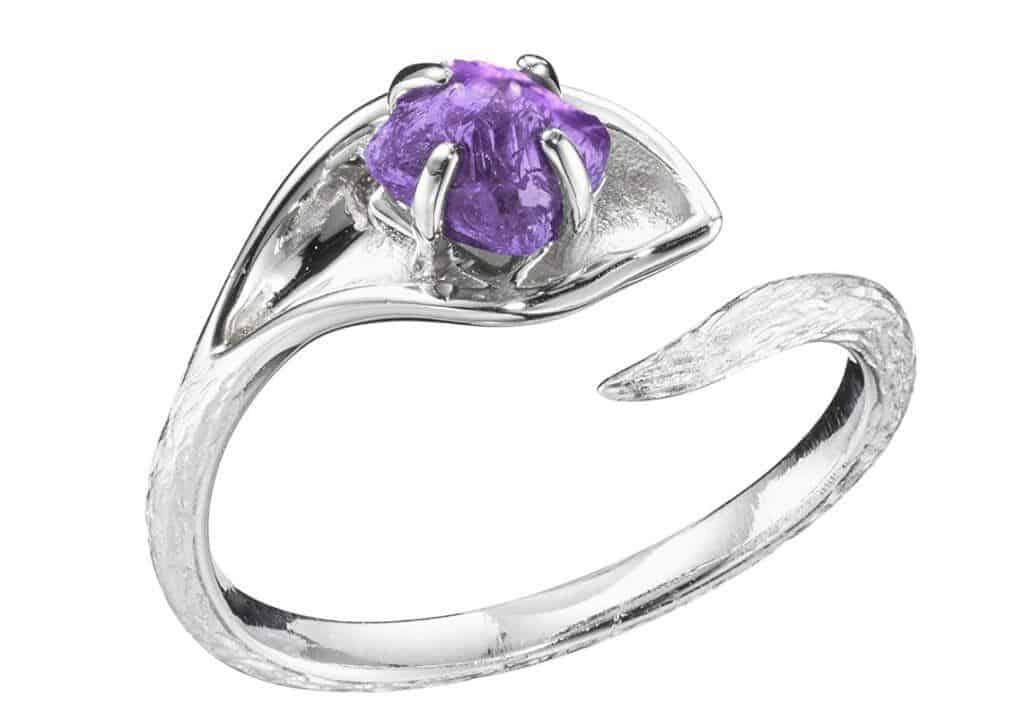 A more modern alternative would be the one of a mix of two central stones: a white diamond placed right next to purple amethyst. My ideal option would be a pear-shaped diamond with a marquise-cut amethyst or vice versa. Again, for added brilliance, you should choose a band with little diamonds on it.
Being placed next to the diamond will boost the amethyst's beautiful color while the bezel setting will keep the stone protected. This ring can also become a symbol of you and your spouse's love and connection; just like these two gemstones that are set side by side to become a perfect whole.
Amethyst Collar Ring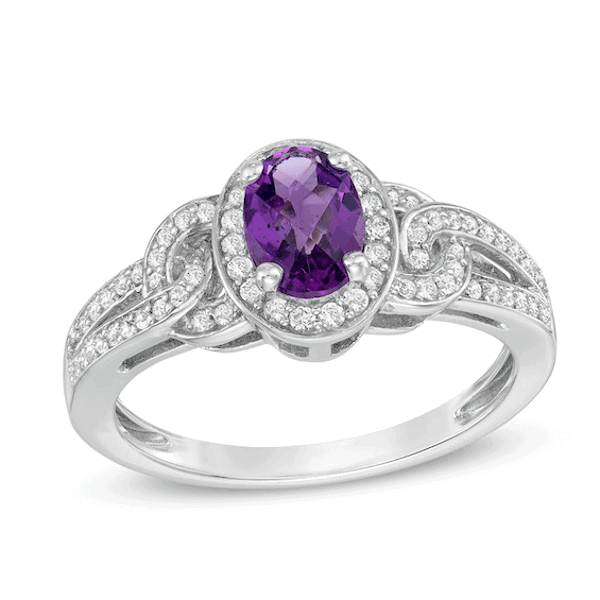 This is another engagement ring that features an amethyst as the main precious stone but this time, the purple stone is surrounded by numerous tiny white diamonds. It's definitely a unique engagement ring, yet both its setting and design are somewhat classic and timeless.
The amethyst has a deep purple hue that's embellished by all those sparkling diamonds. The entire appearance of this ring has a royal look and it will make the woman who's wearing it feel like a queen. In my opinion, the highlight of this particular ring is its wide ring setting encrusted with diamonds.
Floral Raw Amethyst Engagement Ring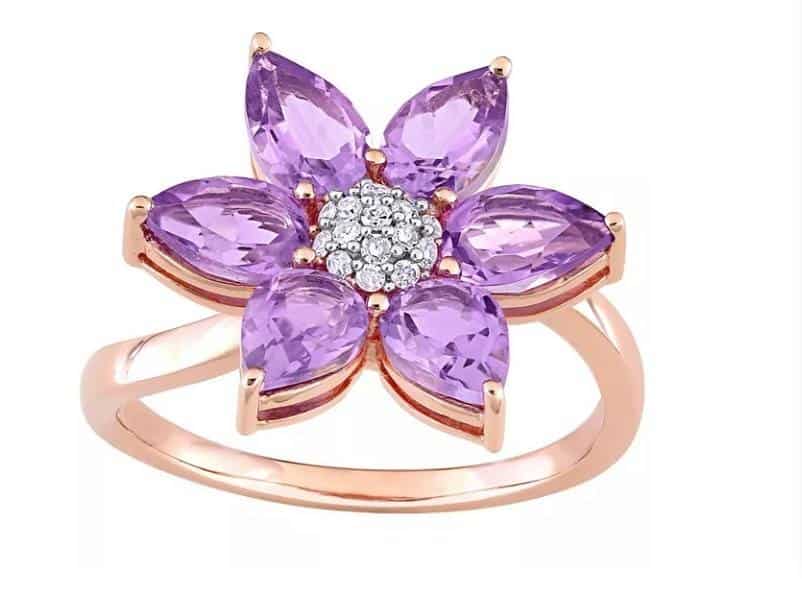 This ring is the perfect choice for romantic and feminine women. It has a chic and delicate floral design and two brilliant diamonds on each side of the amethyst. Each diamond represents the center of a flower. The setting features long hard lines that are the optimal contrast for the curves of the flowers which have a soft finish.
It could represent a woman who's feminine yet tough; one who has two personality traits: being sentimental but logical and strong at the same time.
Amethyst Infinity Ring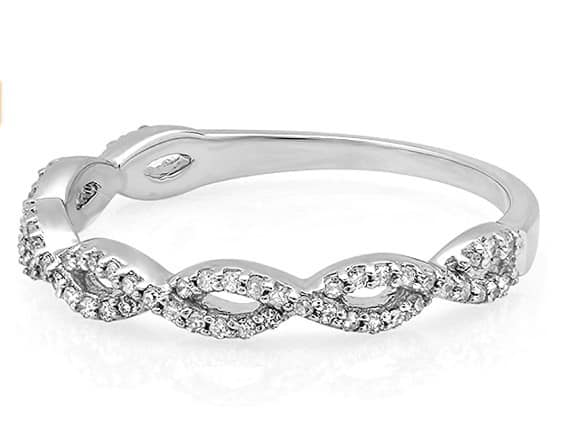 Instead of diamonds, you could have your engagement ring paved with white sapphires which are also very pretty. An infinity band has a more intricate design that features the eternity symbol. And, in the center of that entire elaborate look, there's the purple amethyst that quickly catches your eye.
Besides the symbolism, the band will also balance the central gemstone in terms of sparkle, shape, and color. If you're the groom-to-be and you're looking for the perfect engagement ring that will sweep your fiancée off her feet, this infinity ring will certainly do the trick.
Royal Amethyst Engagement Ring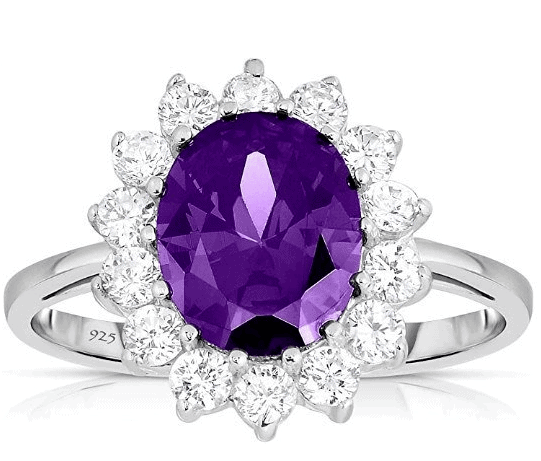 You will surely rock her world with this ring design that's incredibly exquisite. The extra touch of beauty is added by those side stones. While many people choose to purchase bands with diamond accent stones, this ring showcases tiny amethysts placed on the double shank band.
The result is fantastic. This ring is chic, very colorful, and out of the ordinary. The whole setting increases even further the beauty of the central stone.
Three-Stone Amethyst Ring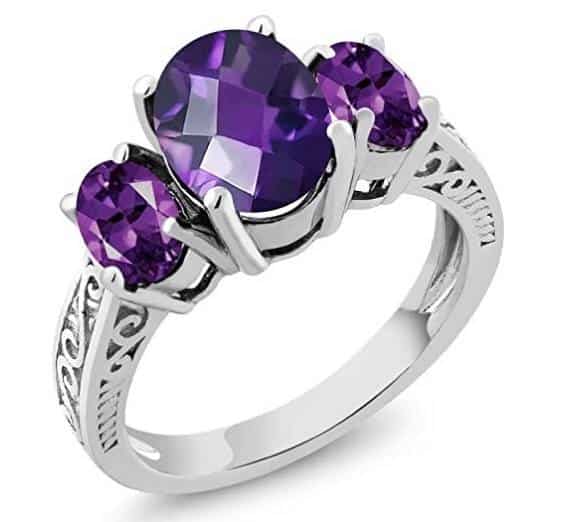 Talking about intricate ring designs, you should check this one out. The setting is simply amazing. Luckily, amethysts are pretty versatile stones so they can be included in a wide range of ring settings and designs. If you like this particular gemstone, imagine wearing three instead of one on the same ring.
Not only is this ring displaying three main stones, but it also has delicate floral elements on the top part of the band. Those details set this accessory item apart from all the others and make her feel like a princess or even a queen.
Nature-Inspired Amethyst Ring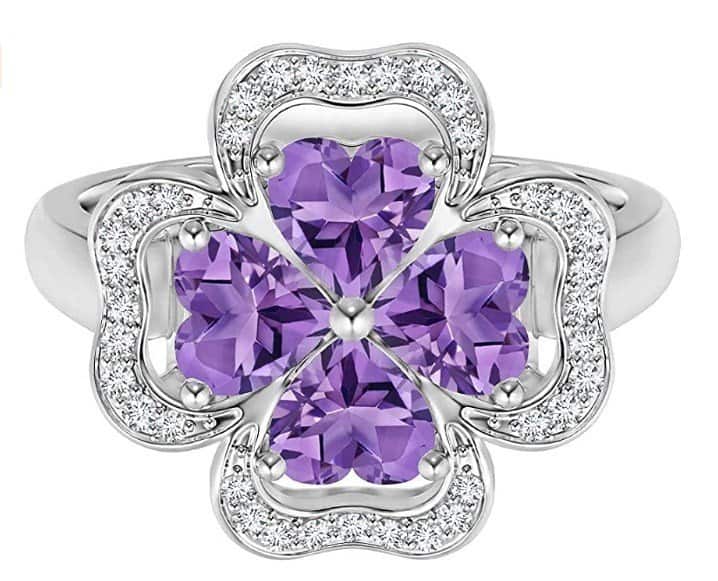 In this case, the purple amethyst is held up high by six prongs and although the ring also has some tiny diamonds on the band, the central stone is a solitaire. The band, however, is taking the ring to a whole new level of luxury. The design is stunning and features leaf accents.
All those tiny details are complex textures make this engagement ring really stand out. All her friends will love it and ask to see it from up close.
How to Choose the Best Raw Amethyst Engagement Ring
The most important part of any engagement ring is the stone and its most important characteristics: cut, clarity, color, etc. All these details show the stone's quality. Here are the things you should consider if you want to purchase an amethyst engagement ring.
Color
Most amethysts are purple but the hue can vary from very pale purple to very intense or dark purple. If the stone has a strong purple color with reddish hues and doesn't have any visible areas with light or dark spots, then the stone is one of the finest.
According to many people, the finest amethysts are produced in the Siberian mines. It seems that those stones have a rich purple color but they also feature both blue and red nuances that will only increase the beauty and depth of the gems. If the stone has brownish or bronze tints, the amethyst will have a lower value.
Clarity
To check for clarity, you must hold the stone up so that natural light can go through it. Good-quality amethysts are transparent and they don't have any inclusions like other crystals, gas bubbles, or liquids trapped inside. Other issues such as scratches, fractures, and nicks are also a no-no. Cut
Let's be realistic and not compare diamonds with amethysts. Therefore, don't expect an amethyst to shine and sparkle like a diamond because that will never happen, no matter how beautiful and clear the stone is. In engagement rings, amethysts can have many different cuts like an oval, round, cushion, emerald, marquise, triangle, and pear.
My two favorite cuts are marquise and pear. There are specialized experts that should cut these stones because they know exactly what to do to boost the amethyst's sparkle and color.
Although a design cut or freeform shape would be unique because it doesn't follow traditional standards, most amethysts are cut symmetrically.
At the same time, many buyers settle for a mid-quality stone that doesn't have so many facets after the cut because the process of cutting it can become higher than the actual value of this gemstone.
Setting and Metal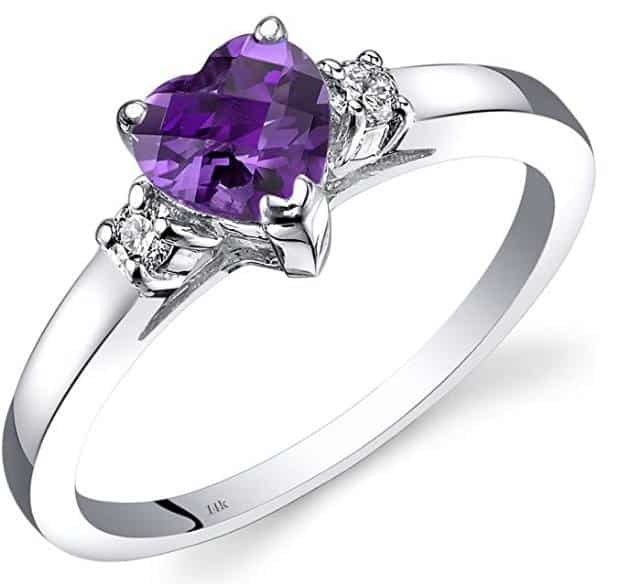 Obviously, amethysts aren't as durable as diamonds but they are still sturdy enough to be placed in many types of settings. On the other hand, you should opt for either a halo or bezel setting because any of these two choices can provide extra protection. Compared to those, solitaire settings won't offer the same level of protection.
Different metals might influence the stone's shade. For example, if you opt for a white gold band, you will probably notice the gem's bluish undertones.
Yellow gold makes the amethyst look very nice and intensifies its purple color. Finally, rose gold is another amazing alternative because it makes the ring look vintage-chic.
Carat
Amethysts are more affordable than diamonds. Most importantly, even if you want to buy a larger stone, the price won't increase significantly. So, these stones are ideal for those who want to wear larger engagement rings.
Amethysts Properties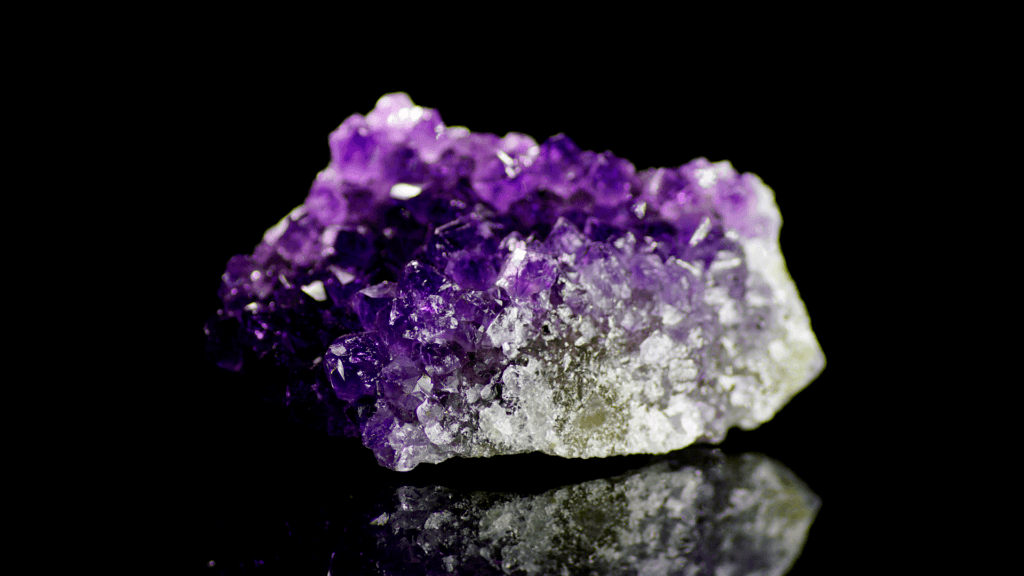 True amethysts are purple. Those that are green are very rare and they are known as prasiolites which, just like amethysts, are a type of quartz. Amethysts have good durability and a hardness score of 7.0.
Most of these gemstones that are processed and included in engagement ring settings and other jewelry are sourced from the following countries: Russia, Austria, Zambia, Brazil, South Korea, and India.
What Does the Word "Amethyst" Mean?
This word originates in the Greek language and it means "not intoxicated." The Greek word is "amethystos." Both Romans and Greeks thought that wearing an amethyst would protect them from getting sick or intoxicated while consuming alcoholic drinks.
Soldiers also wore this stone when they were going to war because they believed it would protect them and keep them safe from injuries or even death. In fact, amethyst rings seem to provide a certain level of calmness and mental clarity.
How to Take Care of an Amethyst Ring
Some amethysts might fade over time, especially if you constantly expose the stone to direct sunlight. To prevent that from happening and preserve the gemstone's intense color, you should hide the stone while sunbathing by turning the ring around until the amethyst is located on the inside part of your finger.
Hard precious stones such as diamonds can easily scratch amethysts. Therefore, it is best to store the ring on its own, in a secure and soft pouch, away from other accessories that might scratch the surface of the stone.
Before going into a public pool or chlorinated water, it is best to remove both your wedding and engagement rings from your finger.
FAQs About Raw Amethyst Engagement Ring
Question: What's the Best Way to Clean Your Amethyst Ring?
Answer: Here are the things you must do to keep your amethyst ring clean and well-preserved for a long time:
Avoid exposing the stone to potentially damaging factors such as intense light or heat because those two can discolor the amethyst;
Store the ring separately from your other jewelry pieces, in an individual box or pouch to avoid any scratches that other metals or gemstones could create;
Don't spray or use harsh chemicals on the stone-like hairspray, perfumes, lotions, and detergents;
Keep the stone clean by washing it with lukewarm water and mild soap but don't use ultrasonic cleaners.
Question: Where Can You Buy an Amethyst Ring?
Answer: You're probably wondering where you could find a good or even high-quality amethyst engagement ring. Amethysts are pretty common gemstones so you could most likely find these rings at any of the local jewelry shops. That's the ideal choice for those who would rather shop in person to try the ring or see it up close.
On the other hand, there are others who prefer to shop online, from the comfort of their own home. Online shopping has its perks, no doubt. For starters, you can browse through a very vast collection of items. Secondly, the prices are highly competitive and you can find many exclusive designs.
Nowadays, many online stores provide their clients with facilitated shopping experiences to compete with brick-and-mortar stores. As for brands, you can find excellent amethyst collections at both Blue Nile and James Allen. These two companies have a great reputation as online diamond sellers.
I don't know about you, but I would love an amethyst cocktail ring because I already received my engagement ring a couple of years ago.
Question: What Are the Pros and Cons of Amethyst Stones?
Answer: Amethysts are beautiful gemstones. But before purchasing an engagement ring, you should consider more than just the beauty of the central stone. Other characteristics like toughness and durability are also essential. Here are some of the most important pros and cons of amethysts.
Pros
• These gemstones are much more affordable than diamonds, sapphires, and other precious stones. Still, they look very elegant and classy;
• They have a unique purple color that's very beautiful and stands out easily. Also, there are plenty of varieties that you can opt from: pale lilac, deep purple, purple with blue inserts, raspberry hues, etc.;
• Amethysts can look stunning no matter what type of ring band you place them on. Yellow gold will boost the stone's purple color, whereas white gold enhances its bluish undertones;
• It is a birthstone with special meaning for those who're born in February. So, if your fiancée's birthday is in February, you might consider an amethyst for her engagement ring;
• This stone is perfect for those who don't really want a classic and traditional engagement ring. Amethysts are nontraditional stones with a unique style.
Cons
• In terms of durability, there are plenty of other options that are more durable than amethysts like diamonds, sapphires, and rubies. However, amethysts are durable enough; they've received a good score (7) on the hardness scale. That means they can be worn daily but they remain prone to damage if you don't take care of them properly;
• For someone who wants a different color or doesn't really like purple, amethysts might not be the right choice for them. These stones only feature shades of purple. Some talk about green amethysts but those are just green quartzes;
• Over time, these stones will fade and look dull because of their lower durability. They might even require re-polishing.
The Best Raw Amethyst Engagement Ring Ideas – Final Thoughts
Many brides-to-be have received or chosen amethysts for their engagement rings and they're more than happy with their choice. It's true that these gemstones need some extra maintenance but it isn't impossible to keep their sparkle for a long time.
Any of the amethyst engagement ring ideas presented above are stunning but I would personally opt for a pear-shaped stone that comes in a protective setting to offer the gemstone a higher resistance.