Latest posts by Jeanette Kierstead
(see all)
Today we review the BaByliss Pro Nano Titanium-Plated Ultra-Thin Straightening Iron, which has ion technology for smooth, shiny hair. The Pro Nano Titanium is available with extra-long plates made of titanium in 1, 1-1/2, and 2 inches. With that kind of variety, you're able to get a straightener that will work perfectly no matter what kind of hair that you have. Women with coarse, curly, or frizzy hair have a hard time getting the kind of smooth shine they want after straightening. They often say that even when the hair is straightened, it'll start to curl or frizz after a few hours. That won't happen with the Pro Nano Titanium.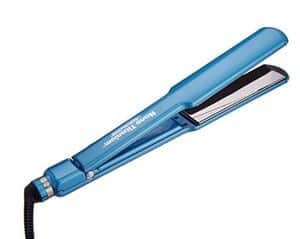 BaByliss Pro Nano Titanium
The wide plates and high heat work together to provide you with a deeper heat penetration, which allows you to gather thicker pieces of hair for straightening. This will boost the speed of your straightening, and ultimately, it'll get you out of your house faster in the morning. You won't be late for work because you've spent an hour sectioning and slowly straightening your hair with an inferior flat iron.
The titanium is used as a superior heat conductor to penetrate deep into the hair strands. It emits negative ions, which give your hair a beautiful shine from the inside out.
Design
The slim design of this iron means that you can hold it comfortably in your hand while styling your hair. In some cases, you might want to straighten your hair to make it sleek and shiny before using it for beautiful curls and waves. For this, you'll need a comfortable straightener that won't make your hand cramp or become too heavy to hold over your shoulder.
The plates are meant to be smooth and scratch-resistant, so you don't have to worry about your hair catching and pulling on the plates, which can happen with some straighteners. It's designed with a cushioned plate, so you don't have to clamp down hard on the hair, and the high heat means that you can skim the plates over the hair for a easy straightening process.
The thinness of the entire device makes it a great way to style curls or waves into your hair. You can wrap the hair around the entire barrel for a big, wavy curl. You can also achieve curls and waves by the way that you pass the iron down the hair. Skipping an inch between heated sections can deliver stunning curls quite easily. It can take practice, but this video should help. She begins the curl process at around 4 minutes into the video.
Features and Specifications of the BaByliss PRO Nano
Five inch plates
Titanium material
High, 450 degree heat
Available in 1, 1-1/2, and 2 inch plates
Ion technology
Lightweight
Slim, ergonomic design
Heat
The extra long titanium plates reach a temperature of 450 degrees F, which means you won't have to worry about spending hours doing pass after pass on your hair. The thin, wide plates allow you to take bigger sections of hair, too. This also reduces the time you'll spend straightening your hair. Instead of splitting your hair into one inch sections, you can take wide sections of hair because of the 5 inch plates and the heat will penetrate deeper, too.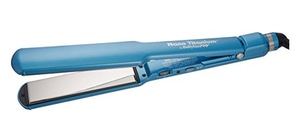 Tutorial
After washing and drying your hair, apply your favorite styling product. It should be one that will protect your hair against intense heat. This hair straightener has a variety of settings that can achieve a temperature of up to 450 degrees. Imagine the heat that generates when compared to something like an oven. You could bake a cake with that kind of heat!
If you've never used a hair straightener before, start on the lowest setting before increasing it to the desired temperature. You don't want to start on the highest setting and burn your hair. It only takes a few moments for the iron to become the desired temperature. Section the hair with clips so you can start with the bottom back of your hair.
Clamp the plates on your hair close to the scalp. Don't get too close since you don't want to burn yourself. You can get a serious burn with this straightener. You can cover a large section of hair with these extra-long plates. First, see how large of a section you can straighten before proceeding to do your entire head. You should only need one pass with the iron to get perfectly straight, smooth, and silky hair.
The BaByliss Pro Nano Titanium Ultra-Thin 1 1/2 Straightening Iron is a great tool for straightening your coarse, curly, or frizzy hair. The titanium plates are extra long to give you more space for thicker sections of hair. This means you'll be able to finish straightening your hair quickly before your arm feels like it might break.