Latest posts by Jeanette Kierstead
(see all)
We continue our bridal hair accessory discussion with bridal hair combs. Whether you choose a bridal comb for a veil to be attached, or you decide to go without one, these bridal hair combs will be a stunning addition to your bridal look.
Rhinestone Bridal Wedding Comb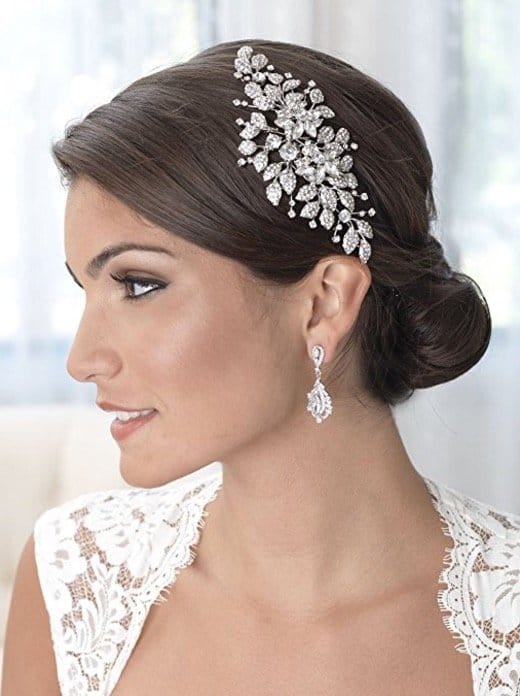 A bridal hair comb can be secured anywhere in the hair. The comb itself is wiggled into the hair gently, which will keep the comb from from falling out unless it's placed under the sweeping updo. In that case, the weight of the crystals and rhinestones can cause it to fall. Keep this in mind when trying out hairstyles and combs. This large bridal hair comb measures 5 3/4 inches by 3 inches with a 1 and 1/2 inch comb. The decoration features marquise cut and round cut rhinestones in a flower and leaf pattern. A comb like this one will be something your guests will talk about for years.
Check the price of this rhinestone bridal wedding comb on Amazon
---
Antique-Inspired Rhinestone and Crystal Bridal Comb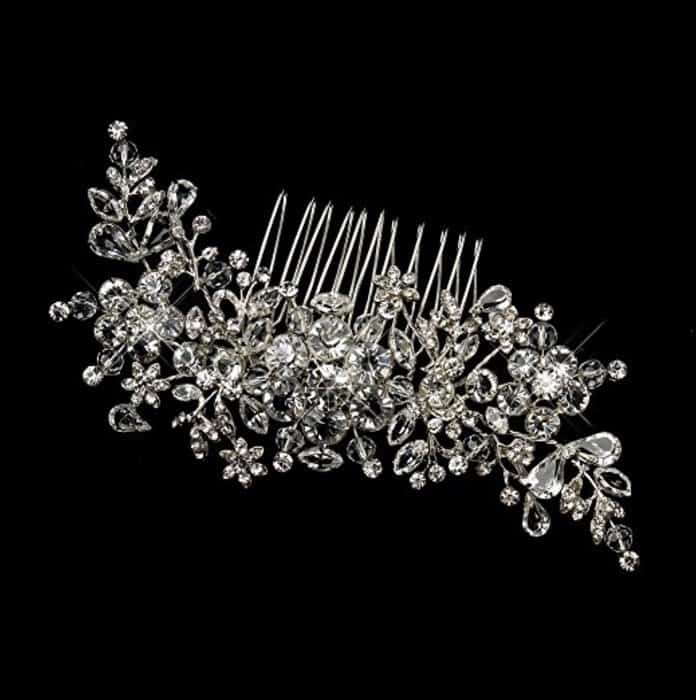 This beautiful bridal comb has genuine Swarovski crystals and clear rhinestones with a silver tint for shine and sparkle. The comb's decoration is 4.25 inches in length and 1.75 inches wide. The edges trail off in a natural floral pattern that will look stunning in your hair when placed on the edge of a chignon or elegant top knot. This piece isn't mass produced. It's wired by hand onto the comb, which means each comb will vary slightly. This will give you a unique comb to be worn on your wedding day. This antique looking comb is absolutely perfect for that romantic wedding dress you have waiting for you.
Check the price of this rhinestone bridal wedding comb on Amazon
---
Side Bridal Comb with Flowers, Water Pearls and Rhinestones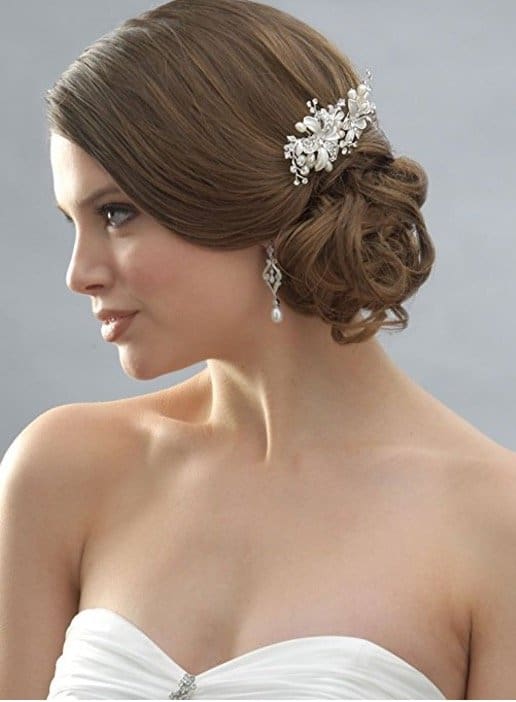 Ivory and off white wedding gowns are other colors that brides gravitate to when they're picking their dress. This stunning comb has two flowers done in a white enamal that look so soft that you'd swear they'd feel like real flowers to the touch. The flowers are laced with vines of silver plated wire featuring pearls and rhinestones. The metal of the comb combined with the pearls, enamel flowers and rhinestones makes this a slightly weighty piece, so be aware of this when purchasing. This is meant to compliment a bun or chignon, and your hair will work to keep the comb from falling if done right.
Check the price of this rhinestone bridal wedding comb on Amazon
---
Sparkly Rhinestone and Faux Pearl Comb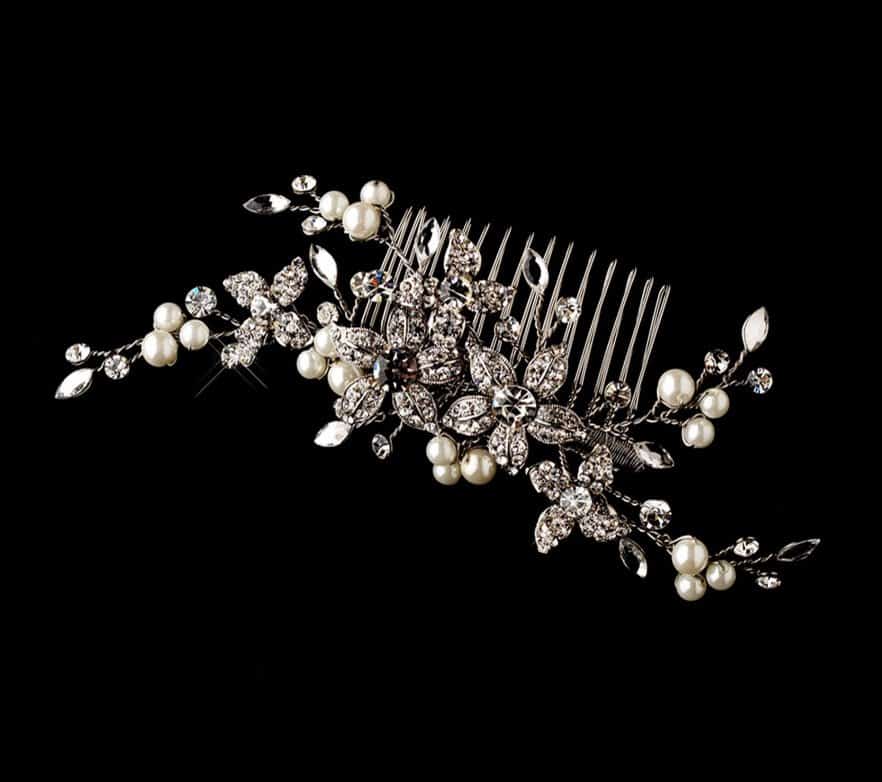 If you have a romantic, vintage gown for your wedding, this silver colored comb will be a perfect hair accessory. Bridal hair combs that are vintage-inspired have a certain femininity and romantic quality to them, and if that's the theme of your wedding, you can't go wrong with this comb. It has rhinestones in this floral design along with pearls, so it looks like baby's breath amongst the flowers and there are marquise rhinestones for the leaves. It really is a stunning comb to complete your wedding look. The comb measures 2 and 3/4 inches wide and 4 and 1/2 inches long.
Check out this pearl comb on With This Bling
---
Gold Art Deco Bridal Hair Comb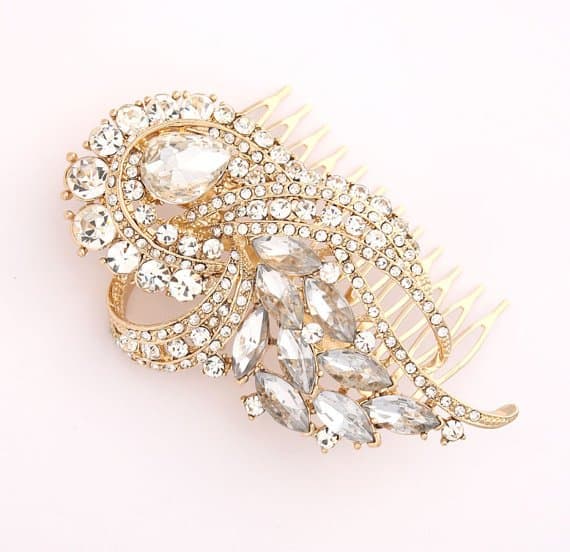 This handmade bridal comb is gold, which means it'll really stand out in your hair, but it might not match your gown unless you've chosen an off-white or interesting color. This art Deco inspired comb has crystals of varying sizes to give the comb an elegant twist that is reminiscent of the time period that inspired it. If you're going old Hollywood with your wedding theme, this couldn't be more perfect for you. The main jewel measures 3 and 3/4 inches wide and 2 inches high. Be aware of the weight of some of these combs when settling on a hair style.
Check out this art deco hairpiece on Etsy now
---
Gold Plated Leaf and Simulated Pearl Bridal Comb
If you're looking for something unique for your wedding hair style, this bridal comb in gold features delicate leaves that will look stunning in your hair. It's another comb that is slightly vintage inspired, and stunningly beautiful. The gold leaves are delicate and have so much detail while the pearls, beading and rhinestones enhance the entire look of the comb. It measures 6 inches long and 3 and 1/2 wide. This is a large bridal comb that has a shipping weight of 0.3 ounces. While it's not too weighty to wear for the entire day, you'll need to ensure that it's secured into the hair and won't fall. If you choose a large bridal comb, it should be one like this that makes a statement.
Check the price of this pearl bridal comb on Amazon now
---
There are so many choices of hair adornments that can be worn on your wedding day. You have a tough decision to make when it comes to the type and style of the hair accessory that you want to place into your hair. It depends on the look you're trying to achieve and how it looks with the gown.