Latest posts by Jeanette Kierstead
(see all)
We love talking about wedding hair accessories, so we'll continue with wedding hair barrettes and clips. Whether you choose pearl wedding barrettes, gold wedding barrettes or wedding barrettes with crystals, you should be choosing your hair style first. This is the single most important thing when it comes to choosing a wedding hair accessory.
If you're wearing your hair in a romantic messy bun with wisps of hair framing your face, you'll want to stay away from side combs that will pull your hair back severely. A wedding hair barrette will look great on either side of your hair or in the back. For a barrette, you don't have to worry about the weight of your hair, either. A clip or barrette is meant to hold your hair and doesn't need support from pins. With all that said, we'll recommend our favorite wedding barrette styles here.
1928 Bridal Silver Tone Crystal and Pearl Barrette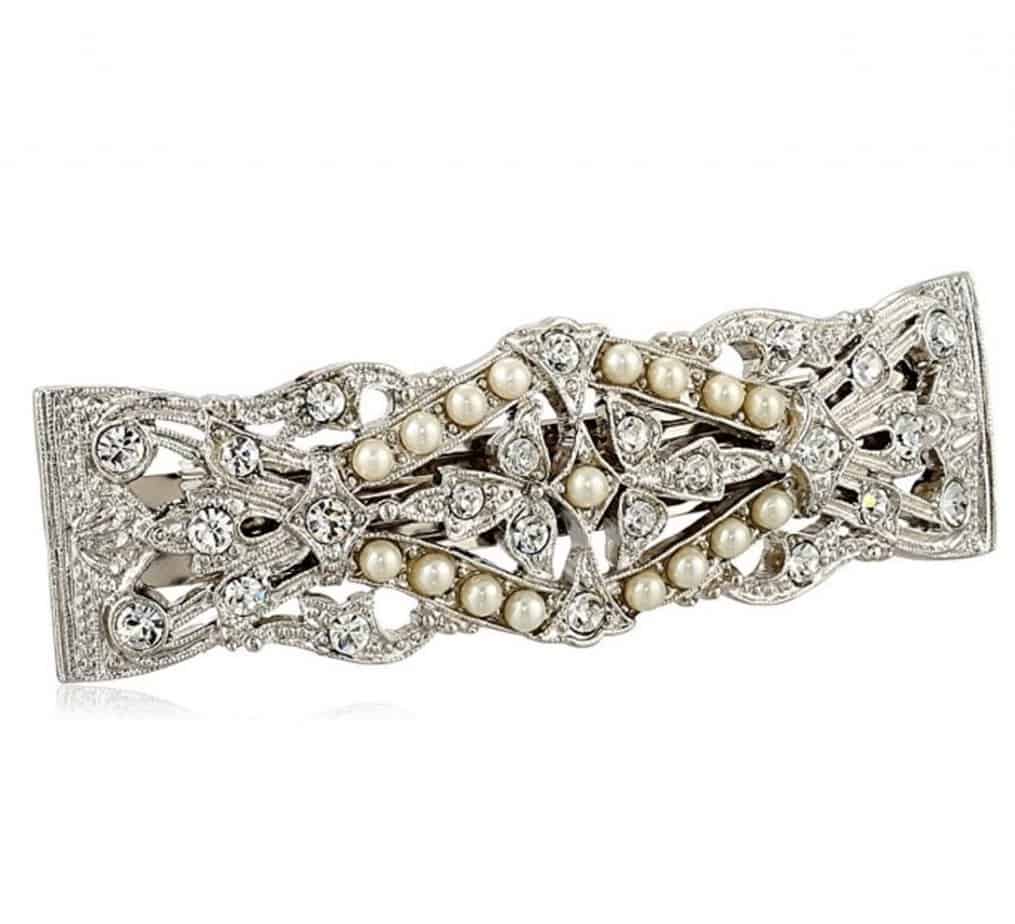 This beautiful vintage barrette is modelled after the styles of 1920s, which featured Art Deco designs. The company is called 1928 Jewelry Company, and they specialize in providing reproductions of authentic vintage jewelry from that time period. While the piece is affordable, it doesn't look cheap at all. It'll be lovely for your pictures taken during the ceremony or at the reception when you're dancing with your new husband. The crystals and pearls are simulated, and the entire barrette measures 3.5 inches and has a width of 1 inch.
---
Pearl and Rhinestone Hair Barrette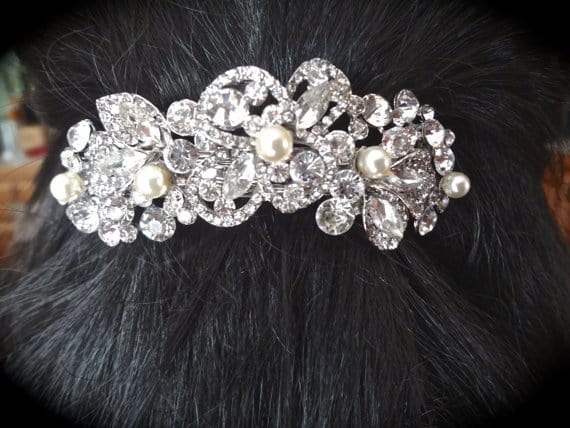 A bridal hair barrette that sparkles, shimmers and looks timeless will be perfect for your wedding day. One of the most beautiful hair accessories you'll purchase is the one for your wedding. You can't go wrong with this rhinestone and pearl stunner. It has marquise cut rhinestones along with round gems and pearls. It's a stunning piece that will really pick up the lights inside the reception venue. The stones and pearls are from Swarovski.
View or buy this barrette on Weddbook here
---
Rhodium Plated Crystal and Faux Pearl Clip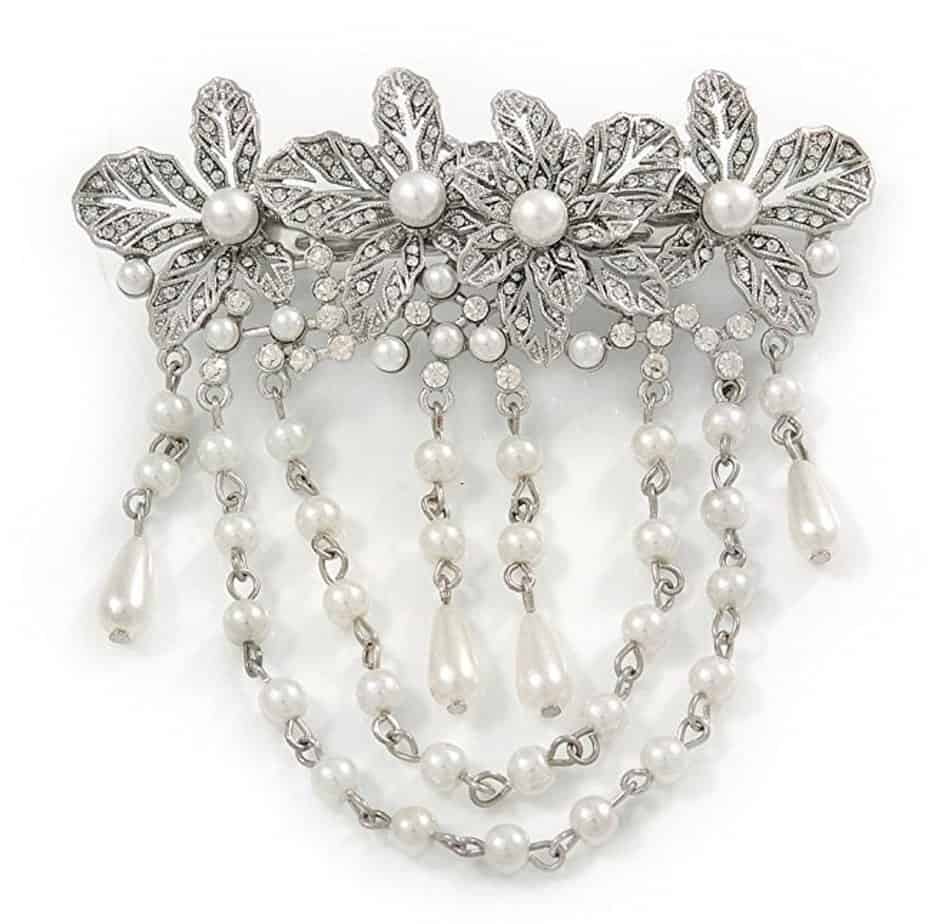 Crystals and pearls are classic wedding attire, and if you want a wedding barrette to match the rest of your jewelry, you can't go wrong with pearls and crystals. The barrette is in the shape of flowers with the largest pearls adhered to the middle of the floral design. Trailing from the clip are chains of faux pearls in two different shapes. It'll look like your hair is dripping pearls. While this would look fantastic in a classic updo, it's also versatile in a romantic style with the front of the hair pinned back and the rest flowing across your shoulders.
---
Gold Wedding Hair Barrette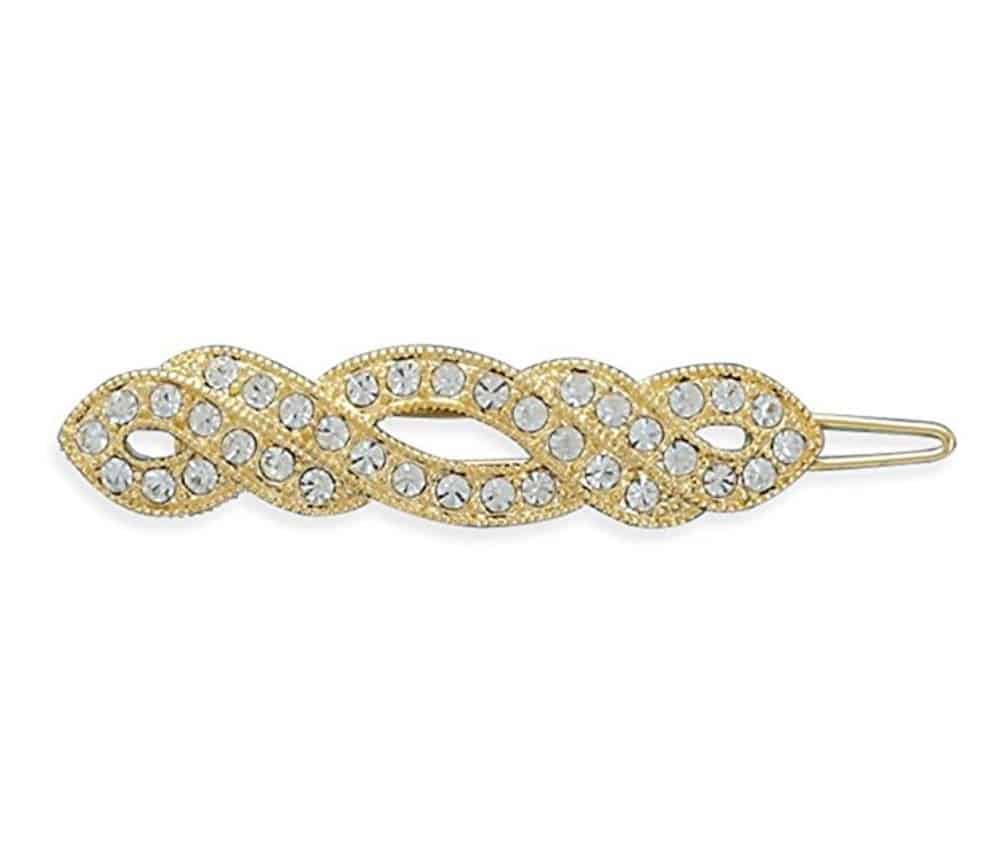 This bridal hair clip is made of 14k gold over brass and accented with Swarovski crystals. If you're looking for a bit of romance and glitz for your wedding, this bridal barrette is perfect. It's 2 inches long, so that makes it beautiful in any part of your bridal updo from holding back the sides of your hair to holding back one side, so your hair flows gently behind the ear. It could be used to hold the veil, which makes it removable for the reception.
---
Large Floral Bridal Clip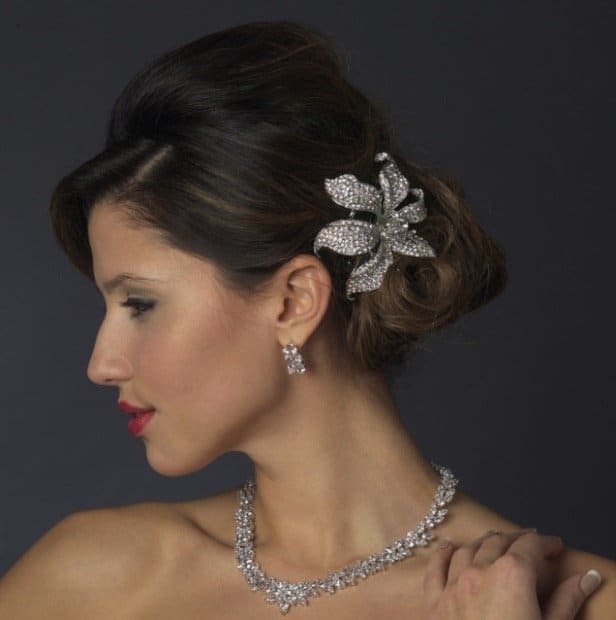 Small wedding barrettes can make a statement, but when you want to really call attention to your beautiful wedding hair style, you'll want a large piece. This floral clip measures 4.25 inches by 3 inches. It has curling petals with dozens of crystals to really cause it to sparkle and gleam. The clip will look amazing nestled in the side of your hair. The metal is a beautiful silver that will match your wedding set.
View this piece on A Beautiful Bride
---
1920s Art Deco Style Austrian Crystal Barrette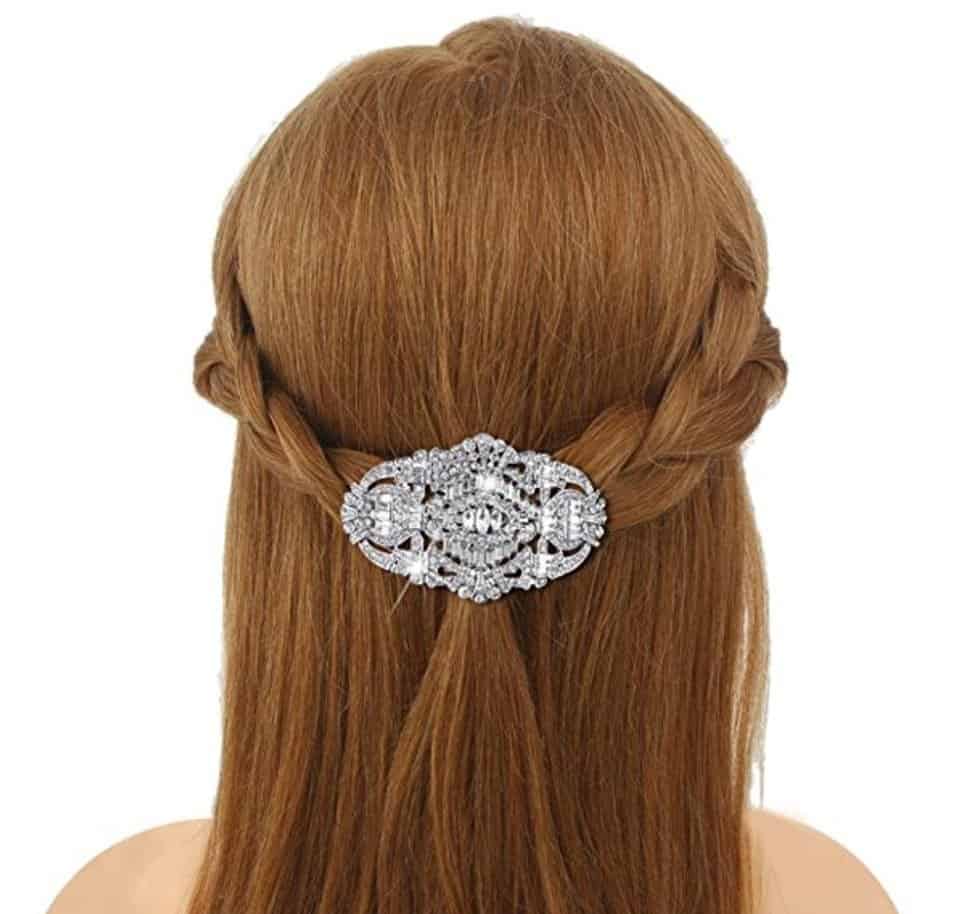 With this Art Deco clip, you're getting a stunning piece of style that is reminiscent of the 1920s. It's perfect for those vintage inspired, old Hollywood glamour weddings you've always dreamed of having. This hair jewelry measures 2.95 inches by 1.81 inches. If you're worried about the crystals falling out at all, you'll be relieved to know that there are spare crystals included with the barrette. It also comes with a gift bag in case you want to gift this to your bridesmaids for the wedding.
---
Whether you choose a large vintage barrette or stick with a minimalist piece that will give you a bit of sparkle, wedding barrettes will help keep your hairstyle in place during the ceremony as well as the reception where you'll be dancing and laughing with your new husband. They are functional as well as stunningly beautiful pieces of hair jewelry.