Latest posts by Jeanette Kierstead
(see all)
Previously, we covered the 9 types of hair accessories that will make you look spectacular on your wedding day when you're wearing a cute updo. In this article, we'll be sharing some of the hair pins that we absolutely adore. This is where we get deep into the beautiful accessories that will really make you shine on your wedding day.
Vivid Rhinestone Pearl Flower Bridal Hair Pin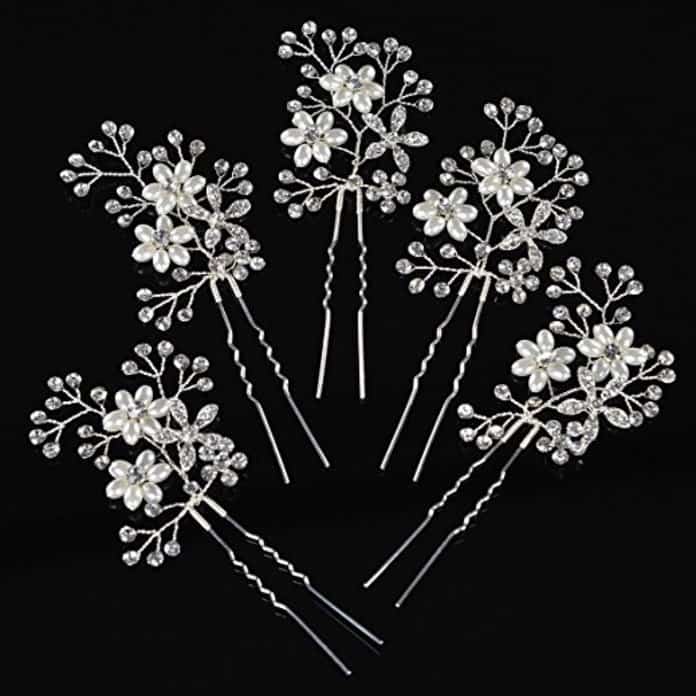 We love hair pins because they can be placed in any way that you like. They can be sprinkled randomly as if flowers or glitter has fallen into your hair. Hair pins can also be placed in a row like cascading flowers or gems. It's a very romantic style that's perfect for your wedding day. These hair pins are incredibly delicate flowers with sparkling rhinestones and faux pearls. They measure 4 x 5 cm, and the pins can be turned in any direction you want to achieve a desired style. It comes with silver or gold toned wire depending on what will match your dress, jewelry or theme. The rhinestones are clear, so they'll sparkle, and the pearls are a shade of ivory that will match your gown.
Check the price of these hairpins on Amazon now
---
Clear Crystal Flower Wedding Hair Pins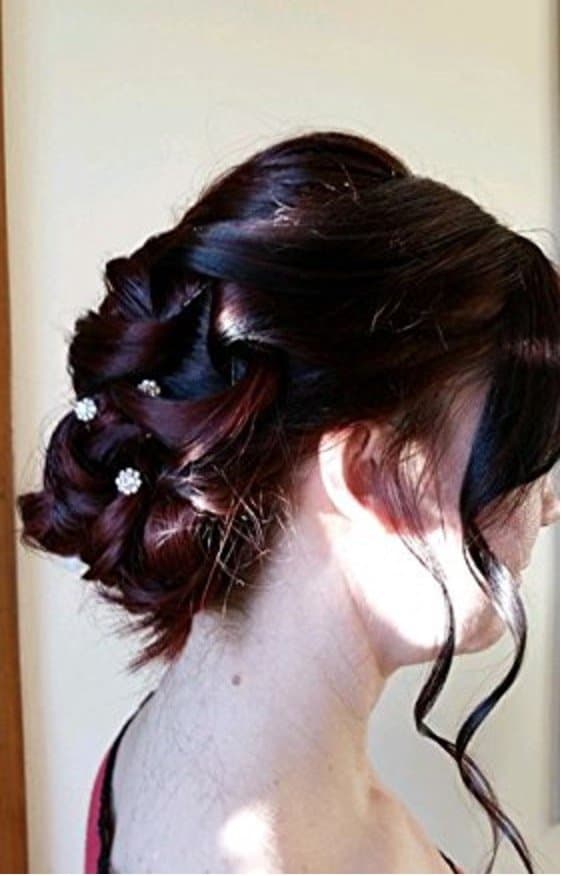 These crystal hair pins come in a pack of 20, so you can slip these into your sweeping updo in a pattern that will look like gems have fallen into your hair. You can use a few of them or all 20 to complete the perfect look for your big day. It helps to have these accessories on hand when you're trying out the styles that will blend with your dress. Don't be afraid to pick a few styles and try them out to find the best match. The crystal flower pins are 6.5 cm in length, which will ensure that they don't fall from your hair. It's vital that they don't start to fall out when you're dancing the night away at your reception. These will really shine when placed in a pattern into your hair.
Check the price of these crystal hair pins on Amazon
---
Pearl Wedding Hair Pins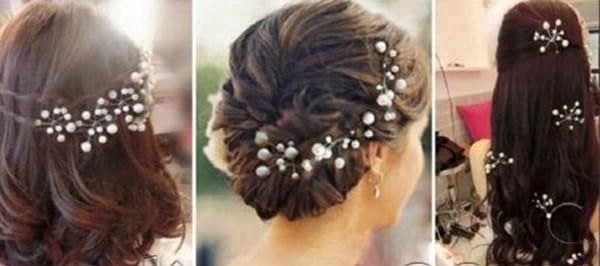 The best thing about hair pins is that you can place them strategically throughout the hair. If you have braids, complicated buns, or sweeping curls pulled into a knot on the side, you can place these to really call attention to the intricate styling work done on your hair. It's also great for mimicking flowers or vines in the hair. You can place them exactly where you'd like them to go, which gives you more control over the finished appearance of your hair. Everything has to be perfect for your big day. These pearl hair adornments have the appearance of baby's breath in your hair without the mess of adding actual flowers. Although, really, fresh flowers in your hair would be stunning, but unfortunately, not practical.
View these bridal hair pins on Etsy now
---
Rhinestone Flower Bridal Hair Twisters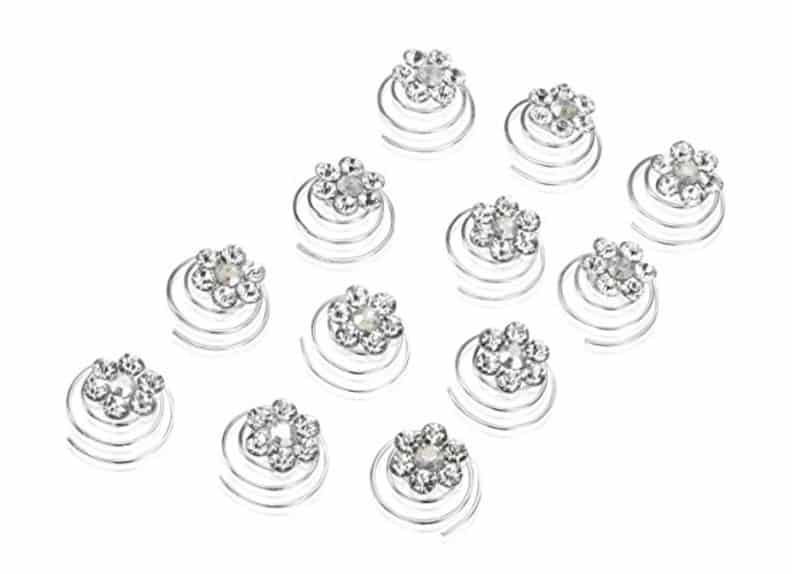 For your wedding, it's vital that every piece of hair stays in place throughout the ceremony, pictures, and the reception until you're ready to let your hair down with your new husband. If the hair pins are not embedded in your style correctly, they can fall out at any time of the day, which can be terribly inconvenient when everything has to be absolutely perfect. These twisters are a great solution for that dilemma, especially if you're doing your own hair for your wedding. The twister allows you to wind the hair pin down into the hair, so it can't fall free. The flower is 0.4 inches in diameter and the twister itself is 0.5 inches high. The pack comes with 12 pieces, which allows you to create any design you'd like in your cute updo.
Check the price of these hair twisters on Amazon
---
Vintage Pearl and Rhinestone Bridal Hair Pins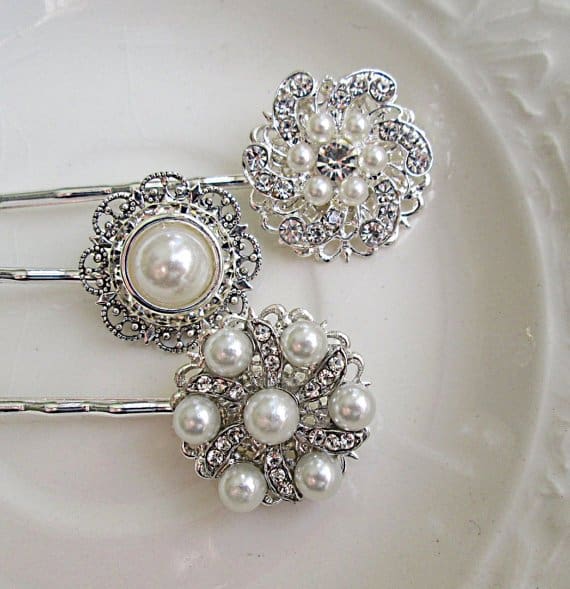 In some cases, you might only need one or two strategically placed hair pins to really emphasize a sweeping style. For example, you might want to have a few strands flowing on one side. The other side can feature one or two stunning hair pins. If this is appealing to you, it makes sense that the pins should be bigger than the other ones we've listed here. These beautiful vintage pins add the right amount of romance and drama to your hair without being overpowering. Each flower has crystals and pearls. They measure 1 inch in diameter and the bobby pins are silver plated and measure 2.5 inches. The only problem with these hair pins is that you'll have a hard time deciding which one to wear in your hair.
Check these pearl hair pins out on Etsy
---
The bridal hair pins for your wedding day should accent your cute updo, but they should also fit with the mood of your wedding, whether that's romantic, vintage or rustic. Don't be afraid to purchase a few different hair pins so you can try them out with your hair style as you're making decisions. You might find that the hair style you thought you wanted doesn't look as good with certain hair pins. It takes time to find the perfect look.