Latest posts by Jeanette Kierstead
(see all)
The hair accessories you choose for your wedding will depend on the style that you choose. For romantic, classic updos, you'll want to choose the accessories wisely. It can be hard because there are some truly amazing and beautiful pieces to add as hair accessories, and you'll have to narrow down what you love the most. That's not always easy.
You should figure out your hairstyle before you purchase the bridal hair accessories. If you don't believe you look fantastic with an updo, it won't make sense to purchase an accessory that only works when your hair is up.
Hair Pins
Hair pins can look like a sprinkling of diamonds or flowers in the hair. It's a subtle, beautifully stunning way to add a bit of sparkle to your hair without going over the top. While some women want attention-grabbing hair, others want their hair to be elegant yet understated.
Read our post for more info:
Bridal Hair Pins For Your Cute Wedding Day Updo
---
Combs with Gems
If you think of traditional combs, you're missing out on the beauty of bridal combs for that romantic sweeping updo. They look great with the small waves that frame the bride's face, and can be placed in any position in the hair. These can often be attached to a veil if they're placed in the back of the hair. The gems can trail or spread in various directions from the comb, but the comb has to be secured into the hair, so it doesn't fall out during the bride's big day.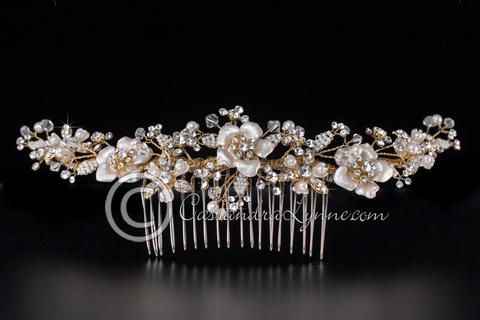 Read our post for more info:
Beautiful Bridal Combs For Your Updo
---
Hair Clip/Barrette
A stunning hair clip or barrette can be used to keep the hair back away from the face and performs double duty of being incredibly beautiful as well as functional. Some of the other accessories on this list are lovely, but they're not functional as a hair tie or clip. Many hair clips have gemstones on them and are elaborate designs with intricate detail in them.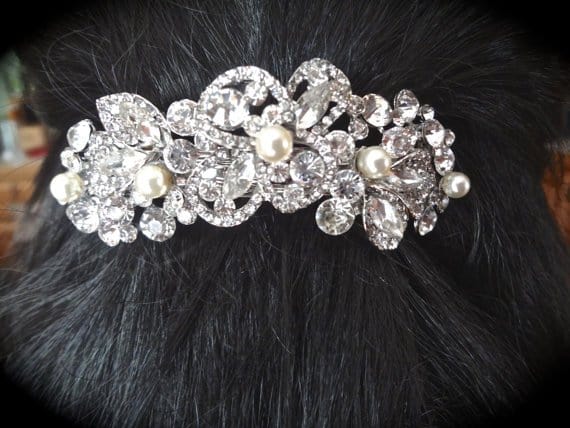 Read our post for more info:
Vintage Wedding Barrettes And Clips For Your Special Day
---
Crown or Tiara
This look is purely decorative, and the bride's hair will have to be held back in other ways with hidden pins and clips. The crown or tiara will make her feel like a princess for her big day. It's often what every little girl dreams of when she thinks about her wedding day.
There are some truly stunning tiara's or crowns to choose from in styles that range from a crown that sits on top of the bride's head like a hat to a tiara of jewels and flowers that encircles her hair. One sits over her hair and the other is integrated into the hair style itself. Each can have a veil attached to it in the back.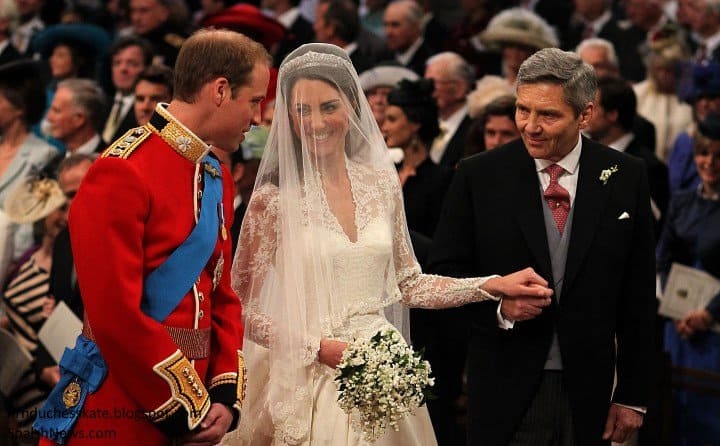 Read our post for more info:
Elegant, Regal Wedding Crowns & Tiaras For Your Special Day
---
Bridal Headband
The bridal headband is placed within the updo on the crown of the head. The headband can have flowers, gemstones, crystals or pearls on it. It's a straight line across the head unlike the next accessory on the list.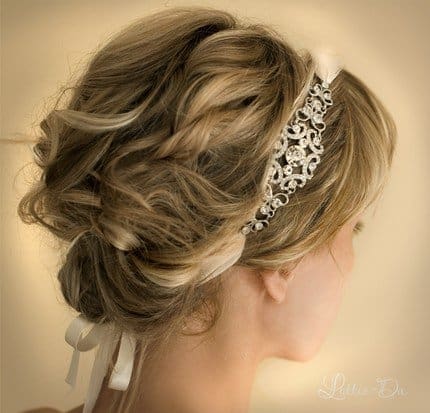 Read our post for more info:
Stunning Wedding Headbands For Your Wedding Updo
---
Hair Vine
A hair vine can be placed anywhere in the hair. It looks beautiful over the ears or trailing into the back of the hair. Small pieces or wisps of the hair vine can be placed in the hair in random places, so it looks like a vine. They can have flowers, chains, string, pearls or crystals in them.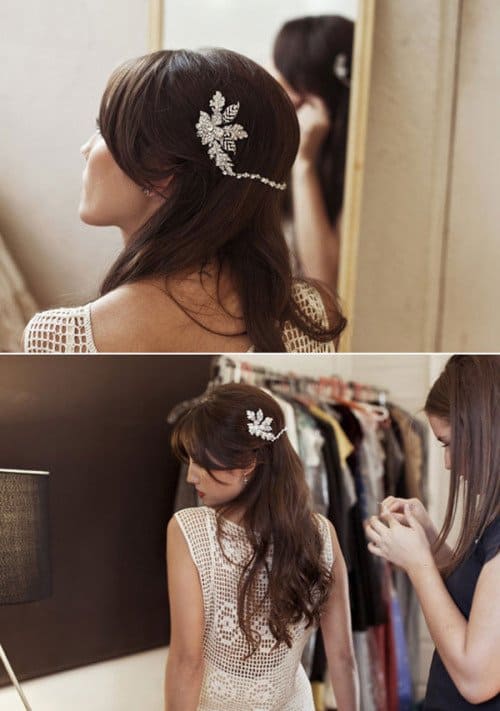 ---
Fascinator
A fascinator is a small flower, bow or tiny hat with a small fishnet veil attached. These hair accessories are often vintage looking, so they'd fit with a vintage theme of wedding dress. They're attached to the side of the hair behind the ear normally.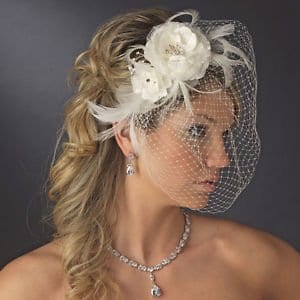 ---
Attached Flower
This is the same concept as the fascinator without the veil attached to it. The flower can be placed on either side of the head or in the back of the hair. While it doesn't come with a fishnet or birdcage veil, you can add your own trailing veil if the flower is added to the back of the hair.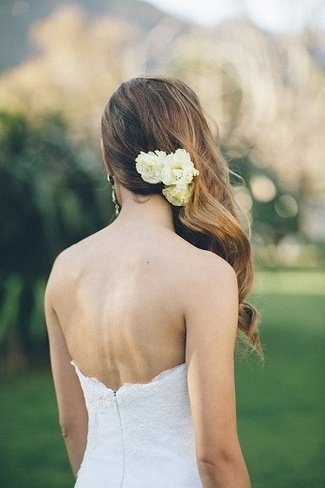 ---
Veil or Not
Any of these accessories can be worn with a veil. When the accessories are chosen first and the veil is attached later, it gives you more options for how you'd like to wear your hair too. In fact, if you choose a detachable veil, you can remove it for the reception while keeping the beautiful clip, barrette or hair vine intact.
---
There are so many choices within these categories that it can be an incredibly tough decision on what kind of hair accessory you'll want to wear on your big day. Experiment with a variety of hair styles and accessories after you've purchased the dress. That will make it easier to pick the accessory and hairstyle to match. It might even help to have your jewelry on when you pick your hairstyle and hair clip/veil. The gems and colors shouldn't clash, which can happen if you remember the coloring wrong.