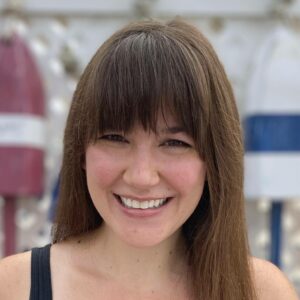 Latest posts by Lauren Vigdor
(see all)
One of the first pieces of "real" jewelry I owned as a child was a tiny pearl necklace. It was a strand of caviar-sized pearls and it was one of my most prized possessions. Even as a child I knew it was something significant and would wear it on special occasions. Pearls have always made great special occasion jewelry, and are particularly suitable as wedding jewelry. If you'd like to wear pearls at your wedding, but don't know where to begin, consider buying a pearl set — it's like one-stop shopping for coordinated pearl jewelry! Below are my picks for the best pearl sets for brides.
Bottom Line Up Front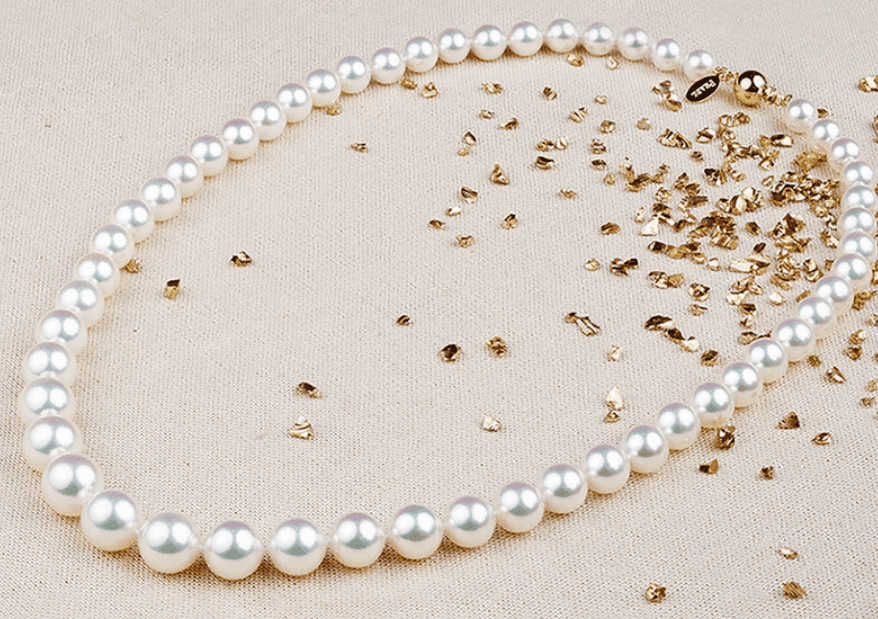 It may not be the most interesting pearl bridal set on this list, but my personal favorite is the Vivian Delicate Freshwater Pearl Set. It's simple and elegant and will pair beautifully with a variety of wedding gown styles. It's also one of the sets on this list that would be the easiest to wear again for other occasions!
My Picks at a Glance
Vivian Delicate Freshwater Pearl Set — Best Overall
Pink Freshwater Pearl Set — Best Pink Set
Black Green Pearl Snowflake Set — Best Green Set
Love Note Gray Pearl Choker Set — Best Gray Set
Japanese Akoya White Pearl Set — Best Akoya Pearl Set
Tahitian Pearl and Diamond Swirl Set — Best Tahitian Pearl Set
Multicolored Kasumi Pearl Set — Best Bohemian Set
Gold Freshwater Pearl Wedding Jewelry Set — Best Nature-Inspired Set
Pearl Bridal Tiara Set — Best Set with a Tiara
Layered Pearl Choker Set — Best Vintage-Inspired Set
Pink Porcelain Floral Set — Best Fantasy Set
For a list of where to buy pearls online, click here. For more information about pear bridal sets, and why I chose these ones, read on!
About Pearls
Pearls are a common choice for wedding jewelry. They come in many different colors, but white, cream, champagne, and blush colors are the ones most commonly used in wedding jewelry. Pearls are the birthstone for the month of June and are often associated with luck, wealth, purity, innocence, and wisdom. They are often handed down as family heirlooms.
Pearls are organic gemstones formed in the soft tissue of a mollusk. They are formed when an irritant (often called a seed or nucleus) enters the mollusk, either naturally or by being inserted by a pearl farmer. The mollusk then secretes a substance called nacre which builds in layers around the nucleus and eventually hardens to form a pearl.
Some Pearl Types and Terms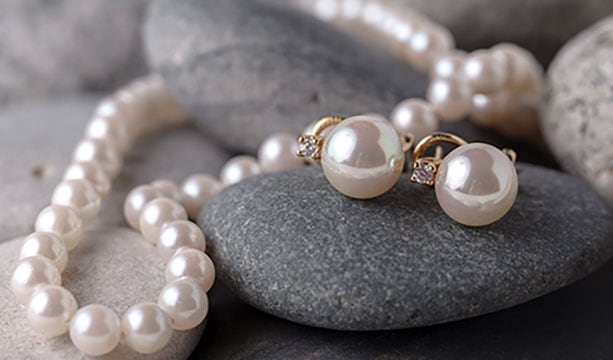 Natural pearls

are pearls that form without the assistance of a pearl farmer. Due to over-harvesting and changing environments, natural pearls have become extremely rare.
Cultured pearls

form once a pearl farmer has inserted a nucleus into a mollusk. It's worth noting that cultured pearls are still formed "naturally."
Synthetic pearls

or

faux pearls

are fake pearls that are made of plastic, glass, or shell. If you see a piece of jewelry labeled "Swarovski pearl," it is made with faux pearls.
Shell pearls

or

mother of pearl

are a specific type of faux pearl made from the lining of an oyster shell.
Akoya pearls

are found in Japan and China. They are small and very round. Akoya pearls have traditionally been the most popular pearls for jewelry.
Freshwater pearls

come in the widest range of sizes and colors of all pearls. They also tend to be the most affordable, though they can be somewhat irregular in shape.

Freshwater pearls

are my personal favorite for jewelry due to their affordability and versatility.
Tahitian pearls

are black pearls with overtones of silver, green, blue, and even magenta. They're found in Tahiti and other French Polynesian islands.

South Sea pearls

are often the most

expensive

and rare pearls. They're found in Australia, Indonesia, and the Philippines. South Sea pearls come in a variety of colors, but gold south sea pearls are the most coveted and most expensive.
Why should I buy a bridal jewelry set?
Many brides choose to wear a necklace, earrings, bracelet, or some combination of the three on their wedding day. If you're planning on wearing jewelry on your big day, purchasing a jewelry set will ensure that everything matches. It's also often a great way to save money! That being said, a jewelry set isn't for everyone. If you have an heirloom piece of jewelry you're already planning on wearing, or you have an intricate wedding gown that doesn't need a lot of embellishment, you may want to consider purchasing a piece or two separately that will highlight those items without overwhelming them (or adding nothing at all.)
What You Need to Know Before Buying
If you do decide to purchase a jewelry set, first make sure you have an idea of what pieces and styles you'd like the set to include. Pendants and long necklaces look lovely with plunging necklines, while chokers are particularly nice with strapless and sweetheart style gowns. If your gown has a high neckline, you may not want a necklace at all. Moreover, if you don't have pierced ears you probably don't need a pair of earrings.
It's also important to consider how much you want to spend on your wedding jewelry, and whether or not you want to purchase something you'll wear again. If you're looking for something classic and special that you can wear regularly and relive happy memories of the day, you may not mind spending a little extra on fine jewelry.
If you just want something that looks great with your gown and makes for great wedding photos, you may want to consider saving some money by purchasing pieces made with faux pearls and less expensive crystals.
How to Wear Pearls
Before we move on, there are some important things to know about wearing pearl jewelry. Pearls are very soft (only 2.5 on the Mohs scale) and sensitive to chemicals, so extra care should be taken to ensure the longevity of your pearl jewelry.
Don't wear your pearls in the shower or while swimming, especially in chlorine or saltwater. Pearls like some moisture, but too much can damage the nacre.

A little bit of body oil is actually a good thing for maintaining the luster of your pearls, so don't be afraid to wear them close to your skin. Just be sure not to wear them with any harsh perfumes or lotions, or when you plan to sweat excessively (so no pearls at the gym, please!)

As I said above, be wary of perfumes, lotions, and cosmetics around your pearls. Pearls are very sensitive to alcohol and chemicals, which can cause the nacre to break down. It's ok to wear your favorite fragrance and your pearls on the same night out, just be sure to apply your perfume first and give it a second to dry before putting on your pearls. As a general rule of thumb, pearls should be the last piece you put on before going out, and the first thing you take off when you come home.

Since pearls are so soft, they're prone to scratching. Be extremely cautious about wearing your pearl jewelry with other pieces, especially gemstones like diamonds and sapphires, which can scratch or mar the surface of your pearls. Take extra precautions while storing your pearls, and never store them together with other gemstone jewelry. The best way to store pearls is alone in a soft cloth bag.
My Picks for Best Pearl Sets for Brides
When choosing these sets I looked for jewelry that was beautiful and well made. I chose pieces that were for the most part affordable but felt that some splurge sets were worth the price for their quality. I especially like bridal sets with more than two pieces of jewelry, and ones that can be worn again after the wedding is over. I jump at any chance to create new heirlooms and associate happy memories with well-loved pieces of jewelry!
Vivian Delicate Freshwater Pearl Set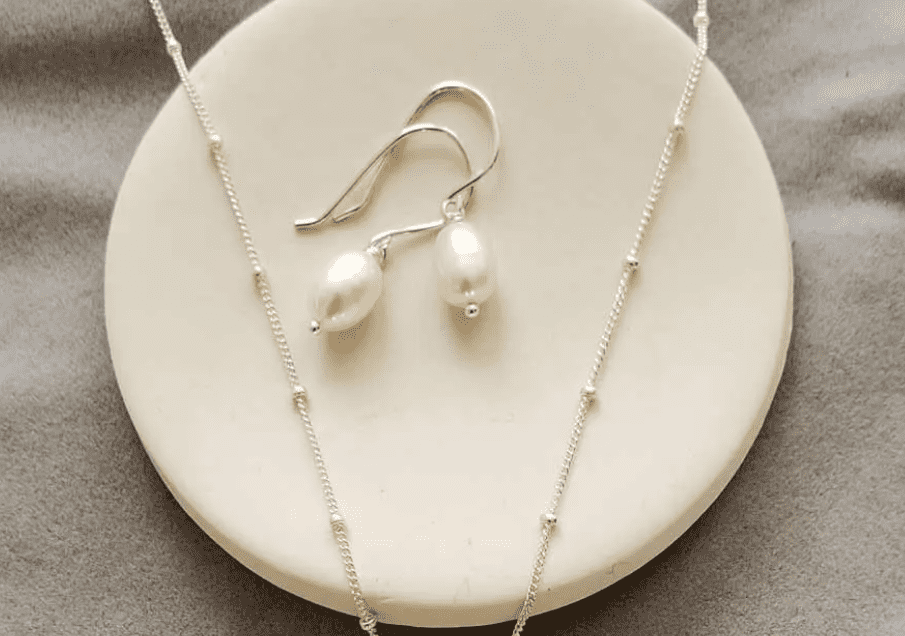 The tiny details in this delicate pearl necklace and earring combo from Carrie Whelan Designs are what make it such a special set. I love the tiny silver beads threaded along the barely-there chain. The earrings and pendant are dainty but large enough to show up in wedding photos. Buy here for $75 to $79.
Pros
Three different options for chain length

Less than $100

Not just limited to wedding jewelry
Cons
Only a necklace and earrings in the set

Only metal option in sterling silver, which may tarnish over time
Pink Freshwater Pearl Set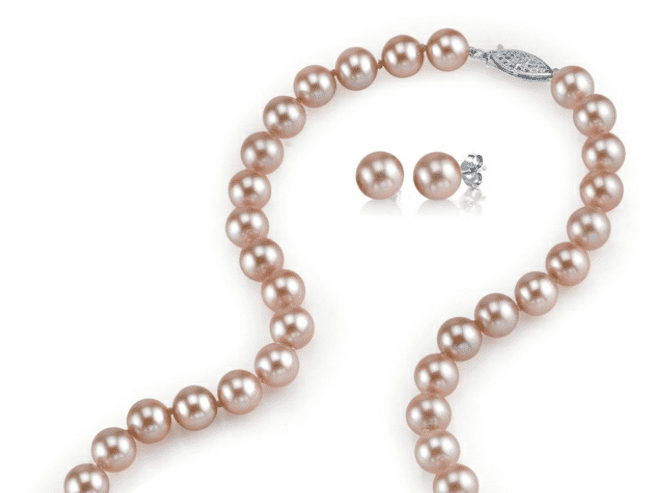 This is, in my mind, the classic pearl bridal set with a twist. I think the blush pink color of these freshwater pearls adds a bit of extra charm and romance to this traditional pearl set and keeps it from looking too stuffy. It's perhaps not the most revolutionary pearl set, but it is a universally flattering design that won't go out of style. Buy here for $399.
Pros
Set includes earrings, necklace, and bracelet

Options to customize necklace/bracelet length, clasp, earring backs, and even shade of pink pearl
Cons
May be too traditional looking for some brides
Black Green Pearl Snowflake Set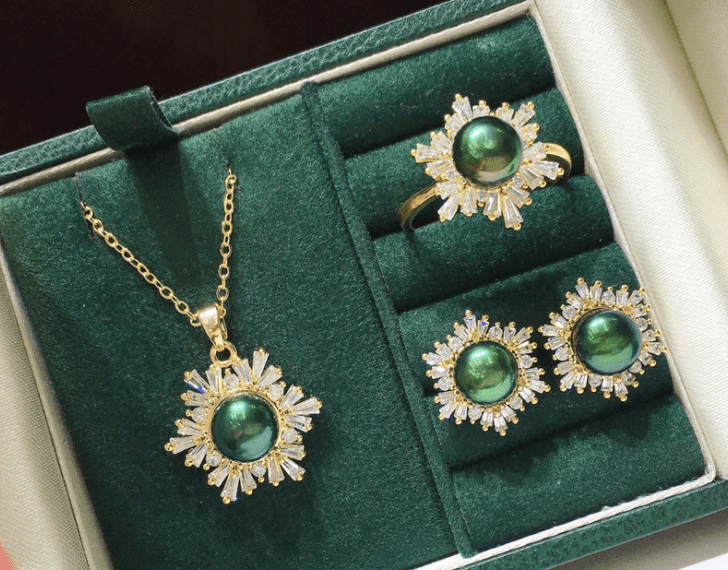 This freshwater pearl jewelry set from Huge Tomato is definitely not a traditional bridal jewelry set, and that's why I love it! I think this is a great vintage-meets-nature-inspired set for a less traditional bride. The large freshwater pearls are such a lovely deep green color, and the crystal halos around the pearls are half deco, half snowflake, and all drama.
The set does come with a ring, which some brides may opt not to wear during the wedding ceremony so as not to detract from the "ring of the hour" as it were, but it's a nice option to have should you choose to wear this set again to a holiday party or gala. Buy here for $199.
Pros
Bold, uniquely colored bridal jewelry

Jewelry will stand out nicely in wedding photos

Fairly affordable
Cons
Set may be too unconventional for some people

No customization options
Love Note Gray Pearl Choker Set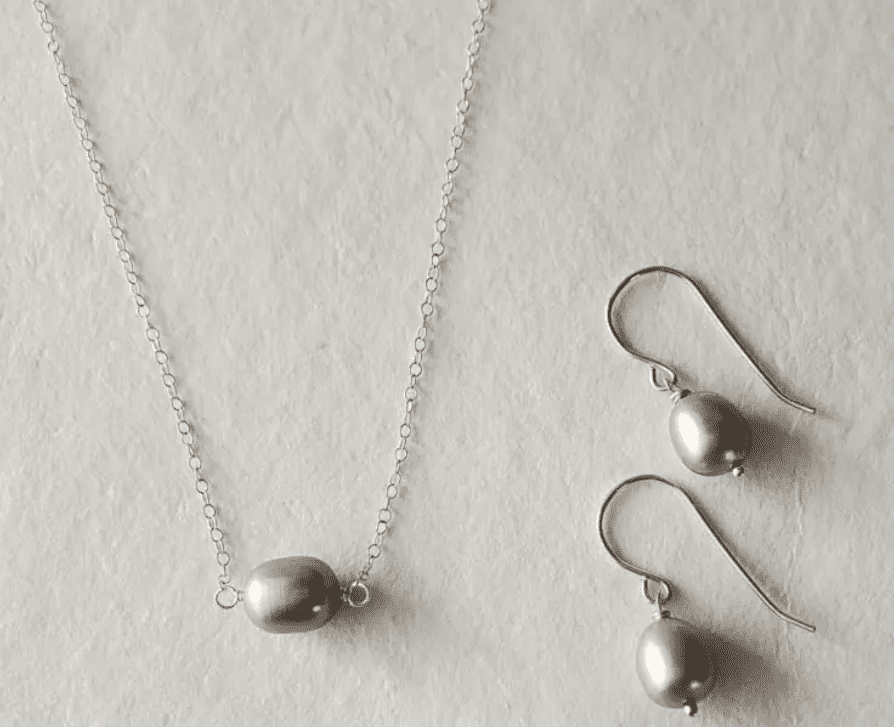 The silvery gray color of these freshwater pearls from Carrie Whelan Designs is so dreamy. I love the look of a simple choker resting high above the collar bone for a wedding necklace. These pieces are lovely modern classics, and you won't be limited to just wearing them on your wedding day. Buy here for $70 to $90.
Pros
Two metal options

Less than $100

Can be worn for other occasions
Cons
Only necklace and earrings in set
Multicolored Kasumi Pearl Set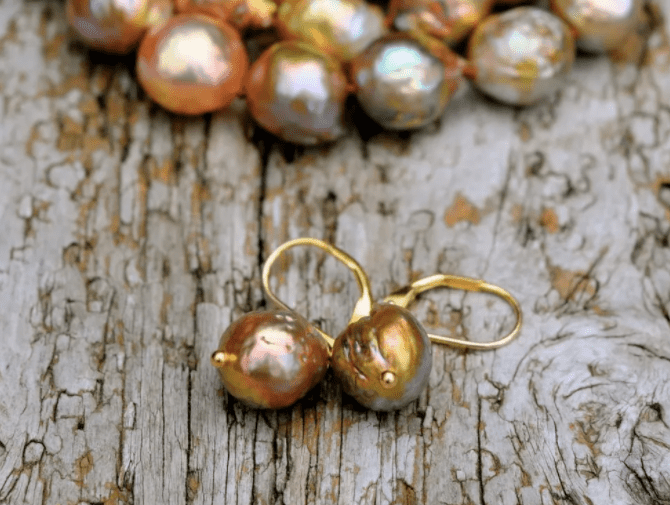 These pearls probably won't make the cut if you're looking for traditional, elegant pearl bridal jewelry, but I think this set from Freshwater Store has such a cool and unique boho feel to it. I love all the gold and autumn tones in the pearls, though I have to admit the large toggle clasp is a bit heavy-looking for my taste. Buy here for $750.
Pros
Gorgeous colors

Unique pearls perfect for a boho bride
Cons
Over $100

Too bold and chunky for some people's tastes
Gold Freshwater Pearl Wedding Jewelry Set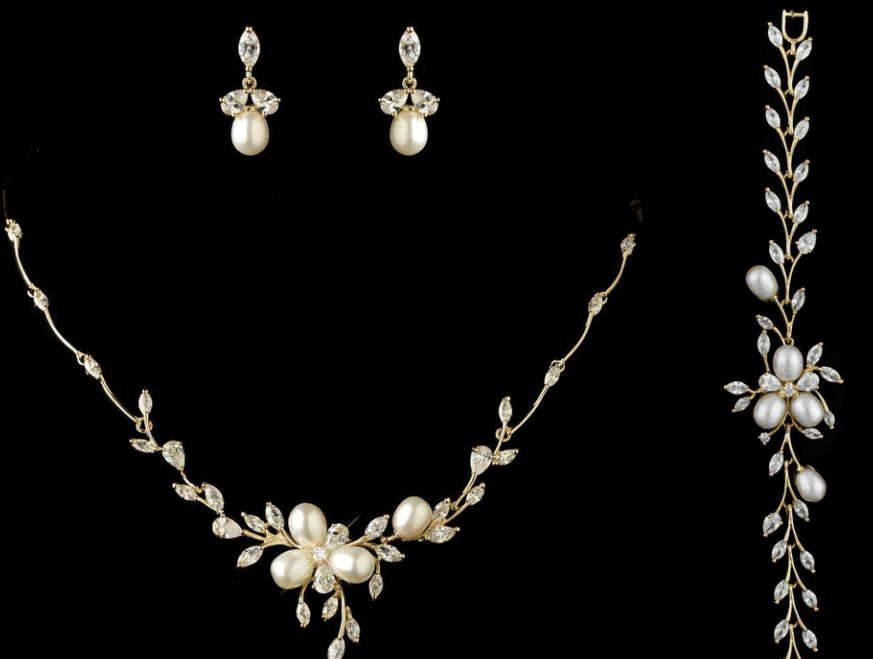 I love this flower and vine motif for a nature-inspired wedding. This freshwater pearl set from Affordable Elegance Bridal is made with money-saving cubic zirconia crystals that will still look gorgeous in person and in your wedding photos. I think this is the most romantic jewelry set on this list. Buy here for $189.99.
Pros
Perfect for a nature-inspired or fairytale wedding

Set contains necklace, earrings, and bracelet
Cons
Over $100

No customization options for necklace length or metal

Might be too floral for some people
Pearl Bridal Tiara Set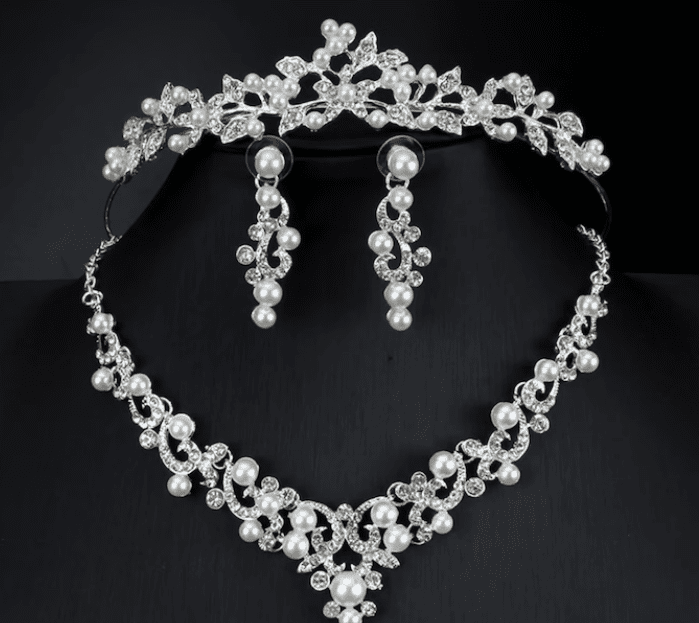 I think that this bridal set from Shadow Cat Charms on Etsy would look absolutely stunning for a winter wedding. It's made from faux pearls and rhinestones, which might turn off some "gemstone purists," but because of that this set definitely offers a lot of bang for your buck. I especially love the crystal vine details entwined around the pearls. Buy here for $60.
Pros
Set includes necklace, earrings, and tiara

Less than $100
Cons
Made with faux pearls and rhinestones

No customization options
Layered Pearl Choker Set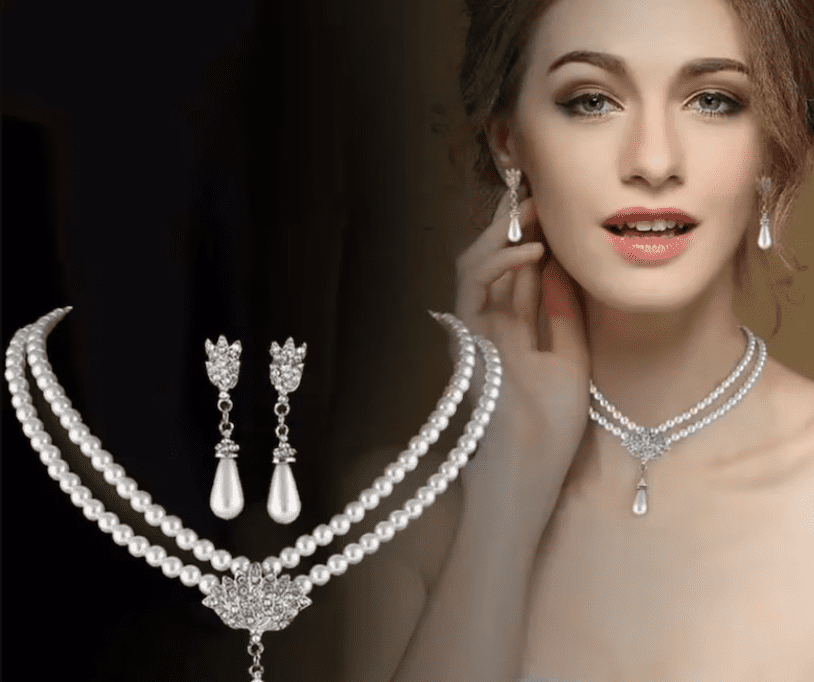 This is another faux pearl set, but I just love the Old Hollywood style of this choker and earrings combination from The Emerald Fairies on Etsy. The double-layer simulated pearl strands and crystal detailing on this choker are so glamorous, and I really like the graceful elegant drop earrings. I think this is a unique (and affordable!) pearl set. Buy here for $28.63.
Pros
Very affordable — less than $30 for the set

Glamorous vintage-inspired style
Cons
Pink Porcelain Floral Set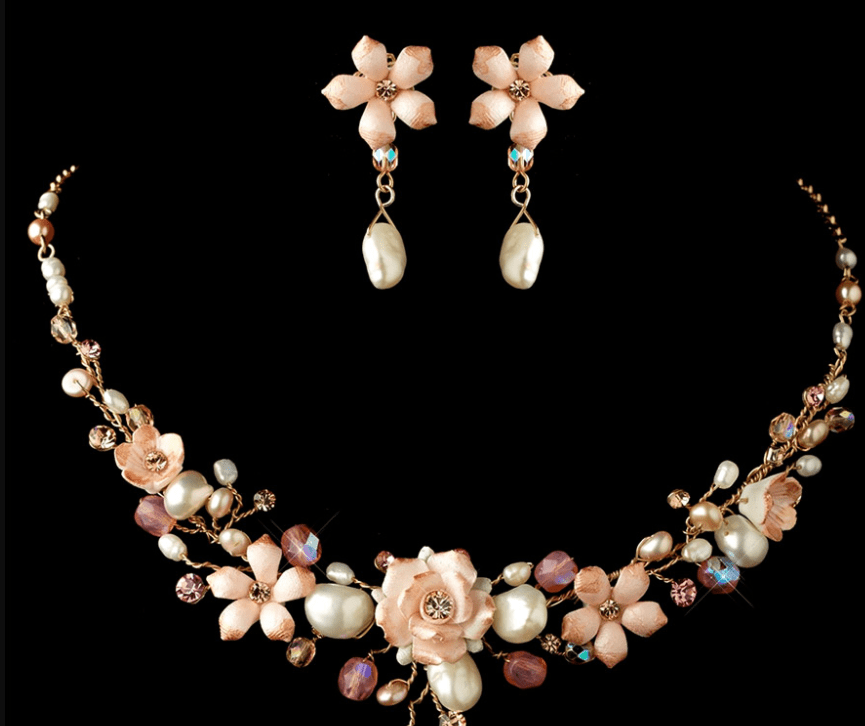 This pearl bridal set from The Wedding Outlet is absolutely something out of a fairytale. The necklace is a cascade of pink and cream freshwater pearls, pink porcelain roses, and rhinestones. It's definitely a showstopper, though it may be far too busy and too much pink for some brides! This is definitely one of those "love it or hate it" situations. Buy here for $82.95.
Pros
Definitely unique

If you're looking for something floral/fairytale, this is the set for you!

Less than $100
Cons
Too flowery for some people

Pink color palate limits other colors you can work into your bridal look
FAQ
Question: How do I choose my wedding jewelry?
Answer: First and foremost, choose pieces that you love. Make sure that your necklace won't clash with the neckline of your gown, and your earrings will suit your hairstyle without getting in the way. Make sure that the color of your jewelry pairs well with the fabric of your wedding gown. It doesn't have to match, just make sure it doesn't clash.
Question: Are pearls appropriate for a bride?
Answer: Yes! Pearls are beautiful and simple and make a lovely choice for a bride. Their soft luster looks particularly lovely with many common wedding gown styles and colors.
Question: Do brides wear pearls?
Answer: Because pearls are lovely, soft, and simple they are a popular choice for brides, though they aren't a necessity. Brides should wear whatever makes them feel special on their big day!
Question: How do you clean pearls?
Answer: Pearls are very delicate and should be handled and cleaned with care. Wipe pearls clean with a damp, soft cloth and store them away from other jewelry which can scratch the delicate surface of your pearls. Avoid using any chemicals or mechanical processes to clean your pearls.
Question: Does my wedding jewelry have to match my engagement ring?
Answer: No, your wedding jewelry doesn't have to match your engagement ring. You don't want to wear something that will clash, but it's absolutely ok to wear a different type of gemstone in your wedding jewelry than your engagement ring, for example. It's much more important that your wedding band and engagement ring go together, since you'll be wearing them together every day.
Final Thoughts
If you'd like to incorporate the graceful tradition of pearl jewelry into your bridal look, consider a pearl bridal set. You'll ensure that all of your jewelry matches, and you may even be able to purchase it at a discount! If I had to choose a favorite from this list it would be the Vivian Delicate Freshwater Pearl Set. It's a simple, elegant jewelry set that can easily become a family heirloom.
Further Reading on Pearl Jewelry: