Latest posts by Jeanette Kierstead
(see all)
Bridal headbands with pearls and crystals, or rhinestones and jewels, are a beautiful hair accessory to be worn on your wedding day. Many bridal headbands come with ribbon to ensure that it doesn't slip an inch during your big day. You have more to worry about than whether your headband will slip on the way down the aisle. Everything has to be absolutely perfect.
Leaf Bridal Headband Simulated Pearl Side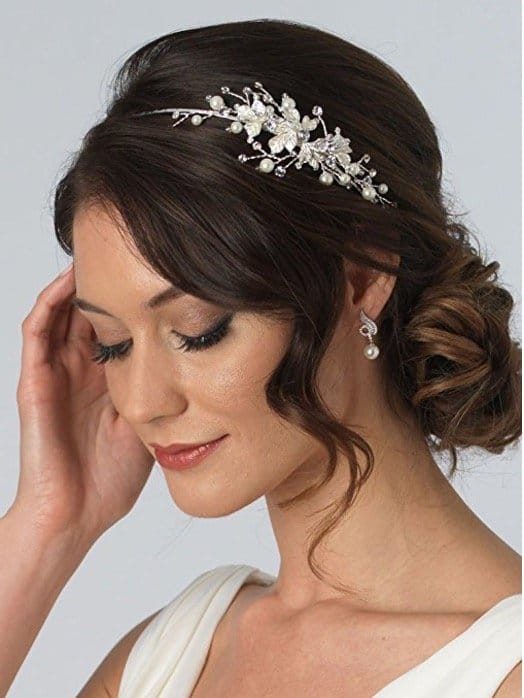 If you want something delicate and ethereal, a headband that is inspired by nature with leaves and small flowers is the right choice. This bridal headband is so delicate that it couldn't be mass produced in a machine in a factory. This headband is wired by hand with tiny flower shapes, simulated ivory pearls and rhinestones. The gold-toned band and tiny leaves of gold will look great with a white, off-white or ivory gown as well as a champagne colored one. This will sparkle and shine as it catches the light from every angle. It's also a unique piece since it's an asymmetrical headband. Timeless and elegant while being a bit trendy.
Check for deals on this Leaf Bridal Headband on Amazon now
---
Mariell Rose Gold Wedding Headband with Round Crystals and Ivory Ribbons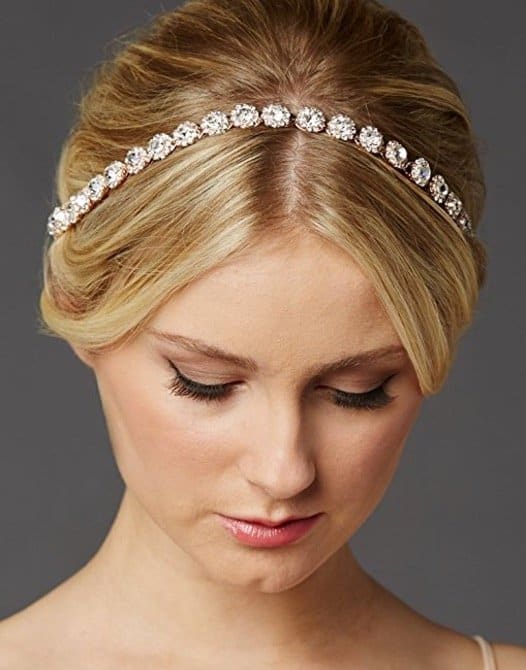 When you want a headband that will truly sparkle and make you feel like a princess on your wedding day, you'll want to consider this beauty. It's a jeweled headband with 15″ of ivory ribbons for securing it in your hair. This stunning headband is genuine rose gold 14k plated that was finished by hand with Austrian crystals and rhinestone accents. The crystals and surrounding rhinestones embellish the entire headband in a 12 inch row of stunning flowers. You'll look stunning with a row of sparkly rose gemstones in your hair.
Check for deals on this Mariell Rose Gold Wedding Headband on Amazon now
---
Crystal and Pearl Flower Bridal Headband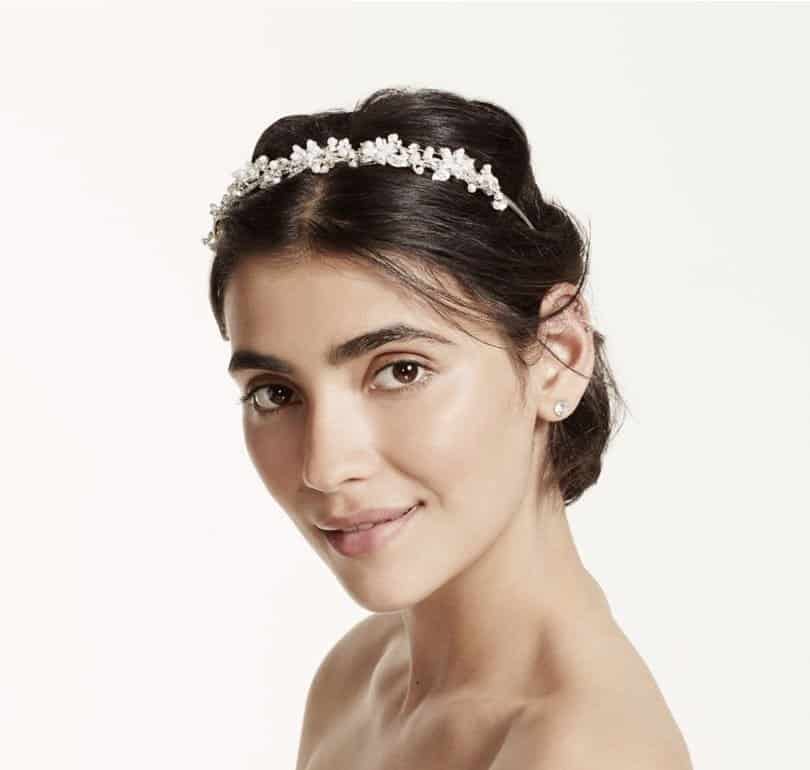 You can't pick flowers from the garden and string them together moments before your wedding, so a floral headband is a terrific alternative. This headband has pearl petals and crystal accents as well as pearls decorating the rest of the headband. It measures 12.6 inches long by 0.8 inches wide. This delicate headband has loops on the end to be secured with bobby pins to your hair.
Check the price of this Crystal and Pearl Flower Bridal Headband on David's Bridal
---
Rhinestone Vintage-Style Bridal Headband

While some of the others on this list are gold or rose gold toned, this headband has a hue of vintage silver. The groupings of rhinestones give it even more of a vintage feel, which is ideal for a wedding that is vintage-themed. Old Hollywood, vintage-inspired weddings are very trendy right now while being timeless and elegant. The rhinestones come in multiple styles and sizes as well as being grouped together stylishly. The entire headband is 14 inches from each pin loop and measures 3/4 inches wide.
Check out this Rhinestone Vintage Style Bridal Headband on Amazon now
---
Rhinestone and Imitation Pearl Headband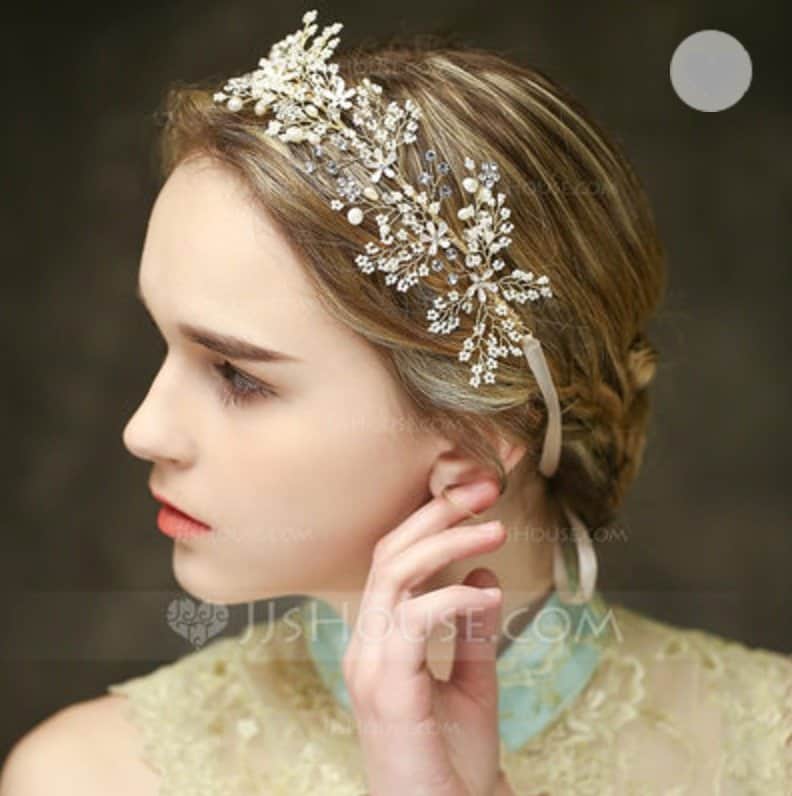 Bridal headbands come in a variety of styles. Whether you want to be elegant or playful on your wedding day, there are headbands to fit that aesthetic. This headband has a casual elegance that is very fairytale-inspired. You'll look as if you just stepped out of a horse drawn carriage to marry your beloved. There are rhinestones and pearl beads in the shape of tree branches. This would be great for an outdoor wedding. It measures 11.42 inches by 2.36 inches.
Check the price of Rhinestone / Imitation Pearl headband on JJ's House
---
Mariell Ivory Beaded Lace Applique Headband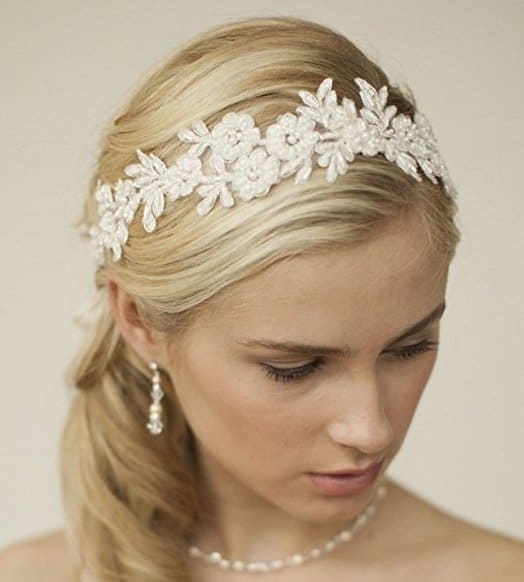 If you want to stay away from a jeweled headband, you can wear a beautiful applique head piece with stunning lace detail. There are hand-applied sequins, ivory pearls and bugle beads. It's a delightful Bohemian style that you could wear for a destination wedding or outdoor garden ceremony. The lace measures 15 and 1/2 inches by 2 and 1/2 inches wide. It includes ribbons on each side that measure approximately 19 inches, so you can secure the band into your hair.
Check the price of this Mariell Handmade Designer Bridal Headband on Amazon now
---
Venusvi Wedding Headbands with Bead and Rhinestones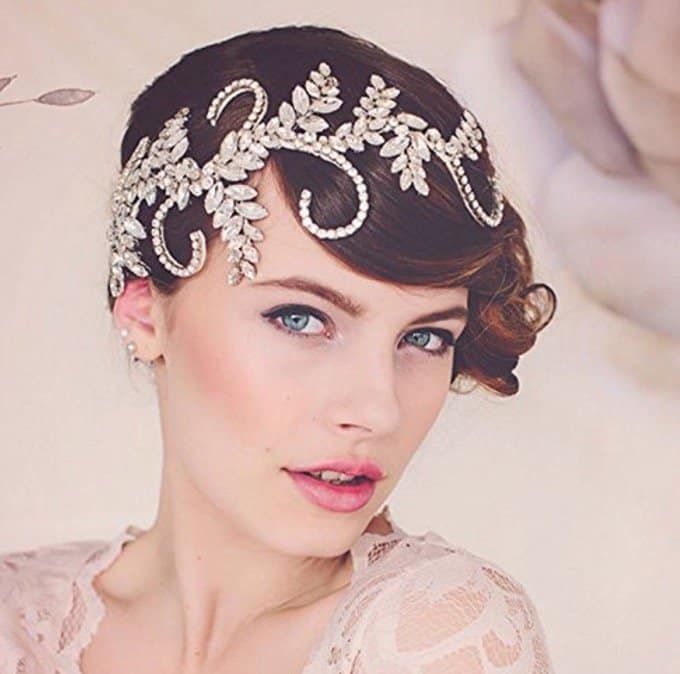 This elaborate and distinctive bridal headband will make a huge statement on your wedding day. The marquise rhinestones are in the shape of leaves and the entire headband looks like a large vine around your hair. It's incredibly beautiful and intricate. This wedding headband is large and can be quite heavy at 5.1 ounces. That should be kept in mind when purchasing. It measures 10.2 inches long by 3.9 inches wide. It includes a clip in the middle to secure it as well as silver bobby pins for additional security.
Check for deals on this Venusvi Rhinestone Wedding Headband on Amazon now
---
On this list we've given you a variety of headband styles depending on the type of wedding theme you'll have as well as the type and color of your gown. As with every detail of your wedding, the piece you choose for your hair should be perfect for you. It should enhance your beauty and fit in with your theme. At the end of the day, though, the hair accessory you choose should never overpower or overshadow.