Latest posts by Jeanette Kierstead
(see all)
You're an original and try to stand out in every way. Not all brides want to wear a long, beaded gown in white for their wedding day. Some brides want to stand out with short stylish dresses or a delightful bridal fascinator with birdcage veil. With or without a veil, fascinators and attached flowers bring you back to an old Hollywood style that has romance and a bit of mystery to it. This is the last in our series about bridal hair accessories. We've covered everything from pins to headbands to hair vines. Today, we bring you fascinators with veils and beautiful flowers that you can add to your cute, wedding updo.
Ivory White Silver Birdcage Veil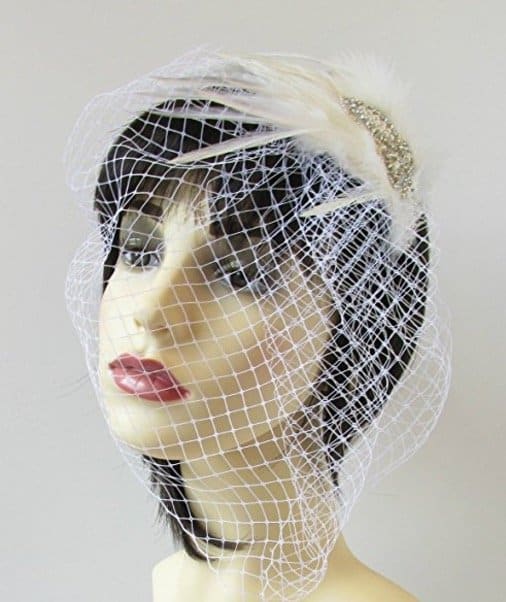 This vintage style fascinator with birdcage veil has silver toned pearls fixed on top of a large, stunning feather. Fascinators are all about romance and drama, and this veil brings the drama. The feathers are real, so they might vary in each design. The feathers are ivory white measuring 12 cm wide. This fascinator can be attached to any part of the hair since the veil is long enough to cover the face. The entire fascinator sits on a band measuring 0.5 cm wide. You'll need pins to hold this in place.
---
Danica Women's Jewelled Feather Fascinator Comb with Birdcage Veil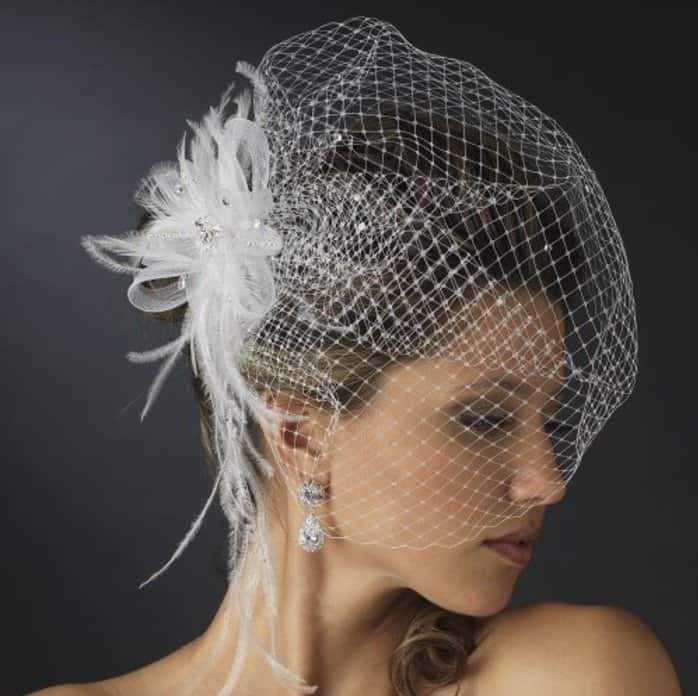 This is another fascinator with veil that has netting long enough to cover the face from any location in the hair. It's stunning when pinned to the back of the hair and supported by a bun or chignon. This ivory floral fascinator is created from fabric and feathers. Rhinestones are sprinkled around a jewel center. The entire fascinator measures 3.5 x 5 inches. This is one of our favorite fascinators. It's a romantic piece for when you want to invoke a bit of mystery and allure when walking down the aisle towards the man who will be your husband.
---
Chic Visor Bridal Cocktail Hat Comb with Veil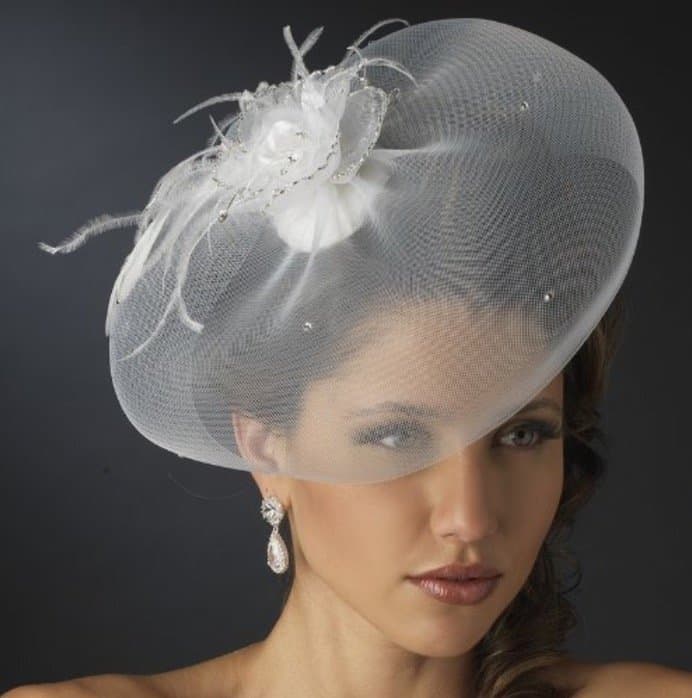 This one is a bit unusual, but completely stunning. Instead of a veil created from floating netting, this veil is stiff and shaped like a cocktail hat. It's very reminiscent of a time when both women and men wore hats everywhere they went. This delightful visor has a spray of feathers with rhinestones and seed beads on a comb.
---
Fascinators Cocktail Hat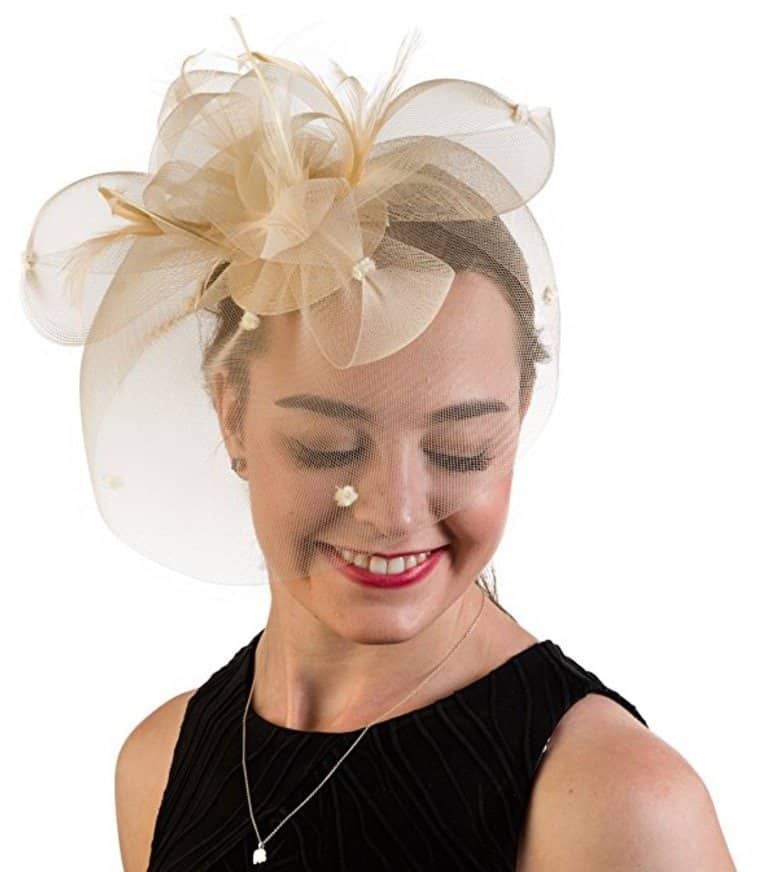 This wonderful hat isn't a traditional fascinator with veil, but there's nothing traditional about a bride who wears a fascinator with birdcage veil. She bucks all the trends and traditions! This version of a fascinator with veil is beige or champagne, which is absolutely perfect for the bride who isn't wearing white. The fascinator with veil is made with horsehair and features a comb for easy placement in the hair. This elegant hat measures 12 inches.
---
Asha Fabulous Ivory Wedding Bridal Feather Fascinator with Rhinestones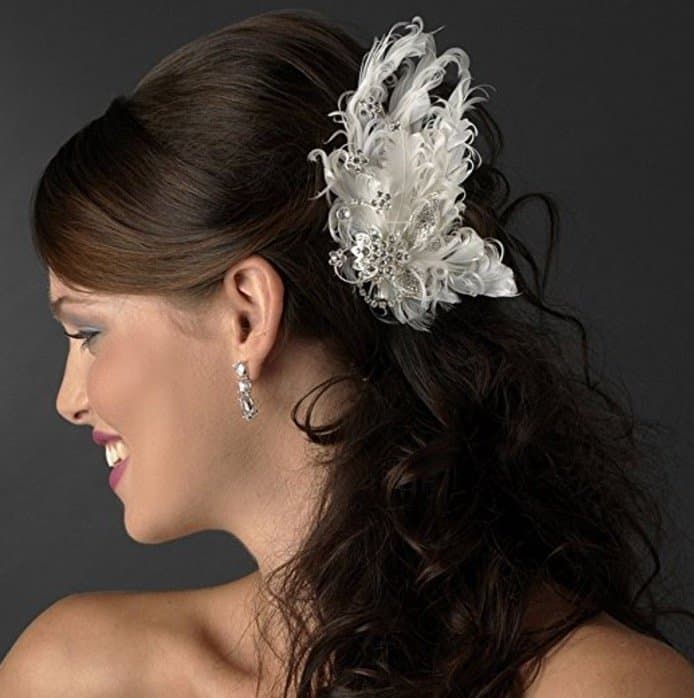 We're moving on to fascinators without the veils. Attached flowers or feathers like this one are a simple yet elegant addition to your wedding look. There are clear rhinestones with ivory feathers in a great design. It measures 5 inches by 3 inches. It's attached to the hair using a 1.75 inch long alligator clip. You might benefit from some pins to keep this attached to your hair throughout the day. In some fine or thin hair, it might be a bit too heavy, but with the right hairstyle, it can be clipped into the top of the bun for support. It's completely worth the extra work to ensure it stays in the hair. It's an elegant and romantic attached flower even without the veil.
---
Tahlia Sequins and Bugle Beads Wedding Feather Fascinator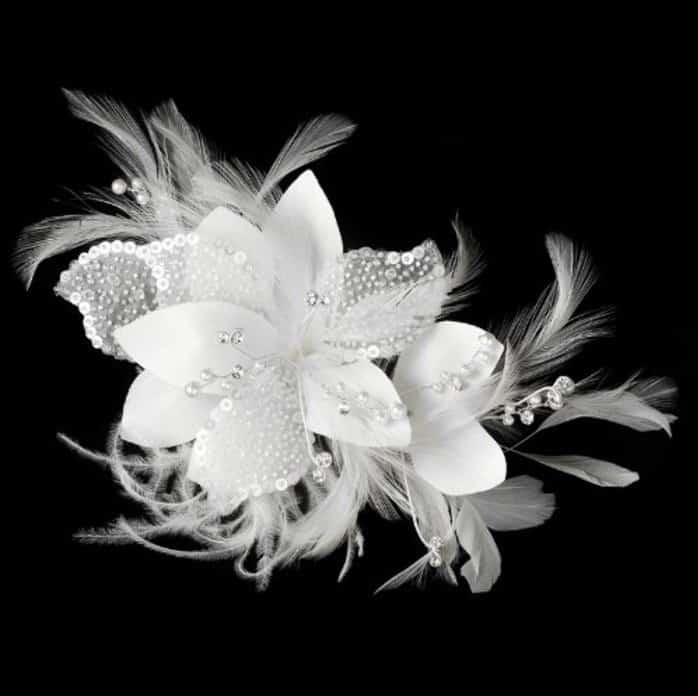 It's no wonder that a hair clip like this is called a fascinator, it's truly a fascinating piece of hair jewelry for your wedding day. It's created with sequins and faux pearls The rhinestones are a sparkly addition to this fascinator. it measures 7 inches wide by 5 inches tall. The fabric and feathers work together to create a spray of flowers and wisps that are truly wonderful. This attached flower could hide the attachment of a veil as well. You're guaranteed to look fabulous for your wedding with this attached flower bridal fascinator.
---
Irina White Swarovski Crystal Wedding Bridal Feather Fascinator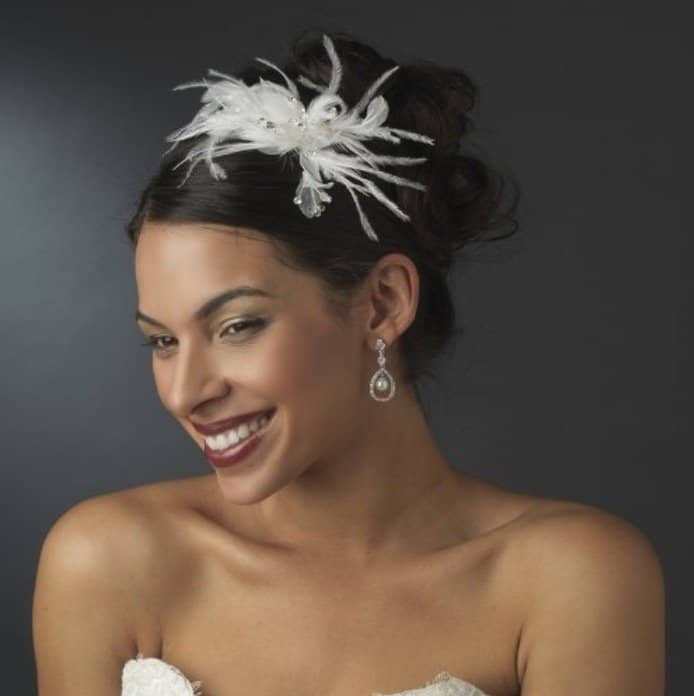 This is a truly elegant yet fun fascinator. It can be nestled into a beautiful sweeping updo or placed at the top of the head to make a statement. The fascinator is attached to a headband that has its own rhinestones and beads. The crystals are from Swarovski. The band and fascinator measure 10 inches wide and 1 and 1/2 inches tall.
---
With this latest addition of fascinators with birdcage veils as well as attached flowers, we have concluded our in-depth coverage of hair accessories for a cute updo on your wedding day. There were so many fantastic hair accessories that we had a hard time nailing down our favorites, but we did it!