Latest posts by Jeanette Kierstead
(see all)
If this is your first foray into wedding hair accessories, you might be asking "what's the difference between a wedding headband and a bridal vine?" They look similar, and sometimes they might be positioned across the crown of the head in the same manner. Headbands are rigid in structure while hair vines are flexible and can be weaved through the bride's hair in any direction. Hair vines are incredibly delicate, too. Today, we'll be looking at 5 beautiful bride hair vines to inspire your wedding day look!
Our Top 5 Bride Hair Vines
Marielle Freshwater Pearl and Crystal Wedding Hair Vine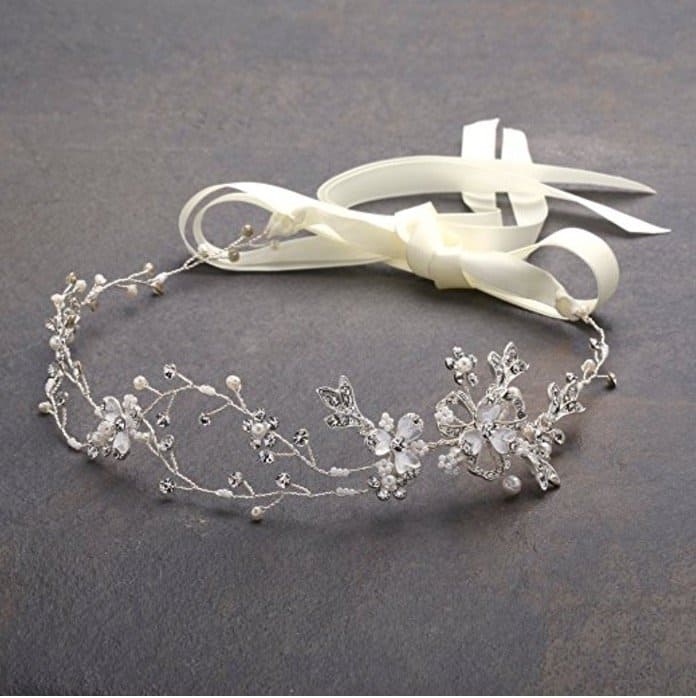 This first bride hair vine will look exceptional for a Boho Style updo. Imagine twists of braids sweeping your hair away from your face with tiny wisps escaping. Weaved around your hair in a fairytale crown of flowers and leaves is the bridal hair vine. This vine has beautiful European crystals along with petals decorated with genuine freshwater pearls. Silver platinum holds this delicate vine together and at the end of the vine are two satin ribbons that measure 16 inches. They help the vine stay secured to your hair. The flowers are 1 and 1/2 inches wide and the entire vine is 14 inches. The vine is designed by hand and has a lifetime guarantee. This is a hair vine that you can keep with your wedding dress and pass on to your daughter one day.
---
Crystal Couture Bridal Floral Vine Design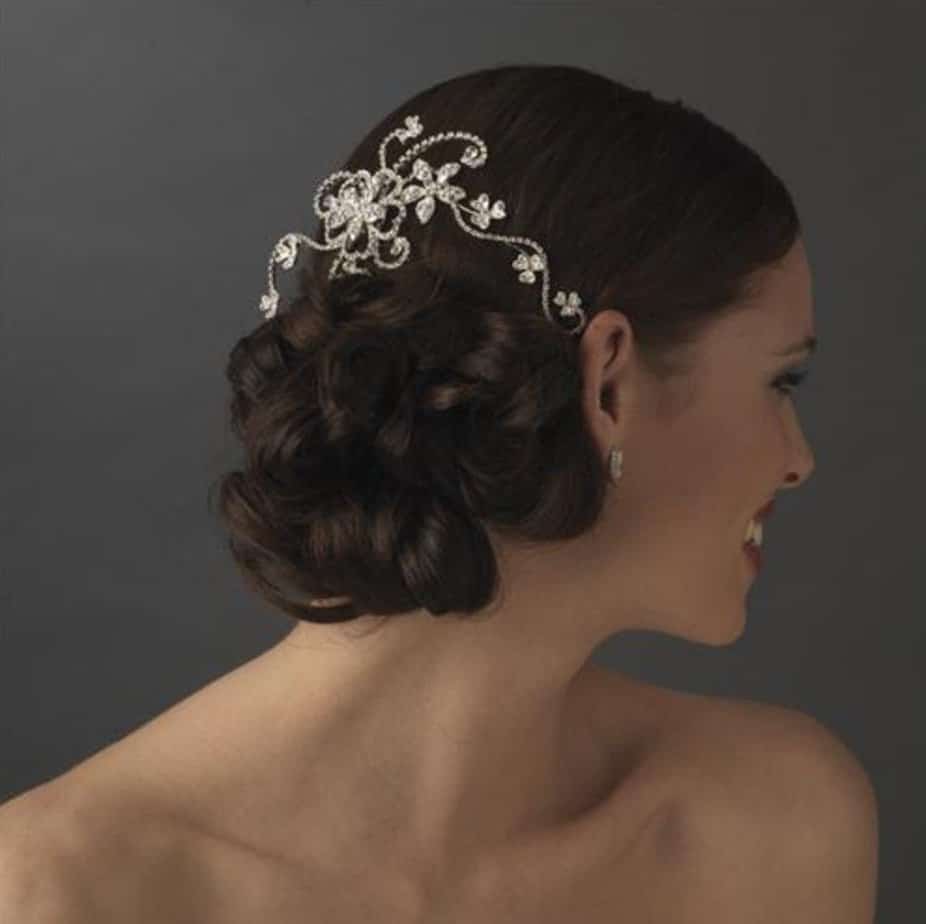 Buy now on A1 Wedding Invitations
While some floral hair vines are delicate with hints of tiny flowers, this hair vine has one flower in the middle with smaller ones trailing away from it. The central flower is created from crystals with a surround of rhinestones to highlight the main flower. This style is best used as a side vine where the central flower is a bit off center. To keep the vine secured in the hair, it has a single comb, but you can add additional bobby pins as necessary. The widest part of the vine, which is the central flower and trailing vines, is 3 and 1/4 inches. It measures 6 and 1/4 inches long while the comb is 1 and 1/2 inches. This bit of sparkle can be wrapped around the side of the hair, in the back or as an off-center piece on the crown. The beauty of your wedding day is that you can do anything you want. Pick a style that makes you feel beautiful.
---
Gold and Pearl Art Nouveau Bridal Hair Vine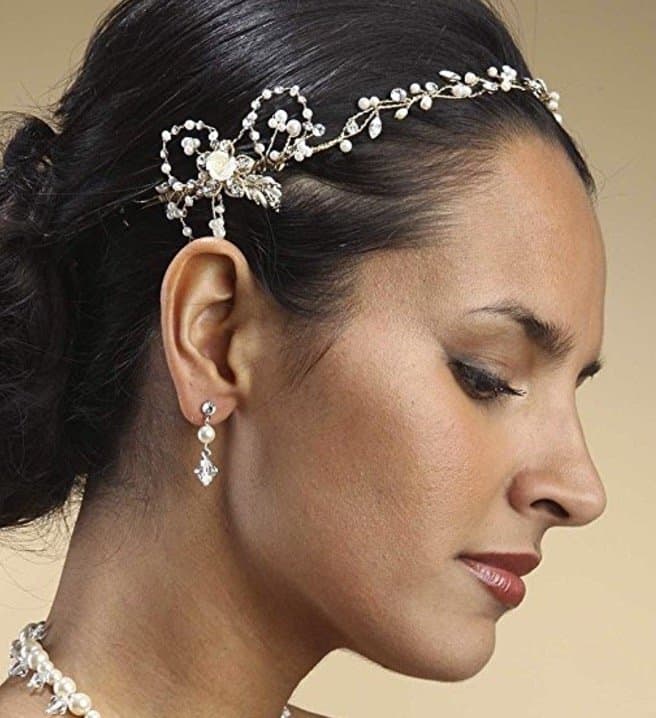 A bride who is looking for a vintage, 20s-inspired hair vine to match her dress will adore this Art Nouveau bridal hair vine. It has a stunning design of shiny crystals and delicate roses. The crystals are Swarovski, which is like the Tiffany of crystals. Your vintage-themed, old Hollywood wedding look will be complete with this vintage hair vine. It's 3 inches wide around the central flower with trailing crystal leaves and sprigs of pearls measuring 14 inches long. It's also raised approximately 2 and 1/2 inches. The hair vine comes in a few color choices of gold, ivory, or rum.
---
Crystal and Pearl Bridal Flower Hair Vine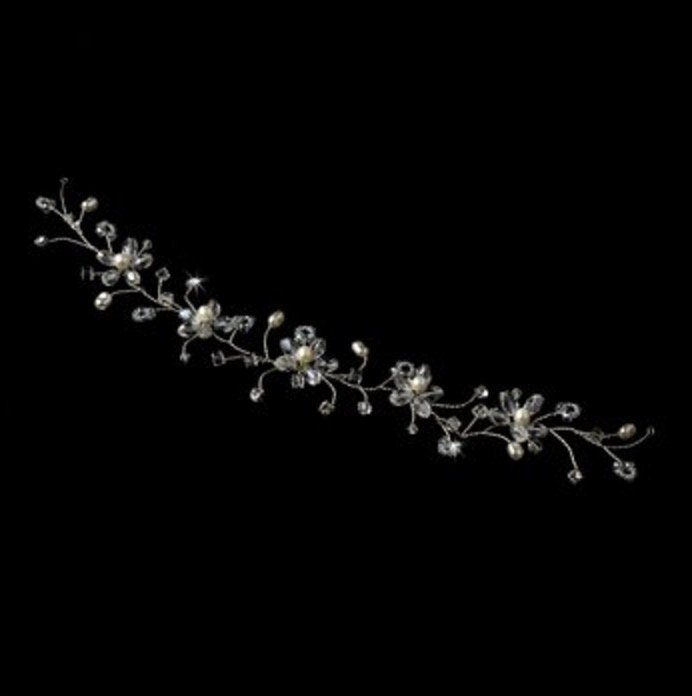 Check price on ecrater.com now
This stunning bridal hair vine features Austrian crystals, genuine crystals, and clear beads in the shape of flowers and vines. It's also decorated with faux pearls of ivory. This delicate hair vine can be woven through your bridal hair style in a variety of ways. It's truly flexible to give you a look that's all your own on your wedding day. It's 1.5 inches wide and 11 inches long. Each flower trails off into vines and faux pearls before merging with the next flower. This ethereal option will make it appear as if magical creatures fastened this option specifically for your wedding day.
---
Twigs and Honey Simple Crystal Hair Vine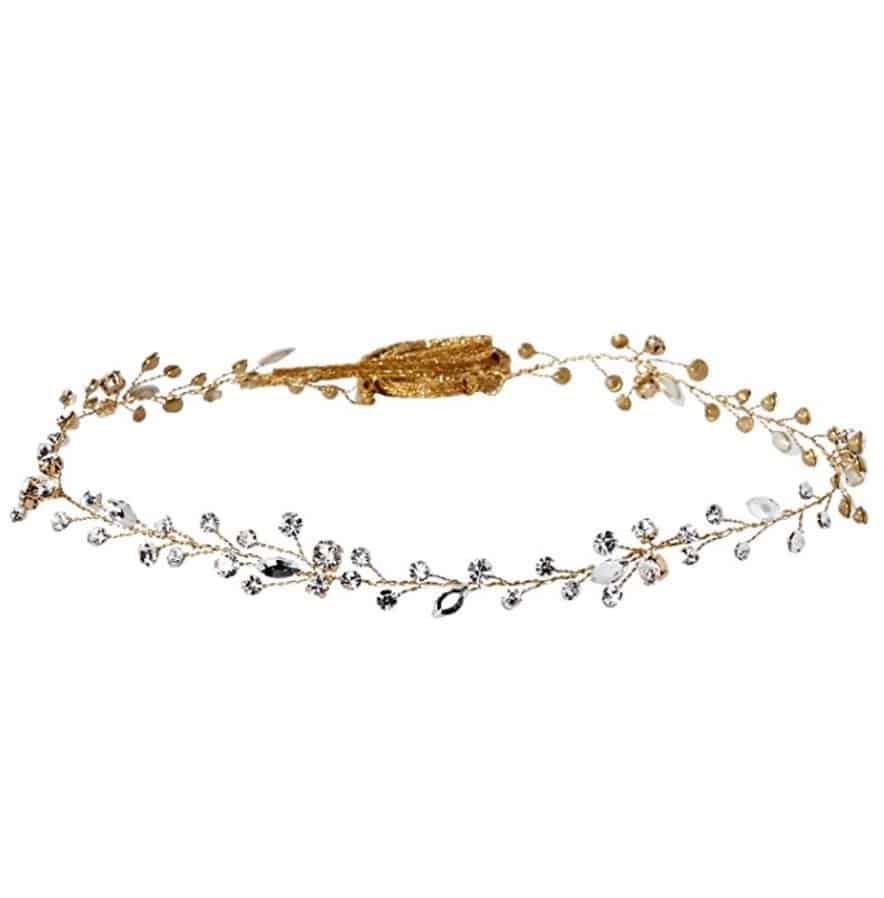 This bridal hair piece features some incredibly delicate and intricate little details. It's hand wired, gold plated Swarovski crystals. The hair vine is flexible and comes with ribbons to customize the fit of the vine in various locations in the hair. You can wrap it around a bun, place it on the crown of your head, or let it trail naturally in any direction you like. Your stylist will be able to place this hair vine in your finished hair style in a way that looks spectacular. This hair vine is one inch across and 18 inches long. It's longer than most hair vines, which gives you many options for placement.
---
Our Top Bride Hair Vines – Final Thoughts
The bridal hair vine that you choose should be within the theme of your wedding while also matching your hair style as well as your wedding jewelry. This can make it incredibly difficult to make a decision about the right one to purchase. We have included some delicate, ethereal, and stunning options here. You can't go wrong with a hair vine since it can be placed in any portion of your stylish updo.
Recommended Reads: