Latest posts by Jeanette Kierstead
(see all)
We've picked 5 of what we consider to be the best hair straighteners for review in 2022. We collected them based on their ability to smooth and straighten all hair types from fine or treated hair to coarse and curly hair with one or two passes. Nobody wants to spend hours sectioning and running the flat iron over the same piece of hair 3 or 4 times. It could literally take hours to do that. The straightener also needs to lock down the silky, soft texture between washings without having to make extra passes every day to areas that have frizzed or curled.
BIO Ionic Onepass Straightening Iron
The BIO Ionic Onepass Straightener has satisfied customers who say they would recommend this to their friends and family. In fact, many of BIO's first buyers were beauty consultants and hair stylists who would sell these devices to satisfied salon customers. This might be because it was originally created by an experienced, famous hair stylist who knew the value in a great styling device.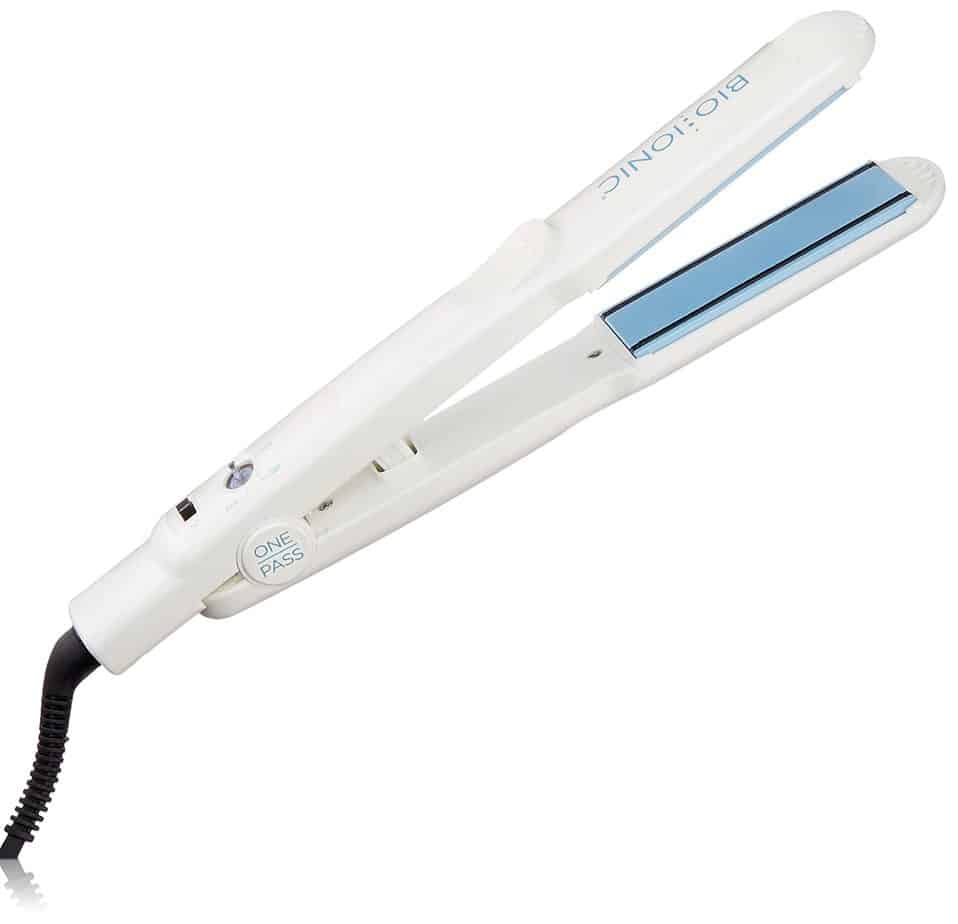 Features
Instant heat
Reaches 400 degrees
10-foot swivel cord
5-year warranty
Silicon speed strips
Pros
The silicon speed strips make this truly a one-pass straightener. Even coarse and curly hair only needs one pass of this flat iron to be smooth and sleek.
Created by a professional hair stylist.
It has ionic technology that works with the ions in the hair to create quick, smooth styles.
Cons
Instant heat can be a problem if you're not expecting it to heat quickly. Always leave the device unplugged after use.
Common Questions:
Are the white and black versions the same?
Yes. They are.
Can the BIO be used while traveling?
The BIO doesn't have dual voltage, so you'll need a converter.
Is there a digital readout on the device?
There is no digital readout on this straightener. There's a simple turn button that allows you to change the temperature.
The BIO Ionic flat iron heats incredibly fast, and with the silicon speed strips, it'll give you the shiniest, straightest hair you've ever seen in your life. It's a fast styling tool that won't require you to spend hours in front of the mirror each morning.
Read our full review of the Bio Ionic One Pass flat iron
---
BaBylissPRO Nano Titanium-Plated Ultra-Thin Straightener
The lightweight, ergonomic BaByliss Pro Nano has large, 5 inch plates that allow you to divide your hair into thicker sections while the intense heat will penetrate deep into the hair. This allows you to spend less time on your beauty routine each morning. Nobody wants to spend hours straightening their hair. It can lead to arm and hand fatigue, but that won't happen with the Pro Nano.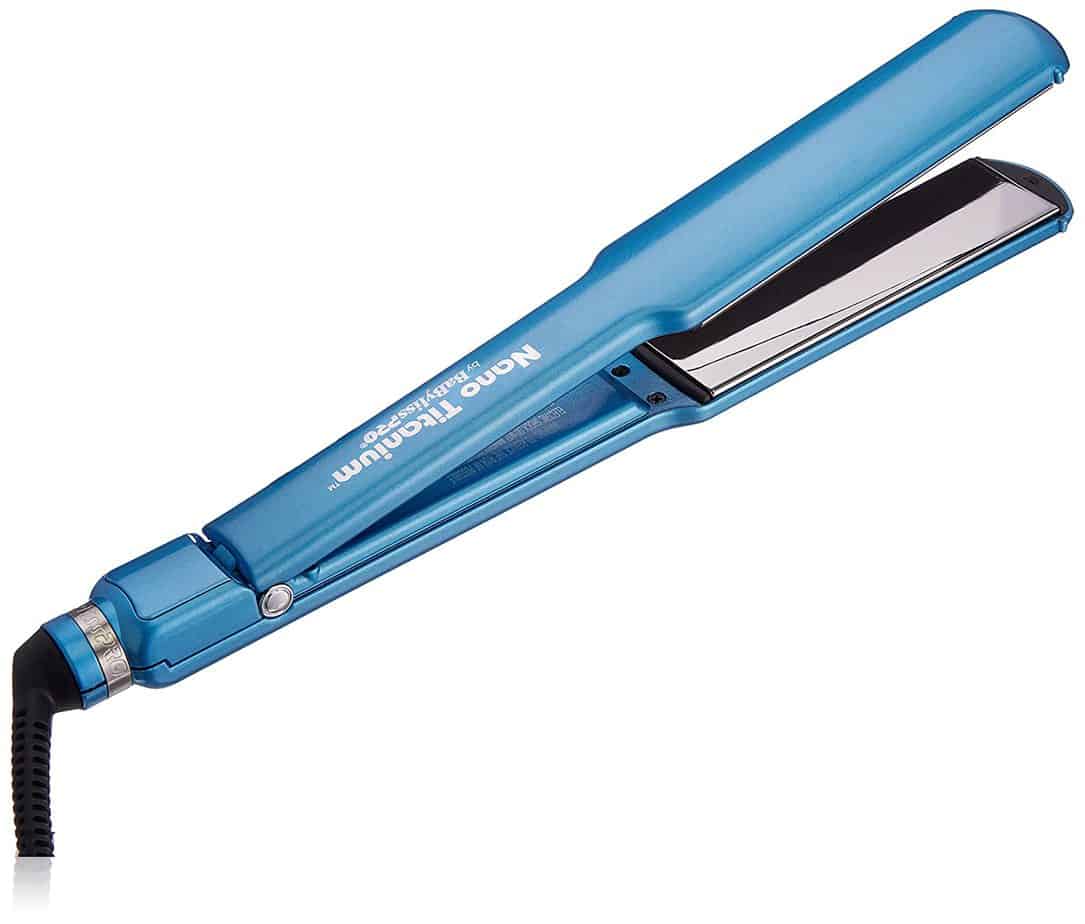 Features
5-inch plates
450 degree heat
Ion technology
Lightweight and slim
Pros
The slim, lightweight design means it's easy to straighten hair and continue with other styling options. There won't be any hand or arm fatigue while styling.
Cons
Some users of the BaByliss Pro mention that the top of the iron gets incredibly hot. At 450 degrees, it's never good to try to touch any part of the iron.
Common Questions:
Does the BaByliss Pro has an auto shut-off?
It doesn't. You'll need to be extra careful to shut this device down after use.
How many heat settings are available on this straightening iron?
The turn dial has 50 stops that allow a wide range of heat settings.
Why are the plates mirrored?
This is because the plates are made of titanium, and not another material.
The BaByliss Pro heats up incredibly fast, which cuts down on styling time. It's meant to work on curly, frizzy, or coarse hair. Hair that is notoriously hard to straighten will benefit from this flat iron.
Read our full review of the BaByliss Pro flat iron
---
LumaBella Keratin Dual Touch Hair Straightener
With the Keratin-infused plates, the dual touch flat iron is an incredible styling tool in your beauty arsenal. You won't get an oily residue on your hair with this straightener, either. The ceramic plates give even heat distribution, which means less time and passes through the hair to get it silky smooth to the touch.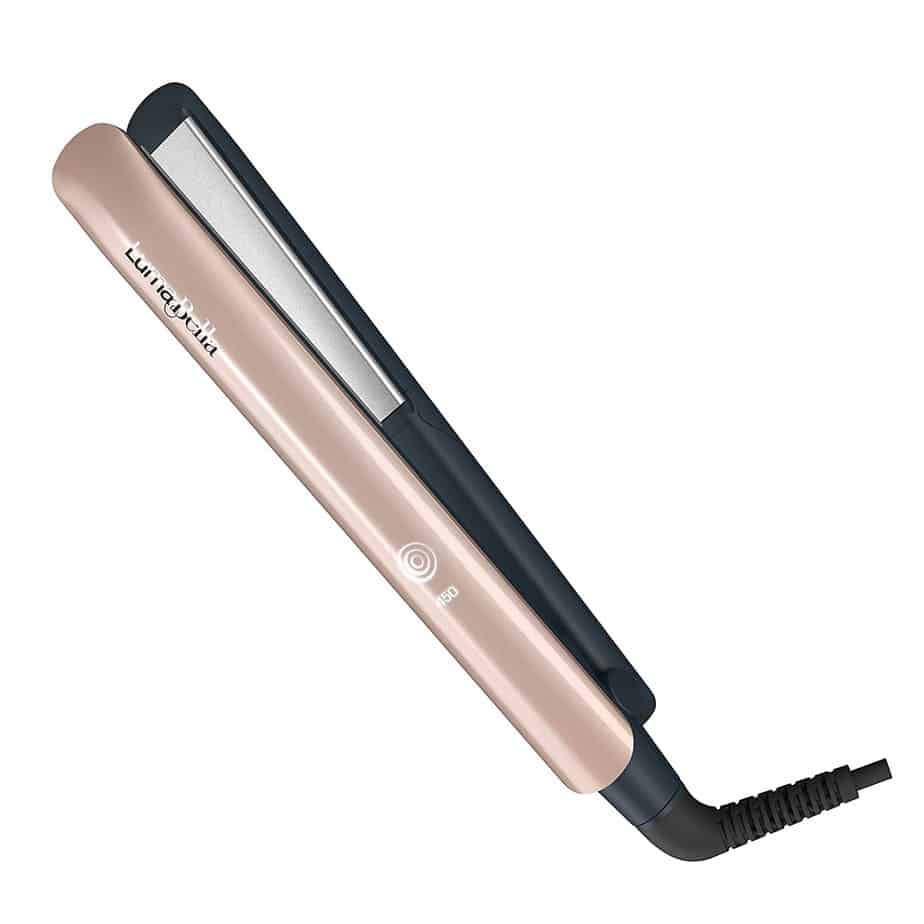 Features
Long swivel cord
4-year warranty
Floating plates
Smart heat sensor
Turbo heat boost
Pros
There are 5 heat settings with the LumaBella. Each is made to specifically work on certain hair types. They range from 300 to 450 degrees.
The plates have been infused with keratin meant to condition as the heat works on straightening the hair.
Reduces temperature when it detects dry sections of your hair.
Cons
The only complaint with this iron is that it has no hook to hang it or mat to lay it down on between uses. You'll have to buy your own mat to protect the furniture. It's definitely needed since this flat iron reaches 450 degrees.
Common Questions:
Does the device have an auto shut-off?
The device will shut itself down after 1 hour.
Can this device be used for curls?
All straighteners can be used for curling if they are slim enough. This device is slim and ergonomic.
Does the straightener work on weaves?
Weaves made from human hair can be styled the same as your natural hair. It's best to keep extreme heat away from other types of weaves and synthetic materials.
With a smart heat sensor for damage control as well as micro conditioners in the plate itself, this is a styler that will make your hair healthier and smoother after use even when it's applying high heat to the hair.
Read our full review of the LumaBella Keratin Dual Touch hair straightener
---
Chi Pro Ceramic Flat Iron in Keratin Gold
It's not often that a device that provides overwhelming heat can also nourish and moisturize the hair, so that it looks better after it's been treated. That's the case with the Chi Pro. It comes with keratin-rich products as free gifts as well as a keratin plate that works to make your hair shinier and healthier.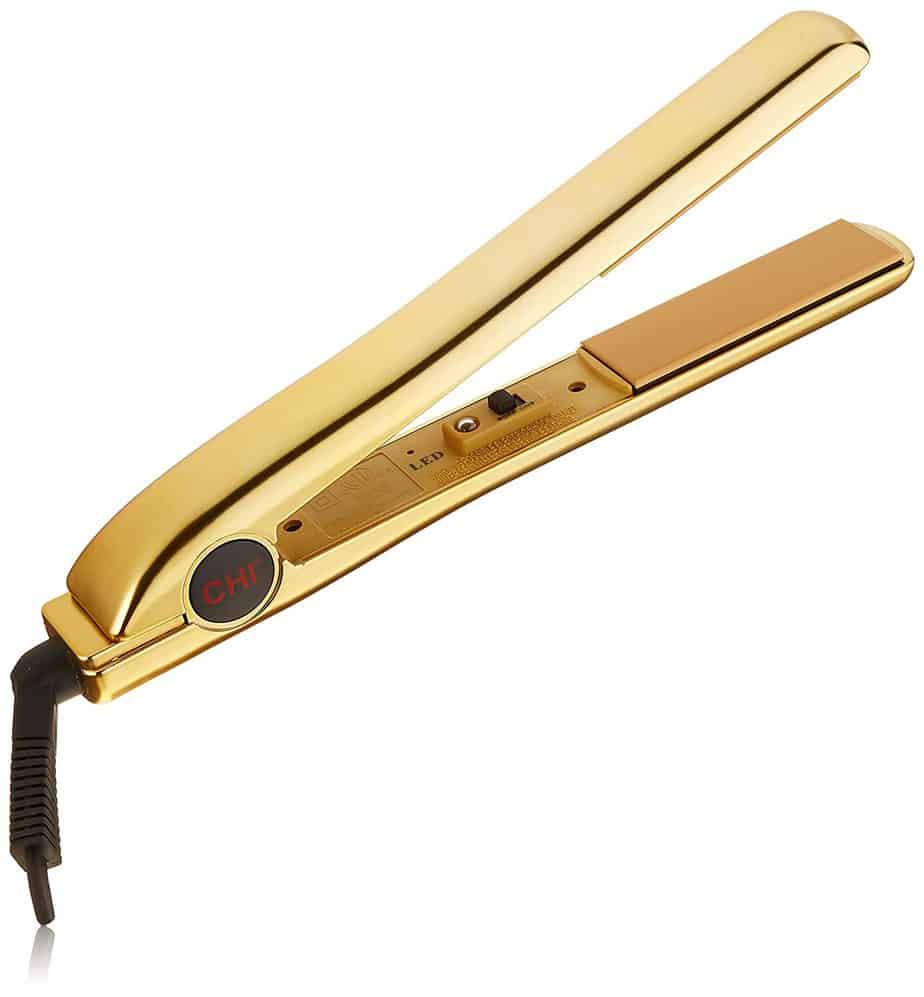 Features
Keratin-coated plates
Swivel cord
Quick start
2-year limited warranty
Pros
Slim and ergonomic for lots of styles
Free gifts will nourish your hair
Dual voltage rating for travel
Cons
No automatic shut-off
Doesn't have temp control
Common Questions:
Why is the straightener gold?
It's available in a variety of colors and designs, so you can pick the one you love.
What material are the plates?
They're ceramic and tourmaline, which are meant for smooth, even heat distribution.
Is the device made for travel and easy storage?
While this device is dual voltage, it doesn't come with a storage bag. You'll have to buy one separately.
This straightener should leave your hair shiny, smooth and sleek, and that sleek style will last for up to 5 days without having to retouch your style. Along with the straightener, it comes with smoothing treatment for your wet hair and keratin flexible hold hair spray to be applied after straightening.
Read our full review of the Chi Pro Ceramic flat iron
---
T3 Single Pass X Flat Iron
The manufacturer calls this hair straightener the "hair whisperer", and we might have to agree with that. The straightener soothes and smooths the hair, so it stops being a scary, curly mess, and behaves as you want your hair to act on a daily basis. This means that the hair won't frizz up later in the day, either. While nothing can save your hair if it becomes damp and rains, for normal days, you won't have to worry about reapplying the iron to your hair.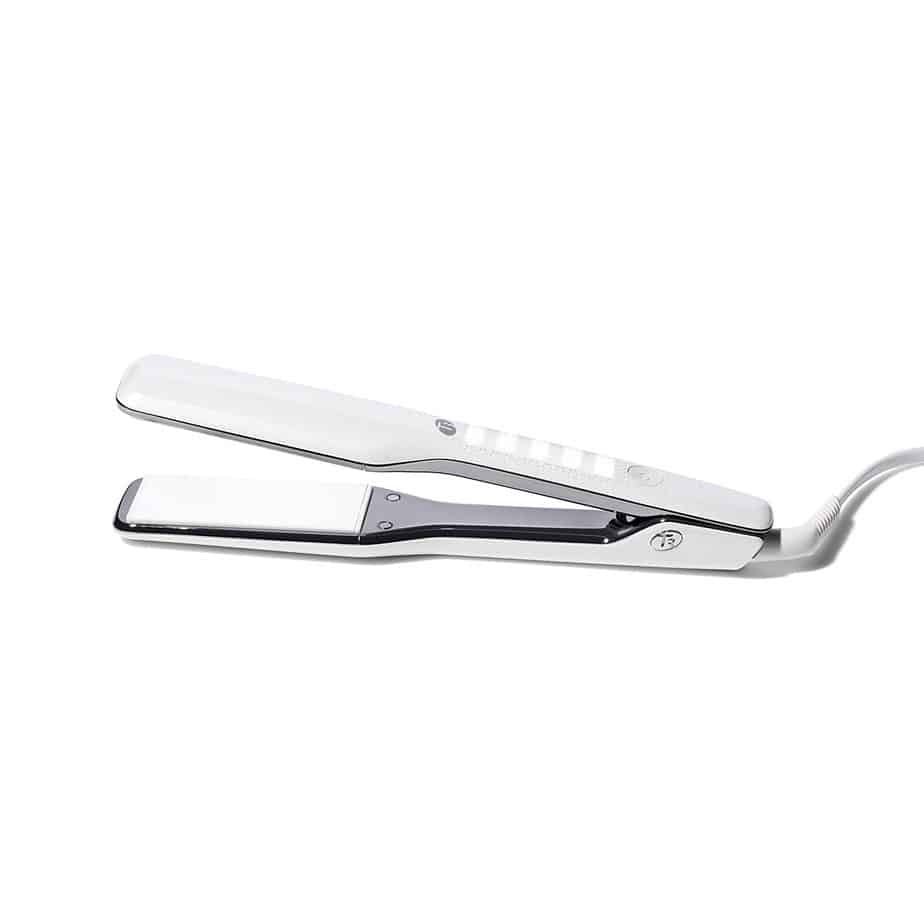 Features
Internal microchip for even heat
2-year warranty
9-foot swivel cord
Dual voltage
5 settings for heat
Lights and audio
Pros
1-hour shut-off, which means you'll never have to worry about leaving it on when you rush out the door.
Five heat settings for all types of hair. The heat ranges from 260 degrees F to 410 degrees F.
Accessories help you with your styling process. There are clips for sectioning hair as well as a heat mat for resting the device.
Cons
The audio might be a bit annoying, but that can be easily fixed by holding down the power button to shut off the sounds.
Common Questions:
What material makes up the plates, and what size are they?
The plates are ceramic and tourmaline. They are 1.5 inches wide.
Can this be used on treated hair without damaging it?
With the T3's heat range, you can start at 260 degrees, which is a good temperature for brittle, treated hair.
Can the T3 be used for hair flips and curls?
It's easy to angle the straightener at the ends of the hair to give you little flips and curls throughout.
The T3 has tourmaline and ceramic plates that keep your hair from being pulled and yanked through the device during straightening. This can happen frequently with cheap flat irons.
Read our full review of the T3 Single Pass X flat iron
---
That concludes our review of the 5 best hair straighteners of the year. If you haven't tried a professional level device like one of those on the list, you owe it to yourself to give one of them a try. They may be slightly more expensive than a generic one, but they'll give you incredible results in a fraction of the time. There was a time that some of the devices made by these manufacturers were only available to salons, but now, they're available to the general public, which saves you a ton on salon visits.