We'd like to take a moment to put the spotlight on goldsmith Kerstin Laibach and her ethical jewelry practices as well as the beautiful designs she creates without harming the environment.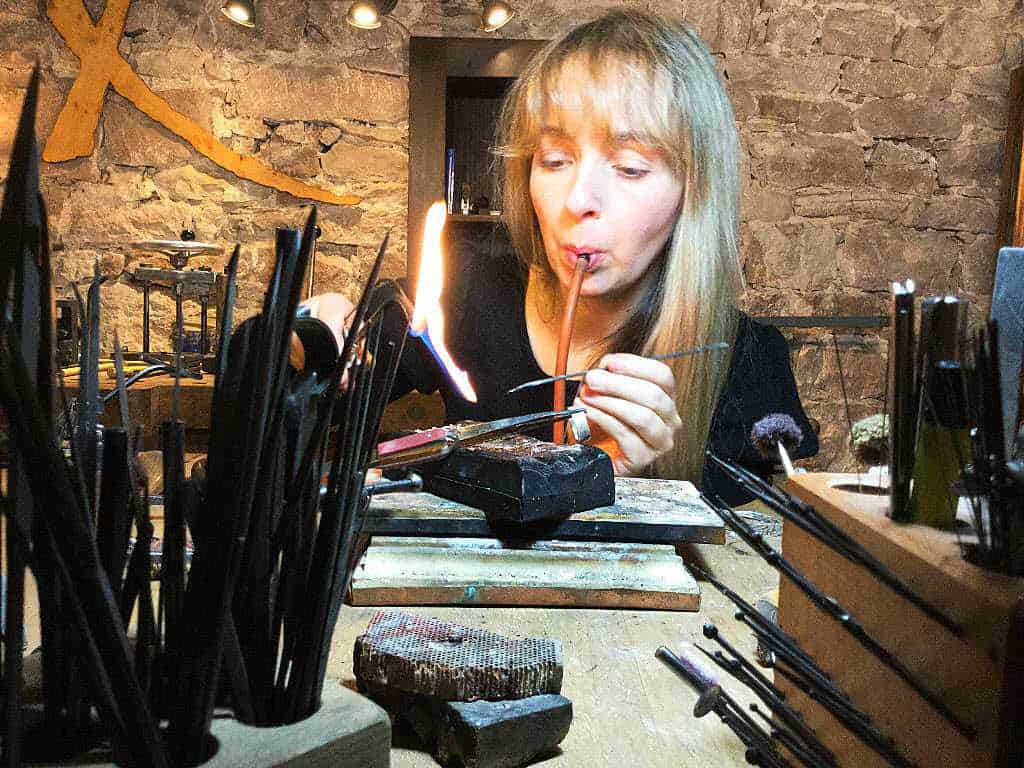 ---
Kerstin's Background in Jewelry Design
Kerstin spent much of her younger years in a stunning area of Europe known for its handcrafted jewelry standards. She started her career as a classical goldsmith with an apprenticeship in a place near Basel, Switzerland. After her apprenticeship, she started designing her own pieces and restoring antique jewelry.
---
Her Unique Principles
Around 2008, she was becoming concerned about the environment and the issues surrounding sourcing metals and stones for jewelry crafting. There was a responsibility to the environment that she found lacking in the community as a whole. She decided to start her own company, so she could stick with her ideals and create a meaningful business concerned with the environment.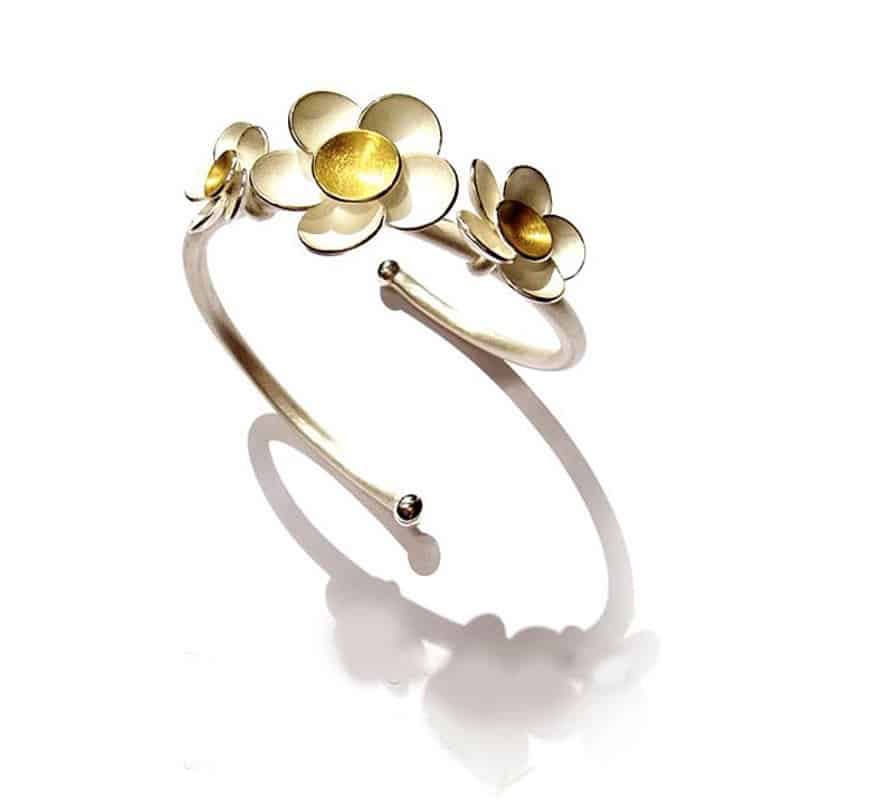 ---
Commitment to the Environment
Before starting her business, Atelier Laibach in 2009, she spent thousands of hours researching the best crafting materials as well as the methods that would be ethical. This also meant that she would have to associate with businesses that had the same principles. This proved to be incredibly difficult.
---
Vegan and Vegetarian
For her business, Kerstin wanted businesses that used recycled materials, earth and animal friendly materials as well as biodegradable and recyclable for packing and delivering her creations. This meant she would have to create her own. She became the first goldsmith to make her own animal-fat free polishing ingredient.
She joined forces with VeggieGlobal to develop plenty of first in the world with their jewelry and vegan principles. Working together, they found materials and other vendors who were working with recycled and biodegradable, non-animal alternatives.
---
What That Means For Her Goldsmithing
Sticking with an environmentally-friendly policy in her business meant that she would not be using newly-mined sources of metals or stones. Any metal and gemstones used in the creation of her pieces would be recycled from vintage pieces. For most of her creations, she takes family heirlooms or unwanted gold and turns it into a brand-new piece.
---
Jewelry Designs in Kerstin's Shop
For most of her work, Kerstin will take pieces that have been in your family for generations and give them new life. Instead of creating an engagement ring and wedding band that might not work together specifically on that bride's finger, she'll work with the bride's measurements to create a stunning set that works well together. Handcrafting is done without the help of forms or computers. Every piece is done organically by hand.
Along with the bespoke pieces special for each customer, there are a few pieces that are created to speak to your love of the Earth and its animals. She has rings that are embossed with the words "Veggie" or "Vegan" as well as other pieces of jewelry like necklaces, bracelets or earrings.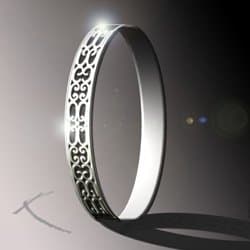 ---
Self-Gathered Stones
Kerstin Laibach likes to make pieces using stones that hold specific memories for her clients. It could be a pebble from a beach where a family spent many summers. The stone could be from a cliff overlooking a fantastic vista where a young couple spent romantic times together. She'll take any stone – as long as it was ethically sourced – to create a beautiful piece of jewelry highlighting the pebble. If it's a piece of amber, it can only be gathered by the customer at the beach themselves. The workshop of Laibach will not accept amber that is mined.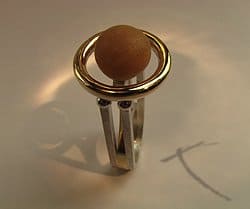 ---
Services for Weddings
Kerstin understands that ordering from an online source for wedding rings can be extremely concerning. Choosing a handmade, ethical ring from a person who has dedicated her life to the responsible sourcing of materials should be enough to provide buyers with a sense of confidence.
Each client of Laibach will get the same consultation and attention to detail, whether they visit her studio or gallery in person or talk to her online. Her ethical integrity is evident in every interaction she has with customers.
---
Recycled Rings for Renewal of Vows
After years with the love of your life, your ring might be a bit banged up and wearing thin. Laibach can take an old wedding ring and give it new life. It's one of her specialties. With her hand forging process, Laibach will take the ring and engineer it to last for a very long time. She'll take into account the width required, the amount of time you work with your hands as well as finger size and how busy you are. The metal thickness is never less than 1.5 mm, so it's made to last.
---
Donations
While maintaining a strict code of conduct for her ethical jewelry creation, she also gives money back to protect the environment and wildlife. On every sale she makes, she gives 15% to charitable organizations. At times, she creates special pieces for sale for charity events that will keep the entire sales amount. Those charity events might be animal rights groups, rescue or welfare organizations.
We appreciate Kerstin Laibach's dedication to a cause that's dear to her. She's devoted her life and her business to be environmentally responsible and hasn't wavered in her commitment. Along with this commitment, she's managed to create stunning pieces of jewelry that would make anyone proud to wear it including non-vegans.
To see more of Kerstin's ethical jewelry creations, visit her personal website here!