This is Part 2 of a 3-Part series on the Types Of Wood For Rings.
Part 1 Types Of Wood For Rings features Applewood, Birch, Bogwood, Cedar, Cherry, Chestnut, Ebony, Hackberry, and Juniper.
This time around, we look at Kauri, Koa, Mahogany, Maple, Oak, Osage Orange, Pine, Paduk, and Pearwood. Read on to find out more!
Kauri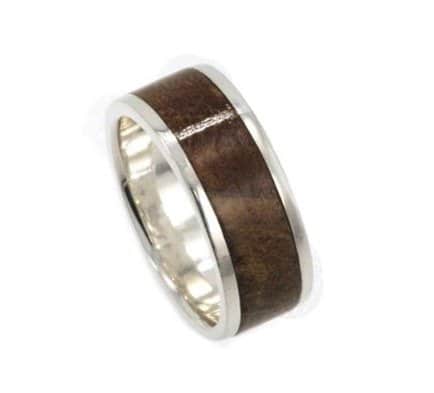 Kauri is a form of aged wood. This wood comes from trees that have fallen over into swamp land and who the swamps have protected from atmospheric decomposition. At, on average, 45,000 years old, Kauri is the world's oldest workable wood, and also the most exotic. Kauri possesses a deep brown, sometimes brownish-red, hue that naturally shimmers in proper lighting. Kauri is also extremely durable and workable. Combining all of these positive attributes, it comes as no surprise that Kauri is not only extremely rare, but also unbelievably expensive.
---
Koa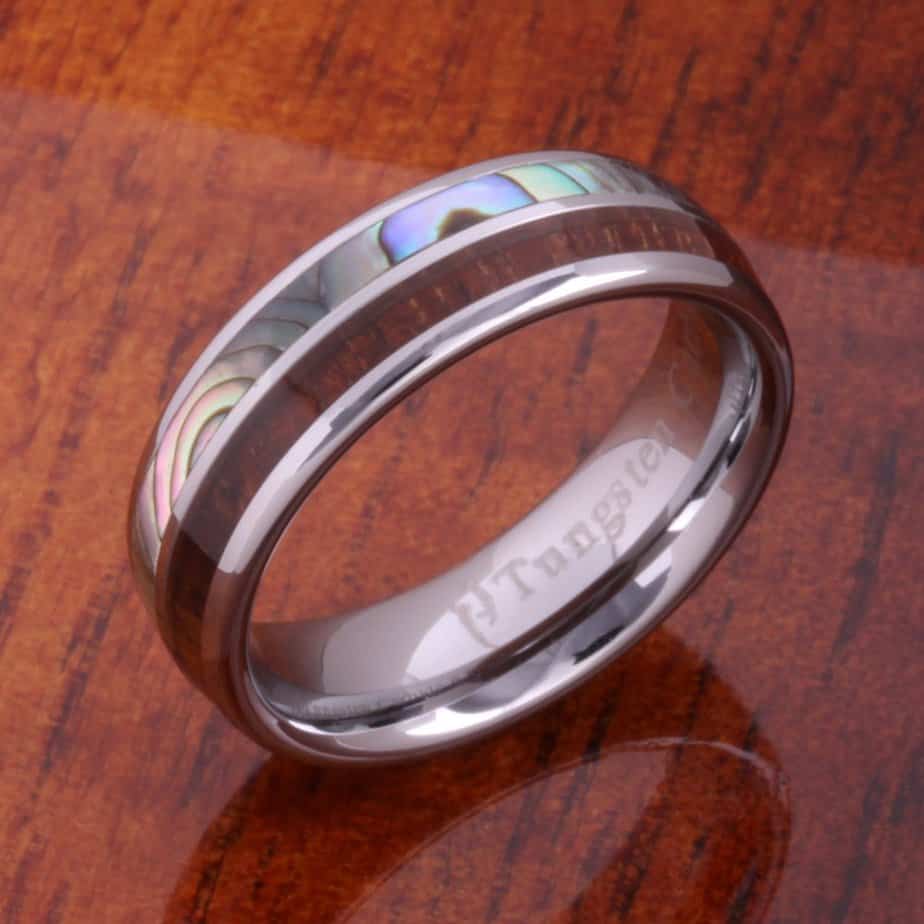 Koa wood is stunningly colored – a mixture of gold, red, and brown streaked with stark contrasts along the grain – this hardwood makes for a marvelous engagement or wedding ring! Koa is a durable wood, making it a good choice for a bride or groom seeking a low maintenance wood ring. While Koa is workable, it also chops easily, making it a challenge for the craftsman making rings out of this wood. Being native to only Hawaii, and being in high demand whilst dwindling in supply, Koa is an expensive wood making it an option for the Mr. or Mrs. that don't mind shelling out a little more cash for a truly unique wood for their ring.
---
Mahogany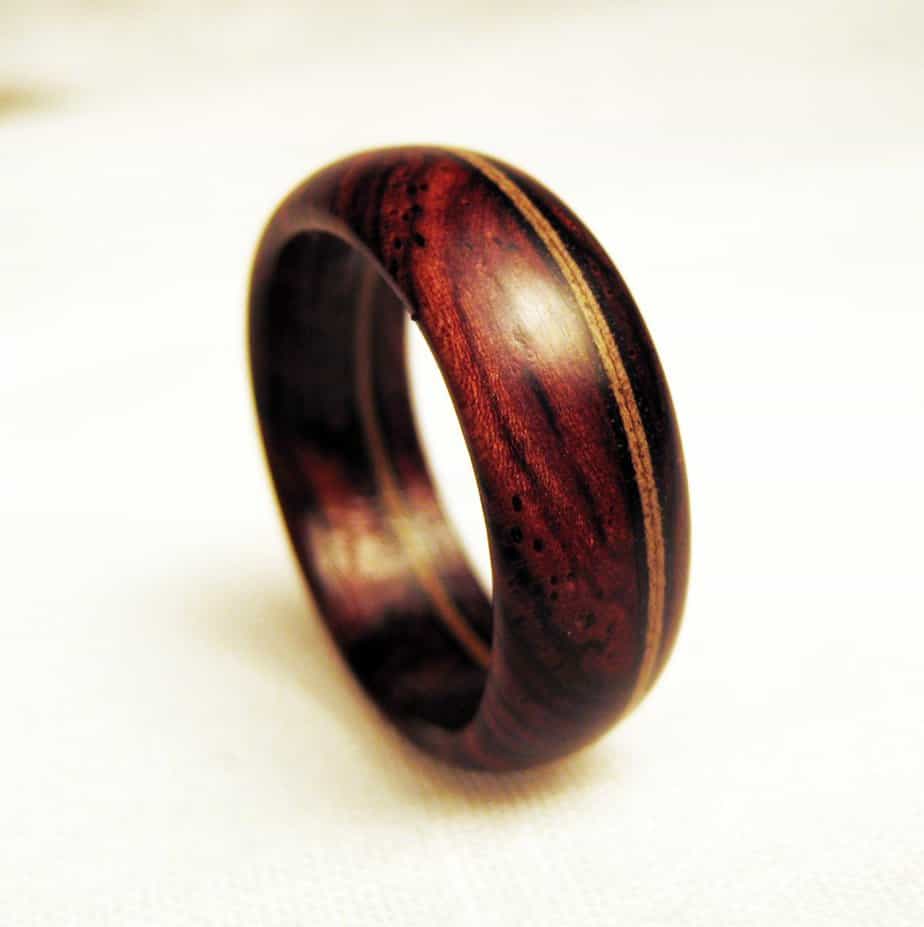 Mahogany is a classic hardwood often associated with lavish furnishings and home accents. This beautiful wood comes in a rich and creamy reddish brown tint that screams elegance, only developing its deep undertones as time goes by. This wood is also extremely dense – making its tough to work but extremely durable! A polished mahogany ring will display more red shades because the polish brings out the undertones of the wood – though mahogany takes well to polish and stain, this wood doesn't need either of the two as it's beauty speaks for itself! Mahogany is understandably an expensive wood, but one that is definitely worth the price!
---
Maple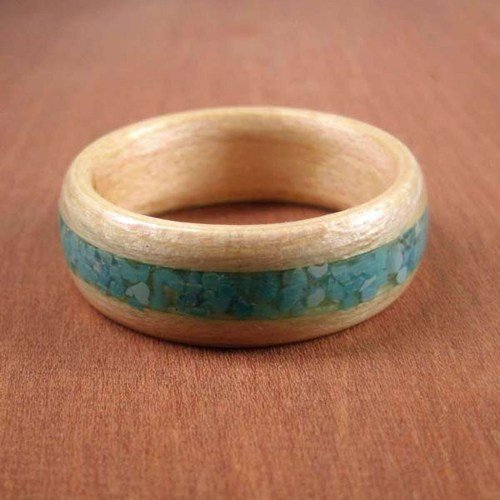 Maple is the ideal wood choice for someone that wants a lighter hued wedding or engagement ring, or someone who wants to choose their own shade. Maple is an extremely versatile wood that takes well to stain, allowing a prospective buyer to customize their ideal hue. Maple is also a highly durable wood that can withstand years of wear and tear. The combination of its admirable characteristics make maple an choice for someone who works with their hand but doesn't want to jeopardize the beauty with which their ring is madeleines .
---
Oak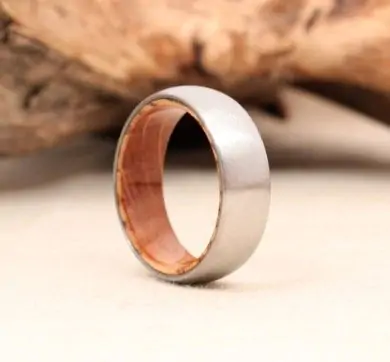 Oak wood comes in two shapes – red oak and white oak ranging in color from an ashy gray/yellow to a pink/red tint. This broad range of colors allows a prospective buyer the versatility necessary in choosing the ideal wood for a wedding or engagement band. Oak is also a grainy wood, a trait that sometimes causes it to appear to have two colors compositions when stain is applied – this component of oak makes it an awesome option for a unique bride or groom that desire to step out of the box with their ring selection. Oak is a durable wood that can withstand against the dings and dents that some of the other woods would fall victim to.
---
Osage Orange
Osage Orange wood stays true to its name and Bears a bright yellow hue that ages to an orange tinted brown over time. Osage Orange wood also possesses dense straight grains, making it appear extremely uniform – this is a great trait for a bride or groom that desire a clean cut appearance in their wooden ring. The density of the wood is a blessing and a curse – Osage Orange is highly dense making it a hard wood to ding or dent with everyday wear, but also making it harder to work and, thus, a more expensive and labor intensive task for craftsman making rings out of it. Though Osage Orange is a native wood to the United States, it is considered both an exotic and specialty wood, causing it to carry a heftier price tag than a majority of other native lumber.
---
Pine
Though still aesthetically alluring, pine is an inexpensive option and a wonderful choice for a bride or groom seeking an affordable wedding band. Naturally pine wood is light time with a yellow undertone, though it can be transformed to anything one's heart may desire due to the ease with which it takes stains and varnishes! If stain or varnish aren't your thing, pine will darken with age – unfortunately the delicate rustic hue aged pine wood acquires raises its price tag. Pine woods greatest down-fall is the fact that it isn't a very durable wood, making it prone to dings and dents with daily wear and tear. This wood is undoubtedly a smart choice for the price savvy ring shopper that doesn't mind giving their new ring the extra TLC it needs.
---
Paduk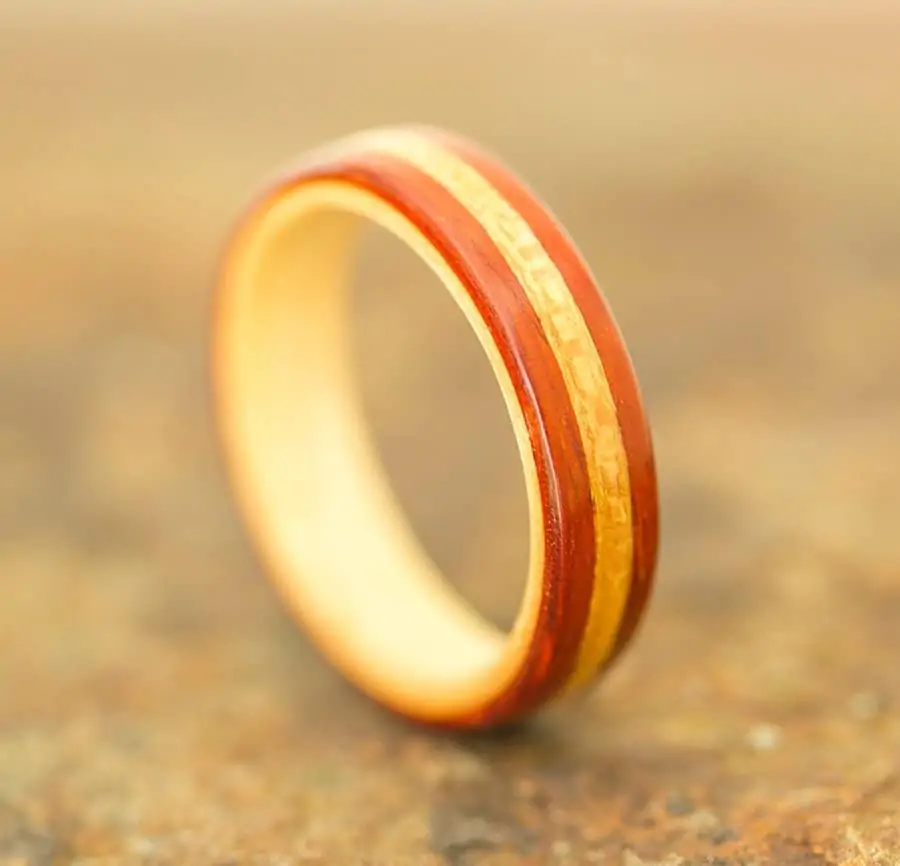 Paduk wood is extremely unique in color, ranging from light orange with pink undertones to dark brown with red undertones and aging to anything from a majestic reddish purple to a delicate grayish brown – the sky truly is the limit when it comes to Paduk wood. Paduk wood also holds the perks of being both durable and workable – this means that this wood can undergo intensive daily wear as a result of its durability and it can coke in a wide array of intricate designs due to its workability. As if Paduk wood couldn't get any better, though an imported wood, it is moderately priced making it a realistic option for someone that is looking for a unique shaded wooden wedding band but isn't willing to pay the prices associated with many of the more expensive exotic woods.
---
Pearwood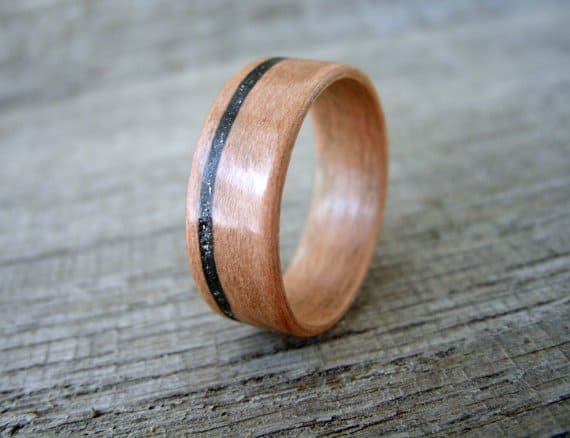 A ring made of pearwood will range in color. Pearwood's unaltered natural color is a beautiful and warm medium-tan, however, this hardwood contains the unique ability to take on a pink tint when it is steamed giving it an element of feminine elegance that few other woods can imitate. Despite its delicate appearance pearwood is extremely durable, in fact, its durability is known to result in quickly dulled blades – a factor that causes some craftsman to refuse to create jewelry out of it, or to only do so at a much higher rate than other, more workable, wood. While pearwood is an affordable and popular wood in Europe, its limited availability in the United States make it an expensive timber.