Latest posts by Jeanette Kierstead
(see all)
Today, we're reviewing the best hot air dryer brushes that will make your life so much easier.
Each dryer brush will allow you to spend less time on your hair. It'll get you out of the house faster each morning, and many women who don't normally spend any time on their hair will find this to be a fantastic tool, too.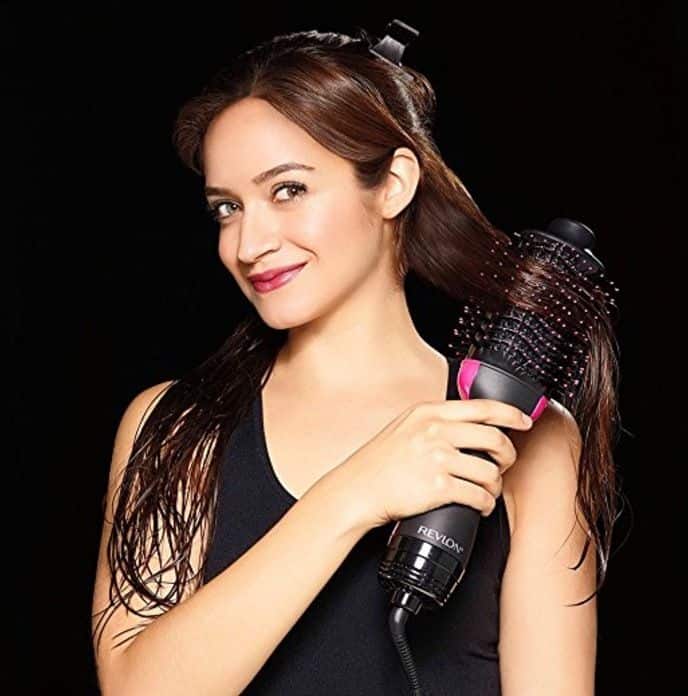 These at-home tools that mimic what you'd get in the salon are meant to save you time and money. All of the following hot air brushes will do both! Let's get started…
Exclusive Winter Sale Offer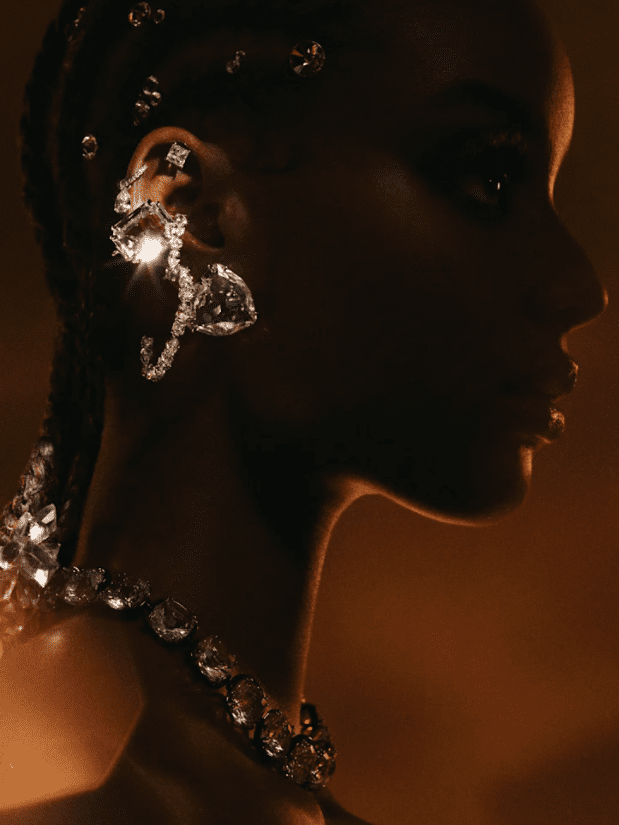 The Best Match: Swarovski + Love You Tomorrow
We partnered up with world-renowned brand Swarovski to bring you this EXCLUSIVE WINTER SALE: Get up to 40% OFF on select styles.
*Available from December 25th through January 30th. T&Cs Apply.
SHOP NOW
We earn a commission if you click this link and make a purchase at no additional cost to you.
Calista Tools Pro Grip Digital Temp Control Ionic Round Hot Air Brush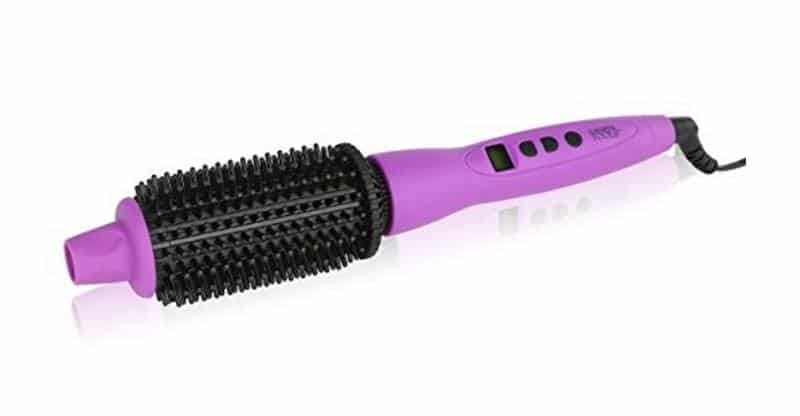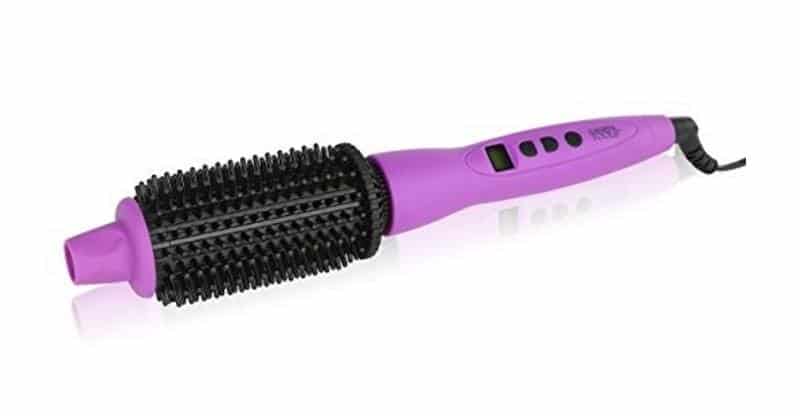 The Calista Pro is a fantastic tool for all types of hair from fine to frizzy to coarse. You'll be able to pick the exact temperature to tame your locks. It's also interchangeable with other Calista brushes for other style choices.
Features
Exact temperature control
Comfort grip handle
Nylon brush teeth
Digital display
Storage bag
How to Style
The hot air brush comes with clips for sectioning the hair as well as a paddle brush to comb through the hair while it's wet. It's best to use this hot air brush when hair is almost completely dry. While you can control the temperature, it's still a bit high for drying. You can control the temperature between 325 degrees and 395 degrees F.
Read our full review of the Calista Tools Hot Air Brush
---
Sultra the Vixen Volumizing Dryer Brush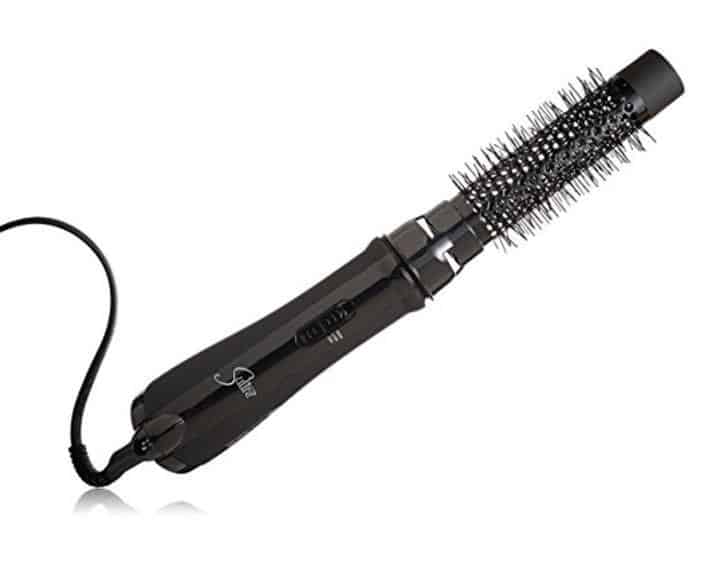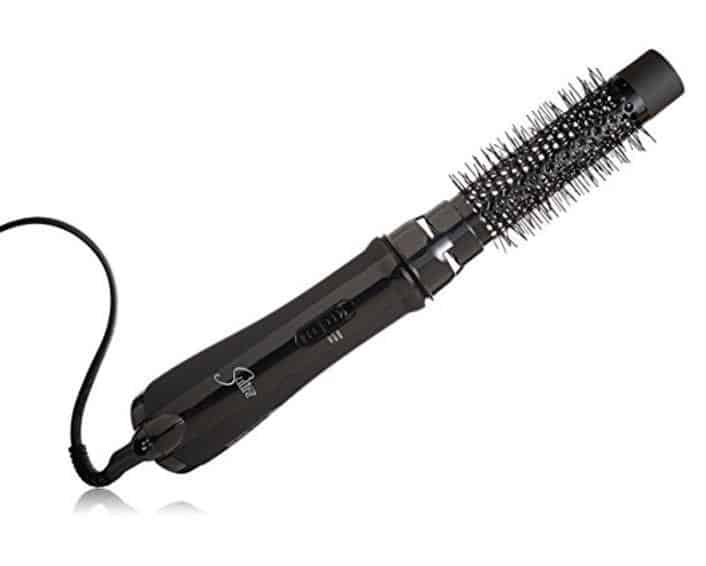 This hot air dryer brush is a great way to dry, smooth, and style your hair without having to buy 3 different devices for your hair. It gets out of the house earlier each day while still looking your best.
Features
Ergonomic design
1000 watts of power
Ceramic barrel
2-year manufacturer's warranty
Ion technology
How to Style
This styling brush can be used with hair that is slightly more damp than the other brushes. Use the brush itself to comb out the hair and divide into sections. Curl the hair around the brush and let it sit to dry and curl at the same time. You control how big of a curl you want by how much of you hair is wound around the barrel.
Read our full review of the Sultra The Vixen Volumizing Dryer Brush
---
Infiniti Pro by Conair Spin Air Rotating Styler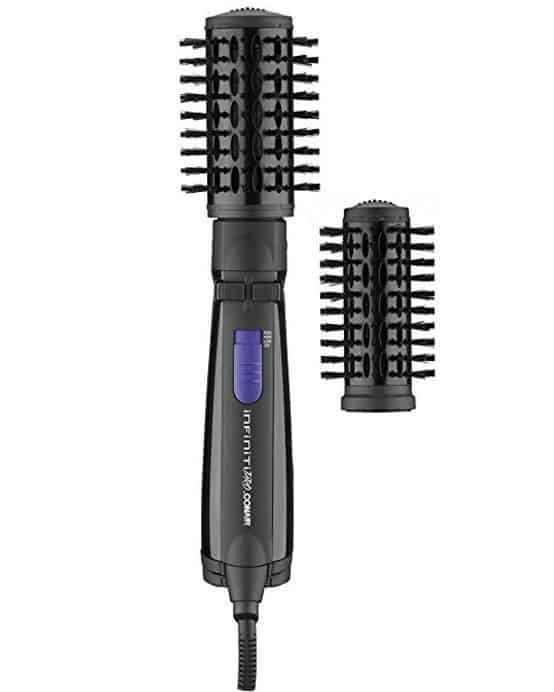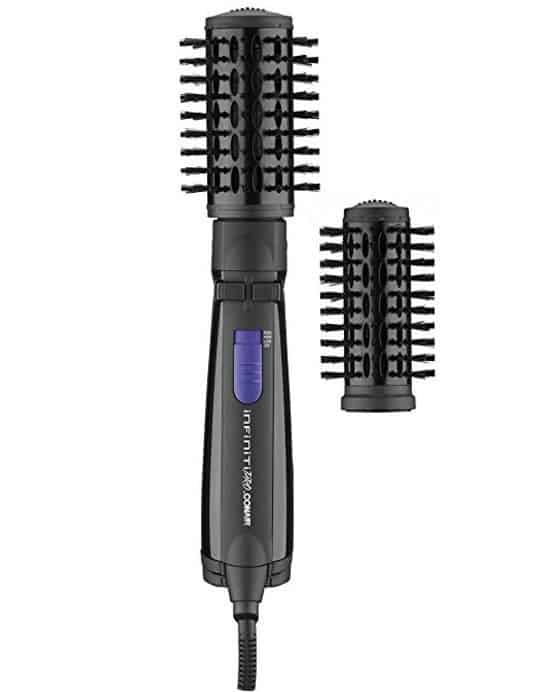 The Infiniti Pro is a terrific brush for women with short or long hair who want to get a shiny blowout look without the costs or time spent in a salon or blow-dry bar.
Features
Tourmaline ceramic plating
Rotating brush
Three temperature settings
Rotating brush
Two speed settings
How to Style
This is a styler that requires the hair to be almost completely dry before use. While there are three temperature settings, they're too hot for wet hair. It doesn't have enough power to quickly dry the hair. After washing, towel dry and give it a quick pass with a blow dryer before using the Infiniti Pro. The spinning brush means that you can get a beautiful, shiny blowout look like one you'd achieve by going to a salon.
Read our full review of the Infiniti Pro by Conair Spin Air Rotating Styler
---
Babyliss Pro Titanium Nano Hot Air Brush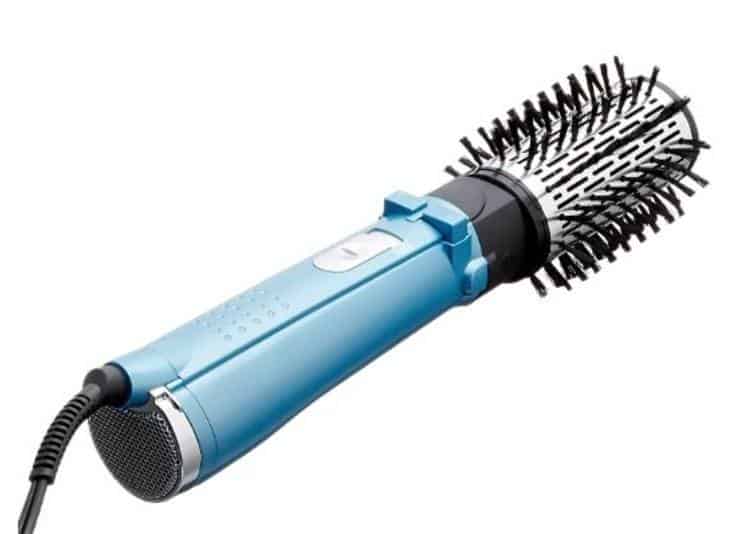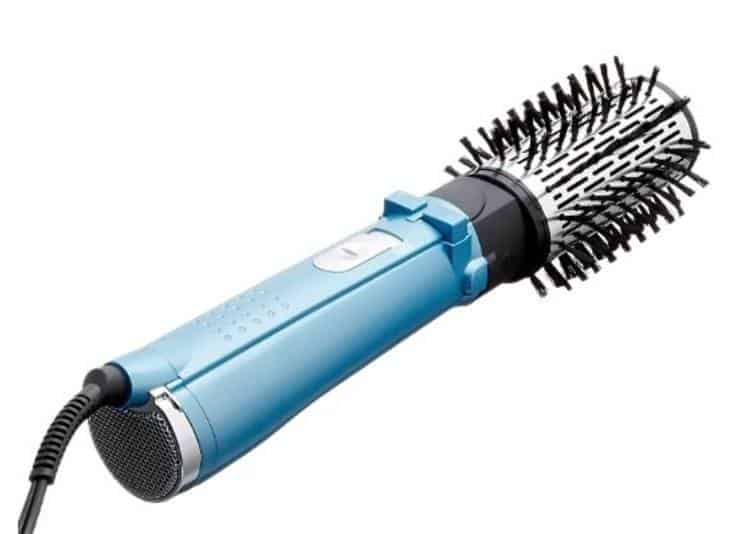 This hot air brush creates a blowout look like one you'd have to go to a salon to achieve. With this hot air brush, you'll spend less time and money while achieving the same results. You won't have to balance the blow dryer along with a round brush for hours to achieve a salon style.
Features
Rotating brush
Ion Technology
Anti-static bristles
Three temperature settings
Titanium barrel
How to Style
With this hot air brush, you use it like a hair dryer with an attached brush. The rotating brush acts as a styler to give you shine as well as under curls and flips depending on the direction of the brush rotation. Dry the hair slightly before dividing into sections and completing the drying process.
Read our full review of the Babyliss Pro Titanium Nano Hot Air Brush
---
Revlon Oval One-Step Volumizing Hair Dryer Brush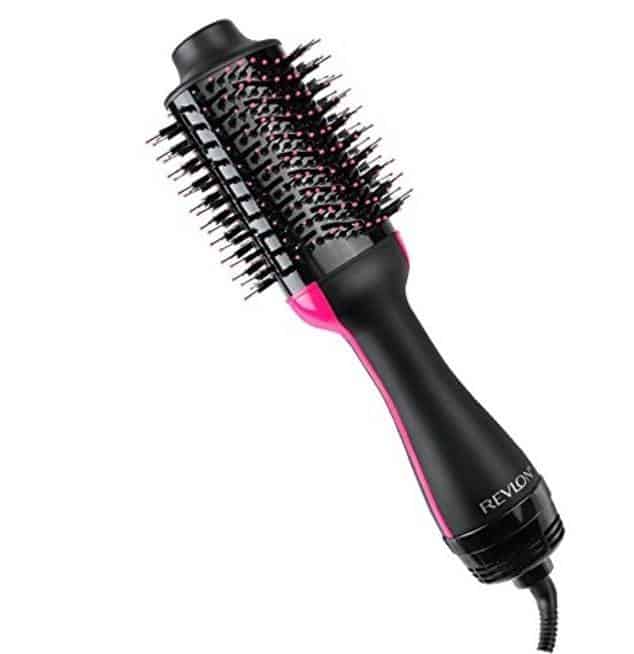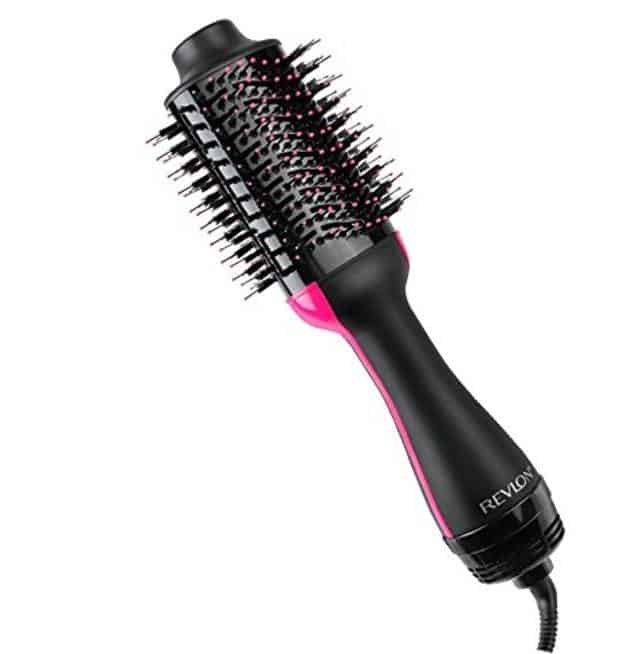 The Revlon Oval Hair dryer brush is meant to work as a complete drying system. The oval shape allows you to add volume to the crown of your head close to the scalp. It works on short or long hair equally well.
Features
Oval brush
Multiple heat settings
Lightweight
Ceramic brush
Ergonomic handle
How to Style
The Revlon Volumizing Hair Dryer Brush can be used as a complete drying and styling system for your hair. You can towel dry your hair and immediately use this hair dryer brush to remove the dampness from your hair. While you're drying, the ceramic barrel is smoothing your hair to reduce flyaways and static.
Read our full review of the Revlon Oval One-Step Volumizing Hair Dryer Brush
---
Each brush has a slightly different focus. One will dry your hair without using a blow dryer at all, another will give a salon blowout in the privacy of your own home, and yet another will provide volumizing lift to all types of hair. You'll be able to choose the one that works best for your type of hair as well as the style you want.