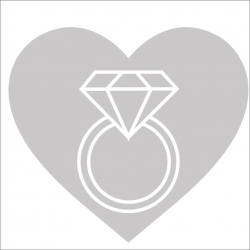 Latest posts by Love You Tomorrow Team
(see all)
After a couple gets engaged, the talk around town is "what is her ring like?" and "how much did it cost?" Everyone is always hung up on the woman's engagement ring, but no one ever asks about the man's engagement right. Why is that? Maybe it is because in most cases, a man doesn't have a ring until the wedding day. Or because they are usually simpler than women's engagement rings. Well, we think men's rings are just as important and exciting as women's!
Most people do not put a lot of thought into the man's wedding ring. Often, the way it goes down is as follows: the couple heads to the ring shop and selects the wedding band that goes with her engagement ring. While they are there, they take a look at wedding bands for men, and he just chooses one.
Often, it is much cheaper than her ring set because "it is just a wedding band" or "there is nothing special" when it comes to men's rings. This cannot be any further from the truth.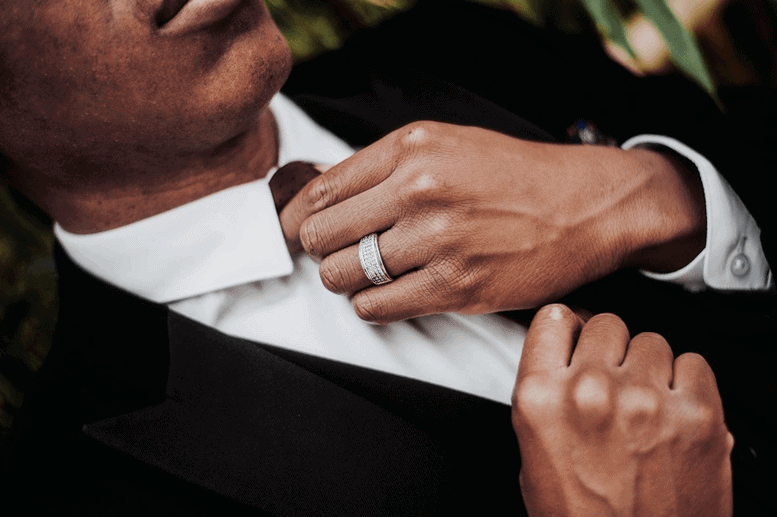 Where to start…
There are so many things to consider when buying your man's wedding band. I mean, from the price to the style, to the setting, to how resistant it is, every man needs (and likely wants!) something different!
First off, what is your budget?
How much are you looking to spend on this ring? $100? $500? Over $1,000? There are so many options in all of these categories, but you need to know what you want.
Your budget will determine your options, so keep in mind that if you want to spend $500, you likely will not be getting diamonds on the band. However, in this case, it is much more important to choose based off of your budget, and not just wants.
If you can't afford something you want right now, remember you can always upgrade later on for an anniversary when you have saved a little more.
Engagements often come out of the blue and do not allow you much time to save up for a grandiose wedding band. Choose something within your budget, so you do not have to spend months paying that ring off. This is not something worth going into debt over! Anyway, moving on…
What comes next?
Well, take a good look at Pinterest. Get some inspiration. Even if you can't spend much, this is still a memorable and essential part of your life. It is still something you want to put some thought into.
Do a quick search and check the different styles. There are many things to consider so look at them all and see which appeal to you. Platinum, Titanium, Gold, Silver? Diamonds, crystals, stones, or something else? There are many different kinds.
First, think of the base. What kind of metal do you want? The different types will determine the price, durability, weight, and style. It really is totally up to you.
Let's go down the list of options
High-End Options…
Platinum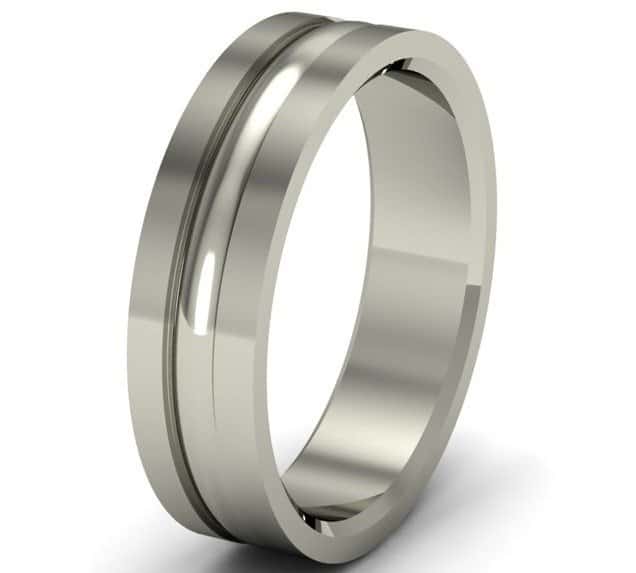 This is the most expensive ring! It will last you forever, and you will not have to worry about it at all. This is the ring that is perfect for someone who does not have his hands in the dirt much.
The reason being, it is very elegant. This one is the most expensive of them all. The price for a decently sized, nice platinum wedding band is somewhere over the $500-$700 price point.
You may be able to find it a little cheaper, and you can certainly find it much more expensive, but this is a fair price. If you go into it knowing you want to spend around $500, know that you can get something that is great! This is a band for someone who wants a ring for a lifetime. No need to upgrade, no need to redo for wear and tear.
The only thing you may need to do is polish it now and then because this one does scratch relatively easily. However, if you are okay with that, this one is good to go!
It isn't the heaviest in weight, but it is not so light where it feels cheap. It is the perfect kind for someone who wants something showy, but not entirely in your face.
Gold
Next best after platinum is solid gold. Out of all of these options, although high up in quality, it is one of the least selected due to the color.
The majority of men lean towards a silver colored ring. If you like a good classic style ring, a gold ring is what you want. It is the traditional wedding band, and therefore if you are a conventional kind of couple, you are going to like this.
It is slightly more inexpensive than Platinum, but it will still can be pricey. This is the second best, so it will be an excellent quality for a higher price tag, but it is certainly worth it! It is a little more scratch proof than Platinum, so if you are looking for something you will not have to polish often, this is the ring of exceptional quality.
In weight, it is a little less than Platinum, so it will feel lighter, therefore, less durable. However, do not be misled, this ring is durable and will serve you well for all the days of your marriage!
Middle Price Point
Silver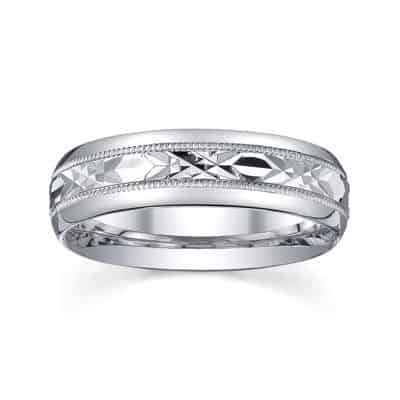 Less expensive, yet still excellent quality. This one is what most men go for. Even women's rings are often made of silver. It is good quality at a fair price. Silver is durable and moldable. By that, we mean that you can get so many different designs. Silver rings of silver. It is good quality at a fair price. Silver is durable and moldable. By that, we mean that you can get so many different designs. Silver rings are often engraved with lines, folds and neat designs. These are the rings you often see that are shiny silver on the edges and a duller silver band in the center.
nice with a silver ring, is a monogram on the inside. They can take your ring and engrave you and your spouse's initials along with your wedding date on the inside. An excellent option with any ring, but looks especially It is such a unique touch to any ring. If you decide to engrave the inside, be sure to do it to both of your . If you decide to engrave the inside, be sure to do it to both of your rings. It is like a special secret promise between the two of you. Anything for an extra special touch on your wedding day! secret promise between the two of you. Anything for an extra special touch on your wedding day!
This one is definitely not scratch proof at all. You are going to need to be polishing it often. This is definitely not the ring to wear if you work in construction or something more hands on. Keep that in mind, as it will add to the price tag.
If you really like a silver ring, consider a location that sells them with insurance or at least a cleaning upgrade every couple of months. Zales, for example, will have you come in twice a year to inspect the ring and also clean it up. If they find something wrong with it, they will fix it free of charge. If you skip the inspections, you forfeit the insurance, so be sure to use it!
The weight of a silver ring is average, so although you will not be getting the highest quality, you certainly will not be getting the lowest. This one is a perfect medium, so you can rest assured that it will be decent quality and a good buy that will last for years.
An average price of a silver ring, the thinnest kind is around $300. Of course, this can vary. It can be less, it can be more, but that all depends on your choice. If you want something a little bigger, thicker or with a design, it will run you a bit more, but this is definitely a good, classic choice.
Cobalt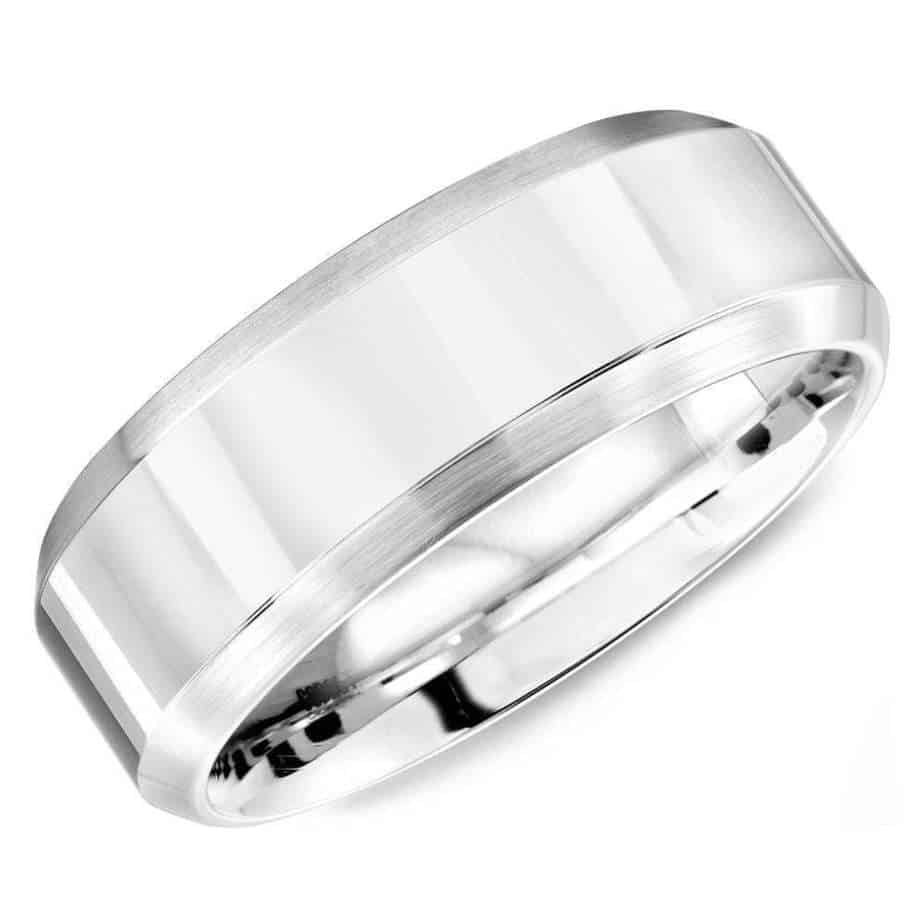 This is a lesser known type of ring, but a decent one. This one may not last forever, but it will get the job done. The cost is lower than the average ring, so it is good for someone who needs a ring as soon as possible but does not have the funds for a high end one at the moment. This will definitely hold you over while you look for a newer ring in the future.
The price for a cobalt ring is somewhere around $200-$300 for something thin, with no design. This type of ring is moldable though, so the jeweler can make something more interesting if that is what you are looking for. If you do not have a lot to spend, but you want a fancy looking ring, this might be the one you want.
It is relatively scratch resistant, so go ahead and get this one if you are looking for something that will look new for a long time. The weight is also average, so it will hold up for a bit.
Inexpensive Options
Tungsten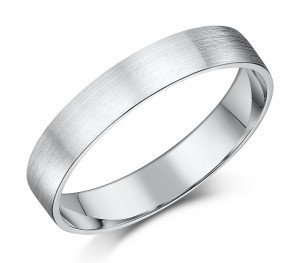 This one is the mother of all rings. It is certainly not the nicest, but it is the most durable. At least in the sense that it will look like new for a long time. The weight is one of the best, so your ring will feel super durable. It is the most scratch resistant there is out there. You can wear it for years, to work, wear it in the shower, to do work outside, while you work out, and it will never really get scratched.
The only thing about this ring is that it gets dull relatively quickly. You can wear it for everything, and it will never scratch, but it will get a little dark and dull. However, if you do not mind and are only looking for a long-lasting ring, this one works well!
Titanium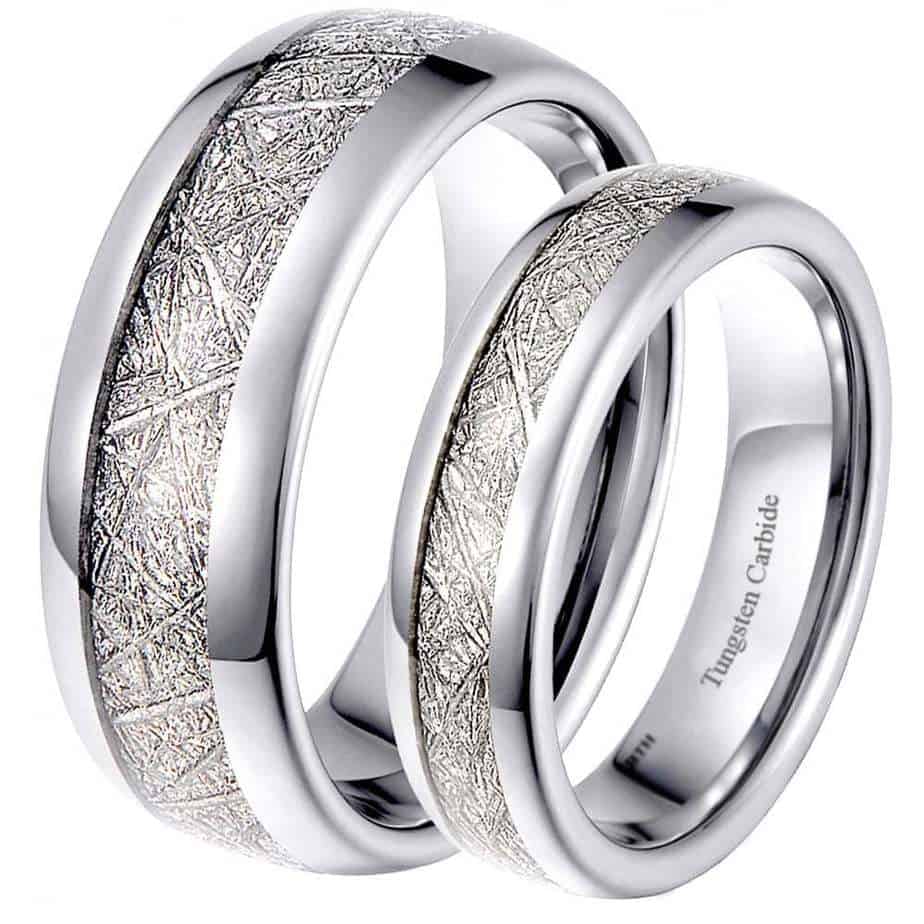 Titanium is a tad more expensive than Tungsten, but it makes a difference. It is a type of metal that keeps a little longer than most inexpensive ones.
This type of ring will last a while. The weight is nothing too outstanding, so it is very light. It is good if you want something on the go. It is very scratch resistant, so it is also a great ring for a wear and tear type job. This is a great ring to have when you have kids, are working a job, and running tons of errands. This ring can run you about $250 or so for a decent quality type so it is very affordable for what you will get!
Stainless Steel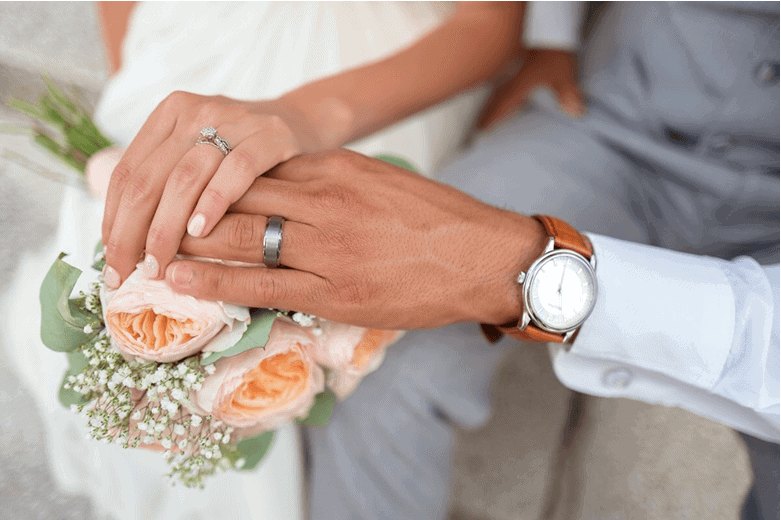 This is the cheapest of them all. It is quite heavy, but not very scratch resistant. This one will definitely need to be replaced in time. Do not even think about showering with this one and we recommend also removing it to wash your hands. A little water will start to dull this ring and turn it black.
This ring can run you less than $100 if you shop at the right place. It is a great "last minute" type ring. If you do not have the funds for a more expensive one at the moment, this is a great starter ring.
What else are you looking for?
These rings are all basics, with nothing on them. The prices listed are for plain rings. However, you can switch these up in so many ways to personalize them. You should decide what you want. As mentioned above, you can get these engraved with your initials and wedding date. You can have a design made onto them. You can have your ring be totally shiny, or a little dull. You can even ask for a combination of them both., or a little dull. You can even ask for a combination of them both.
You will also need to know what width you want your ring. You can get a thin band, or something a little thicker. Beware of too thin of a band as it could wear through in one of the cheaper options, and then you would have to get it fused again.
Lastly, you will need to know your ring size (if you plan to order online, at least!). If you go into a store, they will check your ring size there. If you are a (soon-to-be) spouse trying to buy a surprise ring for your spouse, sneak one of their old rings to take to the jeweler. They will measure it there and let you know what size it is.
In summary…
Remember the main points:
What type of metal do you like/fits your lifestyle best?
What is the width you are looking for your ring to be?
Are you looking for any engraving, design or diamonds?
What is your ring size?
What is your ring budget?
Rings are such a personal choice. You can totally admire someone's ring for years, and when the time comes for you to get married, you will choose something else.
This is not something to take lightly or rush in to. You are going to have this ring for the rest of your life. Therefore, be sure to do some online research, look at pictures, see what kind of designs are available to you, and decide what kind of width you like.
When you know what kind you want, you will be golden. Your ring should be something you love, and no one should persuade you to buy a different kind.
Go into different jewelers and ask for prices and try them all on. Let that help you decide. All we recommend is that you choose something of decent quality (and preferably a bit scratch resistant). That way, you have a ring to last you for a great while.
Good luck ring shopping!
Recommended Reads: