Best Prime Day Jewelry Deals for 2020: Deals on Rings, Necklaces, and Watches
Amazon Prime Day is back for 2020 and promises to be better than ever for Jewelry!
Last year we found some amazing discounts on name-brand jewelry. Each year Amazon improves on the previous year, so we are super stoked to see what they have in store this year. One of the issues we had here at LYT was keeping track of it all.
With this in mind, we created this page to track all of the top deals on Jewelry for Prime Day this year. Keep this page bookmarked as it will be updated in real-time.
My Favorite Prime Day Jewelry Deal Right Now
I'll update this section with the top overall deal.
Amazon Collection Deals: Right now you can save BIG of select jewelry from Amazon here. The selection right now is earrings and necklaces.
Best Prime Day Deals on Rings

If you are specifically looking for anniversary, engagement, or "just because" rings, these are the top deals that we are tracking (vetted for quality):
Best Prime Day Necklace Deals
Similarly, if you are looking for a stunning deal on necklaces this Prime Day, check out these that we are tracking:
Best Prime Day Watch Deals
One of the often overlooked – but interesting – categories on Amazon is of the wrist variety. There are sure to be some killer deals on watches which we will also update here:
Anne Klein Women's AK/046CHCV Swarovski Crystal-Accented Watch: As you can see, there are lots of Anne Klein watches discounted, and I have to say, I love them all. The details, the lovely colors available, and the quality definitely speaks highly of this brand. So I highly recommend it.

Anne Klein Women's Diamond-Accented Bracelet Watch: Another beautiful watch from Anne Klein is this metal watch that comes in 4 different colors and it's 30%OFF right now.

Nine West Women's Bracelet Watch: This watch screams of elegance and it's definitely a model you can wear every single day. It's available in three different colors which are really neutral, and it's 30% OFF.

Anne Klein Women's AK-2787SVTT: Now this is what I call an excellent deal (to save 30 bucks and more) and the perfect time to buy a new watch. I love the way this watch looks with the bright colors and the shiny silver metal on the frame. The only con to this watch is that it's not waterproof, but yet again, I don't plan to swim with it. Get this deal here!

Anne Klein Women's Resin Bracelet Dress Watch: This watch is also on an excellent discount where you save around $30, and the best part is that you can select your favorite from many different colors. Hurry up before the deal ends and get yours here!

Timex Women's Easy Reader Leather Strap 30mm Watch: Not that you will save a fortune on it, but this watch is great looking and plus it's made from leather, which means it will not break or smell funny once you have it soaked in. Get this deal here.

Anne Klein Women's Swarovski Crystal Accented Mesh Bracelet Watch: This is another beautiful model (available in lots of colors) that is being discounted from $70.98 to $35.99 so you should definitely not miss it if you are looking for a classy watch that can go with everything you wear. Get it here!

Anne Klein Women's Genuine Diamond Dial Bracelet Watch: I just love it. It emphasizes every women's unique beauty and I like how it makes all the outfits elegant even if its day time. I think every woman would benefit from a piece like that, so hurry up before this deal ends.

Nine West Women's Crystal-Accented Gold-Tone Bracelet Watch: I always enjoy a bracelet watch that I can easily combine, so highly recommend this one which is almost half the price it usually is.

Skagen Women's Stainless Steel Dress Quartz Watch: There are so many amazing models you can choose from which are not only of a silicone band. There are leather and metal straps and lots of colorful options, all at 33% OFF, so hurry up and get your while there are still available.

Timex Women's Stretch Bangle Crisscross Watch: If you love a combination of two metals on your watch, this is an excellent choice for you then that it's currently 30% OFF. Follow this link and get yours now.

Nine West Women's Mesh Bracelet Watch: Sparkles are always in fashion so if you like gentle color and discret sparkles, this is a beautiful watch you should indeed consider. Find it here while it's 16%OFF.
Best Prime Day Earrings Deals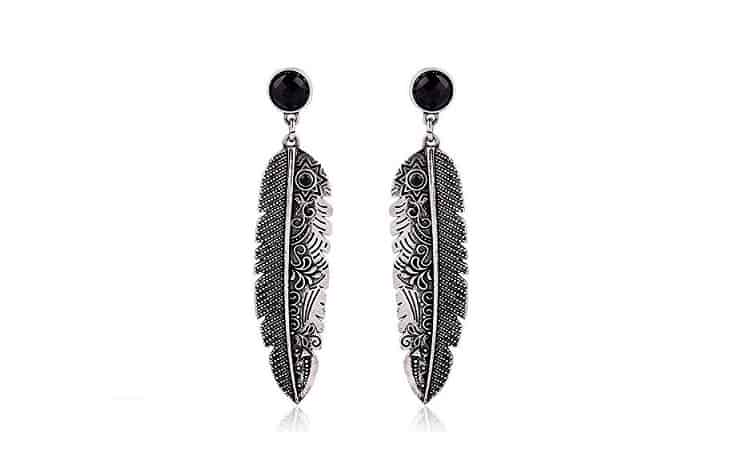 If we see any good deals on stunning studs, we will update this section here:
Lucky Brand Double Drop Earrings in Gold: Vintage earrings are always fashionable and in-trend, so if you have been looking for a pair that will not be eccentric, this is a perfect one that you can get right now while it's 40% OFF. You can also find them in silver here!

Sterling Silver Cushion Cut Stud Earrings by Amazon: I am not lying when I say that I am obsessed with these earrings, so it's a good thing that you can find them in your favorite color as well, while they are 14% OFF.

1928 Jewelry Brass Antique Inspired Oval Drop Earrings: Vintage is back baby, and you can now find some excellent jewelry like these drop earrings coming from this brand exactly at a discounted price of 16% OFF.

Calvin Klein League Women's Stainless Steel Logo Earrings: These polished stud earrings are 34% OFF and it's a deal you can't miss especially if you love Calvin Klein's jewelry.

Sterling Silver Cushion-Cut Stud Earrings: Stud earrings are always a great choice with any outfit you choose, so these beautiful studs that come in 12 different colors definitely deserve a place in your jewelry box.

Silvora Sterling Silver Hoop Earrings: Hoop earrings are never going out of fashion so if you are looking for a pair that doesn't cost thousands of dollars, and that you will be able to wear it a few times, this is a great deal!

Silpada 'Modern Fairytale' Cultured Pearl Drop Earrings: When you need something minimalistic to wear that doesn't shine too much, but it's very eye-catching, you will need a pair like these beautiful silver earrings with black stone. They are currently discounted for $20 so you should hurry up before this deal is claimed completely.

PEARLOVE Pearl Earrings for Women: Pearls look elegant on every woman, so investing in such a pair is definitely a must. These earrings are truly elegant and come with amazing zirconia details, so make sure you check them out. The deal starts at 6:04 pm.

Small 14k Gold Hoop Earrings for Women: Hoop earrings are always fashionable no matter if you go for a traditional hoop, with petals or you choose intersected layers. This model is beautiful and dainty and you will be able to easily combine it, and also, it comes in rose gold, silver, and gold. The deal starts at 7:54 pm.

NATALIA DRAKE 14K Gold Hoop Earrings: If I could choose one model to wear only, this would be it. These Hoop earrings with dainty cubes are gorgeous and allow you to style them with anything you want, pajamas included. You can find them live at 3:29 pm, so don't miss them out!

Dainty Disc Initial Necklace: This Dainty Disc Initial Necklace is so easy to style it, and the sparkling initial definitely is eye-catchy, making it a perfect piece of jewelry for day and night. Get this deal here!

Calvin Klein Earrings: If you want a fashion statement pair that comes from an already trusted brand, you can't go wrong with these stainless steel earrings in two layers.

Initial Earrings: If you already have a piece of initial necklace or ring or bracelet, these earrings would perfectly fit that collection as they are available in silver, gold, and rose gold. You can find them here.

Devin Rose Sterling Silver Stud Earrings: If you like crystals these are amazing stud earrings to have in your collection, so hurry up before this deal ends.

CDE Forever Love Heart Women Earrings: These heart-shaped earrings with cubic zirconia is an interesting pair you should definitely consider if you love shiny studs. You can get these and save $12 right now.

Lucky Brand Big Hammered Hoop Earrings: Another everlasting pair of hoop earrings that are beautifully crafted with silver details, and will make an amazing choice with everything you wear! Right now they are 40% OFF which is a pretty amazing deal you should not miss.

Lucky Brand Women's Metal Paddle Earrings: Do you love a mix of different metals when it comes to new jewelry? These are some awesome earrings that fall nicely to the middle of the neck, so if you are looking for such a pair right now, you should totally get this!

Sterling Silver Crystal Stud Earrings: For all those who love crystals, this is an amazing collection of four different models which beautiful crystals like blue, white, black, and yellow. You can find them here!

Womens Mother-of-Pearl Drop Earrings: These earrings are black and white and have a vintage style that is visible on the metal. I like the stone that is combined with the pattern, so if you like this style as well, don't miss this pair.

Amazon Collection 14k White Gold Diamond Earrings: Diamond earrings will always be in style, and this pair is definitely every woman's dream come true thanks to the simplicity and extravagant shine they possess. You can find them now at 30% OFF, so make sure you don't miss a deal like that.
Best Prime Day Bracelet Deals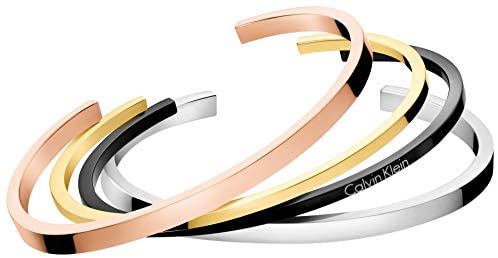 Jewelry Boxes and Stands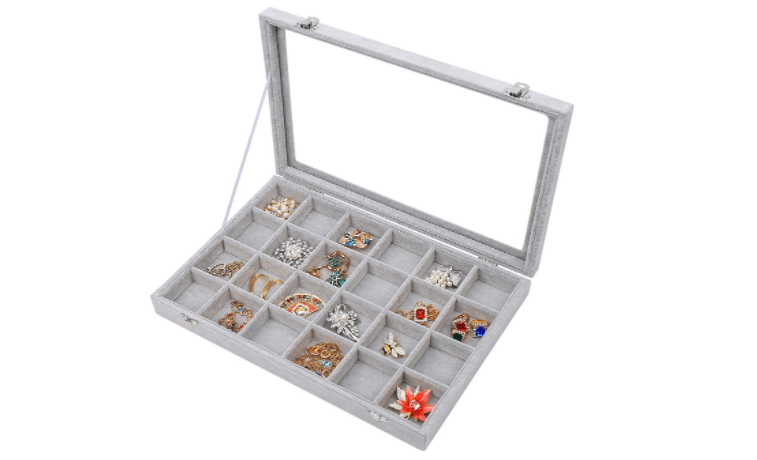 STYLIFING Clear Lid Velvet 24 Grid Jewelry Tray: It's clear that every woman needs a jewelry box because jewelry can get rusty, or get damaged over the years. This box is perfect and can store up to 24 different jewelry pieces.

Meshela Jewelry Organizer: This is another jewelry box that comes in a circle with a few layers. You can store as much jewelry as you want there, and you can apply a coupon and save 15%OFF.

Wall Mounted White Wood Jewelry Organizer: Amazing and very practical. The jewelry stand is excellent no matter what color your room is painted in, and it has a great background that allows you to place all the earrings and extra hooks for the bracelets and necklaces. Currently, it's 15% OFF and it's a must-have for real!

BEKVÄMT Travel Jewelry Organizer Case: This is another great choice for all the jewelry you have, and it comes in a bag with a zipper, so you can secure it better. Get this deal right here at 20% OFF.

MyGift 26-Hook White Wall-Mounted Metal Jewelry Organizer with Display Shelf: This is another great display shelf that can also hold perfumes as well. It comes in white, black, brown, grey, rose gold, brass, and silver, and is currently 33% OFF.

Stylifing 12 Grid Ice Velvet Clear Lid Jewelry Box: Maybe you don't have a lot of jewelry, but this doesn't mean you should not invest in a protection box. This one can keep up to 12 different pieces, and it's currently 17% OFF. You can find it right here!

Travel Jewelry Organizer Case: This travel organizer case is a great piece you can even put in your purse, but you will still have protection for your jewelry which might be fragile. Now, this organizer is 20% OFF so hurry up before the supplies go dry.
Jewelry Sets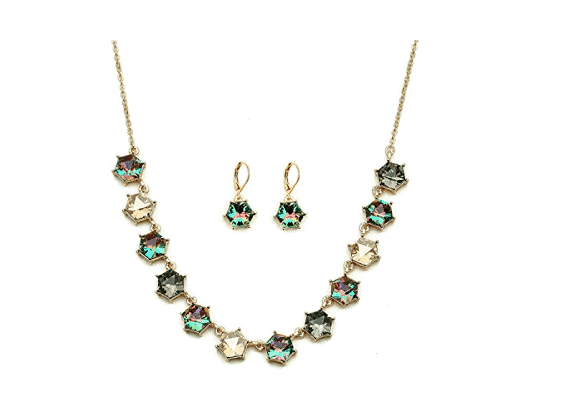 What to Watch for on Prime Day
With all the deals happening in such a short time, it can be easy to get caught up in the hype. So here are a few tips:
Stick to Name Brands
You might see some crazy low discounts on jewelry, but there are some questionable brands / off brands that might not live up to the pictures. Because deals happen so quickly, I recommend sticking to brands you recognize.
Don't Wait
Because this is such a limited-time event, it's important to jump on good deals when you see them (assuming they are quality products). Certain items WILL run out of stock and not be readily available.
Lightning vs Deal of the Deal
This is a very important distinction! Lightning deals are "while supplies last AND while the clock is live". Once the deal expires (due to time or being booked up), it won't necessarily be back. There are some options to be "added to the wait-list", in which case you MAY get notified if additional items are in stock, but this was only the case in about 20% of the deals we tracked.
Fake Deals
Some products are always available for 10-20% off. On Prime Day, don't get confused by products like this, unless they are more steeply discounted. This is partly why we created this page; to track REAL deals and not just normal promotions.
Watch the Amazon Rivals
While Amazon created the event of this sale out of thin air, other online retailers have taken notice. Here at LYT, we will be watching rivals like Walmart, Target, and Jet.com, as well as specialty jewelry retailers. All the best deals – that are actually deals – will be listed above.
Recommended Reads: