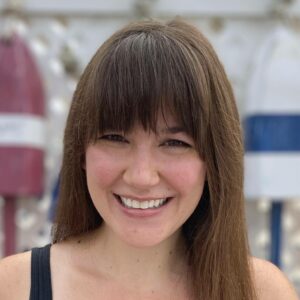 Latest posts by Lauren Vigdor
(see all)
The combination of a fascinator headband and veil, especially a short birdcage or bandeau veil, is one of my all-time favorite bridal looks. As an artist and jewelry designer, I'm obsessed with any type of embellishment, and I just love how a fascinator can be made as bold or understated as you want. Below I'll walk you through some of my picks for this fun and versatile style.
Bottom Line Up Front
There are so many great options for fascinator headband and veil combinations, but if you're a bride shopping for your big day, Etsy is the first place I'd start looking. There are a ton of gorgeous handmade fascinators with versatile, customizable veils available. For instance, I love this MyArtDeco one.
What is a fascinator?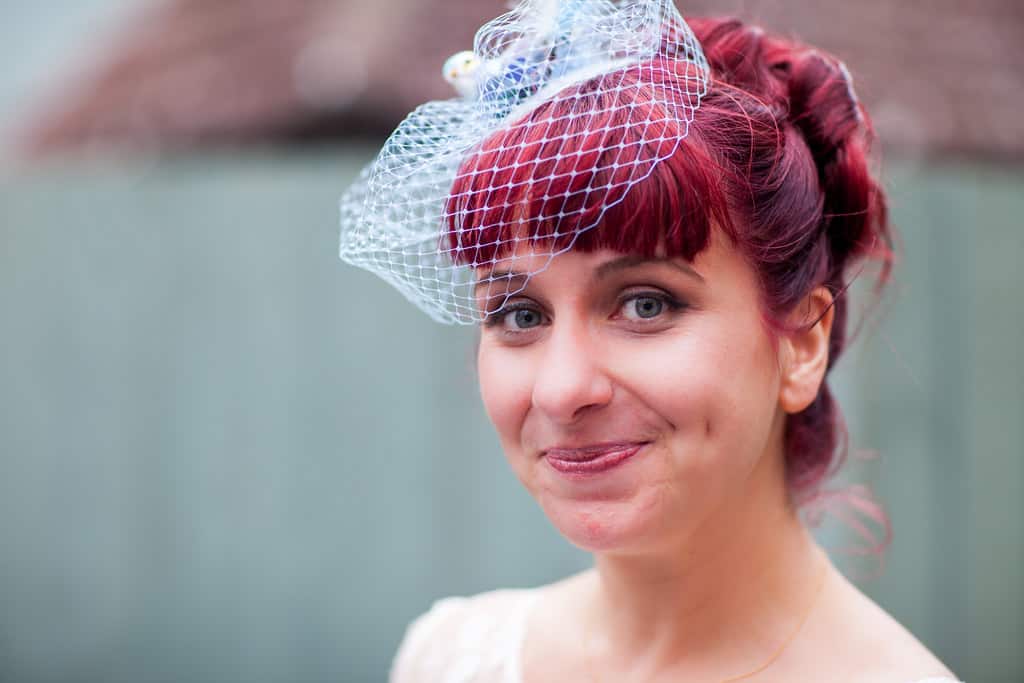 A fascinator is an embellished headpiece attached to a clip or band. They are often worn for special events, and sometimes worn as an alternative to a hat. Fascinators are traditionally worn on the right-hand side of the head, just above the eyebrow or behind the ear, but they can occasionally be worn on the left or the front of the head.
Not everything is a fascinator. Usually, fascinators are made using feathers, flowers, embellishments, tulle, felt, or netting. They are often (but not always) asymmetrical. According to the dress code at the Royal Ascot, anything with a solid base of fewer than four inches (10cm) in diameter is considered a fascinator as opposed to a hat (and is therefore prohibited in the Royal Enclosure.)
Who can wear a fascinator?
Anyone can wear a fascinator! They are often associated with the British aristocracy, who traditionally wear them to races (similarly to how Americans wear extravagant hats to the Kentucky Derby) and formal events. Just take a look at the guests at a royal wedding- you're bound to see some wild fascinators! Fascinators in all shapes and sizes have become more mainstream, however, and are often worn by brides in place of a more traditional veil.
Some brides choose to wear a fascinator and veil for the engagement photos, the rehearsal dinner, or the reception only, opting for something longer and more traditional for the wedding ceremony. Many, however, decide to wear a fascinator and veil as part of their bridal look for the ceremony. Fascinators are especially popular for vintage-style weddings, non-traditional weddings, courthouse weddings, mature brides, and anyone looking for a fun statement veil that's easy to wear.
Which dresses can you wear a fascinator headband and veil with?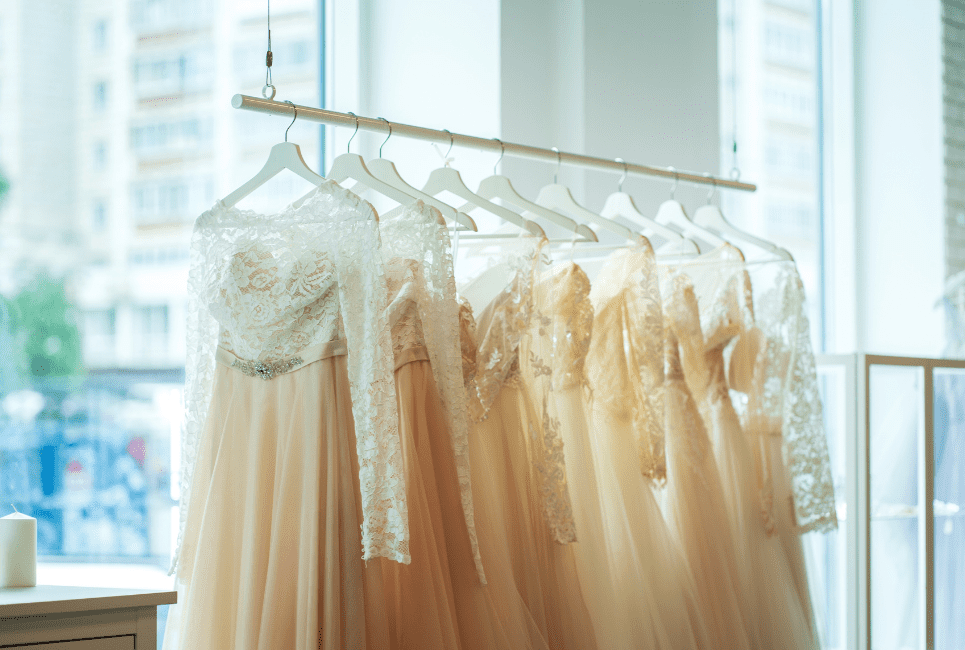 A fascinator headband and veil can be worn with any style of dress since they are generally shorter and don't interfere with the dress itself, but there are some styles that they look particularly stunning with.
Vintage

dresses, especially

short

or

tea-length

dresses look particularly perfect with fascinators.

Bohemian

style dresses look great with flowery, bejeweled, or feathered fascinators

A fascinator and short veil is a great choice for any dress that has a lot of

detail work, lace, or beading

that needs to be shown off. You don't want a long veil to cover up any intricate lace or the dramatic open back of your gorgeous wedding gown!

It can be difficult to find the right length veil that suits a dress with a

long, dramatic train

without interfering with it. A fascinator with a birdcage or bandeau is the perfect solution!

If you opt for a

form-fitting

or a

mermaid

dress, you may not want to cover that up with a long traditional veil.

The fact that fascinators are less conventional makes them the perfect pairing for other unconventional bridal looks such as

tailored dresses

or even

suits!
Does a fascinator with a veil need to match the wedding dress?
Because most fascinator and veil combinations don't actually touch the wedding dress, it's a lot easier to play around with color when it comes to your veil. You won't have to worry about it seamlessly blending with your dress the way you might with some longer and more traditional styled veils. That being said, it's completely up to you whether or not you want to match your veil to your dress! As a general rule of thumb, unless you're dead set on wearing a sentimental veil (like the one Grandma wore at her wedding,) it's a good idea to get your wedding dress first. Once you have that locked in you can decide what veil will best complement it. You may choose to incorporate elements from your dress, such as beading or lace, into your fascinator. Some brides also choose to incorporate their wedding colors in their fascinators, either in the form of small details like crystals or by going with a colorful fascinator or tinted veil.
History of Fascinators and Veils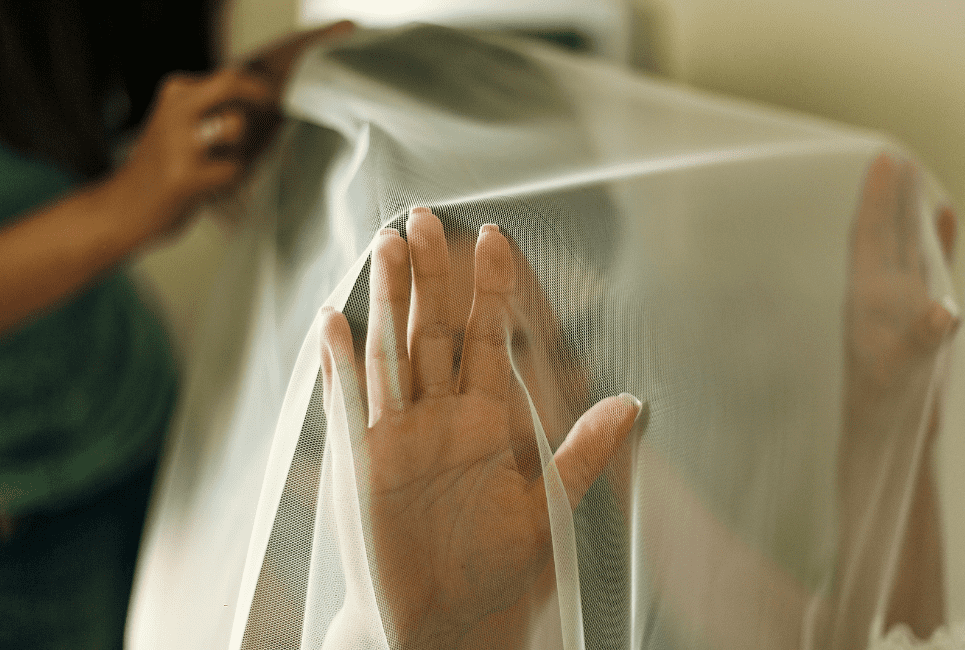 While people have been adorning their hair since ancient times, the concept of fascinators can be traced back to at least the 17th or 18th century when women wore silk scarves around their heads to add an air of mystery and intrigue to their look. In the later 18th century Marie Antoinette started wearing flowers, feathers, and jewels in her hair, influencing fashion trends everywhere. Modern-day fascinators as we know them, however, have only really been on the scene since the 1980s.
One of the early reasons for bridal veils was that it was thought to be bad luck for the groom to see the bride before the wedding ceremony. To an extent, people still believe this, or at least uphold it as tradition, with many couples choosing to spend the night before the wedding apart. Many contemporary couples are less strict about superstition, however, opting to have the bride walk down the aisle with her face uncovered or only partially covered, and participating in more modern traditions such as first looks.
How do you style your hair with a fascinator?
The great thing about fascinators is that they can work with absolutely any style and length of hair! Fascinators, especially those attached to headbands, are one of the best options for very short or sleek hairstyles. There's no risk of them falling out, and they won't overwhelm short styles the way some longer veils and headpieces can. Fascinators also look great with an updo and a short birdcage or bandeau veil will ensure that your gorgeous hairstyle isn't hidden by your veil!
The types of veils generally worn with a fascinator
Birdcage Veil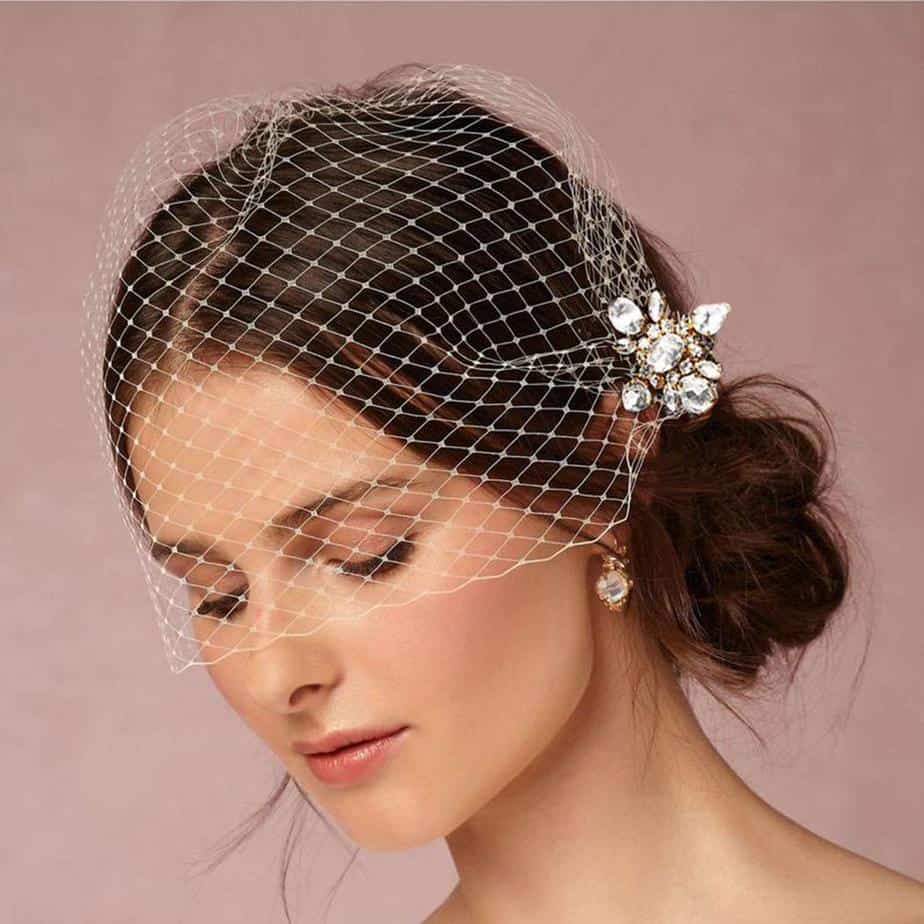 Is a short piece of netting that covers part of the face. It can be worn covering one or both eyes, just the brow line, or the entire face. Birdcage veils are the veils most commonly associated with fascinators.
Bandeau Veil
Is often mistaken for a birdcage veil, and though they bear similarities they are not the same. Bandeaus are worn in a swath across the forehead and/or the eyes and are usually fastened behind each ear. They are most commonly made of netting or lightweight tulle.
Fingertip Veil
As the name implies, falls somewhere around the fingertips when a bride's arms are at her sides. These are less likely to be worn with a fascinator than a birdcage or bandeau, but they look lovely worn trailing in the back of the head. It is uncommon to see anything longer worn with a fascinator.
Pouf
Is a gathered piece of netting or tulle, sort of like a large fabric flower (or luffa, for those less romantically inclined) that adds height and dimension to a bridal look. Think of it as a kind of fascinator made out of a veil. I know I'm blowing your mind right now!
Blusher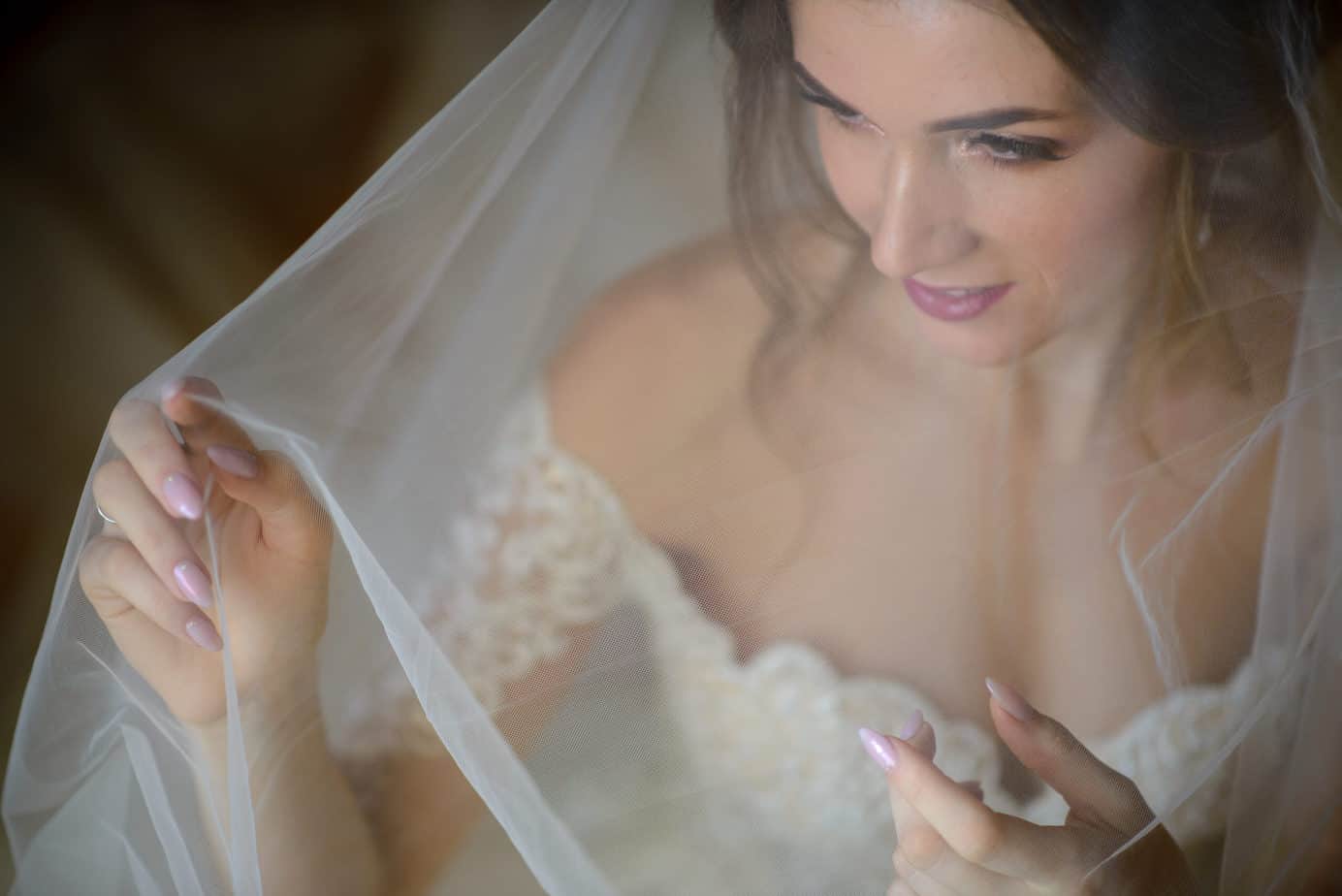 Is the part of the veil that covers the bride's face. It is generally a separate panel or layer of the rest of the veil, and is often lifted at some point during the wedding ceremony and flipped over the back of the head or removed.
Russian Netting
Is very commonly used for bridal veils. It is a very open netting with large diamonds, making it easier for the bride to see (and for everyone else to see the bride!) It's just slightly stiff, making it an ideal choice for birdcage veils and fascinator embellishments.
French Netting
Is another common choice and is softer than Russian netting. It's also a bit more closed, with smaller diamonds. It's great for birdcage veils or bandeau veils.
English Merry Widow Netting
Is another stiff, open netting with larger diamonds, similar to Russian netting.
Tulle
Is technically also netted fabric, but it's a very close, fine netting lending to its signature ethereal appearance.
My picks for fascinator headbands with veils
There are a ton of options for fascinator headbands and veils on the market. I chose the ones I found the most unique, beautiful, affordable, and/or versatile. I love the ones that can be customized in different colors or with different embellishments, and especially like options where the veil is detachable, which I think offers the bride a nice transition between the ceremony and reception.
My fascinator picks for the bride
This flower and pearl headband from MyArtDeco on Etsy ($56.21)
I love this sweet and romantic floral headband. It can be customized in a variety of colors, such as white, ivory, navy, black, red, gray, or blush, with silver or gold pearls. The veil is detachable, ideal for the transition from ceremony to reception. I think it would be perfect for a modern twist on an elegant classic or sweet charming look. Buy Here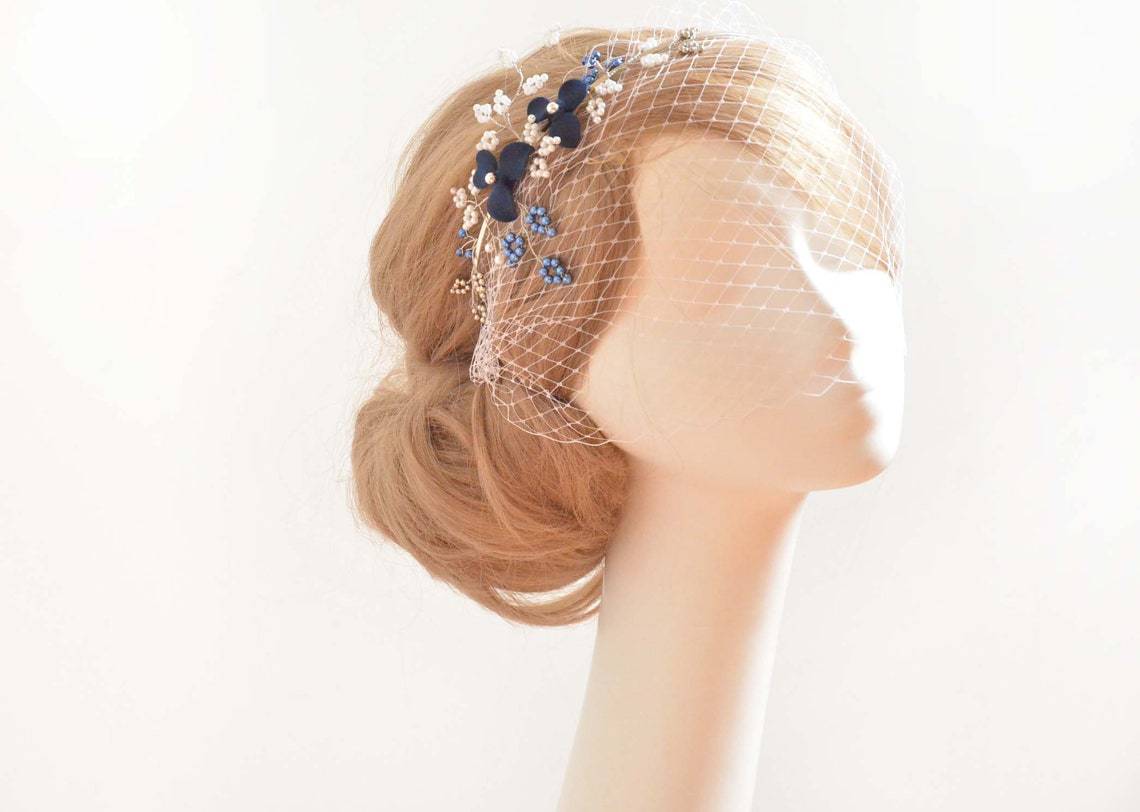 Pros
Detachable Veil
Seven veil colors
More than a dozen color options for flower/pearl combinations
Less than $100
Cons
Only one type of veil material
Might not work as well with shorter, sleeker hairstyles
This classic blusher veil from David's Bridal ($79.95)
This classic veil with floral and lace appliqués is perfect for a more traditional bride who still wants a short veil. I like that this veil is sort of the best of both worlds. It feels classic without the bulk and hassle of a longer veil. Buy Here
Pros
The soft tulle blusher veil is a beautiful, classic option for brides looking for something other than a netted birdcage veil
Less than $100
Cons
The pearl embellishments, while lovely, can sometimes look awkward in photographs
Only one color option
Veil is not detachable
This sophisticated top-knot band from Amours Jewel on Etsy ($65)
I love the old Hollywood elegance of this headband. This sophisticated design would look great with a form-fitting or vintage-style wedding dress. Buy Here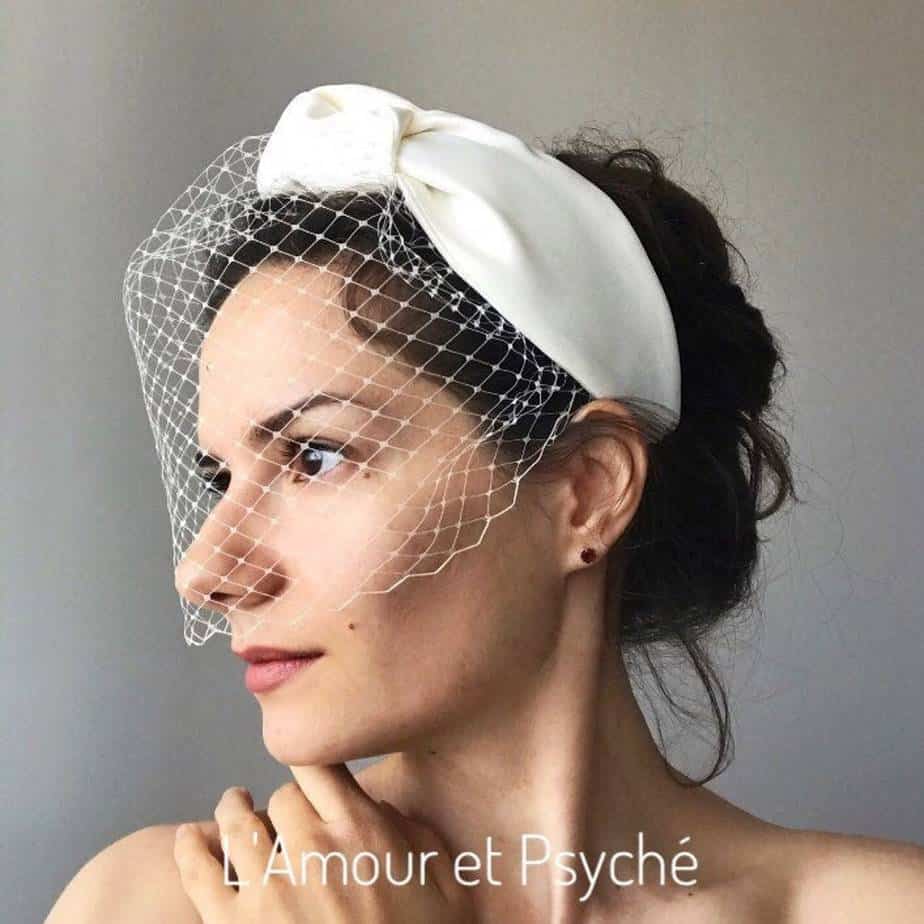 Pros
Will fit all hair types and styles
Less than $100
Cons
Not detachable (though the seller does offer the headband without a veil as well)
Only one color option
This romantic headband from MsJucie on Etsy ($52.99)
I really like that this headband is reminiscent of both a fascinator and a Juliet cap. It's a soft, romantic take on a fascinator perfect for a boho or fairy tale wedding. Buy Here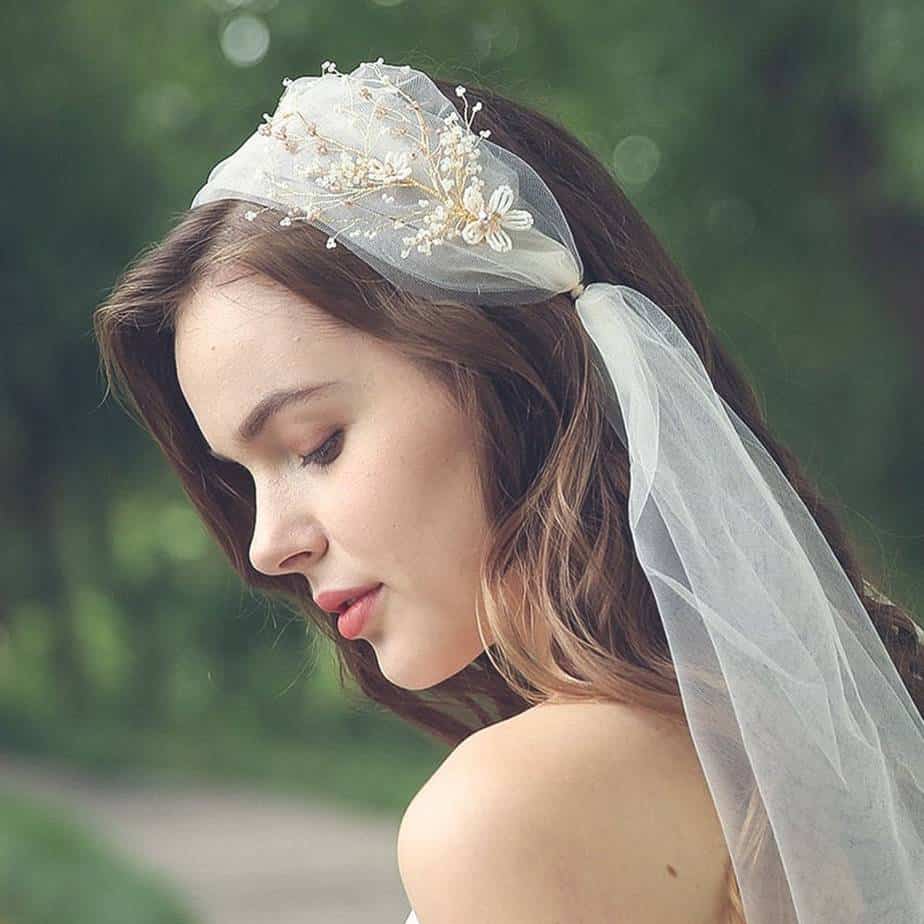 Pros
Easy to wear
Nice balance between contemporary and traditional styles
Less than $100
Cons
Won't work as well with short hair or an updo
This "something blue" from the master of the fascinator himself, Philip Treacy (enquiries only)
I absolutely adore this fascinator for adding a pop of color to a less traditional bride's wedding day. Philip Treacy is the master of fascinators and is known for outfitting royals and celebrities alike. I think it would be stunning paired with a 1950s style wedding gown. Buy Here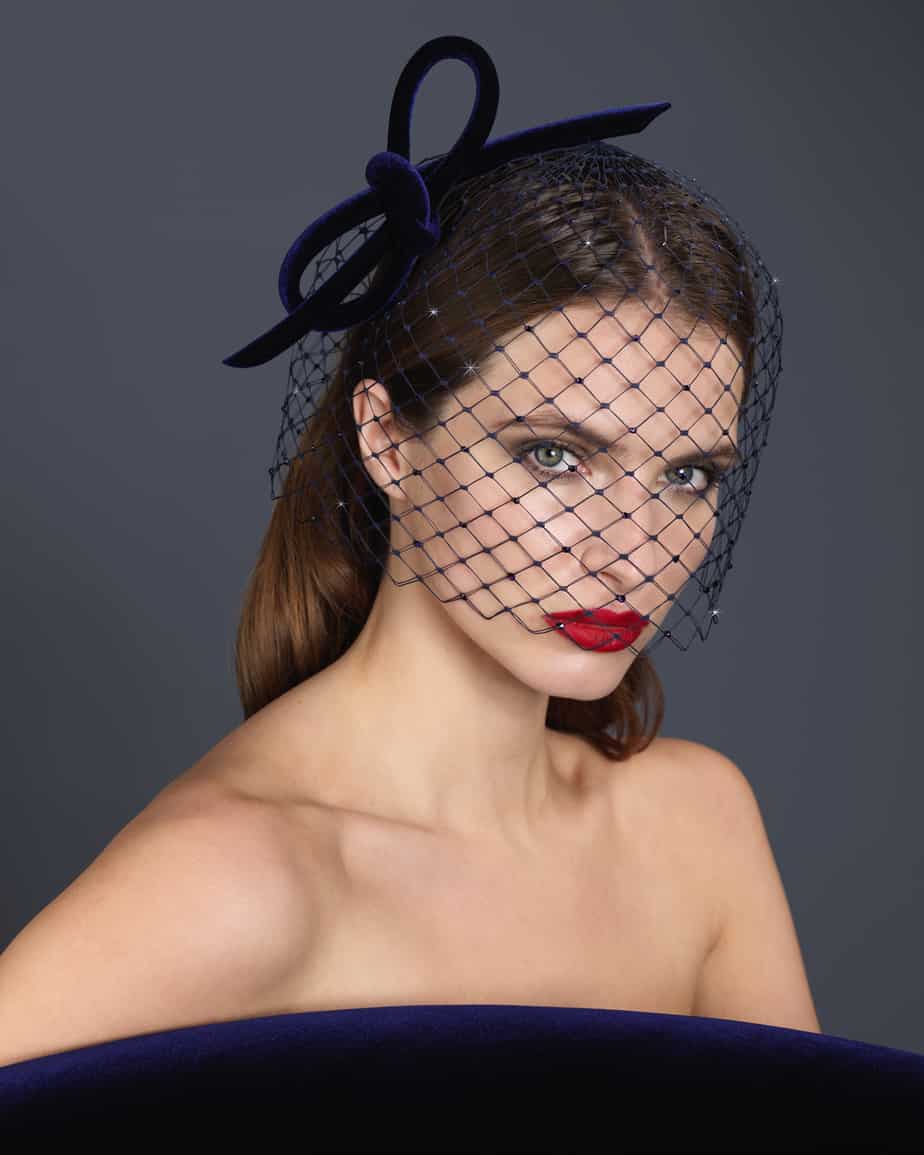 Pros
Perfect to add some flash and color to a non-traditional bridal look
Can be your "something blue"
A designer veil from the king of fascinators to add some couture to your special day
Cons
A colorful veil will certainly not be for everyone
Considerably less affordable than other options on the market – not everyone can afford a couture veil
This floral stunner from Klaxonek on Etsy($99)
I really like this romantic, soft pile of monochromatic flowers. It's elegant and dramatic without being over the top. One of my most versatile picks, it comes in white, ivory, champagne, blue, navy, black, pink, or purple, and includes options for a headband, comb, or clip attachment, making it suitable for all hair types and styles. Buy Here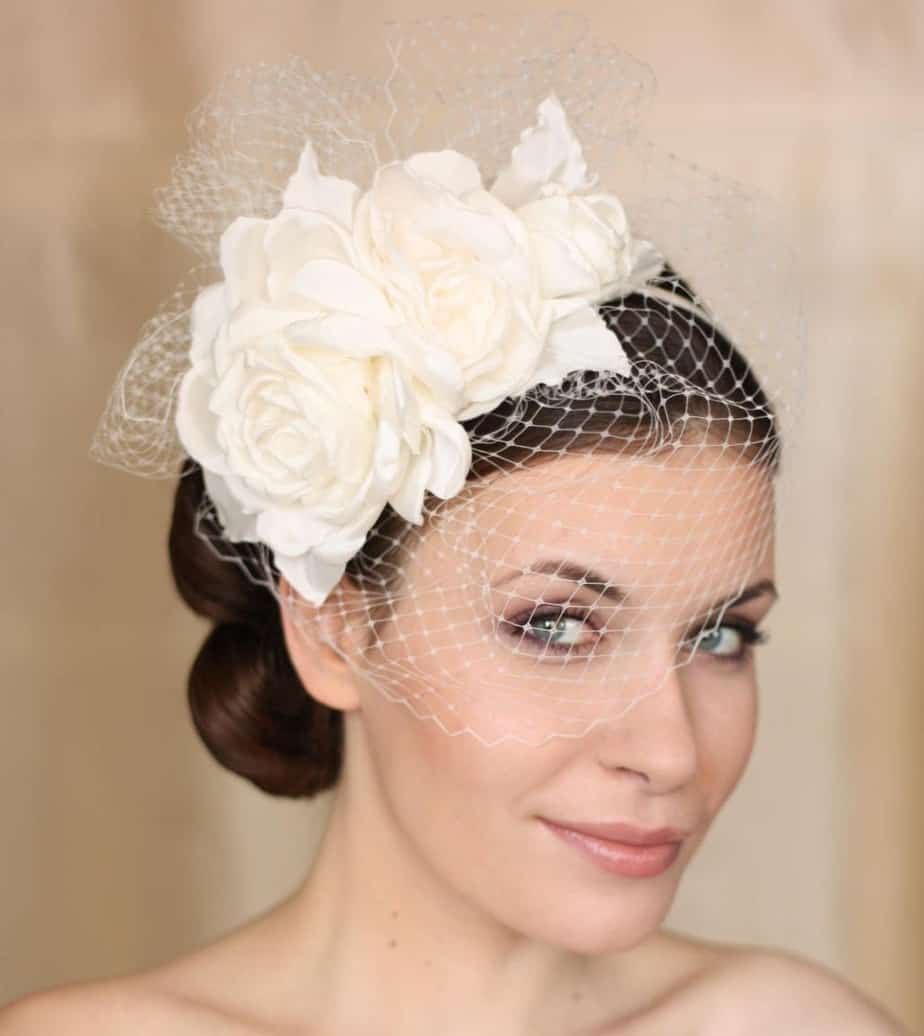 Pros
Eight color options
Options for headband, comb, or clip attachment
Under $100
Cons
Not detachable, but her Etsy shop states that she can make the pieces separately
This sleek, structured piece from Marge Iilane on Etsy ($113.61)
This is a greatly understated fascinator that would look equally perfect at a vintage-style blowout or a simple courthouse wedding. Buy Here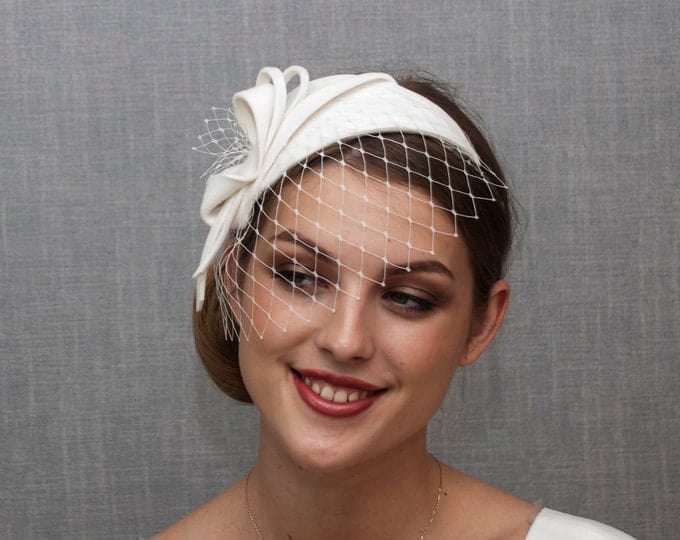 Pros
Four options for headband color
Options to wear on right or left
Cons
Fascinator only available in ivory
Over $100
This dramatic birdcage fascinator from Elegancey Fascinators on Etsy ($43.29+)
Ok technically this one isn't a fascinator "headband" (it comes standard with alligator clips, though the shop does offer several other headband options) but I love this fascinator for its height and classic disc shape! Available in white, ivory, black, brown, purple, deep blue, or peach, the seller also offers options for diamonte or pearl detailing, either around the edge or scattered throughout the veil. Buy Here
Pros
Tons of options for customization
Less than $100
Cons
May not be suitable for all hair lengths/styles
Not detachable
This sleek design from Rubina Millinery (approx. $137 USD)
Sleek and sophisticated, this headband is perfect for a contemporary bride looking for something tailored and not too frilly. The veil is detachable and the headband can be made to be worn on either the right or the left side of the head. Buy Here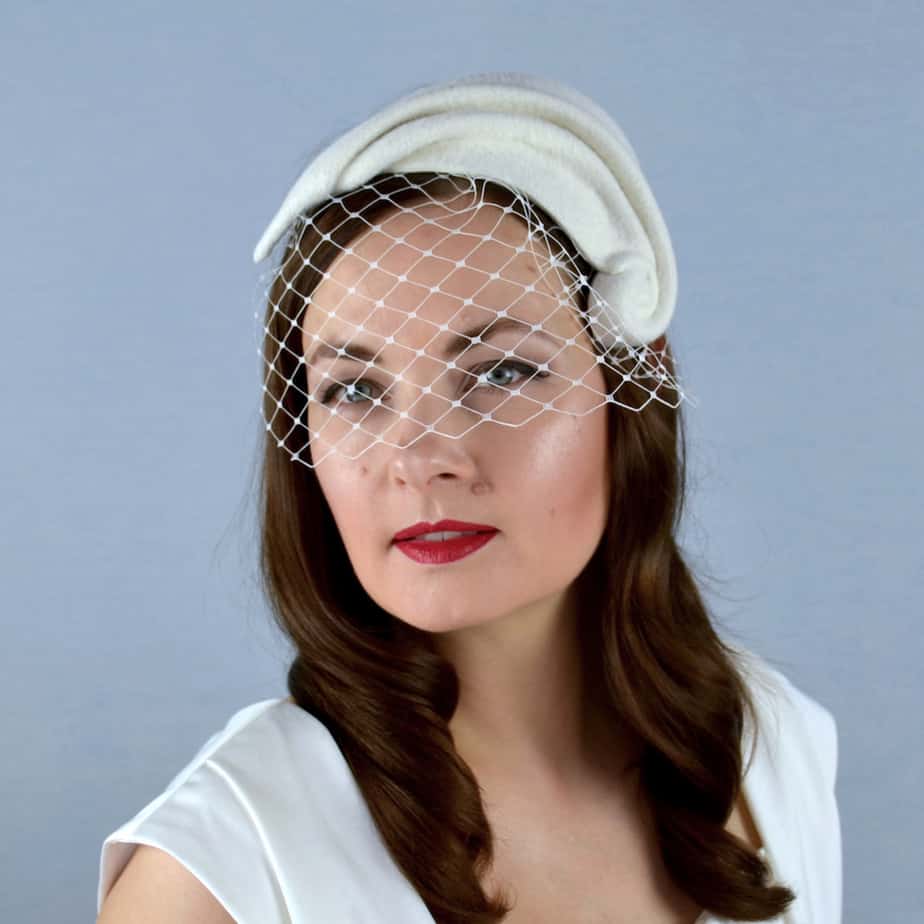 Pros
Can be customized to be worn on the right or the left
Perfect for a bride who doesn't want too much lace or tulle in her bridal look
Veil is detachable
Cons
Over $100
Design may be too simple for some brides
This lace headband and fingertip veil from January Rose Boutique on Etsy($128)
A gorgeous example of a fascinator with a longer veil, this is the perfect way to wear this style for a more traditional look. Buy Here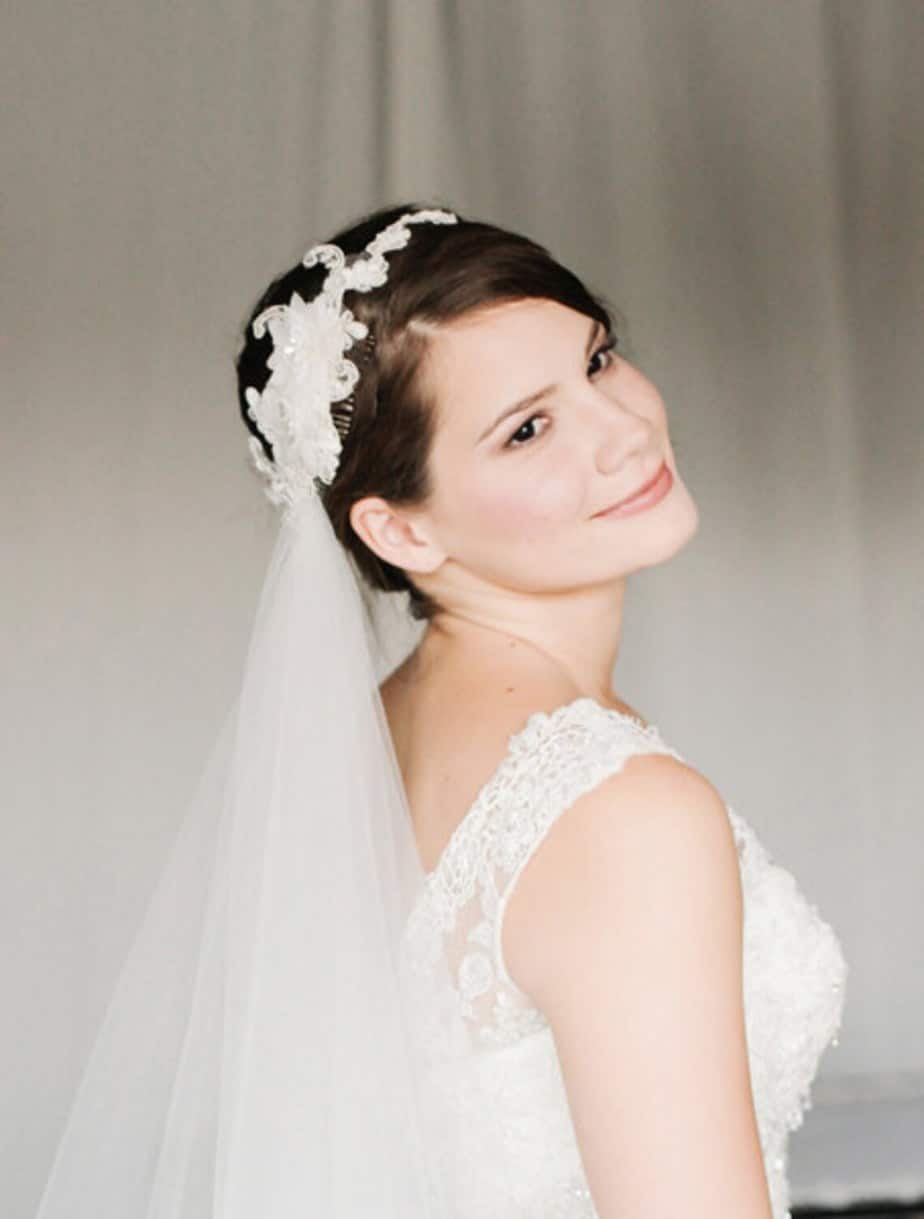 Pros
Detachable veil
Veil can be worn over the face as a blusher during the ceremony
Cons
Over $100
The headband only comes in ivory, though the veil can be made in white or ivory
This romantic tumble of flowers from Made4YouBoutique on Etsy ($80)
Ok I know! I know! This one isn't a headband either! But who can resist a dreamy cluster of silky flowers tucked behind a bride's ear! This fascinator is so sweet and romantic. The flowers are available in champagne, plum, red, white, or ivory, with both gold and silver embellishment options and the seller offers three different veil options in three different colors. What isn't there to love? Buy Here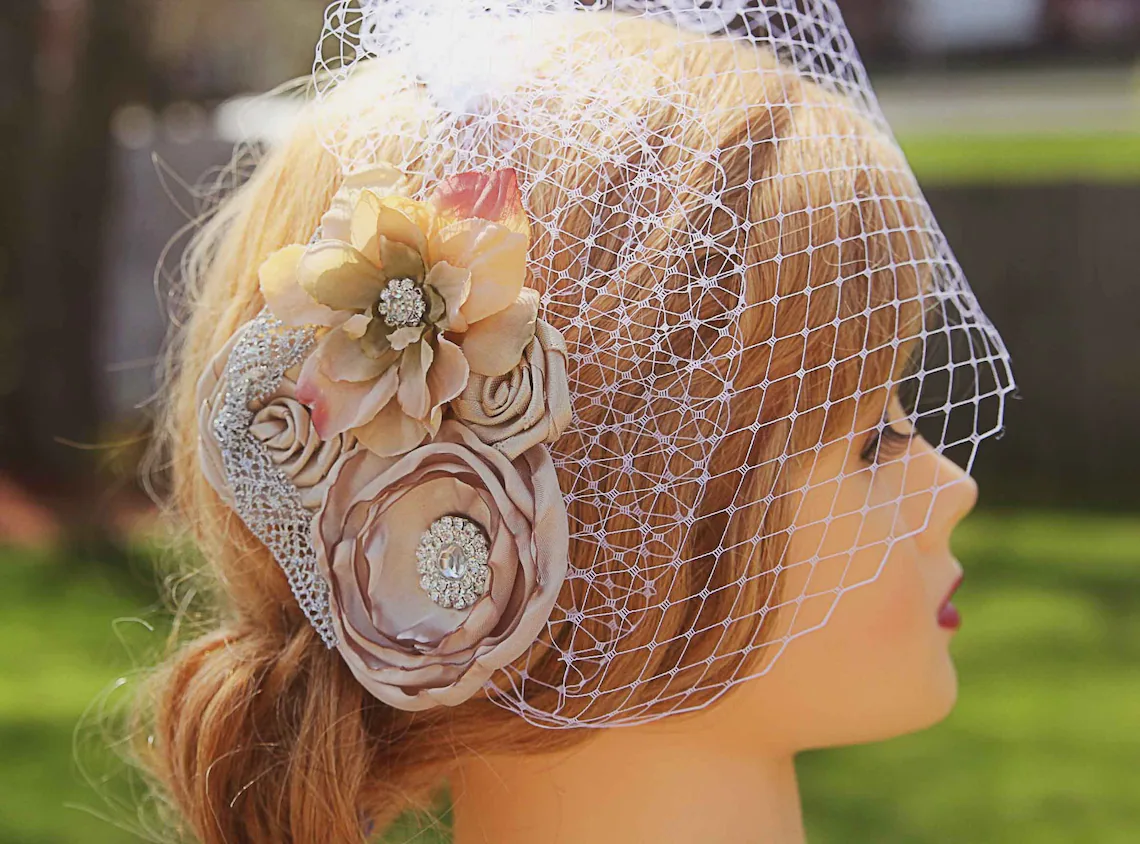 Pros
Several color and veil length options
Under $100
Detachable veil
Cons
Attaches with comb and clip, so most suitable for hair that's worn up or half up
My fascinator picks for mature brides
Obviously, any bride should feel free to wear any style she chooses, but these are some fascinator and veil combos that I thoughts would look particularly striking on a mature bride. Some tips on finding a dress to pair them with here!
This pillbox fascinator from Filipa Cardoso on Etsy ($686.99)
This is another fascinator that's not technically a headband, but I just couldn't resist. I love a bridal hat for a more mature bride, and this one is stunning. Offered in ivory, white, black, red, or navy, this hat offers the perfect touch of vintage glam. It's definitely less affordable than a lot of the other options but would look incredible with a vintage tea-length dress or even tailored suit. Buy Here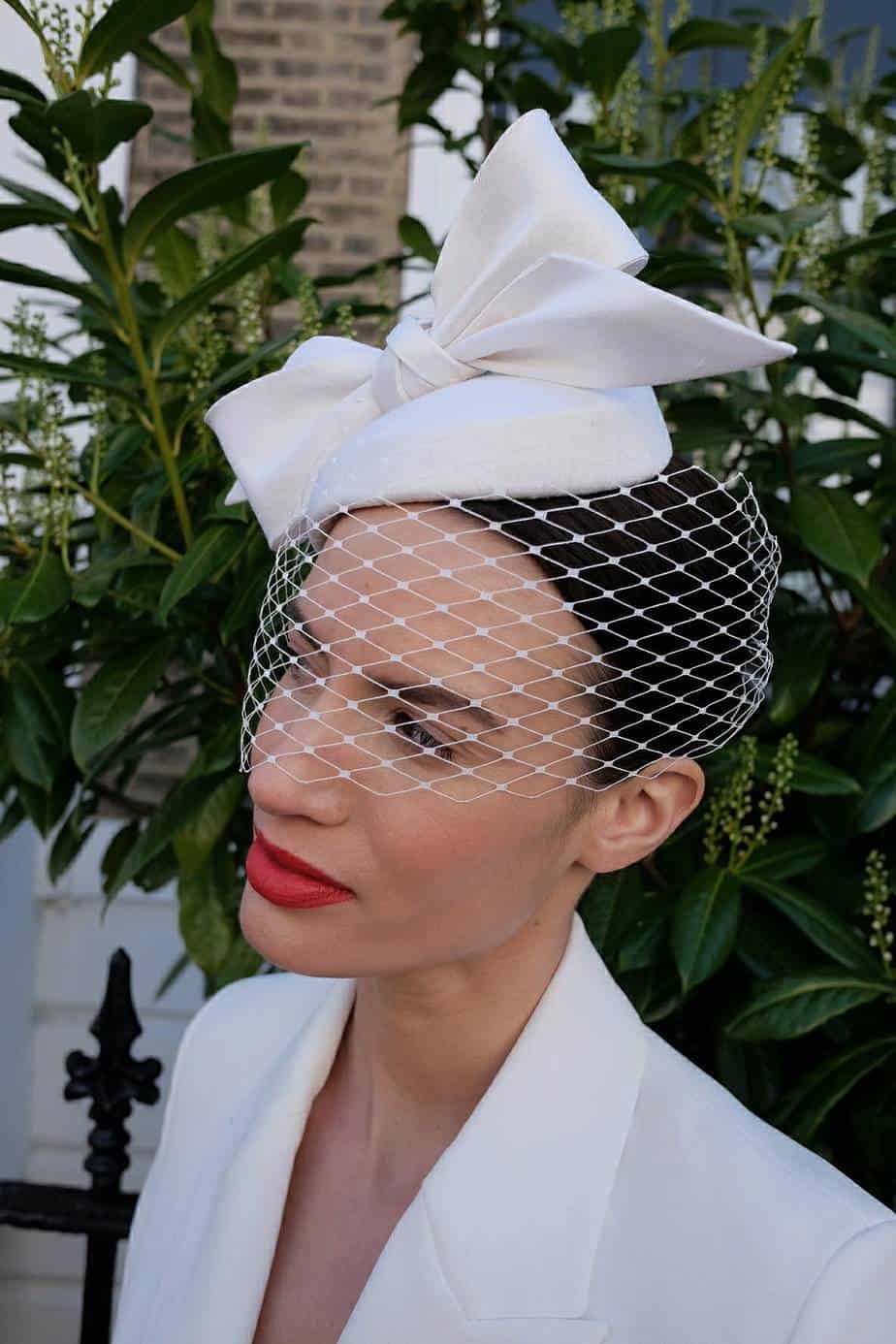 Pros
Five color choices
Excellent customer reviews
Cons
This padded headband from Tailored Magic on Etsy ($151+)
I love the height of this soft headband. It's offered both with or without pearls (in your choice of two size options) and with or without a veil. It's a classy and dramatic way to balance out your bridal look. Buy Here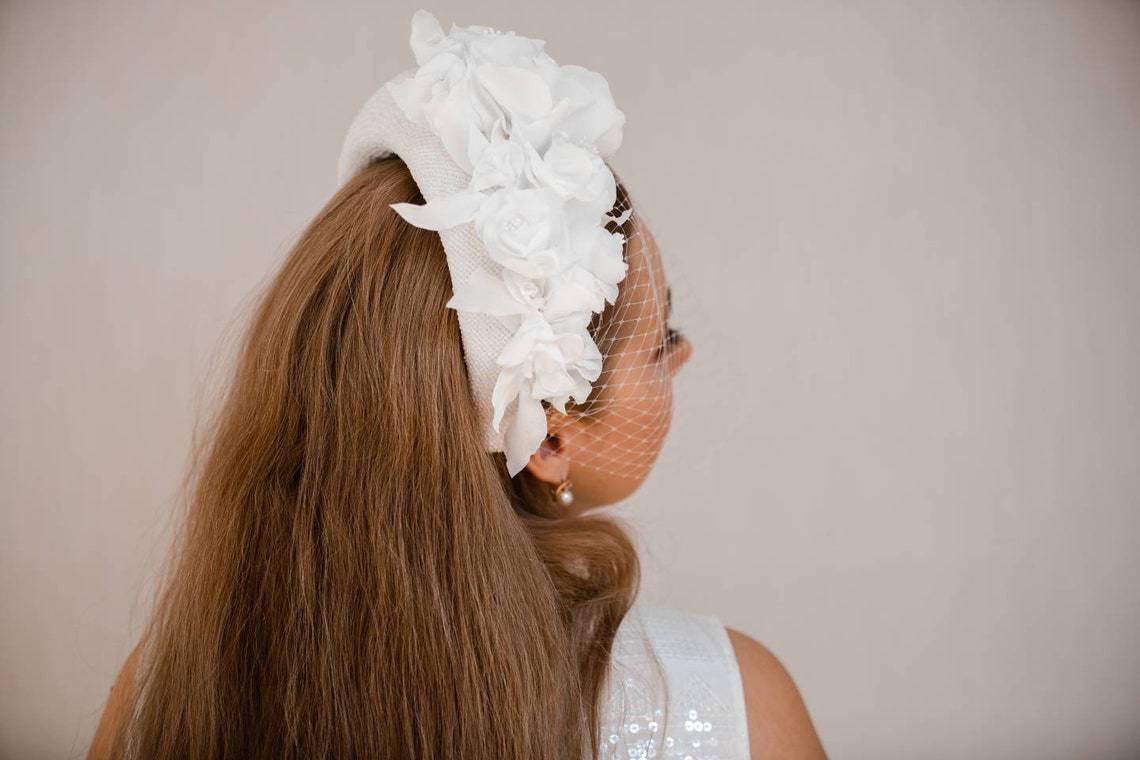 Pros
Customizable, with other similar options in various colors/styles available
Cons
My fascinator picks for the bridal party and wedding guests
Because the bride shouldn't have all of the fun, (just most of it…right?) These are my picks for fascinators that would look great on the bridal party, or as the finishing touch on a wedding guest's outfit.
This navy feathered fascinator from BoZka Millinery on Etsy ($82.52)
This headband is a gorgeously understated hair accessory for the bridal party or a wedding guest. I love that the hint of netting adds intrigue, while not looking like a traditional veil. That way there's no risk of upstaging the bride! Buy Here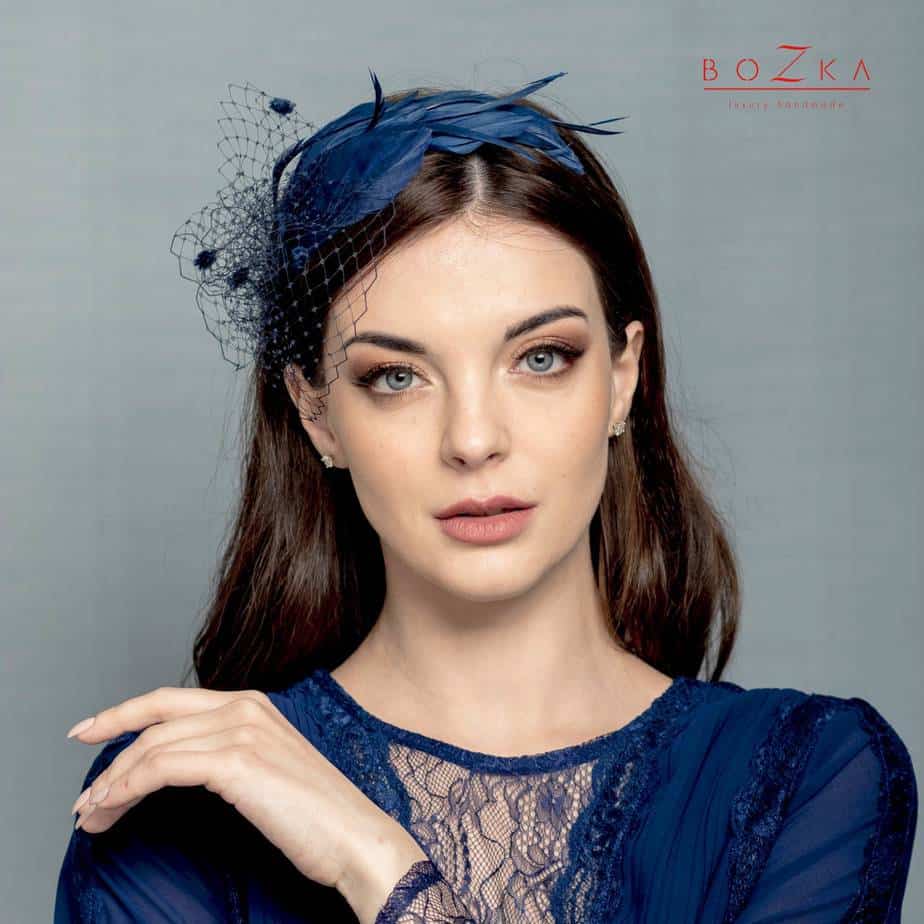 Pros
Get the fascinator to look without the risk of looking too showy or upstaging the bride
Cons
Only comes in one color
The black headband, while thin, will be more noticeable in light-colored hair
This purple cocktail hat, also from Klaxonek on Etsy ($149)
I can just see these on all the bridesmaids at a vintage jewel-toned fall or winter wedding! The feathers and crystal brooch really make this fascinator special. It can be made with a headband or clip for added versatility. Buy Here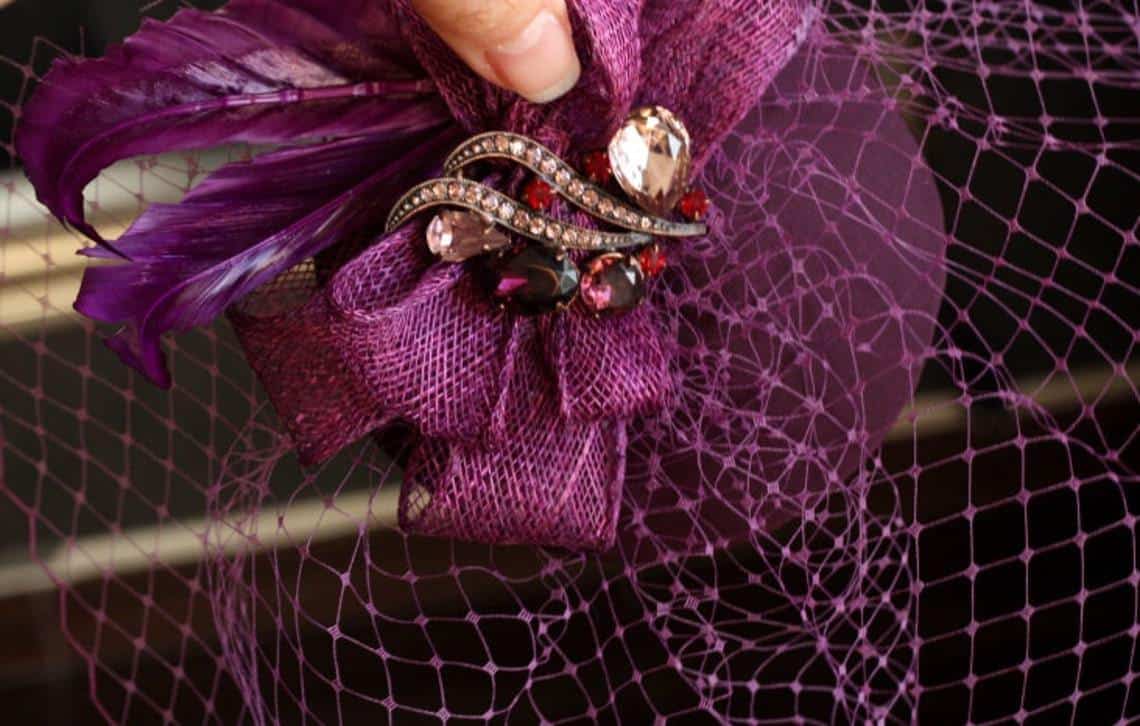 Pros
Can be made with a headband or clip
Cons
The Pros & Cons of Fascinator Headbands and Veils
Pros
They work for all hair lengths and styles. Headbands are particularly good options for super short or fine hair

They emphasize the eyes

They're not as heavy or cumbersome as a long veil, meaning they are easier to move around in and can be worn all night if desired. No one needs to be on call to arrange a birdcage veil for photos the way they would with a long cathedral veil.
Cons
If the veil is separate from the fascinator, the bride's hair needs to be worn up or have small braids or twists in it so that the veil has something to attach to

The less traditional look is not suitable or desirable for all brides
FAQ
Question: What is a fascinator?
Answer: A fascinator is an embellished headpiece often worn on the side of the head and attached with a clip or band.
Question: What are fascinators made from?
Answer: Fascinators are often made with feathers, flowers, crystals, tulle, netting, felt, and other embellishments. The sky really is the limit!
Question: How do you wear a fascinator?
Answer: A fascinator is traditionally worn on the right side of the head, but can also be worn in the front or on the left. They are secured using a band, clip, or comb.
Question: How do fascinators stay on?
Answer: Fascinators stay on with clips or a band. Metal or plastic combs can also be used, sometimes with pins or a clip for extra security.
Question: On which side should you wear a fascinator?
Answer: Traditionally a fascinator is worn on the right side of the head, but they can be worn in the front or on the left as well.
Question: Should you buy a dress or veil first?
Answer: Unless you plan to wear a special veil, like one that belonged to a family member, you should probably purchase a dress first. It will be much easier to determine what length and material would look best for your veil once you have your dress locked in. Your veil maker may even be able to add embellishments, such as beading or lace, that compliment your dress.
Final Thoughts
Fascinators with veils are a stunning and versatile option for all brides. I particularly like customizable options with removable veils. If you're interested in a fascinator headband with a veil for your big day, Etsy is where I would start looking! For instance, I love this MyArtDeco one.
Looking for more interesting readings? Check out: