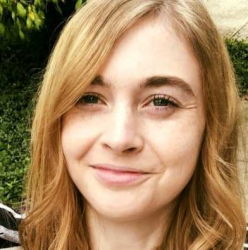 Latest posts by Erin Jamieson
(see all)
I've always loved music, and I'd argue it's the music industry that's part of the reason why necklaces for men are more popular than ever. But it's no longer just simple rope necklaces or glitzy Cuban link chains. One of my favorite trends is gemstone necklaces, and that includes unique styles like peridot.
From pendant necklaces to crosses, beads, and sleek gold, peridot necklaces make a striking gift for men. I'll tell you why I love this trend– and some of its downsides. Before you check out, I'll point you to finding the best peridot necklaces for you and point to some of the most interesting designs from Etsy, respected jewelry designers, and more.
Bottom Line Up Front Summary: If I had to select just one peridot necklace for men, it would be this Peridot Ribbon Necklace. It features up to an AAAA/ heirloom quality peridot gemstone and your choice of 14K gold or platinum. Classic but modern, it's understated and a symbol of hope– something we could all use.
My Top Picks
Men's vs Women's Necklace
Before I talk about the beautiful peridot stone and the best necklaces, I want to clear up some myths about men's vs women's necklaces. In other words: what distinguishes between a women's peridot necklace vs a men's? Something nice is that there is less dialogue about how a man should wear a necklace and more about how many options everyone has. A man can wear a woman's necklace and vice versa. There are a lot of overlaps when it comes to types of necklaces, chain lengths, and styles.
However, there are some trends. Women's necklaces lean more delicate, with thinner chains. Unlike women's necklaces, men's necklaces rarely include what would be called costume jewelry. Men's necklaces are typically more understated and meant to blend more with an outfit. The most popular styles for men's necklaces include chokers, pendants, and chains (such as link, Cuban link). The great thing is none of these are hard and fast rules, and there are countless ways to style both men's and unsex peridot necklaces.
What is Peridot Jewelry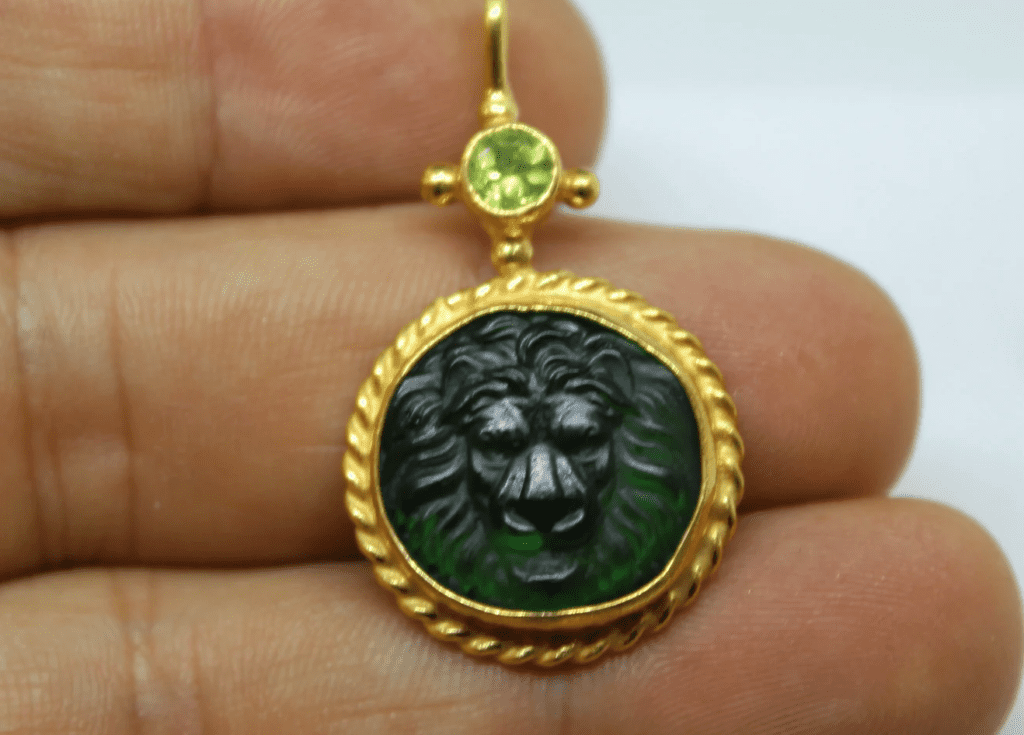 As striking as peridot is, it's not the best gemstone for everyone. So before you get too interested in buying a necklace, I want to be honest about its value and durability. Peridot is a natural gemstone but it can also be lab-grown (not lab-created). The vivid green-yellow hue is astonishing as where it can be found: near lava. Fun fact: peridot is also one of the birthstones for August.
Peridot Durability
As beautiful as peridot can be, it's not the most durable gemstone. It's rated at a 6 to 6.5 out of 10 on the Mohs hardness scale. That means that you can wear it, but you have to be careful. Unlike a diamond necklace, a peridot necklace can be scratched with daily wear. I also recommend only buying a peridot necklace if you're willing to store it safely and not wear it during contact sports, construction, or heavy activity.
Peridot Value
One of the most common questions I see, after people get past the unique hue, is if peridot is worth anything. Natural peridot is more valuable than lab-grown, and the higher the quality, the greater the value. I wouldn't buy a peridot necklace as an investment piece per se– it costs anywhere from $50 to a few hundred dollars per carat on average. So, a peridot necklace kept in great shape can have resale value, but it's not nearly as valuable as a few other precious stones.
How to Find the Best Men's Peridot Necklace
If you're going to spend your money on a peridot men's necklace, why not make sure it's the best quality possible? You don't have to have diamond accents to find a fantastic peridot necklace. But I like to look for quality instead of the cheapest option out there. Why? Because in my experience, the cheapest necklaces break far quicker and they just don't have that wow factor. So here's what I do to find the best of men's peridot necklaces.
Find the Best Metal For You
Step One: decide what metal type is best for you. For peridot, I mostly see sterling silver, genuine gold, gold-filled, gold-plated, and brass chains. If you search hard, it's possible to find vegan leather or leather or even stainless steel. I'd eliminate both brass and gold-plating. These necklaces are going to discolor and tarnish pretty quickly, and there's no sense in buying a chain that doesn't last with the gemstone. Sterling silver is decent (look for a 925 stamp) but it will tarnish and wear more quickly than others.
For a fine metal choice, my favorite is 10K to 18K gold. Stainless steel, meanwhile, may not be as aesthetically pleasing but it is very strong and resistant to tarnish. Realistically, since men's peridot necklaces are hard to find, you're better off with sterling silver vs a base metal (copper, brass, etc) or gold plating.
Find Great Quality Peridot
While Peridot is alluring at its best, a cheap gemstone- or even a fake– with be dull. To make sure it's authentic, I only buy gemstones, including something like peridot that's listed with grading for color and clarity at the very least. Even better is if there are details about the symmetry and cut of the gemstone.
Letter Grading
If that sounds overwhelming, there's an easy way to tell, by a letter grading system. I look for a AAA to AA stone– an A grade stone or worse with being far duller and have noticeable inclusions (imperfections) that impact clarity. A AAAA stone is 'heirloom' quality and the most vivid green possible.

Another option is to look for clarity described in words: "eye clean"
Best Cut
Examining the stone gives you an idea if it's a smooth and well-executed cut, though it's harder to tell if you're shopping online. For cut, you'll get the most brilliance out of a round, oval, or cushion cut, and those are also pretty common for a necklace. I like a pear cut for more subtle brilliance and a unique look.
Where to Buy
A men's peridot necklace can be tricky to find, but don't make the mistake of buying from just anywhere. Jared, Shane and Co, Angara, Brilliant Earth, Kay Jewelers, and Esty are some of the top places for peridot necklaces, but not every place has masculine necklaces– so you can be savvy and sort for men's and unisex styles. Meanwhile, James Avery, Glamira, and JTV have mixed professional reviews and aren't the best option for top quality.
Men's Peridot Necklaces that "Wow"
Finding a great peridot necklace for men is no easy task. This doesn't surprise me: when I've shopped for even men's accessories in the past, I've always felt there needs to be more variety, both in styles and prices. But with some hunting, I tracked down AAA or AA peridot necklaces, both unisex and targeted directly for men. All of these necklaces have authentic peridot gemstones and are made with genuine sterling silver or 14Kor 18K gold. I selected them based on seller reputation, style, and craftsmanship. Here are my picks for peridot pendant, chain, and bar necklaces, from modern to vintage-inspired.
Peridot Bar Pendant Necklace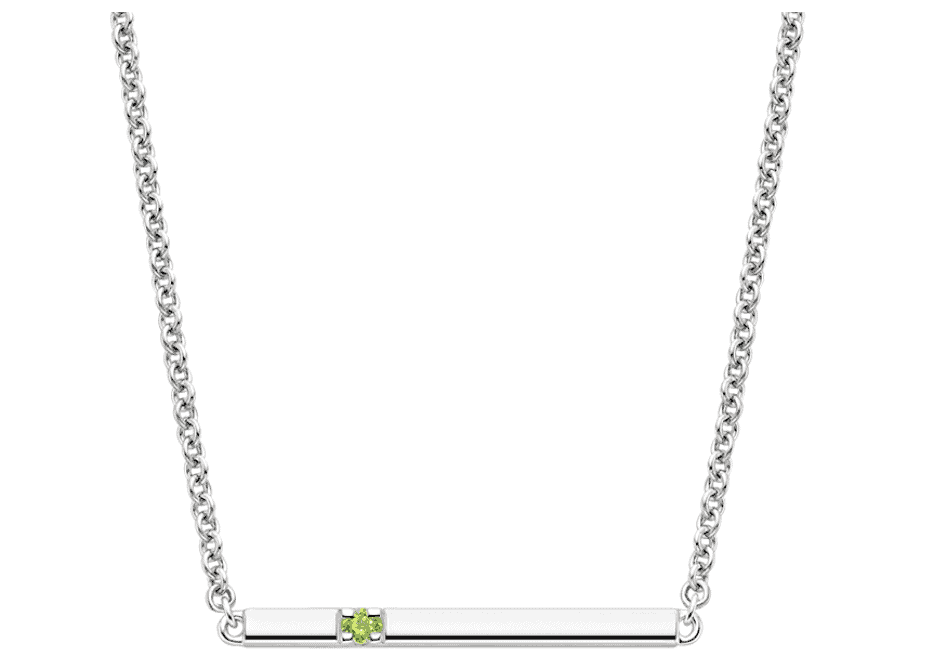 This minimalist bar necklace is the perfect accessory for everyday wear. Not all peridot necklaces for men need to be flashy or extravagant, and this is understated at its finest. Perfect as a gift they can wear whenever a tiny round peridot stone adds a flash of birthstone color with a medium yellow green hue. The bar design is classic, crafted with polished sterling silver and set on a sturdy cable chain. I also love that it's made out of recycled precious metals, so it's also Eco-friendly. Classy and sophisticated, this easily makes my list. Buy Here.
Pros
Versatile

Crafted with Recycled Precious Metals

Modern Sophistication
Cons
Sterling Silver Only

Very Small Gemstone (2mm dimensions)
Double Trinity Knot Necklace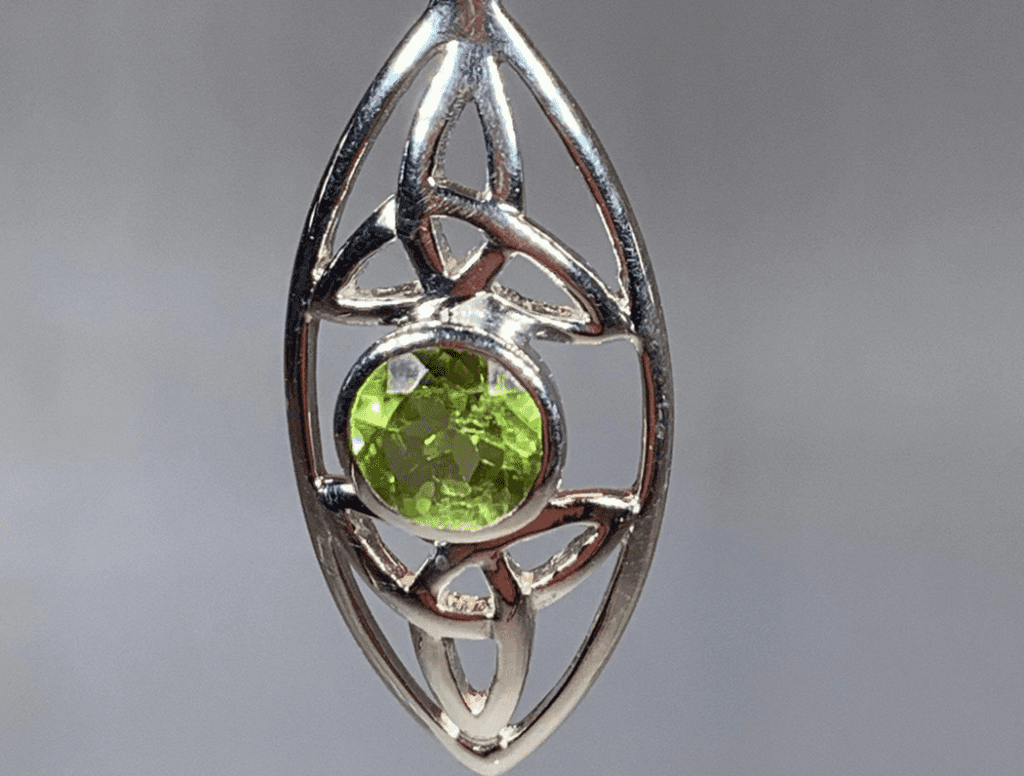 You don't have to have a direct connection to the trinity or Celtic Knot to appreciate it, and I'm not alone in my love for this motif. Popular for both men and women, this traditional design symbolizes eternal connection, and a strong bond, and has links to both religion and general spirituality. For others, it's a sign of strength. Grade AAA faceted peridot exudes handsome green hues, set inside the intricate trinity knot. The sterling silver pendant comes with your choice of a 16 to the 24-inch chain. Though it's a smaller company, they enjoy largely positive customer reviews and offer fair prices. Buy Here.
Pros
Timeless Motif

Faceted, AAA Peridot

Multiple Chain Lengths
Cons
Sterling Silver Only

Shipping May Be Slower
Plain Peridot Cross Necklace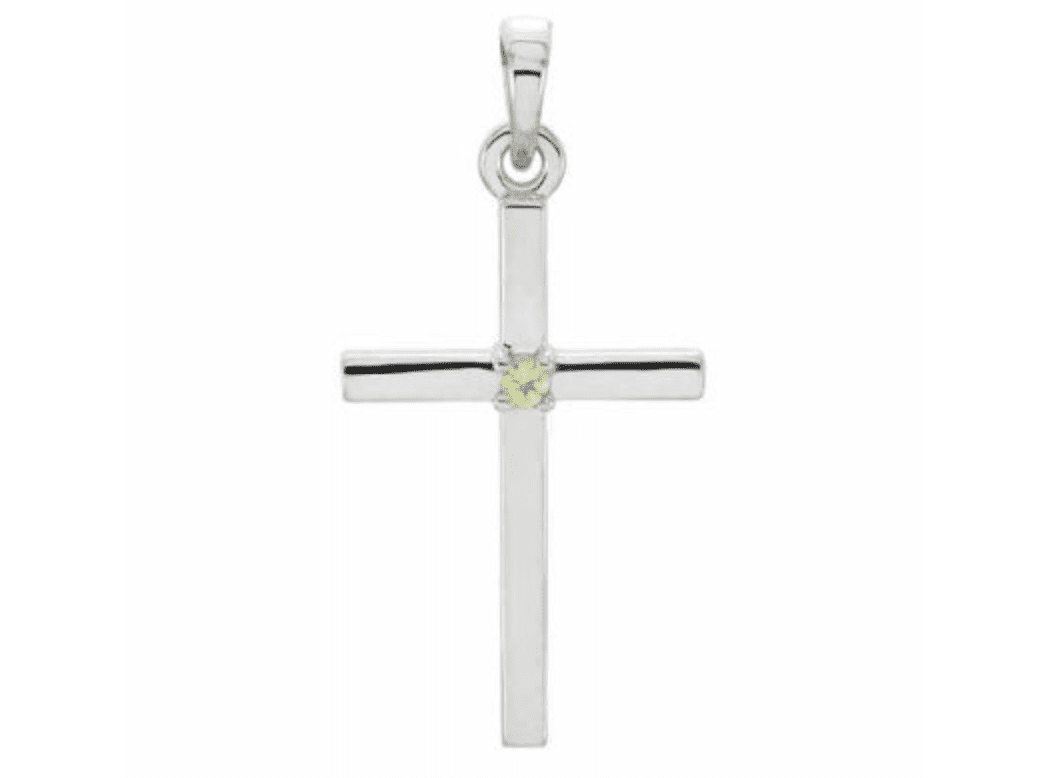 If it's meaningful to you, or the person you're gifting it to, this stunning modern cross necklace is an excellent choice for highlighting the unique peridot birthstone. Sleek and sophisticated, the necklace is crafted in authentic 14K white gold. I like how the simplicity highlights the lime green hue of the AA peridot gemstone. It's easily versatile, worn from day to night, and it'll require less upkeep than sterling silver. If you like the bar necklace I listed before but want a classic/ religious spin on it, this necklace is one of your best options for men. Buy Here.
Pros
14K White Gold

Modern but Timeless

Unique Lime Green Peridot
Cons
More Expensive

Made to Order– Minor Imperfections
Faceted Beaded Peridot Necklace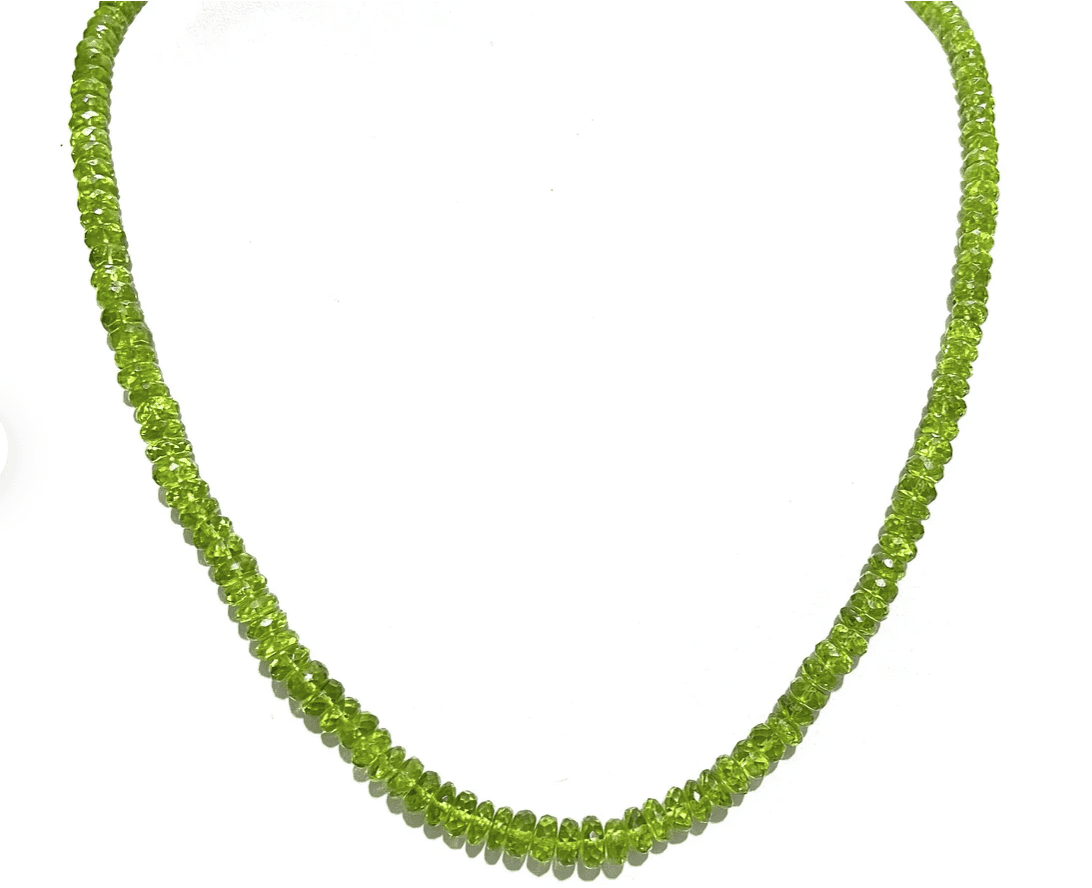 Beaded necklaces aren't just for coastal locations or tropical places like Hawaii. Surfer culture and a relaxed, beachy vibe mean this style of necklace is very popular for men. But to find a peridot beaded necklace, your best bet is to check out highly rated sellers on Etsy. The reason why this one caught my eye is that the vivid hue is striking. But I selected it ultimately because the craftsmanship is on par. Faceting enhances the color and brilliance of the beads. It's made by hand and made to order for a truly unique, exceptional AAA peridot necklace. Buy Here.
Pros
Faceted AAA Peridot

Unique Find

Lush Green Hue
Cons
Slower Shipping

Lower Stock
North Star Peridot Pendant Necklace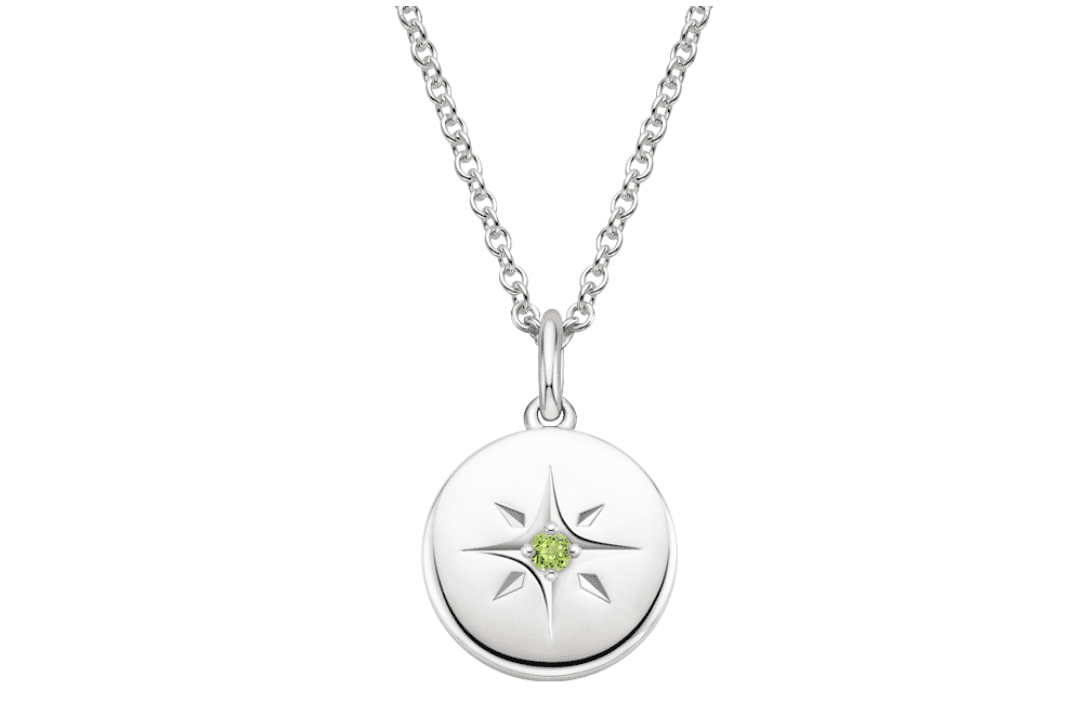 I admit: I am always drawn to jewelry that's symbolic, and it looks like the men's jewelry market is moving towards more meaningful designs, too. This unisex peridot necklace is immediately recognizable as depicting the North Star. The North Star, of course, is symbolic in countless ways, providing an anchor and sense of direction. It's a symbol that provides encouragement and allows many to focus on possibilities rather than limitations. Especially meaningful in a time like this, this pendant necklace is crafted in sterling silver, set on a classic cable chain. A tiny round Peridot gemstone adds a twinkle to the star engraving. Buy Here.
Pros
Meaningful North Star Motif

Sturdy Cable Chain

Made with Recycled Precious Materials
Cons
Only Available in Sterling Silver

Tiny Gemstone
Solitaire Round Peridot Open Heart Pendant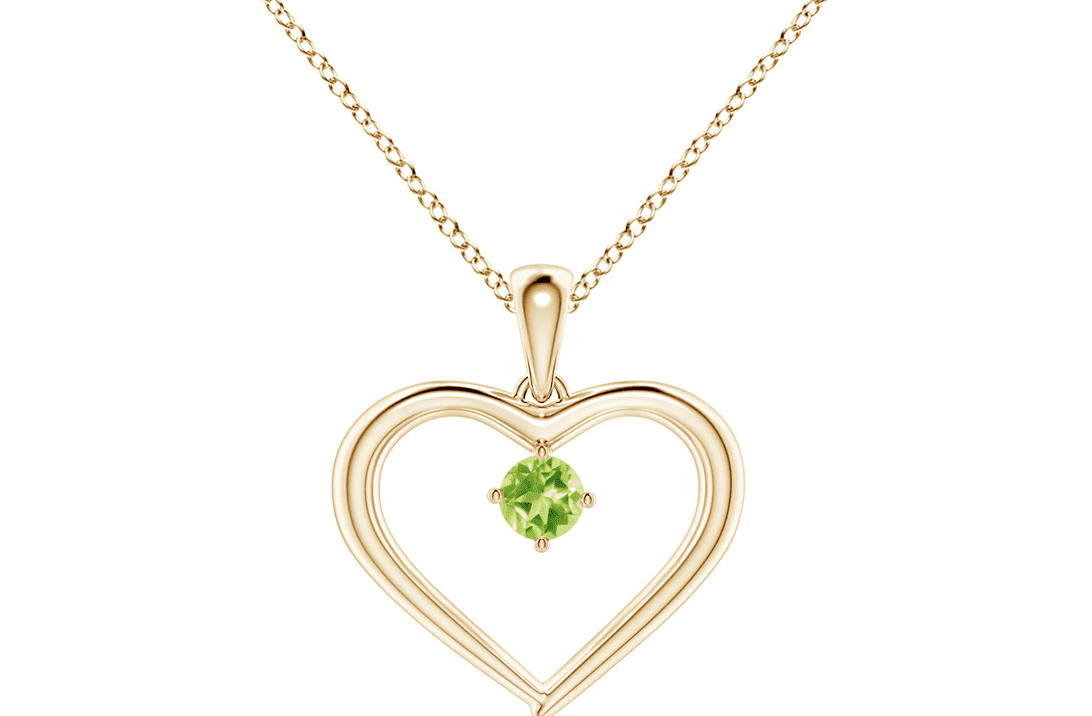 Heart necklaces are a classic accessory not just for women, but increasingly for men too. They don't have to be elaborate the be meaningful. I like an open heart design because it symbolizes being open to love, passion, and is a nice modern and aesthetically please twist on the classic motif. Even better, this is one of the finest quality peridot necklaces that you can buy. Select the gemstone quality of your choice and between sterling silver, 14K gold, or platinum. The round gemstone, at its best, is a vivid light green hue. This pairs spectacularly with yellow gold. Buy Here.
Pros
Excellent Quality Peridot

14K Gold, Sterling Silver, or Platinum

Exceptional Craftsmanship
Cons
More Expensive

Slightly Finer/ Delicate Style May Not Appeal to All Men
Gypsy-Set Round Peridot Ribbon Pendant Necklace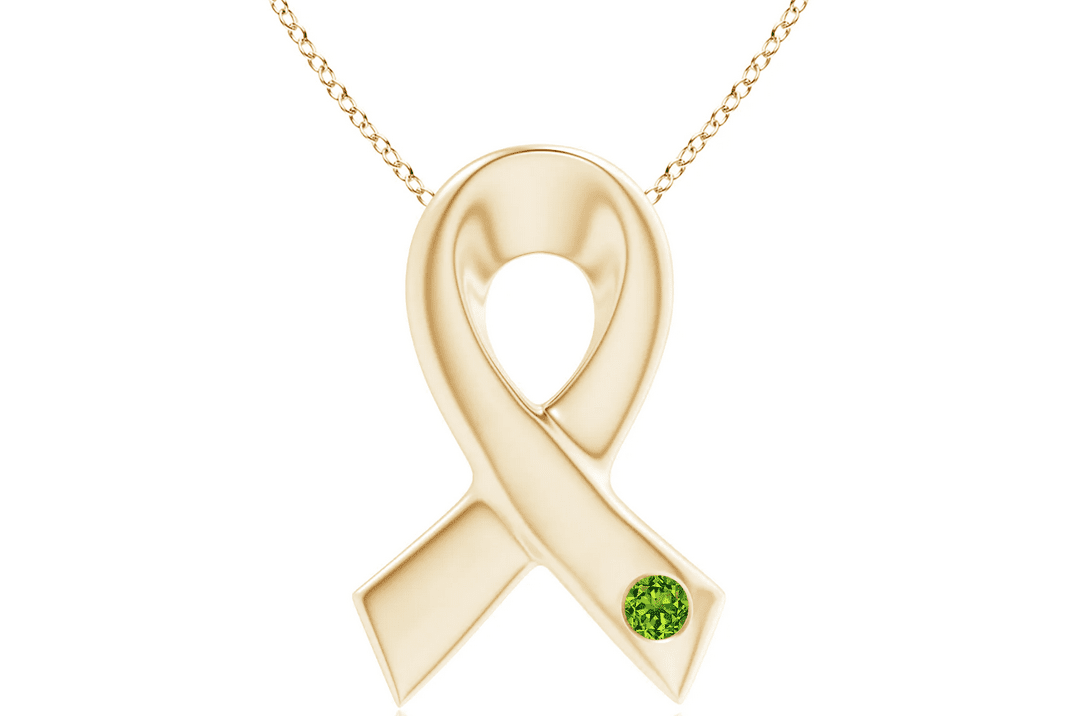 I wanted to finish up my list of best peridot necklaces for men with a lasting impression- and I think this style accomplishes that. The ribbon twist pendant is polished for high shine and crafted with modern precision. A light yellow to olive green (A to AAAA gemstone) peridot adds a punch of color with detracting from the design. And you guessed it: this necklace is also symbolic. It's meant to provide hope and support to those suffering from illness. As was true for my last pick, you get a choice of sterling silver, 14K gold (white, rose, or yellow), or platinum. Buy Here.
Pros
Symbol of Hope

14K, Sterling Silver or Platinum

Up to Heirloom (AAAA) Quality Peridot
Cons
More Expensive

Modest Gemstone Size
Frequently Asked Questions
Question: What is the spiritual meaning of peridot?
Answer: One thing I love about different precious gemstones is their symbolism, and peridot is especially meaningful to those who participate in using jewelry for healing. Symbolically known as a gemstone associated with understanding and kindness, peridot is associated with healthy sleep patterns. It's also seen as a calming stone for mental and emotional turmoil. With this balance and peace of mind, I love that peridot is also open with expression and innovation.
Question: What is so special about peridot?
Answer: First of all, peridot is undeniably a unique hue. It's cheaper than an emerald but brings its unique green and yellow beauty. Of course, the symbolism and its use as a healing stone are other reasons why peridot is loved. It's a less conventional but still-loved stone. Finally, peridot is one of the birthstones for August.
Question: Why is peridot expensive?
Answer: While peridot is not as expensive as some other gemstones, such as rubies, it's also not as cheap as some. But the price of a peridot is highly dependent on the quality. The most saturated and vibrant colors, the more expensive. Peridot is not as widely sold on the jewelry market as some popular stones, so you may have fewer options for shopping for a great deal.
Question: How much is a 5-carat peridot worth?
Answer: It's a bit rarer to find peridot above 2 carats in the jewelry industry, but a 5 carat stone will set you back anywhere from $250 to $500 for an average, lab-grown stone, and could be well over $1,000 (a few hundred dollars a carat) for a premium quality natural stone. Still, this is significantly less expensive than something like a diamond.
Final Thoughts
While Cuban link chains and simple rope necklaces will always be in style for men, peridot necklaces offer something truly unique and meaningful. Whether given as a gift or bought for yourself, a men's peridot necklace elevates the everyday casual and dressy style. Of course, if you go through the effort of finding the best necklace, I cannot urge you enough to take care of it properly. Make sure you store your peridot necklace in a safe, low-humidity environment where it won't scratch up against other metals. Remove it for any intense physical activity or while swimming and using chemicals. Taking these steps and cleaning it carefully will go a long way in retaining the original beauty of the necklace.
Final Buying Recommendations: Vintage- Inspired Peridot Necklaces on Etsy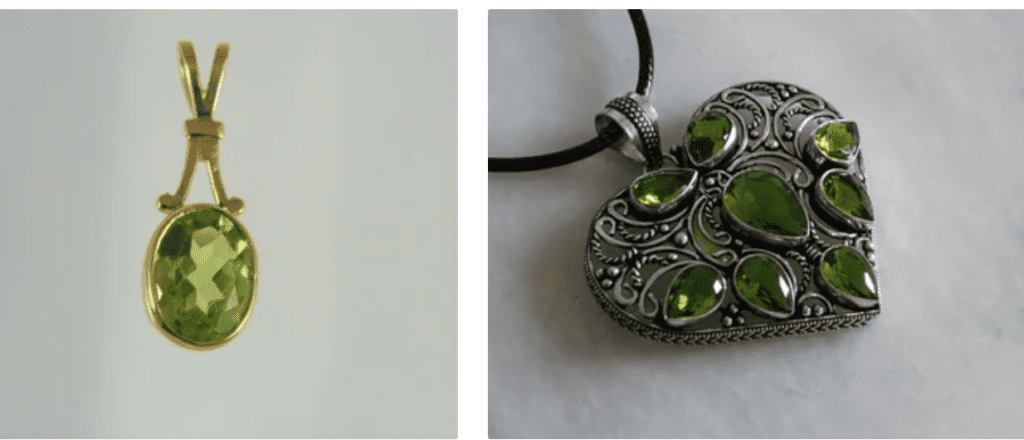 If you want truly vintage or antique peridot necklaces, your best option is an antique store. But for unique vintage-inspired peridot necklaces for both men and women, Etsy has a number for sale. Estate pendants and handmade styles make this a solid, but an ever-changing collection to shop. You may even catch some unique designs, such as peridot with quartz or even for solemn occasions. As always, you must read the description of each item carefully, noting the quality of the gemstone. To ensure it's authentic peridot, make sure there are no words like man-made, created, or manufactured. Shop the Collection Here.
Looking for more interesting readings? Check out: