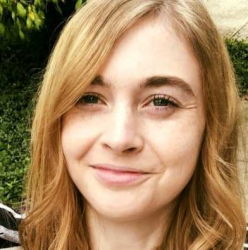 Latest posts by Erin Jamieson
(see all)
I have always loved vintage jewelry, from the pearls I inherited from my great grandmother to displays in museums. And I'm not the only one.
When selecting the best engagement ring, consumers are paying less attention to spending a certain amount and more to selecting unique styles. One of those beautiful ideas? Georgian Edwardian engagement rings bring back an era of expressive style and timeless beauty.
The problem? Georgian Edwardian engagement rings are often confused with Victorian or even Art Nouveau rings. I'll tell you how to find and identify a Georgian Edwardian engagement ring. I'll also tell you the truth about vintage, antique and vintage-inspired rings.
You may be surprised by my buying recommendations. But if you read on, you'll be able to find an exquisite engagement ring inspired by the Georgian Edwardian era.
Bottom Line Up Front Summary: If I had to select just one engagement ring from these eras, it would be this Edwardian Sapphire and Diamond Ring. Sapphires are among the best diamond alternatives, as well as durable. The style is exquisite and unique and features a vivid blue sapphire, flanked by diamonds. While it represents the era of the time, it's still practical to wear and has a sense of timeless elegance.
My Top Picks
Georgian Edwardian Era Aesthetic
If you're not a history buff, that's okay. I love history– perhaps as a result of my father, who not only was a history major but still researches and reads widely to this day. But while I developed a love for French history, in particular, I understand why certain eras, especially in British history, get confused with one another. The truth is, we like to place a demarcation between two eras, but it's a messy one– styles tend to carry over and slowly transform.
Difference Between Edwardian vs Georgian vs Victorian Jewelry
I understand why Victorian and Edwardian get confusing, but it's even more confusing when you bring in the term Georgian. To simplify matters, the table below shows the years and general styles of each era. The eras were established based upon the reigning British monarch. Thus, it's called the Edwardian era after Edward VII. It was after his reign that World War I began.
| | | |
| --- | --- | --- |
| British Era | Years Covered (approx) | Aesthetic/ Style Influences |
| Georgian Era | 1714-1836 | Rococo, Gothic Revival, Neoclassical |
| Victorian Era | 1837-1901 | Victorian (Dark, Moody, Ornate, Jewel Tones) |
| Edwardian Era | 1901-1910 | Art Nouveau (Not Art Deco. Art Nouveau has soft, curved lines vs the sharp, geometric lines of Art Deco) |
Style of Georgian Edwardian Engagement Rings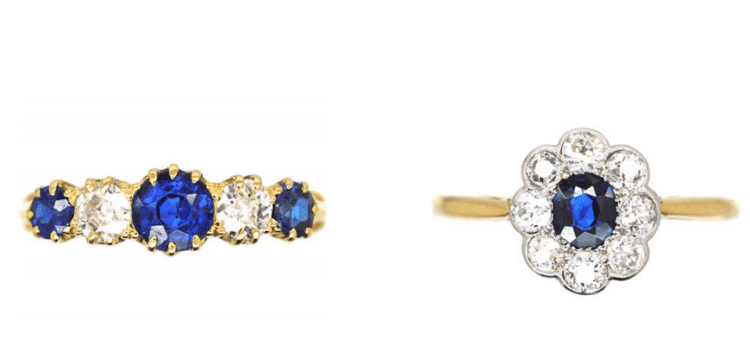 A Georgian Edwardian engagement ring either embraces the Edwardian or Georgian style, or it may even combine the two. The main difference between Edwardian vs Georgian rings is that Edwardian rings tend to be more light and airy, while Georgian rings are more focused on the use of textures and optimizing sparkle. Both eras include colorful gemstones, flanked with diamonds.
Edwardian Rings
So, an Edwardian ring is most easily classified as an Art Nouveau style. Art Nouveau has a delicate aesthetic, with curved lines, asymmetry, and small details. Like Art Deco, it carries nature themes, like flowers or leaves– all of which make it tie into more modem boho styles.
Common materials used are diamonds and platinum. Diamond-encrusted details however are prominent, and opulence is the center of the design.
Georgian Rings
While Edwardian rings are airy, light, and feminine, Georgian rings are a bit heavier in ornamentation. Still, they have a lot of overlap with Edwardian rings. Butterfly, flower, and nature motifs are common. The emphasis is a bit more on diamond brilliance, and the band is more heavily detailed, with ribbon and other textures. While Edwardian rings are ornate as well. Georgian rings are a bit heavier at first glance.
How and Where to Buy Georgian Edwardian Engagement Rings
Finding Georgian Edwardian engagement rings is no easy task. But I also think it's really important to understand what you're looking for in the first place. Do you love the style and want a modern interpretation? Or would you rather buy a ring that's authentic from the era?
If you want to save a little money and ensure mint quality, you can also opt for a vintage-inspired Georgian Edwardian ring instead. These lightly touch upon the styles from the era, but often with a modern twist. These are slightly less accurate and of course less valuable than an antique ring, but another advantage is that you won't have to worry much about things going outside of stock.
While I love finding rings on Etsy, you can also find a selection of gorgeous Edwardian rings from the Angara. This small collection includes band rings with dazzling filigree, floral, and lace patterns. The craftsmanship is simply exquisite. Shop Here.
Vintage vs Antique vs Vintage-Inspired Rings
Maybe it's a pet peeve of mine, but I am very interested in how people say something is vintage when they mean vintage-inspired. This may seem nitpicky, but it makes a notable difference for where you shop, what to look for, and the ultimate value of your Georgian Edwardian engagement ring.
In short, Georgian Edwardian Rings are opulent, with diamond and fine gemstones flanked with unique nature-inspired details or soft geometric designs.
Type of Georgian Edwardian Ring
What it Means
Where to Buy

Vintage

Vintage rings are usually a few decades old, but under a century-old– so a more accurate term for an authentic Georgian, Edwardian, or Georgian Edwardian ring is Antique.

However, many use the term interchangeably with antique

See "Antique"

Antique

This should be an authentic ring from the era (it was produced within the era of its style). These rings can be restored or some materials changed, but the main base should have been produced during the era

Auctions

Occasional Etsy Listings

Vintage-Inspired/ Antique-Inspired

These rings take inspiration from the Georgian and Edwardian eras and are the least valuable but also the most practical/ easiest to find. They are 'modern' produced but meant to mimic eras from the past.

These save you money, and all the places I mentioned are great places to buy vintage-inspired rings. While I love finding rings on Etsy, you can also find a selection of gorgeous Edwardian rings from the Angara. This small collection includes band rings with dazzling filigree, floral, and lace patterns.
Buying Tips for Georgian Edwardian Engagement Rings
Once you've decided if you want an antique/ vintage vs vintage-inspired engagement ring, you still need to be selective. Here's what I look for to find only the very best Georgian Edwardian rings.
One: Lab-Grown vs Natural Gemstones
Lab-grown gemstones are perfectly fine for a vintage-inspired ring. They are as durable, just less valuable than natural stones. But if you want an authentic Georgian Edwardian ring, the gemstones must be natural. Why? Lab-grown gemstones only started being used in the jewelry industry in the mid-1950s and became popular during the late 80s.
Two: Investigate the Style and the Seller
Look for signs that the engagement ring does adhere to the styles popular during the Georgian Edwardian periods. (See charts above). For an authentic antique ring, there should be a circa date and preferably a certificate of authenticity.
Three: Metal Type
If you want an authentic ring, you find yourself with fewer options. But the best metals for a ring are platinum (actually popular for this era) and 14K to 18K gold. Even for a vintage-inspired engagement ring, avoid anything with gold-plating, which wears away within a few years.
My Picks: Gorgeous Georgian Edwardian Engagement Rings
Here are my selections of the best Georgian Edwardian rings. I've included authentic era pieces, all from reputable companies. I am excited to show you these exquisite rings, as they are selected for their beauty, craftsmanship, and overall value. Rest assured that these rings exude the beauty and refinement of the era.
For vintage-inspired rings, please see under my final buying recommendations. Please keep in mind that these rings ship from the UK, so you'll need to pay any relevant duties and taxes and be patient with shipping.
Edwardian Gold Knot Ring

A knot ring is one of my favorite styles– even though it doesn't have the conventional center stone and glamor of many engagement rings. The knot motif is a symbol of an eternal, deep bond and can also be a source of comfort and a sign of strength. Now, the knot motif is not unique to an Edwardian or Georgian period, but you can see the influence of the era here.
The intricate curves and feminine touches to the 18-carat yellow gold add allure and the detailing provides plenty of old-world charm. This ring is circa the early 1900s. Buy Here.
Pros
Meaningful Motif

18K Yellow Gold

Affordable
Cons
No Gemstones

Fairly "Plain"
Edwardian 18ct Gold, Sapphire & Diamond Three Stone Ring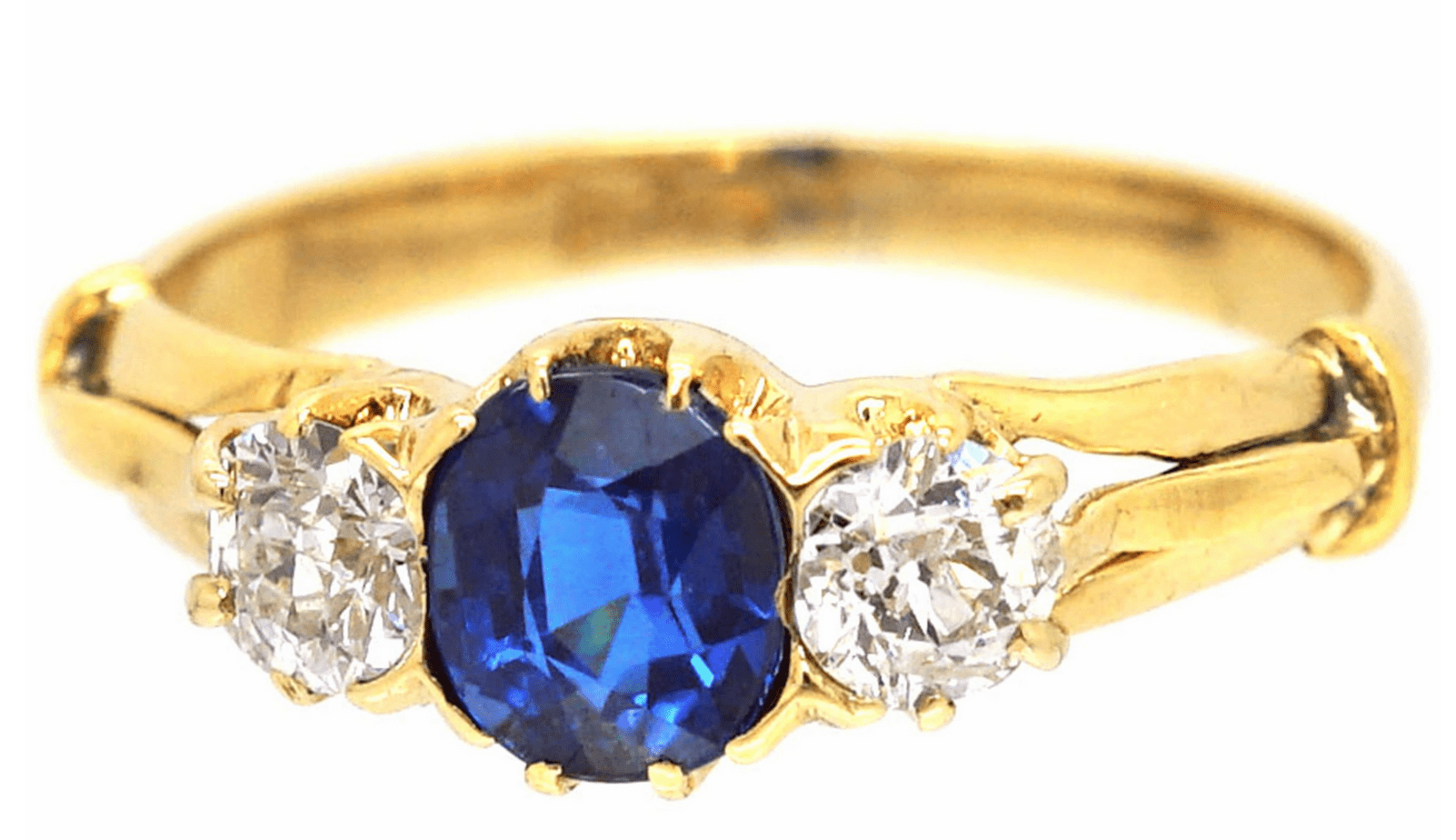 My birthstone is an aquamarine, but my favorite gemstone has always been blue sapphire. Sapphires are also an excellent choice as a diamond alternative, as they are more durable than many colored gemstones– and certainly timeless. Circa early 1900s, this exquisite engagement ring features a vivid blue, claw-set sapphire, flanked by sparkling round diamonds on either side.
The natural blue sapphire is sourced from Sri Lanka and set on trifurcated shoulders. It's exquisite, dazzling, and sophisticated all at once, crafted in 18K yellow gold. Buy Here.
Pros
Exquisite Natural Blue Sapphire

Unique Shoulder Detail

Sparkling Diamond Accents
Cons
Modest Carat (Center Stone)

Not As Comfortable
Edwardian 18ct Gold, Emerald & Diamond Flower Cluster Ring

Emeralds have been a symbol of love and candor for centuries and they are a truly unique way to express the dazzling, artistic beauty of the Georgian and Edwardian eras. 6 round-cut, vivid emeralds sit in a cluster with a backdrop of a mine-cut diamond.
The cluster ring has a strong floral motif and plenty of charm, set on a band of 18-carat gold. I love how this ring is still practical, even though opulent. That's achieved with a lower profile and a splint shank for a lighter feel and look. Buy Here.
Pros
6 Round Diamonds

Low Profile

Light and Easy to Wear
Cons
Mine Cut Diamonds Are Less Brilliant

Could be Mistaken for a Cocktail Ring
Edwardian 18ct Gold, Diamond & Natural Pearl Cluster Ring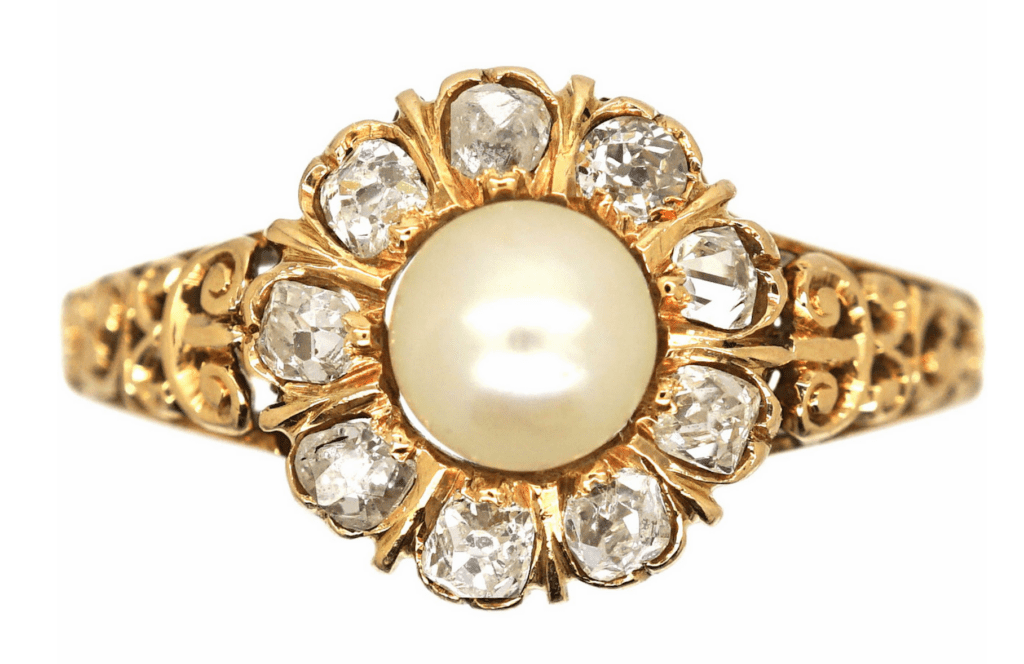 I also have a love for pearls, ever since I inherited a strand from my great grandmother. Pearls truly are timeless, and you can find them from the near era. Best rest assured: this engagement ring truly embodies the early 1900s.
Mine cut diamonds add sparkle to the center cream-hued natural pearl. Pierced floral sides make for a soft, elegant, and intricate look. It sits comfortably low on the finger and isn't bulky, making it a great engagement ring. The band is crafted in 18K gold. Buy Here.
Pros
Unique Natural Pearl

Diamond Accents

Comfortable Profile
Cons
Mine Cut Diamonds are More Subtle

Cream vs White Color Pearl
Edwardian Platinum, Ruby & Diamond Cluster Ring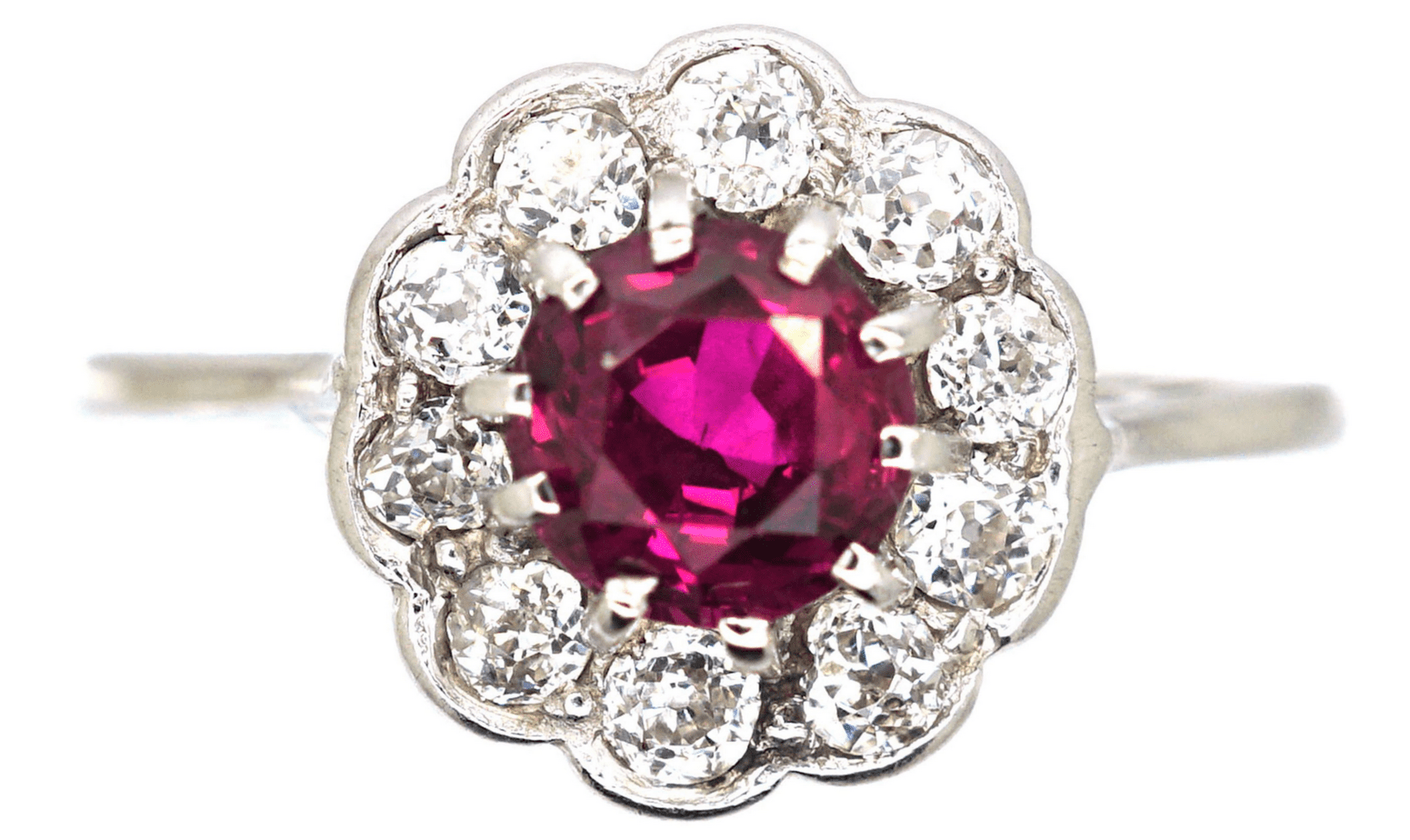 Love, passion, and ambition: a ruby is one of the most dramatic gemstones and truly exquisite. This engagement ring is one of the few on the market now that is crafted in platinum– and the icy color of the platinum band perfectly plays with the purplish-red hue of the center cut ruby.
Ten diamonds surround the center stone in a scalloped pattern. I can see a lot of the floral influences and romance in this ring, circa 1910-1920. The band is surprisingly slim and will comfortably. Buy Here.
Pros
Gorgeous Violet-Red Ruby

Scalloped Setting

Comfortable, Slim Band Profile
Cons
Rubies with Purple Notes Are Less Valuable

Subdued/ Modest Diamonds
Georgian 18ct Gold Ring set with a Pink Topaz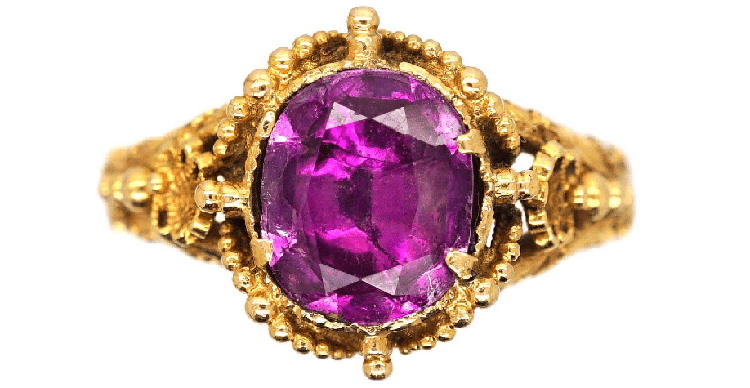 One gemstone I think many people overlook is topaz. Pink topaz in particular is romantic, unique, and very much embodies some of the more romantic motifs of the Georgian era. I also love the beautiful meaning behind pink topaz.
It's a symbol of compassion, strength, and close bonds. Here, a medium pink topaz stone is set in a unique, ornate shank that expresses the artistic tendencies of the era. Repoussé designs feature both rose and shell motifs. Not only does this add texture to the 18K gold shank, but it also sets this pink topaz engagement ring apart. This ring is dated around the late Georgian era. Buy Here.
Pros
Symbolic Center Stone

Repoussé Shank

Gorgeous Details
Cons
Can't be Resized by Seller

Expensive
Georgian Oval Amethyst & Rose Diamond Ring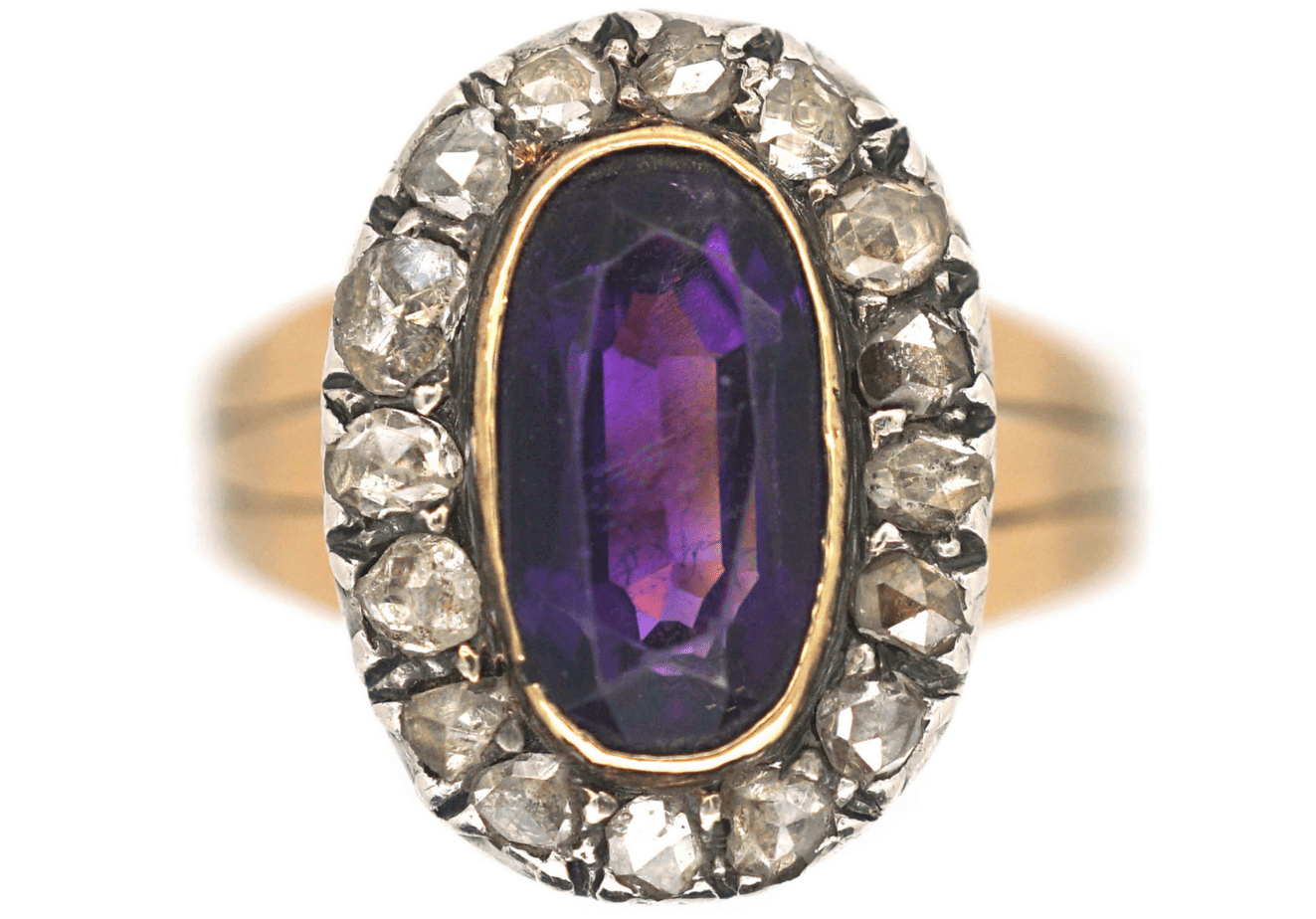 It's hard to overstate the unique beauty of this Georgian-era engagement ring. Embrace the romantic and artistic undertones of the era, rose-cut diamonds surround an oval amethyst stone.
Amethyst was believed to connect one from the earth to other 'planes' or realities. This mystical gemstone is surrounded also by a silver shank, which adds a unique contrast to the 18K gold band. There's something truly enchanting about this ring. Buy Here.
Pros
Mystical Amethyst

Unique Silver and Gold Contrast

Unique Rose Diamonds
Cons
Silver Can Tarnish/ Requires More Care

Rose-Cut Diamonds are More Subtle
Georgian 18ct Gold & Foiled Citrine Ring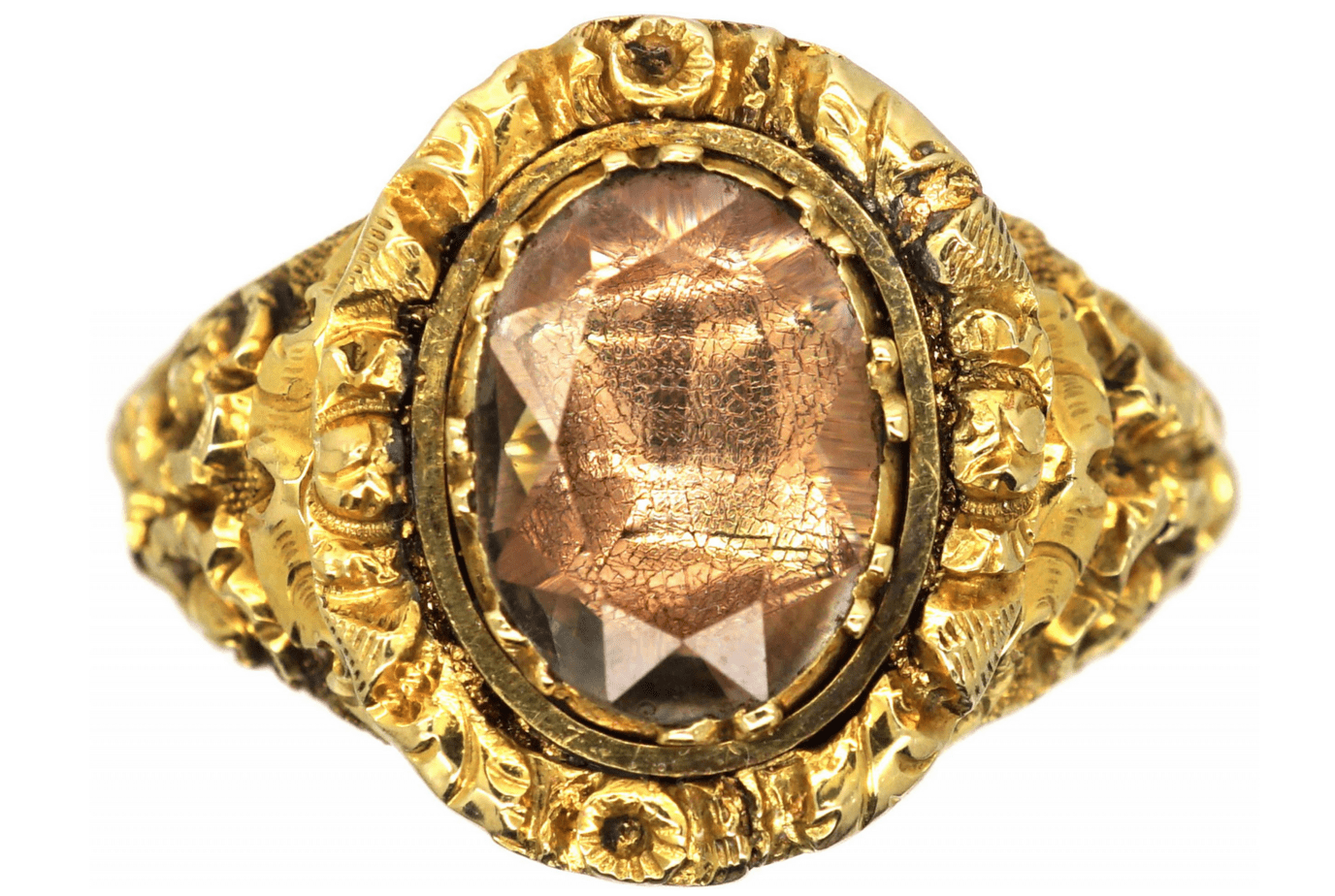 If you love gold, warm tones, citrine is a unique option for an engagement ring. Yellow citrine symbolizes hope, joy and is said to improve self-esteem. While not as outwardly romantic as some gemstones, I think this style here very much represents the artistic flair of its era. This ring is circa 1820 and the pale yellow gemstone isn't the only notable feature.
That gemstone is set on a band with repousse details that cover both shoulders and the top. The foiled style is ornate, a little over the top, and full of era-appropriate flair. Buy Here.
Pros
Unique 18K Gold Foiled Shank

Yellow Citrine Complements Shank

Rare Circa Date
Cons
Citrine is Easier to Scratch (Mohs Hardness 7)

Bulkier Shank
Frequently Asked Questions
Question: How do You Clean a Georgian Ring?
Answer: An authentic Georgian ring may be cleaned more or less how you would other rings. But, I have to caution you that you should be extra careful. I like to use gentle, warm water with a jewelry cleaner of mild soap.
A very soft bristle toothbrush can clean in between grooves. If you're in doubt, take your ring to a professional. Some may even offer a complementary or low-cost cleaning.
Question: What is an Edwardian Buckle Ring?
Answer: A buckle ring has been given amongst both friends and lovers for quite some time. They were especially popular during the Victorian era (England), right before the Edwardian era.
The unique design features a belt and buckle, signifying the tight connection between two people. Though buckle rings come in many different varieties, diamond buckle rings and plain metal buckle rings have been the most popular.
Question: Do Vintage Engagement Rings Keep their Value?
Answer: One thing that frustrates me at times is how the term vintage is used for jewelry. Vintage-inspired rings, which are more commonly sold, are fashioned in a vintage style but with new materials. Truly vintage rings must be a minimum of a few decades old.
A truly vintage ring can retain– or even increase value– depending on its original quality, current condition, and materials used. Precious gemstones, especially diamonds and rubies, tend to gain value over time, so long as they are of reputable quality and taken care of properly.
Question: What Makes an Engagement Ring Look Vintage?
Answer: A vintage-inspired ring, as it sounds, takes inspiration from a certain era. There are many styles to select from, but what I see distinguish a ring most is a unique gemstone cut or detailing along with the band. Modern engagement rings are most popular for sleek band styles.
They also tend to optimize brilliance, with round, oval, or cushion cuts. A vintage-inspired ring may include less popular cuts, like an emerald or marquise cut. It may even include an Old European cut center stone. Art Deco rings are distinguished by plays with colors and floral motifs as well as artistic flair around the band.
Question: How do You Know What Era Your Jewelry Is?
Answer: If you've bought or inherited antique or vintage jewelry, I recommend having it appraised by a professional. While there are distinguishing factors of different eras, it's simply very hard to tell with untrained eyes.
While it's ideal to have come paperwork, trained jewelers can usually analyze the approximate date and qualities of your jewelry. This is also a great idea if you have an intent to sell your jewelry online to make sure you get its full worth.
Final Thoughts
Era rings make for a truly unique and exquisite engagement ring style. As you can see, you don't need diamonds as a centerpiece for a beautiful and authentic ring.
One thing I like to be realistic about is shopping for these rings is more difficult than a vintage-inspired ring. You may need to check back for availability. You also need to know that the round brilliant cut of today's most popular diamonds is simply more brilliant than cuts that used to be used. Thus, nearly all diamonds for past eras will not sparkle quite as much.
Looking for more interesting readings? Check out: