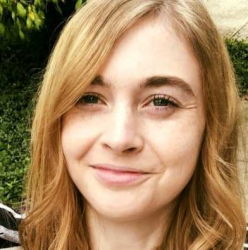 Latest posts by Erin Jamieson
(see all)
Whether you're hunting for jewelry for a special occasion or even just as a gift, classics like moissanite, diamonds, and colorful gemstones like emeralds and topaz often come to mind. But what if you could score a unique and classic look with an unexpected hue?
Black onyx and black obsidian are being seen more and more with fashion-forward and even luxury collections, with beautiful options for rings, bracelets and necklaces.
The renewed interest in onyx and obsidian was on display at events like Paris Couture Week in 2020. An Art Deco theme called for an update on classics with extraordinary details, stunning creativity, and unexpected colors.
From Cartier to Cindy Chao to other well-known names, designer jewelry was a throwback to the past – but also a push against convention.
At the center of that? A surprising entry was onyx, at the center of floral-themed designs, a marrying of innovation and history, and an unforgettable showcase.
If you're considering a special event look that'll stand out or even a non-conventional engagement ring, you may want to take inspiration and consider onyx or obsidian. But if you're versed in diamond engagement rings and don't know much about onyx or obsidian, this article is for you.
I'll tell you everything you need to know about onyx vs obsidian to help you decide which gem is right for you– as well as the best onyx and black obsidian jewelry you can buy from Blue Nile, James Allen, and Etsy.
Main Differences Between Onyx vs Obsidian
The Main Differences Between Onyx vs Obsidian are:
Onyx has a higher hardness and toughness rating than obsidian
Onyx is typically more expensive than obsidian
Onyx is nearly always opaque, whereas obsidian ranges from transparent to opaque
Onyx is much heavier than obsidian
Onyx is a mineral with a crystal structure, while obsidian is volcanic glass
Background and Origins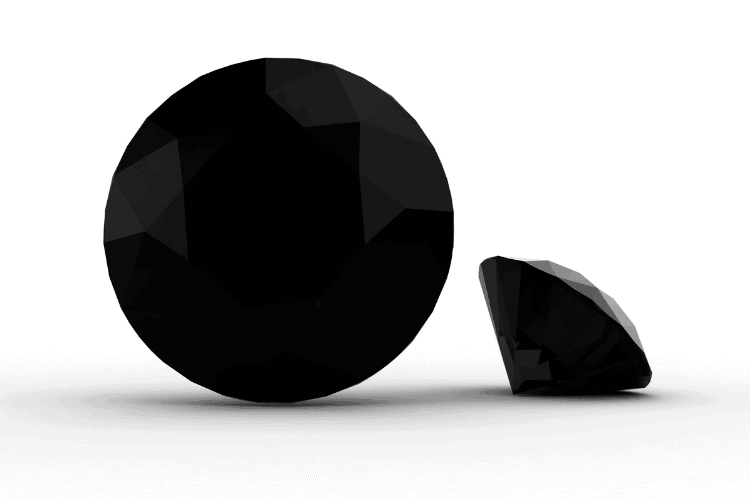 Onyx
Onyx is a natural gemstone that can be found throughout the world, in regions such as: Yemen, Germany, Pakistan, India, China, Canada, Argentina, Australia, Brazil, and some parts of the United States.
It was used in Ancient Egypt to construct pottery, while the Romans associated it with good fortune for war. Composed of silica, it typically exhibits a triangular formulation in its natural state.
Obsidian
Obsidian, meanwhile, has a rather unique composition and background. Obsidian is not a typical gemstone, but instead composed of volcanic glass with mineral impurities and is formed by quickly cooling molten lava.
As such, obsidian is found at the site of volcanic eruptions, with regions including Argentina, Armenia, Mexico, New Zealand, the Canary Islands, and multiple regions in the Western United States. Obsidian has been dated before the stone age, with its earliest use for things such as arrowheads.
Colors and Variety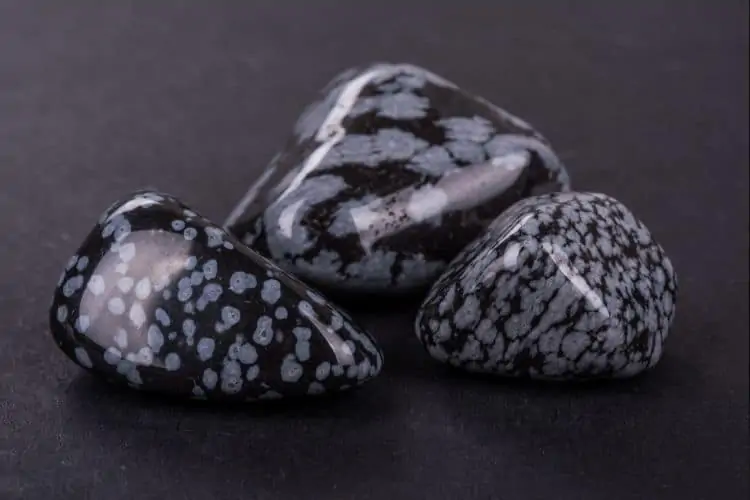 While both onyx and obsidian are most commonly seen in black hues (black obsidian stone) – perfect for a formal occasion and a regal statement– you might be surprised to know that there is some variety in terms of hues (and based on the type of volcanic glass from the volcanic lava flow). That said, keep in mind that nearly all onyx and obsidian sold by fine jewelers or even on Etsy is most available in the black color family.
Onyx
Onyx comes in black, banded white, and some solid black hues. However, depending on the gemstone, it can also include layers or undercurrents of some tints of red, brown, yellow and blue. The most common onyx you'll find is banded or black. Often, jewelry retailers will dye onyx for a uniformly black hue, which is considered preferable to the undertones of other colors.
Obsidian
Obsidian overall has more variety, at least in theory, from onyx. Varieties include sheen, snowflake, rainbow, and mahogany obsidian. Because of this, at least in theory, there's more selection when it comes to hue. Most commonly black, obsidian can also be gray or have banding with brown tones.
Clear obsidian, which is exceptionally rare, includes tones as surprising as blue, green and even red. It is possible to also find silver or violet hues. That said, nearly all obsidian sold for jewelry is black.
Hardness
Hardness is rated on the Mohs scale and refers to how much a material is prone to surface level scratches. The Mohs scale is rated from 1 to 10, with 1 being the least hard and 10 being the most scratch resistant.
This is an important factor, as it will impact how easily your jewelry will become scratched, which can happen with everyday use.
Onyx
Onyx has a hardness rating of 7, which sets it at the same hardness rating as quartz (including black quartz). At this hardness rating, onyx is prone to scratching against something like glass, but other things, such as knives, coins, and fingernails should not cause scratches.
Obsidian
Obsidian is a bit less hard. For most obsidian, it has a hardness rating of 5, while 6 is common for obsidian made of basalt glass. Steel can scratch it, but it can withstand something like a fingernail.
While generally considered wearable for everyday use, it may be problematic for those who tend to be less careful.
Transparency
Transparency affects the overall appearance of your jewelry. Transparency is essentially a measure of the way light impacts the stone–how it absorbs or reflects light. Opaque indicates that a gemstone is absorbing light, while translucent indicates most of that light is being reflected.
For diamonds and many gemstones, the more transparent, the more valuable, but that does not mean it is always the more desirable in every case– some it also depends on personal preference.
Onyx
Onyx is rated as opaque, meaning that it appears solid in color and mostly absorbs light. You want to see much in terms of sparkle from the light reflecting off of it, in most cases.
Obsidian
Obsidian, on the other hand, can range from transparent to opaque, providing shoppers more options. However, it is more common to find obsidian that is opaque than transparent, and it is also going to be more affordable.
Toughness
Toughness and hardness often get confused, but they're actually different. While hardness measures a gemstone's vulnerability to surface-level scratches, hardness instead tells us how easy that gemstone is to chip. If you're anything like me– a little clumsy or plain busy– this is also an important factor.
Simply scraping up against a counter could cause the most fragile gemstones to chip. Toughness also measures how likely the gemstone is to break or crack. Toughness is rated on a scale from Excellent (least likely to chip) to Poor (most likely to chip).
Onyx
Onyx is more fragile than some gemstones, which is while proper care or upkeep may be needed. It can chip if hit directly, and also may be vulnerable to water.
The best way to take care of onyx is to make sure it is treated regularly, and, while you can wear it day to day, avoid wearing it during high or potentially dangerous activity.
Obsidian
Obsidian toughness varies depending on the variety. However, most obsidian is easily chipped or cracked– you'll need to be careful with both onyx and obsidian, but especially so with obsidian, coupled with the fact that it has a lower hardness rating than onyx.
Upkeep and Everyday Use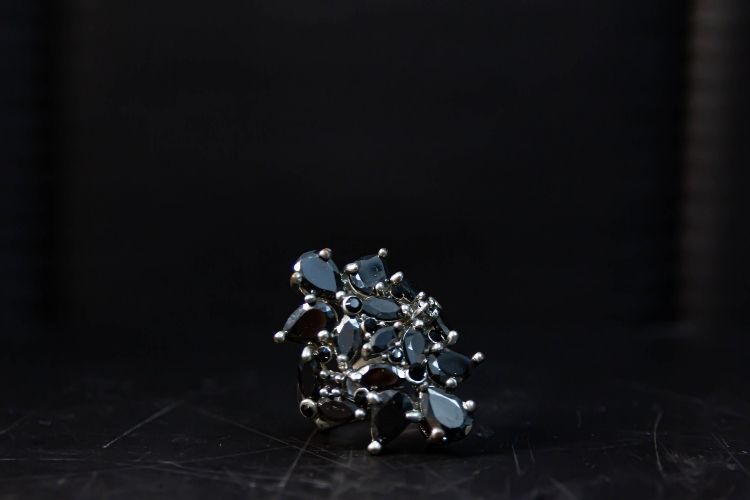 Upkeep or everyday practical use is also sometimes referred to as wearability. This measure sometimes is connected to, but actually separate from hardness. Wearability includes ratings of Excellent, Very Good, Good, and Poor.
Anything below poor is not meant to be worn at all. An excellent rating means that it's useful for everyday use and a poor should be used with caution.
Other factors considered in official ratings for wearability– a few of which will be touched upon later – include temperature resistance, chemical resistance, and related environmental factors.
Onyx
Onyx is rated as having excellent wearability. That means that onyx is largely resistant to temperature and chemical exposure and can be used on a day to day basis. It's the highest level of wearability from the American Gem Society, making for jewelry for any occasion– which can be hard to find.
It is not heat sensitive, making it also ideal in climates with marked variable temperatures, or even changes in humidity. However, even with this, as I noted earlier, it has a number of vulnerabilities.
Obsidian
Obsidian is rated at poor wearability. While there are some variations as to how wearable obsidian is, this means that obsidian is best suited for more special occasions as opposed to everyday use.
It's prone to damage from everyday environmental factors, and especially so if you are working somewhere near pollutants or chemicals (for those cases, I always recommend something like a silicone ring). Overall, obsidian is not the best choice for everyday wear, but can work for jewelry for a special black dress or other occasion outfit.
Price and Availability
I'll be honest: it's challenging to find both onyx and obsidian, compared with more popular gemstones, like rubies. That said, both can be found in small collections, for rings, earrings and necklaces.
Of the two, onyx is typically more expensive, but it's also much more frequently used for fine jewelry vs every day or costume jewelry, compared to black obsidian. Both are notably much cheaper than many alternatives, especially diamonds but even diamond alternatives like moissanite.
Blue Nile
Blue Nile is one of the most well-known fine jewelry online retailers, with over 450 employees and a US revenue valued at around $480 million. Headquartered in Seattle, it's a trusted source for conflict-free diamonds and fairly well esteemed. Blue Nile has a modest collection of onyx jewelry for a special occasion, priced at a little under $100 to $525.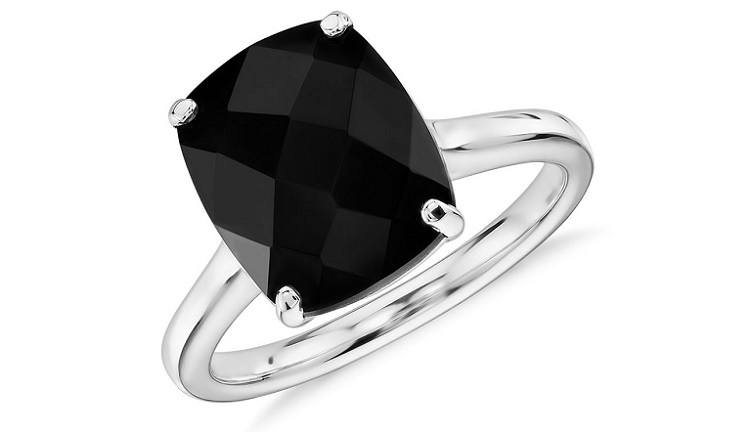 Featuring an onyx cushion ring in 14K white gold, the rhodium plating makes this a more durable option, enhanced with dye for a rich black hue. It's modern, bold and simple enough you can pair it with almost anything for a party. It retails for $525 and is sure to make a stunning statement.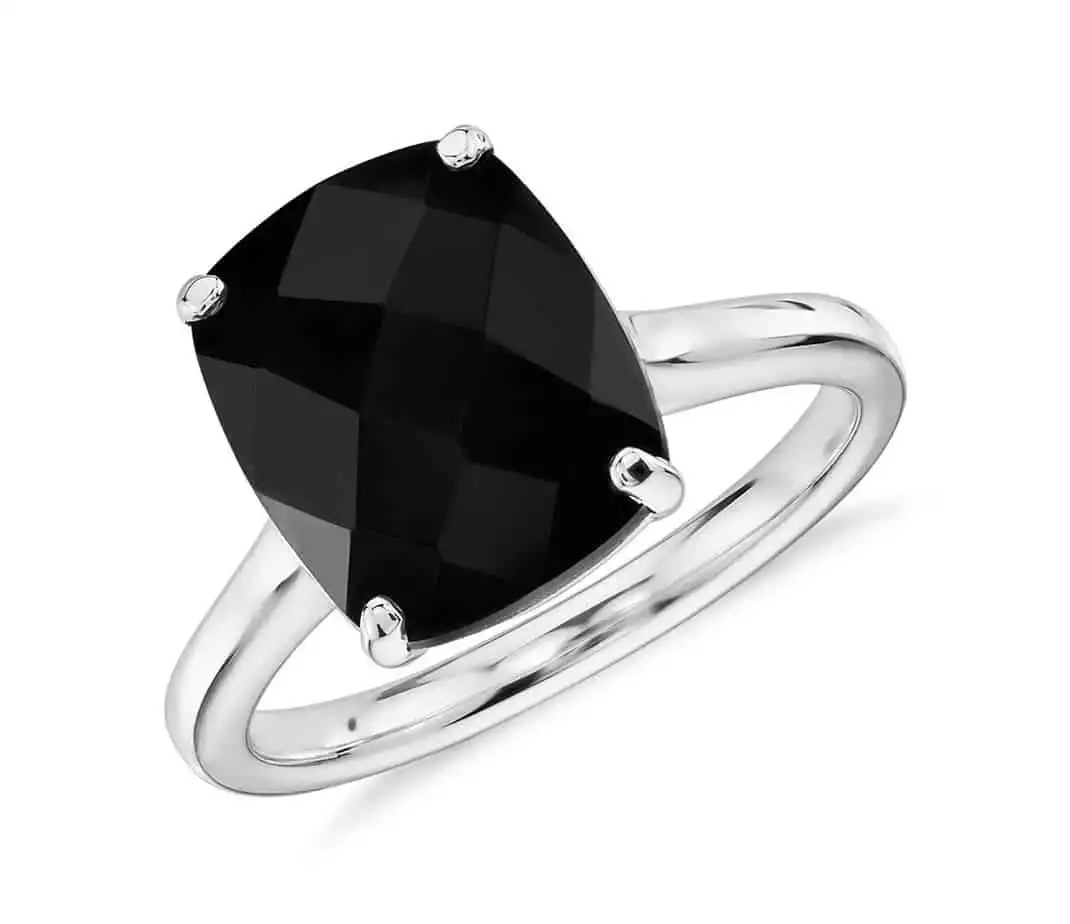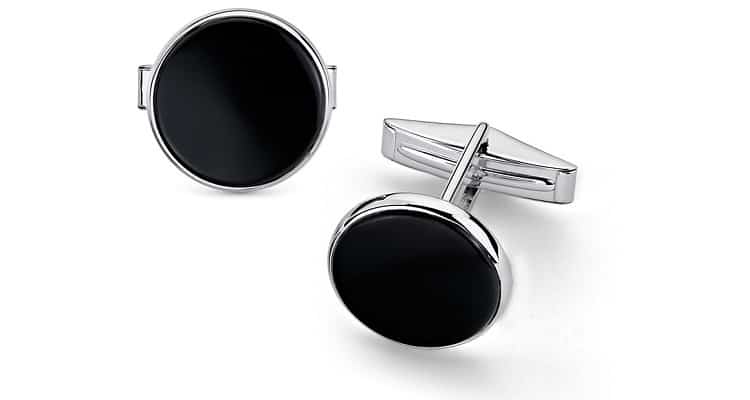 If you're looking for a special occasion onyx option that's priced under $100, this option may be for you. A simple statement, these rhodium-plated onyx earrings are perfect as a gift for a mother in law but can even be worn by a fashion-forward guru looking for a classic but unique look.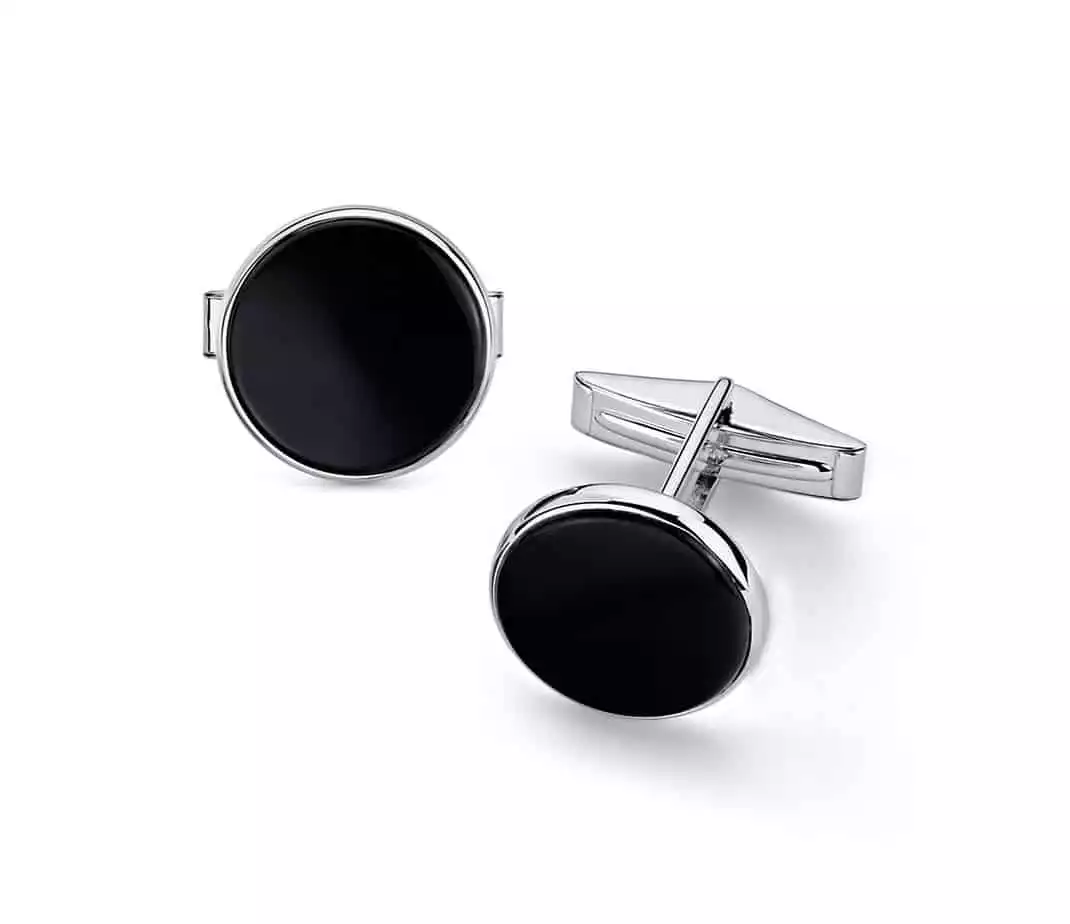 Round Onyx Cuff Links | Blue Nile
Rich and classic, these cuff links feature inlaid black onyx with sterling silver.
Check price
We earn a commission if you click this link and make a purchase at no additional cost to you.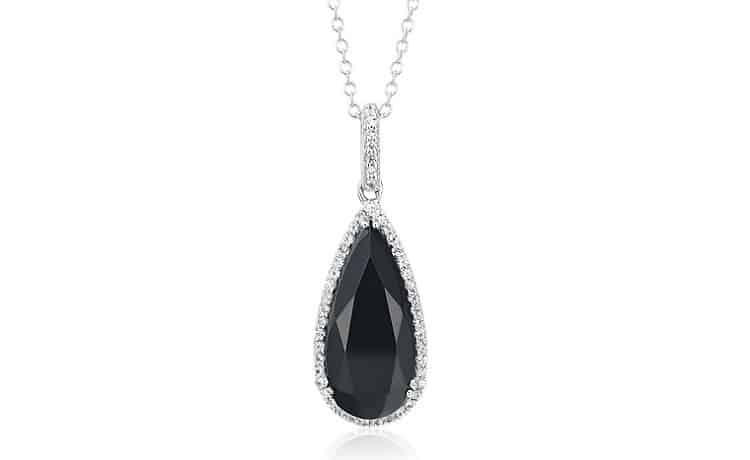 I love this pendant as a memorable anniversary gift or even something like Valentine's. The teardrop shape is elegant, surrounded by white topaz for some sparkle, all on a sterling silver chain. This retails for around $200, with options for other gemstones.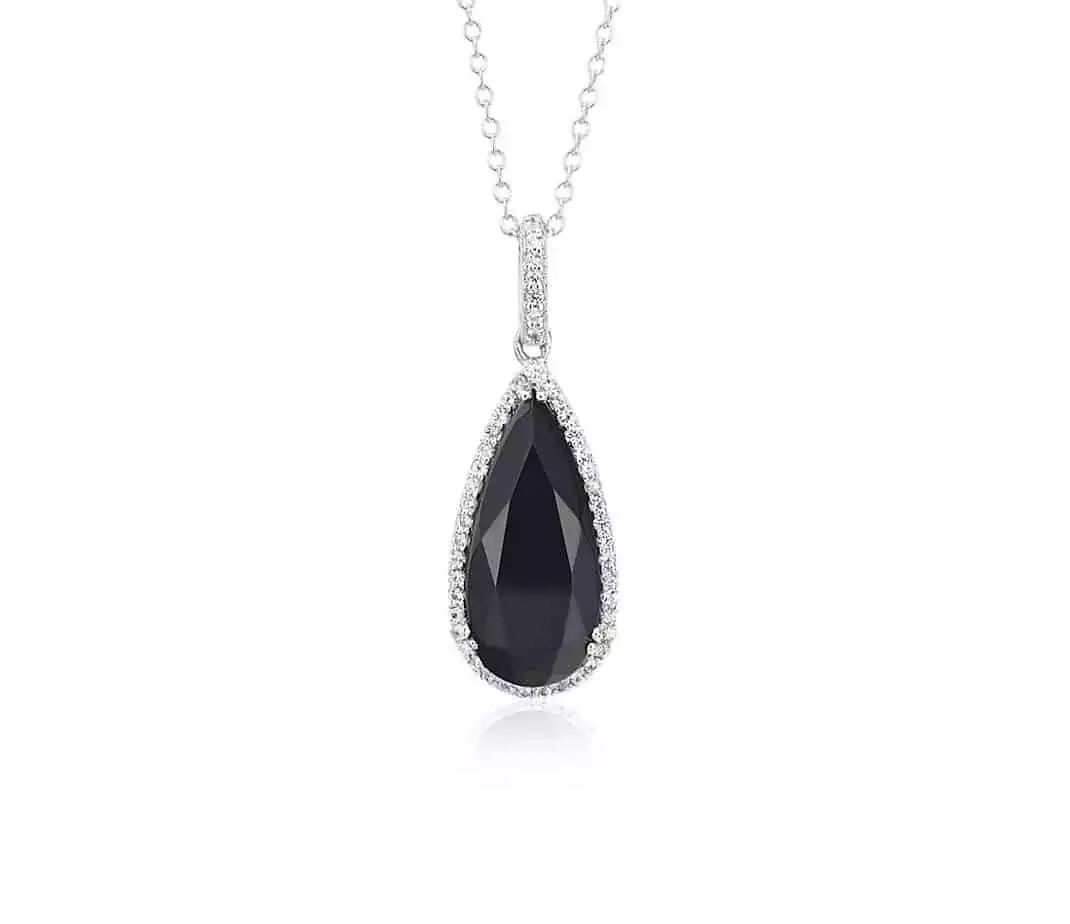 Black Onyx Pear Pendant | Blue Nile
A teardrop-shaped onyx wreathed in a light-catching halo of twinkling white topaz hangs from a coordinating cable chain that can be worn at 16- or 18-inches for just-right placement.
Check price
We earn a commission if you click this link and make a purchase at no additional cost to you.
James Allen
Embrace Art Deco with this collection from James Allen. James Allen is best known for its diamonds, and the ability to design your own engagement rings. A part of the Signet parent company, James Allen is respected in the industry for quality and consistency.
I especially like this collection for the unique designs and bold, almost opulent details. That said, they are a bit pricey.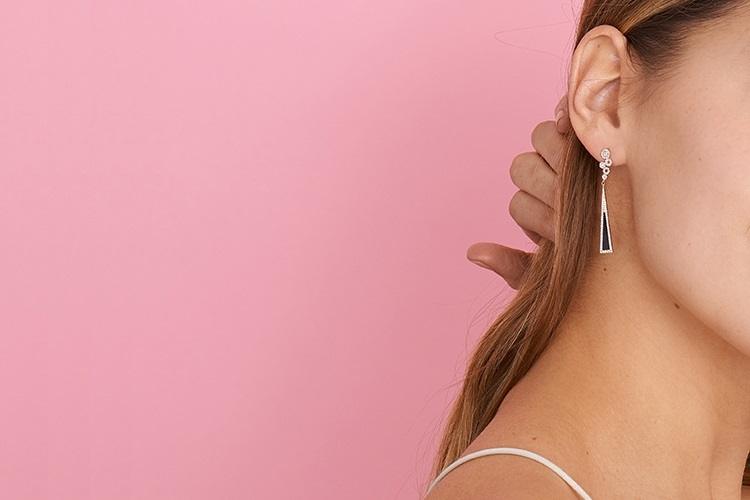 These earrings are gorgeous enough for unique wedding jewelry– whether you're a bridesmaid or a bride with an unconventional wedding dress. Bold with 14K rose gold, onyx and diamonds pair together for dramatic sparkle and a sensational look.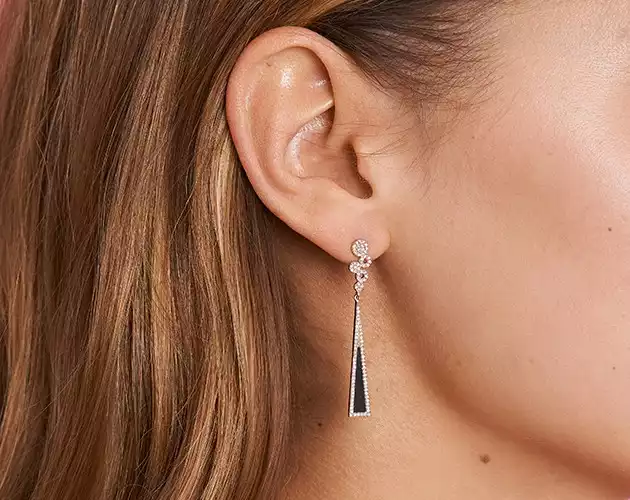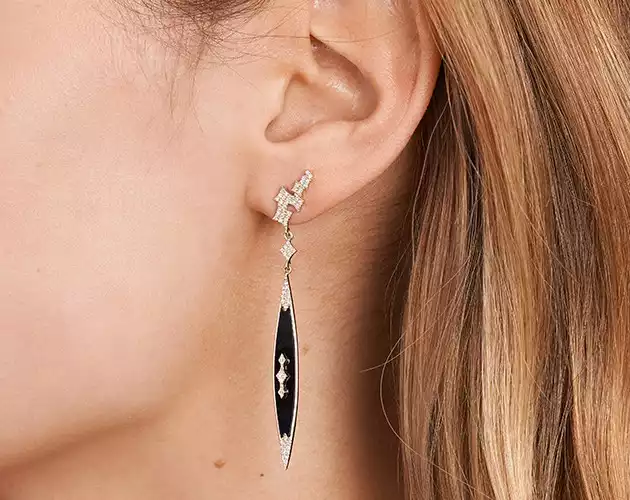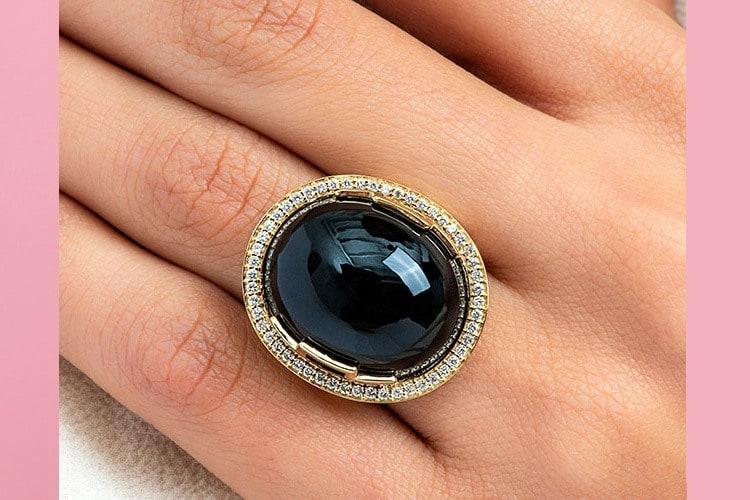 This yellow gold onyx and diamond ring is sensational and equally dramatic, with a look that nods to Art Deco effortlessly. The incredible 24-carat onyx stone is surrounded by small diamonds, making it a gorgeous look for a gala or other special occasion.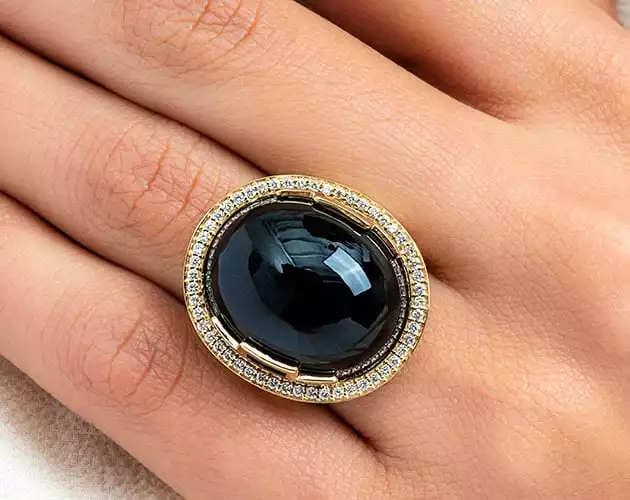 Onyx Oval Cabochon And Diamond Ring | James Allen
This striking onyx cabochon surrounded by diamonds in 18K yellow gold is a serious statement ring. Perfect for daytime or evening wear, this bold piece will elevate any look.
Check prices
We earn a commission if you click this link and make a purchase at no additional cost to you.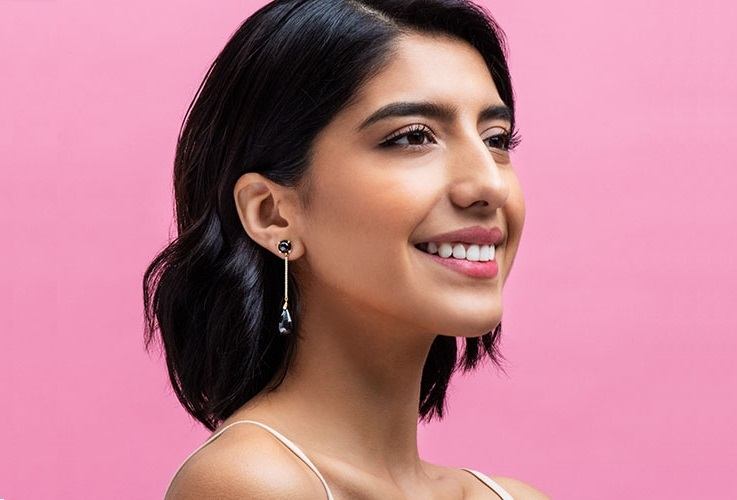 While quite expensive, I thought these 18K yellow gold onyx and diamond drop earrings were still worth a mention. The chandelier drop style is classic and simply elegant, but versatile enough it would work as jewelry with a black dress or something bolder, like a printed black or gold pantsuit.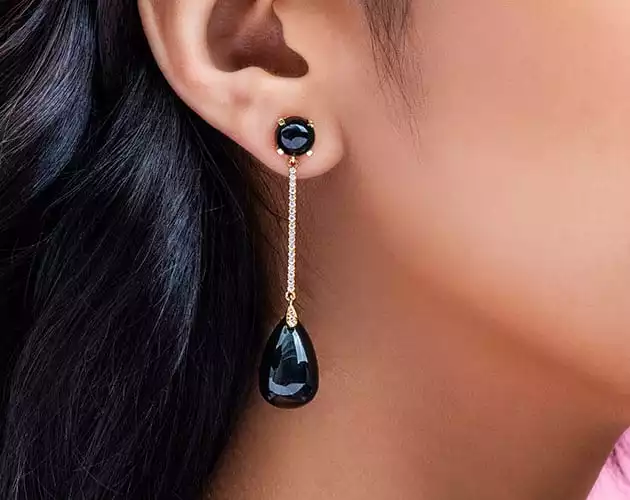 Etsy
With Etsy, you are always testing a little more of the unknown– these are often independent sellers. But Etsy is also a great way to find unique, handcrafted or even heirloom items.
If you want to make sure you have an exceptionally different onyx look, you might consider one of these Etsy jewelry options. I love how affordable these are too-meaning you aren't risking much and can feel free to wear on a daily basis.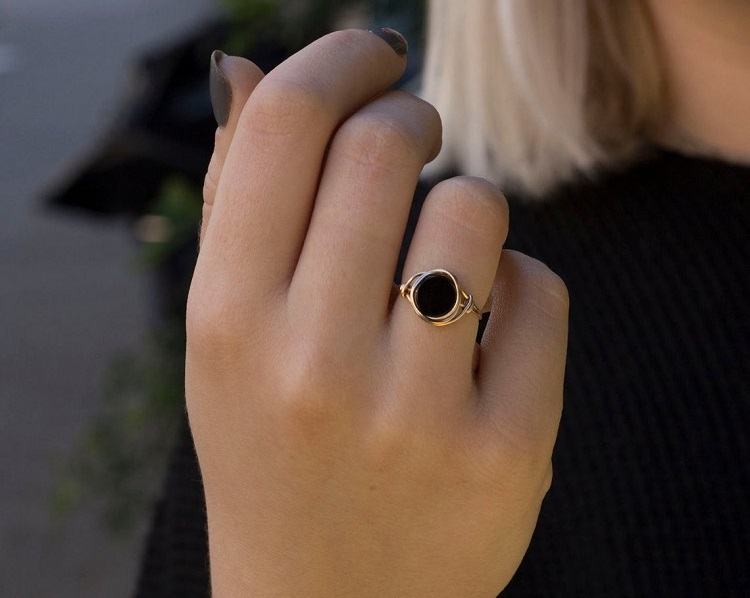 Priced at under $50, this knot ring is handmade and available on rose gold, gold, or silver. The seller has well over 4,500 sales, with an average rating of four-five stars. It's modern but also great for casual to semi-formal looks. Buy Here.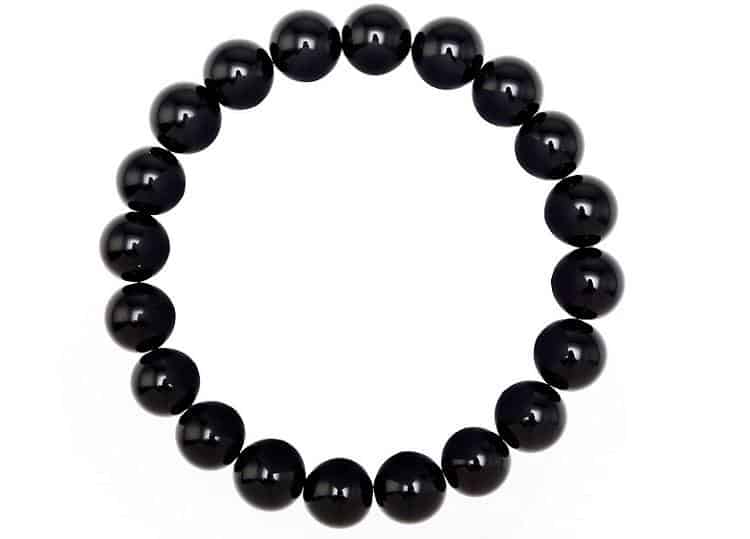 Want onyx jewelry at under $10? This bracelet is a fuss-free option and can even be paired with something as casual as jeans. This polished bracelet works for all ages and is from a seller with over 225,000 sales to date, with great reviews. Buy Here.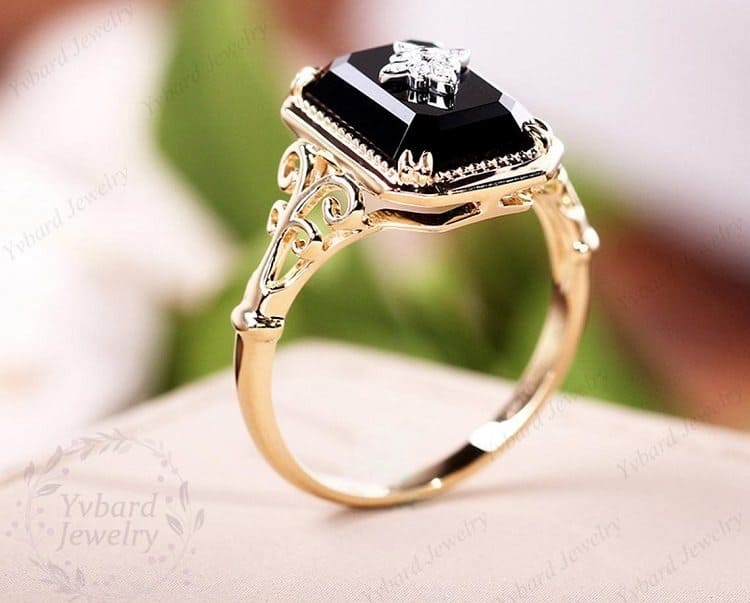 I'll finish off with perhaps my favorite onyx ring, priced at a little under $300. This undeniably unique and stunning ring comes on either 14K or 10k two-tone gold, with a natural black onyx stone featuring a stunning 0.03 diamond inset. Buy Here.
Frequently Asked Questions
Question: Is Obsidian good for jewelry?
Answer: Obsidian is neither your best nor worst option for jewelry. Obsidian can be a unique and beautiful choice and is a great option if you love Art Deco (or even Art Nouveau) jewelry but are on a tight budget. That said, I'd never recommended obsidian as an alternative to a diamond.
At a much lower toughness and hardness rating, it is more prone to everyday scratches and chipping. Of course, it would also be less expensive to replace– but even compared with onyx, obsidian is considered to have relatively poor wearability.
Question: Is Obsidian worth any money?
Answer: Obsidian is not worth much money– making it highly affordable but, of course, not of great value. It does depend on your variety of obsidian, but a small piece can go for as little as $10 or up to a few hundred (which is far rarer).
Question: How can you tell real onyx from fake?
Answer: There is some fake onyx out online, especially if you're buying from an unknown seller. While it's hard to know for sure beforehand, there is a way to test yourself, whether you have purchased genuine onyx. Onyx is heat hesitant, while fakes are not.
If your gemstone melts before heating, you've likely come up with a fake. Of course, buying from a well-known seller like James Allen or Blue Nile can greatly cut down on your risk for buying something fake.
Final Buying Decision: Onyx over Obsidian
While both onyx and obsidian make for unconventional rings, necklaces and bracelets, the choice for most people is fairly clear. Onyx has better wearability and is still exceptionally affordable.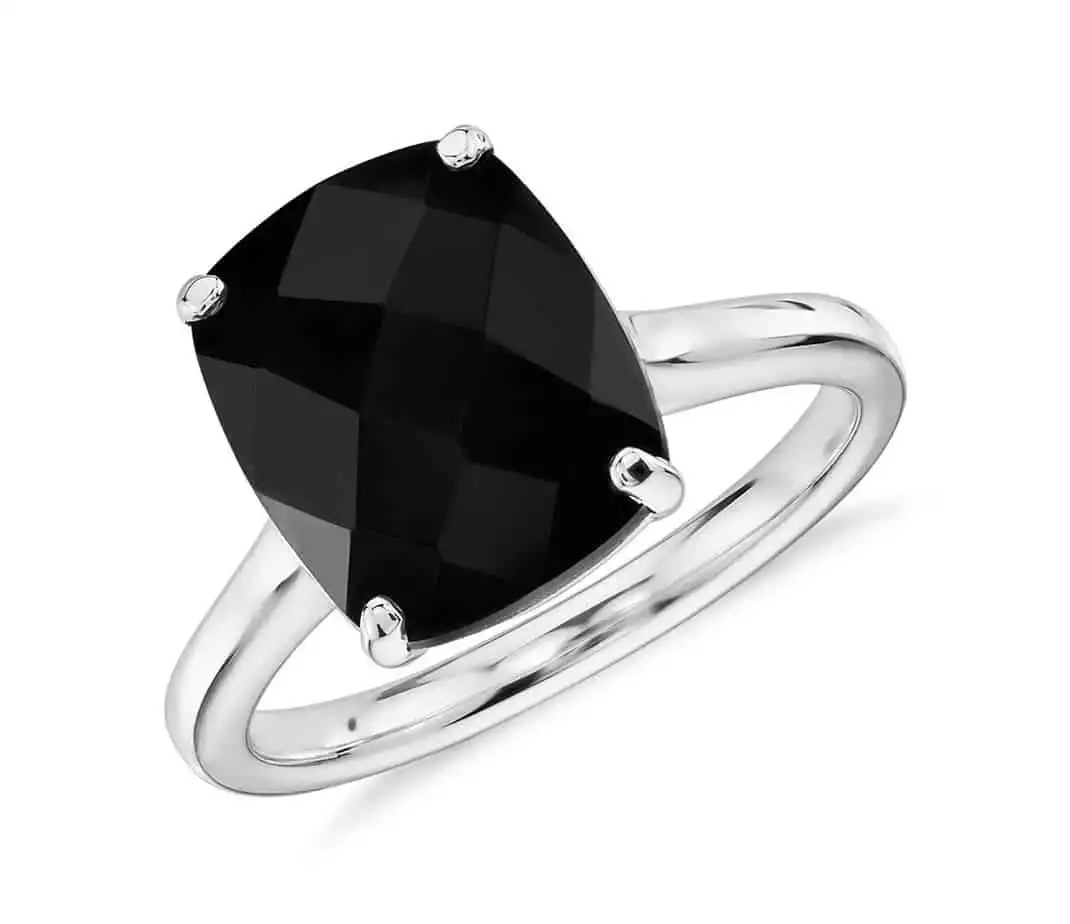 Unless you especially like the look of obsidian, or want an extra budget-friendly option, you'll probably be happier with Onyx in the long run. That said, if you are looking for something you can wear every day, you may need to do so with caution.
Looking for onyx? Here's where to buy, and my favorite options- from James Allen vs Blue Nile, to Etsy.
Further Reading: