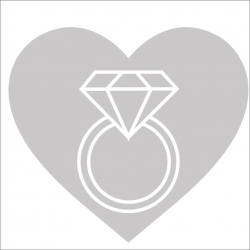 Latest posts by Love You Tomorrow Team
(see all)
It used to be that asking for a cash wedding gift was considered faux-pas. But all of that is changing, thanks to the rise of cash wedding registries.
In 2017, 6 percent of couples were registered with a cash registry. That may seem like a small number until you considered that figure accounts for a 50 percent increase from 2011, when only about one percent of weddings used a cash registry. The average wedding cash registry funds just under $1,500 for the newlyweds.
An Unconventional Choice: Still, it would be a mistake to suggest that opting for cash registry is an easy decision. When then groom-to-be David McGuiggan announced to his mother that he and his fiancee were opting using Honeyfund, a prominent cash registry for their wedding, she was less than ecstatic.
In an interview published in The Atlantic, he recalled her reaction as anything but warm. Her reaction came in part, from a traditional point of view and the way asking for cash has been treated in the past:
"For her generation, it was greedy, like you're begging for money…Back then, you were gracious to receive three different irons, which really happened to my parents."
And while his fiancee noted they, in fact, already owned things like irons, it still was hard for McGuiggan's mother to accept.
Our Top Choice

Why we highly recommend Honeyfund
Planning a wedding? Been there! I used Honeyfund and did NOT regret it. I built an AMAZING registry in minutes and plan the ultimate honeymoon. Check it out.
Get Started
We earn a commission if you click this link and make a purchase at no additional cost to you.
Are Cash Registries "Tacky"?
Google this phrase and you'll get nearly 180,000 results–a sign, in part, that even today couples worry about the optics of using a cash registry for their wedding. While you may have some skeptical guests at first, cash registries are undoubtedly not tacky in the way simply asking for outright cash would be.
If you're still worried about making sure the cash registry appears in good taste, here are some tips to keep in mind:
Provide options. If you are doing a cash only fund, make sure there is at least one option apart from a big budget honeymoon.
Keep in mind policies: Does the wedding registry offer user friendly options like group funded gifts?
Make use of a free website. Most cash registries, like other wedding registries, offer the option to create a free website. Spend time making it personal, fresh, and easy to use.
Add a personal note: though optional, you can always added a little note explaining why the experiences or cash funded options you've selected are meaningful to you.
Make it clear that it's optional. Some guests may just never feel into the idea of a cash registry, but you can be respectful of them and your own wants and needs at the same time. Make it clear that guests are free to bring a more traditional gift, and word your cash registry as something 'if guests would like to contribute to'.
At first glance, Honeyfund is a vibrant, bold, and updated website that is easy to navigate.
There's a button for guests to find a couple, or for couples to login in at the very top center of the page. Scroll down the colorful main page further and you'll find a button to sign up, followed by top destination trends and the latest travel deals.
As the name and the main page implies, travel, namely honeymoons, is what Honeyfund is all about. And because of this, there's countless destination options, from the most typical caribbean getaways to more offbeat locations.
If you aren't looking to fund a honeymoon or some big ticket traveling, right off we'll tell you that this is Honeyfund's speciality.
But there are other things you can use Honeyfund for too, including donating to charities and even down payments on a house!
Honeyfund started out in 2006, with headquarters in Sonoma County. The idea was simple: create a free registry (that meets the needs of modern couples). If you've heard about it, you may simply have been watching reality TV. In 2014, the founders appeared on Shark Tank, and landed Kevin O'Leary, also known as 'Mr. Wonderful'.
With O'Leary's investment, Honeyfund received a makeover, with updates to their services, new staff, and the launching of an app and gift card services. In total, over 800,000 couples, and counting, have used Honeyfund since its initially humble inception. They are currently headquartered in Silicon Valley.
Ratings: Although Honeyfund has operated 12 years, it was only accredited by the Better Business Bureau in April of this year. It does hold an A+ rating, and while there are reviews on Honeyfund's internal site, it takes some digging to find external reviews.
Strangely enough, you can find some reviews, at least on the Honeyfund app, on the Apple Store. There, it earned mixed reviews, with an average if 3.2 stars–but keep in mind this is just for the app.
How it works: You simply create a free account, then are directed to add any cash funded experiences you'd like to your registry. You also are provided a free website, which can be shared to social media.
Here are the steps involved:
Provide your name, partner's name, wedding date (optional), photo (optional), currency, and a wedding hashtag, which will serve as your personal URL.
Enter your honeymoon location and type ( you can also opt out)
Enter how you'd like to receive funds–you may select direct transfer, gift cards
A page to register for 'popular gift cards' which you may skip
You will be directed to your main page, where you can design your site, add gifts, photos, and details about the wedding (date and location; hotel info; flight savings; and a personal greeting).
Selecting Items for Your Registry: Start off by selecting either a honeymoon or anything registry. While you can select to fund honeymoons on an anything registry, it also permits you to add other items. You'll also be given to opt in or out of offers for deals on things like airfare, hotels, cruises, transportation, and dining, among others.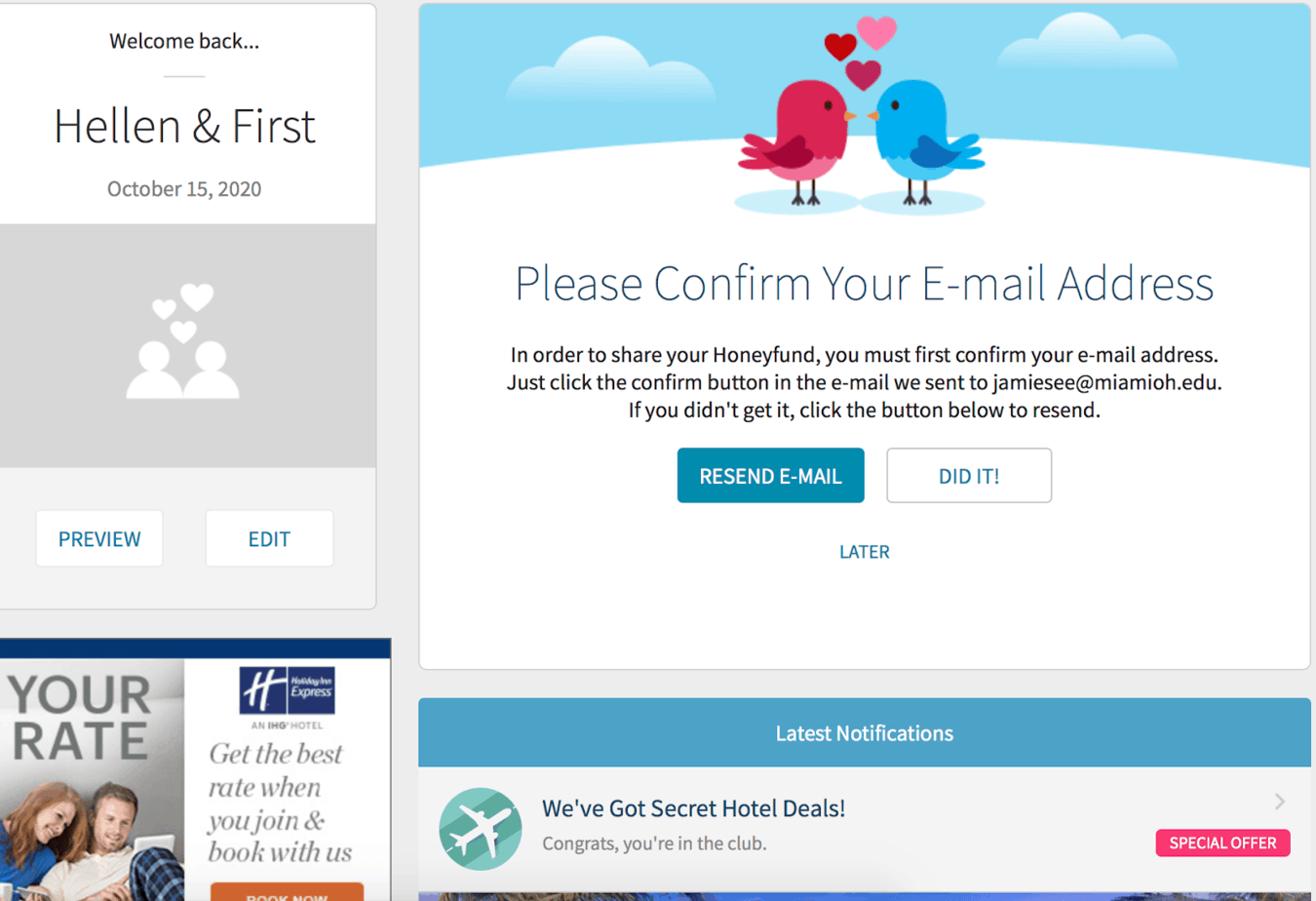 If you selected a location, you'll be given a generic list of things to fund, which you can delete, edit or add, or even reorder. You can also add your own items and select from a number of featured brands Macy's, Anthropologie, Wayfair, Target, Amazon, Pottery Barn, Kohl's, Sur La Table, among others.
By selecting a brand, you'll link to individual wedding registries, where you can sync accounts but will be required to create a new account for each additional traditional registries.
Our Top Choice

Why we highly recommend Honeyfund
Planning a wedding? Been there! I used Honeyfund and did NOT regret it. I built an AMAZING registry in minutes and plan the ultimate honeymoon. Check it out.
Get Started
We earn a commission if you click this link and make a purchase at no additional cost to you.
Honeyfund: How easy is it to use?
While creating an account is simple enough, navigating the management of your registry can be a little more challenging. The interface isn't as updated as some other registries, so we suggest you take the offered tutorial when you first open up your account. It's also more difficult to filter out options, though deleting or editing is fairly simple.
One big plus is the Universal Registry Tool, which allows you to bookmark items from outside stores and add to your honeyfund; you just need to enter the item's hyperlink. This also allows for more variety, especially if there's a single item you want but don't want to link an entire partner registry.
Featured Locations and Funds: What Honeyfund doesn't do as well in terms of their general registry, they make up for when it comes to options for cash funded experiences. Honeymoons are the highlight, and there's countless options for locations and suggested mini experiences with each location.
Even before you create an account, you can get a preview of featured destination, which is also great if you aren't sure where you want to go on your honeymoon yet. Filter destinations by:
Island
U.S.
Europe
Latin America
South Pacific
Asia
Africa
Selecting a featured location will provide you with a description and a starter registry, which you are free to edit and customize. There's also a featured destination of the month. The real couples tab will also provide inspiration, and you might need it, since the travel destinations are truly varied.
As far as other noteworthy cash funds, you should browse the sample Fun Registry, which consists of eclectic experiences like cooking classes, swing dance lessons, and even services like house cleaning. While not as specific or unique as some other cash registries, this option adds something extra to vary your registry.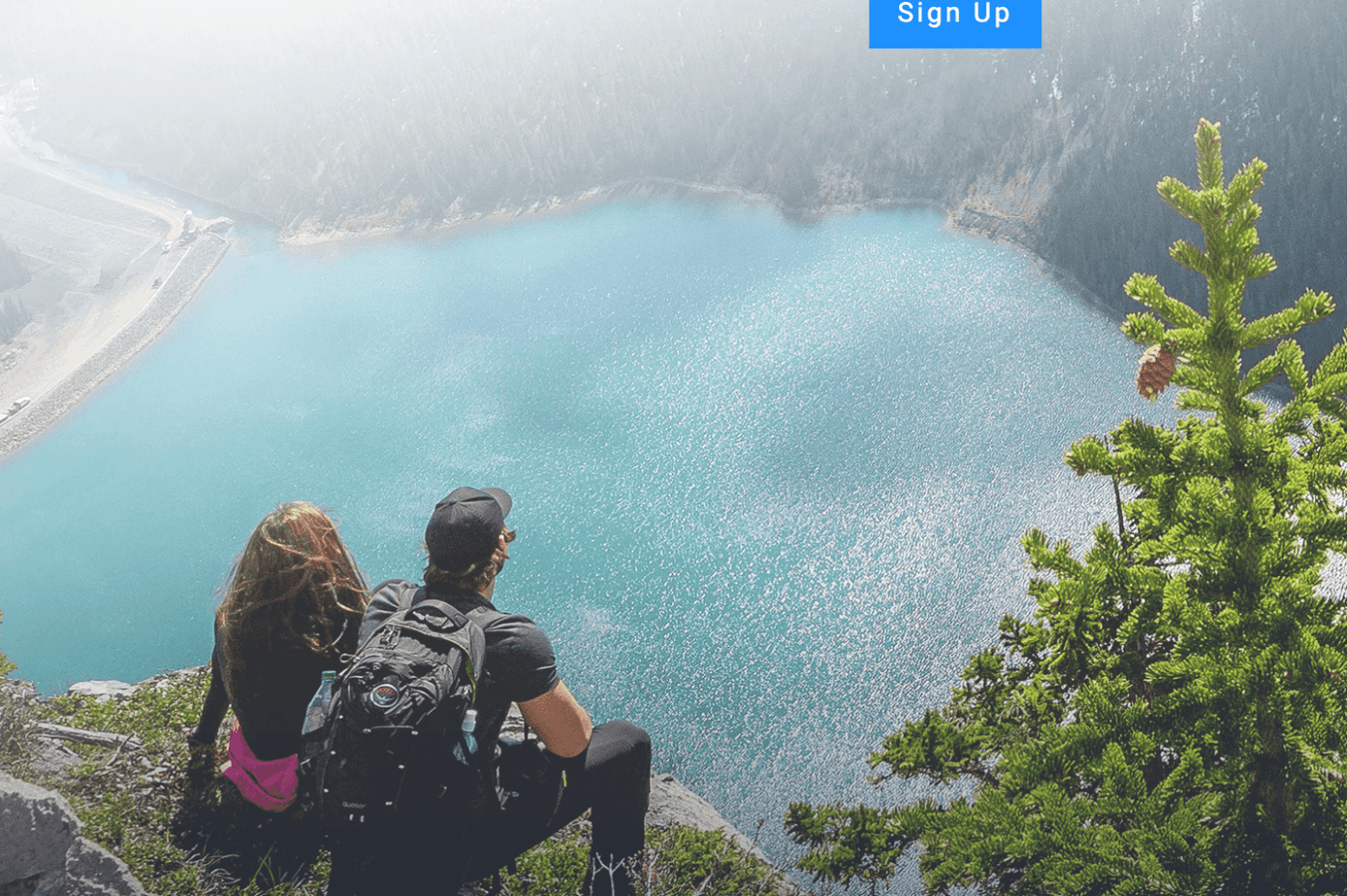 Terms and Policies: It's never fun to look through terms and policies, but if you're interested in a wedding cash registry, it's a must.
Fees: Honeyfund is free to use for couples. However, fees on gifts is a little more complicated. Honeyfund claims that there are 'no fee' and 'low fee options', and that your guests never have to pay those fees. Translation: the couples will pick up some of the fees. Bank account direct deposits take a fee of 2.8% plus $0.30 per transaction. International fees add an additional 1% fee.
The no fee option is when guests opt to have cash or checks sent by mail.
Honeyfund Elite Membership is an account upgrade. For about $10, you'll be given design templates, cover photos, more layout options, and additional password protection. While these are great features, it's a downside that you have to pay for them, when other sites give you these options free of charge.
Methods of Payment: received money through PayPal, WePay, or by cash or check
You book your travel with their travel partners.
Other features include gift cards, and the app so you can manage your registry on the go.
Website Design: Unless you upgrade to the elite membership, site design is pretty minimalistic. You are able to add essential details (see our list above) and the necessary information guests need about your wedding, so it's definitely functionable; It just isn't very personalized unless you get the upgrade.
Waderable, against Honeyfund, may have a simpler main page design, but it's a formidable competitor as a cash wedding registry. Wanderable proudly brands its recognition as a 2018 pick for The Knot's wedding awards. The classic page template is functionable and pleasant: there is an upper tab "how it works" alongside a tab to locate a specific registry. The login for registered couples is front and center.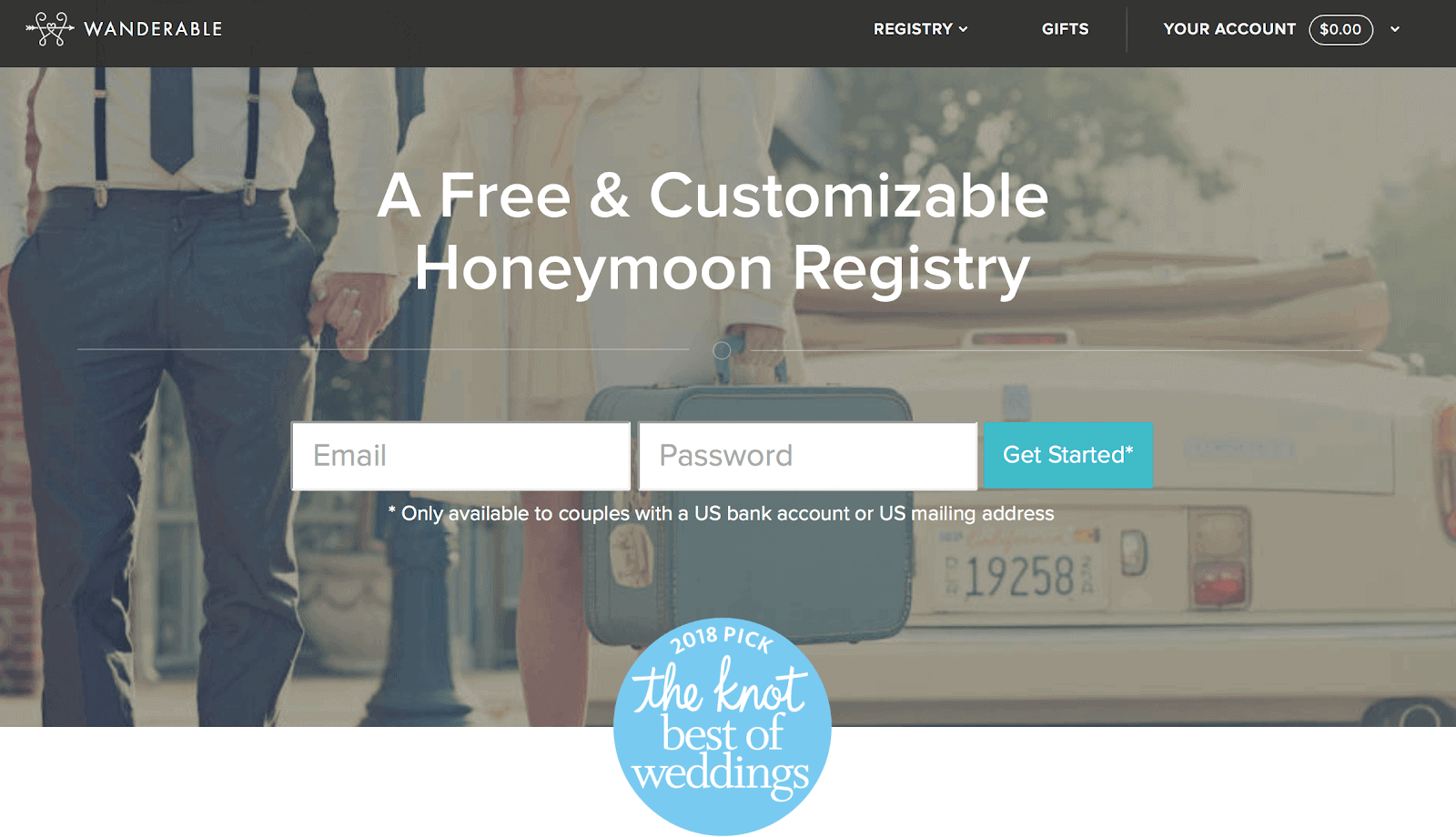 Scroll down further and you'll see an option to preview website templates, testimonials, and general contact and FAQ's at the bottom of the page. Wanderable makes their gifts about experiences, and while it does mention honeymoons, it is a little less centrally focused as Honeymoon Fund. You won't find as much inspired destination travel guides, and you'll find more of other cash fund travel and non travel option.
Company History: Wanderable opened operations just two years before Honeyfund, in 2004, in Brooklyn. It's continued to expand, and has been featured in outlets like USA Today, the Wall Street Journal, Forbes and Techcrunch. There's less information about how they expanded, but it's made waves as an user friendly cash registry that continues to expand.
Ratings: Wanderable does not appear to be Better Business Bureau rated. This is not an outright red flag; many e-commerce companies are not. However, this makes it important to check consumer reviews and reports. While it's not BBB accredited like Honeyfund, unlike Honeyfund, there are ample outside customer reviews. On WeddingWire, Wanderable averages a 4.8 out of 5 star rating.
How it Works/ Selecting Items: Wanderable allows you to preview quite a bit before you get started, which is always a plus. You can browse website templates, policies, and check out their running blog. You can even preview sample registries, all also offered with Honeyfund, but with more depth here. There's also a comparable sections to browse destinations, though this varies in a number of ways,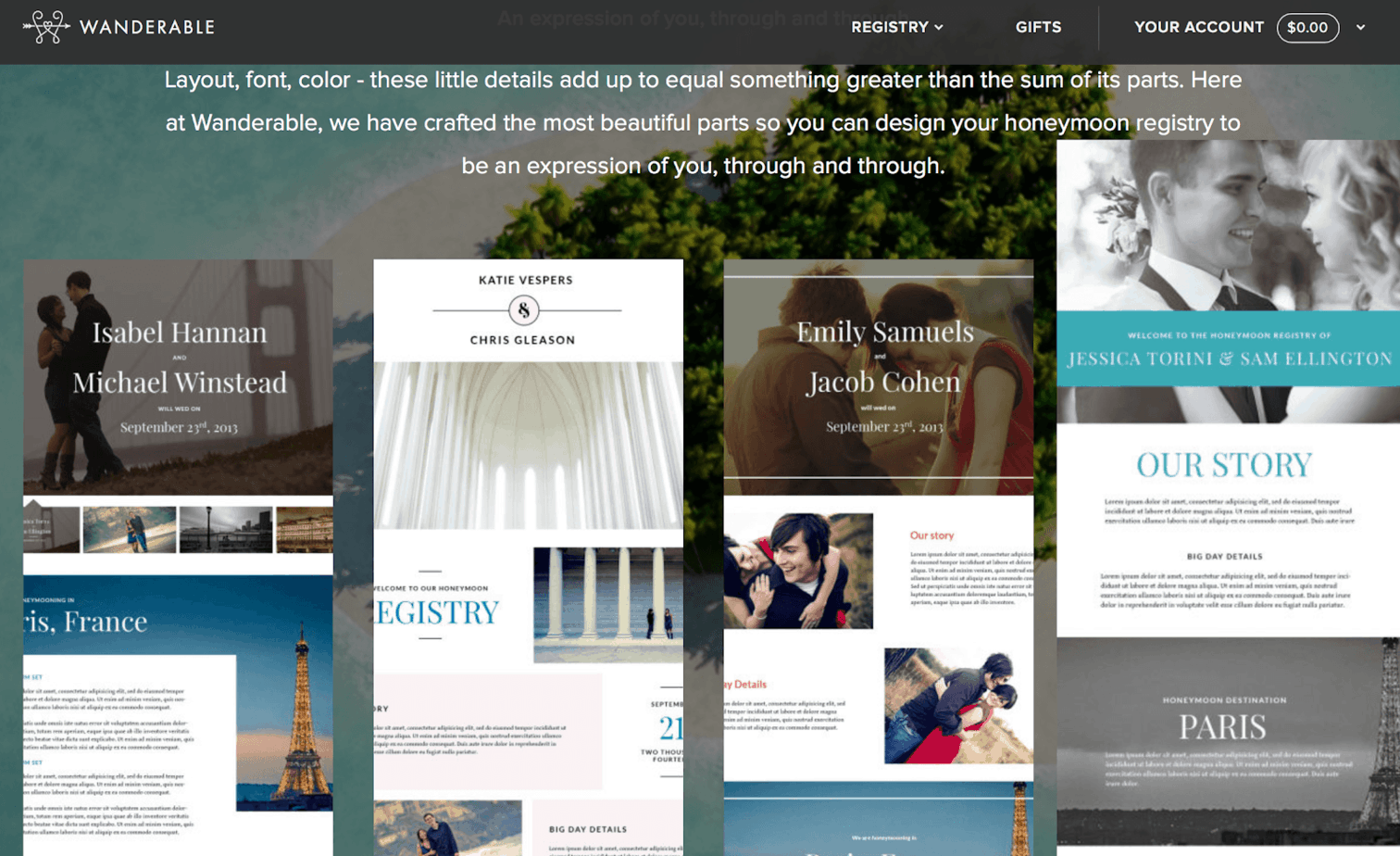 Here's what you'll be asked in order to set up your account:
Registry Design: On this page, like Honeyfund, you'll be asked to provide your name and other basic wedding details, including a honeymoon destination.
Layout: Select from four different basic layout options. It's not optimal, but you get more for free here than you do with Honeyfund. Then again, if you pay for Honeyfund Elite, you get less templates from Wanderable.
Registry Design: Select a set color palette or a three colors of your own.
Upload Photos and Preview
As you can see, there's more set up to creating your actual site, which may be a plus or minus depending on what you're looking for from a cash registry, From there, You can add items simply by selecting the "create items" button. Tagged searches include categories for dining, transportation, hotels, shopping, and fun experiences.
On the same screen, you also have options for group or split funded gifts. You can set your own amount and edit whenever you need. It's better than Honeyfund in terms of flexibility but if you have no idea what you're looking for, it's a little more difficult. That's because there doesn't appear to be any pre set or suggested activities or accommodations as there is on Honeyfund.
Wanderable: How easy is it to use?
Wanderable is both easier, and more difficult to use than Honeyfund. If you're looking to design a website, it takes more time and steps. It also may take more time to add or select gifts, as it's up to you to come up with ideas and search terms. On the other hand, the template and working with your registry is more streamlined and intuitive. The more modern design makes it easier to navigate and manage different areas of your registry.
Featured Locations and Funds: Honeymoon destinations are featured a little bit differently. Destinations are featured by popularity based on month, where you can browse top cities, countries and islands. It's a little less comprehensive or detailed than Honeyfund. There's also less in terms of inspiration. Nonetheless, it's an impressive list of destinations.
Destinations are spread worldwide, though it's important to note that there's an emphasis more on popular destinations and it may be harder to find offbeat ones.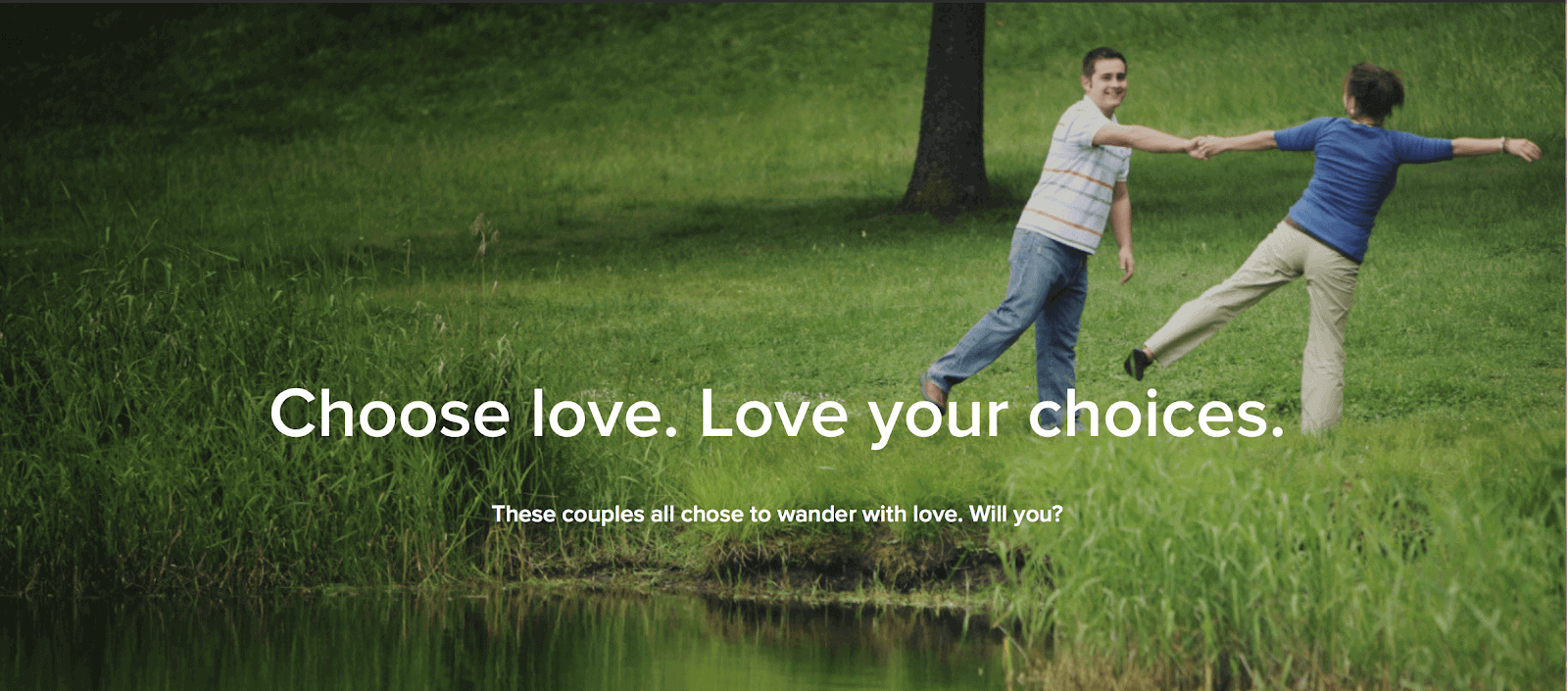 One neat feature? When you click on a specific destination, you can find sample itineraries from real life couples.
Non honeymoon funds include:
"Play" items like scuba diving, sailing, cooking classes, concert tickets, horseback riding, and many more
Dining Items
Accommodations, including hotels, bed and breakfasts, and even castles
Shopping and Transportation
You can also make your own custom fund with a "you decide" button. Compared with Honeyfund, Wanderable is slightly less exhaustive in terms of honeymoon options, but has a little more in terms of other easy to find cash funds. One big downside is that there isn't an option to link other items from other online stores.
Terms and Policies: In terms of policies, Wanderable has several things that are close to Honeyfund, but slightly different.
Fees: Wanderable is free to use, but credit cards are charged a 2.5% standard fee, plus $0.99 per transaction. And like Honeyfund, cash and checks sent by mail have no fees.
Methods of Payment: Credit card, cash or check only. They do not accept payment like Paypal.
Other standouts? Website design. Wanderable offers beautiful and customizable templates that you can make truly personal.
Conclusions:
Select Honeyfund if you're mostly concerned with unique destinations, want a faster process, and would like the option to link to other registries and online sites. Harder to use, quicker set up.
Select Wanderable if you are focused on creating a beautiful website, finding popular destinations, and adding fun activities. Easier to use, longer set up.
Our Top Choice

Why we highly recommend Honeyfund
Planning a wedding? Been there! I used Honeyfund and did NOT regret it. I built an AMAZING registry in minutes and plan the ultimate honeymoon. Check it out.
Get Started
We earn a commission if you click this link and make a purchase at no additional cost to you.
Here are some related articles you may be interested in: