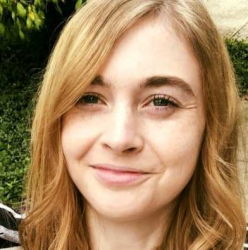 Latest posts by Erin Jamieson
(see all)
I've always thought of November as a time of change and coming together– from Thanksgiving the turning of weather and swiftly falling leaves.
So it seems to suit that one of November's birthstones would be unique, expressive, and tied to passion. Morganite engagement rings from a talented jeweler like Brilliant Earth are stunning and romantic.
I'll give you my favorite ring design ideas. From classic cushion cuts to floral motifs and diamond accents, Brilliant Earth carries some of the most stunning morganite engagement rings. These sustainably sourced rings are exquisite — and bound to give you inspiration for a truly unique style.
Best Morganite Engagement Ring – Bottom Line Up Front:
If I had to select just one morganite engagement ring from Brilliant Earth, it would be this Comfort Fit Morganite Engagement Ring.
This ring features a sleek but classic solitaire style, with a beautiful but simple shank that showcases the beauty of the morganite gemstone. If you're like me and have sensitive skin, the curved comfort fit is a bonus.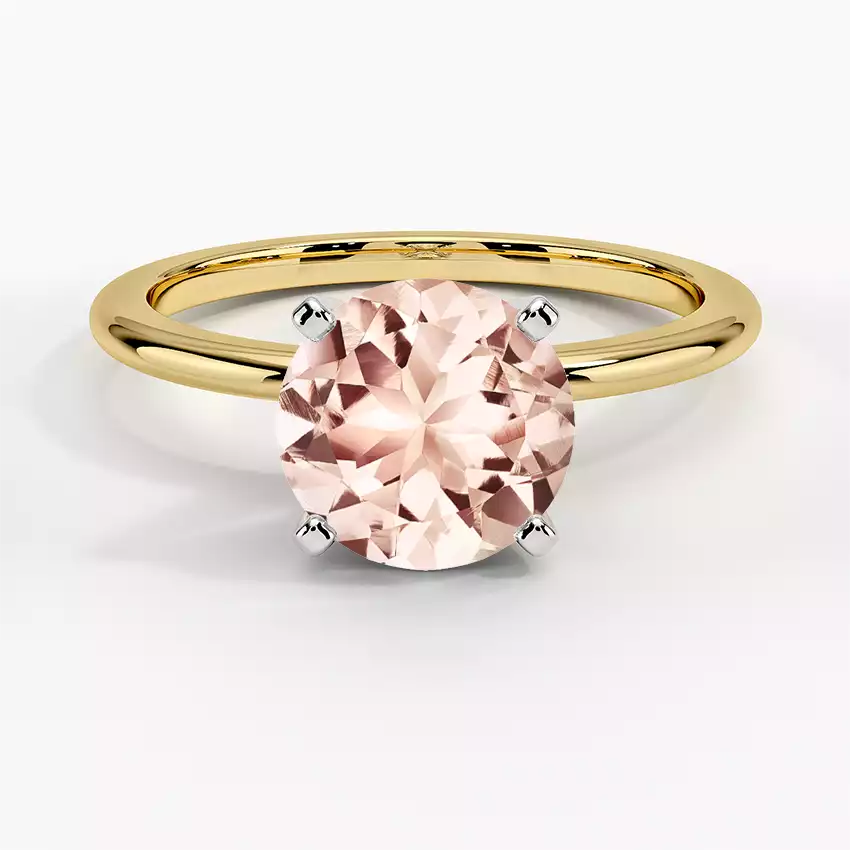 My Top Picks
How I Selected These Morganite Engagement Rings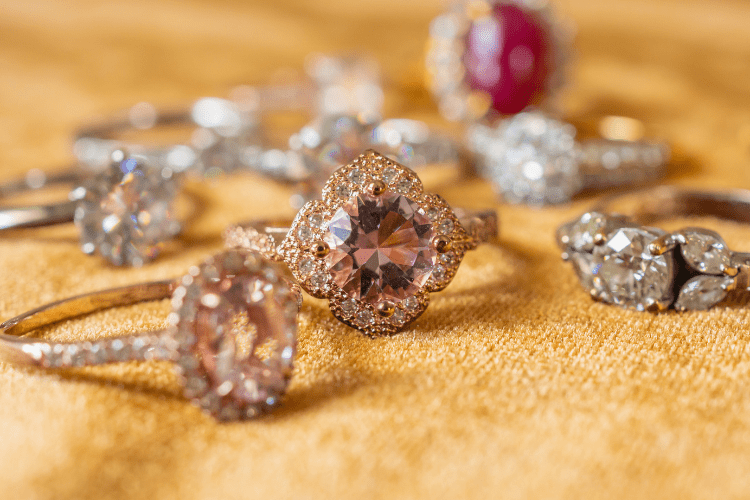 Brilliant Earth is pretty amazing, and I'm not exaggerating. What I've loved about this jewelry company for a long time is that they make engagement rings with meaning and style. With excellent customer service, shopping experiences are more enjoyable.
Their exquisite engagement rings include only natural and lab-grown stones that are Beyond Conflict Free. They offer free shipping, 30-day returns, warranties, and use recycled materials for sustainable sourcing. Still, even with these perks, I wanted to select the best designs for you.
Timeless Trends (Craftsmanship)
The two don't seem to go together, do they? But what I wanted to find were morganite engagement rings that felt either modern or vintage-inspired– but have a sense of timelessness.
These designs are representative of their style, but display expert craftsmanship and refined techniques that make them stunning no matter the era. They have excellent cuts, gorgeous shanks, and a thoughtful design. All of my ideas also are crafted with 18K gold or platinum.
Stunning Morganite
All of these rings have 'eye-clean clarity, meaning you won't notice visible inclusions on the gemstone. I selected a range of hues, but all colors and even and beautifully distributed. Of course, all of my ideas from Brilliant Earth feature only genuine morganite gemstones, and some have genuine diamond accents.
"Wow" Factor
This is subjective, but these designs stand out. Yes, I selected a few more plain or modest styles, but they stand out for their combination of design, construction, and price.
Gorgeous Must-See Morganite Engagement Rings from Brilliant Earth
All premade morganite engagement rings allow you to select from the cushion, round and oval cuts. Round cuts are the most brilliant, while the cushion is an excellent choice to save a little money.
An oval cut gives the illusion of a larger, elongated stone. I also love that nearly every design allows you to select from an 18K white gold, yellow gold, rose gold, or platinum band.
If you want pear cut or emerald cuts, you'll need to sort through their loose gemstones and Create Your Own Morganite Engagement Ring.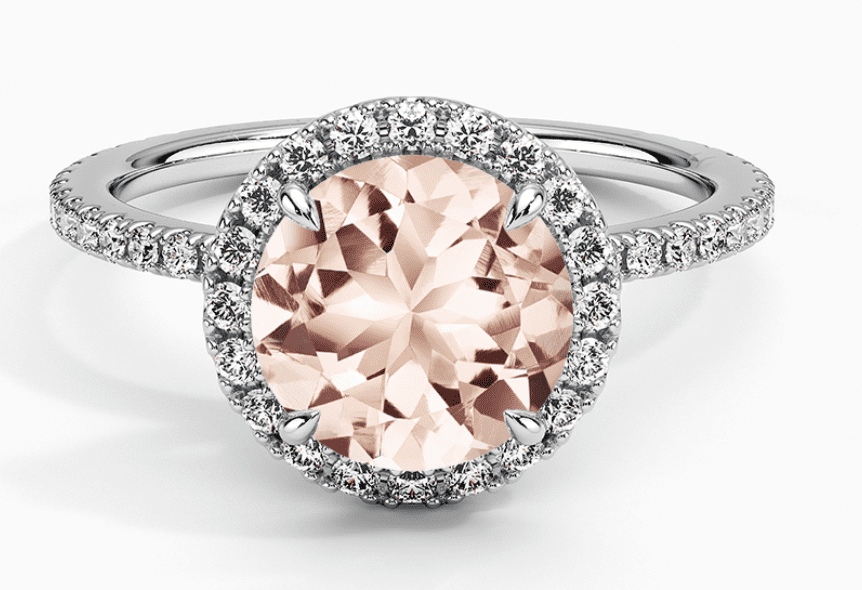 I wanted to start strong with this gorgeous halo morganite engagement ring. A halo ring style is defined by its classic glamor, and while it can come in many different styles, I was drawn to the gorgeous craftsmanship of this style.
Set apart by a halo of glittering accents surrounding a center stone, halo rings expand the brilliance and provide the illusion of a larger center stone. Here, scalloped and pavé diamonds provide allure around a peach-hued moissanite gemstone.
I love that the band also includes diamonds, so you sparkle from every angle. The gallery has diamonds too– provide an extra layer of brilliance beneath the morganite stone. Buy Here.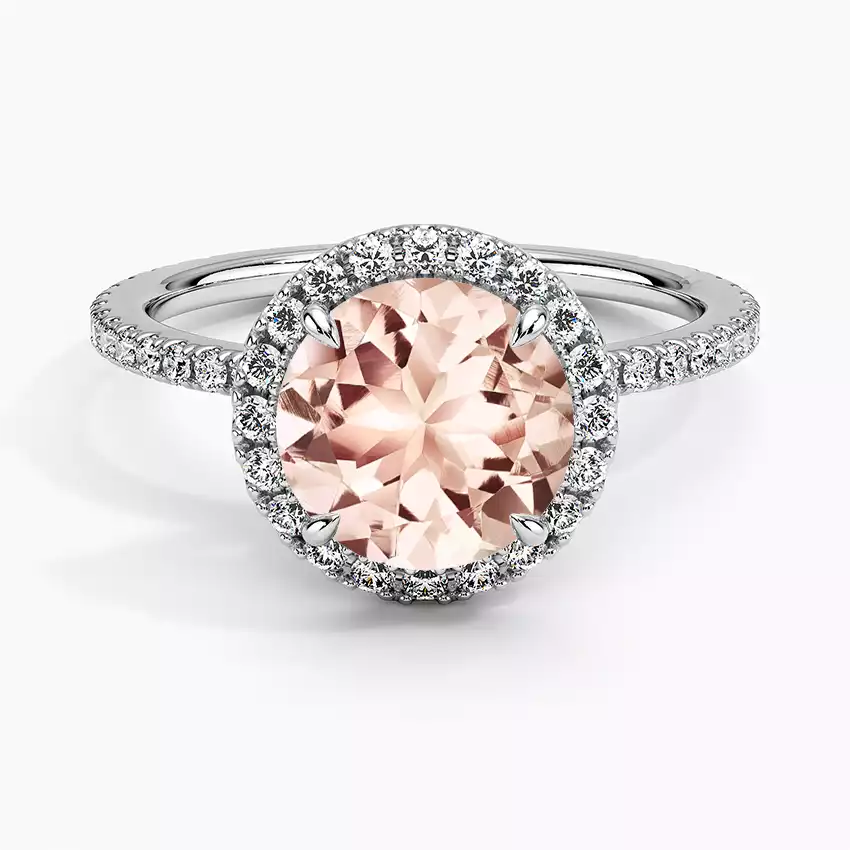 Morganite Waverly Diamond Ring | Brilliant Earth
This sparkling halo setting features beautiful scalloped pavé diamonds that encircle the center gem and adorn the band. A diamond-encrusted gallery makes this ring truly spectacular.
Check Price
We earn a commission if you click this link and make a purchase at no additional cost to you.
Pros
Scalloped Diamonds

Accent Stones on Shank

Very Popular Style
Cons
Slim Band- Not as Comfortable

Harder to Stack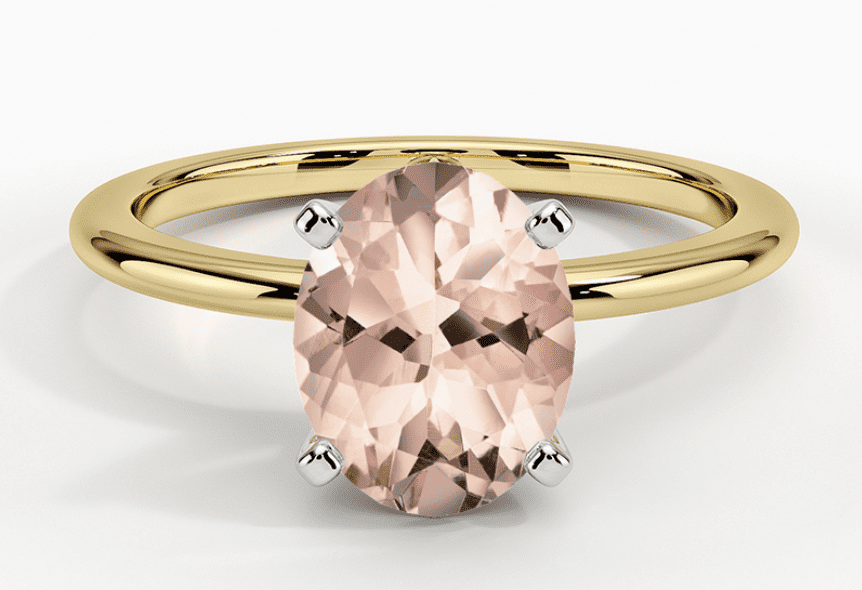 I admit: this design is the most simple of nearly all the morganite engagement rings that Brilliant Earth sells. You may wonder why I selected this ring– but it's my number one choice for a universal style. This timeless ring showcases some of what I love most about Brilliant Earth.
The company takes classic ring silhouettes, like this solitaire morganite engagement ring, and provides modern, sleek, and beautiful updates.
For a simple solitaire ring, you get to see the true beauty of the center stone. The minimalist four-prong setting is accompanied by a slightly curved band. This isn't merely an artistic choice, but a practical one.
The slight groove to the shank makes it comfortable to wear, even for people like me who tend to have slightly sensitive skin. Though my style is usually more a white or rose gold, I'm drawn to the warmth of this ring with an 18K yellow gold shank. Buy Here.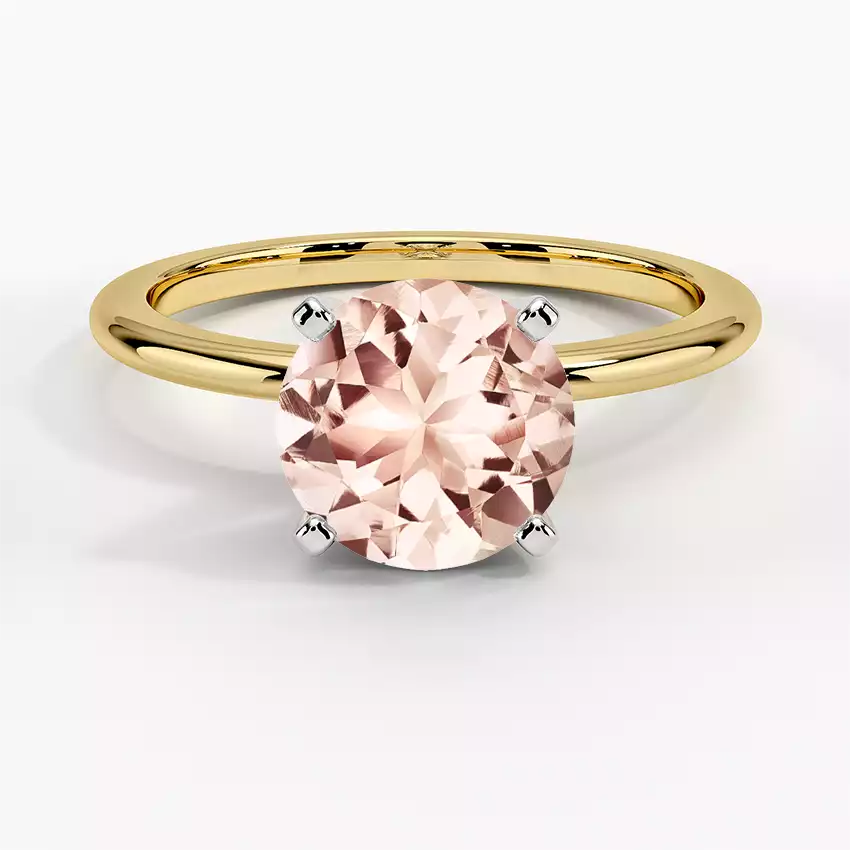 Pros
Beautifully Showcases Morganite

Comfort Band

Timeless
Cons
Fairly Plain

Modest Center Stone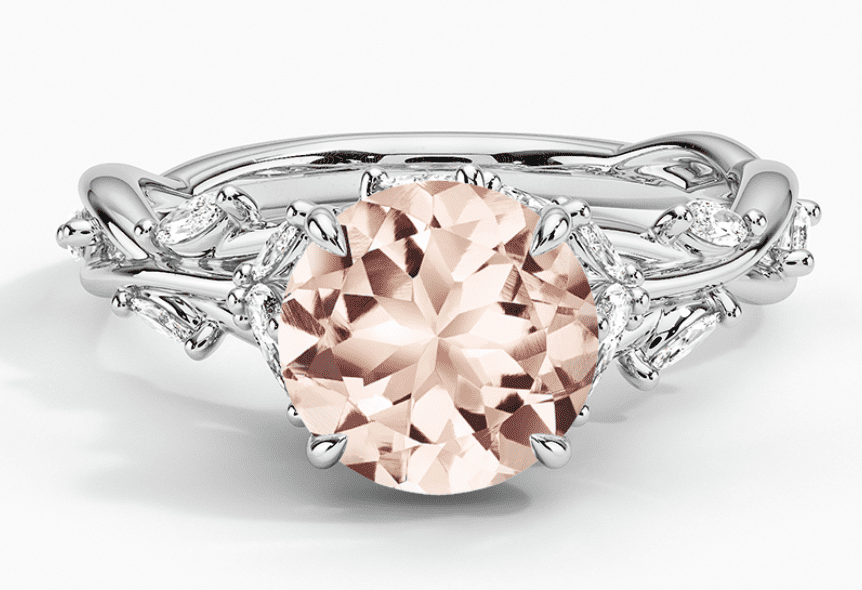 I have a confession. I was probably first drawn to this morganite engagement ring because of the name. The Secret Garden was a favorite story of mine as a child, and even today it holds a special place in my heart, as a story of resilience and hope.
While as a child I found the story enchanting, it now deeply resonates with me because I struggled with mental health. But this ring style lives up to its beautiful name regardless. Marquise-shaped diamonds rest on intertwining vines.
There's a beautiful elegance to the shank, reminiscent of a garden in bloom. I love it most in 18K white gold or platinum, as a naturally stunning accent to the blush/ peach morganite gemstone. Buy Here.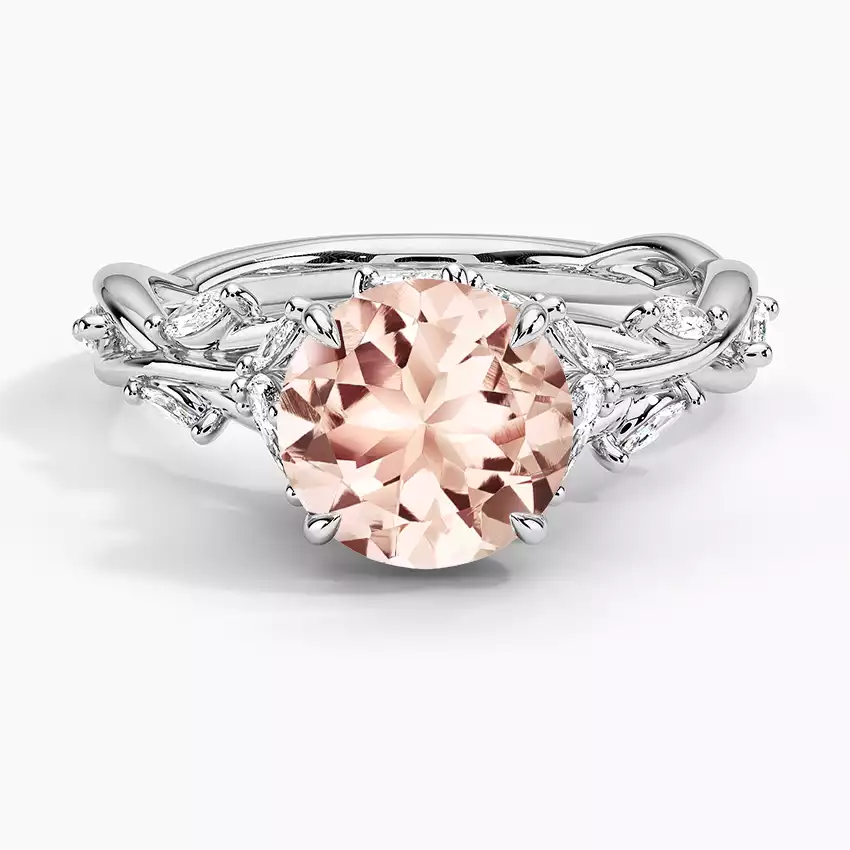 Pros
Gorgeous Vine Motif

Vintage-Inspired Diamond Accents

Stunning 6-Prong Setting
Cons
Harder to Match

Marquise Not as Brilliant as Round Diamonds
Three stone rings are an elegant, unique style if you're looking for something different. But what I wanted to find for a three-stone morganite engagement ring was one that was sat once elegant and balanced, with a unique twist.
This gorgeous Brilliant Earth engagement ring is just that. Kite-shaped diamonds flank either side of the center stone. With a slight twist, the shank is stylish, but it's also more comfortable. The low dome and tapered shank pair with the modestly glam accent stones in a dazzling, artistic design.
This dainty ring looks spectacular with any hue of gold. In rose gold, this ring is simply romantic, while yellow gold plays up artistic contrast. Buy Here.
Pros
Low Dome and Tapered Shank

Unique Kite-Shaped Diamonds

Elegant and Unique
Cons
Slight Inclusions on Diamonds

Slightly More Fragile Close to Center Stone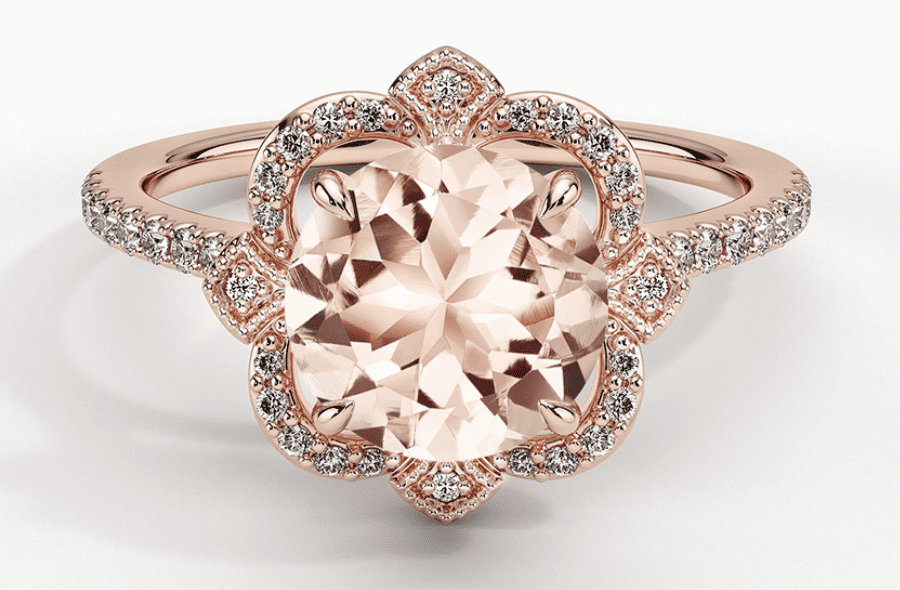 You can probably tell by looking at the name of this ring what to expect. And this ring is regal, with a dazzling halo of diamond accents. So many rings that are meant to make a statement focus on total carat weight.
And while there's certainly nothing wrong with that, what I love about this morganite engagement ring is that it provides a luxurious allure without the need for a large center stone.
The intricate halo has touches of royal vintage details. I love how the sculpted halo frames the center stone. There's plenty of sparkle along with the band and the halo, but it's done artistically, playing with geometry. I love this ring in rose gold– it provides the full effect of a vintage-inspired design. Buy Here.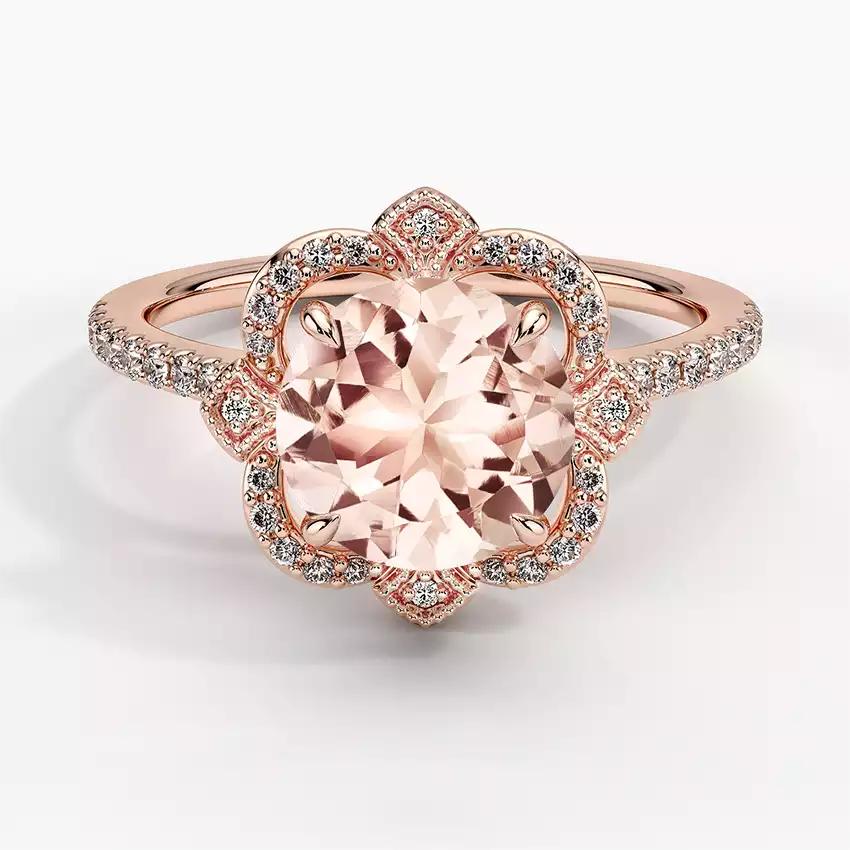 Pros
Unique, Glam Halo

Accents Along with Band

Artistic and Vintage-Inspired Geometry
Cons
Slightly Less Practical

Expensive Setting
If you're like me, maybe you appreciate the allure of a halo engagement ring but aren't sure you want that much sparkle.
Something I see a lot of couples forget about is a demi or hidden halo engagement ring. A hidden halo engagement ring provides a halo on the gallery underneath the center stone. The reason why this style is so clever is that you have brilliance radiating from beneath.
The center morganite gemstone is then still the focal point, just with more sparkle. The petite band is elegant and stylish, accented with small, round diamonds. Buy Here.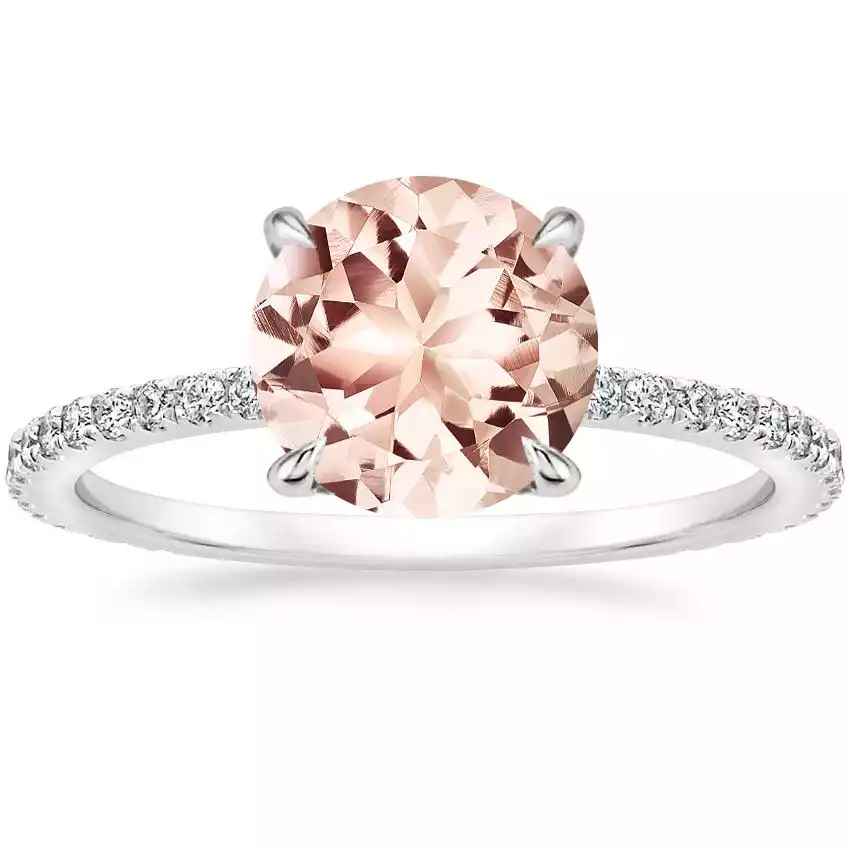 Morganite Demi Diamond Ring | Brilliant Earth
This elegant engagement ring features a glittering hidden halo of diamonds that wraps around the center gem. A petite band complements the gallery for an elegant, chic look.
Check Price
We earn a commission if you click this link and make a purchase at no additional cost to you.
Pros
Hidden Halo

Clean but Sparkling Effect

Easy to Stack
Cons
Not Quite as Glam as Full Halo

Not a Comfort Band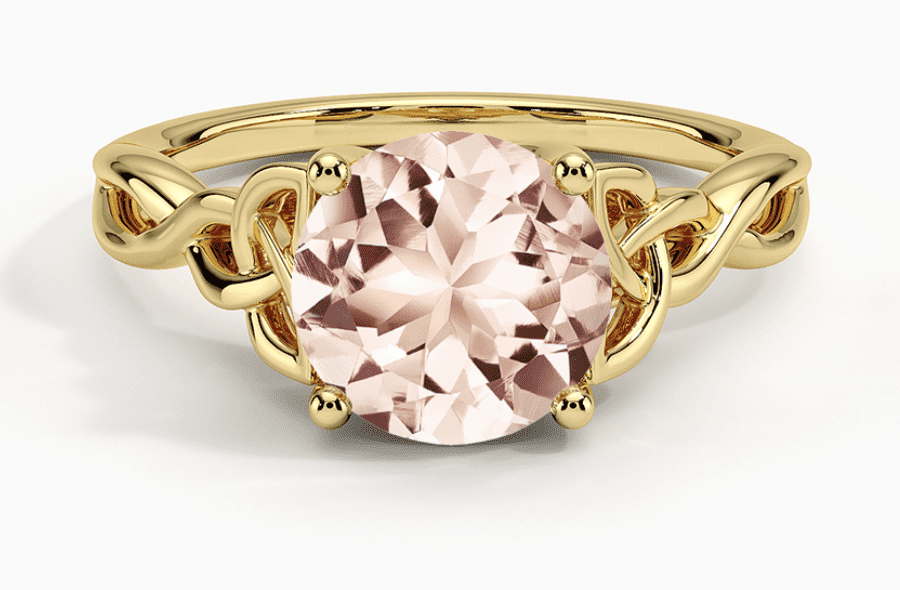 I've attended several Celtic festivals- I have both Scottish and Irish ancestry- and I've always been drawn to the beauty of a Celtic knot. Diamonds and gemstones can be beautiful but I think there's something to be said for an engagement ring whose focus is a gorgeous shank with equally beautiful symbolism. The symbol of the Celtic Knot means different things to different people, but it's generally associated with spirituality, eternal life, devotion, faith, and unity. This can represent both a religious bond, a romantic bond, or both. As the Celtic Knot has no end, so does love have no end– a truly beautiful message. This Celtic Knot motif is beautifully featured with an artistic, intertwining band. The morganite center stone adds a peach, romantic touch. Buy Here.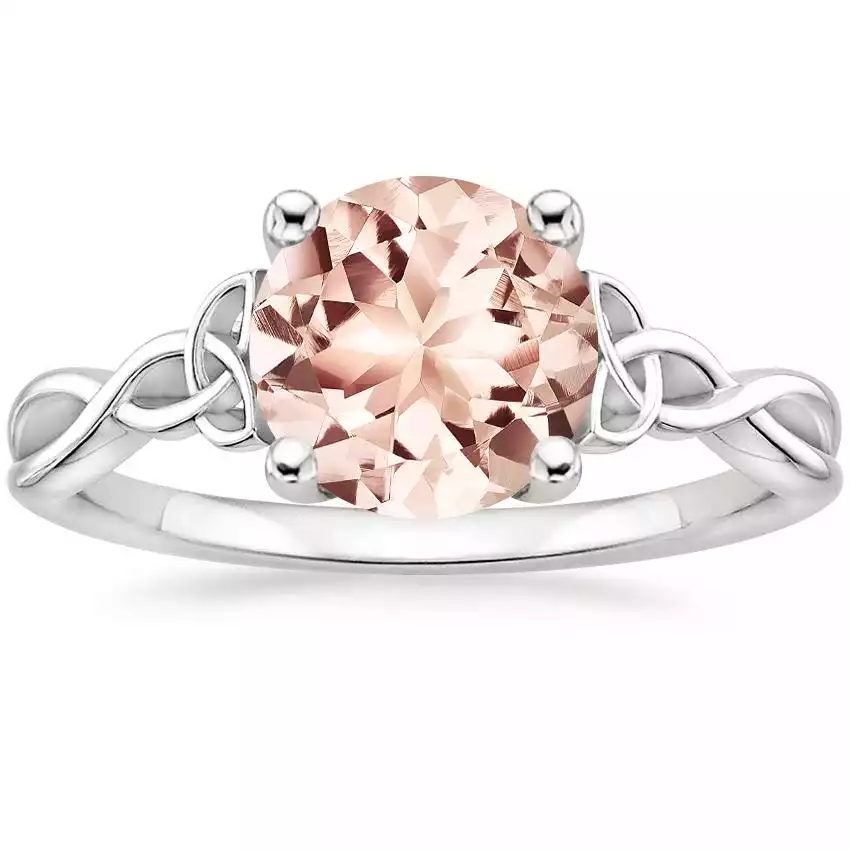 Pros
Symbolic Celtic Knot Motif

Gorgeous, Intricate Shank

Classic Four-Prong Setting
Cons
Slightly Less Comfortable

Best Paired with Plain Band Only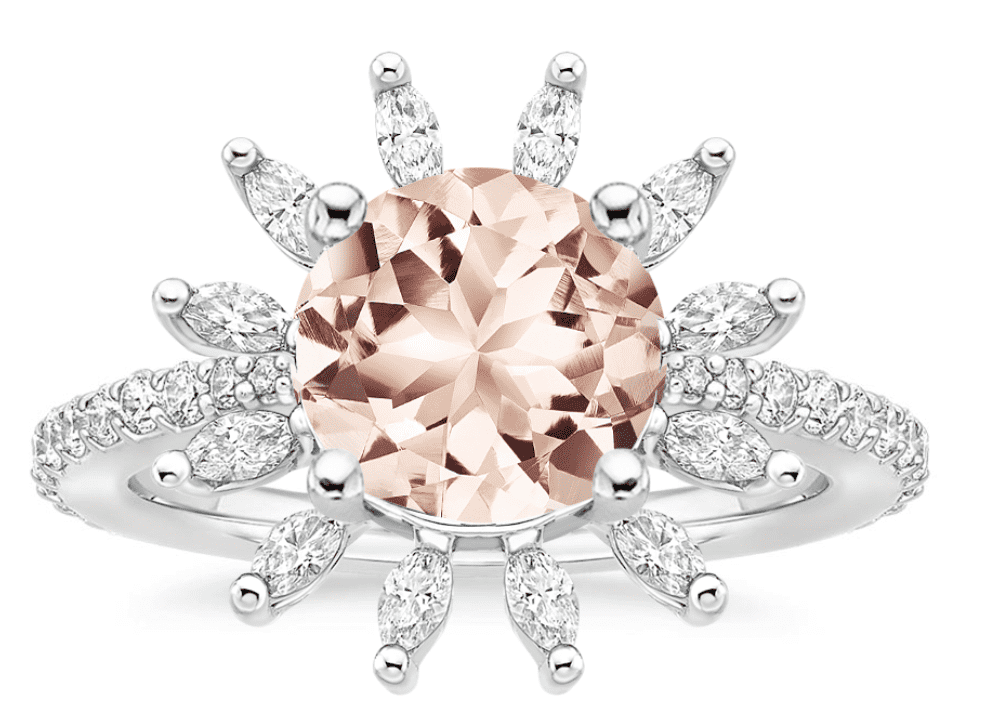 I've never been to Venice, but I have taken an interest in how the city has influenced fashion and art- especially after taking an art history course while pursuing my Bachelor's degree. And while by no means does this morganite engagement ring capture the full scope of Italian art movements, it does showcase a play with geometry, glamor, and artistic appeal. This design could even work as a cocktail ring, with marquise diamonds providing a halo. Diamonds share prongs along with a band of elegance and sophistication. I love that this design is romantic, artistic, and a little bit daring. I think that an oval morganite gemstone suits it most, playing off the elongated shapes with a flush of blush/ peach hues. Buy Here.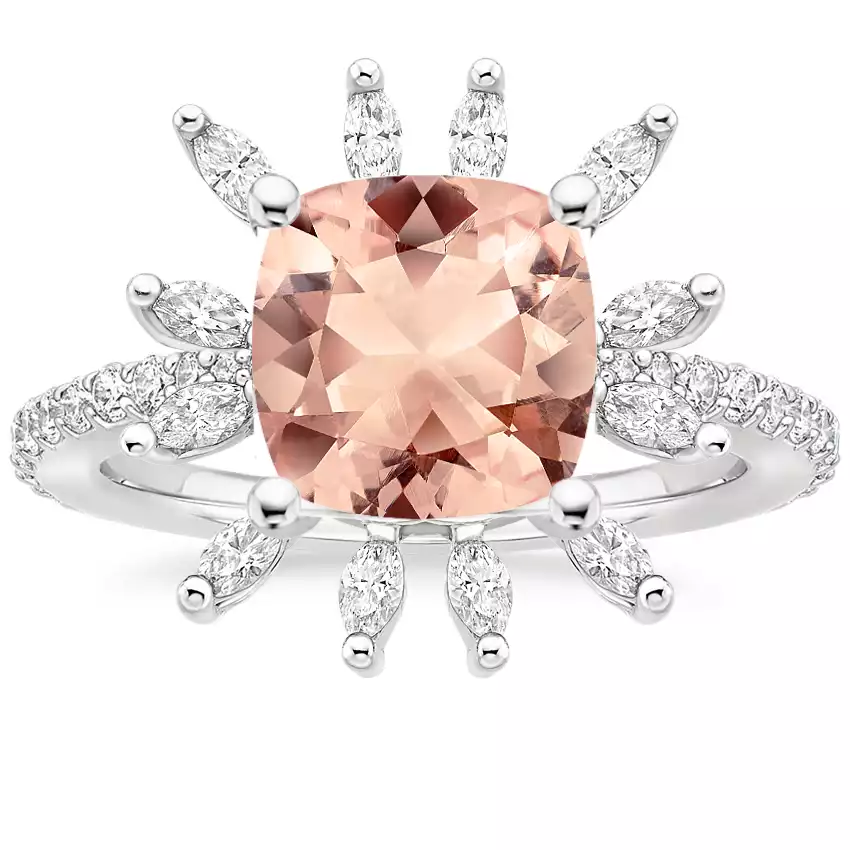 Morganite Venice Diamond Ring | Brilliant Earth
Marquise diamonds form a stunning halo in this glamorous ring. Shared prong diamonds along three-quarters of the band add a touch of romance to a bold, eye-catching look.
Check Price
We earn a commission if you click this link and make a purchase at no additional cost to you.
Pros
Play with Geometry

Unique Marquise Diamonds

Brilliant Halo
Cons
Less Practical

Marquise Diamonds Aren't As Brilliant
Not everyone wants a classic diamond engagement ring– and I love that. Something that keeps me excited about the bridal and jewelry industries and that there's always a way to express a unique style. Honestly, black diamonds are a gorgeous alternative that I feel adds an Avante Garde flair.
What many don't realize is that black diamonds have some symbolism in common with other diamonds: eternal bonds, love, and loyalty.
Yet they also symbolize passion and charisma. This morganite engagement ring has plenty of charisma, with scalloped pavé black diamonds surrounding the center moissanite gemstone.
The contrast between the black and peach hues is truly remarkable. And of course, you still get the glamor from the accent diamonds along the shank and the halo design. Buy Here.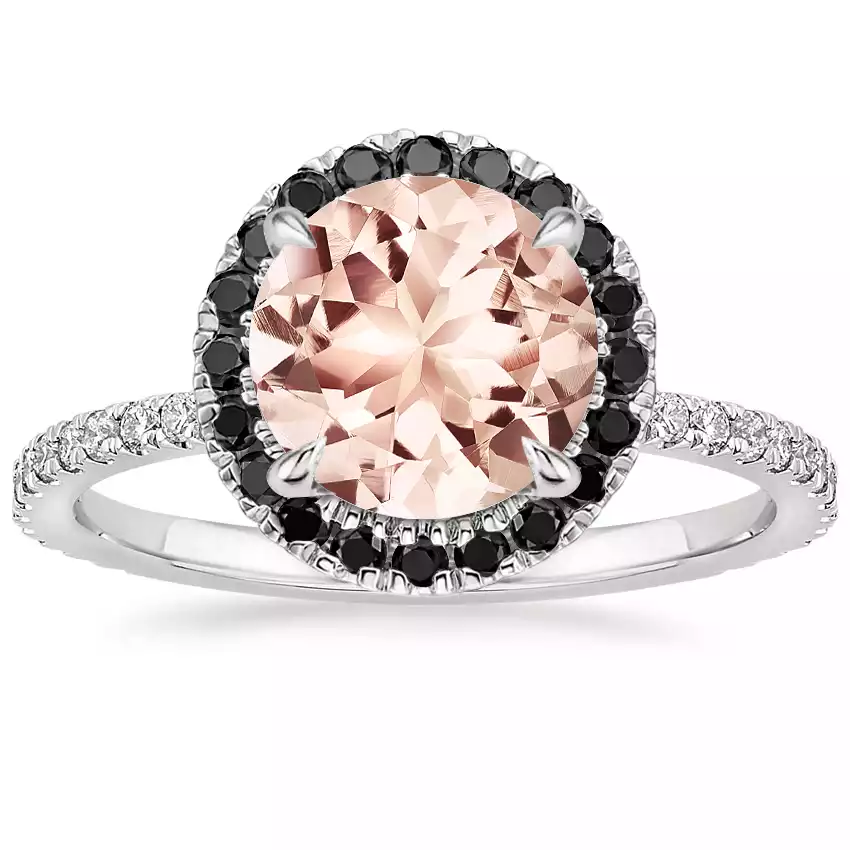 Pros
Unique Scalloped Black Diamonds

Brilliant Halo Design

Avante-Garde Details
Cons
Treated Diamonds

Less Versatile Design
FAQs about M

organite Engagement Rings
Question: Are Morganite Engagement Rings Popular?
Answer: I'd never recommend selecting an engagement ring mostly based on popularity. Why? After studying the bridal industry for some time, I can tell you that trends come and go. With an engagement ring, you should buy something that feels right for you and/ or your partner.
Diamonds are the most popular, and moissanite is rising as a common diamond alternative. But for engagement rings with colored gemstones, the peach-hued morganite is the second most popular, trailing behind blue sapphires. 
Question: Is Morganite Durable Enough for an Engagement Ring?
Answer: Morganite is one of those gemstones I'd give a yellow light for as an option for an engagement ring. It's a beautiful stone, and it's a better option than a pearl engagement ring. At the same time, it can become damaged.
Morganite rates at a 7.5 on the Mohs Hardness Scale, so it can be scratched and it can also chip with direct impact. It should never be worn during heavy activity, with heavy equipment, and likely not contact sports.
With normal wear and care, it works as an engagement ring, but there is the reality that the stone may need to be replaced in a decade or two. 
Question: How do You Clean a Morganite Engagement Ring?
Answer: I have a general rule of thumb for all engagement rings, even diamond rings: using caution is better than being too aggressive. For a morganite ring, warm or luke-warm water with very mild soap can work for everyday grime, so long as you dry it.
But to keep gemstones clear and free of build-up, I prefer an inexpensive jewelry cleaner. Another option is to take your ring in for a professional cleaning. Since morganite can be scratched, this is your best option if you have deeper stains or if you can't get off grime or build-up with gentle scrubbing. 
Question: How Expensive are Morganite Engagement Rings?
Answer: The carat, color, clarity, and cut are the main factors for how expensive a morganite engagement ring is. A natural morganite stone is more expensive than lab-grown, and platinum bands are always more expensive than sterling silver.
The most desired color for morganite is pink with saturation, and pink with faint purple undertones. But peach and paler pink tones, while a bit less valuable, are still loved so long as the color distribution is even. Even at great levels of clarity (very very very slightly included), some wonder why it's so cheap.
A morganite engagement ring, ranging from as low as $200 to over $10,000 is simply less rare and valuable than diamonds. Still, that by no means makes them tacky. 
Morganite Engagement Rings –

Final Thoughts

A morganite ring is connected to love and romance. But this engagement ring also brings forward comforting symbols of compassion, purity, or innocence, and is associated with the heart of those who practice with Feng Shui jewelry. While even the best morganite engagement rings can get cloudy, they can easily be cleaned and cared for. I think it's really important to think about your lifestyle and care tips before buying this beautiful gemstone for an engagement ring. But I also think, for many, it's a romantic and gorgeous choice. The key is to buy a morganite engagement ring from a reputable jewelry store, like Brilliant Earth.
Final Recommendations: Other Places to Buy Morganite Engagement Rings
I love Brilliant Earth, but I also fully recommend comparison-shopping. It's not all about price or quality or style. Simply put, an engagement ring is a meaningful purchase, and it's good to know all of your options.
The problem is that, while there are many places to buy morganite engagement rings, not all are equal and many places have options online, but not in person. To help, here's a little chart of all of the places you can shop for morganite engagement rings, along with pros and cons.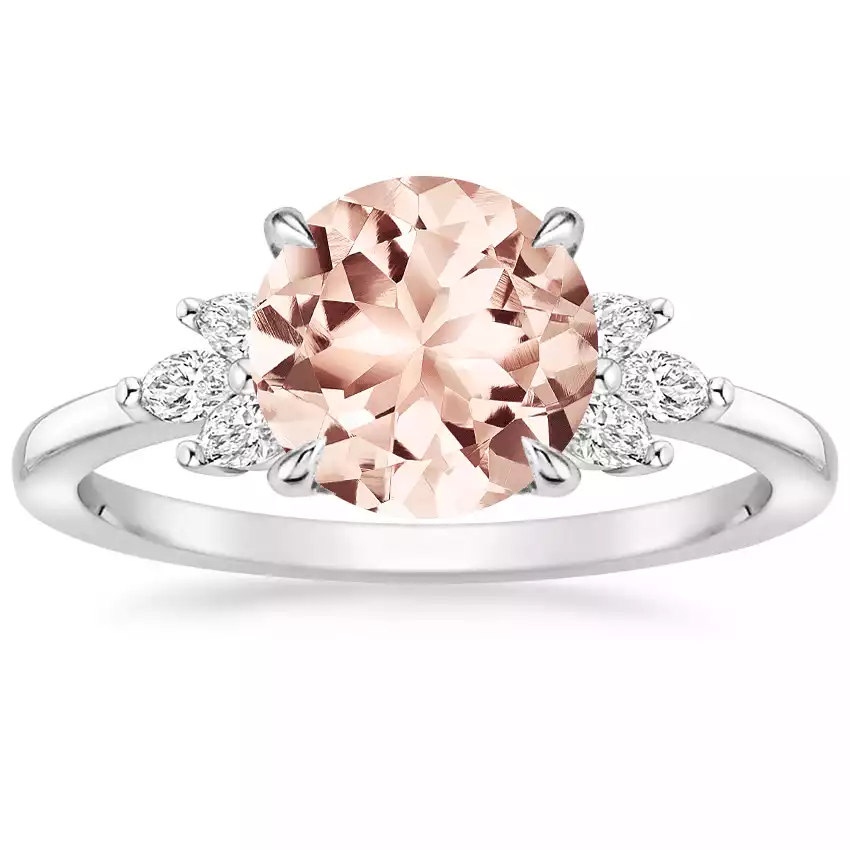 | | | |
| --- | --- | --- |
| Where | Pros | Cons |
| Etsy | Handmade Unique Supports Small Jewelers | Stock Changes Quickly Inconsistent Quality |
| Amazon, Walmart | Cheaper Prices Convenience | Less Refined Craftsmanship Typically Not Expert Jewelers Lower Quality (though not always) |
| Kay Jewelers | Reputable Jeweler May Offer Some In-Store Classic and Contemporary Variety | More Cocktail. Fashion Rings vs Engagement Rings Suitable but Not Exceptional Quality |
| Angara | Excellent Customization Excellent Quality Great Selection | More Expensive Online Only |
| Blue Nile | Ethical Sourcing Reputable Quality Range of Metal Types | More Cocktail Rings than Engagement Rings Online Only |
Looking for more inspirational readings? Check out: