I really appreciate that we live in a time where you can shop for your partner's (or your own) dream engagement ring from the comfort of your own couch (or bed, or bathtub — no judgment.)
I think the advantages are twofold. First, online jewelry shopping has made it possible for companies like Brilliant Earth to even exist and allowed them to offer a huge selection of jewelry and gemstones to people around the world, and second, online shopping has brought iconic companies like Tiffany and Co right to your front door (or bathtub — again, no judgment!)
One of my biggest problems with shopping for jewelry online, however, has to be decision fatigue. With so many options available, how can you possibly narrow down your search? In this article, I'll compare two extremely popular jewelry retailers, Brilliant Earth vs Tiffany, and try to help you decide which site works best for you (or at least close a few open tabs on your browser.)
I'll discuss what I like and dislike about each company, the customer experience of shopping online with them, and the selection that they offer, because if you're going to purchase something from someone, first we need to make sure they sell what you're looking for!
Brilliant Earth vs Tiffany –

Bottom Line Up Front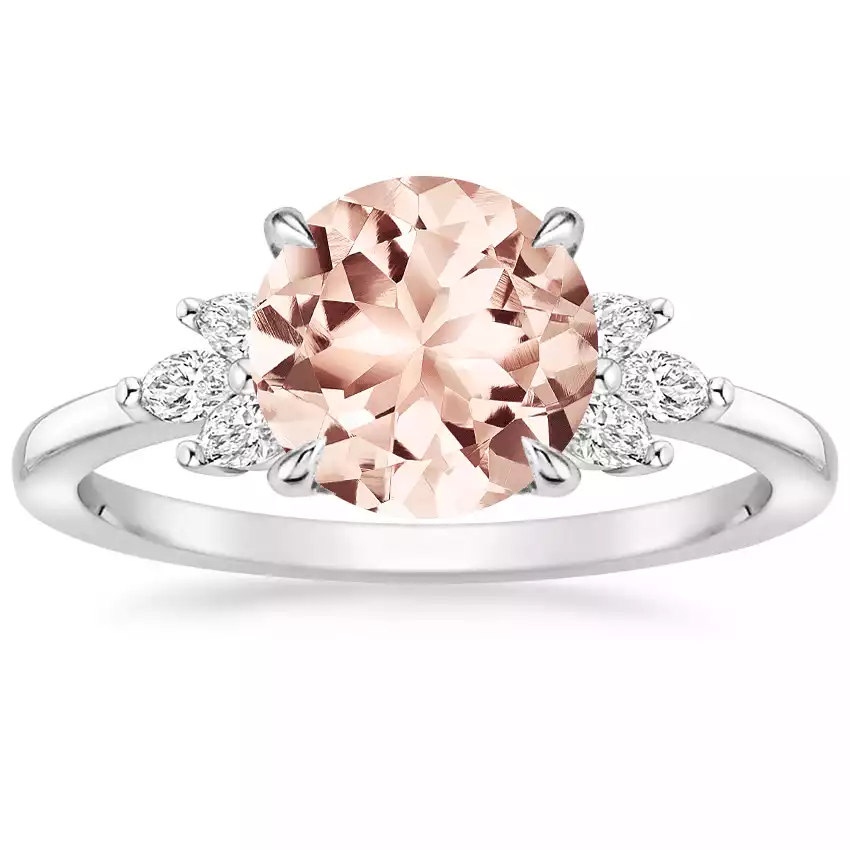 While I think both companies are great, I personally prefer Brilliant Earth for online jewelry shopping. I think their website makes it easier to browse and purchase online, they have an extensive selection with a lot of variety, and they're the cheaper option of the two. I also really like how easy Brilliant Earth makes it to customize a piece right on their site.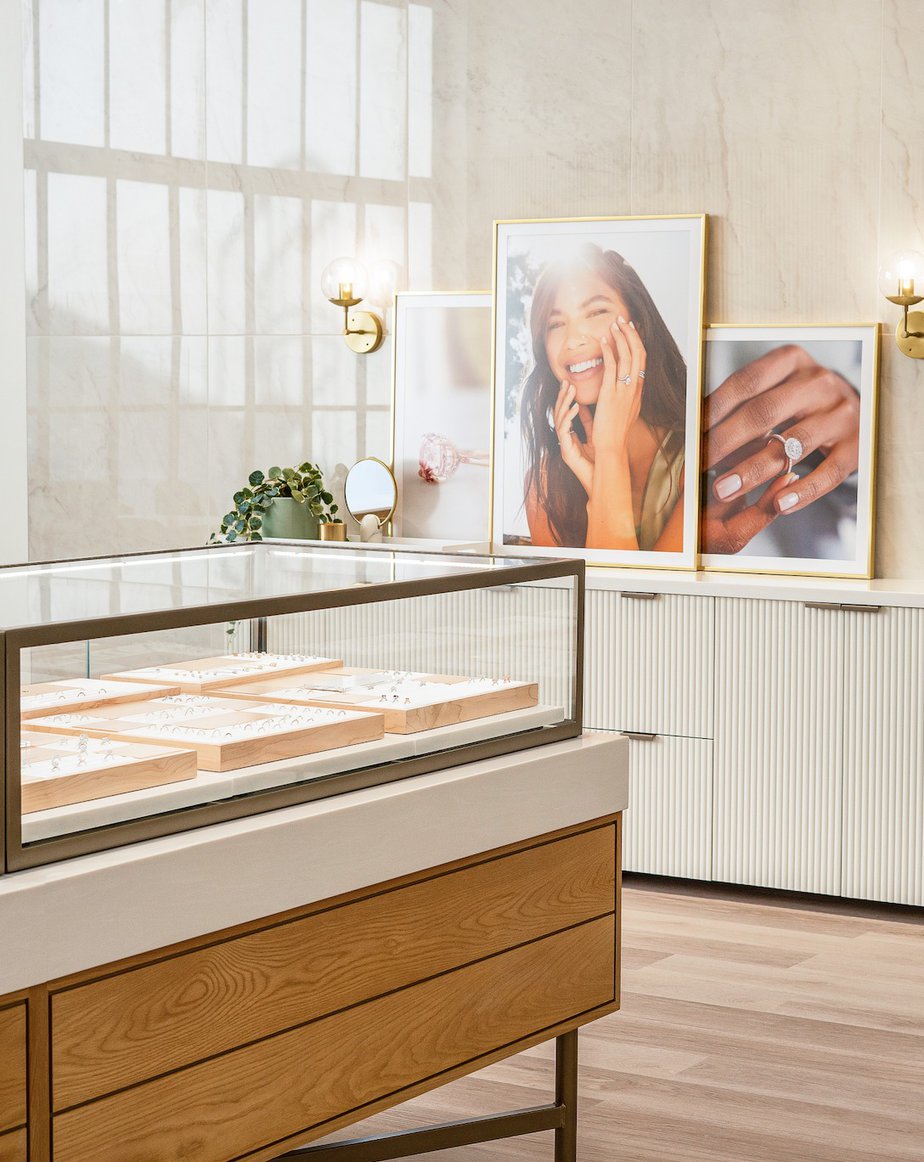 Main Differences of
Brilliant Earth vs Tiffany
Brilliant Earth focuses on customized engagement rings, whereas Tiffany focuses on timeless, classic designs and designer pieces.

Brilliant Earth carries a large selection of loose diamonds and gemstones, whereas Tiffany does not sell loose stones.

Brilliant Earth offers a variety of colored diamonds, whereas Tiffany only sells colorless, pink, and yellow diamonds.

Brilliant Earth allows you to customize and purchase your engagement ring directly from their website, whereas Tiffany requires you to call or book an in-store appointment to both customize and purchase your ring.

Brilliant Earth has 360 degree views and videos of their jewelry online, whereas Tiffany only has photos.

Brilliant Earth offers a huge variety of different ring styles, whereas Tiffany sells a small, curated selection of styles.

Brilliant Earth has a dozen brick and mortar showrooms across the country, whereas Tiffany has hundreds of stores around the world.
Brilliant Earth was founded in 2005 and is known for their beautiful, sustainable jewelry. They specialize in custom engagement rings and have a large selection of diamonds and gemstones, preset rings, and fine jewelry. They use ethically-obtained or lab-created stones and recycled metal whenever possible. Brilliant Earth also supports charities and causes committed to conservation and social justice.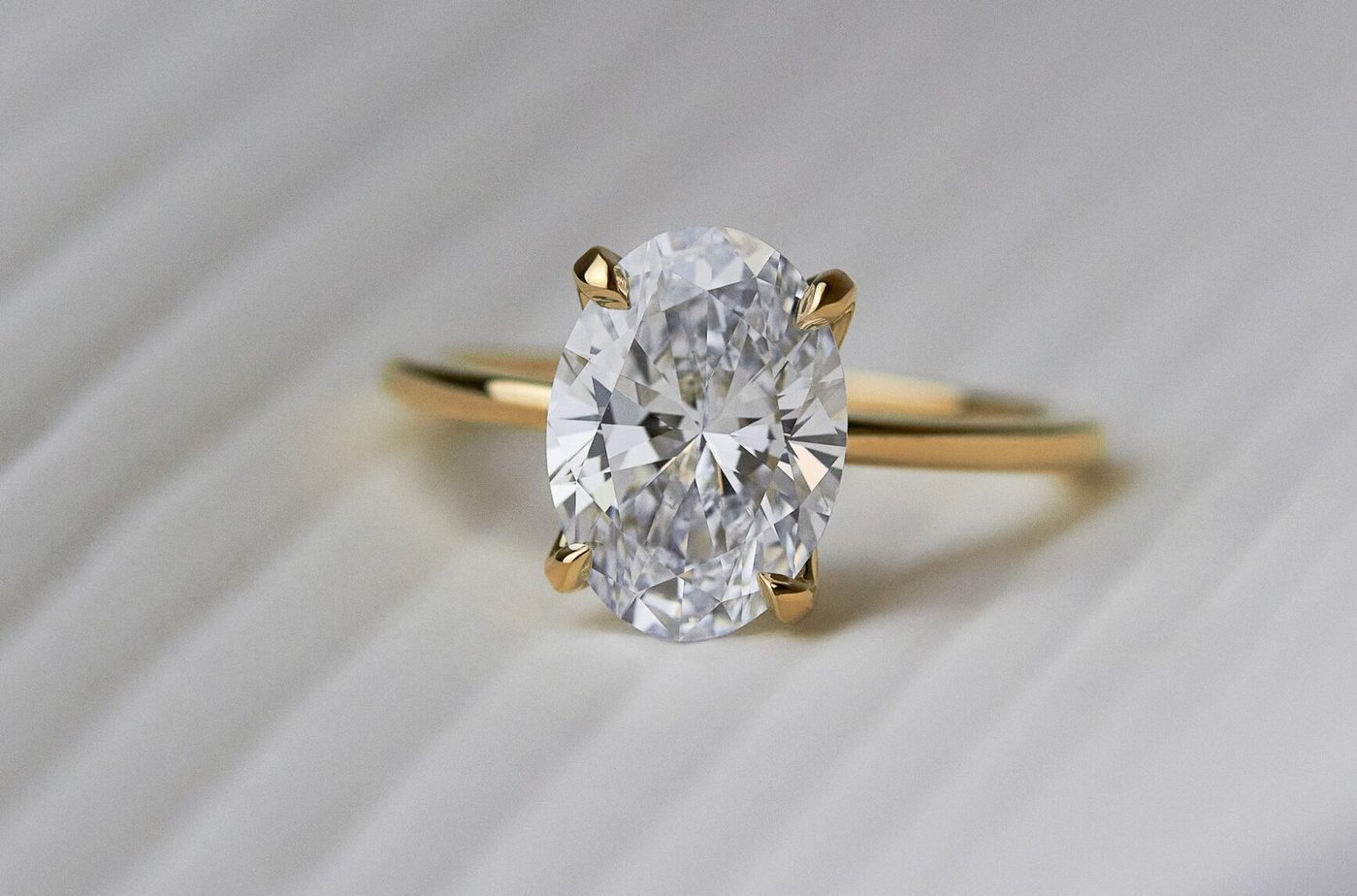 Pros
Brilliant Earth emphasizes sustainability and ethics

They carry a huge selection of jewelry and stones

They carry a wide variety of different types of gemstones
They also have a huge variety of different types and styles of jewelry

Brilliant Earth has excellent customer service, available 24/7 via phone or chat

They offer free shipping, free ring resizing, and 30 day returns

They have over a dozen brick and mortar jewelry stores if you'd like to shop in person

Their website has quality photos, HD video, and 360 views of both rings and gemstones

They offer both men's and women's styles, as well as a line of gender-neutral wedding bands
Cons
Brilliant Earth is more expensive than many of their competitors

They don't sell preset diamond engagement rings

They don't offer any sort of price match guarantee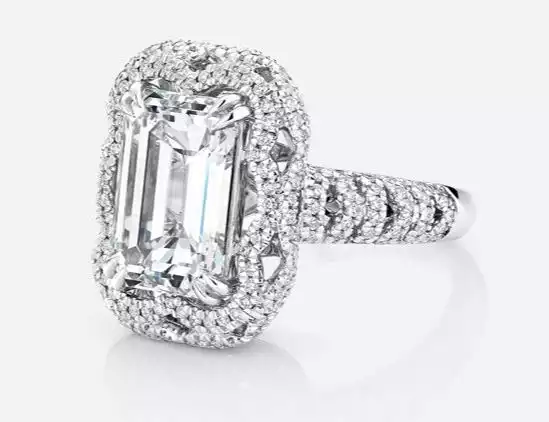 Intro to Tiffany
It's hard to discuss dream engagement rings without mentioning Tiffany. Since 1837, Tiffany has been known for its timeless, classic pieces. I'm pretty sure before I even knew what Tiffany sold as a child I knew the name was associated with luxury. Tiffany and Co prioritize the cut of their diamonds over all else. The classic Tiffany engagement ring is a six-prong solitaire with an impeccably cut round center stone, though they of course sell other styles as well.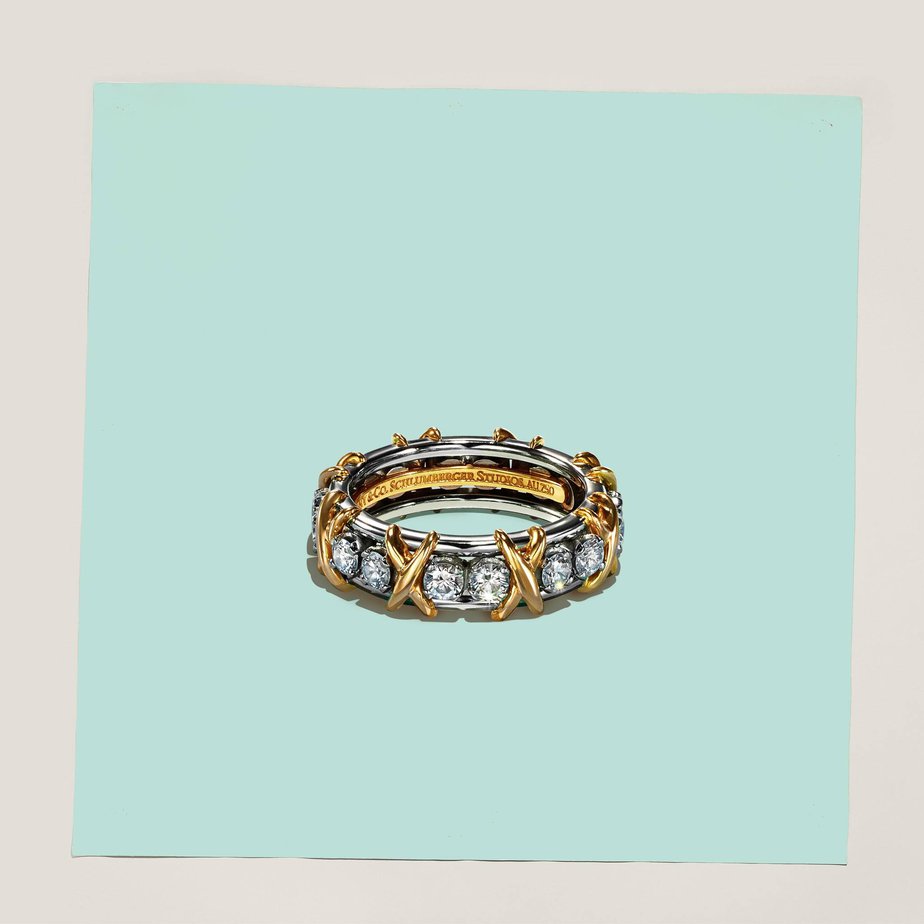 Pros
Tiffany and Co comes with a long standing reputation

They are a part of jewelry's cultural history

Their diamonds are sourced through personal connections with mines

If you prefer to shop in person, Tiffany has hundreds of brick and mortar storefronts around the world

They sell both men's and women's styles

Tiffany always buys their diamonds from countries that are participants in the Kimberley Process and sources their diamonds directly from the mine whenever possible

Tiffany and Co offers a range of lifetime services after you purchase your ring, such as polishing, resizing, and checking the security of the setting

For the sake of transparency, Tiffany makes a point of disclosing the provenance, or region/country of origin of each of their diamonds

Tiffany sells a large selection of non-jewelry gift items
Cons
Tiffany doesn't offer any online customization

They have fewer options for preset jewelry than their competitors

Tiffany and Co does not sell loose stones online

Their customer service operates on limited hours rather than 24/7
What Does Brilliant Earth Sell?
Loose Stones
Brilliant Earth has a huge selection of loose diamonds and gemstones that can be purchased on their own or used to create custom pieces of jewelry on their website.
Natural Diamonds — Beyond Conflict Free Diamonds
Brilliant Earth selects their Beyond Conflict Free diamonds for their ethical and environmentally responsible origins. Beyond Conflict Free diamonds go beyond the conflict free industry standards laid out by the Kimberley Process, and protect against human rights abuses, minimize environmental degradation, maintain safe and responsible labor practices, and support community development.
Brilliant Earth carries over 50,000 natural diamonds in ten popular shapes such as round, pear, cushion, emerald, princess, marquise, and even asscher. So if you like the idea of a natural diamond engagement ring, but are wary of the ethical and environmental impact of mining practices, you can breathe a little easier.
Lab-Created Diamonds
Brilliant Earth has one of the largest selections of ethical, environmentally friendly lab-grown diamonds on the market. They offer over 100,000 lab-grown diamonds in ten popular shapes. I think lab-grown diamonds are great because they're identical to mined diamonds in every way, but there's no environmental disruption or exploitation of labor involved!
Lab Colored Diamonds
Brilliant Earth offers nearly 500 loose lab-colored diamonds. It's one of the best selections on the market with diamonds in shades of blue, pink, yellow, orange, red, and green, all of which vary in intensity. There are several shapes of colored diamonds to choose from, though you may not find every shape in every color.
Recycled Diamonds
Brilliant Earth offers a selection of about a thousand repurposed diamonds. Recycled diamonds are an ethical choice because they require no further mining, and reduce the demand for new mining, which can be unethical and bad for the environment.
Moissanite
Moissanite is one of my favorite gemstones. It's a unique gemstone made from space dust that is a popular affordable and ethical alternative to diamonds in jewelry. Brilliant Earth has a selection of over a hundred loose moissanite stones in a dozen different shapes. They sell colorless, near colorless, blue, yellow, and green moissanite.
Colored Gemstones
One of my favorite features of Brilliant Earth is their collection of hundreds of different loose gemstones that can be used to craft your dream engagement ring or piece of jewelry. They carry over a dozen different gemstones, some natural and some man made, including sapphires, emeralds, aquamarine, morganite, alexandrite, ruby, and topaz.
Settings
Once you've chosen your gemstone, you're going to need a setting. Brilliant Earth carries hundreds of engagement ring settings, both for men and women. To help narrow down your choices, you can filter your options by metal or by style, such as halo, hidden accent, nature-inspired, or vintage-inspired. They also have a selection of bridal sets to make your life even easier!
Wedding Rings
Brilliant Earth carries both men's and women's weddings bands, varying from simple, classic styles to bolder bands that can be set with gemstones. They've also created a line of gorgeous gender-neutral wedding bands in both classic and contemporary styles!
Preset Gemstone Rings
If you're like me and tend to suffer from decision fatigue (or you're short on time and needed your engagement ring yesterday,) you can also shop Brilliant Earth's line of preset engagement rings. They have hundreds of preset moissanite, sapphire, aquamarine, and morganite rings in a ton of different styles. I personally love some of their sapphire rings!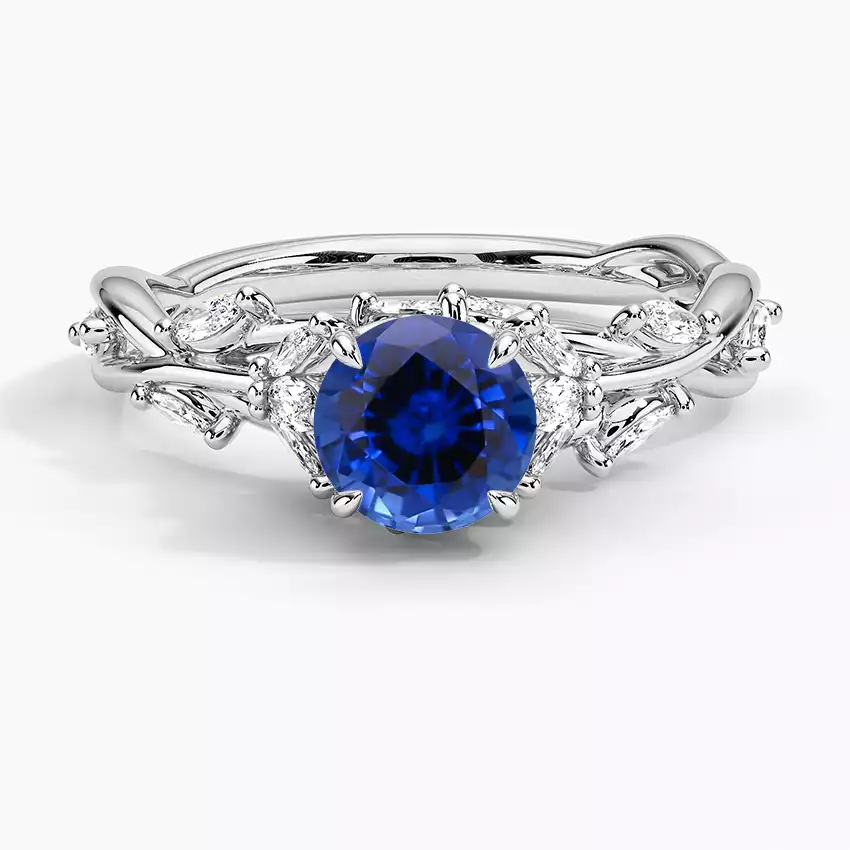 Sapphire Engagement Rings | Brilliant Earth
From popular deep blues and pastel pinks to bright whites and rich greens, Brilliant Earth's curated collection of sapphire engagement rings is the perfect composition of modern elegance and luxury.
Check Prices
We earn a commission if you click this link and make a purchase at no additional cost to you.
Fine Jewelry
If you're looking for a special occasion or "just because" gift, for either a loved one or yourself, you can shop the huge selection of fine jewelry listed on Brilliant Earth's site. They have an extensive assortment of pearl, precious gemstone, and semi-precious gemstone necklaces, earrings, bracelets, and rings. Pieces are divided into convenient categories, such as "birthstone jewelry" and "symbolic and religious jewelry."
Brilliant Earth also has create your own earrings and necklace features that work similarly to their custom engagement ring designer.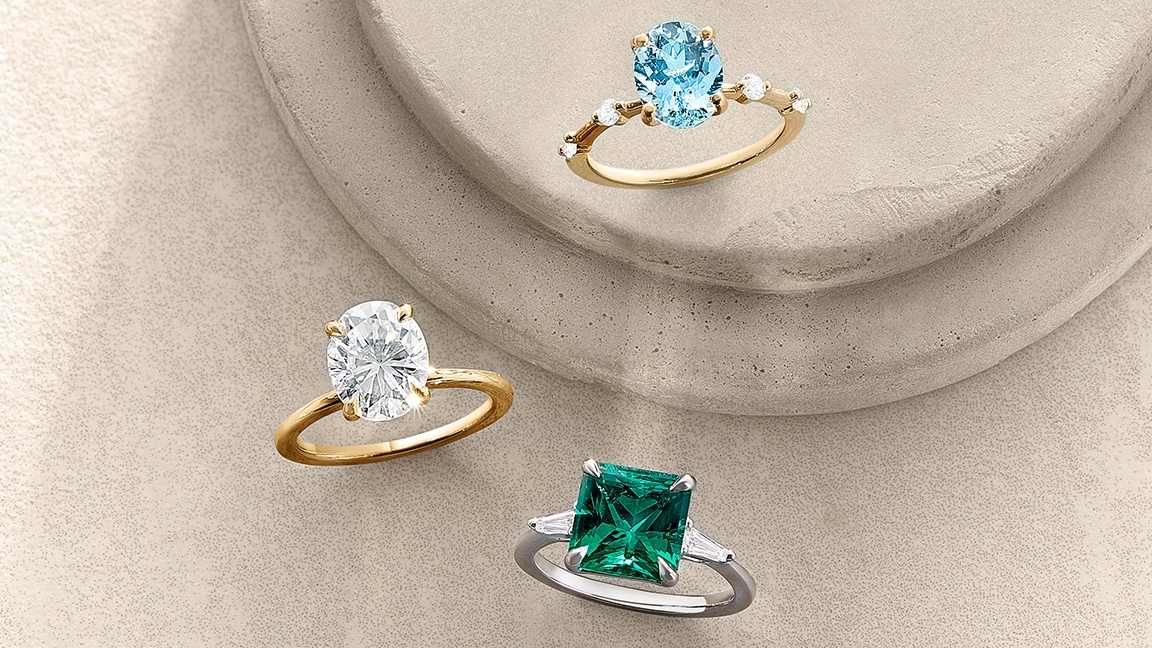 What Does Tiffany Sell?
Engagement Rings
Tiffany carries a curated selection of their iconic engagement rings for both men and women. Each Tiffany setting is custom made to complement specific diamonds, so you won't see as many customization options as Brilliant Earth. You can choose from just over 50 settings on their site, and then choose from a corresponding list of diamonds, but must then call to speak with a customer service representative in order to purchase an engagement ring.
Most of the engagement rings listed on Tiffany's website are made with colorless diamonds, but they do have a small selection of yellow and pink diamonds as well. If you're looking for one of their rare fancy diamond rings you'll have to set up a consultation with them. There are a few alternative gemstone rings that would make gorgeous engagement rings that can be found in the jewelry section, rather than the engagement section.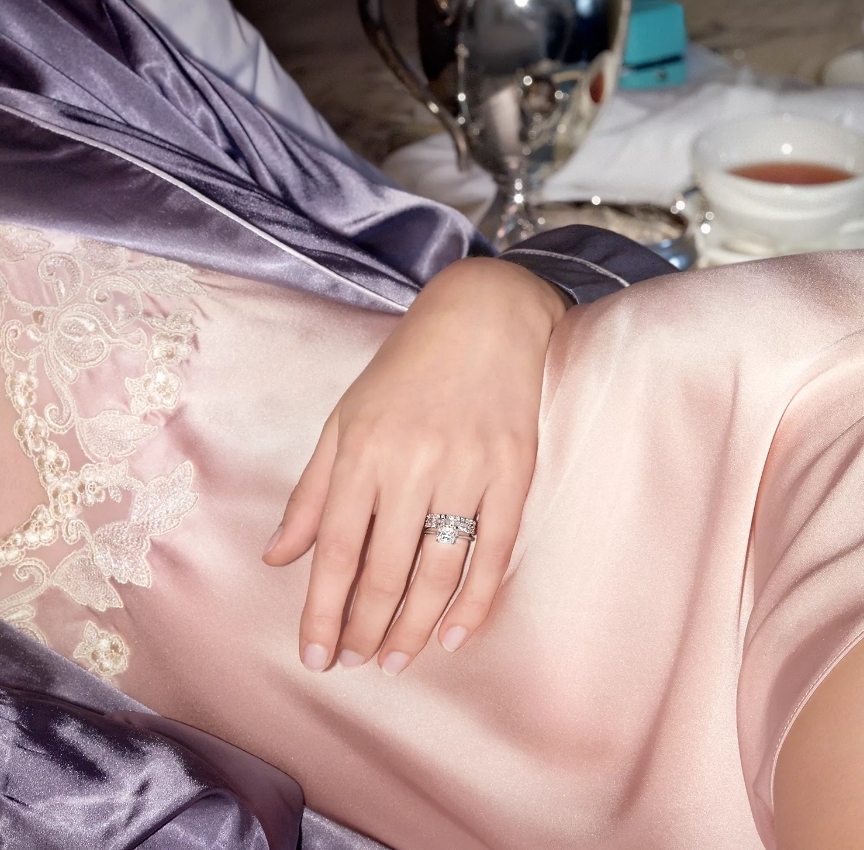 Wedding Bands
Tiffany's selection of wedding bands ranges from bold to understated. They carry a lot of sculptural and designer bands. They don't have the variety of styles that sites like Brilliant Earth offer, but I really appreciate that most of their band designs are uniquely theirs, rather than a style that can be found anywhere.
Fine Jewelry
Just like their engagement and wedding jewelry, the fine jewelry offered by Tiffany and Co is curated to support their brand. Their selection includes hundreds of necklaces, earrings, bracelets, rings, and brooches. You can find jewelry made with diamonds, pearls, and both precious and semi-precious stones such as rubies, opal, sapphires, and aquamarine.
Featured Designer Collections
One thing that Tiffany and Co is particularly famous for is their designer collections of jewelry. Iconic jewelry designs from people like Elsa Peretti and Paloma Picasso, as well as Tiffany's signature collections such as Tiffany Ts and Tiffany Keys can be found under the jewelry tab. Most of these pieces are better suited for gifts than engagement jewelry, but if you're looking for an iconic piece that's a piece of jewelry cultural history, definitely check out these collections.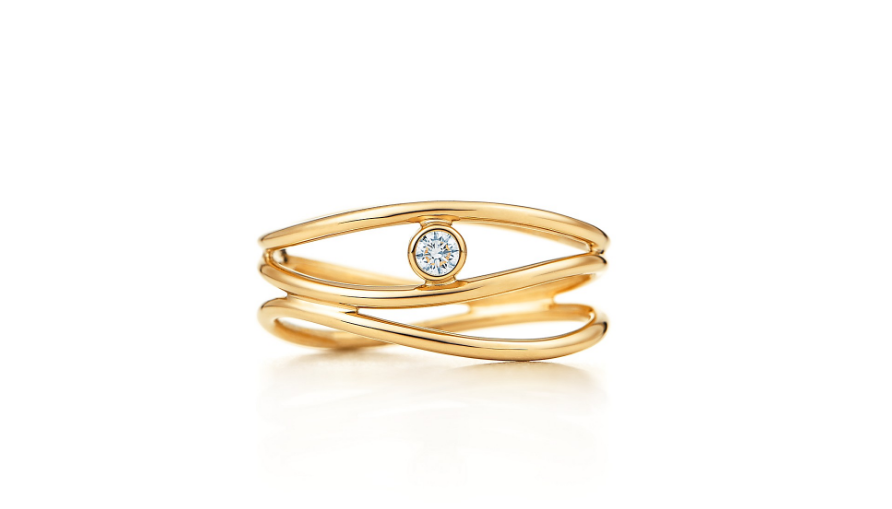 Non Jewelry Gift Items
One of the things that sets Tiffany apart from other online jewelry retailers is their huge selection of non-jewelry items. They sell a ton of accessories and watches, homegoods, fragrances, and even games! I didn't know how much I wanted a Tiffany Blue bocce set until just now! If you're looking specifically for an engagement ring or jewelry, all these things are really just background noise, but if you're specifically looking for gifts it can be nice to have the extra option.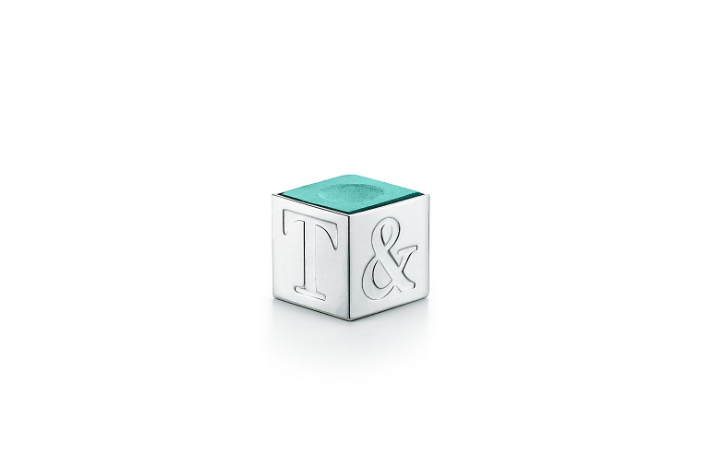 I especially like how many more gender-neutral options the added gift sections give you.
Selection Winner: Brilliant Earth
I do appreciate all of the gift options that Tiffany sells (even if I'm never actually going to buy that $3,000 bocce set — a girl can dream, right?) but I have to assume that you're reading this because you're interested in buying jewelry. If you know you want a piece of Tiffany's fairly distinctive style of jewelry, you don't need my help, but if you're not quite sure what you're looking for and want to browse a bit, check out Brilliant Earth. They simply offer more styles and more of a selection of both stones and pieces of jewelry.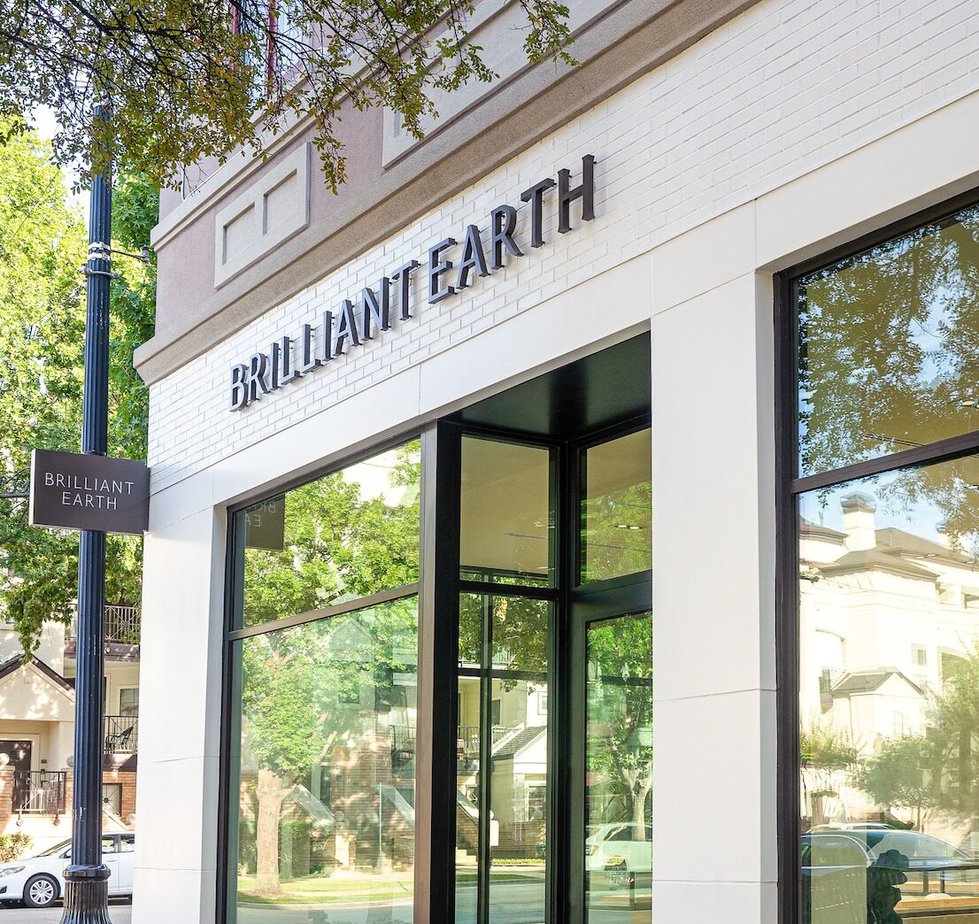 Customer Experience Head to Head
Brilliant Earth
Brilliant Earth offers

24/7 customer service

via phone or chat.

Each piece of jewelry comes with a

free lifetime warranty

against manufacturing defects, and Brilliant Earth offers

free shipping

on US, Canadian, UK, and Australian orders. They also offer

30 day free returns

as well as

60 day free resizing

on most engagement rings.

Their website is

easy to navigate

with clear categories to

shop by style, stone shape, or collection

. Each listing comes with

high quality photos

and

360 degree views

. Diamonds come with

grading reports

, and a

comparison feature

allows you to easily look at the details of several stones side by side.

Brilliant Earth has a

free diamond upgrade

program. You can exchange your Brilliant Earth natural diamond for full credit towards a new diamond, as long as that new diamond is worth at least 50% more than the original diamond.

They have more than a dozen

brick and mortar showrooms

where you can shop in person.

Brilliant Earth offers

12 month financing

as well as

layaway plans

.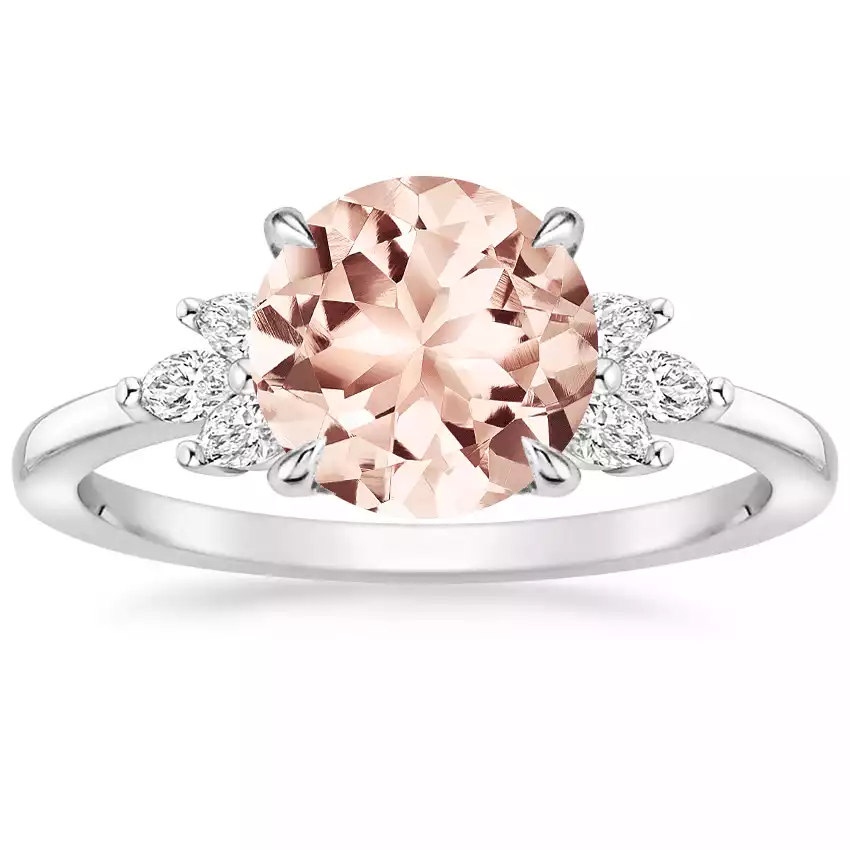 Tiffany
Tiffany offers

24/7 customer service

available via phone or chat. They're also available via email, or you can go online and schedule an in-store appointment for a consultation.

Tiffany engagement rings are backed by a

full lifetime warranty.

They offer

free 30 days returns

and

free shipping on orders over $1000.

There are

no restrictions on resizing

your Tiffany ring, though the company recommends against resizing your ring more than once.

Tiffany and Co's website is

not the best for online shopping.

Their images are beautiful, but they lack the video and 360 degree views that Brilliant Earth has. I suppose it's less of an issue when shopping for a Tiffany diamond, since you can't just add a ring to your cart and check out before visiting a store or at the very least speaking with a customer service representative. That being said, Tiffany's site is a great place to buy gifts and browse for rings, but the interface isn't as conducive to confidently making a major purchase online as it could be.

Tiffany has a

diamond upgrade

program. You can exchange your diamond for credit towards a new diamond from Tiffany. Your diamond will be reviewed by the team at Tiffany and Co to determine the amount of credit you'll receive.

They offer

interest free financing

for US clients, but

no layaway plans

.

Tiffany offers several lifetime product care services including

ring polishing, resizing,

and

checking the security of the setting

.

Tiffany offers a

10% discount for members of the US Armed Forces.

If you're looking for assistance, you can book both

in-store and virtual appointments

with one of Tiffany's diamond experts.
Customer Experience Winner: Brilliant Earth (possibly on a technicality)
If this were strictly a question of customer service, I'd probably go with Tiffany in this category, but since we're talking specifically about online shopping I'm going to have to go with Brilliant Earth here, if only by a hair. Brilliant Earth just makes it so much clearer and easier to purchase an engagement ring online than Tiffany does.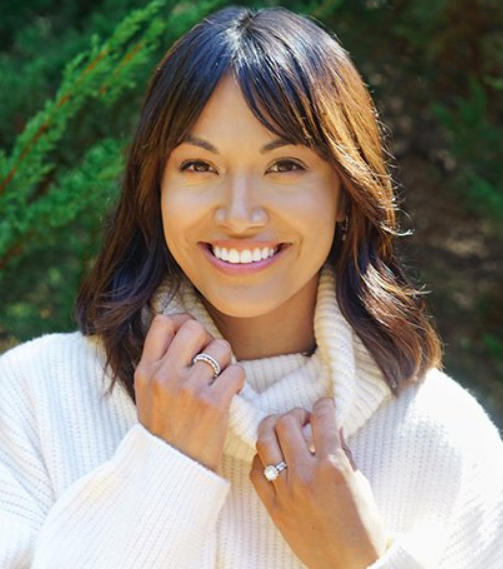 Cost Comparison Winner: Brilliant Earth
When it comes to Tiffany's jewelry, you pay for the attention to detail and quality of their product, but you're also paying for the name. While Brilliant Earth's prices tend to run higher than many of their competitors, they're still the more affordable option of the two.
Comparative Summary Table
| | | |
| --- | --- | --- |
| | Brilliant Earth | Tiffany |
| Diamond Selection | Thousands of ethically mined and lab grown diamonds | Ethically sourced diamonds purchased from the mine whenever possible |
| Other Gemstones | Large selection of precious, semi-precious, and lab grown stones | Curated selection of precious and semi-precious gemstone jewelry, no loose stones sold online |
| Variety of Jewelry | 9/10 | 6/10 |
| Price | 7/10 | 6/10 |
| Descriptions/Photos | Video, 360 degree views, photos, grading report | Photos, diamond certificate, provenance of diamond listed |
| Social Responsibility | 9/10 | 8/10 |
| Customer Service | 24/7 customer support | 24/7 customer support |
| Transparency | 10/10 | 10/10 |
| Warranty | Limited lifetime warranty | Limited lifetime warranty |
| Return Policy | 30 day free returns | 30 day free returns |
| Unique Features | Specializes in customization, huge selection, charitable contributions. | Consultations with experts offer VIP purchasing experience, tons of non-jewelry gift ideas |
Other Alternatives
If you've decided that neither Brilliant Earth nor Tiffany and Co have what you're looking for, here are a few more suggestions for places to buy jewelry online:
FAQs about
Brilliant Earth vs Tiffany
Question: What is the Tiffany setting?
Answer: The classic Tiffany setting is a six-prong solitaire setting that holds the diamond high, giving the illusion that the diamond is floating.
Question: Does Tiffany jewelry hold its value?
Answer: Because of the quality of their pieces and name recognition of the brand, Tiffany jewelry actually tends to hold its value even more than some other lesser-known brands.
Question: Are Brilliant Earth rings real diamonds?
Answer: Brilliant Earth sells real natural and lab-grown diamonds. They also sell diamond alternatives such as moissanite and other gemstones.
Brilliant Earth vs Tiffany –

Final Verdict

In a lot of ways this one is nearly a tie for me, but while I think both companies are great and sell gorgeous, ethical diamond rings, I ultimately have to go with Brilliant Earth here. Their online shopping experience and customization options are so much more user friendly than Tiffany's. They're also less expensive and offer more variety — both wins in my book.

If you like the Tiffany name and style and have it in your budget to purchase a Tiffany ring, you definitely won't be disappointed shopping with them. Their pieces are gorgeous and high-quality. There's a reason why they're so popular, after all!

If you're not sure exactly what style you're looking for, are looking for a diamond alternative, or are just trying to stay within budget, you'll find what you need at Brilliant Earth.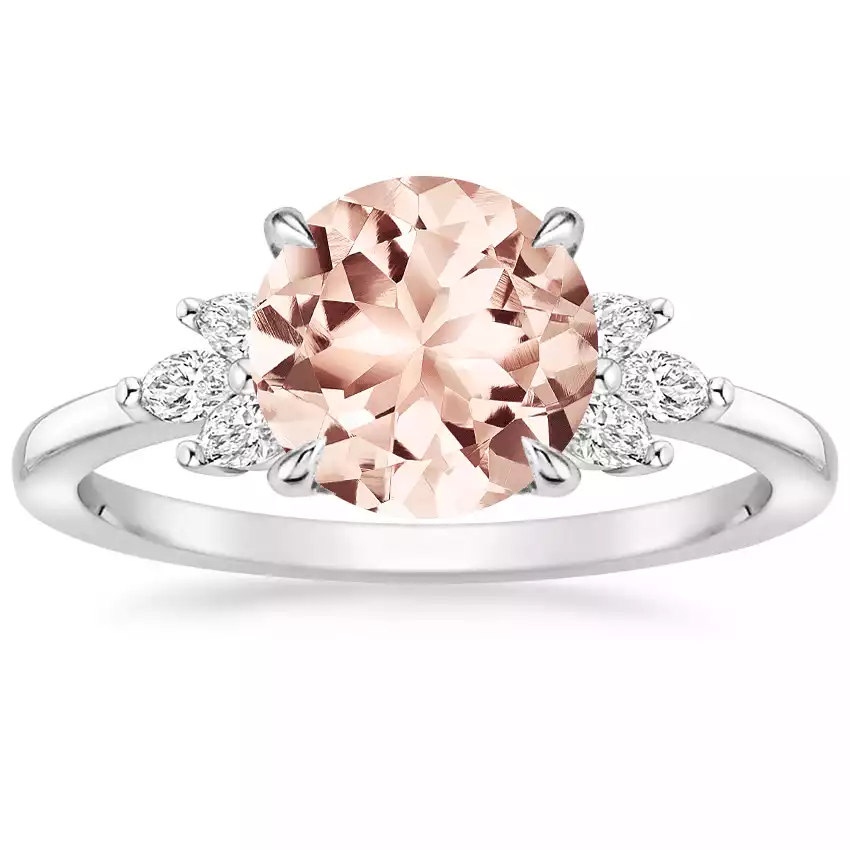 Further Reading on Diamond Retailers