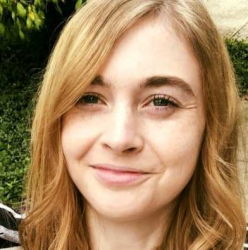 Latest posts by Erin Jamieson
(see all)
Main Differences Between Agape Diamonds vs Nexus Diamonds
The main differences between Agape Diamonds vs Nexus Diamonds are:
Agape Diamonds may sell natural and lab grow diamonds in the future, whereas Nexus Diamonds only plans on selling simulants
Agape Diamonds offers lifetime warranties and care, whereas Nexus Diamonds offers an upgrade program
Agape Diamonds offers a modest collection of classic cuts, whereas Nexus Diamonds offers unique options, such as colored stones
Diamond engagement rings may be stunning, but they also are expensive– and for some couples looking to save money, companies like Agape Diamonds vs Nexus Diamonds may be especially appealing.
Just how much are Americans spending? According to a 2020 engagement survey by The Knot, an average of $5,500 for an engagement ring. While that may not sound astonishing, consider that the average hourly wage for US workers was just over nineteen dollars per hour in 2019– add on to that lost income or unemployment brought on by the pandemic, and you can see how five thousand dollars can be a burden.
While it's true that you can find more modest diamond engagement rings for less, even for higher earners, there's also the cost of a wedding to deal with, from decor and catering to attire. Many opt to slash costs by buying wedding dresses online, inviting fewer guests, or holding the event during a less popular time of year.
But if you've cut other costs but still want a ring, low-cost retailers like Agape Diamonds and Nexus Diamonds may have caught your eye.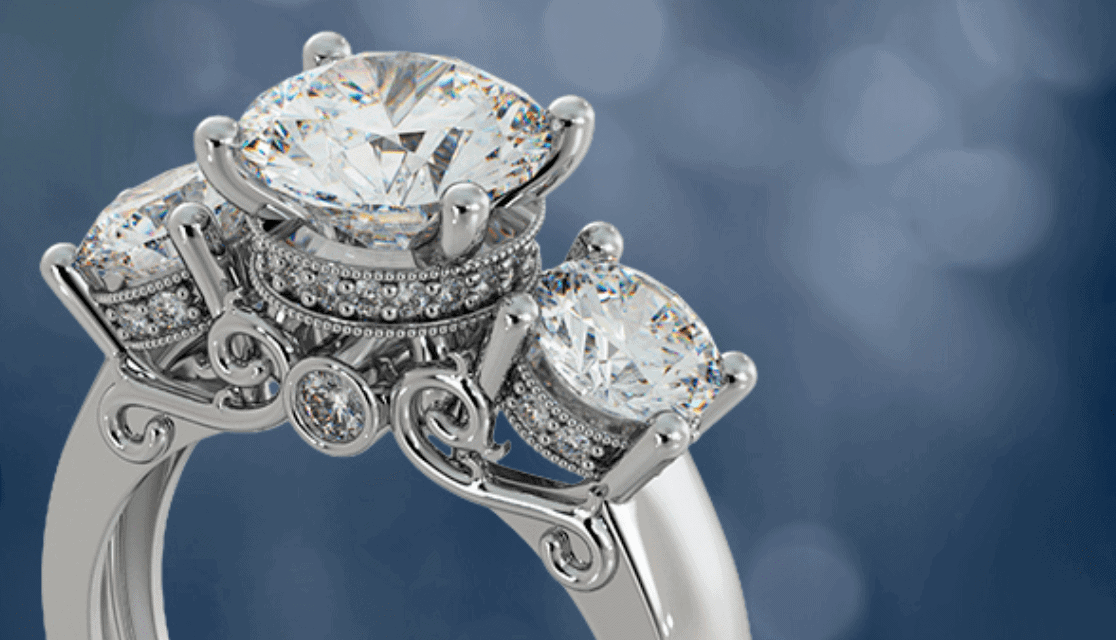 In this review, I'll compare Agape Diamonds vs Nexus Diamonds and explain–which–if either– is a solid lower-cost alternative.
What are the different types of diamond rings?
There are countless types of diamond engagement rings, whether we're talking about fancy colored diamonds, or distinct ring styles, like Art Deco rings. But here, I'll talk about three main classifications for the diamond itself: natural vs lab created vs diamond stimulants.
All of these options have their pros and cons when it comes to cost, durability, variety, and overall appeal.
Natural Diamonds
Natural diamonds were once seen as the very ideal, but that landscape is slowly changing– both for ethical reasons and for cost and convenience. Natural diamonds are mined from the earth around the world and have natural imperfections, otherwise known as inclusions. Of all the options, natural diamonds, being the rarest, are the most valuable, and, subsequently, the most expensive.
Natural diamonds are officially rated by the GIA and AGS based upon color, cut, and clarity. While the most prized natural diamonds are typically those that are the clearest, some fancy colors, such as blue, are even more valuable.
Natural diamonds have excellent durability and are the hardest gemstone you can buy. At their best, they have stunning scintillation that is unmatched by any other gemstone. On the other hand, they are imperfect, even the nearly flawless diamonds.
While efforts have been made to ensure less corruption, such as regulations like the Kimberley Act (under which any such diamonds labeled as such cannot finance civil wars), many diamond mining locations are still associated with labor practice issues, other human rights issues, and may not be mined in a sustainable manner.
Some companies, such as Brilliant Earth, only source ethically and sustainably sound diamonds.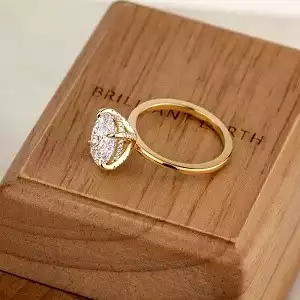 Planning a Proposal?
Make that proposal happen! Get started designing and create an engagement ring as unique as the wearer. To help pull off the perfect engagement, head over to Brilliant Earth's proposal guide.
Check Prices
We earn a commission if you click this link and make a purchase at no additional cost to you.
Lab-Created Diamonds
Lab-created diamonds are becoming increasingly popular: more economical, without many of the ethical issues associated with mined diamonds, lab-created diamonds can also be made in a more uniform way– which makes them all less valuable but also more reliable in terms of consistent scintillation.
Lab-created diamonds actually have the same chemical properties as a diamond– that is, they are as hard and as durable. While less valuable than natural diamonds, they are by no means 'fake diamonds' and still should come with official reports on their properties, including clarity, color, cut, and carat.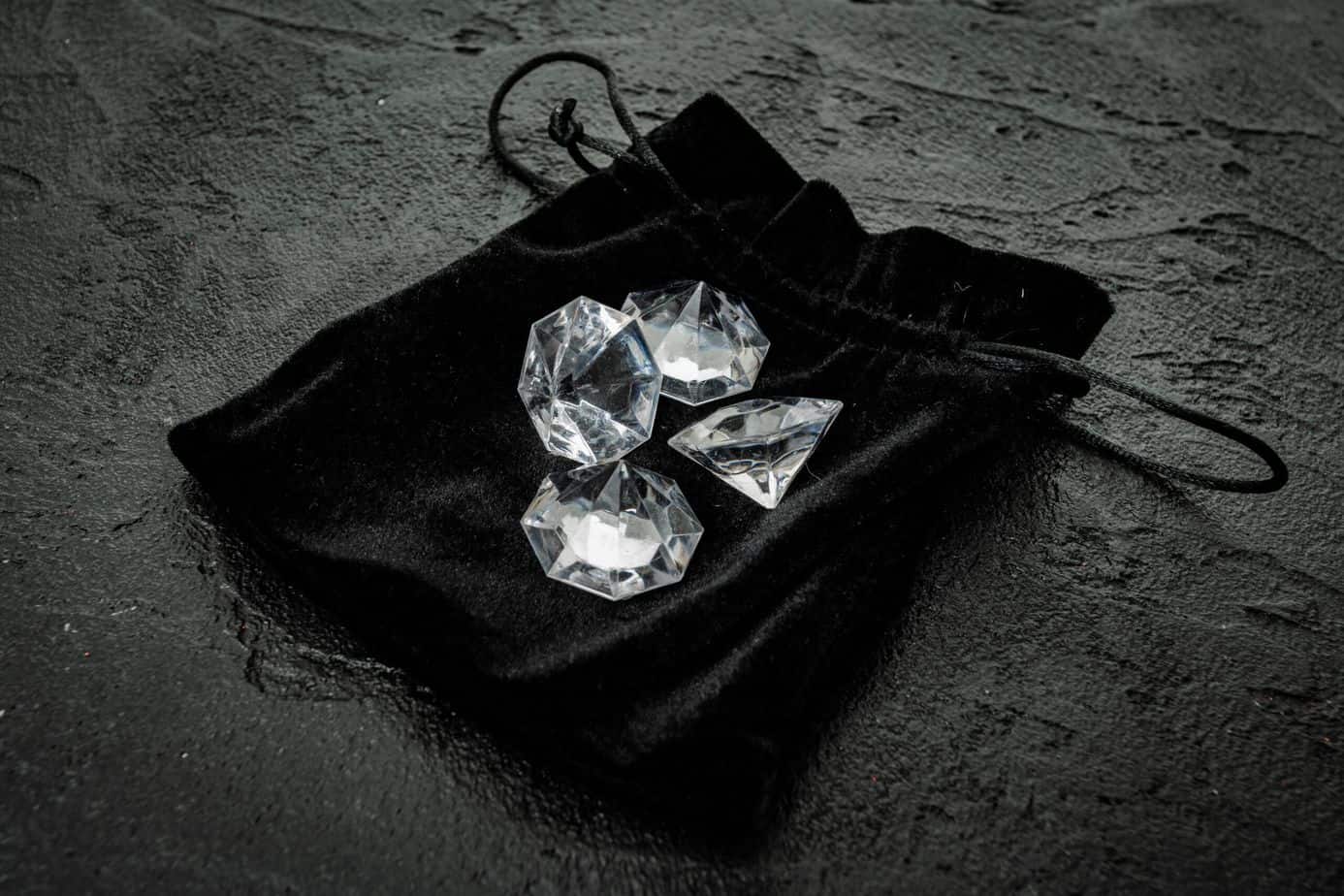 Diamond Simulants
Diamond simulants, on the other hand, do not share the same properties as lab-grown and natural diamonds. Diamond simulants are low-cost gemstones, man-made, that are supposed to in part replicate the general concept of a diamond, but without the polish, scintillation, and hardness of a real diamond.
Simulants tend to either have dull or excessive scintillation and thus do not come close to replicating a diamond. That said, not all stimulants are created equal. Cubic Zirconia and Moissanite are considered the most popular stimulants, in part because they both have an acceptable hardness rating, making them more durable than other stimulants.
Are our diamond simulants worth it?
Since both Agape Diamonds and Nexus Diamonds sell simulants, before I start my review, I wanted to discuss diamond simulants. They are not real diamonds, and will not be as hard and, as I stated, do not offer the same beautiful scintillation.
Moissanite and cubic zirconia are better than some other options, due to their hardness. Moissanite normally has a more yellowish tint and won't have the same scintillation– but it will last if taken care of, at a hardness rating of 9.5.
Cubic Zirconia, meanwhile, is known for bright, rainbow-colored scintillation. It's less durable though, at an 8 to 8.5 rating.
Should you buy from Agape or Nexus Diamonds?
Assuming you've weighed the pros and cons and determined that a diamond simulant is the best option for you, now you need to decide what you want to buy from, and two of the most popular companies are Agape Diamonds and Nexus Diamonds.
I'll compare these two companies based upon customer policies, selection of engagement rings and loose diamonds, price and variety, overall value, and consumer experience.
What types of diamonds do Agape vs Nexus Diamonds sell?
One of the key differences right away is the types of diamonds these two companies sell– and how they market those diamonds.
Agape Diamonds

Agape Diamonds provides three options for diamond types: natural diamonds, lab-grown diamonds, and diamond simulants. Oddly, their natural diamonds have no information about sourcing –where they are from or how they are sourced– and, as of this writing, trying to shop natural diamonds takes you to an empty web page, with a note that a section of the website is being worked on.
Their lab-grown diamonds have a similar problem: next to no information and no mention of providing certification with your purchase, and a broken web page. The exception is their simulants, which are clearly labeled and do come with a certification of authenticity– though this is not the same as getting a certification for a lab-grown or natural diamond. They also fail to state what their diamond simulants are made out of.
Nexus Diamonds
Nexus Diamonds does not readily label their diamonds as stimulants, merely using phrases on the home page like diamond alternatives. This is misleading, as diamond alternatives can refer to natural gemstones as well.
If you click to learn more about their diamond simulants, they make claims, which, while true, are also misleading such as no mined diamonds. If you read more closely, it does finally state these are stimulants– but there is no information as to what kind of stimulants.
Winner: Agape Diamonds
In terms of transparency, Agape edges Nexus out, for clearly labeling their stimulants as stimulants. That said, I am not pleased with the fact that both companies fail to explain how their stimulants are made, out of what materials, or other key information.
How expensive are Agape Diamonds vs Nexus Diamonds?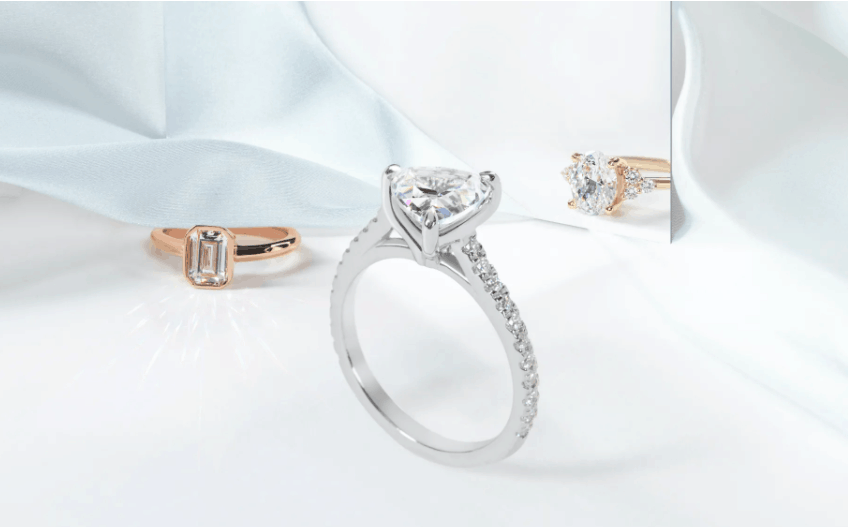 Of course, one of the great things about both Agape and Nexus is that their engagement rings and wedding bands are notably less expensive than traditional diamond ring retailers like James Allen or Tiffany.
Without a doubt, you can score some highly affordable rings in some of the same styles you'd find elsewhere.
Agape Diamonds
As of this writing, Agape Diamonds has no pricing available for natural or lab-grown diamonds. In terms of their diamond simulants, engagement rings range from a little over a thousand dollars to $1,600. They don't have wedding rings, but they do have loose diamond simulants, which cost an average of $60 per carat.
Diamond Nexus
Diamond Nexus engagement rings are just at nearly half the price of Agape engagement rings, at just over five hundred dollars, but with a much greater range: the most expensive engagement rings retail for $3,300. Meanwhile, wedding bands cost $120 to $3,300, and loose diamond simulants cost around $150 per carat.
Winner: Agape Diamonds
Agape Diamond simulants are nearly half the price per carat, and that carries over to their engagement rings as well.
What types of engagement rings does Agape vs Nexus Diamonds sell?
Both Agape and Nexus Diamonds offer a nice variety of engagement ring styles, but with an emphasis on modern and more sleek looks vs vintage engagement rings— though there are some notable exceptions.
Agape Diamonds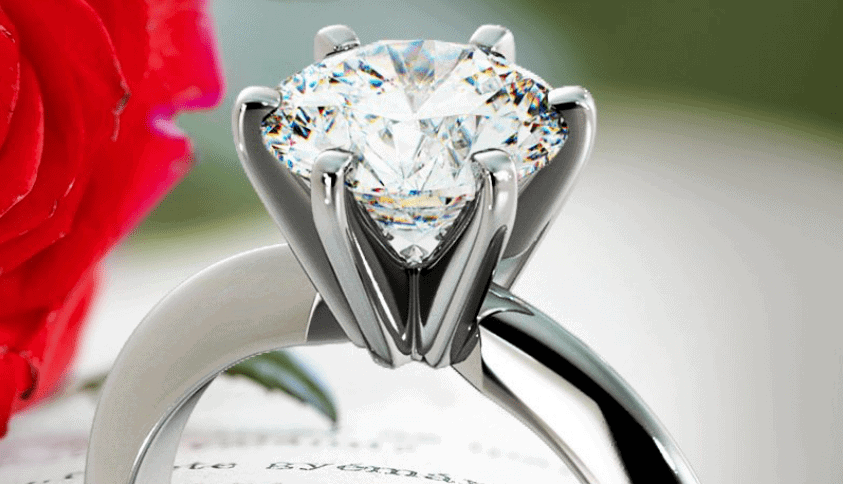 Agape Diamonds provides pre-made engagement rings with diamond simulant centers, nearly all with a fairly sleek to a plain metal band and the focus on the setting. Options include a line of "designer" engagement rings (unique designs, not an actual designer); halo engagement rings, solitaire, three stone, Tiffany style, cathedral style, and wedding sets.
You can select from 14K white and yellow gold, 18k white, and yellow gold, or platinum, and many have options for matching wedding bands. It's a relatively modestly sized collection, with around 135 options, not including sets.
Nexus Diamonds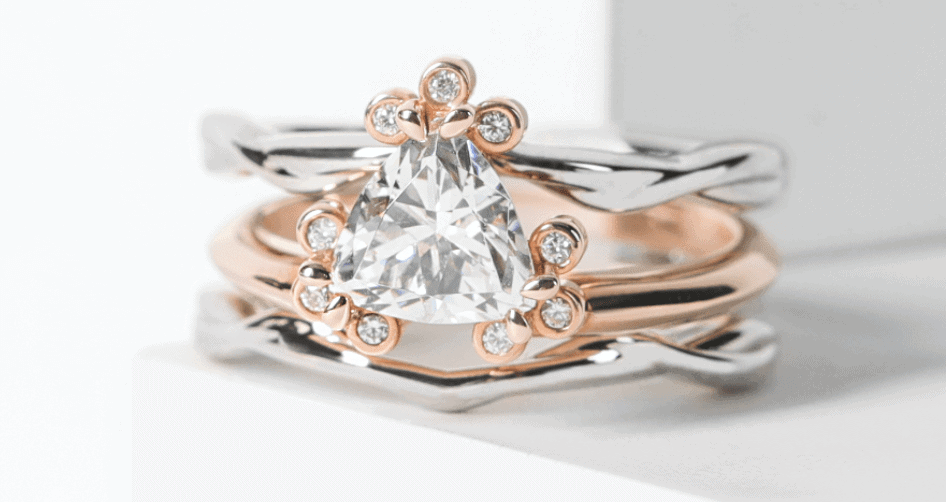 Nexus Diamonds offers premade engagement rings, with a diamond simulant as the center stone, on 14K rose, yellow and white gold, as well as a few options for 10K yellow and white gold and platinum.
Styles include solitaire, accented, glam, halo, three stone, modern vintage, and petite. Of the two companies, Nexus has more vintage-inspired looks, while still retaining a somewhat sleek design. There are 402 individual styles to choose from.
Winner: Draw
While there's no doubt that Nexus Diamonds offers more engagement rings to select from, there's a greater diversity of styles, including vintage-inspired rings, offered by Agape Diamonds. I like that both companies have higher quality metals to select from– but recommend shying away from 10k gold, which is not nearly as durable as other options.
What loose diamonds do Agape vs Nexus Diamonds sell?
If you're not finding any premade ring you like, or you need an extra stone or replacement, both Agape Diamonds and Nexus Diamonds sell loose diamond simulants. (though Agape also claims to sell natural and lab-created diamonds, no information is listed as of this writing).
Agape also has the option to design your own engagement ring– a concept also offered through popular diamond companies like Zales.
Agape Diamonds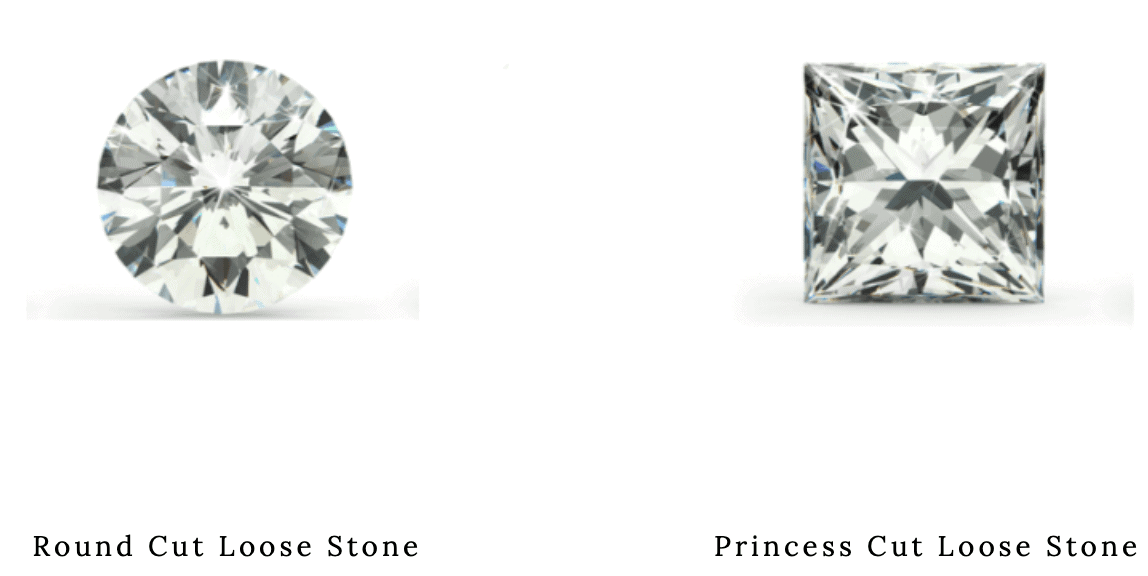 Agape Diamonds sells just eleven cuts for loose diamonds: round, princess, cushion, Asscher, pear, heart, radiant, oval, emerald, marquise, and trillion. Each loose diamond can be bought with carat sizes as small as 0.5 carats, at $100 to $198, depending on the cut, to five carats, priced up to around six hundred dollars.
Nexus Diamonds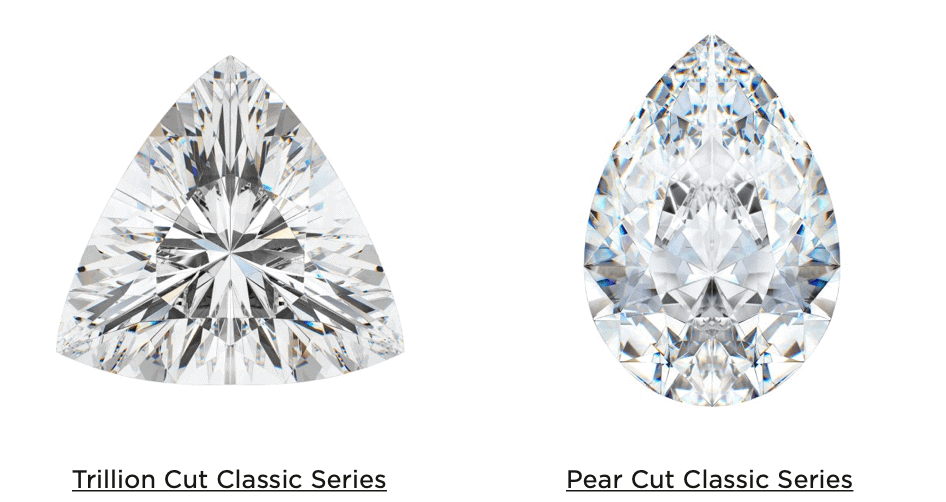 For Nexus Diamond loose stones, you'll have 95 options to select from, including colored options. Some include round brilliant, marquise, trillion, heart-shaped, Asscher, princess, triangle, and many more. Hues include ruby, rose, champagne, sapphire, emerald, chocolate, glacial ice, canary, and others. Carat range, depending on the cut, starts at 0.25 carats and goes up to around five carats. Prices start at $5 for a quarter carat and go up to around a thousand dollars for a nearly 7 carat, ruby radiant cut.
Winner: Draw
Now, to be clear, Nexus Diamonds offers a much greater variety– including colored stones– but in my opinion, if you really want a colored gemstone look, you're better off going for a modest carat size of a natural or lab-created gemstone, especially if you're going to be spending above a few hundred dollars here. Agape loose stones are around half price per carat, and still, offer enough variety in classic cuts.
How do shipping and returns work for Agape Diamonds vs Nexus Diamonds?
Even if you've found something you love, you should always check customer service policies– I check for shipping and handling, returns and exchanges, as well as clear ways to get in touch in case something goes wrong with the order.
Agape Diamonds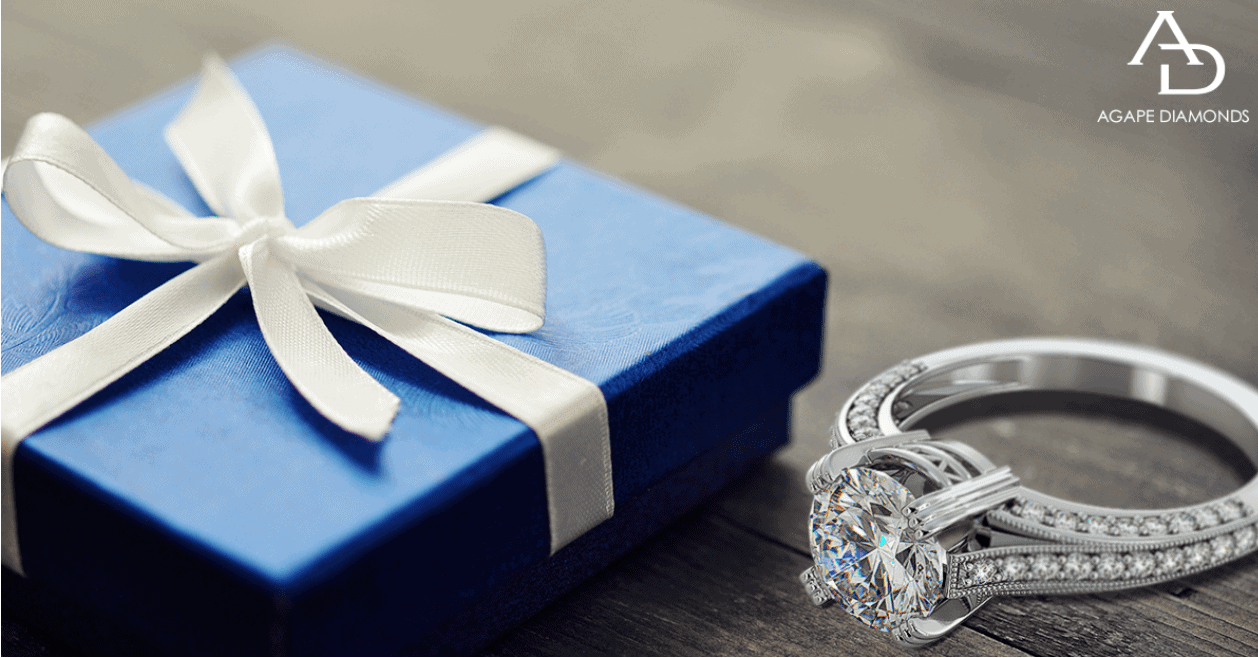 Agape Diamonds offers free shipping to all orders within the United States, with the option for expedited shipping at an additional cost, as well as shipment to some other countries (you are responsible for import duties and fees).
They also offer a free return or exchange, your choice, within 30 days. The process for making returns is to request a free return label and have it shipped. However, no returns can be made if any tags are removed, even if the product is in its original condition.
But there's a bigger perk: Agape Diamonds offers lifetime warranties on its products. The lifetime warranty covers chips, scratches, discoloration, and brilliance. .In addition, Agape Diamonds also offers complimentary polishing, prong adjustments, and replacements as needed– a generous policy.
Nexus Diamonds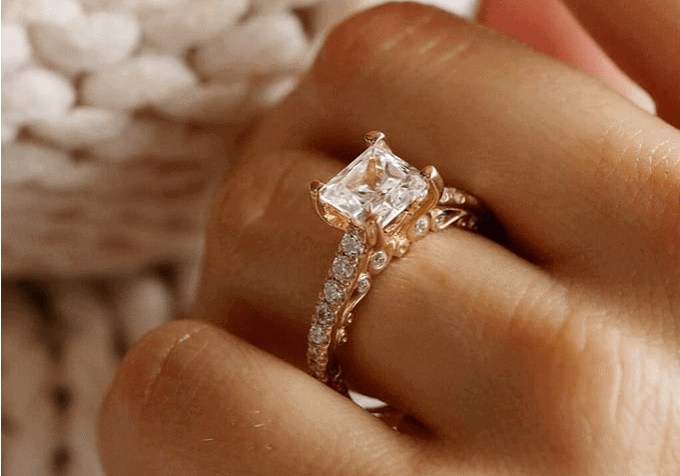 Nexus Diamonds also offers free shipping within the United States with a minimum required order of $100 and free shipping offered to members of the military, FPO, or APO regardless of purchase value. They also offer international shipping at an additional cost.
Aside from a restocking fee, returns and exchanges are accepted within 30 days, and you'll go through the same process of shipping it back with a free return label. You are limited in how many returns you can make within a certain time period.
They also offer free resizing, shipping including. Other perks include lifetime upgrades, where you can turn in a good condition, lightly used ring– or up to a bundle of 5 products– for credit towards a new item. Your trade-up must, however, be at least 50 percent more than your initial purchase.
Winner: Agape Diamonds
Nexus Diamonds, on its surface, has more perks, more detailed policies, and more generous policies for added perks– but Agape really wins out with a lifetime warranty and care over a lifetime.
FAQs
Question: Do Agape diamonds sell real diamonds?
Answer: Agape diamonds mostly sell diamond simulants. However, they do also have a page for natural and lab-grown diamonds– with no information buying either as of Spring 2021.
Question: Are Nexus Diamonds real diamonds?
Answer: Nexus Diamonds are diamond simulants. Diamond simulants do not share the same properties as natural or lab-grown diamonds and are made out of synthetic materials, such as cubic zirconia or moissanite.
Question: How much is a simulated diamond worth?
Answer: Diamond simulants are not worth much in terms of monetary value. Some can be purchased for as little as $5 per quarter carat, depending on the materials used and the cut.
Final Decision: Agape Diamonds
For my final decision, I took a look at complaints and consumer experiences. Agape Diamonds holds an A-minus of BBB, though there have been 47 closed official complaints in the past three years, and 33 in the past year. On SiteJabber, Agape earned 4.8 stars out of over seven thousand reviews, with many praising the overall value and beauty, and a mere 21 giving the company two or one stars.
Nexus Diamonds holds an A-plus on Better Business Bureau, with 21 complaints closed in the past three years and six within the past year. It has just 34 reviews on Site Jabber with an average of 4 out of 5 stars. While that doesn't sound too concerning, there were more complaints about service, but, aside from a few complaints, most were satisfied with their purchase.
Agape Diamonds though, ends up being the winner. While more expensive than Nexus Diamonds, more transparency and a lifetime warranty, and classic diamond cuts. As a bonus, Agape even has a physical showroom you can visit in Tampa. Shop Agape Diamonds here.
Looking for a diamond alternative but want a natural or lab-created option?
Check out our guide on the best diamond ring alternatives that will help you stand out.