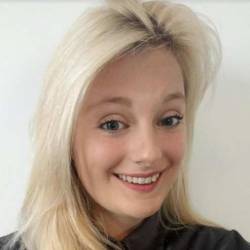 Latest posts by Rosie Greaves
(see all)
For many of us, looking our best for special events is super important – but you shouldn't have to compromise your ethics to look good!
In an ideal world, I'd much rather wear a sustainable piece of jewelry and feel good about what's next to my skin. So, what does it mean to be sustainable?
Well, when I looked at how WWF describes sustainable living, it includes the following features:
Low energy use

Avoiding fast fashion (i.e., brands that produce high product volumes). Mass production uses lots of energy and materials to create products that aren't always purchased, making mass amounts of waste.

Buying products made from sustainably sourced materials.

Supporting local businesses and environmentally minded brands.

Aiming for better quality over large amounts of product.

Considering companies that use eco-friendly packaging.
With all this being said, here I'll talk about the jewelry industry's reputation regarding sustainability. I'll then browse through my choice of dedicated eco-friendly jewelers, looking at their pros and cons, descriptions of the products, and how customers rate these brands.
There's lots to cover, so let's go!
Bottom Line Upfront
With one of the perhaps most worrying track records regarding ethical sourcing and sustainability, the jewelry industry has come a long way. Lots of brands are now making an effort to do better. Each brand listed in this article is committed to environmentally friendly jewelry.
Francesca Dot is the most affordable, whereas Edge of Ember, my top pick, provides the most information on their website about their sustainable practices. I'm impressed by the brand's transparency in reporting its sustainability efforts. Plus, they're committed to supporting workplace equality and ethical labor instead of just claiming to use sustainable materials.
The Best Brands That Make Eco-Friendly Jewelry
Missoma: Why? Because it's reasonably priced, uses recyclable metal, and boasts 100% carbon neutral delivery. What's not to like about all that?
Milly Grace: Why? Firstly because four worldwide standards for eco-friendly production verify it, but also because it's a brand borne out of passion. The packaging is plastic-free, and there are some super pretty pieces in her collection

Edge of Ember: Why? I love this brand's iconic style. Designs are contemporary, stylish, and have a simplicity about them that really appeals. Not just that, but they're trying to use more recycled gold and silver in their designs.
What Track Record Does The Jewelry Industry Have?
Historically, the jewelry industry has adversely impacted the environment due to the methods of collecting and refining materials.
For example:
Mining:

Gathering metals has, in the past, had a devastating effect both environmentally and in a humanitarian sense. Traditionally, people of all ages would work in mines for very little pay and deplorable working conditions. Equally, the waste from mining is substantial and toxic.

Pearls:

Pearl farming, which can be ethically farmed in smaller batches, is in high demand. As such, some larger companies have resorted to dubious means of stimulating pearl production, including moving oysters between different water temperatures. This keeps the creature in a constant state of stress. Sadly many of these poor things don't survive the process.

Gold Plating:

Cheaper jewelry is commonly plated in gold or a finish made from copper. The plating process involves cyanide, a chemical harmful to the environment. When cheap jewelry ends up in landfills, it leaks toxic chemicals into our water systems.
Selection Criteria
Before I tell you all about my favorite sustainable jewelry brands, here are the criteria by which I picked them:
Price
I looked for stylish, modern, sustainable brands that are affordable even for day-to-day jewelry. Unfortunately, responsible sourcing and sustainable supply chains often come with an additional price tag. But, for the average consumer to be able to support these brands, they must offer a flexible price range that appeals to the everyday jewelry enthusiast.
Sustainability
There are many things jewelry brands can do to be more responsible and eco-friendly. They can, for example, opt for lab-grown diamonds instead of mined ones to reduce emissions from transport, deforestation, and unethical labor. They can also use recycle materials and opt for greener supply chains. In light of that, we looked for brands that adopt certified sustainable practices, recycled metals, and cultured gems.
Transparency and Mission
Brands sometimes pay lip service to sustainability, so it's not always easy to identify how much they hold themselves accountable for upholding sustainable practices. So, I looked for brands whose mission dictates a responsible approach and those that report on their efforts.
Range
I wanted to find jewelry brands offering a wide range of collections and pieces with a broad range of materials. That way, once you've picked a brand you trust and whose style you enjoy, you can keep coming back for more to find exactly what you're looking for.
Quality
Most of us want jewelry that will withstand the ages. That's why I've looked at customer reviews to see what praises and/or complaints frequently arise regarding quality.
So, with all that said, let's dive into some of the best eco-friendly jewelers on the web:
My Picks for the Best Eco-Friendly Jewelry
Missoma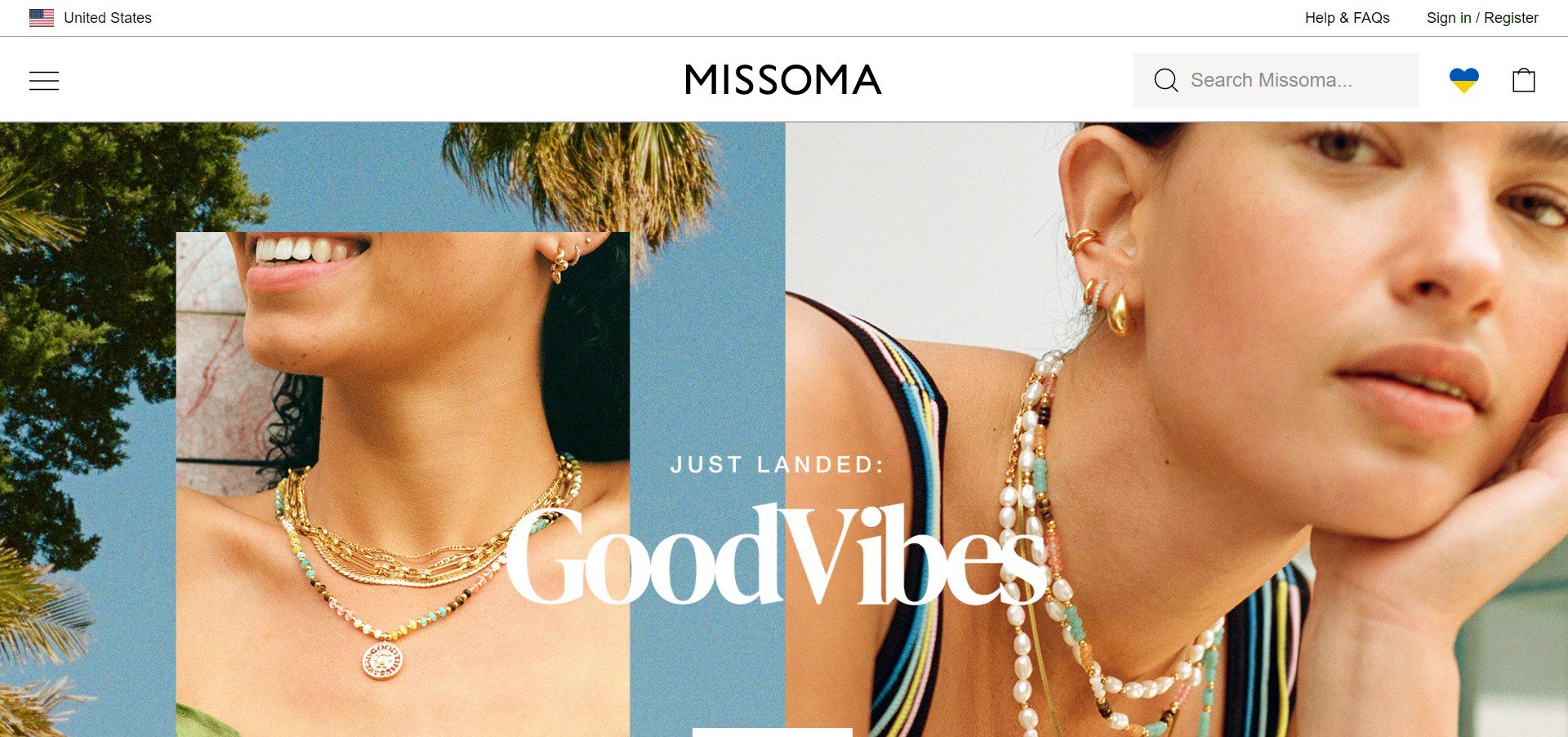 Missoma is a company that strives to provide beautiful jewelry crafted from ethically sourced materials. More specifically, Missoma sells demi-fine jewelry pieces featuring gold, rose gold, silver, and metal-plated items. These pieces are adorned with a variety of gemstones, including:
Amazonite

Labradorite

Lapis

Malachite

Moonstone

Quartz

Rhodochrosite

Sapphire

Tiger's Eye
Missoma's Pros
Pricing:

Missoma's prices are very reasonable for the quality of their product. Starting from $26 for beaded hair barrettes, rising to $8,396 for fine 14ct gold earrings adorned with pearls and diamonds. There's something for everyone's budget!

Sustainability:

Missoma works tirelessly to ensure its brand stays true to its mission statement:

'To push themselves and their industry towards a better future.'

Missoma uses recycled metal to craft some of its jewelry. As discussed earlier, metal mining is hazardous to the environment, and the rate at which it's mined rapidly diminishes the volume of gold available. Using recycled metals goes a long way to tackling some of these issues.
Over the last year, Missoma can boast 100% carbon-neutral delivery,

including entirely recyclable packaging.

Their materials are responsibly sourced.

This includes conflict-free diamonds, ethically farmed pearls, and, as mentioned earlier, the use of recycled metals.

Skilled workers are paid a fair wage

and given suitable working conditions moderated by the RJC Code of Practice and the Ethical Trade Initiative.

Range:

Missoma's scope of products is impressive. They sell everything from delicate, fine jewelry to chunky statement pieces using a wide range of metals and stones.

Excellent reputation:

It's hard to find a bad review of Missoma. Their client base heavily praises them for their customer service and the quality of their products. Their sustainable ethos and dedication to ethical practices are admired by those who use their products. They also come highly recommended on reputable review sites such as Trustpilot.
Missoma's Cons
Recycled materials aren't used across the board:

Recycled metals aren't used for Missoma's jewelry. As a result, only about ⅓ of products are made from recycled metals.

Limited discounts:

Missoma only offers discounts to students, not NHS staff, seniors, or other groups that typically benefit from discounts.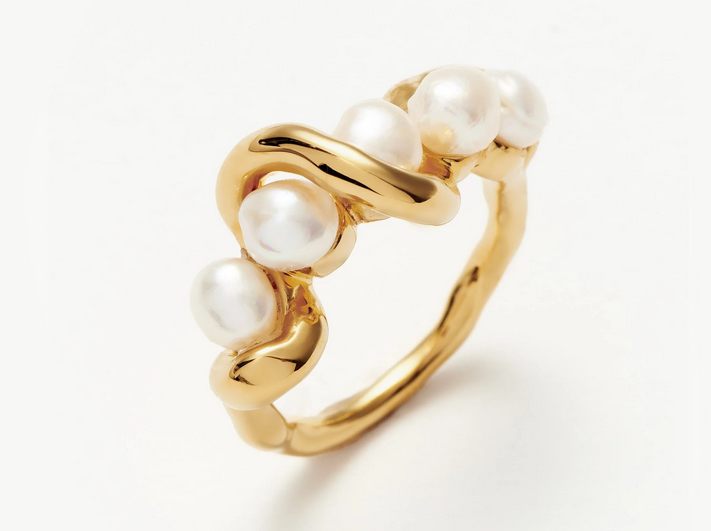 I believe that this Missoma's molten pearl ring perfectly encapsulates the brand's charm. Their jewelry achieves a natural and unusual appeal with twisting and knotted structures resembling vines and branches interwoven with luxurious pearls. At $120, I think this 18ct gold plated piece is a bargain. Like many other pieces in Missoma's collections, the ring is crafted from recycled materials.
Francesca Dot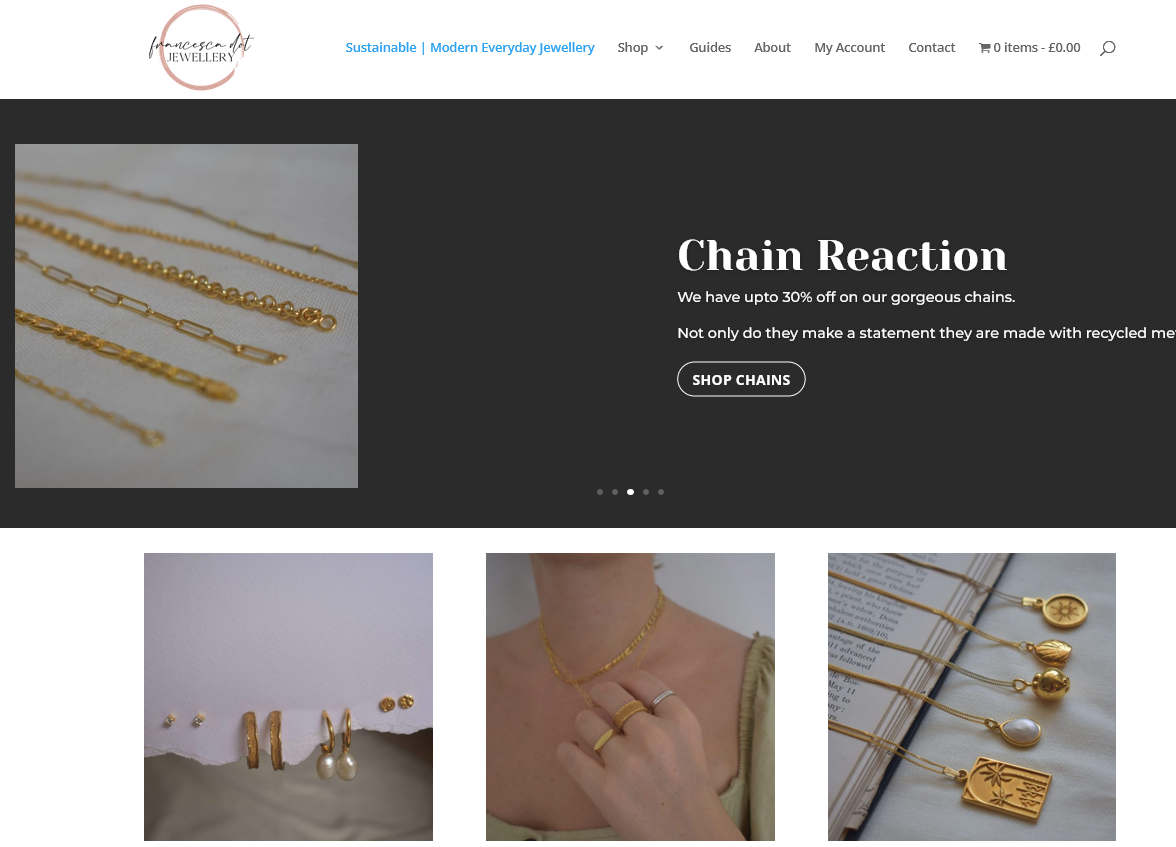 I like how Francesca Dot defines itself as a company inspired by the modern woman who wants "beautiful jewelry at fair prices." They aim to provide a range of jewelry for different functions, including jewelry box classics, minimalist pieces, and classy items for events.
Francesca Dot was founded in 2020 and boasts familial roots, with 'Dot' symbolizing the founder's Grandmother.
Francesca Dot's Pros
Sustainability:

Francesca Dot uses recycled gold and silver sourced from companies regulated by the Responsible Jewelry Council. They also run small productions from artisanal jewelers instead of large factory production. This goes a long way to cutting waste and energy. In addition, its packaging is made of recyclable materials and can be re-used by the customer. Finally, in partnership with Ecologi, they plant a tree every time a delivery is made to help offset their carbon emissions.

Pricing:

The cost of these pieces is reasonable. All of their items cost up to £110 (the equivalent of $138), with prices starting at £18 (equivalent to $22.50).

Gemstone variety:

The range of stones used by Francesca Dot is impressive and includes:
Francesca Dot's Cons
Customer service:

When writing this review, I found that some clients flag customer service issues – especially when trying to get a refund. Instead, they were only offered a product swap. Despite that, according to their returns policy, returns and exchanges should be accepted within 14 days of receiving an item. However, in the case of a non-faulty product, the company only commits to replacing the goods' value, not the shipping cost.

Tarnish:

Some users complain that the products tarnish quickly. It is, however, effortless to clean tarnished jewelry with the use of a kit. These can be bought online and, typically, are super straightforward to use.

I love that this has a slightly chunky yet minimalist design, so it looks heavyweight while still keeping an on-trend design. If you want, you can pair it with the matching Belcher Chain Necklace!
Milly Grace

Milly Grace is a jewelry company based in Yorkshire, UK, created off the back of one question, "Why do we have to choose?".
Emily, the founder, realized when she was at University in 2020 that if consumers wanted reasonably priced, beautiful jewelry that matched their values, they would have to compromise on the brand's quality, pricing, or ethical standards. For me, this absolutely highlights the issues many jewelry lovers have when trying to find ethical pieces without losing out on quality and price.
Emily set out to change that; cue, Milly Grace. A jewelry brand that, in her own words, is both mindful and accessible. Thus female-led, home-based business is dedicated to both its customer service and eco-friendly practices.
Milly Grace's Pros
Affordable:

The most expensive piece on this brand's books is a pendant necklace worth £109 (which equates to roughly $136). However, on the whole, the entire product line is relatively wallet-friendly, making it an accessible brand for everyone.

Sustainability:

Milly Grace is dedicated to maintaining a carbon-neutral approach to production and distribution, verified by four worldwide standards for eco-friendly production. This includes the Verified Carbon Standard (VCS), UK and EU Emissions Trading Standard (EU & UK ETS), Gold Standard Voluntary Emission Reductions (VER), and the United Nations Certified Emissions Reductions (CER) programs. On top of that, I really like that a tree is planted for every order via its partnership with Ecologi.

Ethically sourced materials:

Only ethically sourced raw materials are used to produce these pieces. Milly Grace keeps a watchful eye on its supply chain to ensure only ethically sourced gemstones, conflict-free diamonds, and recycled metals are used.

Plastic-free packaging:

Only plastic-free packaging is used to wrap and ship products.

Ethical factories:

Factories adhere to ethical standards of working. Emily, the founder, visits the factories herself annually to keep an eye on things.
Milly Grace's Cons
Brass:

This metal can turn your skin green and, unfortunately, can also cause irritation for some. Despite this, brass is used in some of Milly Grace's products.

Limited selection:

Milly Grace doesn't offer the most extensive array of jewelry. This is likely because it is a home-based company. However, it's not ideal for those looking for a wide choice.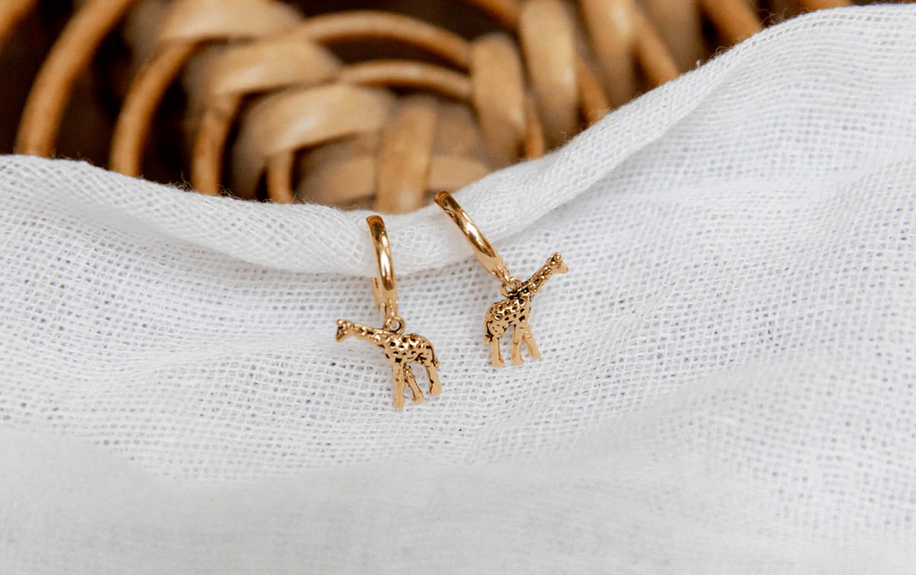 I love unique jewelry with an unusual twist, so if you're looking for a different take on jewelry, it's worth checking out Milly Grace's affordable earrings. Some of their most loved items include Elephant, Giraffe, and Octopus Earrings made from gold-plated, recycled sterling silver.
Lark & Berry

Lark & Berry is a jewelry company based in the UK. They focus on fine jewelry made from cultured diamonds and exquisite craftsmanship. Lark & Berry was founded in 2018 by its creator, Laura. She has a passion for nature and eco-friendly processes and wanted to bring this to the market of fine jewelry.
Lark & Berry's Pros
Sustainability:

With every purchase made, Lark & Berry donates a tree to be planted in areas suffering from deforestation. They also boast carbon-neutral shipping across both the packaging and transportation processes. On top of that, Lark & Berry exclusively uses cultured diamonds. So, instead of mining, their gemstones are grown in a lab, avoiding the blood-diamond trade and the waste and damage associated with mining processes.

A wide range:

There's a massive range of options available, spanning the following types of jewelry: rings, necklaces, pendants, earrings, bracelets, and charms.

A rewards system:

If, like me, you like customer incentives, then Lark & Berry does that. It

runs a reward system on its website. For specific tasks, you can earn 'berries' or reward points that add up. For example, you can earn up to 20% off and/or access to particular promotions and sales.
Lark & Berry Cons
Price:

This is a pricey joint. The nature of artificial diamonds already sets the price point higher than average. The pricing starts at $135 for charms and ranges up to $99,773 for a diamond necklace. Even sale items didn't drop below $125.

Non-recycled metals:

One area where Lark and Berry don't apply their eco-friendly ethos is metals. They use freshly mined metals rather than recycled materials.
What you see is a stunning rectangular violet sapphire at the end of an attractive yellow gold chain. The sapphire's total carat weight is 11.4ct, and a trio of signature Lark & Berry cultured diamonds on the back of the stone. It may be expensive, but it's a stunning and unique piece.
Shyla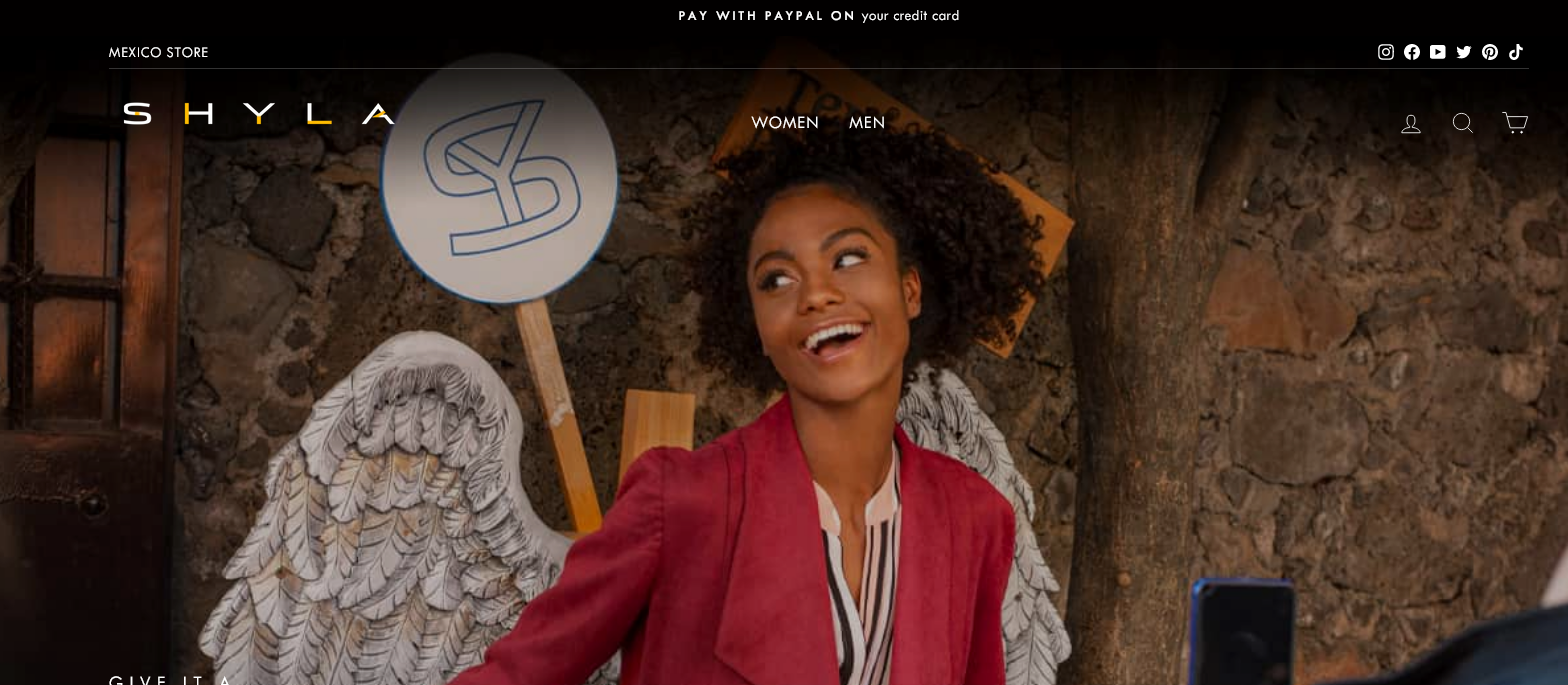 Shyla, based in London, UK, specializes in high-quality jewelry and offers timeless, classic, and beautiful pieces while, at the same time, remaining morally minded. They love vintage and try to cater to women of all ages by offering both older and more modern, contemporary styles.
Shyla's Pros
Sustainability:

Shyla uses recycled materials for its packaging. Plus, all stones and metals are either recycled or ethically sourced. On top of that, most people employed are women living in local Indian communities, most of whom are in poverty. Shyla endeavors to provide fair, reliable wages for these women. Lastly, their workshops are managed through a handful of charities to ensure ethical standards are maintained.

Pricing:

Shyla's pricing is very reasonable. All products are under £100 ($125).

Wide range of styles:

The variety of styles on offer is broad. There really is something for everyone.
Shyla's Cons
Website:

The website is basic and difficult to navigate, which could turn some consumers off.

No diamonds:

This can be a real issue for some. Yes, the price is low for fine jewelry. In its place is crystal, which, for some, won't always cut it.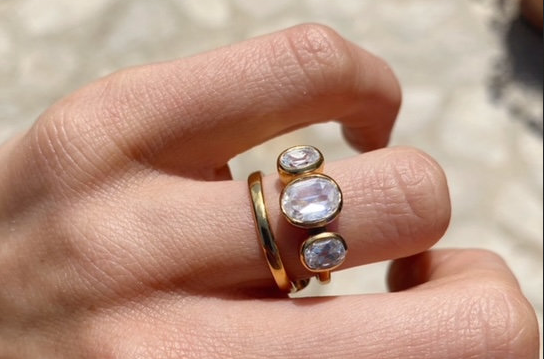 Why? This simple yet stylishly designed ring stood out for me. It's a simple design, yet still attractive. It's made of three hydro glass oval-shaped stones, and you can choose to buy either a green, crystal clear, or champagne version of this ring. The stones are set in 22ct gold on sterling silver; I'd wear this either on its own or stacked.
Edge of Ember

Edge of Ember is another company based in London. Founded in 2014 by Lynette Ong, she was inspired during her travels around Asia. They're a morally-minded company dedicated to crafting fine jewelry and offering it at a reasonable price.
Edge of Ember's Pros
Sustainability: Edge of Ember is committed to increasing its use of recycled materials and working exclusively with lab-grown diamonds. Since 2019, they've transitioned the majority of their collections to using recycled gold and silver where possible. Plus, carbon emissions throughout their supply chain are super low. For starters, they don't endorse mining practices, and their workshops in India are

fueled using 60% renewable energy.

They offer reasonably affordable prices:

The most expensive necklace in their store costs $600. In contrast, cheap earrings are already available for $15.

All packaging is recyclable/reusable:

Even non-recyclable items can be sent back to the company free of charge and re-used.

Customer service:

The customer service team's speedy response times are noted in several consumer reviews.

Quality:

Edge of Ember's quality is frequently praised in its customer feedback.
Edge of Ember's Cons
Tarnish: Some customers struggle with the tarnish that comes with recycled metals. However, I usually find that a quick-fix solution is to get a metal cleaning kit and give it a going-over.
No free shipping is available.
Why? Because for me, Edge of Ember's jewelry has an iconic style. Many of their pendants feature shapes and icons with a youthful, modern appeal. This solar charm necklace will suit anyone that loves astrology or vintage looks. Vintage coins from East Asia inspire the design. This necklace is gold-plated, made from 100% recycled sterling silver, and costs $190.
FAQs
Last but not least, before I wrap this listicle, I've put together some of the most frequently asked questions and answers about eco-friendly jewelry:
Question: How do cultured diamonds differ from real ones?
Answer: Some presume there might be a slight stigma or snobbery surrounding cultured, lab-grown "fake" diamonds. But lab-grown diamonds are as real as those mined from the earth. They're identical in every way, except for their more sustainable and ethical origin. They have the same chemical and physical build-up and boast the same shine and sparkle. Also, in many cases, they're not just more sustainable but also more affordable.
Question: Are metals for jewelry 100% recycled?
Answer: Recycling metals for new jewelry is a great way to avoid filling up landfills with unwanted jewelry and other metal products. However, due to how gold and rhodium plating is produced, it's difficult to guarantee that the metals used to craft jewelry come from 100% recycled sources.
Question: Which certifications should I look for in sustainable jewelry stores?
Answer: If you're looking for sustainably sourced jewelry, there are a few certifications you can look out for. The newest standard for certified sustainability-rated diamonds is called SCS-007. This means an independent party has verified the diamond's origin and journey. SCS not only reviews diamonds but also verifies recycled gold and silver. 
Regarding sustainable packaging, you can look for brands that use FSC-certified paper. In addition, the Responsible Jewellery Council (RJC) also certifies sustainable supply chains, which also shows respect for human rights.
My Final Verdict
I've taken you on a brief tour of some brilliant options when looking to buy eco-friendly jewelry. However, my final recommendation is Edge of Ember.
I was impressed by the brand's transparency in reporting its sustainability efforts. EoE takes responsibility one step further than many others. Instead of simply claiming sustainable materials as an edge, they're also committed to optimizing every stage of their supply chain. Also, they support a wide range of other progressive topics such as equality in the workplace and ethical labor.
Not to mention their catalog showcases a wide variety of items with unique twists on vintage styles, recycled materials, and cultured gems.
That said, you won't go wrong with any of the brands we've listed above, and I'd encourage you to check out their collections today! Then, let me know in the comments below if you've bought jewelry from any of these brands and what you look for in eco-friendly jewelers!
Further Reading on Rings