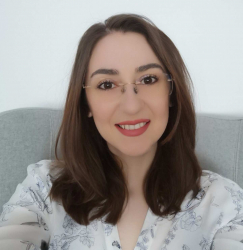 Latest posts by Alexandra Gavrilescu
(see all)
Nowadays, the traditional solitaire engagement ring has lost part of its popularity and has been replaced by many people with daring designs, unique styles, and unconventional stones.
Those of you who are more traditional might still debate the cut of the diamond featured on your engagement ring, while those who want something different are thinking about vintage cuts, emeralds, sapphires, rare pearls, and rubies.
Here are some of the best non-traditional engagement rings you can choose from. All of them have stunning designs, and each of these love tokens can become the best friend of the millennial woman.
My Bottom Line Up Front!
If I were to guide myself according to my favorite colors, which are green and blue, I would have to say that my favorite ring is the Brilliant Earth Fortuna ring. This ring is gorgeous with its generous London Blue topaz stone, surrounded by brilliants.
I also like the unique green diamond ring sold by Tiffany & Co. It's definitely worth your consideration if your budget is wide enough to enable such a purchase.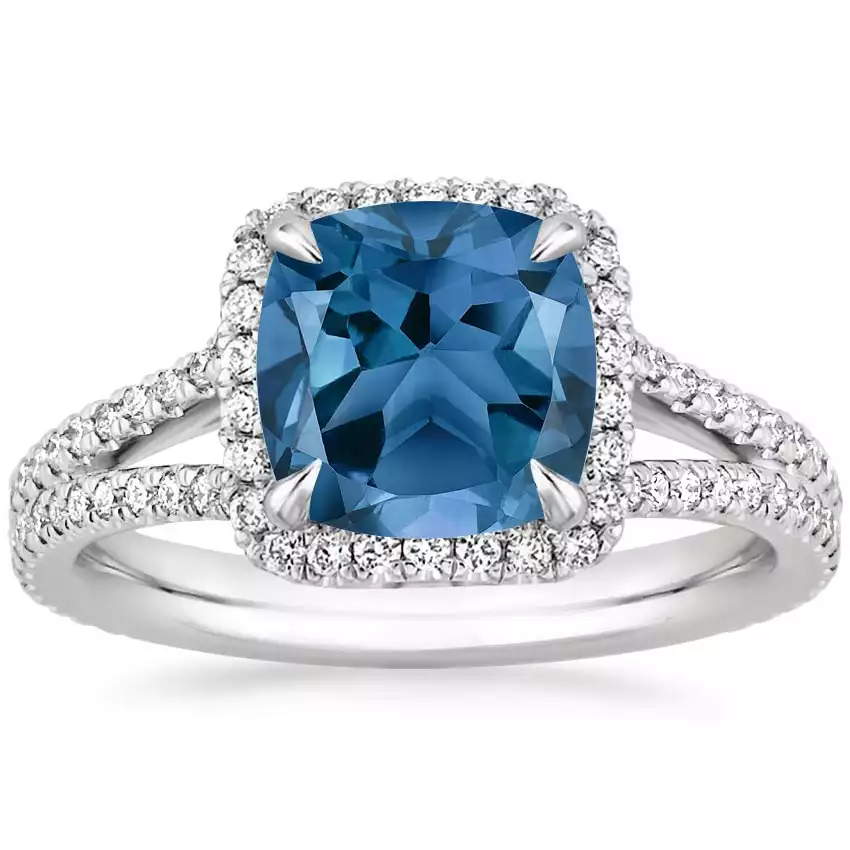 London Blue Topaz Fortuna Ring | Brilliant Earth
This exceptional setting features a halo of diamond accents that curve gently around a stunning cushion-shaped London blue topaz for a distinctive look.
Check Price
We earn a commission if you click this link and make a purchase at no additional cost to you.
What Is A Non-Traditional Engagement Ring?
First, I think it's really important for us to discuss what a non-traditional engagement ring is. After all, there's a lot of different options to choose from out there, so how do we know the difference between a traditional vs non-traditional ring?
A non-traditional engagement ring isn't shaped or colored like your typical engagement ring. Your average engagement ring has a clear stone (usually a diamond or a moissinate gemstone). The most traditional engagement ring is a diamond solitaire ring.
However, all of the rings I've listed in this guide feature either aren't traditionally colored stones, mixed meals, or have unique settings!
Main Styles of Non-Traditional Engagement Rings
According to experts, anything with more than one gemstone can be perceived as a non-traditional promise, engagement, or wedding ring. So, in terms of modern jewelry, you can opt for a three-stone ring or choose to wear a ring with a vintage design. After that, it's up to you, based on your personal preferences.
Here's a brief list that contains the main styles of non-traditional rings you should know about.
A. Split Shank Rings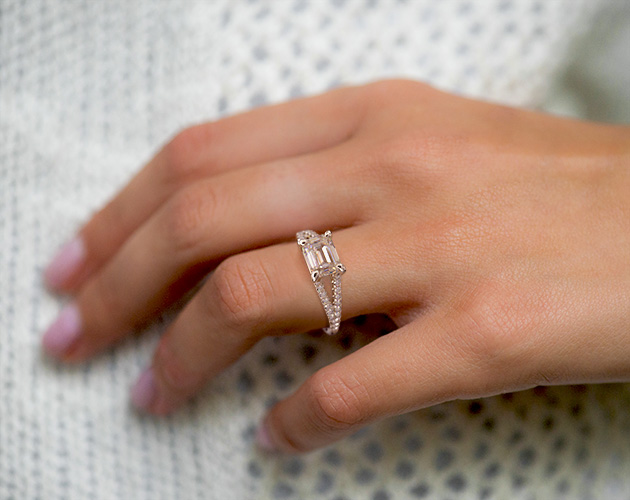 In this case, the shanks placed on both sides of the gemstone are split into two parts, creating spaces or halos. Almost all diamond shapes and cuts can support a split shank ring setting. These designs are more open and feature a modern flair.
Examples of split shank engagement rings:
B. Two-Tone Band Setting Rings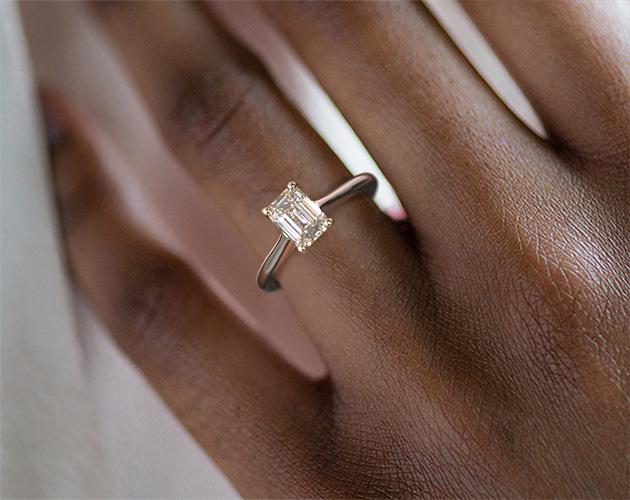 These rings have a band that features two different colors. For instance, one could have a mix of white and rose gold, while others might display a combination of white and yellow gold. The depth of the ring increases in this case due to the contrast the two tones create. These designs are edgy, and everyone will notice them quickly.
Examples of two-tone rings:
C. Engagement Rings with Floral Motif Settings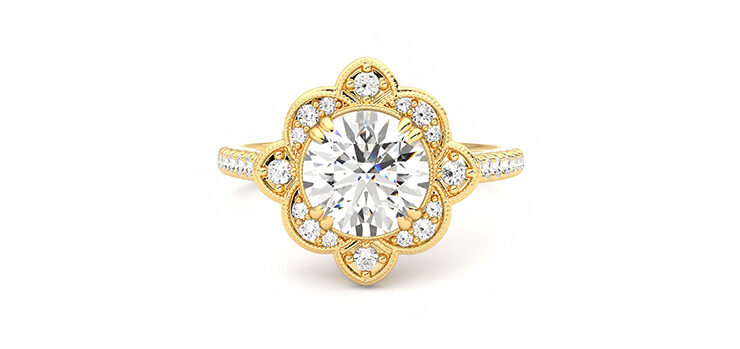 Nature-inspired details and floral motifs will definitely draw attention due to their unique look and exquisite beauty. Many of these rings have intricate patterns and shapes. If you love flowers like me and care about Mother Nature, a floral motif setting on your unique engagement ring will certainly do the trick.
Examples of floral motif rings:
D. Vintage Settings
These are my favorite ones. They look fabulous and out of this world. But, unfortunately, I'm a hopeless romantic soul, and there are many moments when I wish I could have lived at least a couple of days in another era when women wore fabulous retro or vintage gowns and displayed these amazing eye-catchy rings.
I love the antique look of these rings, as well as their intricate art deco designs.
Examples of vintage style engagement rings:
How to Buy A Non-Traditional Engagement Rings
When you're shopping around for a non-traditional engagement ring, understanding what you should look for is vital. After all, there's a lot of added pressure that comes when you're buying a non-traditional engagement ring. It can be trickier to find the perfect ring, as there aren't as many options available as there would be if you were buying a traditional white diamond engagement ring.
Know Where the Stone Came From
First, it's really important to know where the stone for the ring you're looking at came from. A lot of white diamonds aren't considered conflict-free or ethically sourced, which is why a lot of people are looking into a non-traditional engagement ring. Your significant other will appreciate a stone that's ethically sourced and comes with a good backstory.
You can identify a conflict free diamond by looking to see where the diamond was sourced from. If you're unable to identify where the diamond was sourced from, I would recommend looking for a diamond alternative. Plus, looking for a diamond alternative will allow you to find a better fit on your search for non-traditional wedding rings.
Be Confident
When you're looking at a non-diamond engagement ring, it's very important that you're confident in the final decision you make. As you're buying an alternative engagement ring, you realize that it's okay to think outside of the box when you're buying a non-traditional ring! After all, fine jewelry is fine jewelry and your significant other will be pleased either way!
Talk to your partner and ask them what they would be interested in. Opting for something personal or unique is always a good bet. Ask to see if they'd be interested in a pink sapphire, yellow diamond, or any type of colored diamond or colored gemstone for their engagement ring. Plus, it would be a good idea to see what type of wedding band they'd be interested in as well to go along with their unique engagement ring.
Try Not To Focus on $ Too Much
You shouldn't focus on the dollar amount of the ring too much. Some people don't want an expensive engagement ring; after all, it's a lot to be responsible for. If you've found a ring that you think would work perfectly for your partner, but are worried the price tag isn't enough, don't worry about the price tag. Go with your gut!
What Makes These Rings Non-Traditional?
The reason I've listed these rings as non-traditional is because they don't contain diamonds. A lot of traditional engagement rings use diamonds as the main stone in the ring. However, the rings I've listed below don't contain diamonds as the main stone. But, there are a few other factors that make these rings non-traditional too.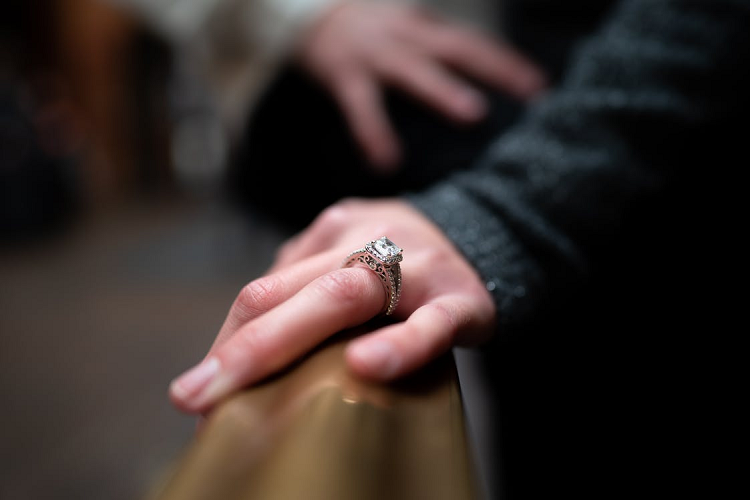 Here are the main things that make non-traditional engagement rings stand apart from classic ones:
More than one gemstone – instead of solitaire rings, modern alternatives feature several different gemstones and even combinations of brilliants with precious stones;
Colored gemstones instead of white diamonds – one could even choose a ring that features their birthstone as the central focal point;
Impressive and unique cuts and shapes – asymmetrical bands, flower-shaped stones, geometrical cuts, etc.;
Mixed precious metals – sterling silver, gold, and platinum, yellow and rose gold, and so on;
Styles and settings – off-center settings, asymmetrical designs, themed rings, art deco rings, etc.;
Playing with the band's scale – rather than wearing a ring with a simple thin band, you should opt for thicker bands and layered or stackable rings for a contemporary look.
Selection Criteria
I made the non-traditional engagement ring selections I've listed below based on their stunning appearance, quality, and the vendor's reliability. I made sure all of the rings came from trustworthy vendors and are known for producing high-quality engagement rings. Plus, I loved the non-traditional appearance of all of these rings, they're all stunning!
The Best Non-Traditional Engagement Rings – Top 10 Choices
Whether you want something unique, or you don't want to support diamonds mined in conflict zones, you've come to the right place. Today, I've decided to list some of the best non-traditional engagement rings that feature other stones instead of diamonds.
I've listed these rings in no particular order, but I've chosen them based on their stunning appearance, quality, and the vendor's reliability.
A. Gemvara Carrie Engagement Ring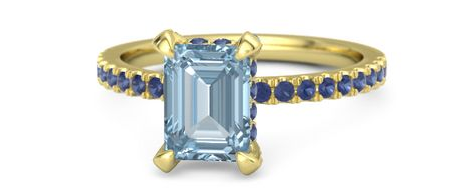 This stunning engagement ring has an emerald cut, and the stone is aquamarine. This modern engagement ring features a glittering aquamarine and has an emerald cut. It seems the manufacturer got his inspiration from the beauty of the sea when he designed this jewelry. The gold band is paved with blue sapphires that create a lovely contrast to the central gemstone.
The Gemvara ring is delicate and elegant yet modern and unique. Its gemstone has a blend of pastel colors, including navy, blue, grey, aqua, and earth tones. I love how you can customize this ring on the website and choose your favorite shape, accent stones, the precious metal of the band, and even add an engraved message on it.
B. Gillian Conroy Emerald Ring

This Gillian Conroy pear-shaped ring features a modern design that consists of a yellow gold setting and a rose-cut emerald. The ring could be your perfect accessory choice if you're into elegant, clean, and minimalistic jewelry pieces. In addition, I love how its craftsmanship gives us a glimpse of antique designs.
The emerald has around 0.5 carats, and the ring is made in New York.

Brilliant Earth is a well-known jewelry vendor with a long history and great reputation in this industry. On the company's website, you can create your own design, starting from scratch, or you can opt for a ready-to-wear ring, choosing one from their featured collection of non-traditional engagement rings.
When browsing through their collection, my attention was almost instantly caught by the Fortuna ring, which has a stunning London Blue topaz as the central stone. The setting is simply exceptional, featuring numerous diamond accents. The shape of the topaz, which is cushion-cut, gives the ring a distinctive and luxurious appearance.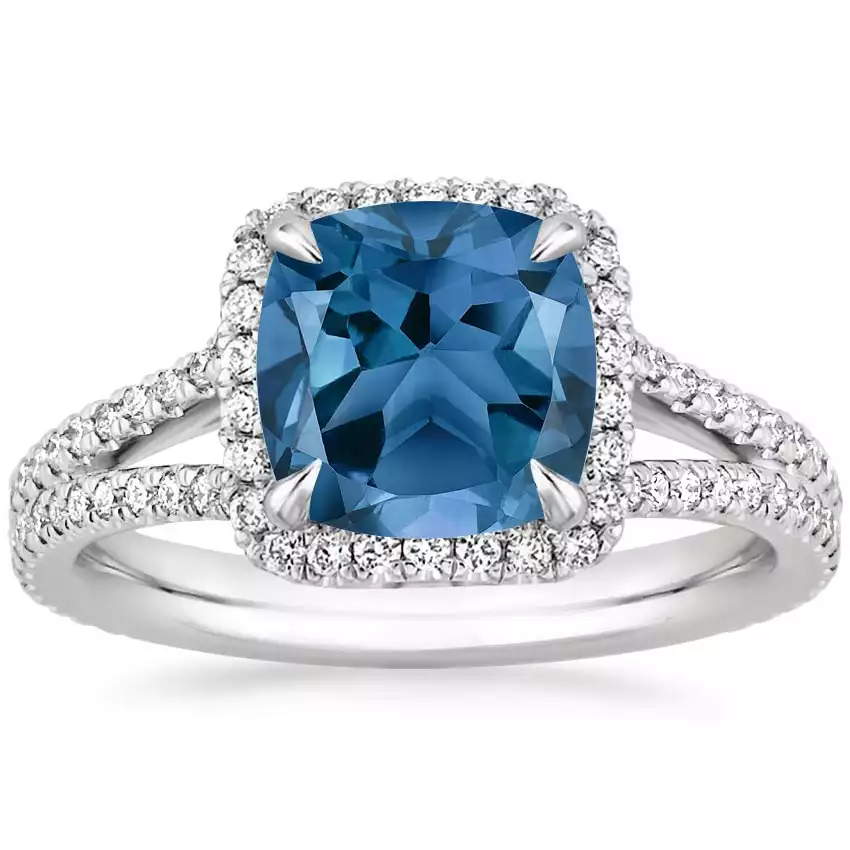 London Blue Topaz Fortuna Ring | Brilliant Earth
This exceptional setting features a halo of diamond accents that curve gently around a stunning cushion-shaped London blue topaz for a distinctive look.
Check Price
We earn a commission if you click this link and make a purchase at no additional cost to you.
D. Natalie Marie Amber Ring

This modern ring design marketed by Natalie Marie Amber has a gorgeous rose-cut quartz stone as its central piece. The overall design is a vintage one, while the gemstone has a yellow honey color. When I saw the shape of the quartz, I instantly thought of Lily Collins' engagement ring, which has a big rose-cut diamond.
The setting surrounding the gemstone has a halo made of six claws. What I like the most about this ring is the fact that the stone is natural and untreated. Moreover, it will sparkle wonderfully when paired with a 14K gold band. On the website, you can choose between traditional yellow gold, modern white gold, or glamorous rose gold.
E. Diamond End Engagement Ring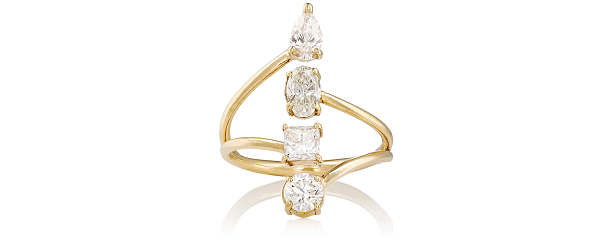 Ileana Makri is a premium jewelry brand that markets niched luxury (and, yes, expensive) products. But, the uniqueness of these designs made me include this ring in my list.
The Diamond End ring has no less than four impressive white diamonds, each with its own shape, placed one on top of the other. However, what strikes me as amazing and screams modernity is the 18K gold setting's irregular form with separate branches; each branch ends with a diamond.
If this ring isn't unique, I don't know what is. This magnificent ring is handmade, hence the increased cost. Maybe you want this ring to propose to your girlfriend, or perhaps you're celebrating your wedding anniversary. Either way, you won't get it wrong with it, and your special someone will be mesmerized by the ring's beauty.
F. Ruta Reifen Ocean Ring

This Ruta Reifen Ocean ring also goes by the name of the All of Time jewelry. It features a mix of green and blue sapphires (my two favorite colors). The smaller sapphires are included in the setting that surrounds a larger blue sapphire which is also the central stone of the ring. The band is made of 14K yellow gold.
I like how all these gemstones and precious metals were gathered from responsible sources. Together, they lead to a perfect aesthetic. In fact, all Ruta Reifen jewelry pieces are made of sustainable and responsibly-sourced materials. You can find a small range of beautiful rings on the brand's online store. My favorite one is the Water ring, made in New York.
All these products are handmade, which is an important aspect for so many people who want unique designs when it comes to their non-traditional engagement rings.
G. The Love Ring by Tiffany & Co.

This modern Tiffany & Co. ring is definitely unique and not something a traditional bride-to-be would consider. However, modern and unconventional people would definitely love wearing something like this. It's a stunning rose gold ring that has 18K. Paloma Picasso designed the word Love. It shows her handwriting.
The shape of the band is entirely asymmetric, even a bit futuristic, some could say. But instead, it's a delicate ring that is part of a highly expressive collection. According to the designer, the ring is inspired by NYC street art. In addition, the gold used to create this ring is ethically sourced.
H. Catbird Blue Vistas Ring

This delicate ring features a perfect combo of tanzanites and sapphires. It's inspired by the colors of the sea. The Catbird Blue Vistas ring is an environment-friendly choice due to its recycled yellow gold band. Moreover, the band has 14 carats.
I love the emerald cut of the central sapphire and how it's placed on the band. Its design makes this a modern engagement ring. The ring was designed by Wing Yau, who is very committed to ethical jewelry production. The sapphire gemstone has 0.6 carats.
I. Tiffany & Co. Fancy Green Ring
This is a stunning engagement ring with a luxurious design. I've never seen a pattern such as the one featured by Tiffany & Co. green diamond ring. A rare green diamond is the ring's center stone that steals the show, but the surrounding tiered white diamonds are also fabulous. To me, the shape of this exquisite and unique work of art resembles the one of a summer flower or a full-bloom peony.
J. Morganite Willow Ring by Brilliant Earth
You'll find plenty of beautiful engagement rings at Brilliant Earth. One of those wonderful designs is featured by the Morganite Willow Ring, which made me think about a delicate flower with its green marquise-cut emeralds on the side. The central gemstone is pink morganite which I'm sure is far from what most people consider a traditional engagement ring.
Although the ring is different from your classic solitaire, it's also timeless and elegant.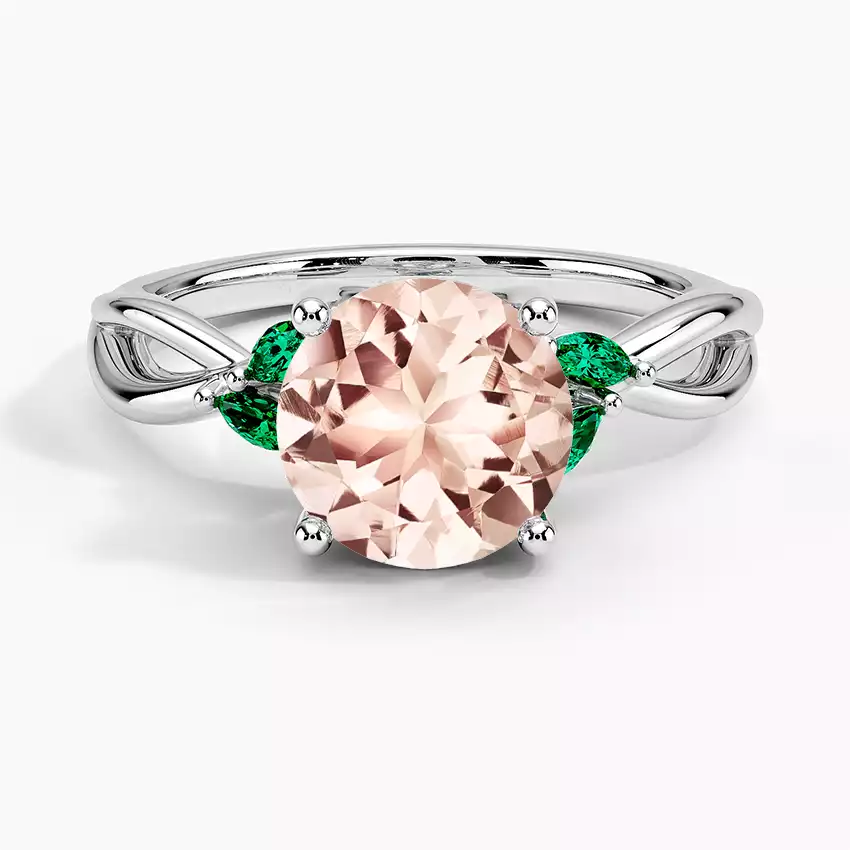 Morganite Willow Ring | Brilliant Earth
Wispy vines of precious metal entwine towards lustrous marquise-shaped lab created emerald buds in this nature-inspired trellis ring.
Check Price
We earn a commission if you click this link and make a purchase at no additional cost to you.
Best Non-Traditional Engagement Rings – FAQs
Question: What Engagement Ring Style Is the Most Popular One This Year?
Answer: There are several popular engagement ring styles, but the halo ring is the most popular. Another popular style is the ring with round-cut center stones.
Question: What Type of Engagement Ring Should You Choose?
Answer: It depends on so many factors. If your girlfriend is a more traditional woman, you should opt for a classic solitaire diamond ring. More modern women might prefer something unique and different such as colored stones, unconventional band settings, and vintage designs.
Question: How Much Should I Spend on an Engagement Ring?
Answer: There's an unwritten rule that men who're looking to buy an engagement ring should be willing to spend a minimum of two of their monthly salaries on that said ring. Let's imagine that you earn 5,000 dollars per month.
In that case, according to the aforementioned rule, you should purchase an engagement ring that costs around 10,000 dollars.
Best Non-Traditional Engagement Rings – Final Thoughts
Non-traditional engagement rings are for those women who prefer something unique and out of the ordinary, something that nobody else has, or a ring that not that many people own. If your style is one of a kind, then you definitely should opt for a unique engagement ring. That way, you'll be able to showcase your unconventional personality.
There are numerous non-traditional rings on the market, but all of the above that I've chosen to detail today are among the most popular designs available out there.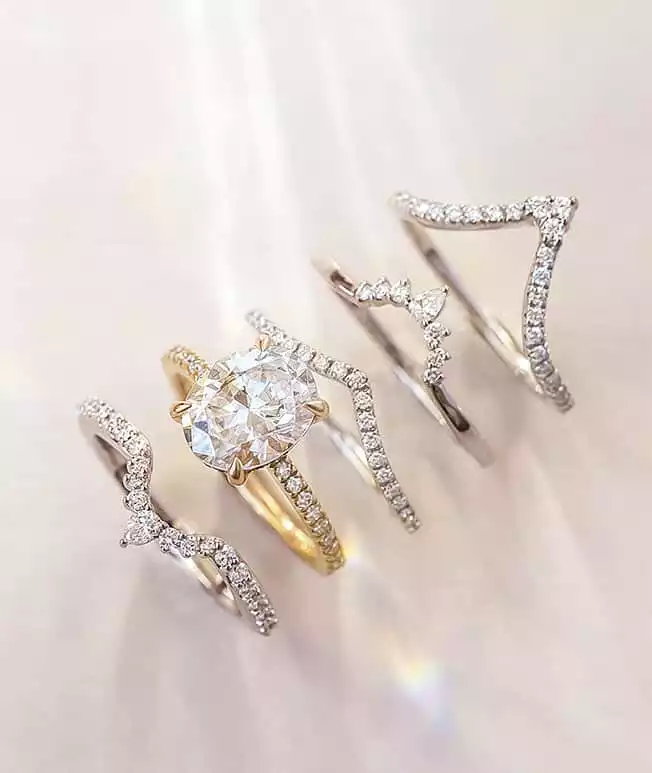 Recommended Reads: